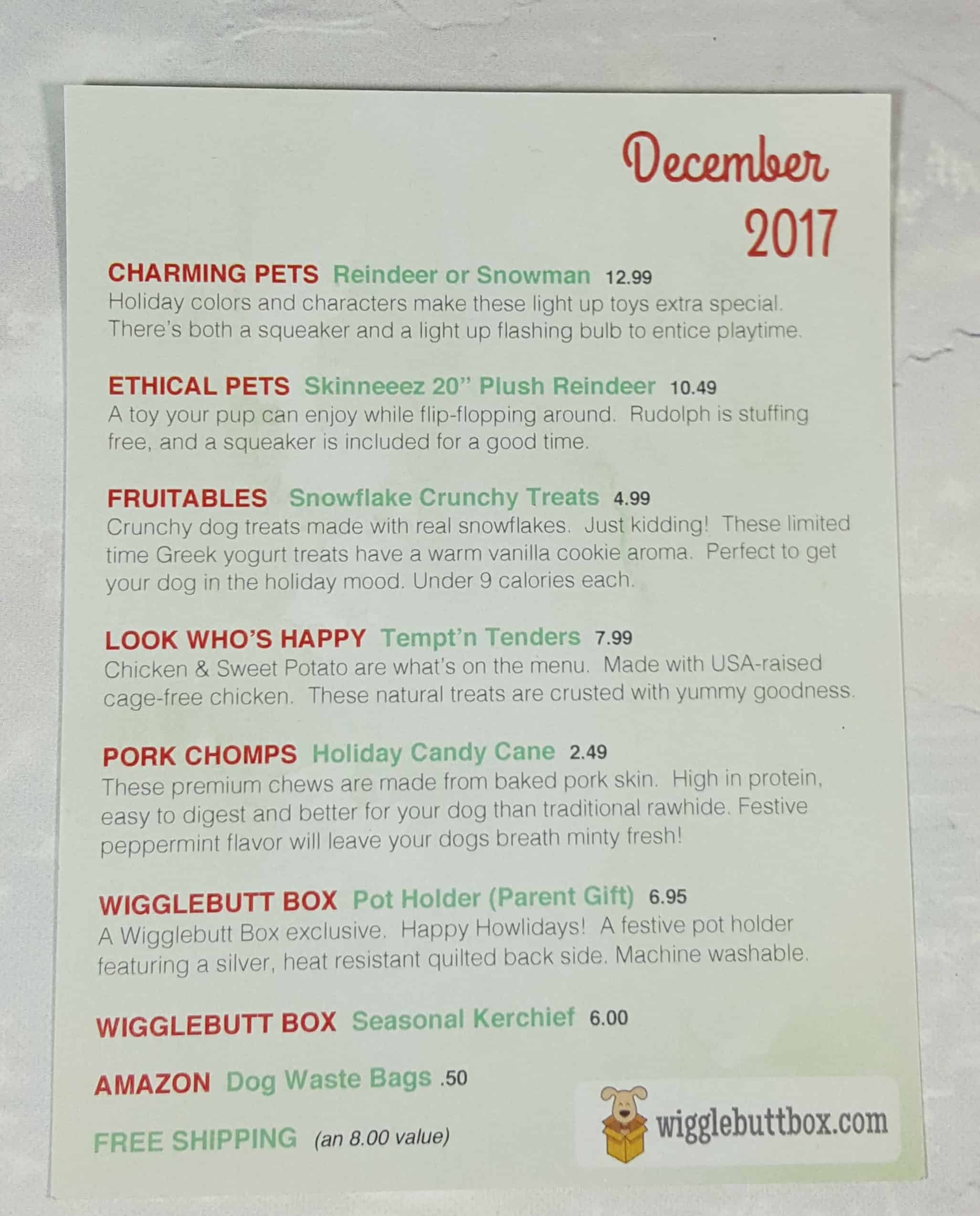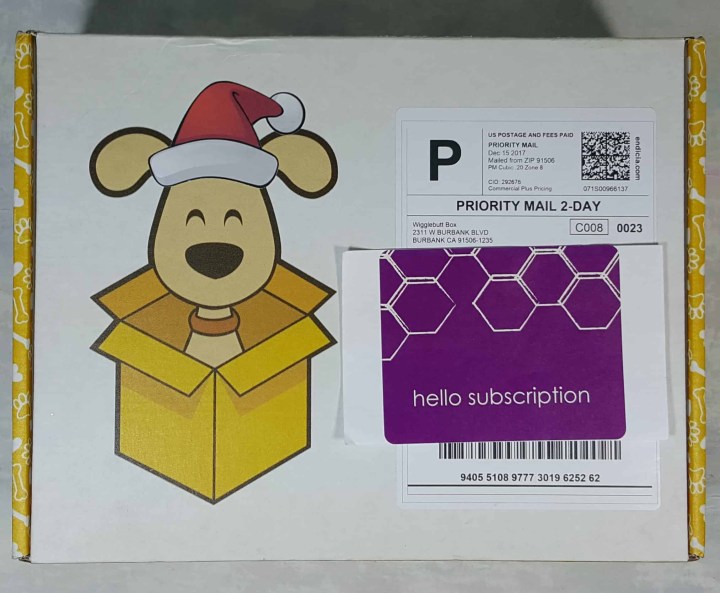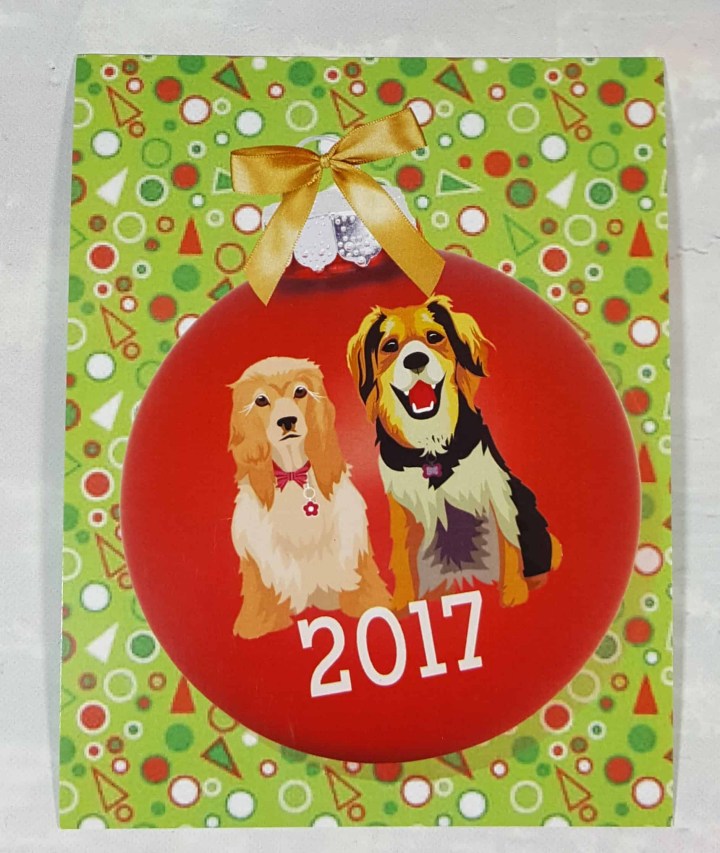 Wigglebutt Box is a subscription box of "yummy and fun surprises for you and your dog that are delivered right to your door every month." Each box contains a seasonal kerchief, a roll of poop bags, and a combination of 3-5 toys/treats/accessories. Boxes are tailored to your pet's size and toy treatment. Pet parents are not forgotten either; there's a gift included for you too! Plans start at $35/month, but you can increase your savings by choosing a longer subscription option (3-month, 6-month, and annual plans available). Plus, a portion of the proceeds from every box sold will go towards an animal charity.
I get the small dog/average play Wigglebutt box for my fur babies, Lily and Lexi.
Happy Holidays from April and Mia! Are you on the naughty or nice list? I wonder if the girls' pawrents have this ornament on their tree at home.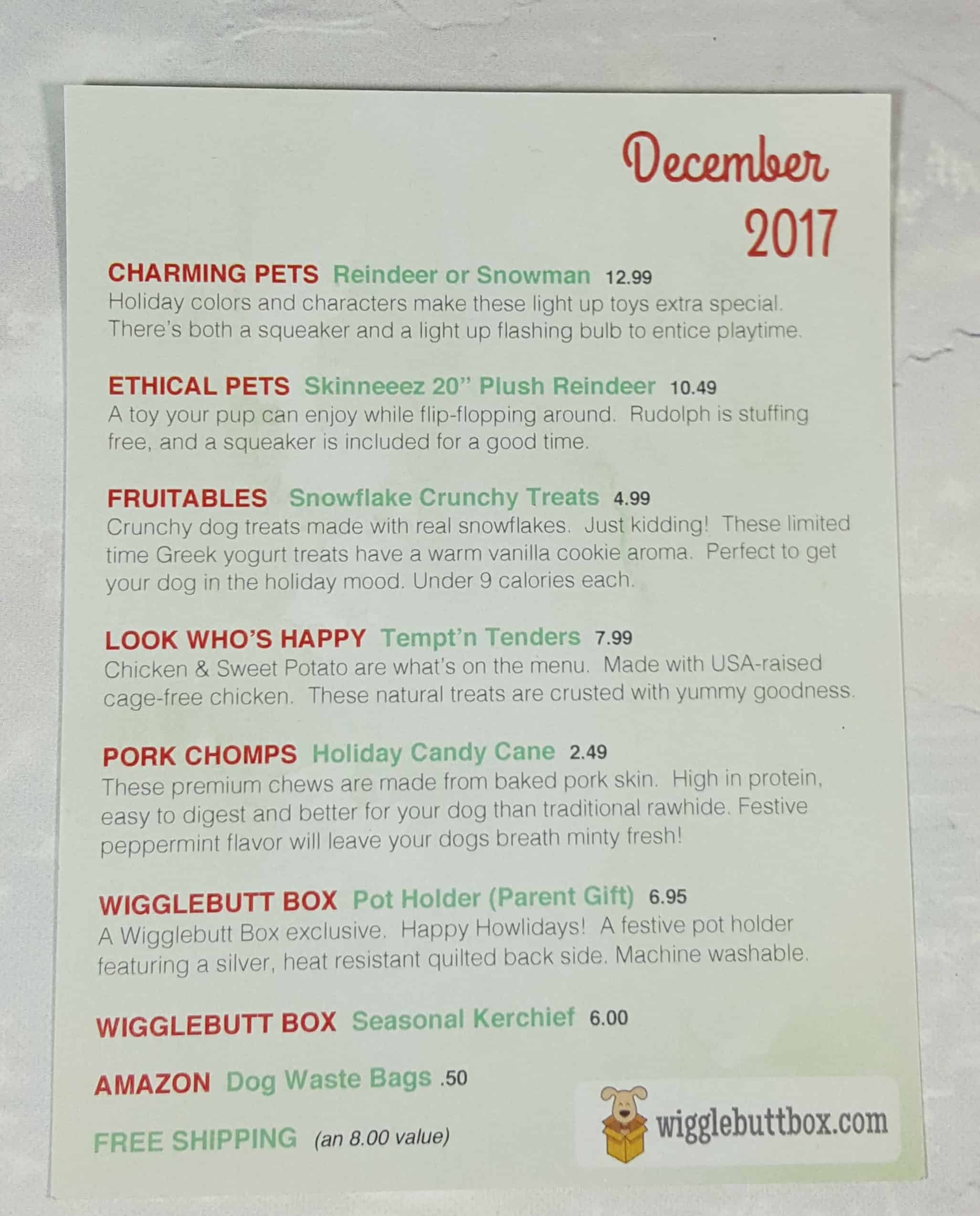 The information card has a list of box contents along with a brief description and prices. Unless noted otherwise, the prices below are the same as on the card.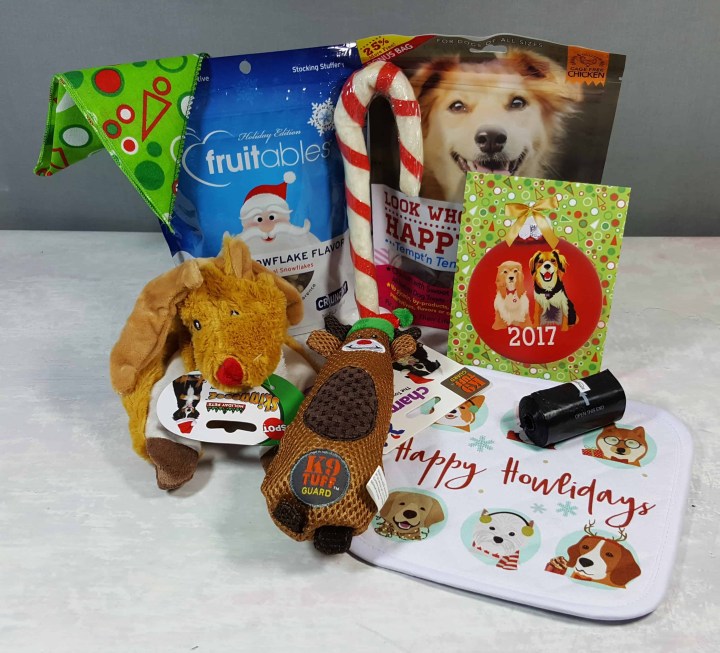 Happy Howlidays – I LOVE IT! Here's our December Wigglebutt Box. I see a few items that will be fan favorites quickly.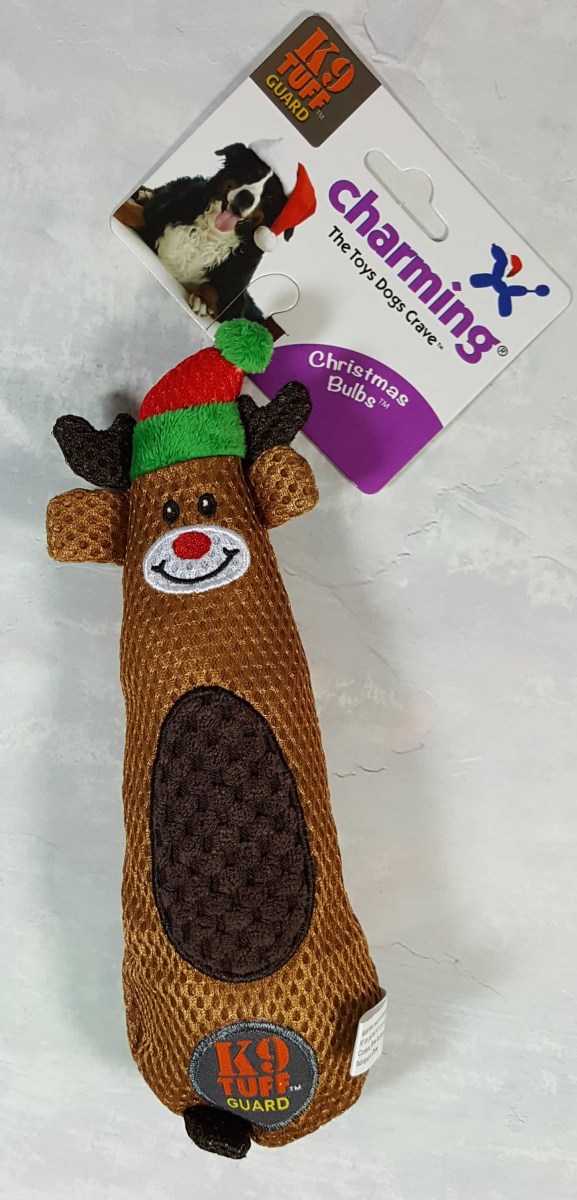 Charming Pets | Reindeer or Snowman ($12.99): I wasn't able to find this toy online. There were other Charming Pets items, but none were close as far a materials go. Now, that I've digressed, let's get back on the subject of this toy. It's constructed with a tougher weave fabric for heavy chewers. It contains a squeaker in the head and bounce ball in the base. Lily loved the squeaker and Lexi loved the ball base – I've been watching a lot of tug o' war around the house with this toy.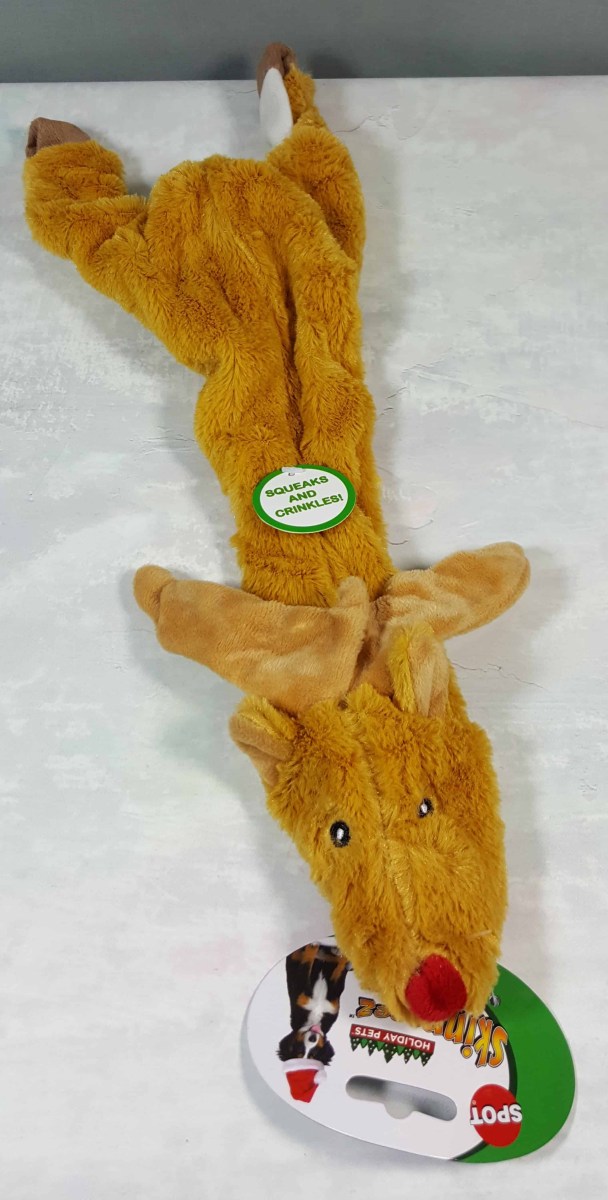 Ethical Pets | Skinneeez 20″ Plush Reindeer ($10.49): Instead of fiberfill stuffing, this reindeer has a sheet of crinkle paper and a squeaker. I find these toys a little disturbing but love the fact that there will never be bits of fluff around the floor from them. These are also great tug toys because of their length. The girls love this a lot because it's similar to a rat they received in another box.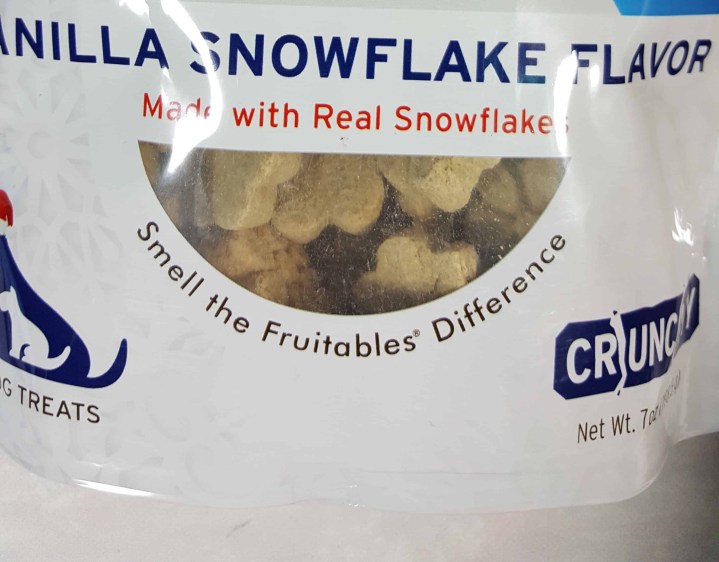 Fruitables | Snowflake Crunchy Treats ($4.99): I haven't had much luck with the girls liking dog biscuit/cookie treats, and I was hopeful that this variety would be a winner. Seriously, I could smell the vanilla through the bag, and it made me hungry! These treats are made with pumpkin granola, Greek yogurt, snowflakes (yes, it is in the ingredient list), vanilla, and Vitamin E. They sound yummy to me, but were not viewed the same way by my picky eaters. However, we gifted these to my sister's dogs, and they loved them.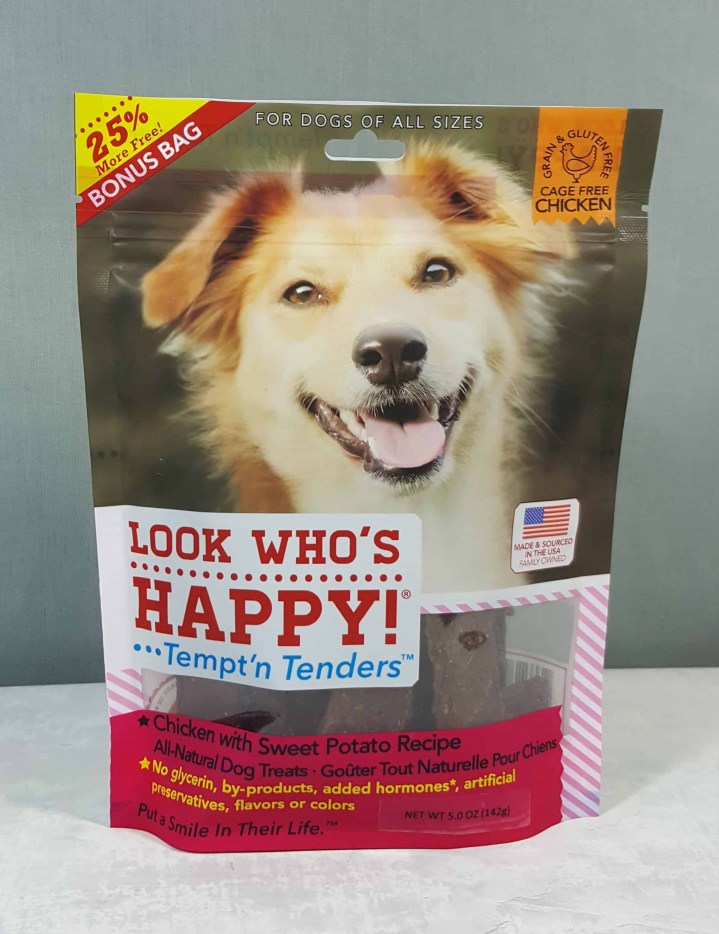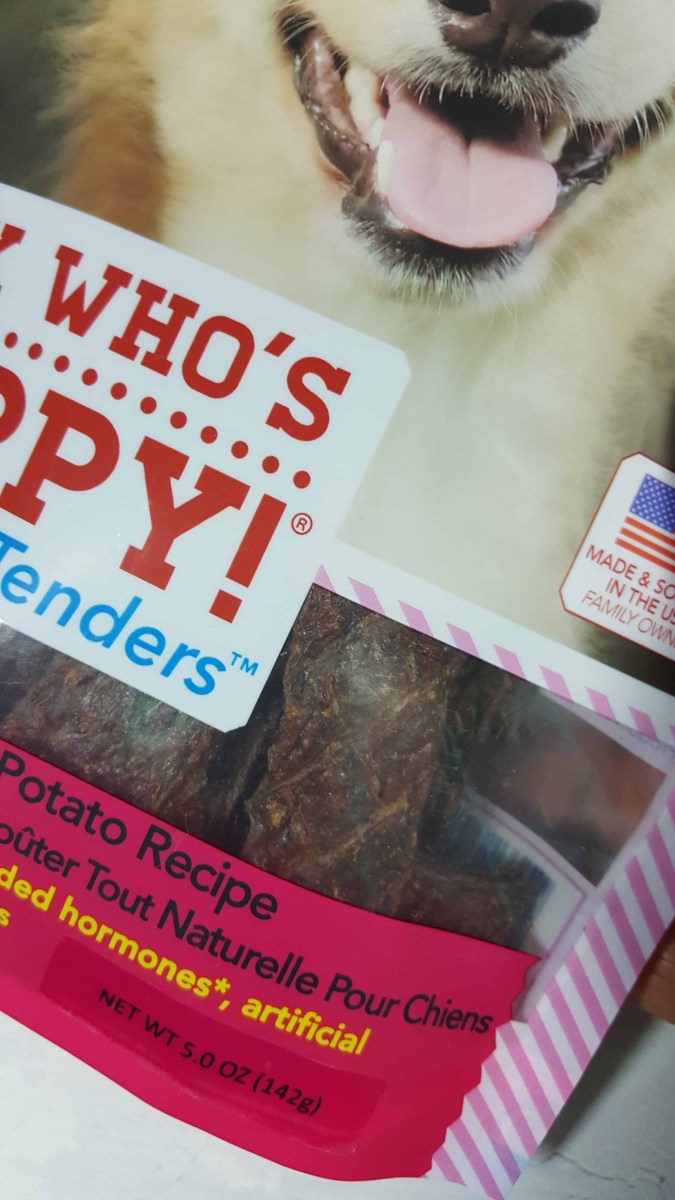 Look Who's Happy | Tempt'n Tenders – Chicken & Sweet Potato ($7.99): The girls loved these meaty treats. Honestly, I had to read the label again to confirm what meat they were. The treats were so dark that I though they were beef, not chicken. I assume the coloring is from the molasses in the recipe.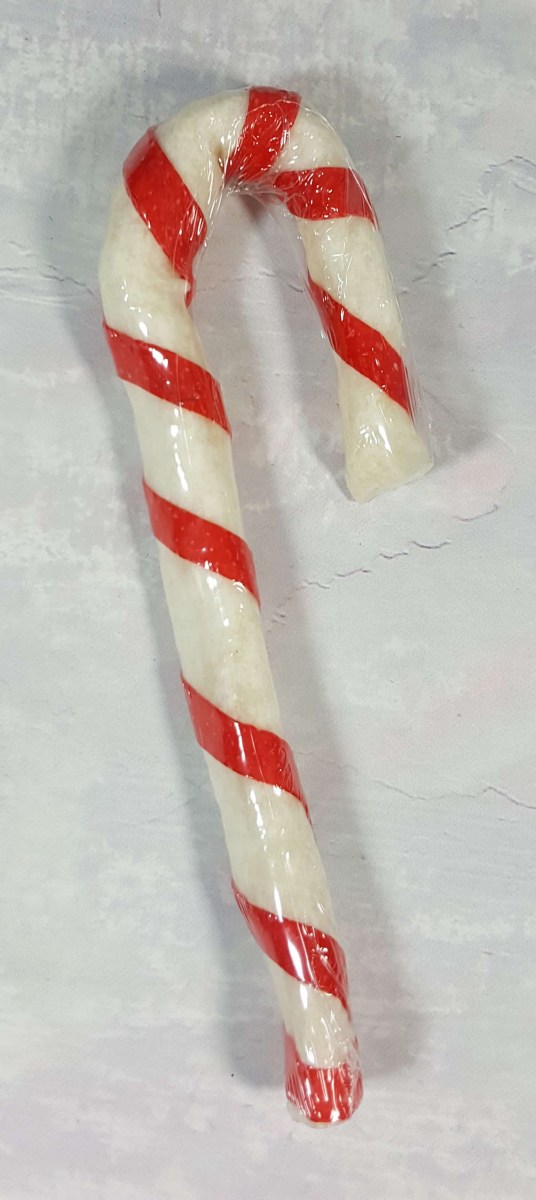 Pork Chomps | Holiday Candy Cane ($2.49): There wasn't a visible label to confirm that this is a Pork Chomps treat, and I couldn't find this on their website. Regardless, Pork Chomps are made from baked pork skins, making them easier to digest for your pet than traditional rawhide. It also has a peppermint flavor to help freshen your pups breath. Lexi went after this first and got all of the red strip off within an hour.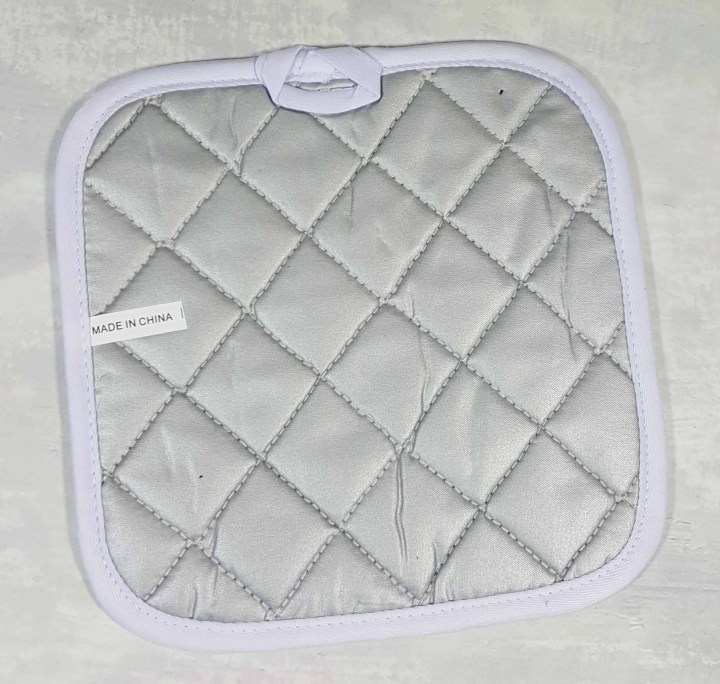 **Parent Gift ** Pot Holder ($6.95): I couldn't find this exact pot holder, so I linked to a similar product. This is a standard 8″ x 8″ pot holder with festive pups on one side and a heat-resistant back. It also features a loop for hanging. Surprisingly, I have a few different holiday kitchen towels but no pot holders… Thanks, Wigglebutt Box for fixing my issue.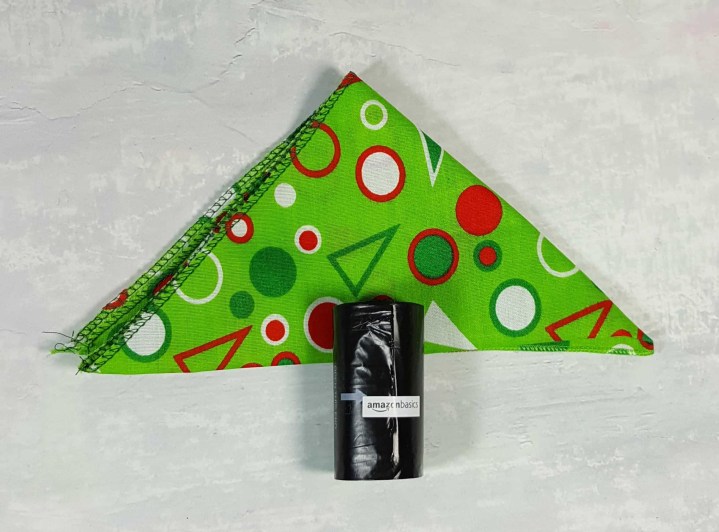 Seasonal Kerchief | Wigglebutt Box ($6.00): I love the bright green background and red/white accents on this month's scarf. While Lily posed with this on, it will be part of Lexi's Christmas day look (she hates clothes, but I like her to look festive).
Dog Waste Bags | Amazon ($0.50): I can never have too many poop bags.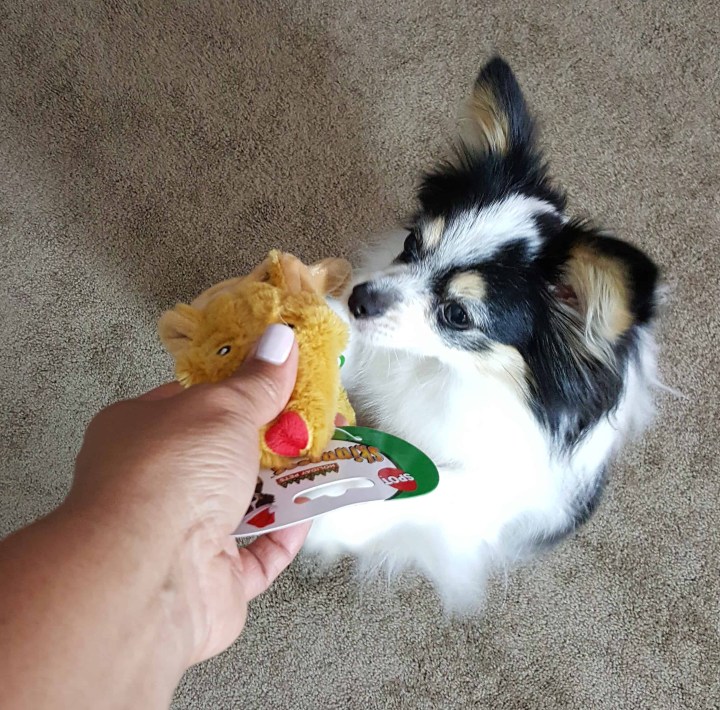 I might have teased Lily over by pressing the squeaker. She then kept bouncing at my side to get at the toy.
Here's Lexi trying to sneak away with the Pork Chomp bone. It's about as long as her head and ended up getting dragged along the floor.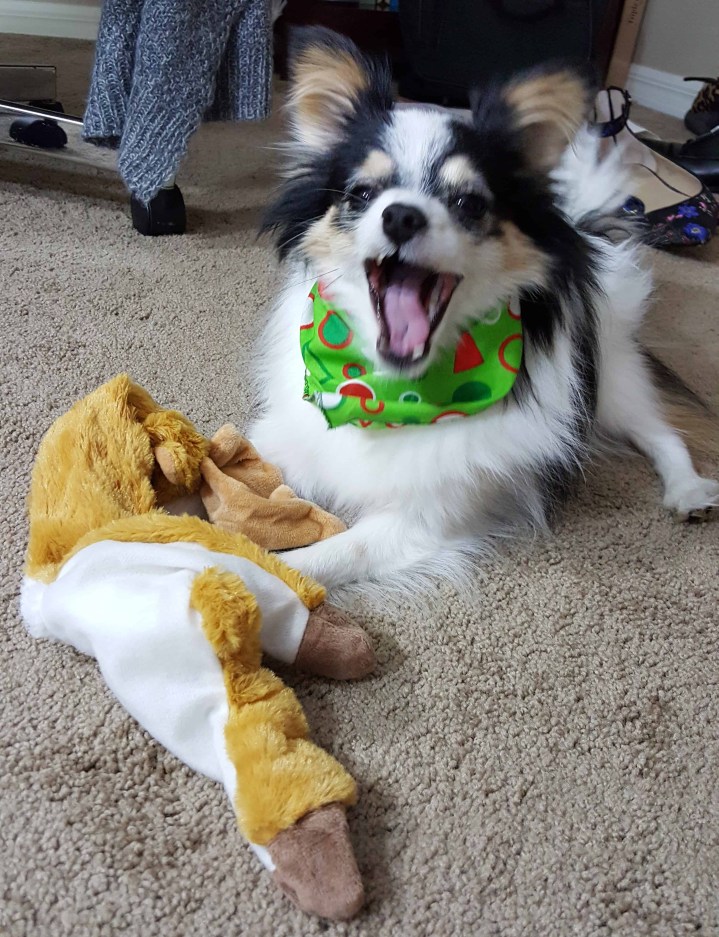 Lily looks like a vicious attack dog here, but in reality she was yawning after a round of fetch with her new Skinneeez reindeer. Just after this shot, I got a pretty shot of her showing off the scarf, but I decided to share this because it was funnier to me.
December's Wigglebutt Box had a value of $52, excluding the estimated cost of shipping (an $8 value that is listed on the information card). I was happier to see an increase in box value, since the past few have been near the cost of a single box. The girls thoroughly enjoyed both toys and the meat based treats. Plus, mommy liked her pot holder. So, I think this box was a win for us. Can't wait to see what items we'll get to start off the new year.
What did you think of this month's Wigglebutt Box? Leave a comment below and let me know.