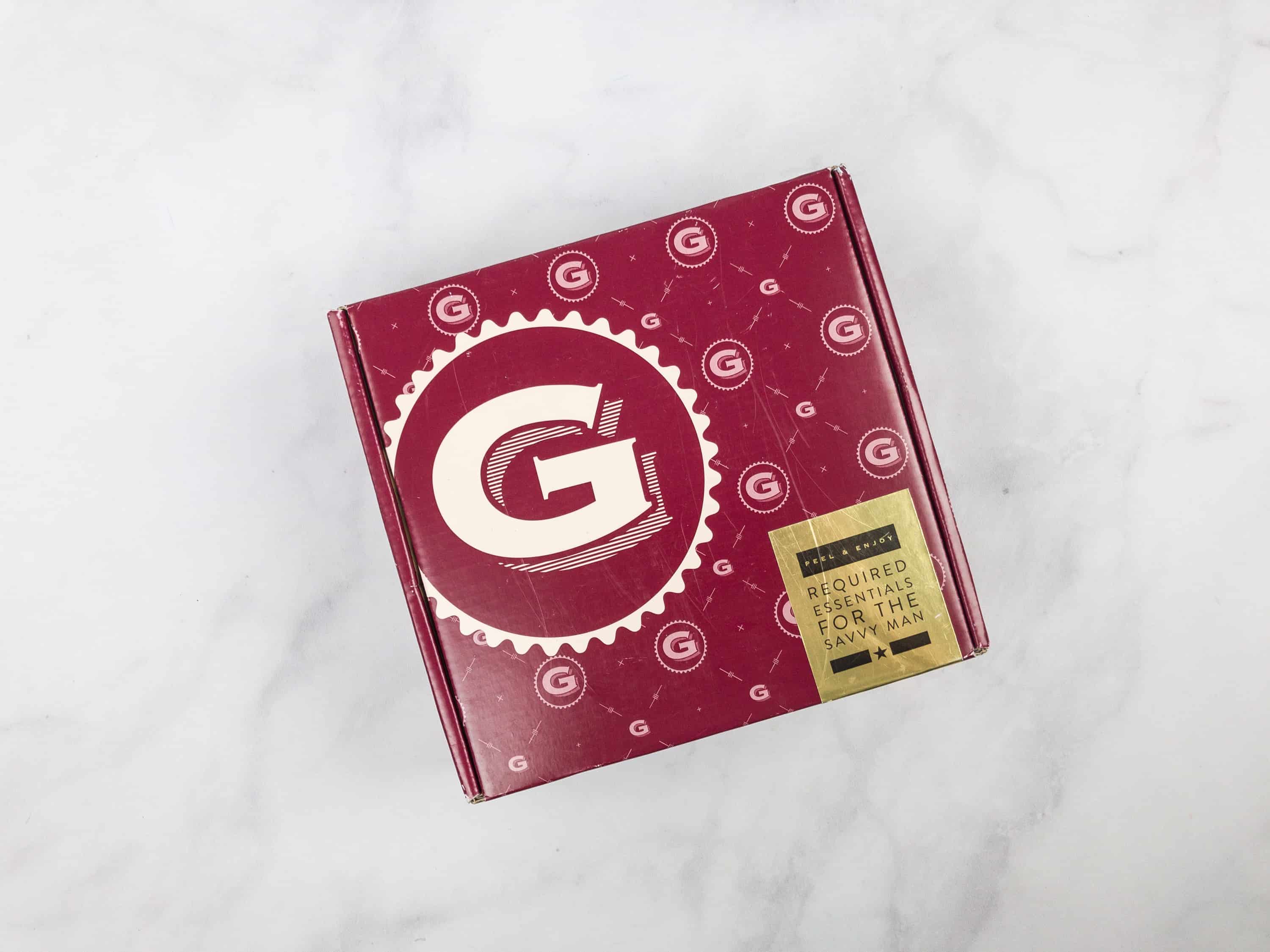 The Gentleman's Box is a monthly men's subscription box providing the required essentials for the savvy man. Boxes contain specially-selected items that range from accessories to grooming. When you subscribe, you also receive a subscription to GQ magazine, which is delivered separately through the mail.
Each box also includes a copy of The Gentleman's Post, a well-designed booklet describing the products in the box and offering styling suggestions for each one.
The exact content remains a mystery, tucked neatly beneath white butcher paper.
DEAL: Save $5 on your first box. Use coupon code HELLO.
The Gentlemen's Post walks through everything in the box, and more. There is a handy table of contents that gives a quick list of the contents and the total retail value. The last several issues have introduced new members to the Gentleman's Box team.
Each month is dedicated to someone who has had a significant influence on culture or fashion. This month's collection is to our favorite Narrator (Morgan Freeman).
They always give you an inspiration page showing all the items in the box and how to wear them.
A page is dedicated to each item — they include the usual picture and blurb, but they also include a handy section denoting the level of attire (e.g. formal, business, biz-cas, casual) for which the item is appropriate, as well as colors that best complement it.
I really like the layout of the product guide!
They categorize items and features into Look Good, Feel Good, and Be Good sections, highlighting fashion, health and grooming, and charitable endeavors, respectively.
The Feel Good section includes a feature about clever ways of cleaning out your closet.
They even provided tips for partying properly, as St. Patrick's Day is approaching.
Last section is Be Good, and this month it teaches us how to be a gentleman in the workplace.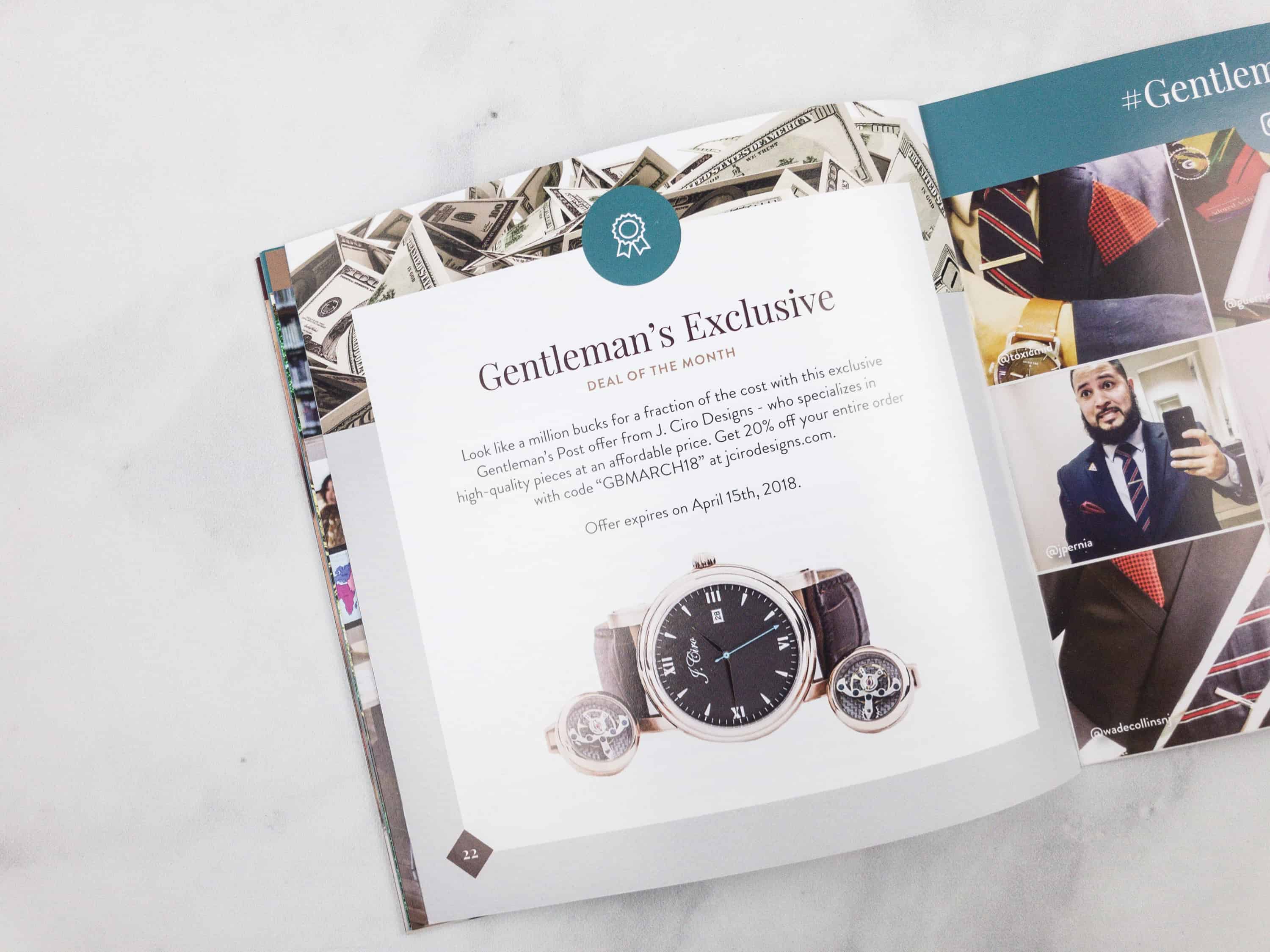 This month's Gentleman's Exclusive offer is a 20% off coupon code you can use at J.Ciro Designs online store.
All the items are neatly packed, wrapped in white paper and sealed with a black and gold sticker with the Gentleman's box logo.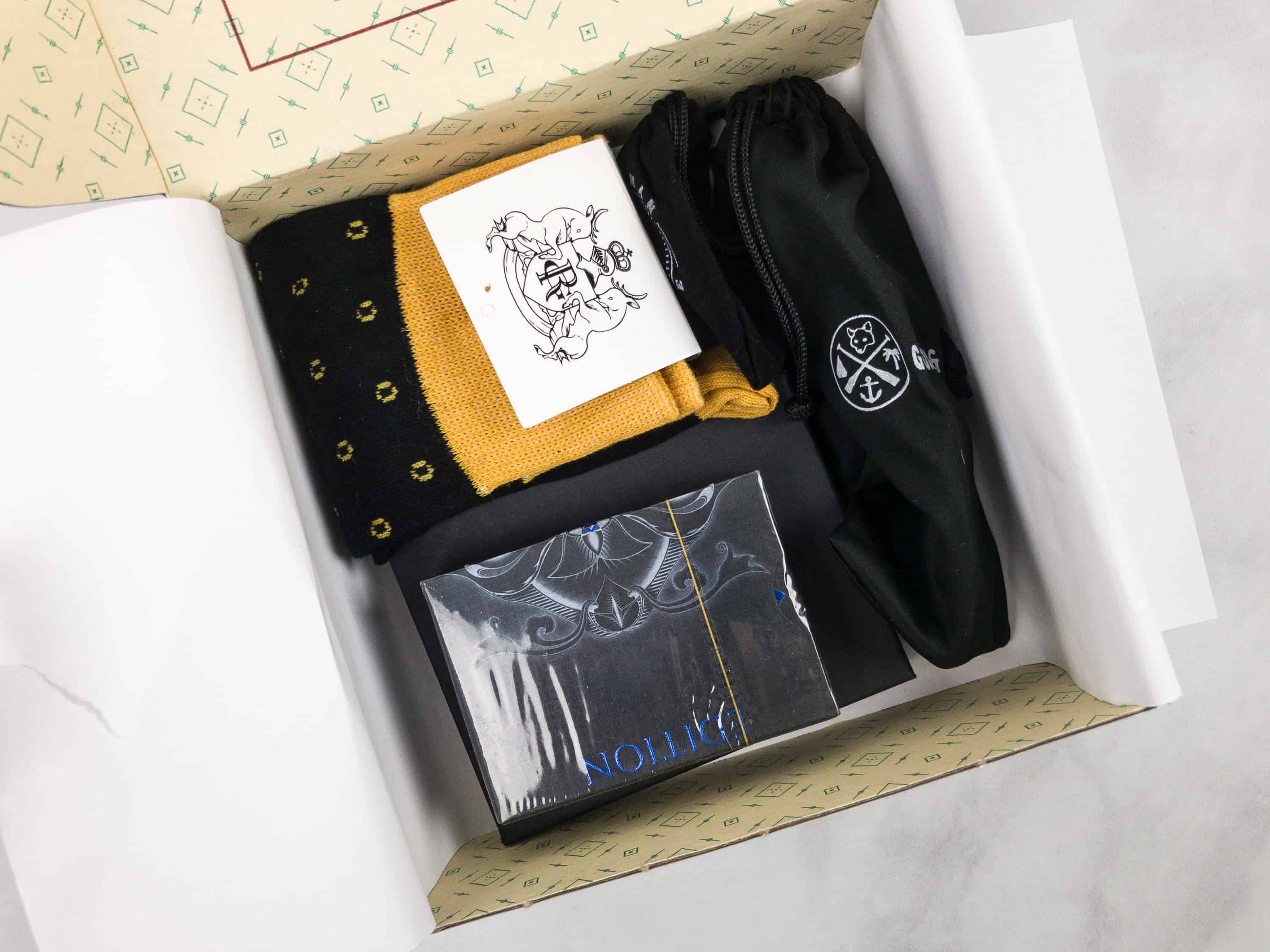 They pack a lot of stuff into a little box!
Everything in my March box!
Rutherford Sock Co. Polka Dot Socks ($15) These bold socks are sure to get anyone easily noticed. It features a black base highlighted with yellow cuff and heels, plus polka dots all around.
The socks are made of cotton, nylon, and spandex. It also features a non slip-sole that makes it more breathable and comfortable to wear!
Gentleman Collective Saxophone Tie Clip ($19) Tie clips are great accessories, primarily because they keep the tie neat and well-presented. If it's bearing an interesting design like this gold-plated saxophone clip from Gentleman Collective, it's even better because the details stands out, which easily upgrades the look of any formal outfit.
A black drawstring bag with a Gentleman Collection logo was provided for safekeeping.
This 2-inch saxophone tie clip is quite detailed too!
Soft Landing Collar Stays ($29) These collar stays in different lengths will keep your collar stiff, thus preventing the points from curling up. It also gives your collar the right sleekness that you'll surely need for your gutsy formal wear!
These 3 pairs of stainless collar stays have a Soft Landing brand logo engraved on it.
G Fox And Co. Wayfarer Sunglasses ($25) We still have a long way to go before summer but this pair of wayfarer sunglasses looks so good, I can't wait to get a chance to use them outside.
It has a black frame and gradient lenses, definitely a classic!
Both lenses have an anti-ultraviolet ray coating which will protect your eyes from unwanted and harmful radiation.
Seasons Playing Cards Deck Of Cards ($15) An award-winning deck of cards which arrived in luxury packaging.
The tuck case has a modern and elegant feel!
The cards are high-quality. I also like the intricate designs featured on this deck!
Although I missed the tie and pocket square this month, I still think it was still an overall good curation because it included a nice pair of bold socks, an ornate saxophone pin, and a pair of classic wayfarers. I also liked the addition of the collar stays because they're quite useful, while the cards had a unique design that any collector or player would love to have. It's a great subscription for men's must haves, ranging from accessories to grooming and everything in between.
Have you tried Gentleman's Box?