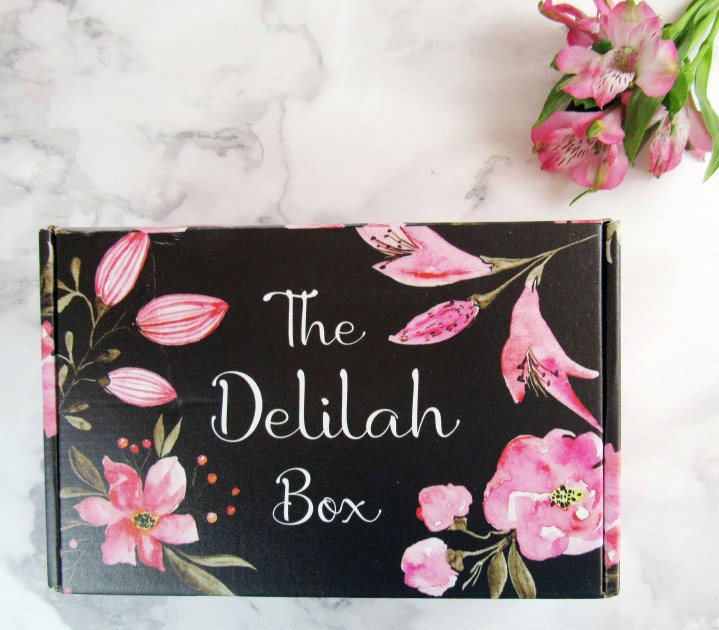 The Delilah Box is a monthly Christian subscription box and study of the lesser known women of the Bible. The theme-base box is centered around one woman each month.  Expect to receive two to three books, a Study Brochure, and two to three additional items such as teas, jewelry, candles and other accessories. Enrich your study time and grow in your faith as you learn more about the sometimes forgotten and often relatable women of the Bible.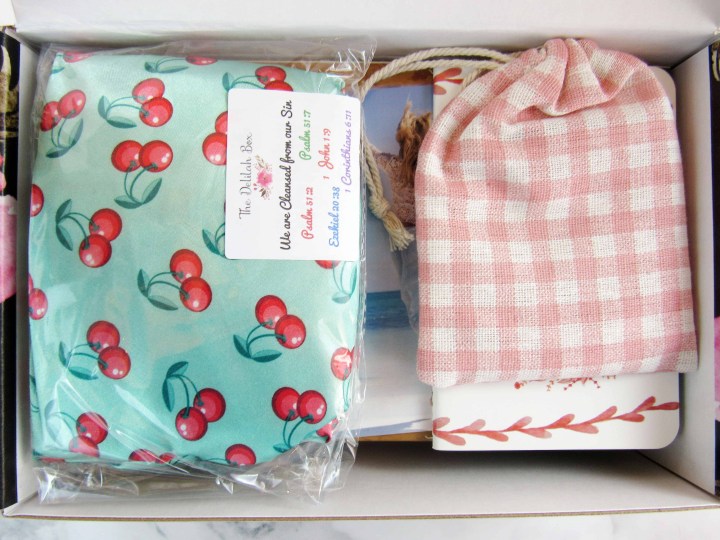 I am curious about this box. I love the idea of being able to study one women per month from the Bible. There are many women that play minor roles in the Bible that are often overlooked. I could not wait to see who was selected for the March study. Alas, I had to wait until I unpacked the box!
DEAL: Get 20% off on your first box. Use coupon code DELILAH.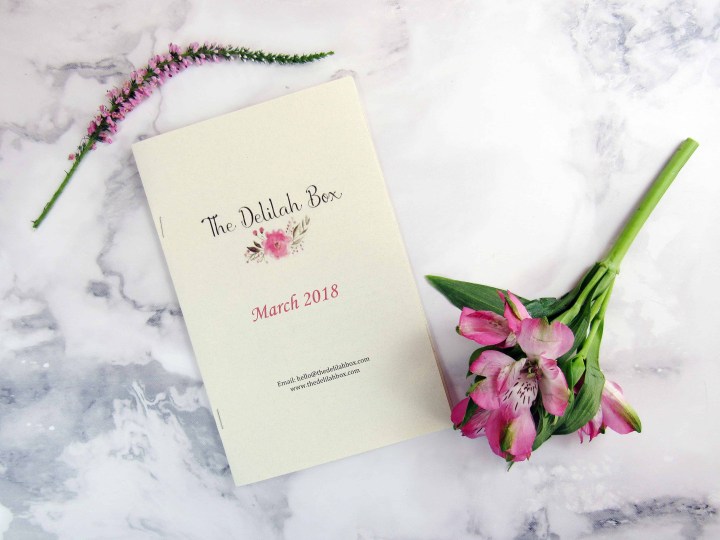 The Delilah Box March 2018 Booklet has quite a bit of information in it.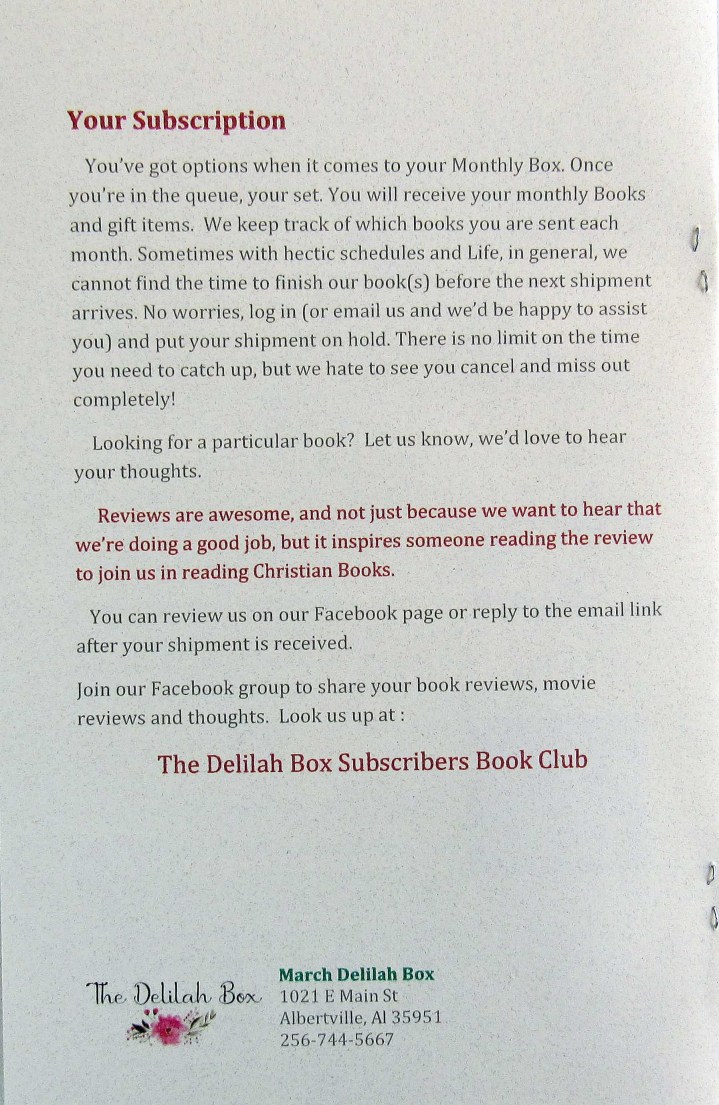 The back cover provided additional information for subscribers regarding their subscription including a Facebook group for discussion.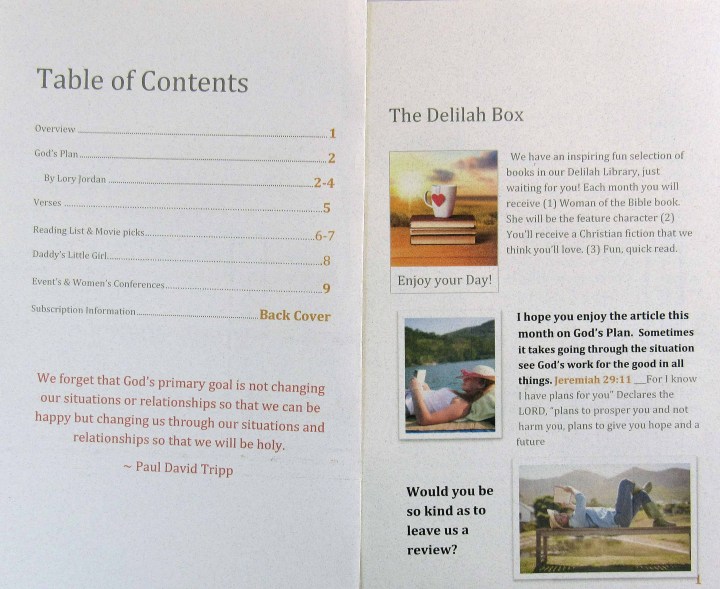 The booklet provided a table of contents, an overview, a testimony, and more. There is no information provided on the items in the box. I enjoyed reading this month's article on God's Plan.
Timing is everything. I read the 'Our Movie Picks and Watch List' the night that my husband and I went to the movies and watched Connect starring Kirk Cameron. The thought that went into creating the information booklet was meaningful to me. It went beyond being an information booklet and was an outreach tool reaching into my life.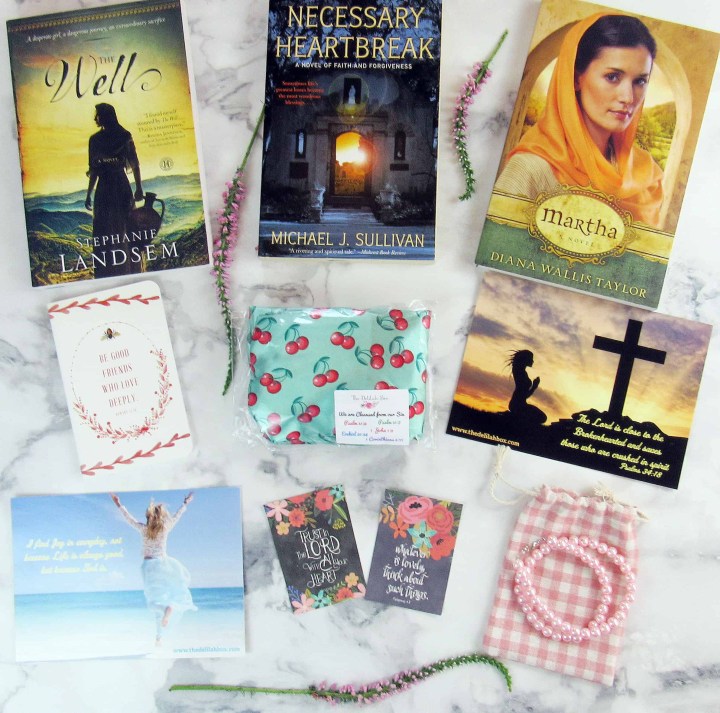 Here are the items in the March The Delilah Box.
The Woman at the Well comes to life in The Well by Stephanie Landsem ($14.99, $8.24 Amazon.)
In the rich tradition of Francine Rivers's Lineage of Grace series, comes a beautiful retelling of the biblical story of the woman at the well—bringing to life this poignant young woman struggling to survive love and heartbreak.

Could he be the One we've been waiting for?

For the women of the Samaritan village of Sychar, the well is a place of blessing—the place where they gather to draw their water and share their lives—but not for Mara. Shunned for the many sins of her mother, Nava, Mara struggles against the constant threats of starvation or exile.

Mara and Nava's lives are forever changed with the arrival of two men: Shem, a mysterious young man from Caesarea, and Jesus, a Jewish teacher. Nava is transformed by Jesus, but his teachings come too late and she is stoned by the unforgiving villagers. Desperate to save her dying mother, Mara and Shem embark on a journey to seek Jesus' help—a journey that brings unexpected love and unimaginable heartbreak.
The emotional story tugged at my heartstrings as I read about unconditional love and faith. It made me cry and made it all the more real to me.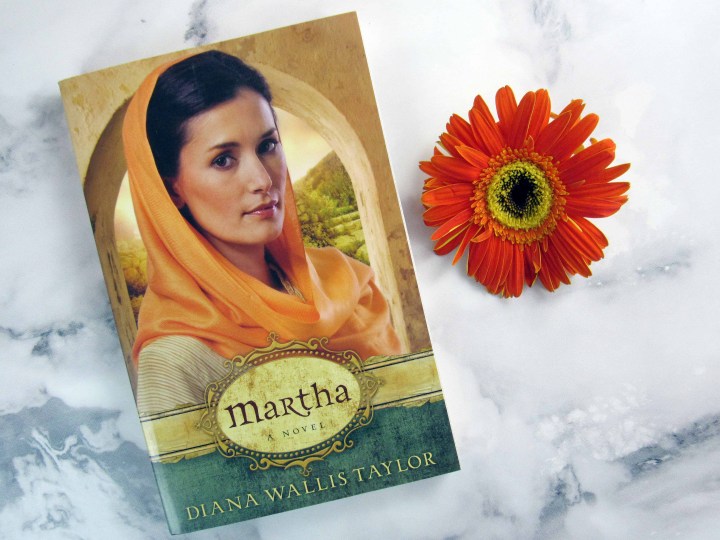 I feel like sometimes Martha gets a bad rep in Women's Bible Studies and was delighted to read Martha by Diana Wallis Taylor ($14.99, $13.67 Amazon.)
Perhaps one of the most misunderstood and misrepresented characters of the New Testament is Martha. Often painted in the colors of reproach, Martha seems to be the poster child for how not to be a follower of Jesus. From the mind of Diana Wallis Taylor comes this touching, well-researched portrayal of Martha of Bethany, sister of Mary and Lazarus. Through Taylor's lush descriptions and inspired combination of imagined and recorded dialogue, Martha's world–her trials, triumphs, and loves–vibrantly comes to life. Follow Martha as she is jilted by her betrothed, falls in love with a Roman soldier, grieves the death of her father, cares for her siblings, and serves her Lord with dignity and grace. Readers will never read the biblical story of Martha the same way again.
Martha became a three-dimensional person as I read the book. Diana Wallis Taylor's research shows in her descriptions of Biblical times. I did struggle with a couple of fictional choices that Martha had made but loved how the book fused fiction and the Gospel into a well-written read.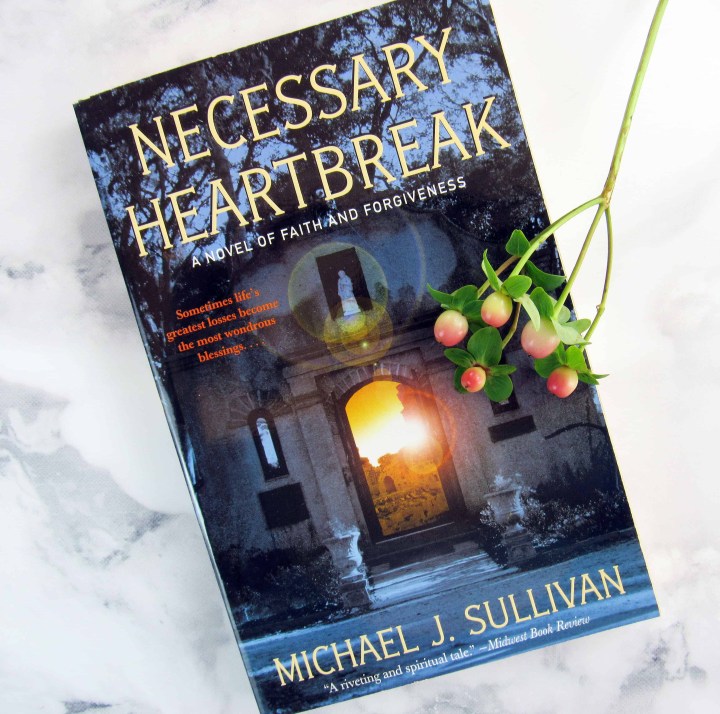 I have decided to read Necessary Heartbreak: A novel of Faith and Forgiveness by Michael J. Sullivan ($15.00, available for less through Third Party Sellers on Amazon) during Passion Week, the week leading up to Easter.
An extraordinary journey back in time shows a struggling single dad that the faith he's lost is still alive—and stronger than ever. . . .

Michael Stewart has weathered his share of hardships: a troubled childhood, the loss of his mother, even the degradation of living on the city streets. Now he's raising his teenaged daughter, Elizabeth, on his own and doing the best he can at work and at home. But he's turned his back on his faith—that is, until the morning Michael and Elizabeth volunteer for a food pantry at their local church. While storing boxes in the basement, they step through a mysterious door . . . and find themselves in first-century Jerusalem during the tumultuous last week of Jesus Christ's life. It is a dangerous and violent place, where doing what your heart tells you is right can get you imprisoned—or worse—and they are thankful to take refuge with a kind widow. But when they come face-to-face with Judas Iscariot and the condemned Christ himself, Michael realizes that before they can escape Jerusalem, he must experience history's most necessary and shattering heartbreak—and that pain and loss must happen if Michael is to be set free: to live, love, and reclaim the blessings he has in the present day.
It's also the first book of a Trilogy. I may read Everyone's Daughter and Greatest Gift if I am caught up in the story. My older son saw the book as I was writing the review and decided it was a must read now for him. it  looks like I may be reading it later than I thought!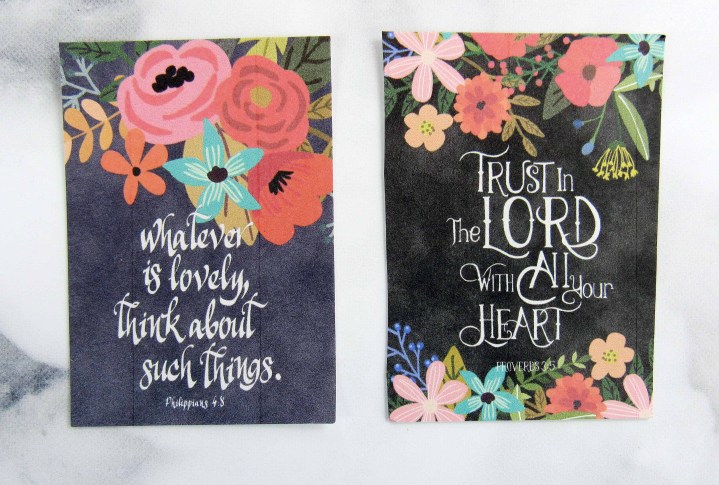 Two beautiful Scripture cards were included. I've been using them as bookmarkers.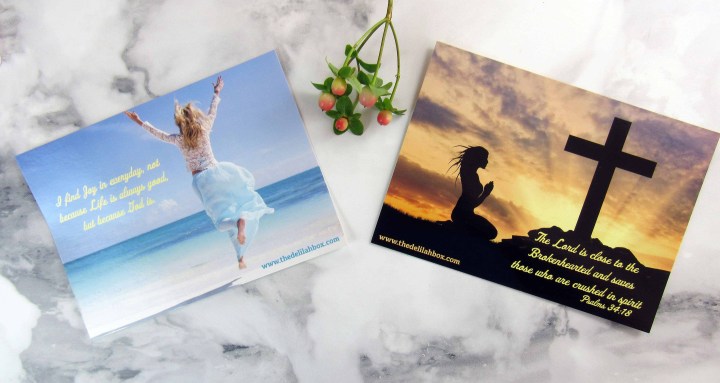 Two postcards were also included. The postcard on the left reads, "I find joy in everyday, not because Life is always good, but because God is." The postcard on the right reads, "The Lord is close to the Brokenhearted and saves those who are crushed in spirit. Psalms 34:18"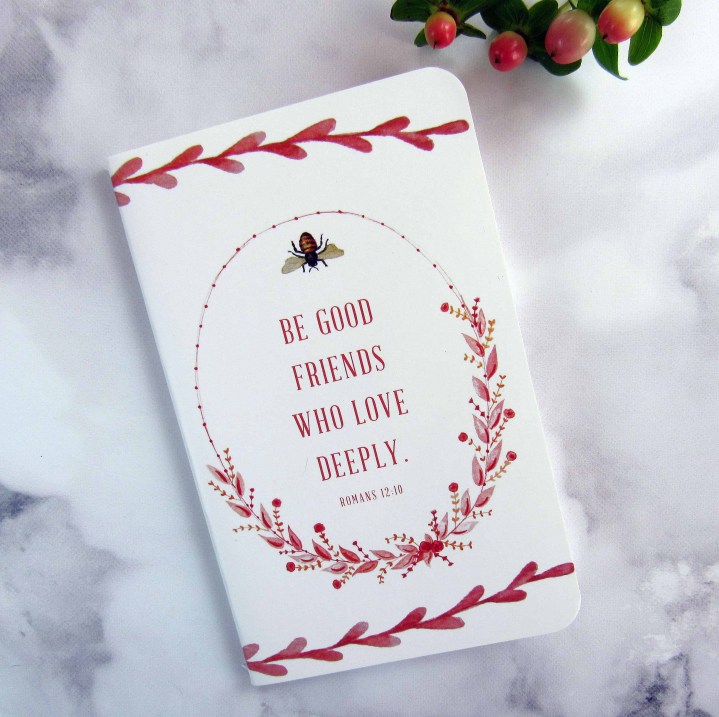 The saying on the Be Good Friends Pocket Notebook (Set of 3, $8.00, on sale for $6.99) resonated with me. It can be easy to be caught up with celebrating Easter and its traditions while a friend may be hurting and needs someone.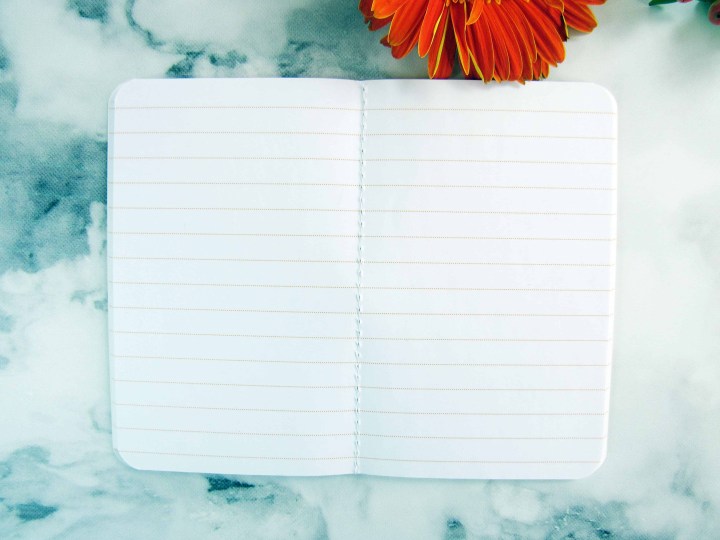 It's the perfect size for my purse. I prefer jotting down things on paper instead of using my phone.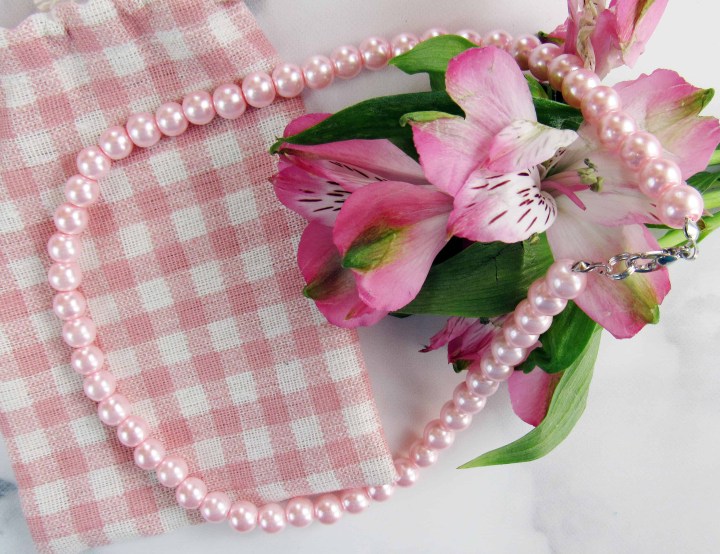 The adorable pink and white checkered jewelry bag had a wonderful surprise in it. The beautiful faux pink pearl necklace (appx $15.00-$20.00) reminds me of Easter and spring.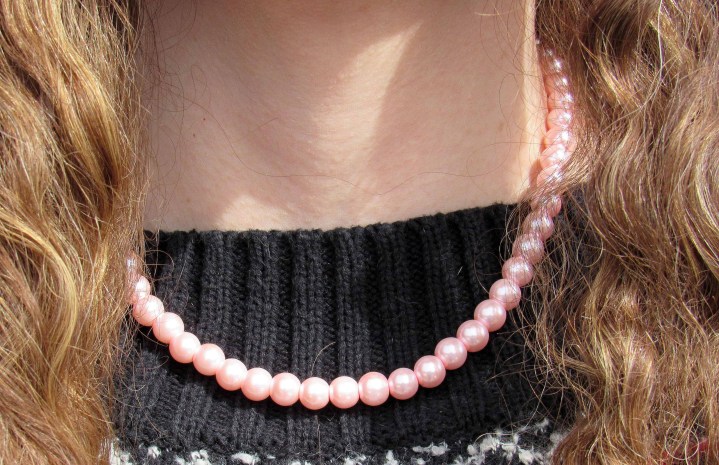 The delicate blush hue looked flattering on my sister who gasped in excitement as soon as she saw the necklace.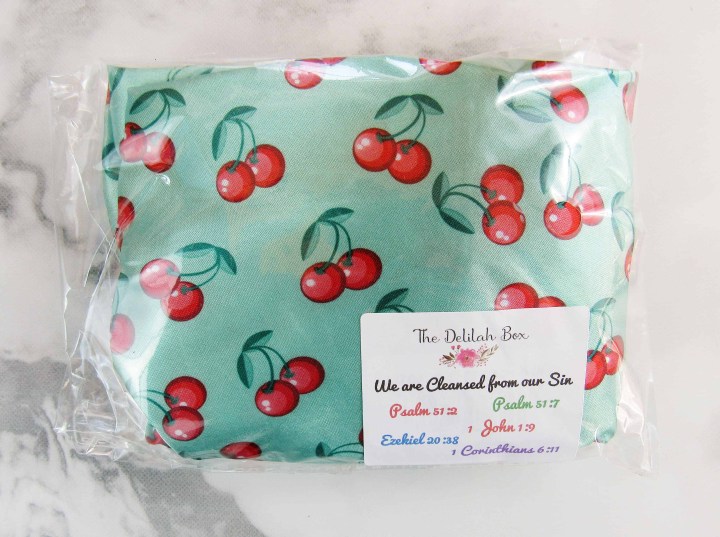 We had a lot of fun guessing what was inside this little package. We knew from the label that "We are Cleansed From our Sins Psalm 51:2, Psalm 51:7, Ezekiel 20:38, 1 John 1;19, and 1 Corinthians 6:11."
None of us guessed a shower cap! I felt that was much more exciting than receiving a face cloth.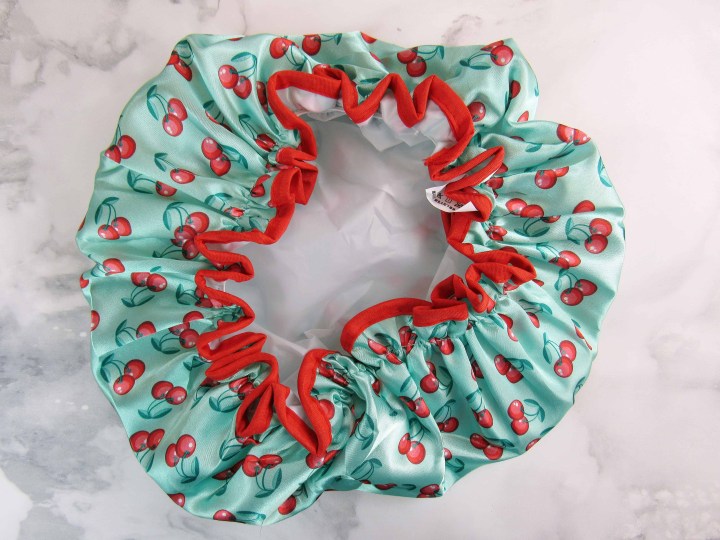 The Reusable Cherry Shower Cap (£1.99 on Amazon UK, appx $2.83 USD) will keep me looking stylish as I keep my long locks under wrap during spring cleaning. The cap has a satin feel with a vinyl type lining. I like that it does not smell like plastic.
As a Christian woman, I had my bouts of difficult times. I love that there is a box that concentrates on the women of the Bible and is encouraging. My sister joined in on opening the March The Delilah Box. We both loved that it felt inspiring with a tender touch. The monthly booklet was heartfelt and contained a lot of information. I enjoyed reading the first two books and look forward to reading the third book. The additional items felt like gifts from a friend. It's a wonderful box that promotes further study of women of the Bible in a delightful manner.
What did you think of this month's The Delilah Box?