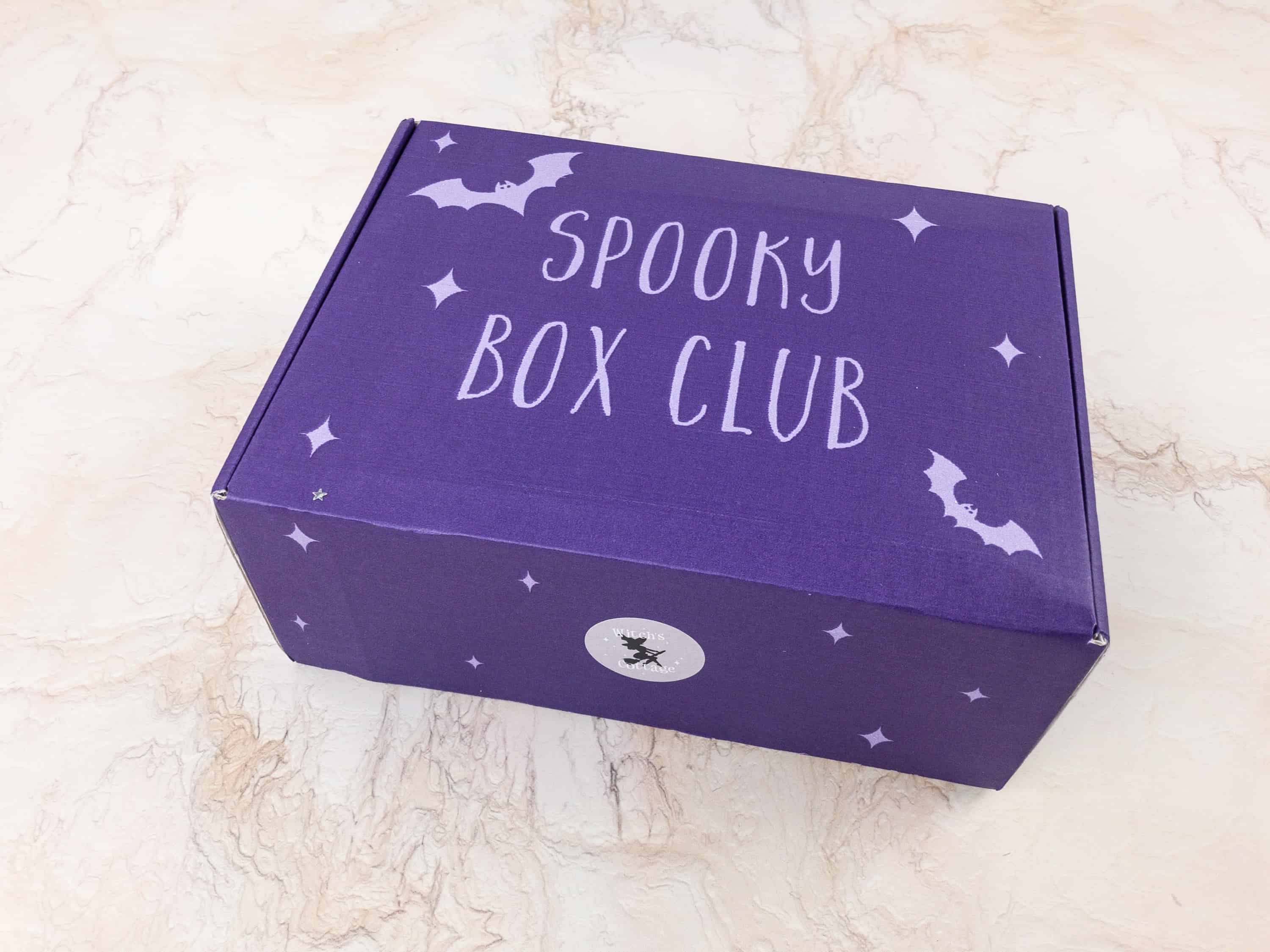 Spooky Box Club is a subscription box filled with anything cute, witchy, gothic, and anything spooky. Each box costs £21 per month, and a portion of the proceeds from each box purchased is donated to a worthy cause.
IMPORTANT: Please note the turnaround for receiving the box is usually 8 or more weeks, and there is no set shipping date for this box. If you complain or inquire about where your box is, you may find your purchase cancelled. If you are interested in this box, basically sign up and wait!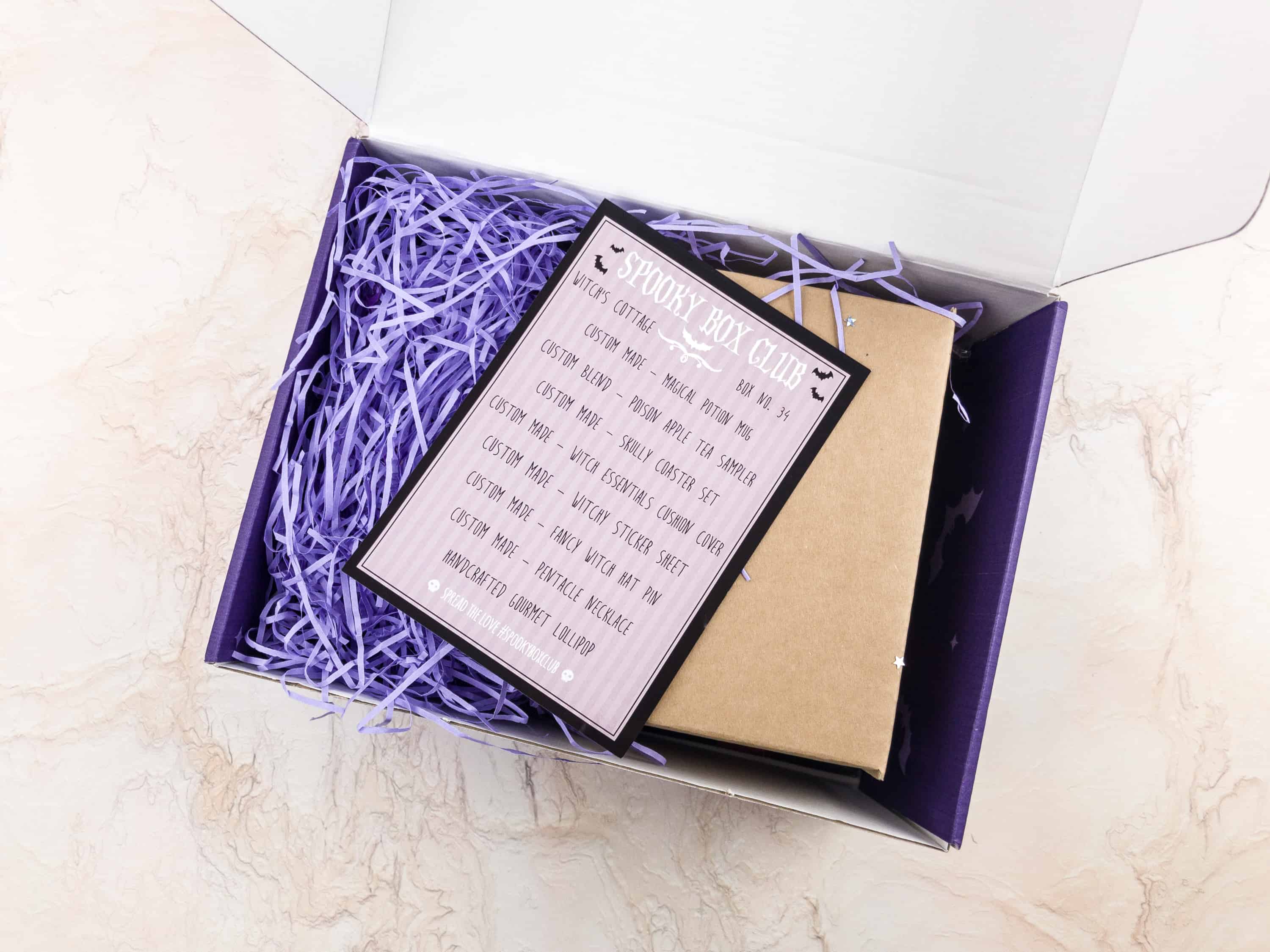 This is box number 34. The theme is Witch's Cottage.
I love the lavender squiggles!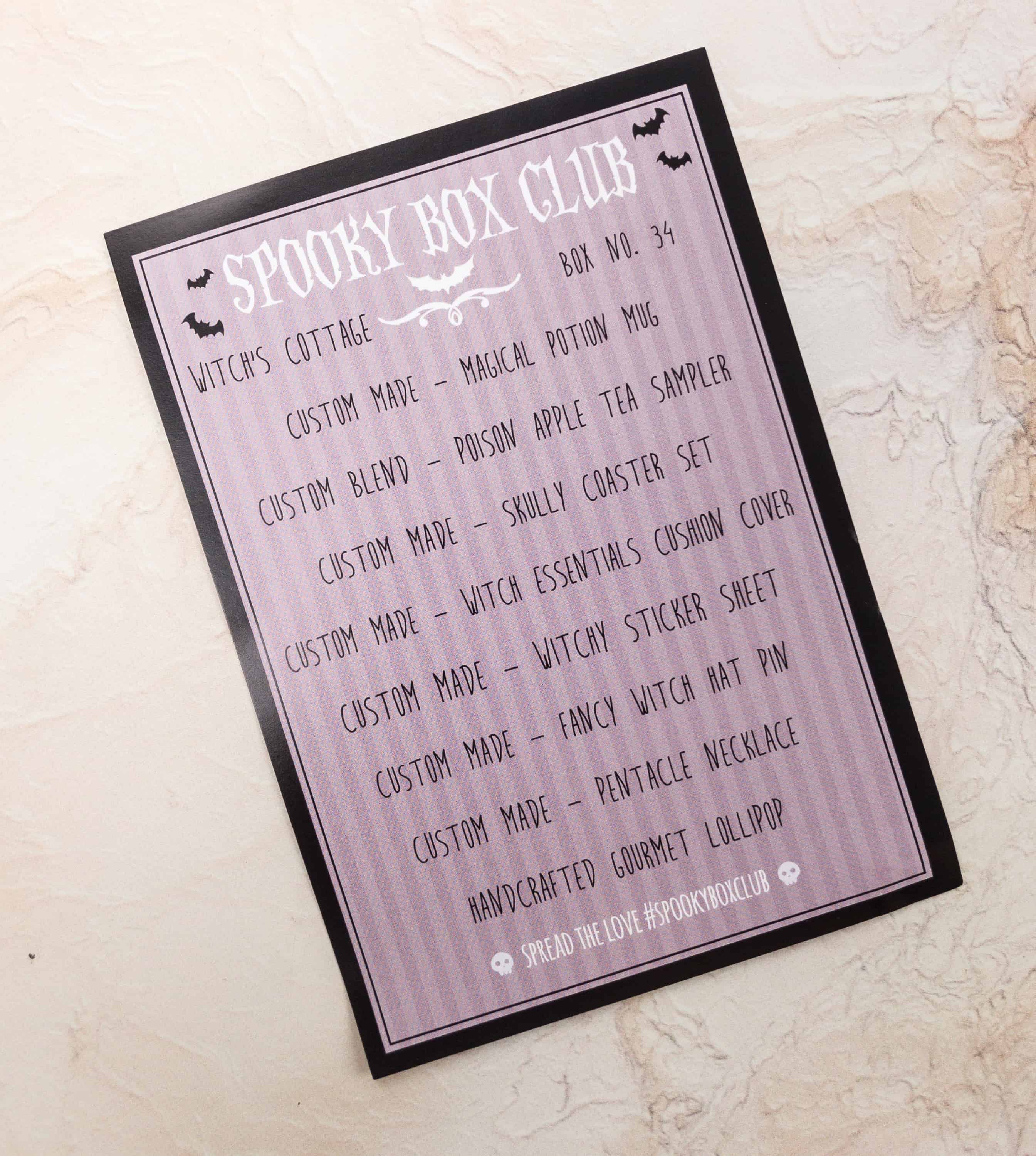 The box included an information card. It's a straightforward list of all the things in the box.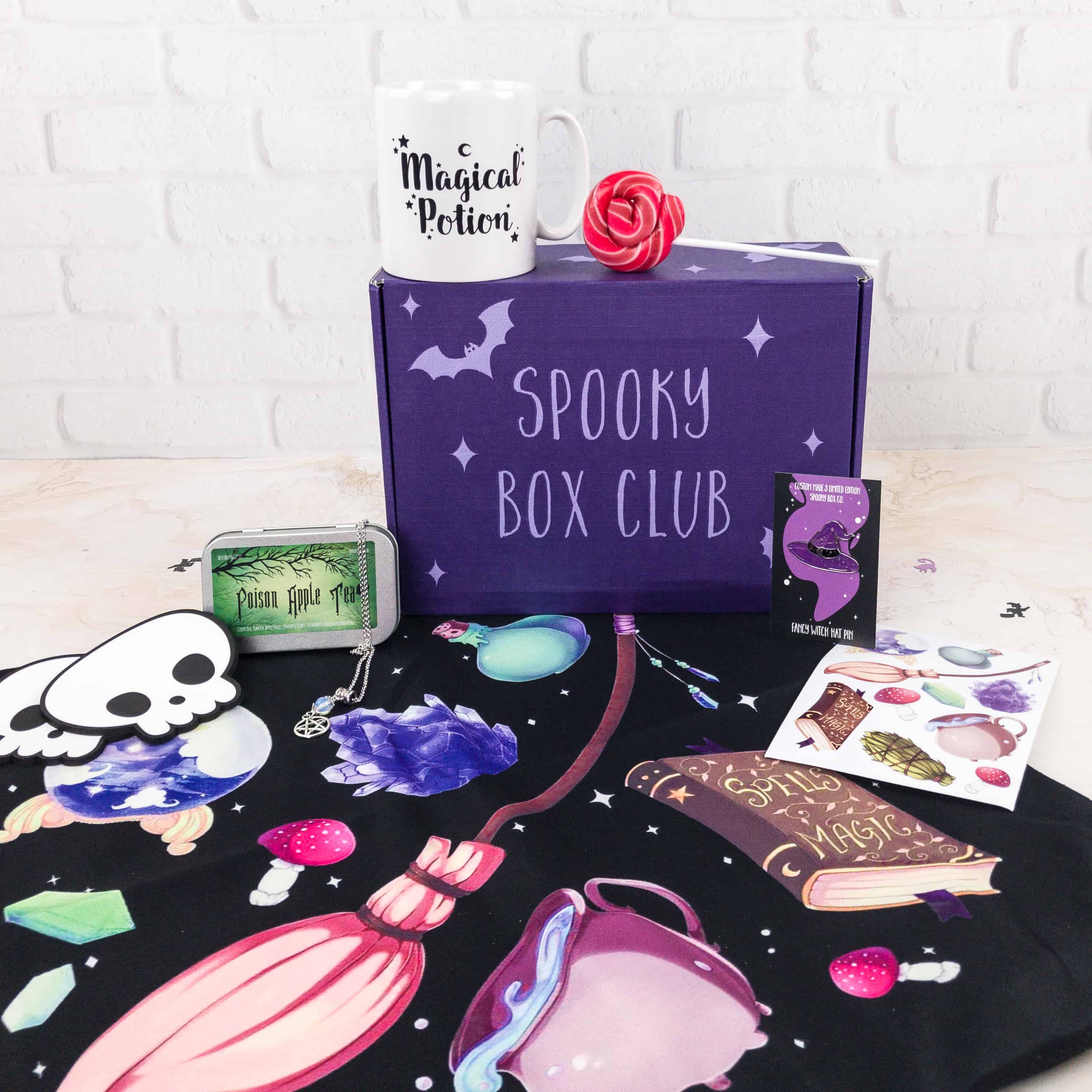 Everything in my box!
Handcrafter Gourmet Lollipop. This extreme-flavored lollipop is a Spooky Box staple. It's handmade and packaged in the UK.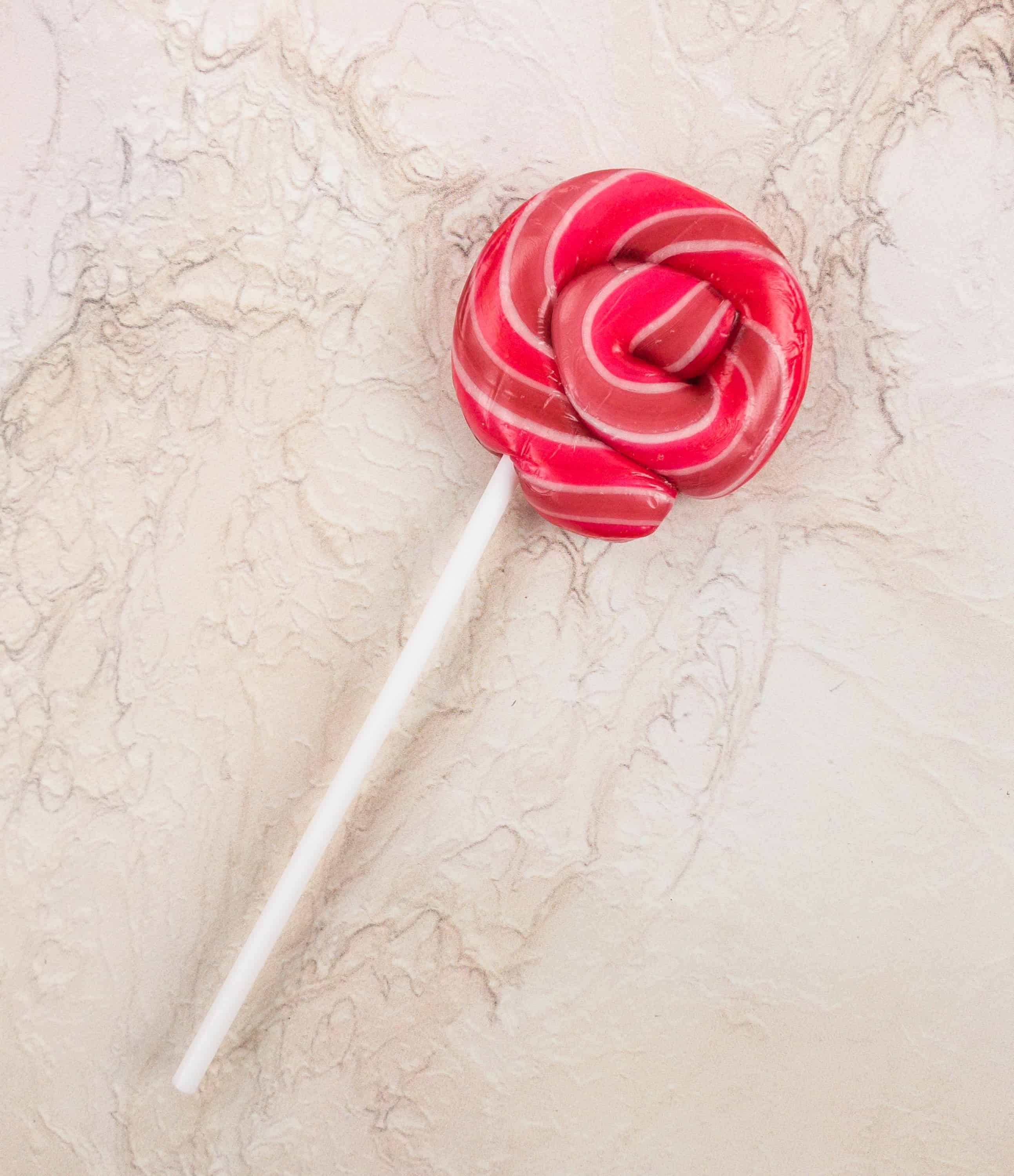 What's a Spooky Box without this gourmet sweet treat? Our daughter said it was black cherry flavored.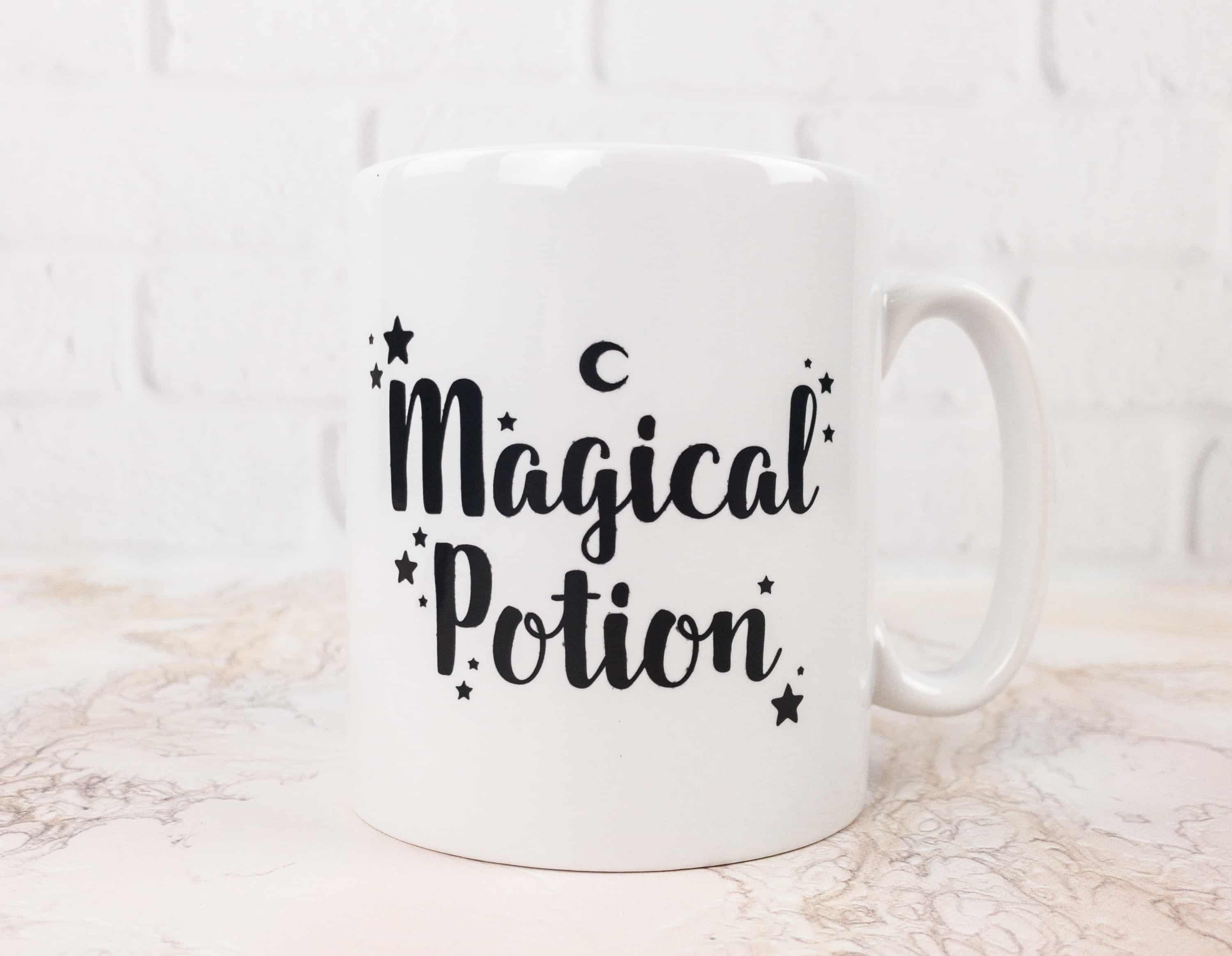 Custom Made Magical Potion Mug. It's an awesome vessel to hold your potions… I mean, your beverages. I really like the font on the mug and the little stars that surround it!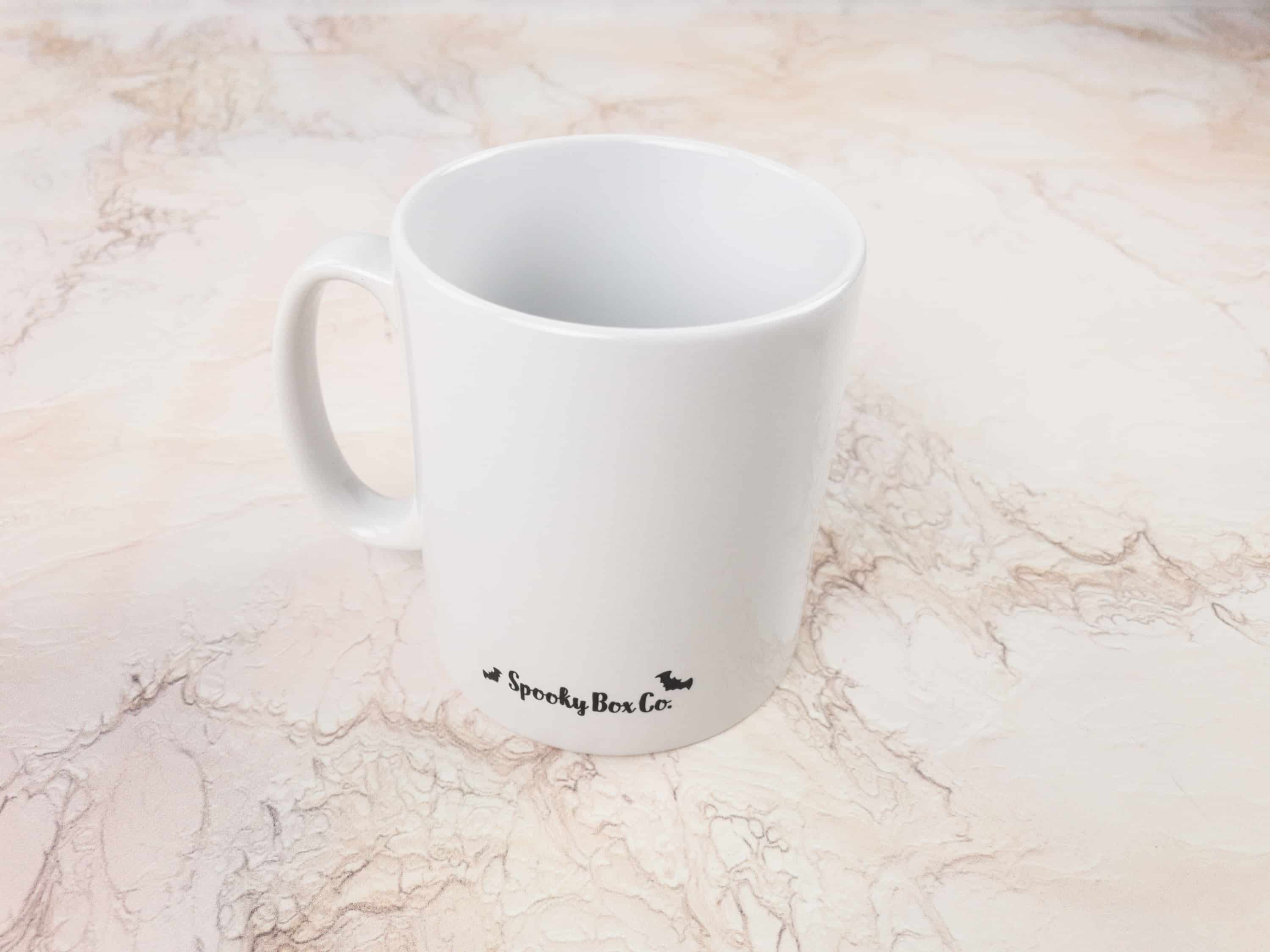 There's also a cute little Spooky Box Co. logo on one side of the mug
Custom Made Witchy Sticker Sheet. Lots of witch's essentials are included in this cute sticker sheet. The illustrations are detailed and high-quality!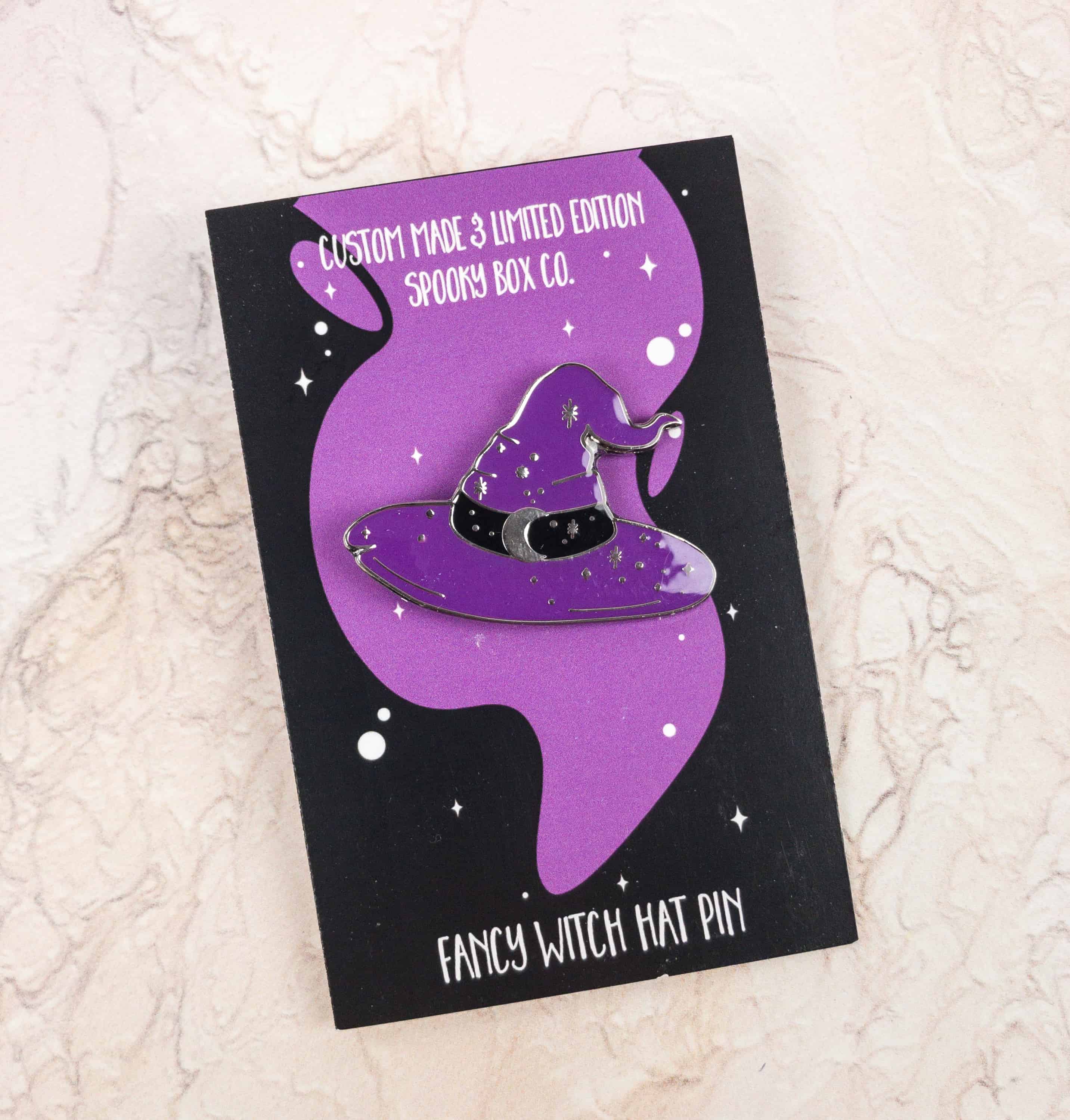 Fancy Witch Hat Pin. Another staple in this subscription are the pins! For this box, I received a witch hat pin in purple.
Those little sparkly details are cute. This pin is great for accessorizing totes, jackets, and lanyards!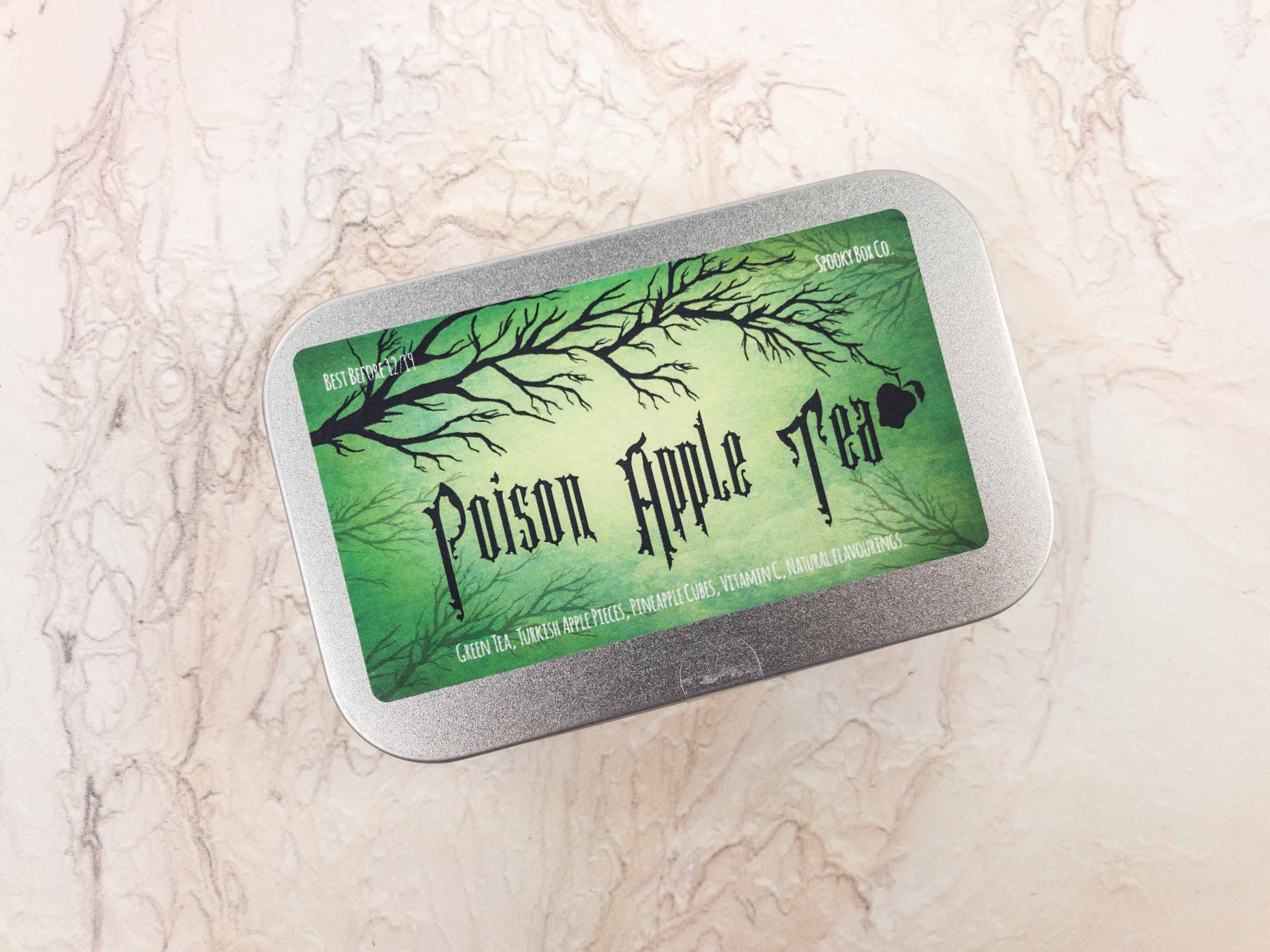 Poison Apple Tea Sampler. Packed inside a tin container, this sampler is a concoction of green tea, Turkish apple pieces, and pineapple cubes. It can be enjoyed hot or cold. Since I'm not a fan of tea, I'll let my husband try it!
Skully Coaster Set. This set of skull coasters really look cute, not scary at all!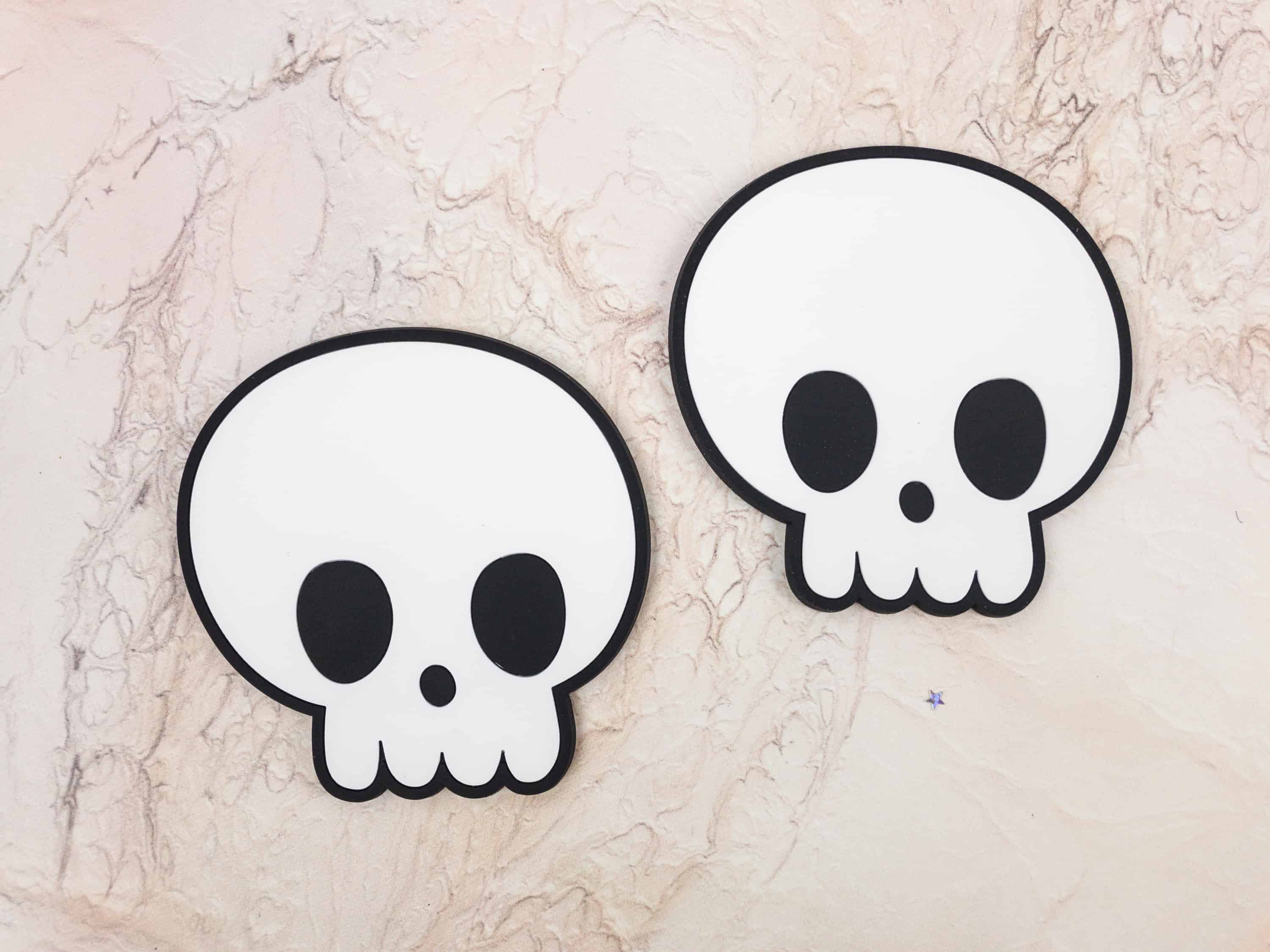 Each set contains two coasters made of vinyl. They can be used in the kitchen or in the dining room, as well as on coffee tables.
Pentacle Necklace. Simple yet magical, this necklace is featuring a pentacle is great for everyday wear.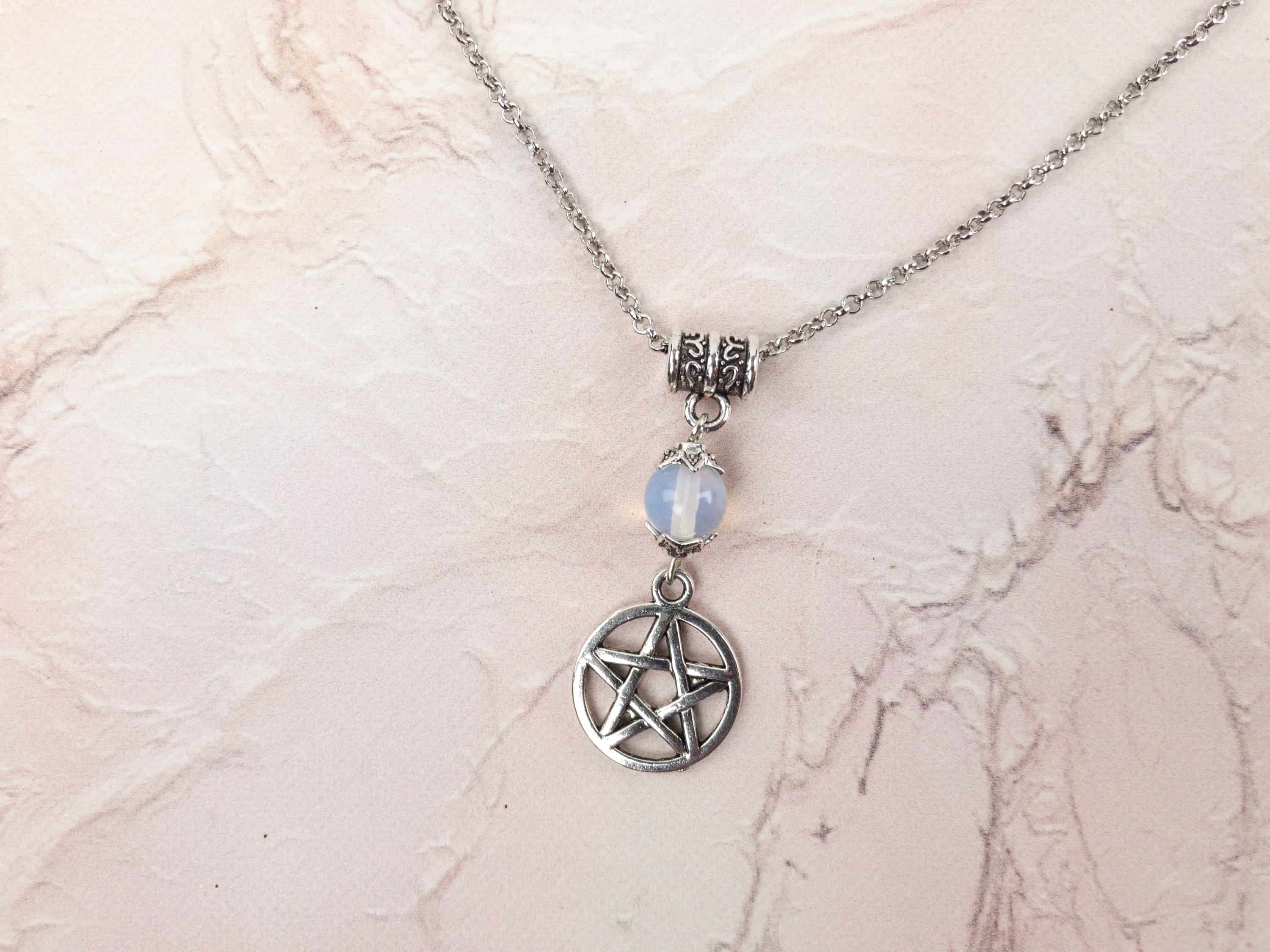 A pentacle is a talisman or magical object, typically disk-shaped and inscribed with a pentagram or other figure. It is used as a symbol of the element of earth.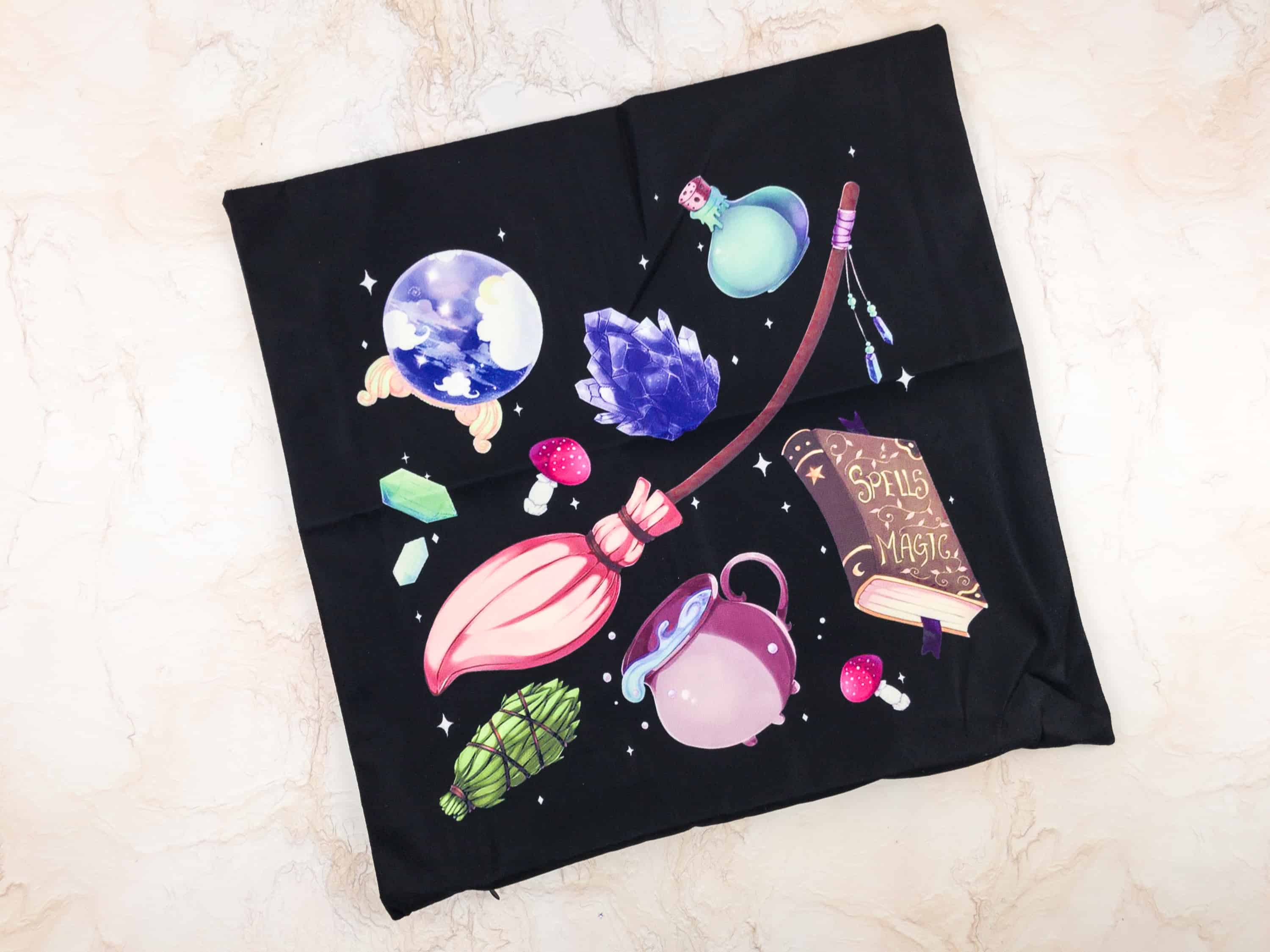 Witch Essentials Cushion Cover. The print on the cushion cover matches the stickers I received this month!
I'm so glad it fits one of my throw pillows at home. I got easily bewitched by the colorful design that popped beautifully against the black background.
Spooky Box Club never runs out of spooky-cute things! I love this box's witch theme, especially the curation that included a pretty necklace, skull coasters, and other witch-themed essentials. If you're like me who loves a regular dose of Halloween cuteness year round, this subscription is something you will definitely enjoy!
What do you think of this month's Spooky Box Club?