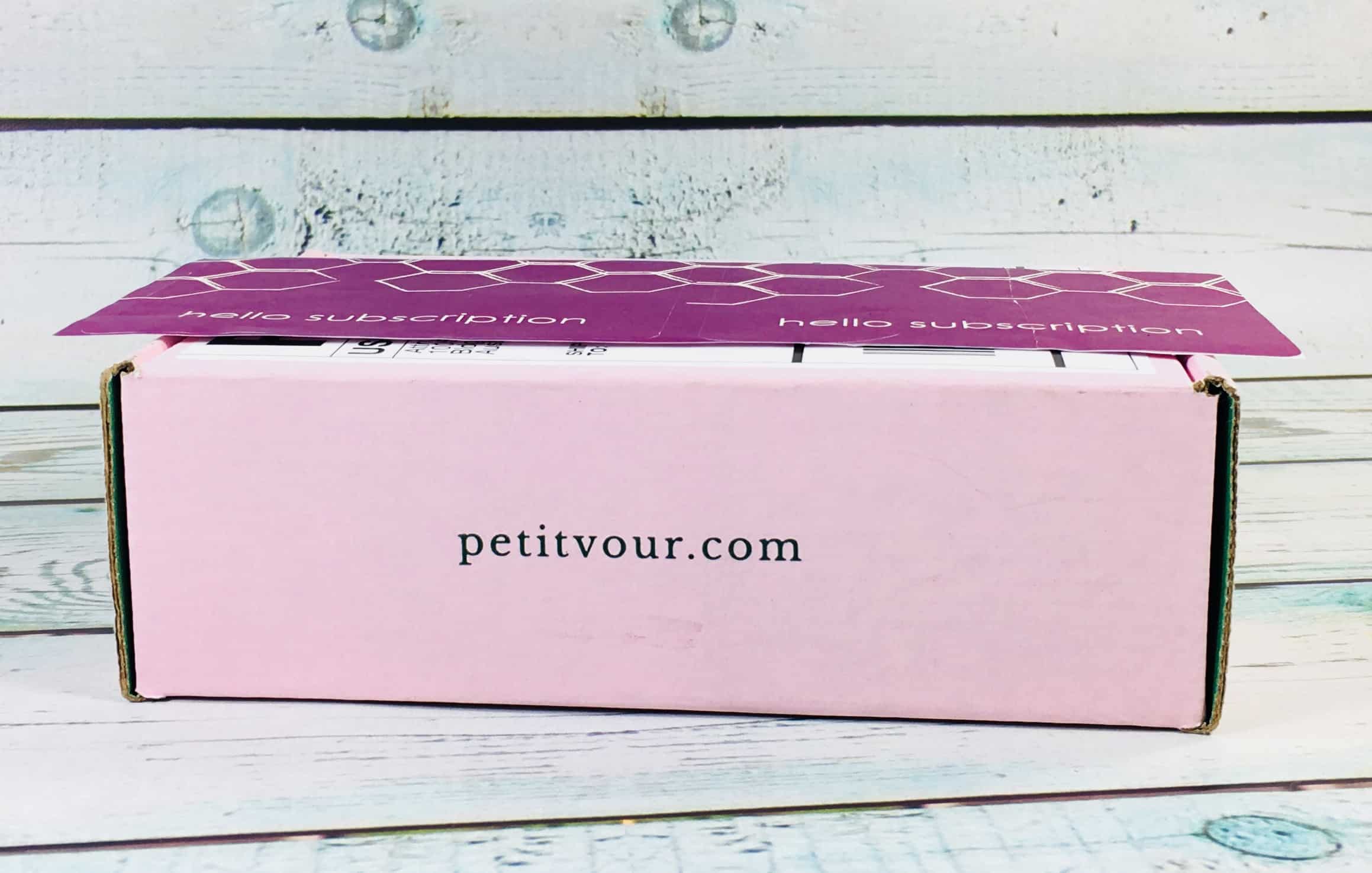 Petit Vour is a monthly vegan beauty subscription box sending the "crème de la cruelty-free." Petit Vour is $18 a month for 4-5 cruelty-free and non-toxic beauty products, mostly deluxe sample sized but with the occasional full-sized item. Prepay for 12 boxes and the price drops to $15 a box! Each box will have a value of between $45-$60. Petit Vour has around 30 ingredients that they pledge NOT to put in  boxes and of course each item must be vegan and cruelty-free.
The Petit Vour Beauty Box is made for the beauty devotee whose lifestyle leans toward compassion.
Each month we'll share the best in plant-based beauty, culled from beauty's kindest. Inside you'll find generously-sized products (personalized to your beauty profile) for you to apply, blend, buff, lather, soak, and spray.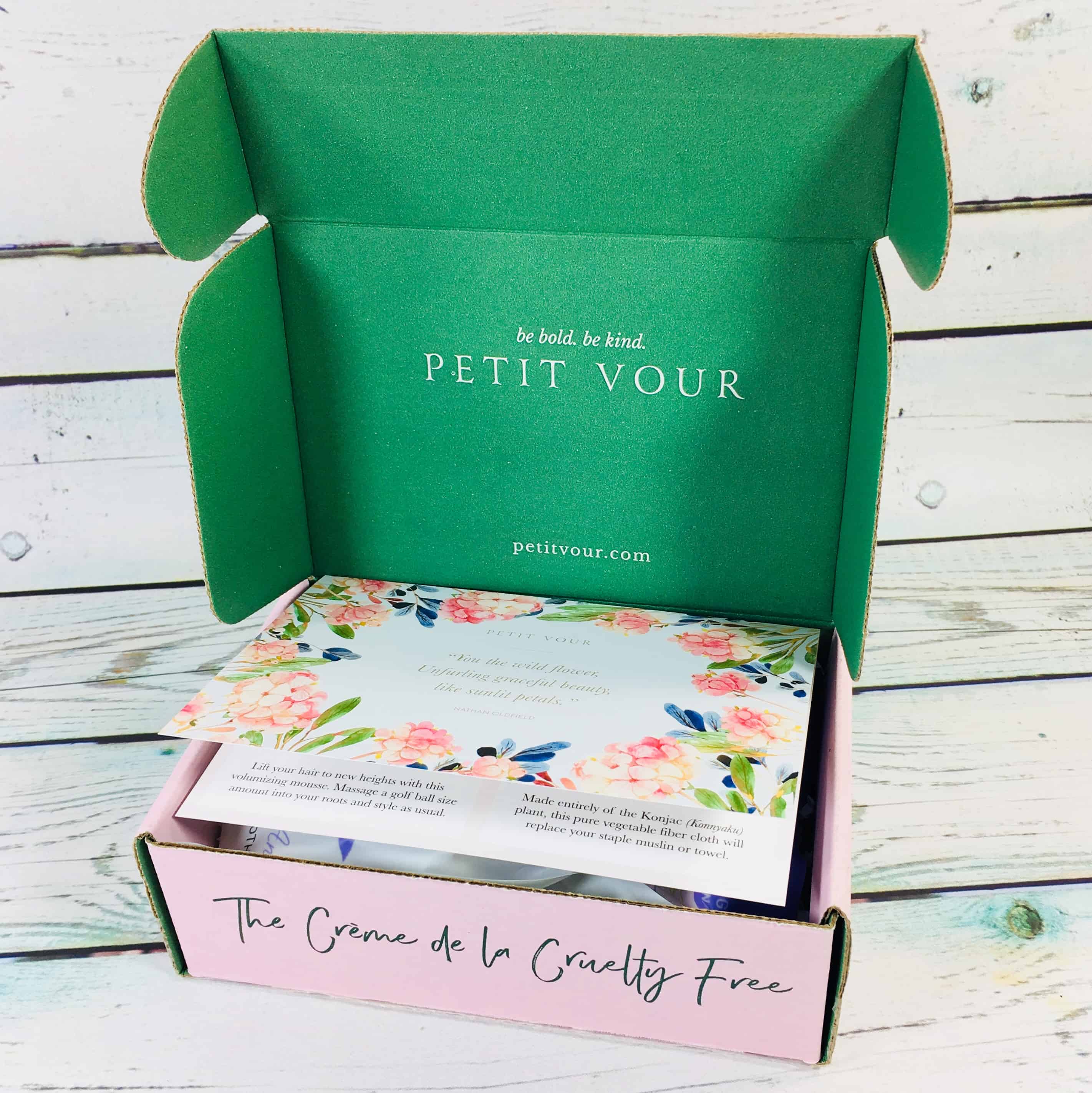 The items were packed in white paper squiggles and everything was in perfect condition. I think Petit Vour does a great job at presenting a pretty box.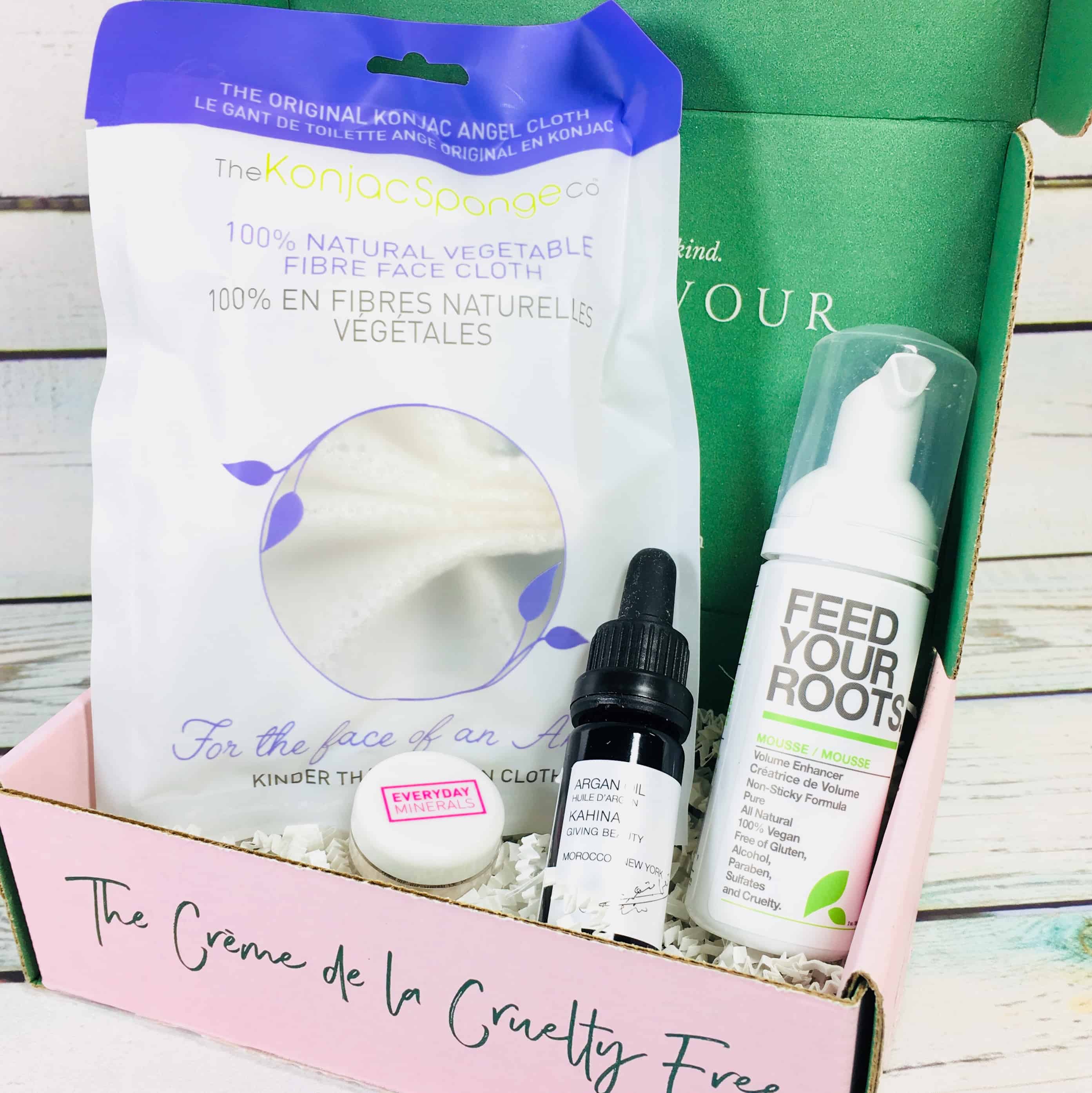 I received two brands I am familiar with, and two brands that are new-to-me!
Petit Vour has one of the best product information cards around – it's an actual card! Look at that lovely print!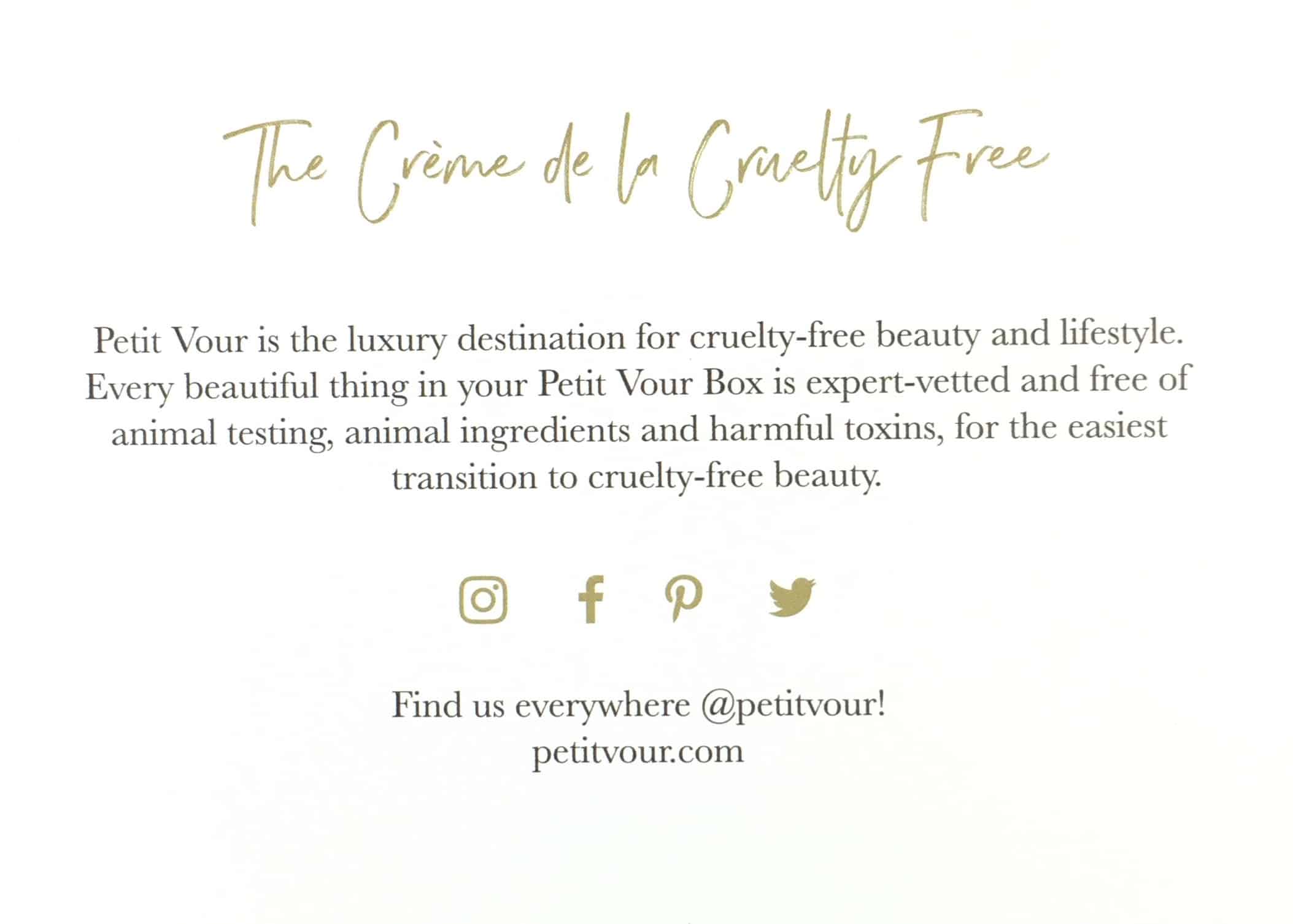 Petit Vour makes sure that every product they offer is cruelty-free and vegan.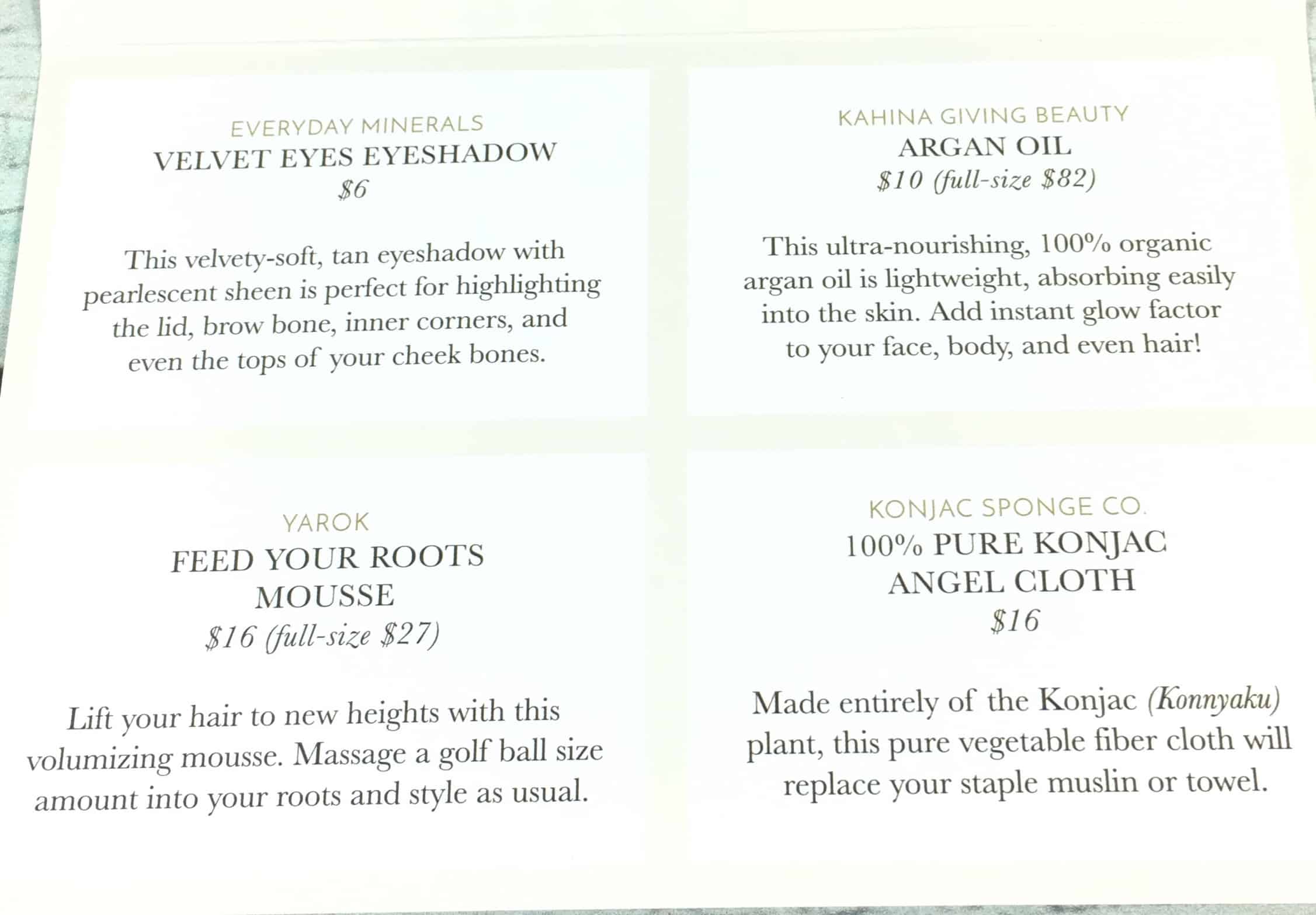 The inside of the card listed each item, some info about the item, and the value, both for the sample and the full-sized product. This month Petit Vour sent 2 full-sized products and 2 travel sized products.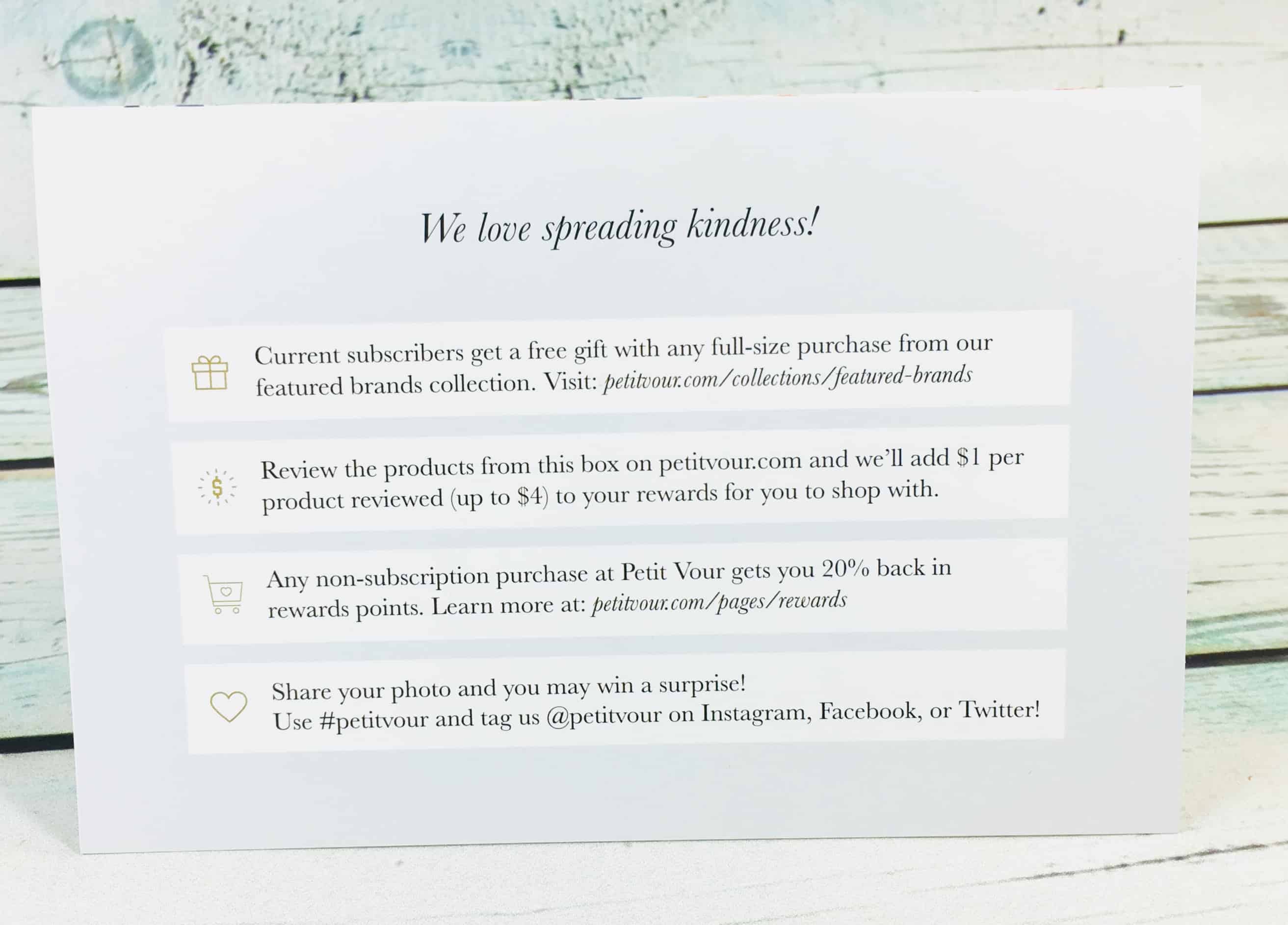 The back of the card gave info on how to earn reward points, plus if you share a photo of your box on social media you may win a special prize!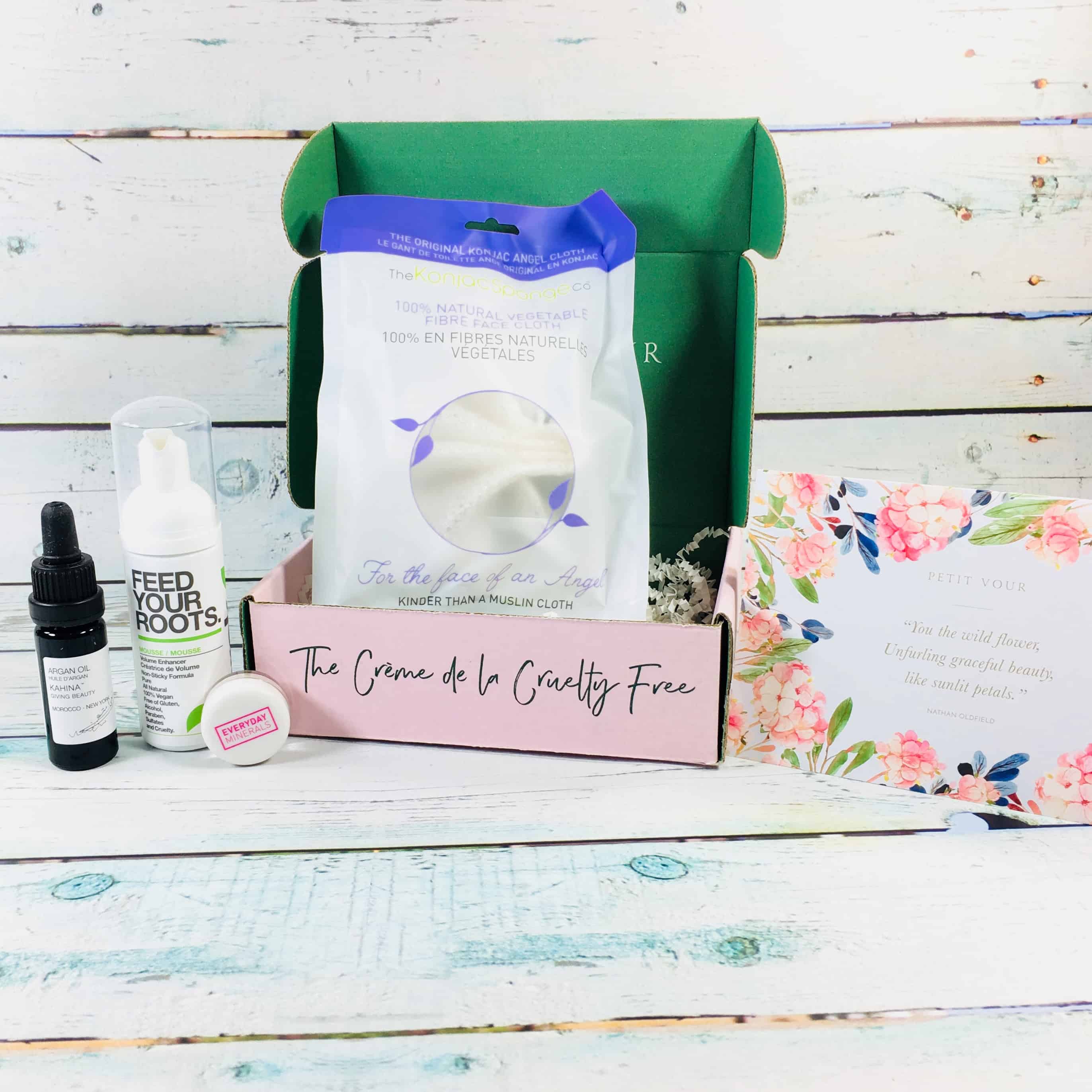 Everything in my box!
Konjac Sponge Co 100% Pure Konjac Angel Cloth ($19) I have received lots of konjac sponges but this is the first time I've seen one shaped like this!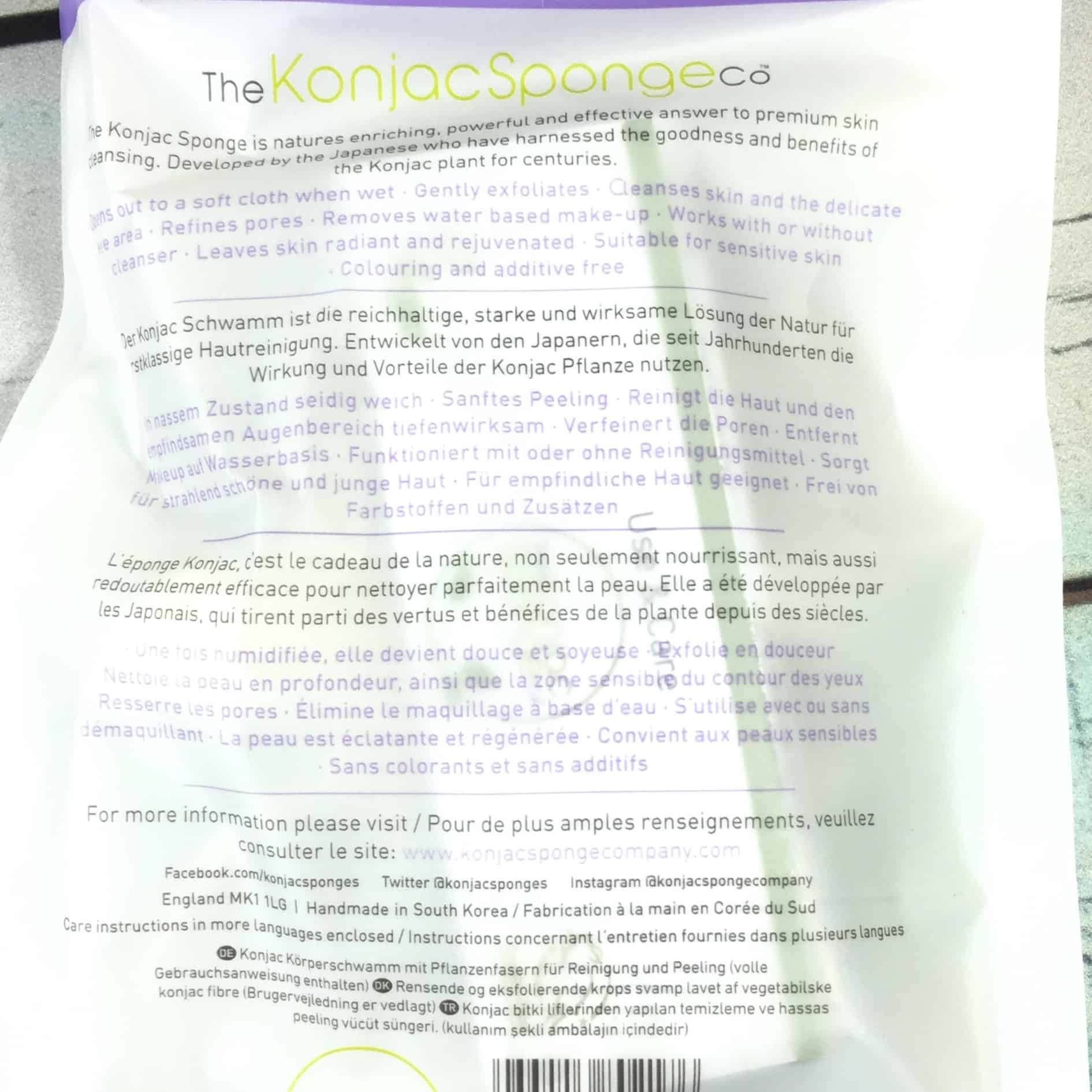 Konjac sponges are made from the root of a plant that grows in Asia. They are sometimes embedded with other ingredients such as charcoal but this one is simply konjac fibers.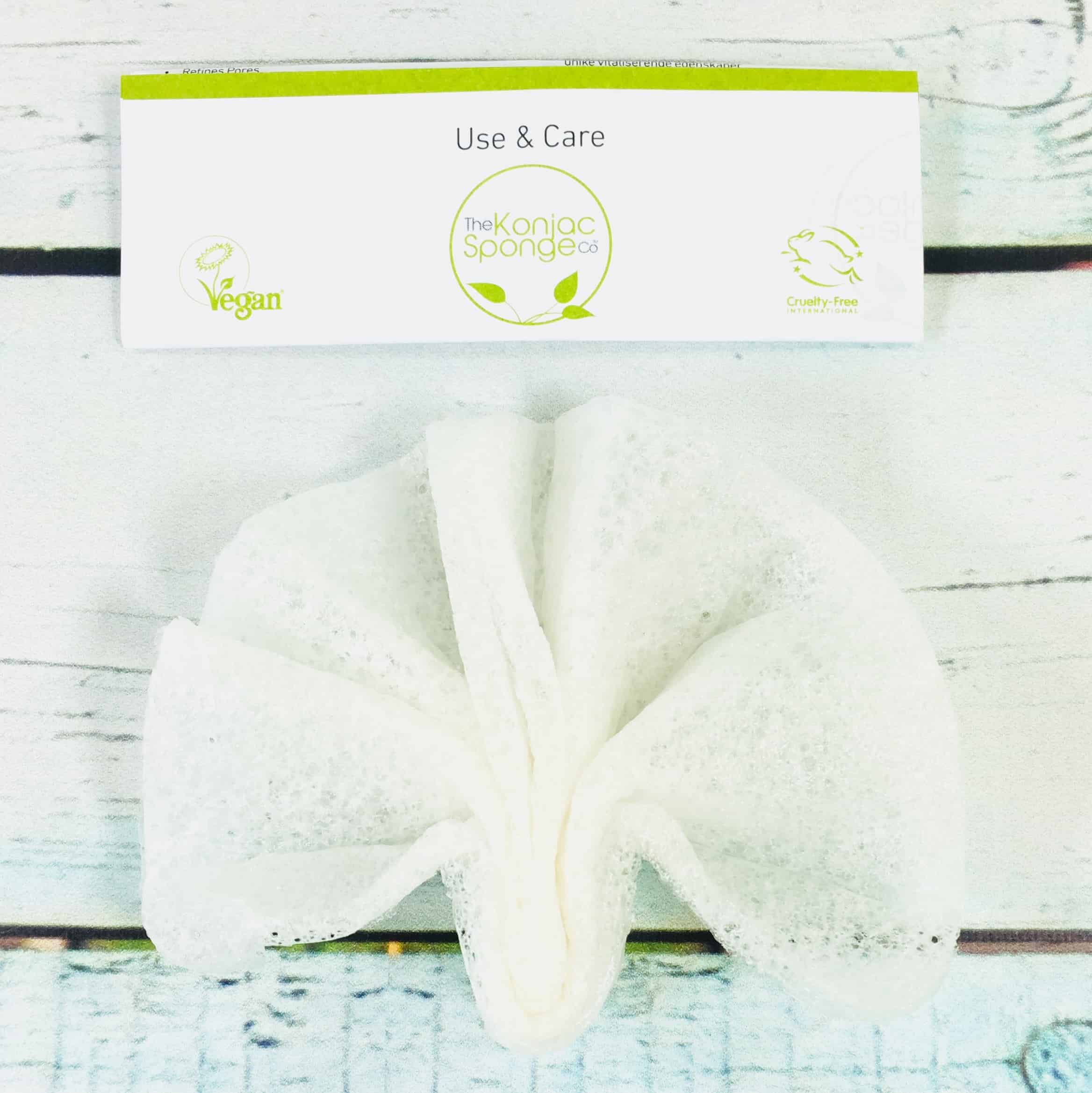 There were instructions included. I didn't know it at the time but if you flip the cloth upside down when you remove it from the package, it looks like an angel! I posed it more like a peacock. Once you rinse it in water it becomes a square and is smaller than a washcloth. It felt kind of gelatinous. You can use it to remove water-based eye makeup or use it on your face, with or without cleanser.
Yarok Feed Your Roots Mousse ($10) I have fine, flat hair and was pretty sure a natural hair mousse wasn't going to work for me. Boy, was I wrong!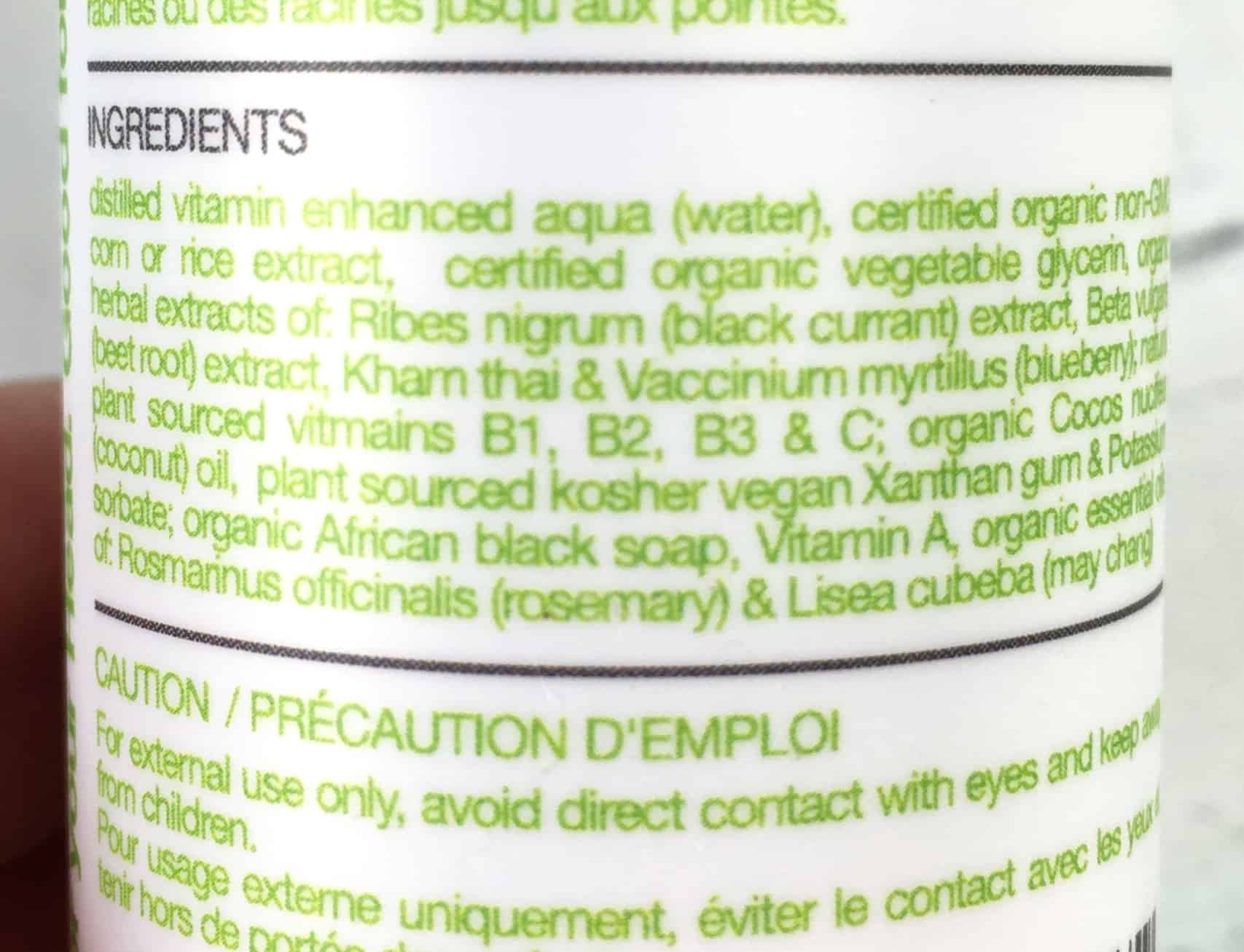 Corn or rice extract and various plant extracts are combined with African black soap, coconut oil, and vegetable glycerin. I pumped some into my hands – it's not really a mousse, more like a foam, and then distributed it through my damp hair and roots. I blasted it with my blow dryer and while it still looked flat, when I used my curling iron it actually kept the wave in place! I'm impressed, and that's hard to do when it comes to hair products, natural or otherwise. I think it smelled like lemongrass.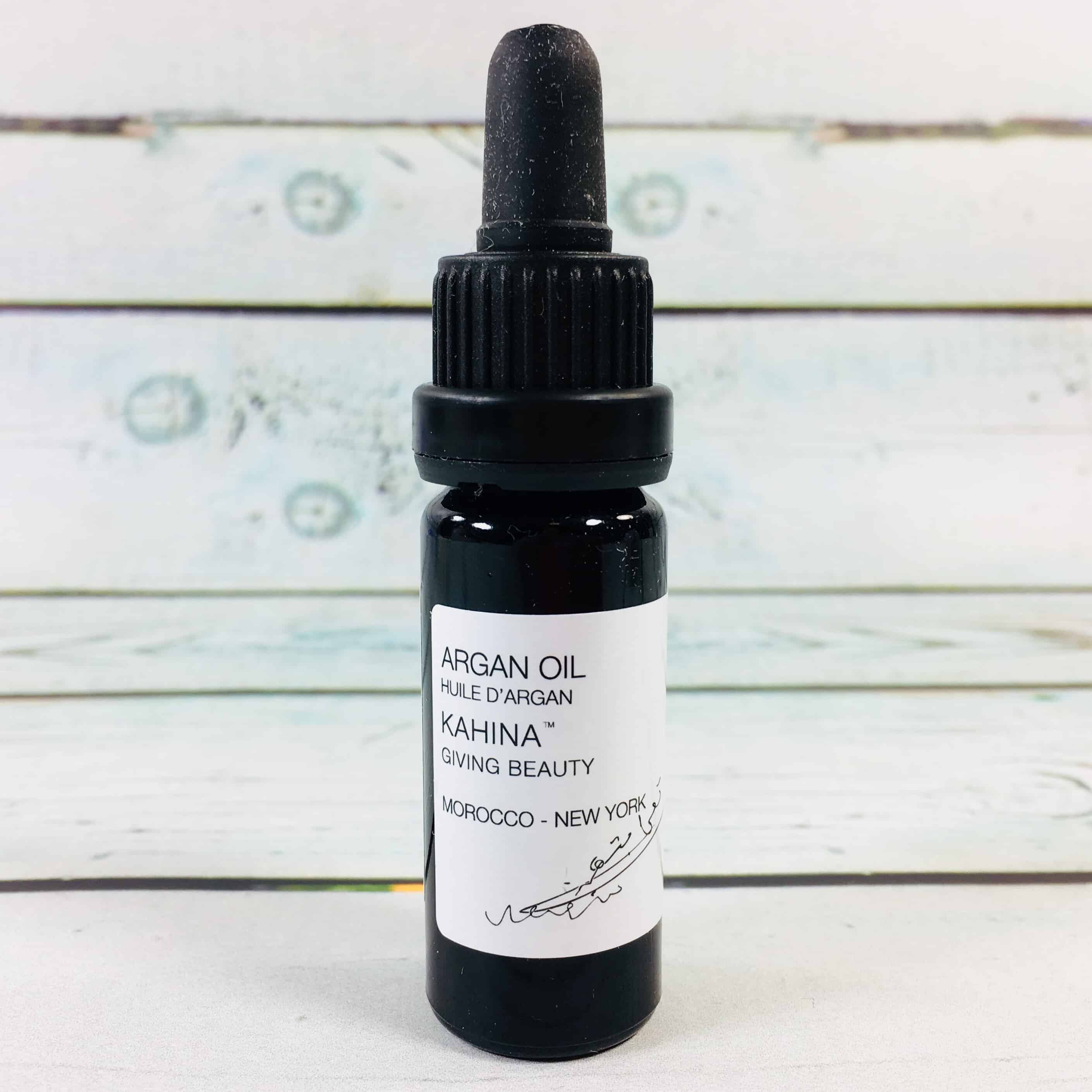 Kahina Giving Beauty Argan Oil ($15) I love natural oils and prefer to use them on my skin instead of chemical moisturizers, so I was happy to try this and used it in the morning and evening on damp skin after cleansing.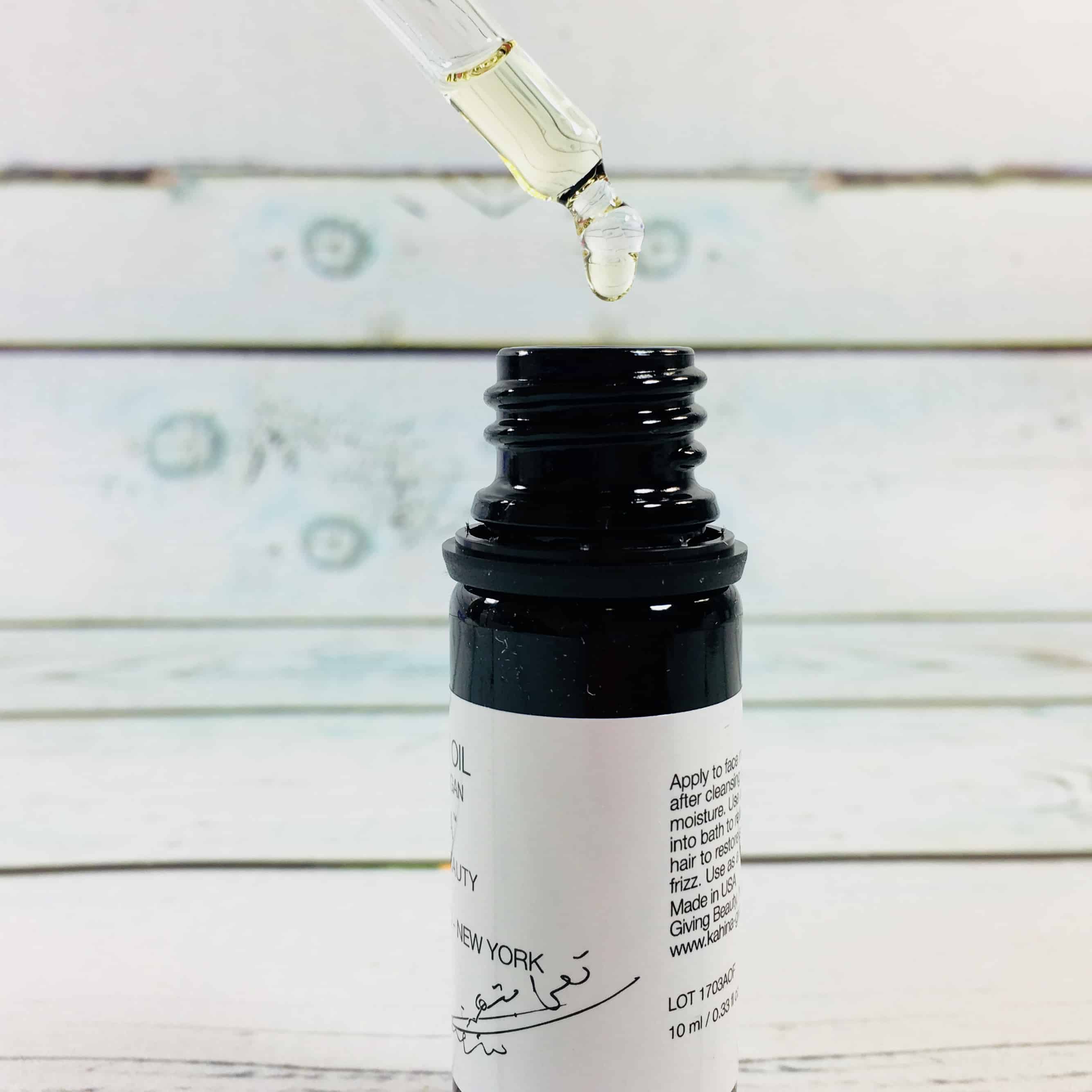 My skin absorbed it very quickly. It had a nutty scent that reminded me of toasted sesame oil and the smell faded quickly. I was very happy with this oil and hope to receive this brand in a future box!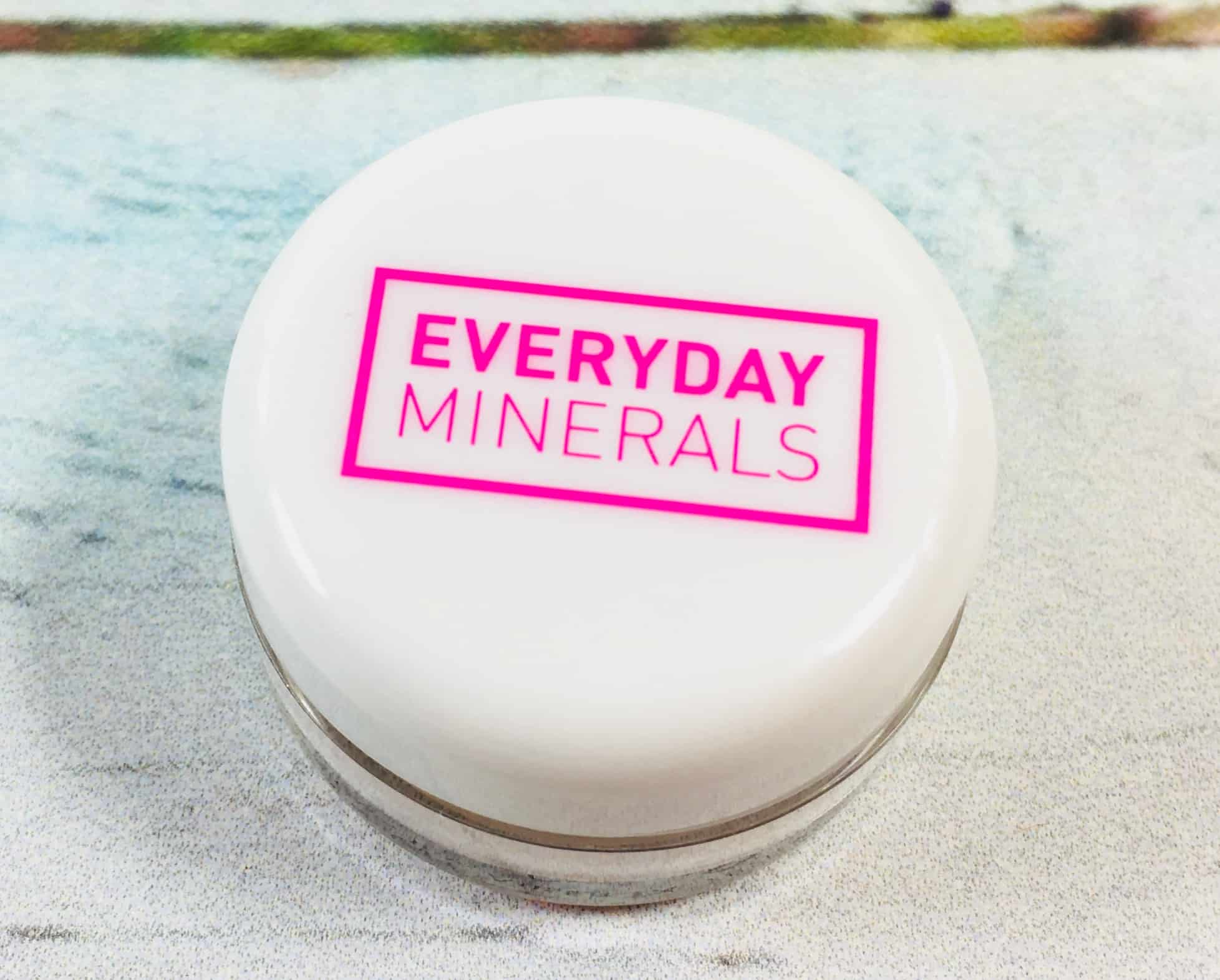 Everyday Minerals Fresh, Glowing Velvet Eye Shadow ($6) Oohh, a natural eye shadow!
There was a pull tab over the sifter so I pulled it off and then sprinkled some of the product in the lid. I then dipped a shadow brush in the lid and applied to my lids. I had some fall out but since this can also be used a highlighter, I just swirled it around with a fluffy brush.
The shade is described as "a light tan, for adding subtle warmth" and it is very sheer and blendable.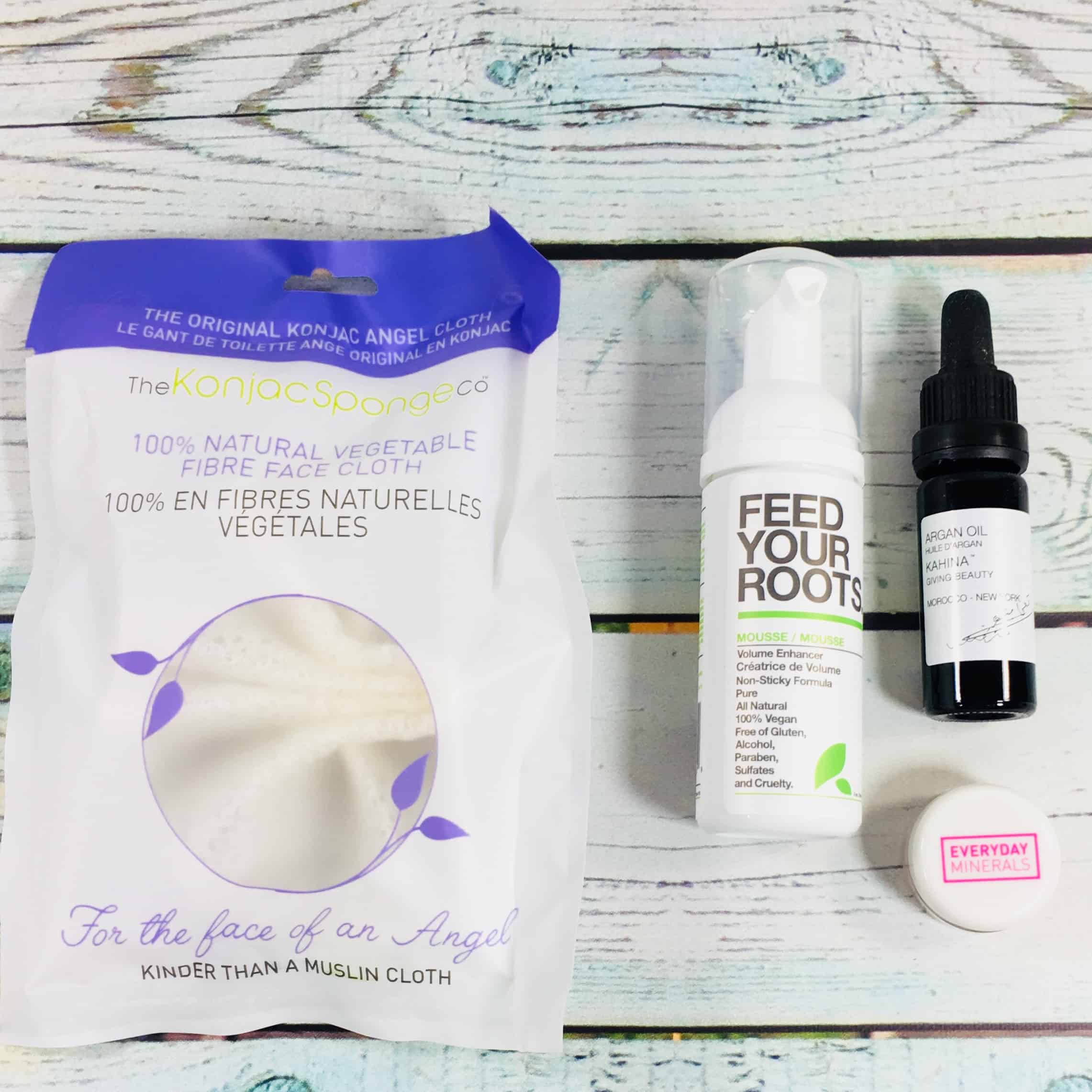 As always, I was so impressed with my March Petit Vour Box! Not only is it so pretty when I open it up, it was filled with natural beauty products that I could feel good about using and that are better for my body than traditional items. I am having a hard time picking a favorite, they were all so effective, but the mousse and oil were probably my favorites because not only did the mousse work, but the oil only had one ingredient and I love a short list of ingredients! My box had a value of around $50, very nice!
What did you think of the March  Petit Vour? I'd love to hear your thoughts on this box in the comments! 
Visit Petit Vour to subscribe or find out more about this vegan beauty subscription box!