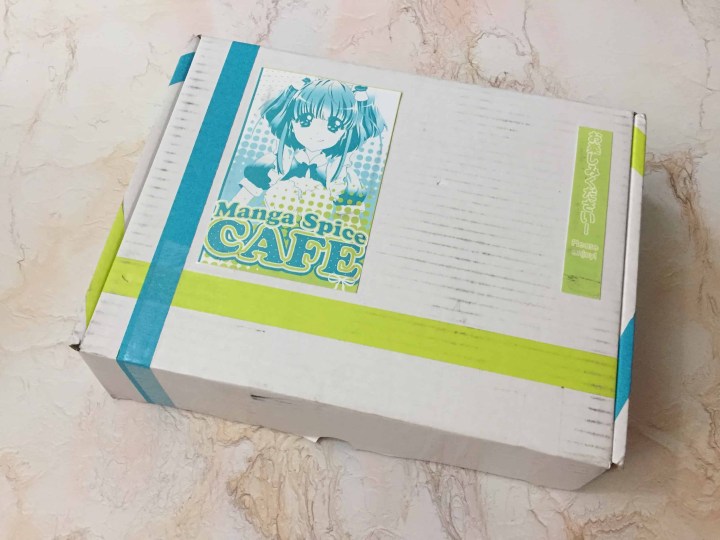 In Japan, Maid Cafes are popular establishments where people go to be served by women and girls in cute maid outfits, who give you close and personal attention during your visit. Manga Spice Cafe wants to bring you that same care and attention, from food and drink to some awesome comics to read and enjoy! The manga they send is current and first issue, so if you get hooked you can easily pick up the next volume. I'm really excited to review another box!
The goodies are all wrapped in bright blue tissue.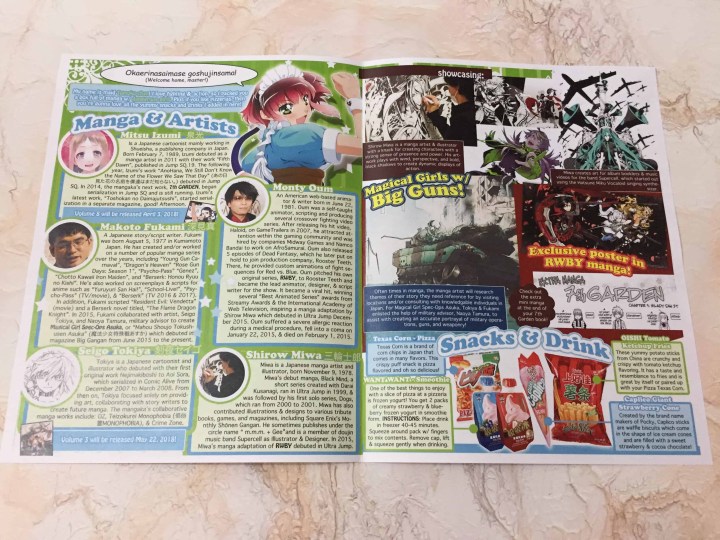 The magazine is great — it's a big two-page spread with information on the artists featured, trivia, and of course the snacks!
The box always sends three issues of manga. They are always Number #1 so you can start a new series without being confused.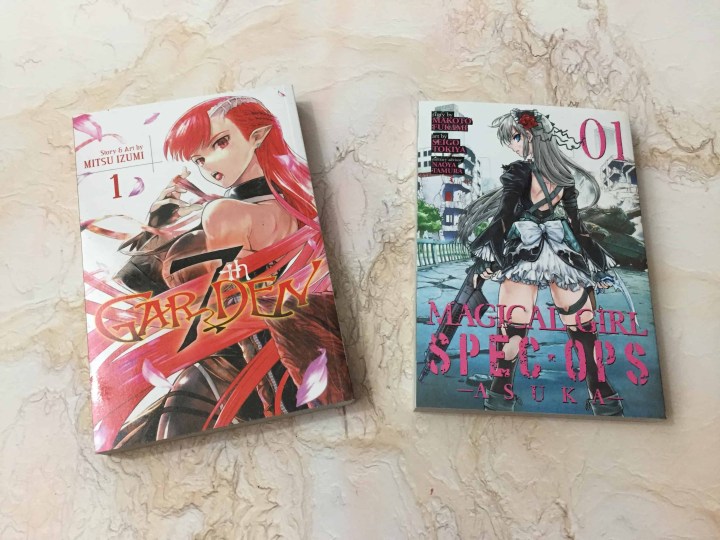 7th Garden ($9.99)
Awyn strives to be the perfect gardener—and perfect man—to win over his human mistress. But then he unwittingly awakens the demon Vyrde, and his village is attacked by crusader knights! Desperate to protect the apple of his eye, Awyn pledges fealty to Vyrde in exchange for the ability to wield a powerful demonic sword. What he doesn't know is that his new demon mistress is scheming to slay the six angels who rule the world—so she can. Then more enemies attack, one of them armed with…a particle-ray cannon?!
Magical Girl Spec-Ops Asuka ($9.20)
Three years ago, alien invaders ravaged the Earth–until they were defeated by a group of young women blessed with powers from a mysterious source. The girls went back to their normal lives after vanquishing the ghastly monsters, but that time of peace is about to end. The same malevolent creatures have resurfaced, which means it's time for the Magical Girl Special Ops force to head back to the battlefront and defend mankind!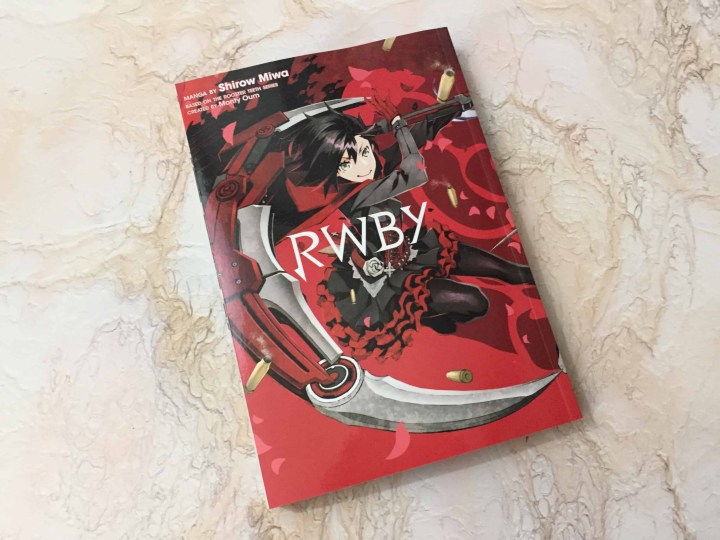 RWBY ($8.83)
The world of Remnant is filled with horrific monsters bent on the destruction of humanity. Fortunately, the kingdoms of the world have risen to combat these forces by training powerful Huntsmen and Huntresses at academies around the planet. Ruby Rose, Weiss Schnee, Blake Belladonna, and Yang Xiao Long are four such Huntresses in training.
Onto the snacks, the perfect pairing for some comics!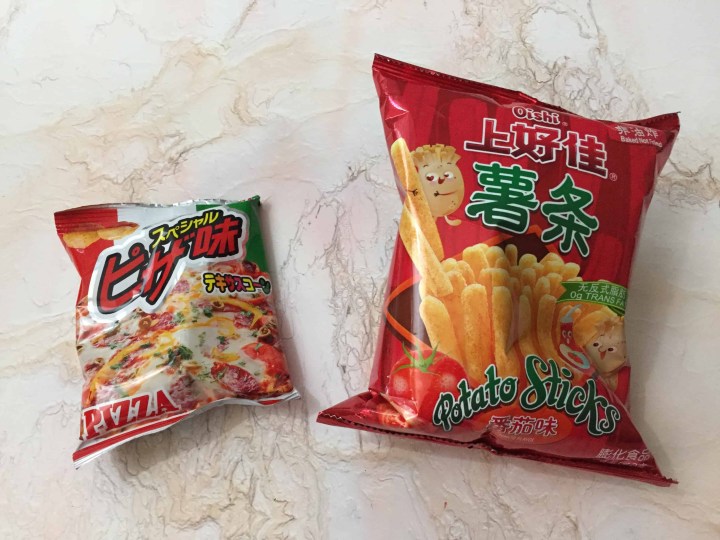 Pizza Puffs — Pizza flavoured corn puffs! These reminded me a lot of umaibo.
Ketchup Potato Sticks — Ketchup chips are popular here in Canada and these chips were a lighter version.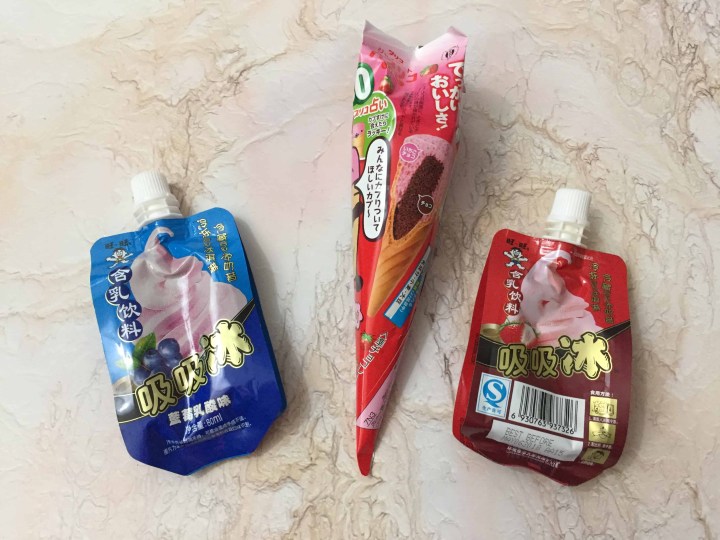 Frozen Yogurt Snacks — Two pouches of yogurt you pop into the freezer for an hour before eating. Yum!
Strawberry Caplico — A jumbo strawberry Caplico, which is an ice cream cone full of aerated chocolate!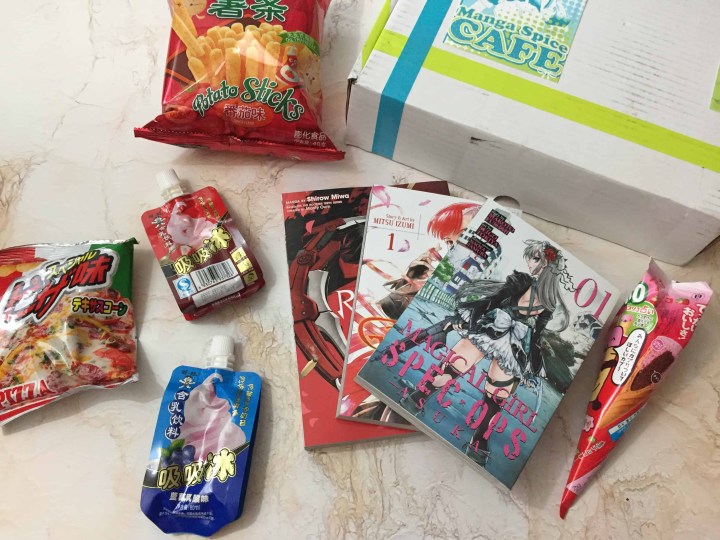 Manga Spice Cafe is the manga-lover's dream box! Something to read, to eat, and to drink — it's such a great idea for a box! I love that the manga included are all the first in the series — no jumping in halfway through a storyline!
What did you think of this month's box?