Loot Wearables is one of the Loot Wear collections of monthly subscriptions from Loot Crate with exclusive geek and gamer premium wearable accessories with a monthly theme. The Wearables subscription will send you an exclusive premium top or bottom from the featured franchise for $17.99 per month.
TIP – check the theme monthly and skip for the month if you're not interested, even if you have a longer-length subscription!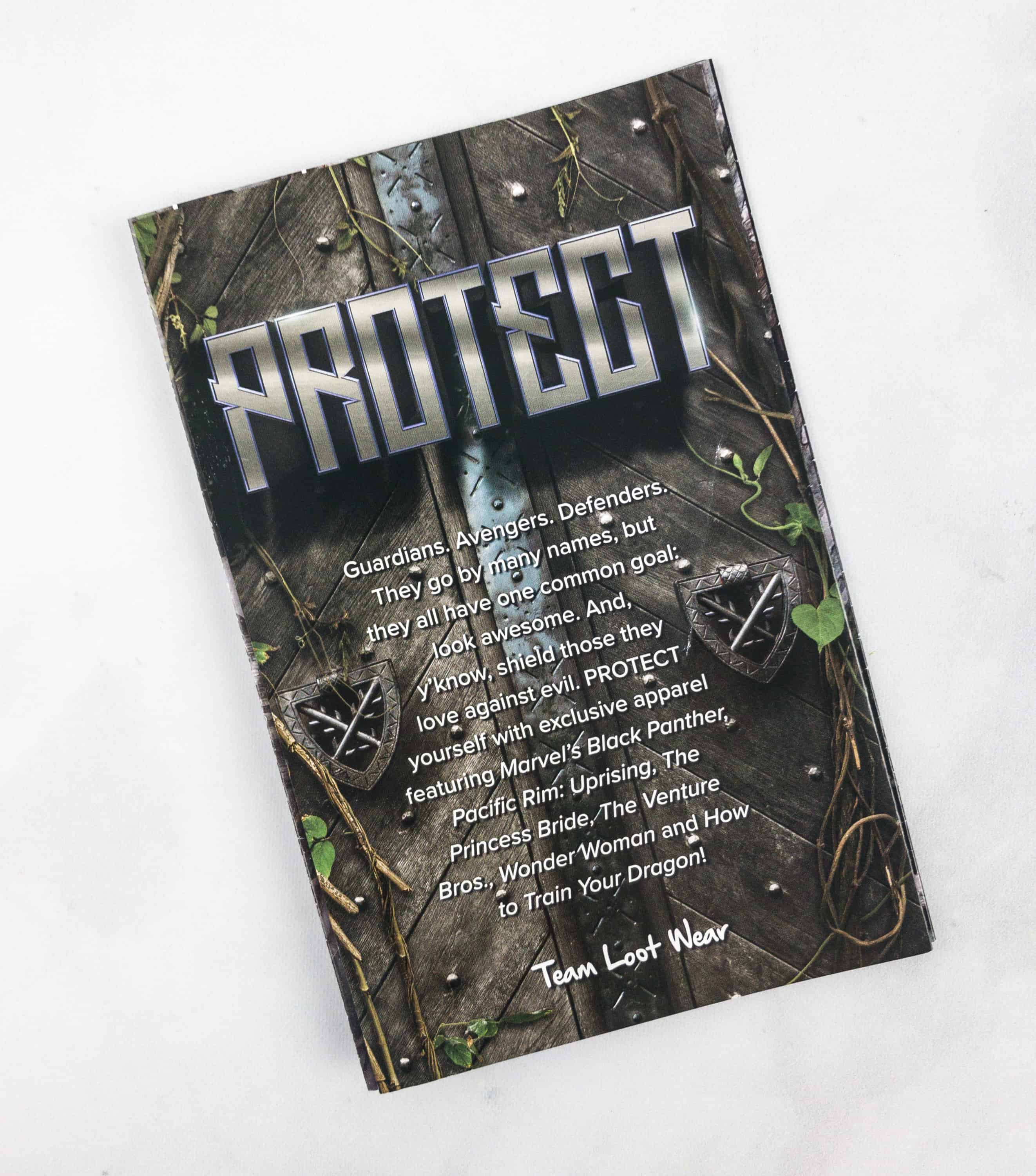 The theme for the February 2018 Loot Wearables was PROTECT!
A folded info sheet is also included in the box.
This month, we got a Black Panther Long Sleeve Tee!
DEAL: Save 15% on Loot Wear subscriptions when you use this link and coupon code HELLOSUBSCRIPTION15. [Does not apply to Wizardry Wear] Get $3 off your first month with coupon code SAVE3. [Not valid on Undies]
Loot Wearables: Black Panther Long Sleeve Tee. The black pullover shirt features the latest MCU installment, Black Panther!
After the death of his father, T'Challa returns home to the African nation of Wakanda to take his rightful place as king. When a powerful enemy suddenly reappears, T'Challa's mettle as king — and as Black Panther — gets tested when he's drawn into a conflict that puts the fate of Wakanda and the entire world at risk. Faced with treachery and danger, the young king must rally his allies and release the full power of Black Panther to defeat his foes and secure the safety of his people.
There's a small Blank Panther mask in front…
…and then a bigger and more detailed Black Panther illustration at the back. It would have been the perfect thing to wear to the movie theater for a Black Panther screening, if only it wasn't shipped late due to unexpected delays.
Black Panther is side by side with… well, a black panther. King T'Challa is wearing the classic sleek suit and the rad costumes made by his sister Shuri is really a game changer in the Marvel Cinematic Universe.
Loot Wearables always features high-quality, well-designed, and licensed wearables for geeks. The items they send can also be easily paired with the selections from other Loot Crate subscriptions. The only downside is that this month's loots arrived late but I still think that this is an awesome item and it definitely made me say Wakanda Forever! I could probably go for an entire year of Black Panther wearables!
What do you think about Loot Wearables this month? See our Loot Wear reviews for photos of the other subscriptions!