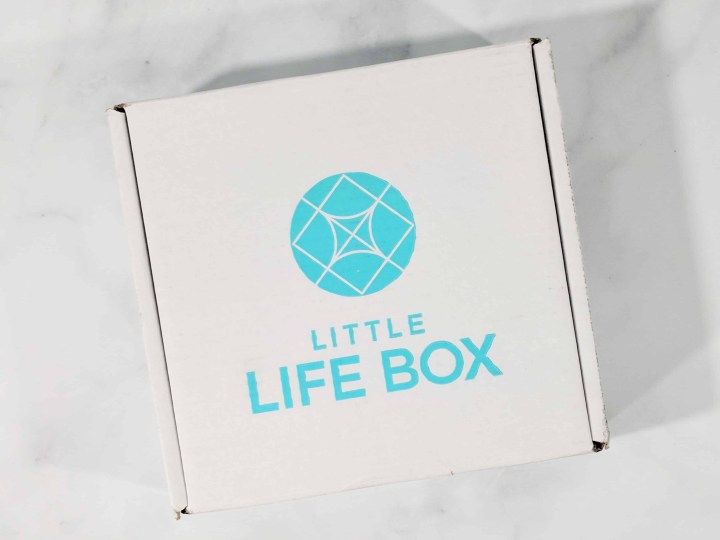 Little Life Box is a Canadian monthly healthy box subscription. For $23 CAD (+$5 shipping), you will receive 8 to 12 items ranging from snacks to beauty products and supplements. The items are a mix of sample and full-size products. When you subscribe, you choose between the original and the vegan box. This review is for the original box! Good News, they now ship to the USA and shipping is free! Items in the US box might differ from the Canadian one.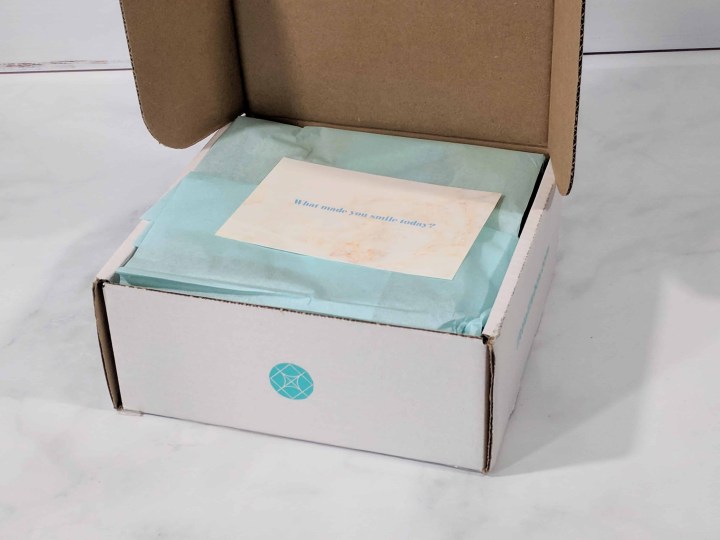 DEAL: Save 25% on your first month! Use coupon code LLB25.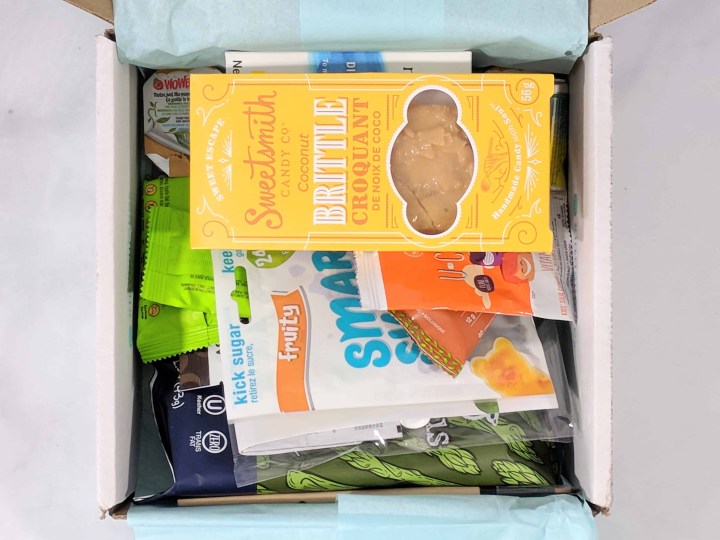 Everything in the box.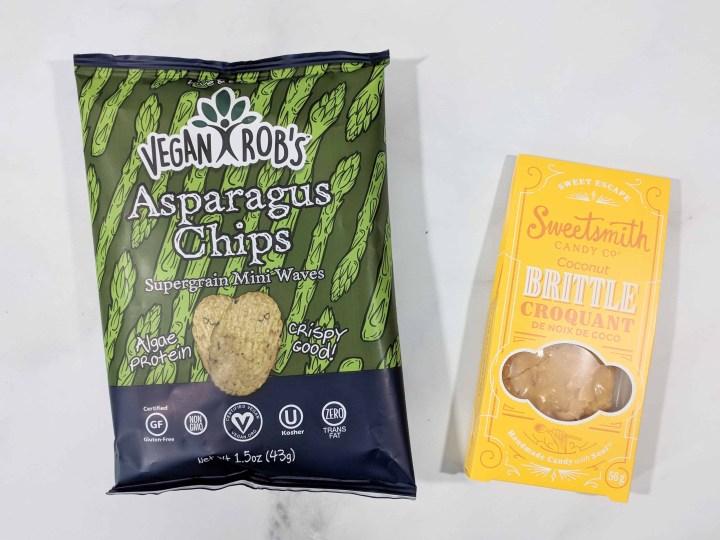 Vegan Rob's Asparagus Chips. Nice crispy chips, the salty herbal flavor was spot on! The asparagus powder is blended with nutritional yeast and onions powder. It's really tasty.
Sweetsmith Candy Co – Coconut Brittle. I was expecting some kind of nuts in the coconut caramel, but nope! It's sugar and coconut! It's dairy free, soy-free and egg free. The coconut flavor is great and I could have eaten more if I had more!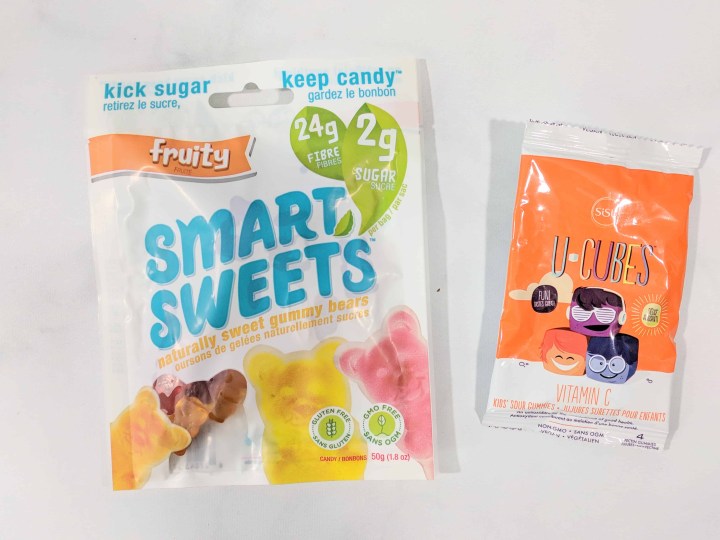 Smart Sweets Gummy Bear. Gummy bears without sugar! There's only 2g of sugar per bag, because it's sweeten with stevia. I found them a bit too hard for me. My husband likes gummies and ate them all.
Sisu U- Cubes – Vitamin C. Each gummy contains 125mg of Vitamin C, and they are delicious!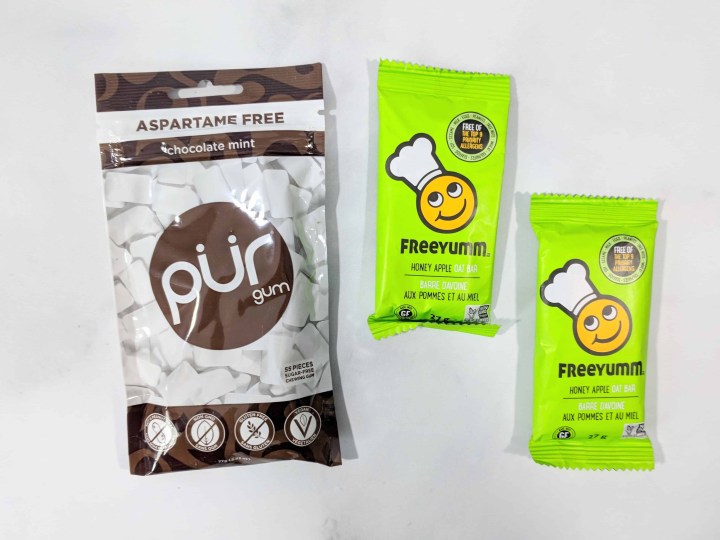 Pur Gum – Chocolate Mint. It's aspartame free, sugar free, and the taste is a great balanced between the chocolate and the mint. It is sweeten with xylytol.
Freeyumm – Honey Apple Oat Bar. Free from the 8 most common allergens, it's a soft and chewy bar. It's sticky and quite tasty!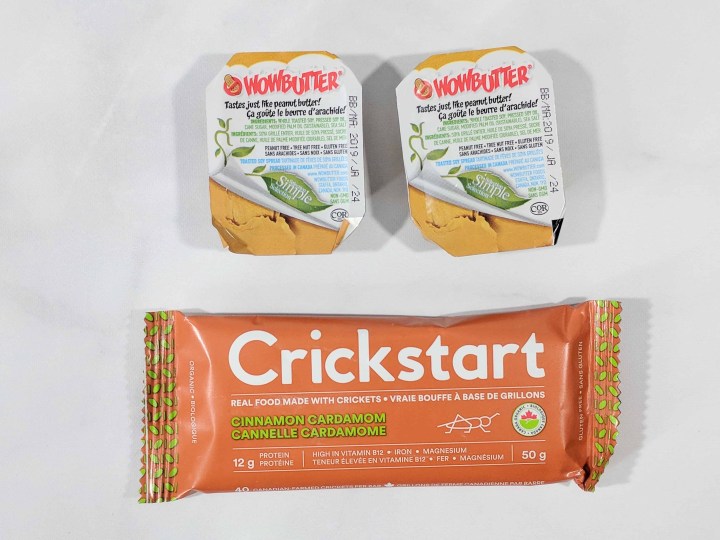 Wow Butter. Since I had to leave behind my beloved peanut butter, I've been on the lookout for something that would make my PB&J a reality. I've tried a lot of different nut butter, and although they were all very good (almond butter is so tasty), nothing was even close to peanut butter until I discovered WowButter a couple of years ago. It's a perfect replacement to peanut butter. It has a very nice roasted flavor, very nutty. It's a SOY butter, sweetened with cane sugar.
Crickstart- Cinnamon Cardamom. Hum… a CRICKET bar. You know, made with insects. It says right on the package that it's made with over 40 canadian-farmed crickets per bar (I have so many questions). I was worried about having little legs getting caught between my teeth, or that it would be weirdly crunchy, but it's made with cricket powder. Basically, just protein powder.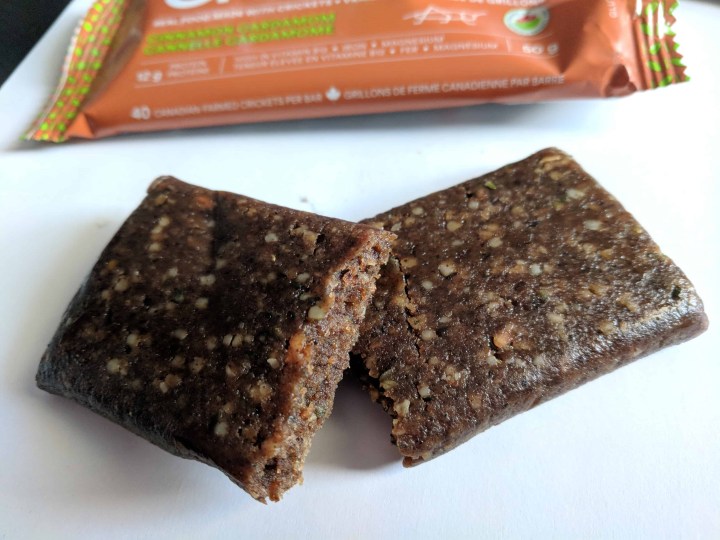 So I shared with my husband. Both of us were surprise by the strong cardamom flavor. That's all you can smell right when you open the bag, and when you take a bite. I wish the taste would have been more subtle because the bar itself was fine. It has hemp and flax seeds, dates, coconut sugar, buckwheat, sunflower seed butter, brown rice syrup. Still, the cardamom was way too strong.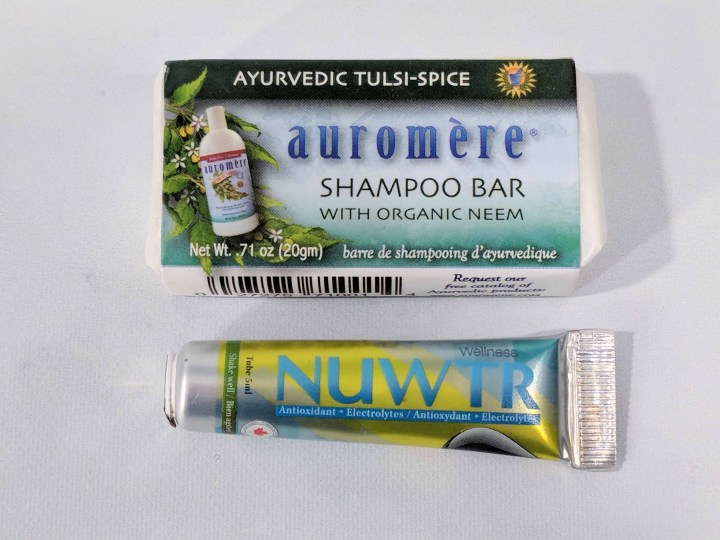 Auromère Shampoo Bar. I love Auromère products, but I've never tried Shampoo bar before. I'm not sure what to think about it yet, but it's fun to have something like this when you travel. Less bottles!
Nuwtr. A mineral supplement to add to your water. It has Vitamin C, Boron, Cobalt, Iodine, Nickel, Potassium, Silicon, Vanadium.
Bamboo Concealer Brush by Elan. Perfect to cover dark circle and blemishes.
Viva Health Skincare Samples. We received three samples: an aromatherapy cleansing gel (great for combination to oily skin), a concentrated antioxidant serum and the Bio Brightening C serum. As these are samples, they are great to test your sensitivity to the products, but I haven't seen any improvement from trying them!
Multiforce Alkalizing Multi-Mineral Dietary Supplement Powder. A powder to mix to your water, the taste is like lemon candy. It has calcium, phosphorus, magnesium and potassium. It's supposed to help in reducing acidity caused by processed food.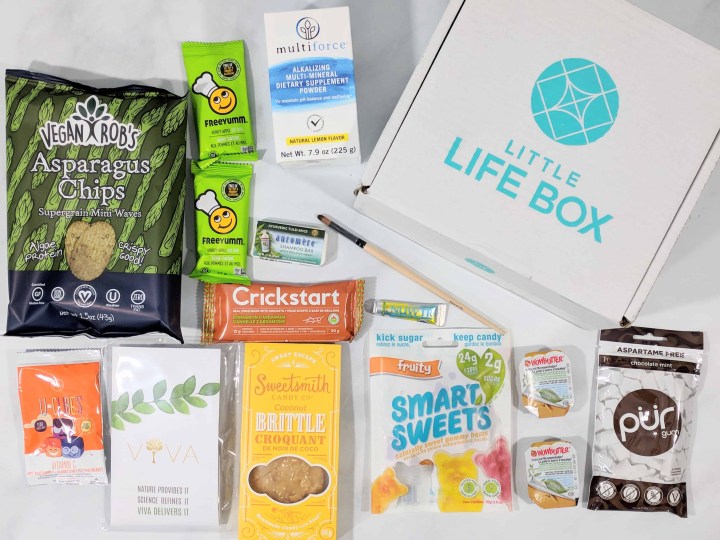 This was a fun box! My favorites were the asparagus chips and the coconut brittle, which surprised me as I'm usually not a fan of coconut. I like this month's mix of samples and full size items, and that we had a bit more snacks than last month!
What did you think of March's Little Life Box?