The Korean Snack Box is monthly subscription box dedicated to premium Korean snacks. The subscription starts at $14.95 each month (Medium and Large boxes available), with free worldwide shipping. Each box comes in a beautiful Bokjumeoni (traditional Korean silk bag) with 5-10 or 10-15 items and tasters. You can now find the previous month box and earlier month's boxes in the Korean Snack box shop.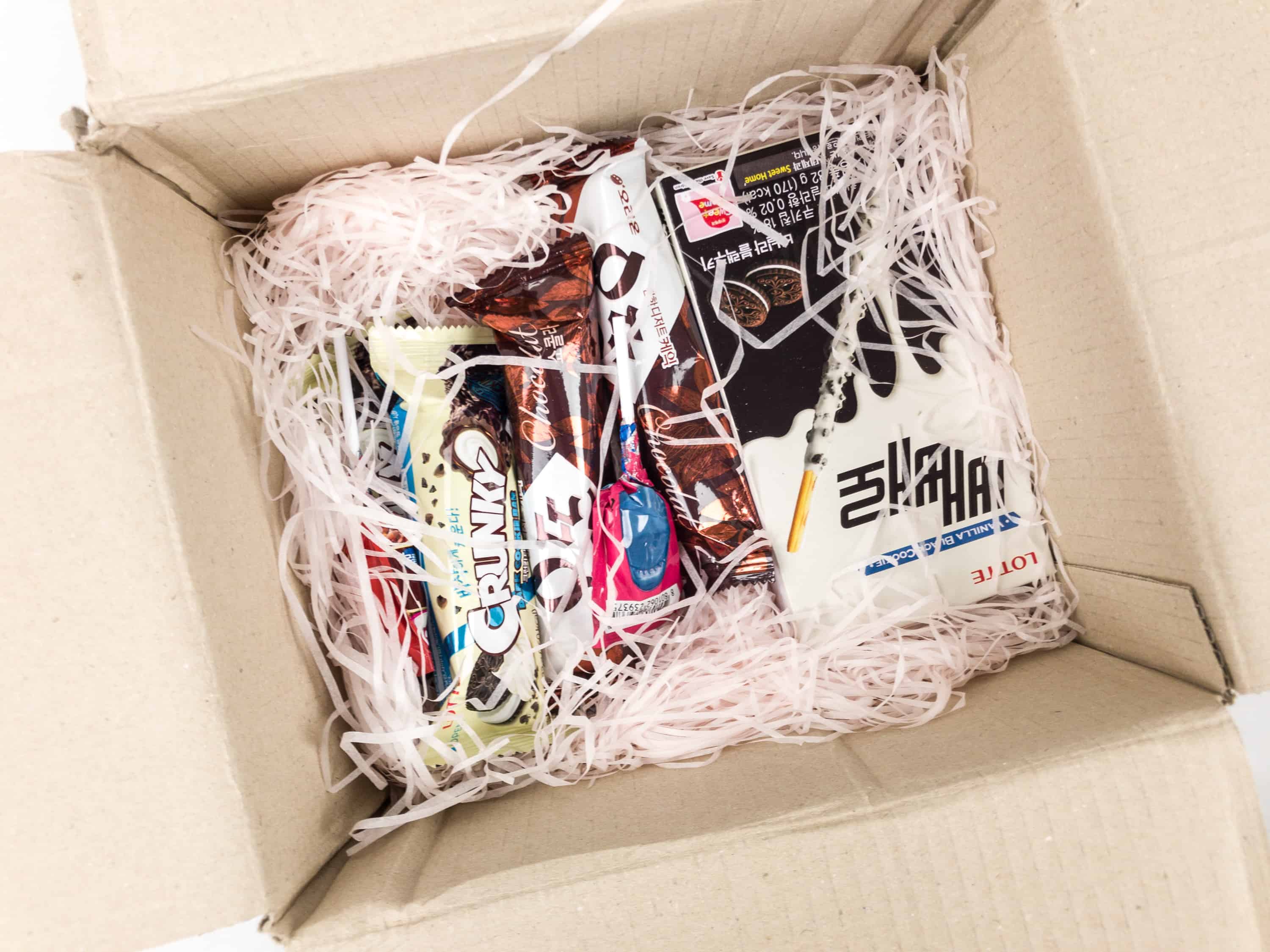 This is a review of the large Korean Snack Box!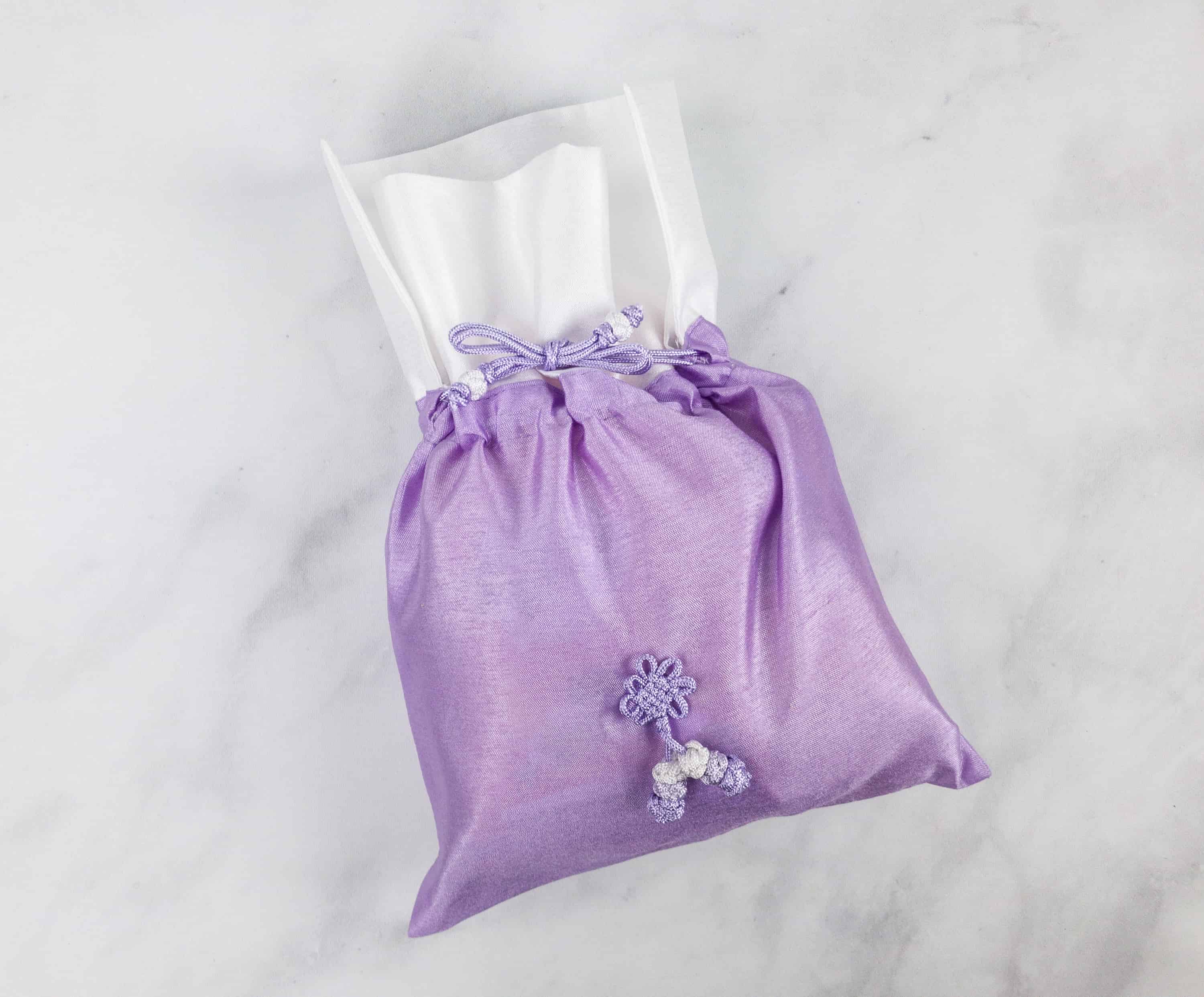 This month has a lavender-colored Bokjumeoni. It is also reusable as a purse, pouch, or even as a makeup bag!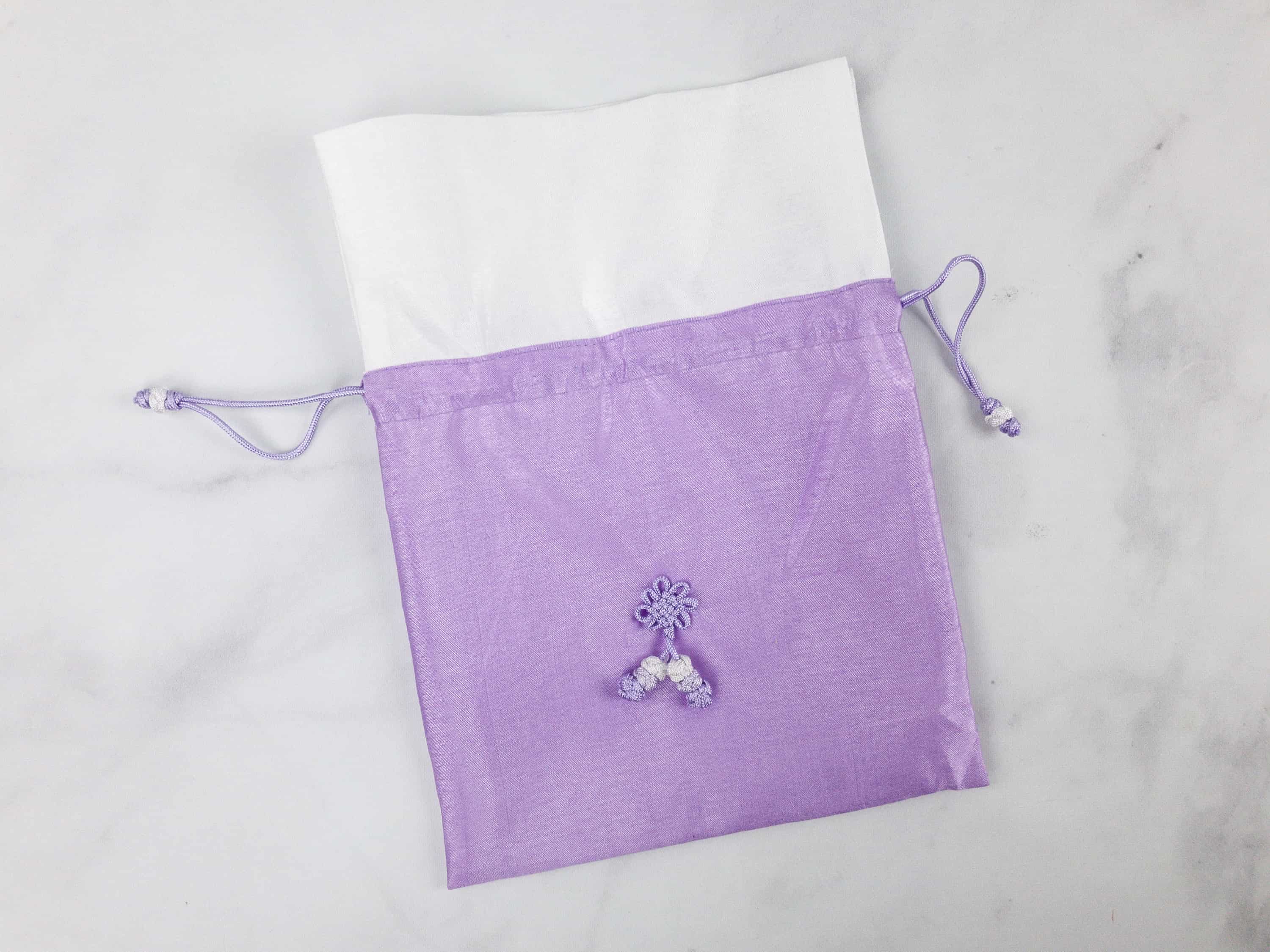 DEAL: Get $2 off your first subscription box with coupon code HELLOKOREA.
A note from the curators is included in the box.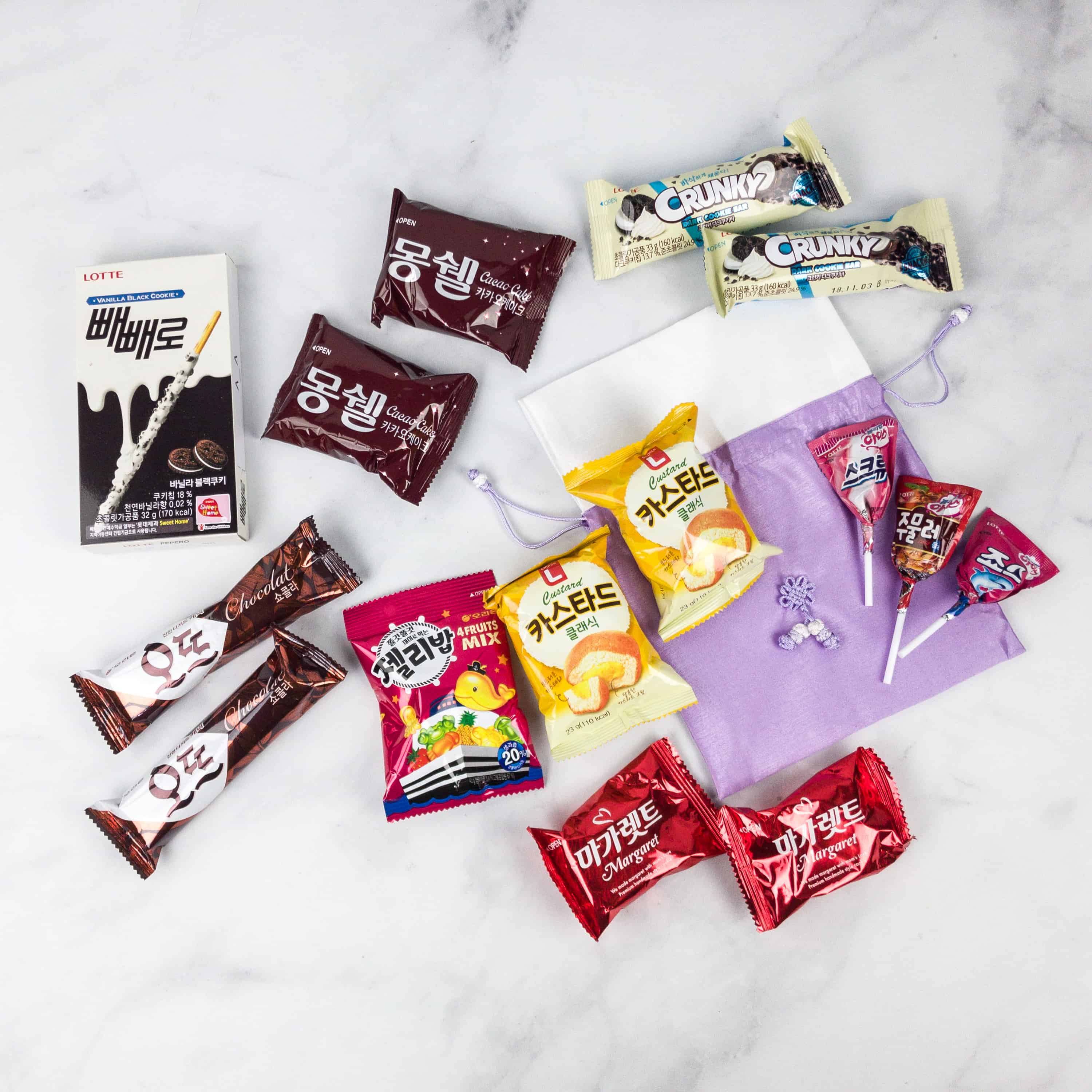 Everything in my box!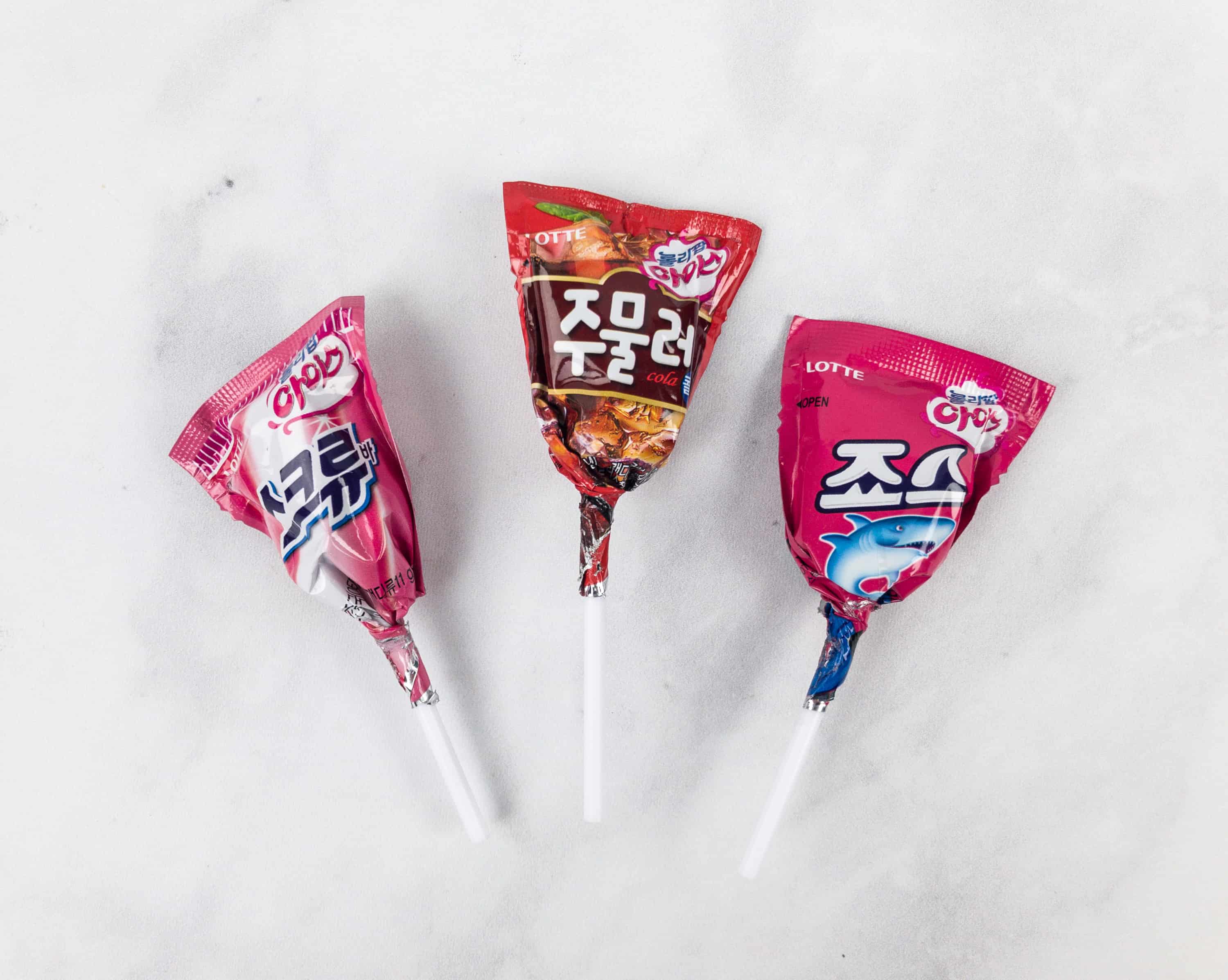 Lotte Lollipop Ice. These lollipop candies are popular in South Korea. They are said to have a similar taste to ice cream.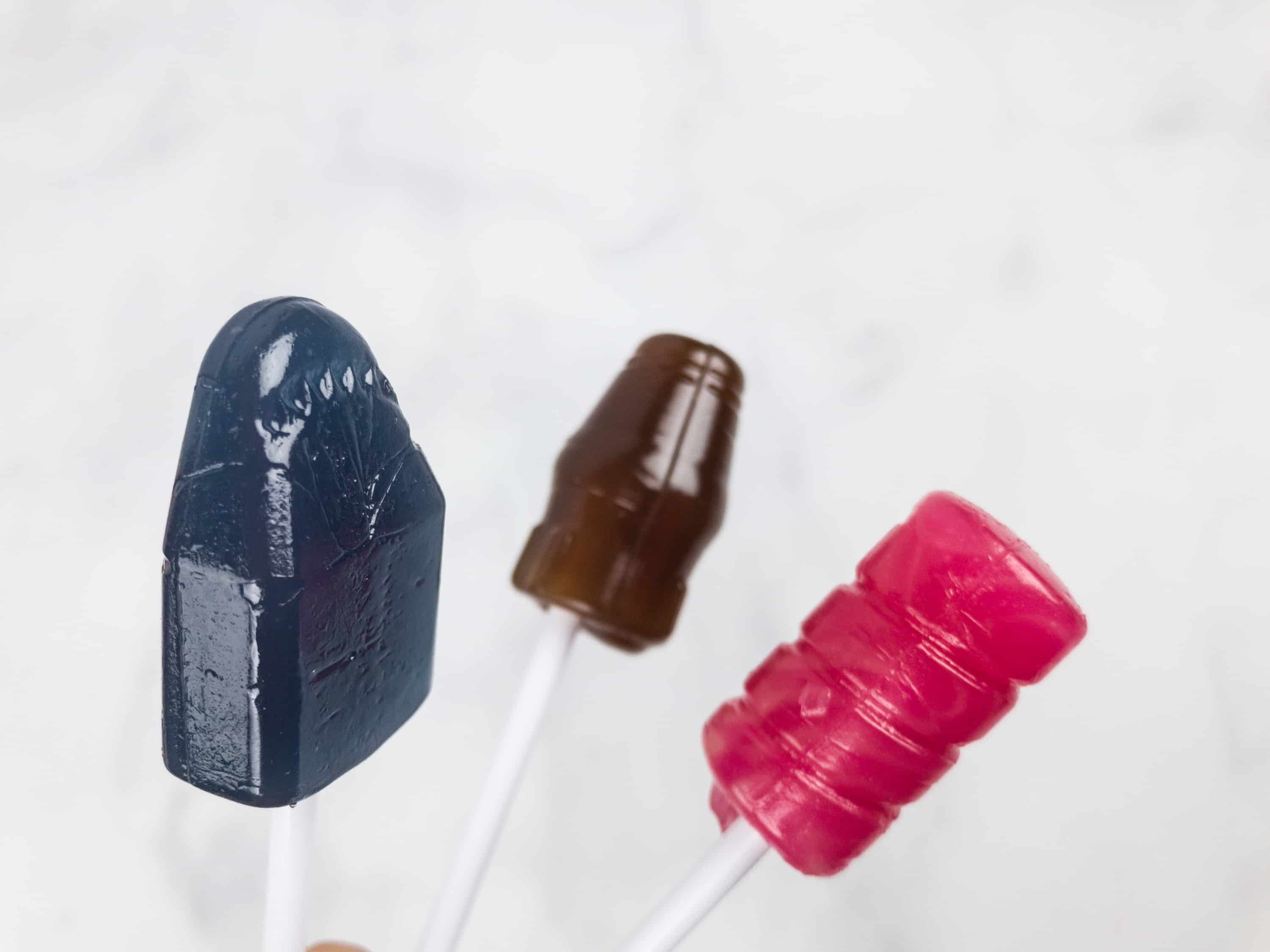 We received them in three flavors: Jaws, Cola, and Screw Bar. They were all good, but weren't as creamy as expected!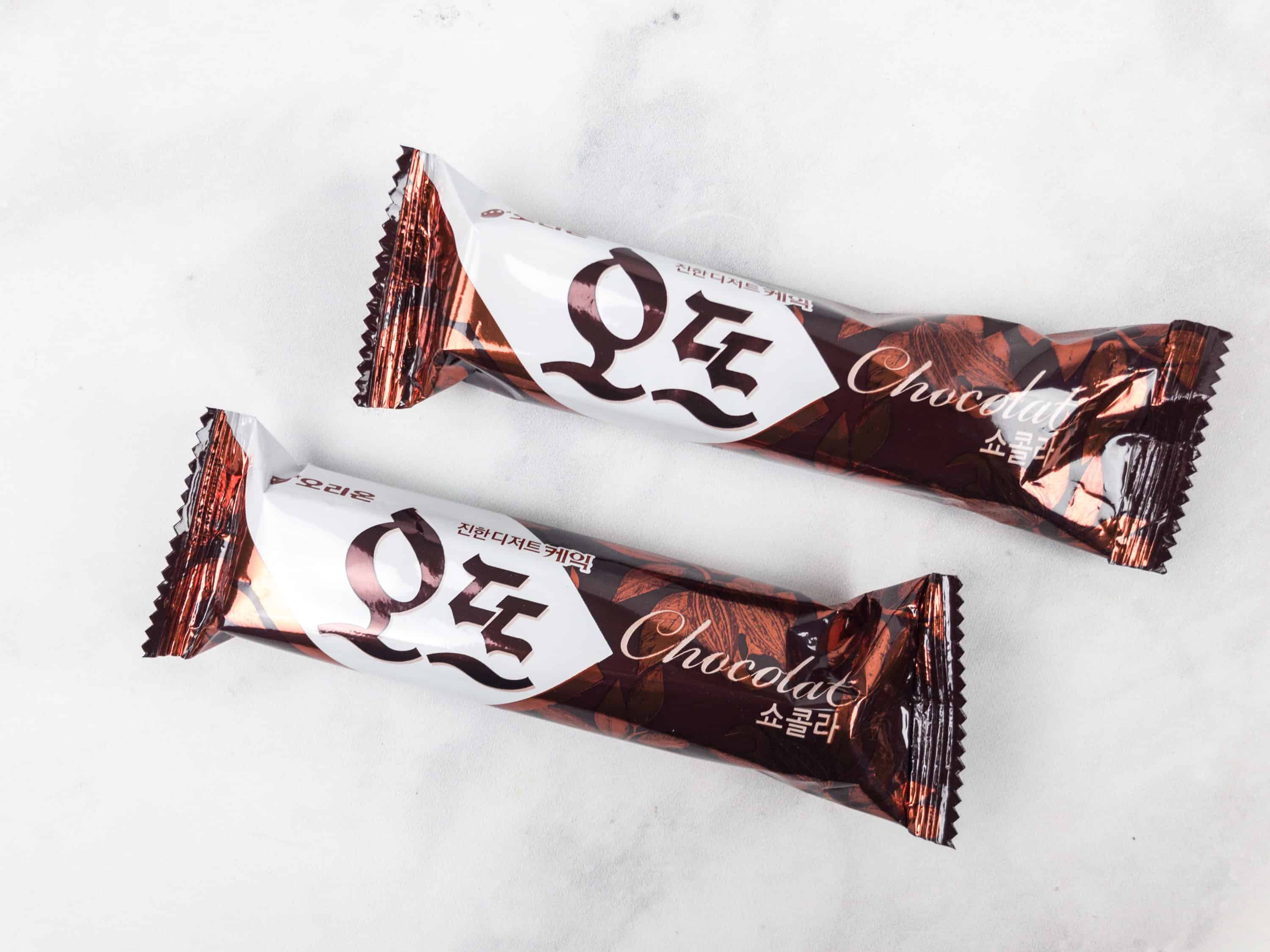 Otteu. We received two individually wrapped bars of this delicious chocolate snack with glaze.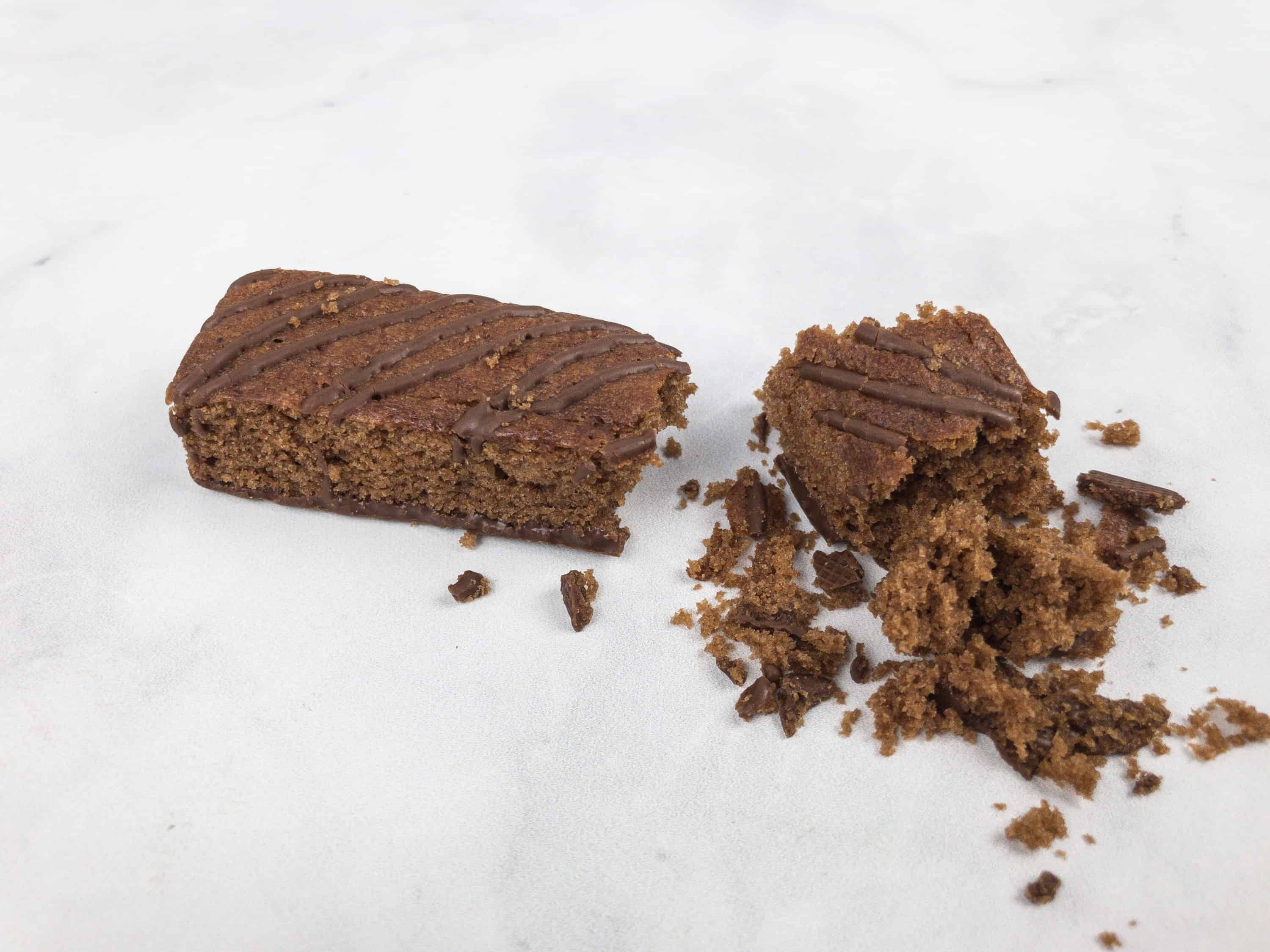 This chocolate snack bar is crumbly, but it tastes so good. It's a little Little Debbie-ish!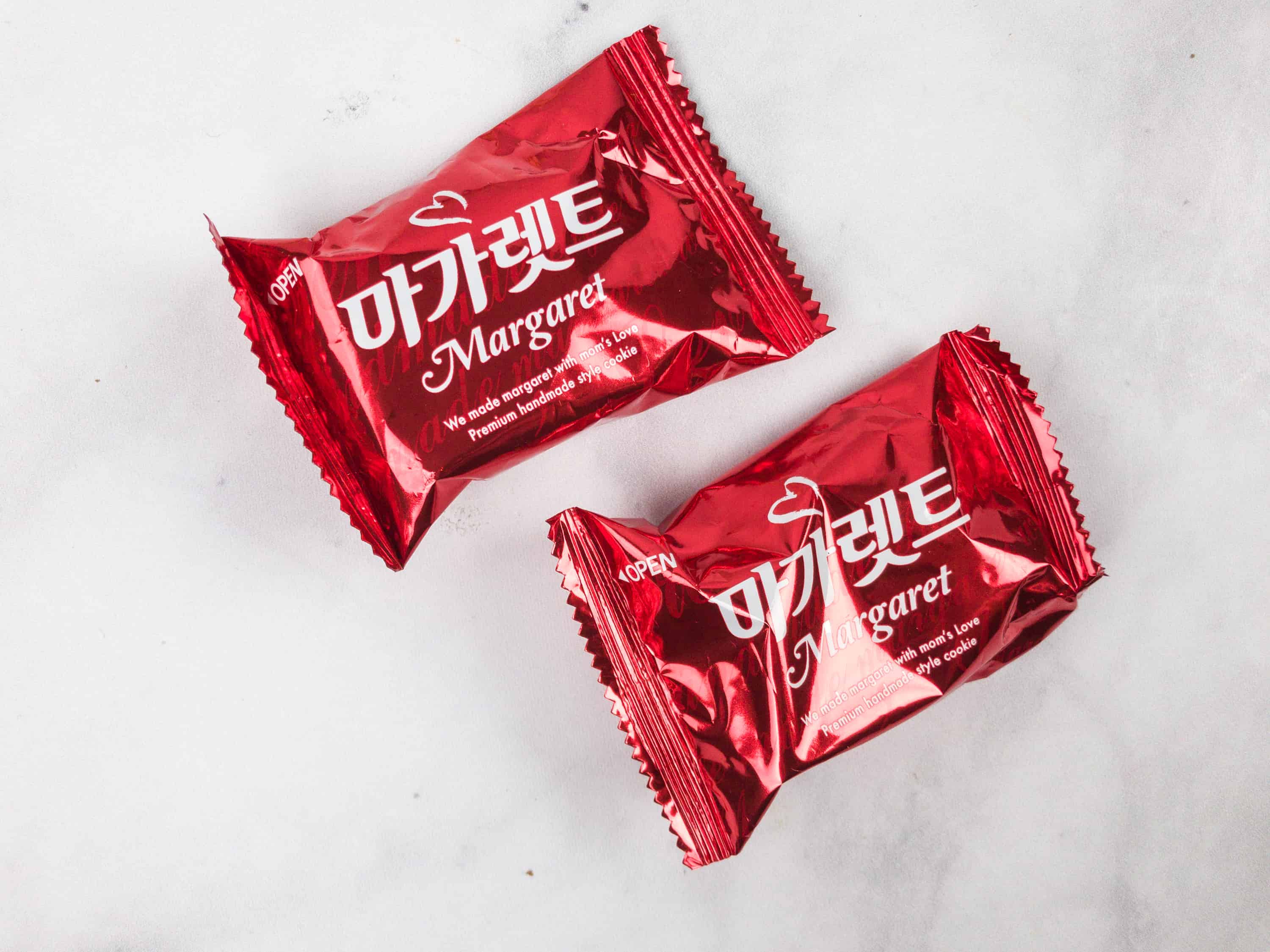 Margaret. This snack is a white soft bread handmade-style cookie. We also received two sets of two of them, individually wrapped.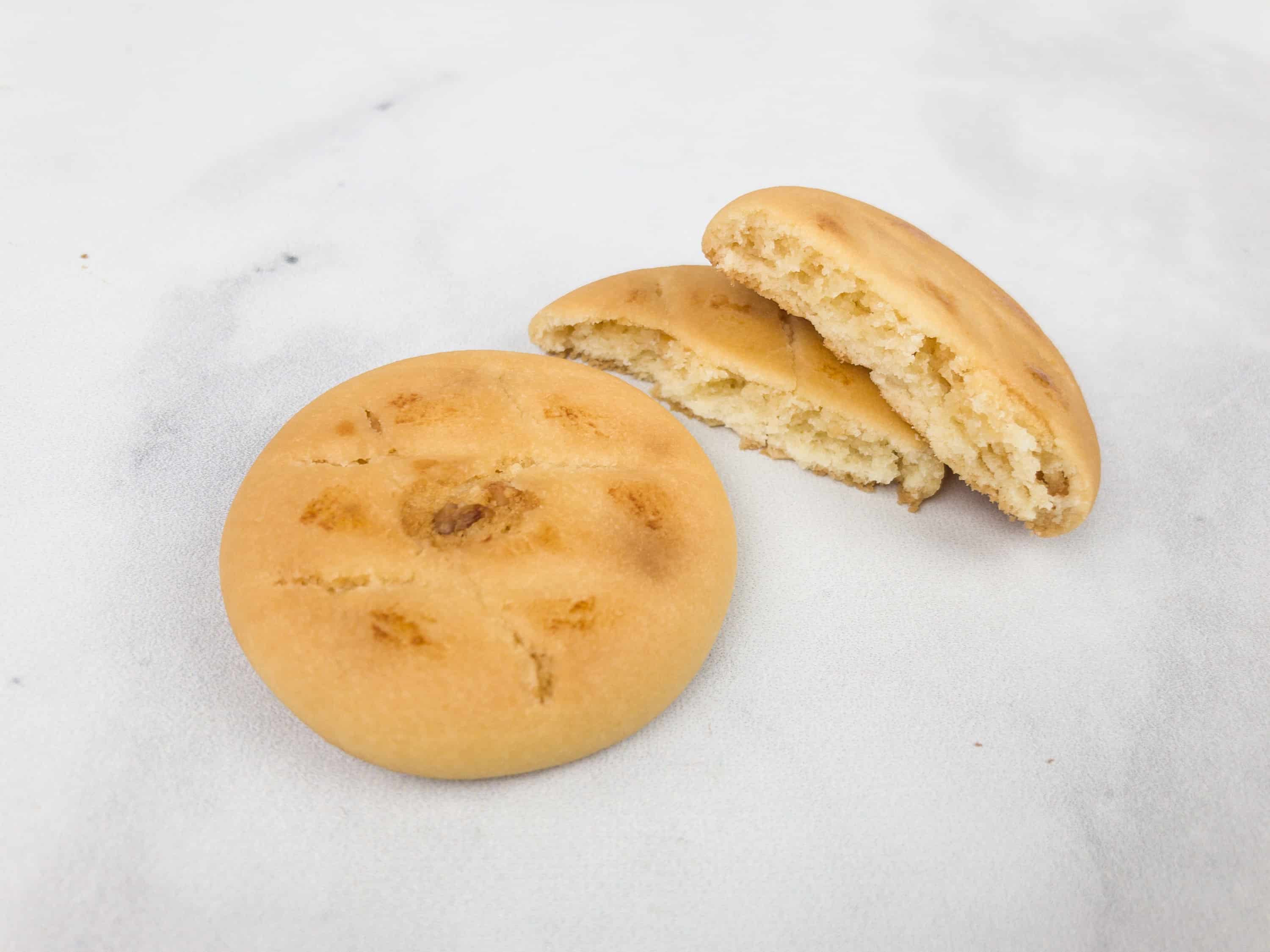 I love that how soft and moist these cookies are. Its filling is nutty and tastes like a peanut butter cookie with the same great soft texture.
Jelly Bab. Shaped like various sea creatures, this pack of gummy candies is a big hit with the kids and with me!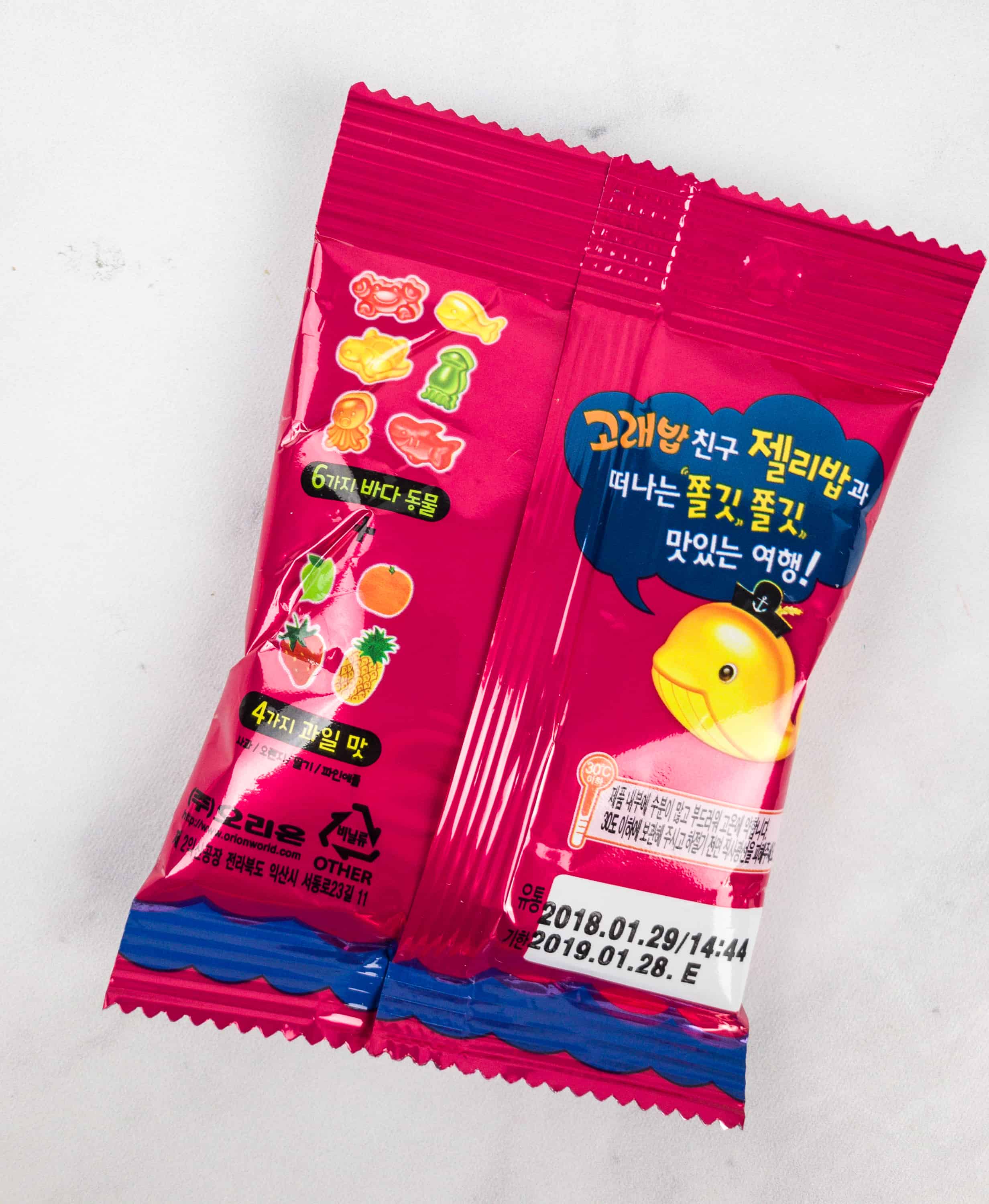 These gummy candies comes in 4 flavors: green apple, orange, strawberry, and pineapple!
There are whales, sharks, turtles, squids, octopuses, and crabs! And all of them are so chewy and tasty!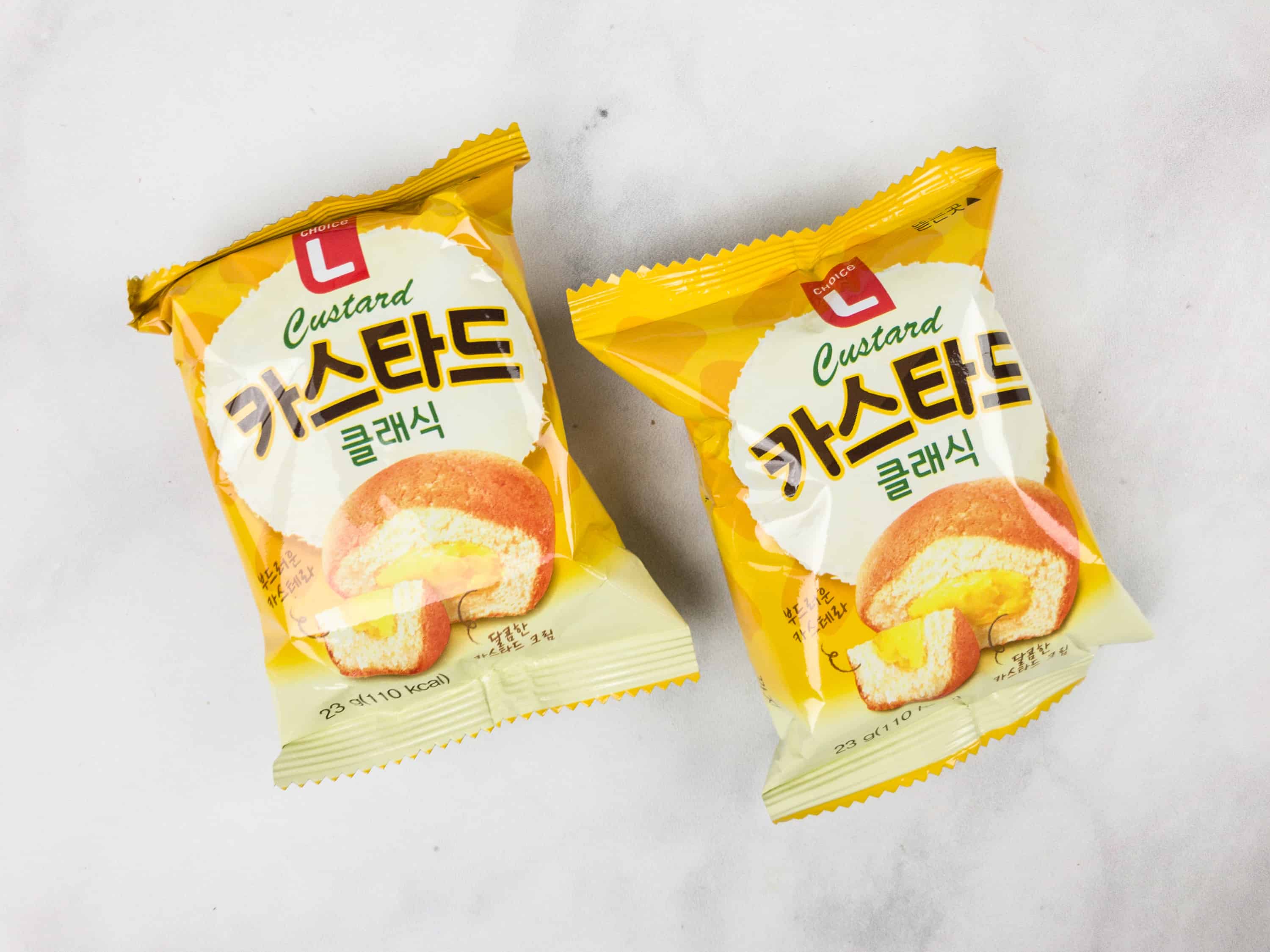 Lotte Custard Cake. Cupcakes are great for quick snacks and that's why I'm happy to see two Lotte cupcakes in our stash. It's soft and moist, with a delicious custard cream filling.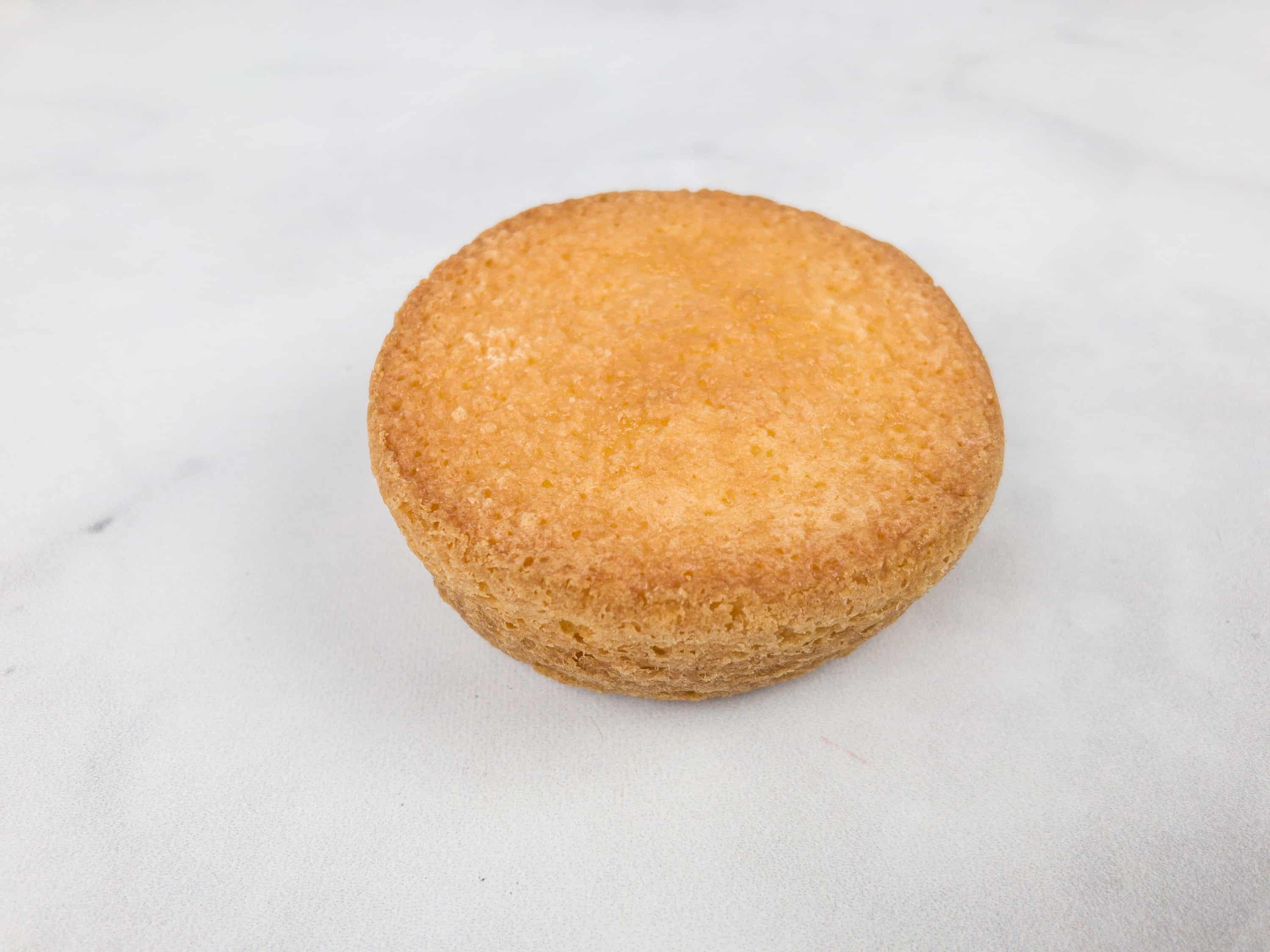 The outer part looks golden brown and has a fluffy smooth texture.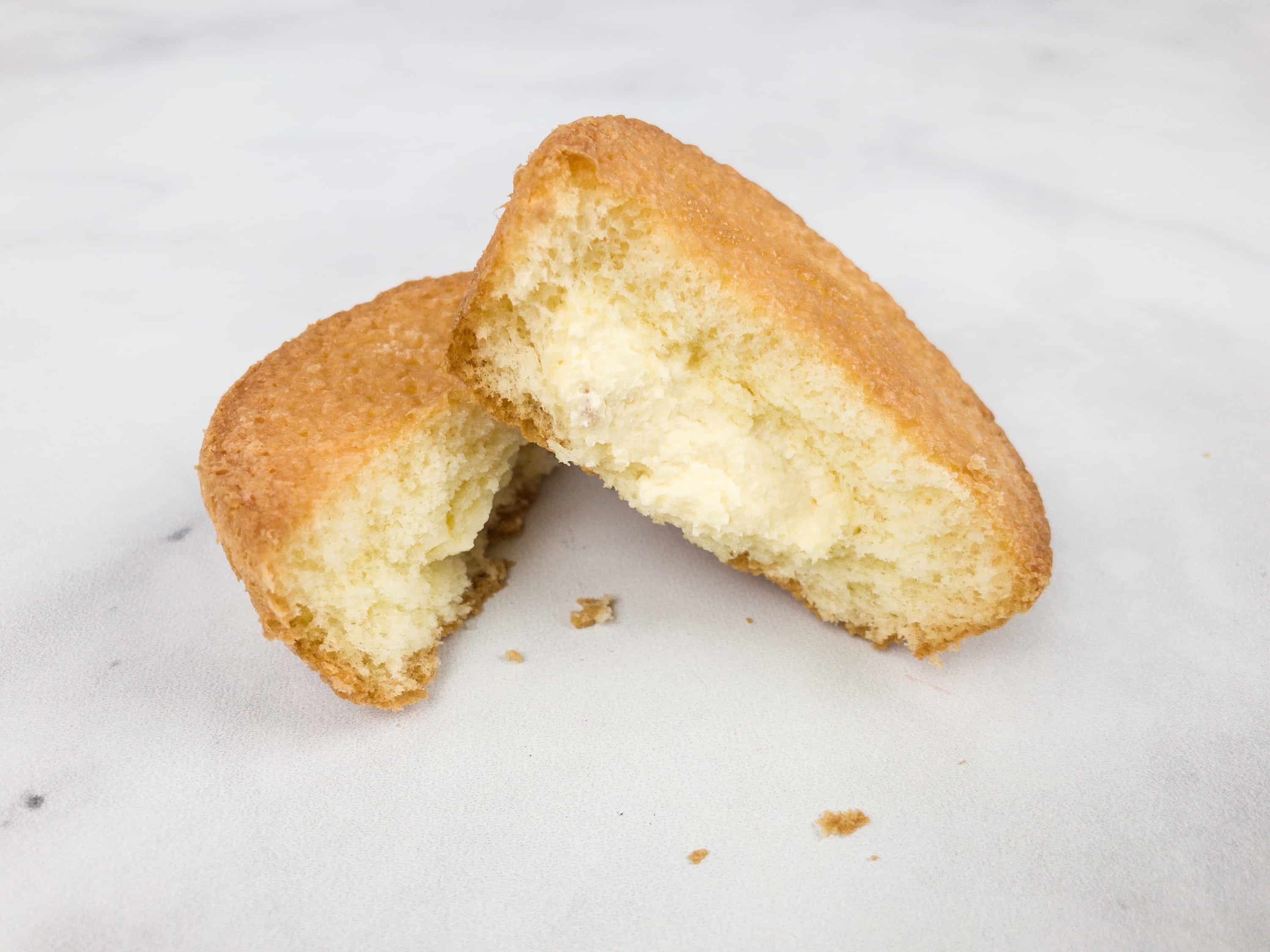 Inside the cake is a smooth and velvety cream. It's not too sweet, and I can't get enough of it!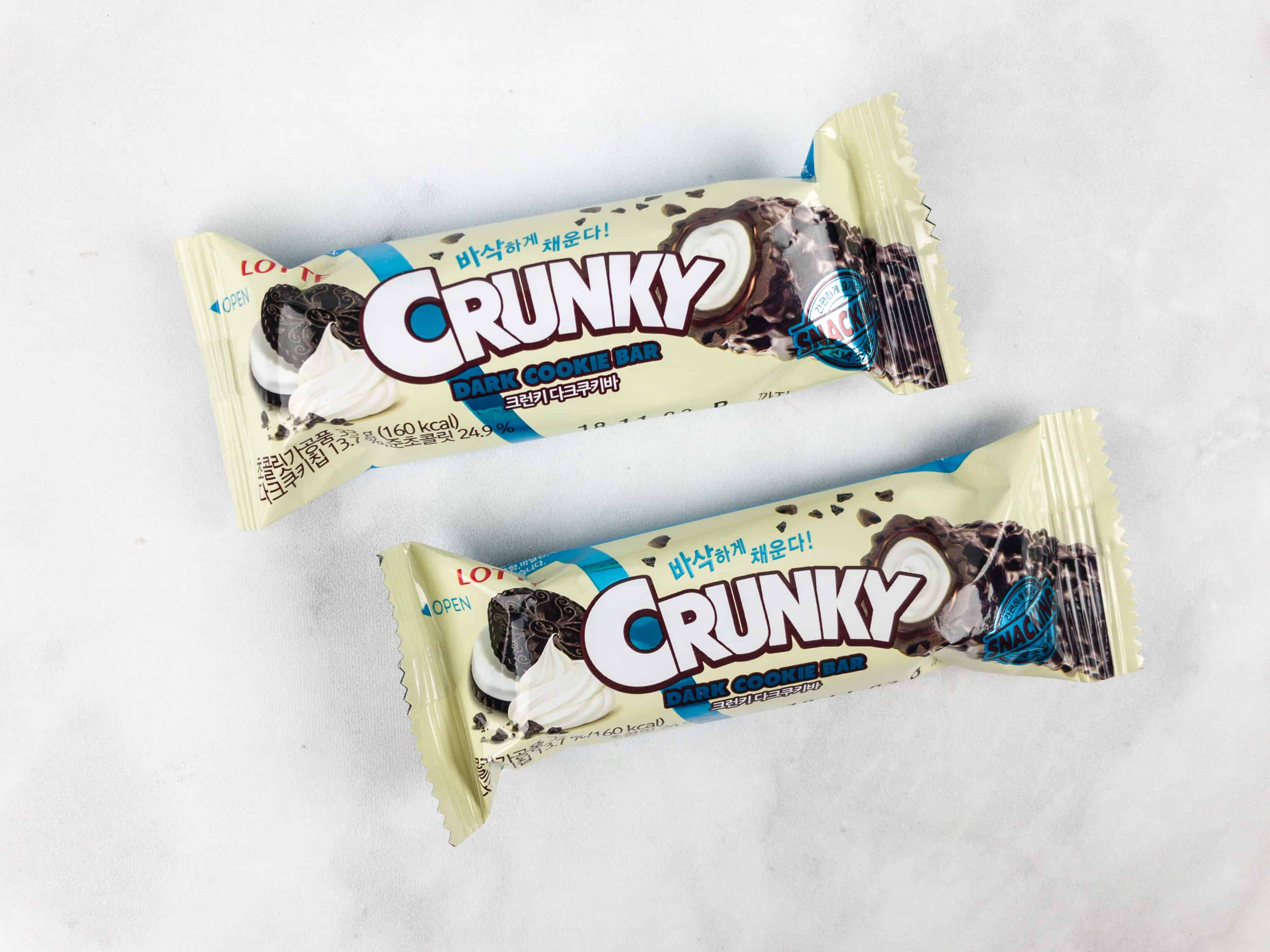 Crunky Dark Cookie Bar. Another treat made by Lotte is this crunchy chocolate cookie bar. It is filled with creamy vanilla and layers of chocolate!
The outside shell is fully covered with luscious dark chocolate and cookie bits.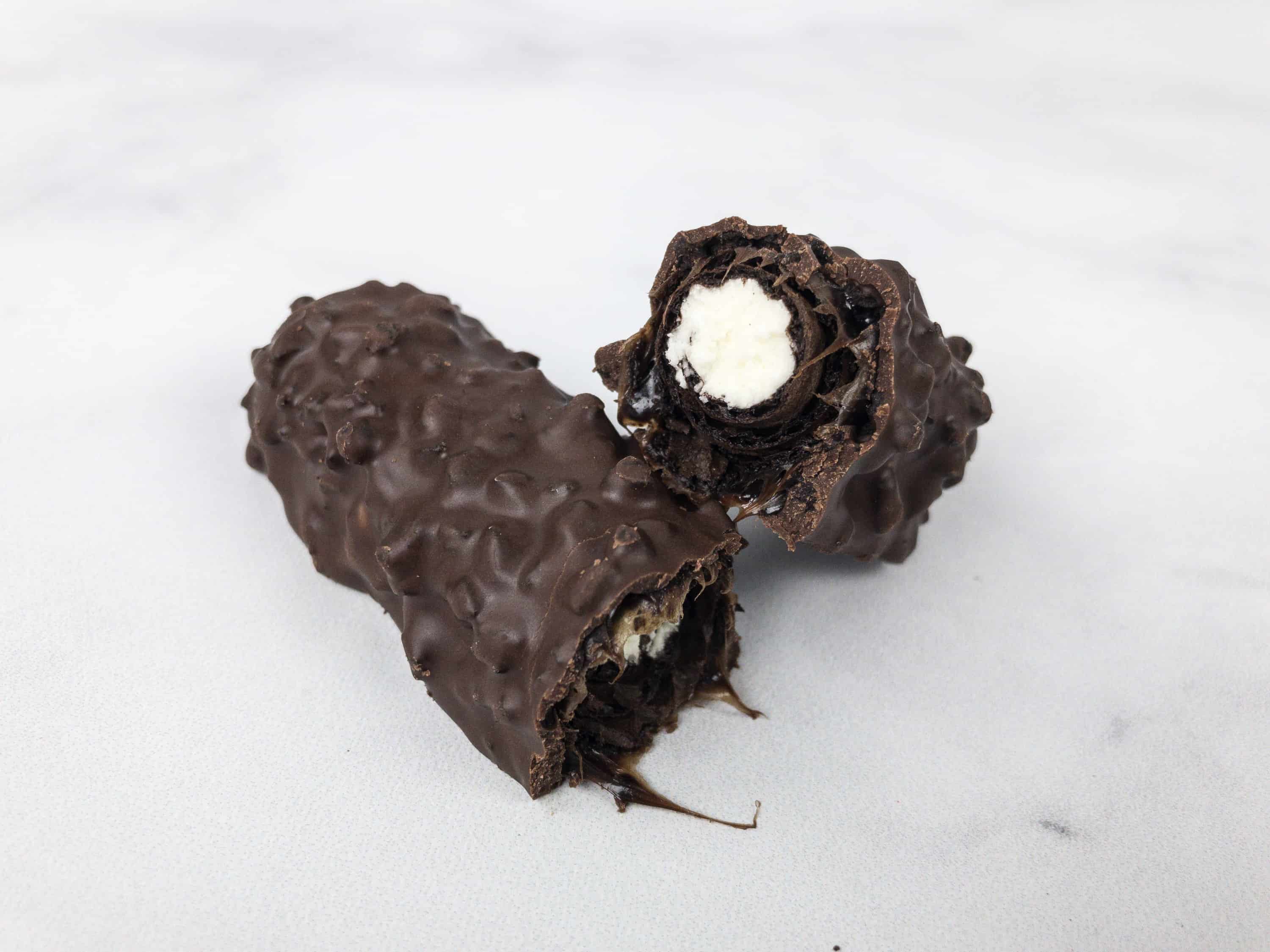 Inside the bar is vanilla cream and caramel. The bar tastes better when you chill it for a bit! It's a super substantial snack and also quite unique.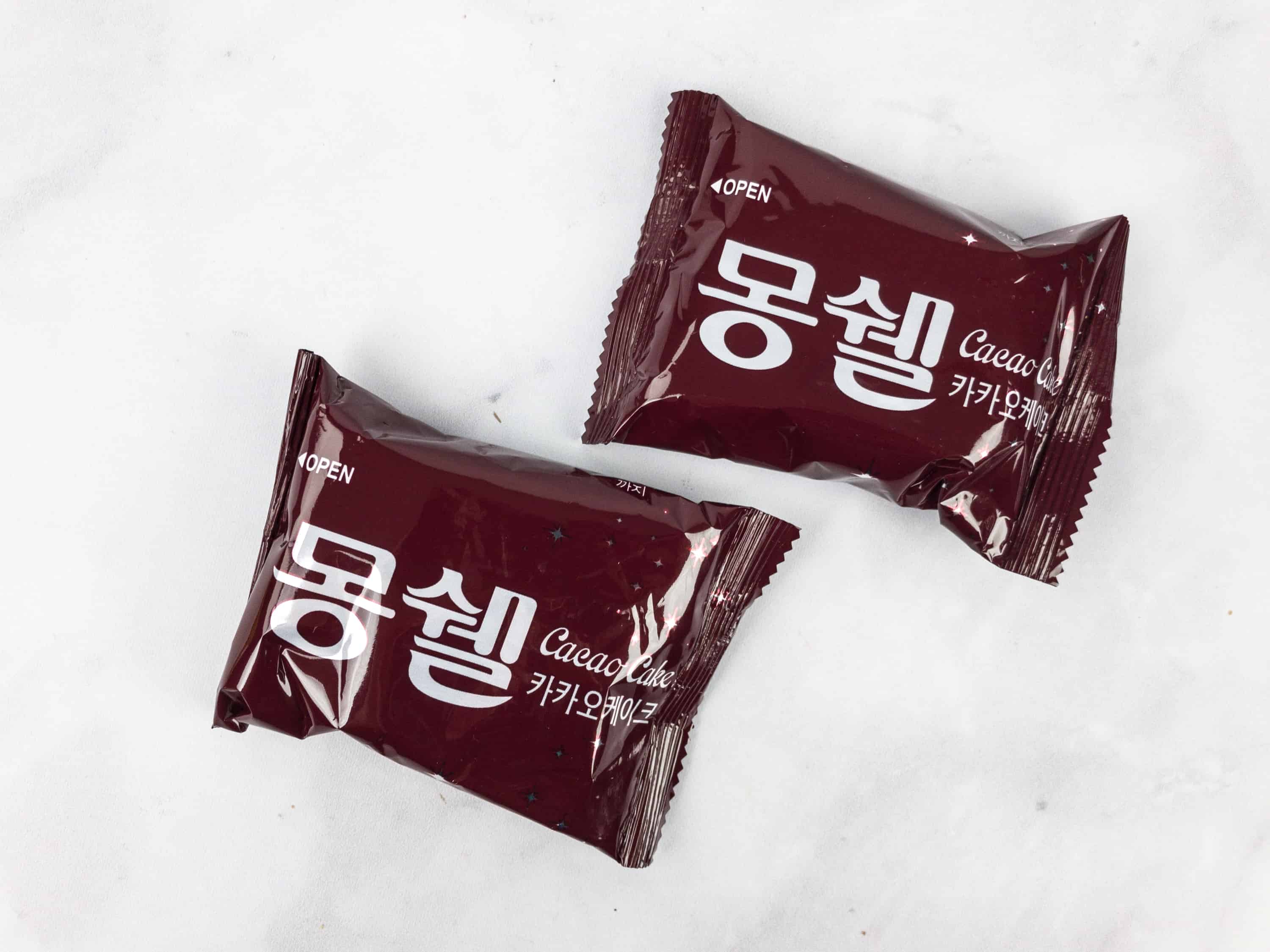 Mon-Cher. This is a traditional style Korean cake made with cacao and white cream.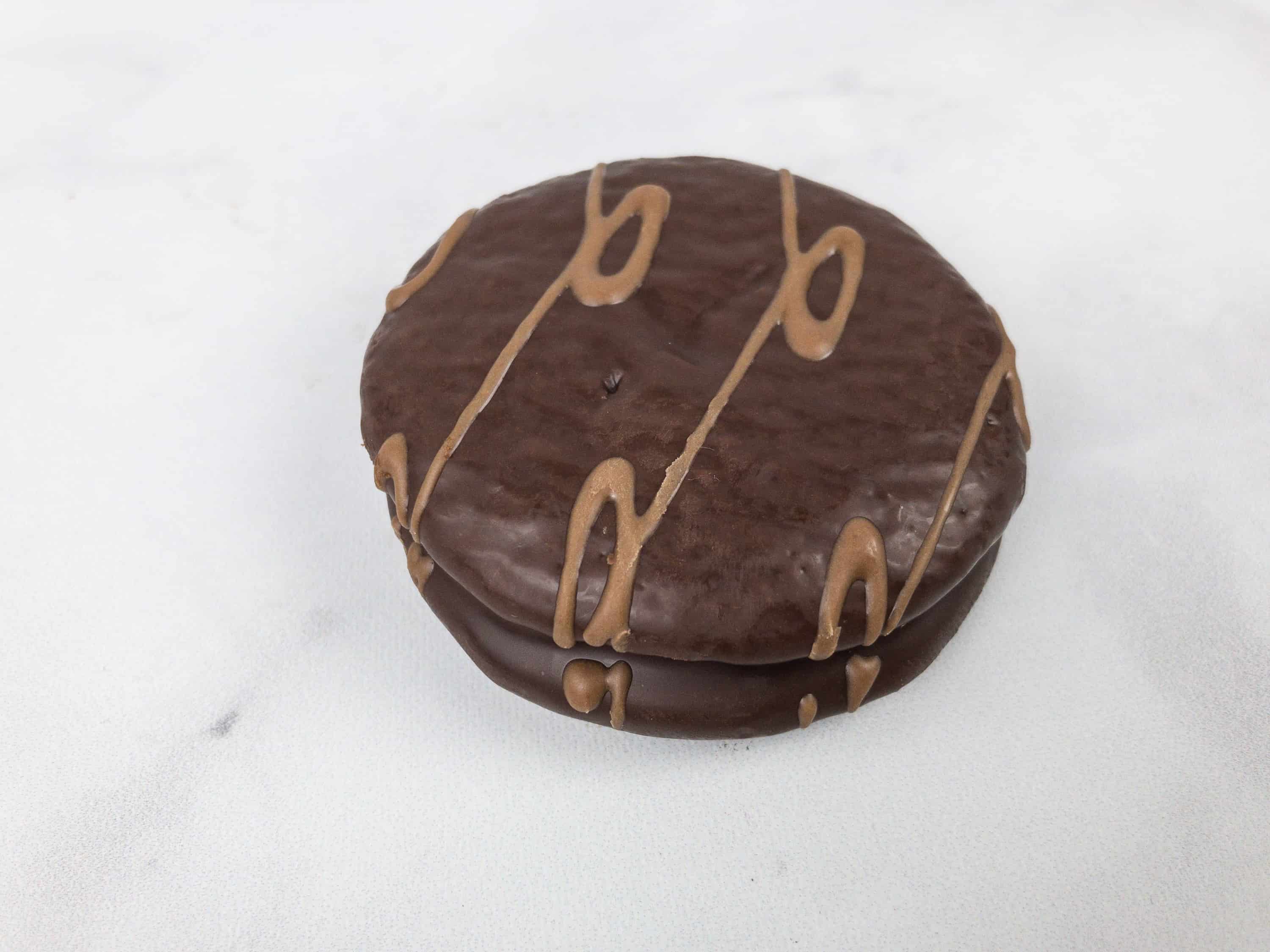 The outer layer is dark chocolate with a drizzle of milk chocolate.
The cake is soft, while the filling is creamy and sweet. There were two individually wrapped cakes in our stash and they were gone immediately.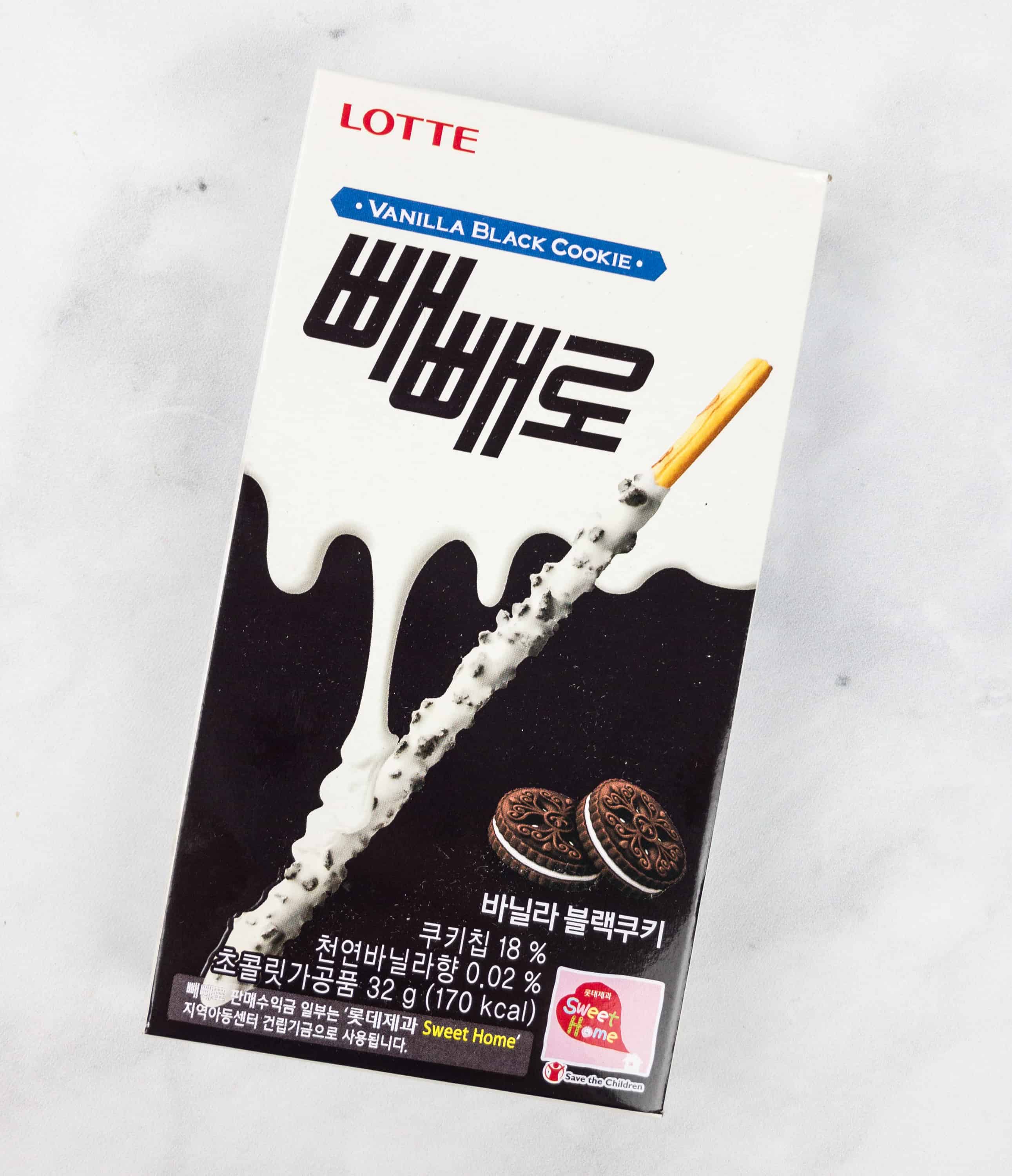 Pepero Vanilla Black Cookie. Pepero is a staple in most Korean snack boxes. The variant we received this month boasts of white vanilla coating and cookie bits.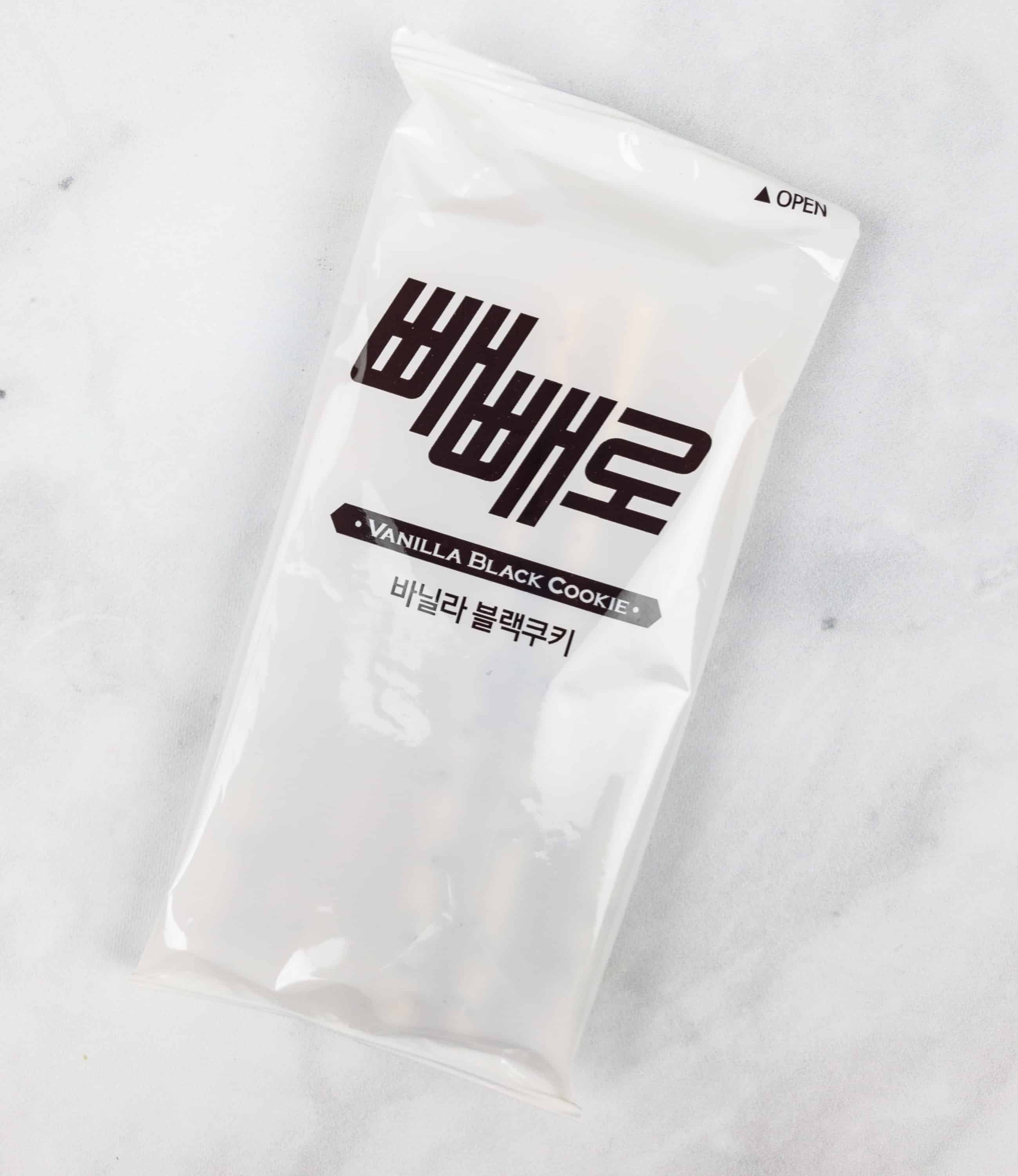 Aside from the box, the cookie sticks are also sealed inside a wrapper to make sure it stays fresh.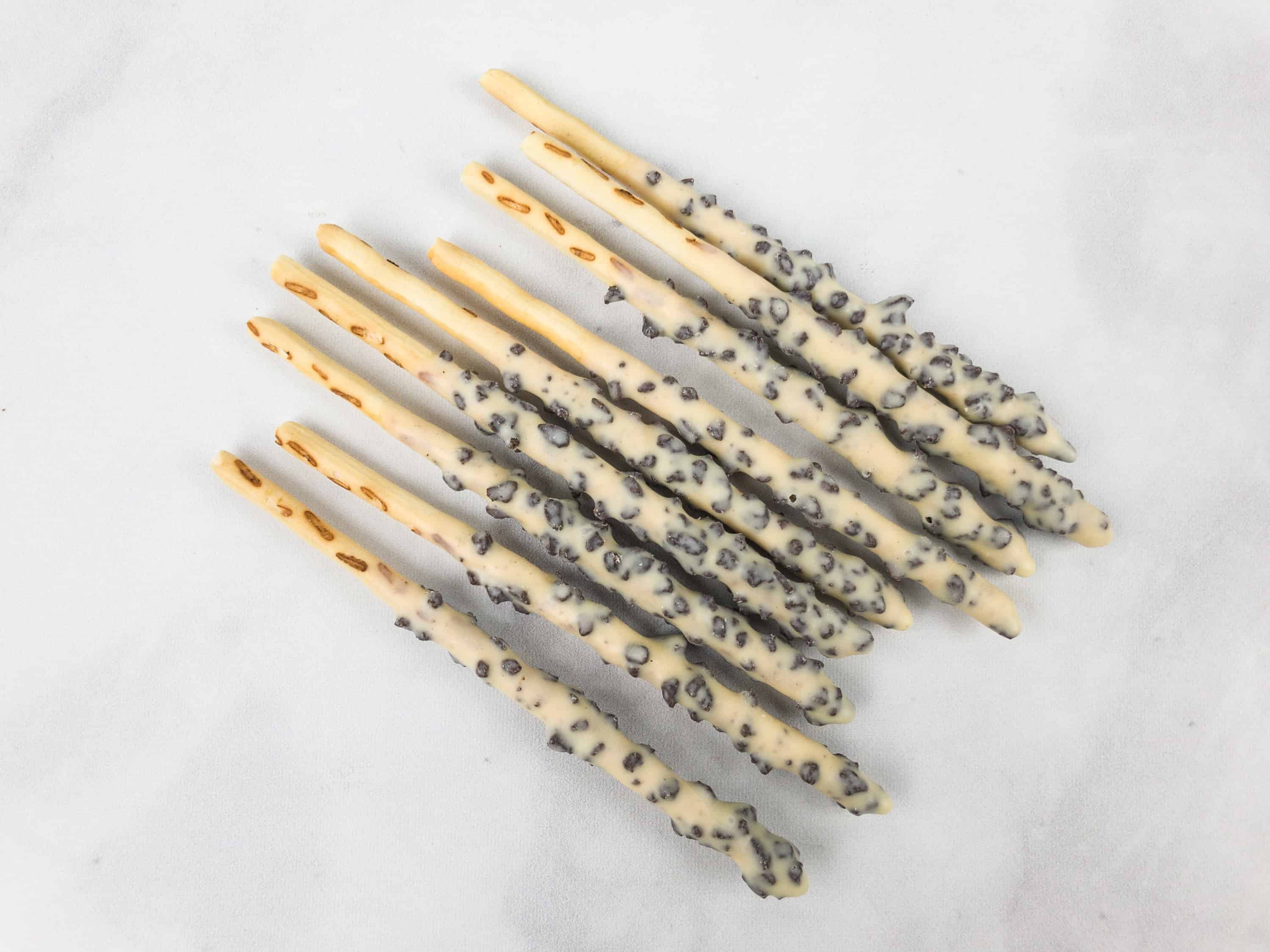 We love Pepero and their generous coating on the sticks!
This month's box is filled with sweet and chocolaty treats, and I have no complaints because everything tasted delicious! However, I think it would also be nice if they include some savory snacks to have a little more variety in the box but given the theme for this month to celebrate White Day we totally get it! Overall, it's a wonderful subscription for Korean snack lovers and we simply love receiving more than one serving of each snack. The box is great for sharing with loved ones or friends!
Do you like Korean snacks? What's your favorite snack from this month's box?