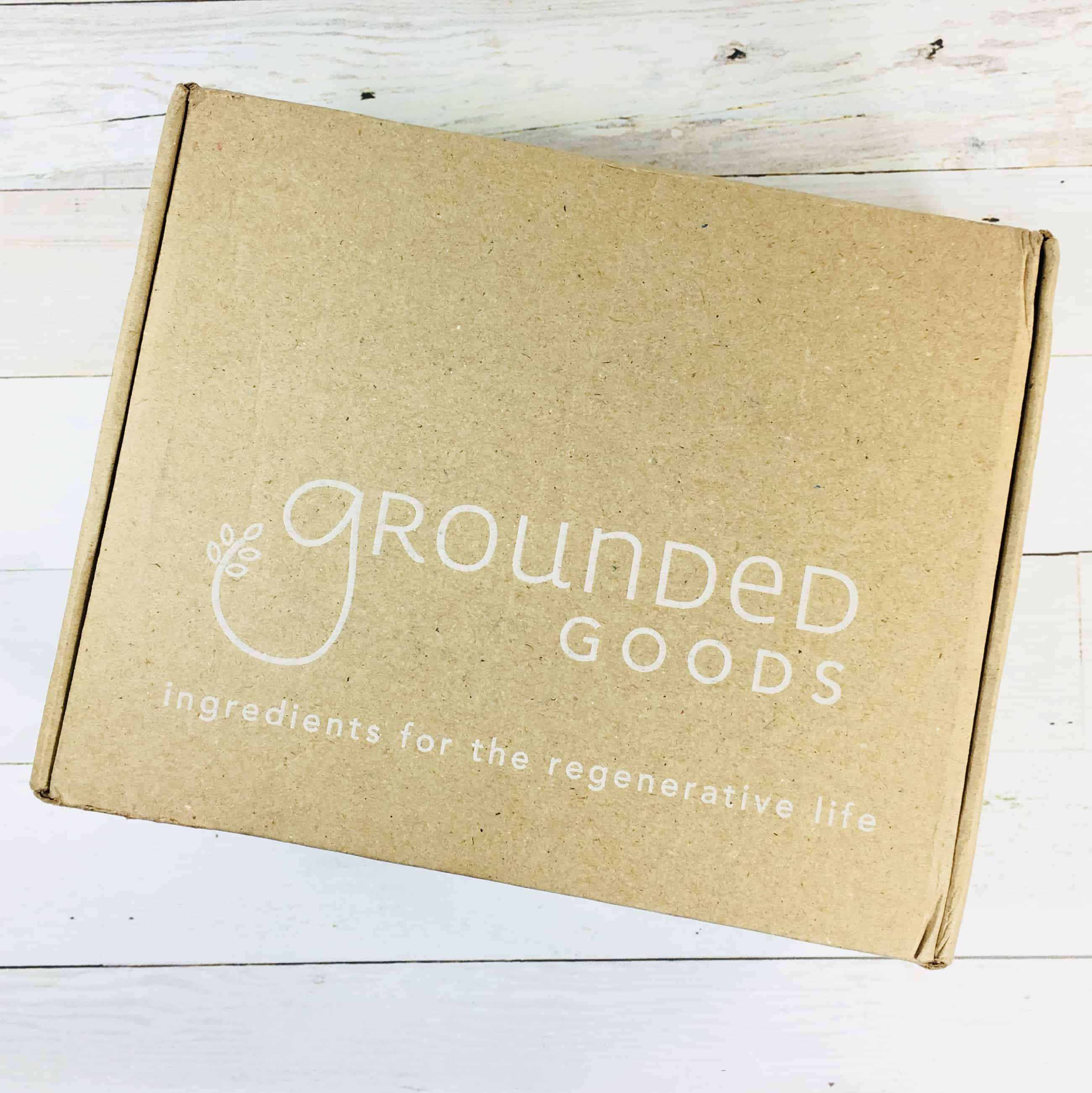 Grounded Goods is a monthly subscription box of products sourced from farms and companies that are committed to regenerative farming. Their raw ingredients were farmed using practices that restore ecosystems and help to slow down climate change. Each month, you'll get a box of beyond-organic, responsibly sourced treats like single-source coffee, tea and chocolate, jams and nut butters, luxury body care products, and household goods. This box makes it easy for sustainability-conscious people to start directing some of their purchasing power to these pioneering companies, and start bringing nutrient-dense regenerative goods into their homes and lives. 5% of profits go to support farmers who are transitioning to regenerative growing practices.
In selecting items for the boxes, we set the bar higher than just about anyone we know. When transporting our goods to you, we use 100% post-consumer recycled and/or biodegradable shipping materials with soy-based inks that can be either recycled or composted. We ship our boxes through USPS, which we like to work with because they're increasingly using electric vehicles.
My items were shipped via USPS and the items were cushioned with shredded paper squiggles.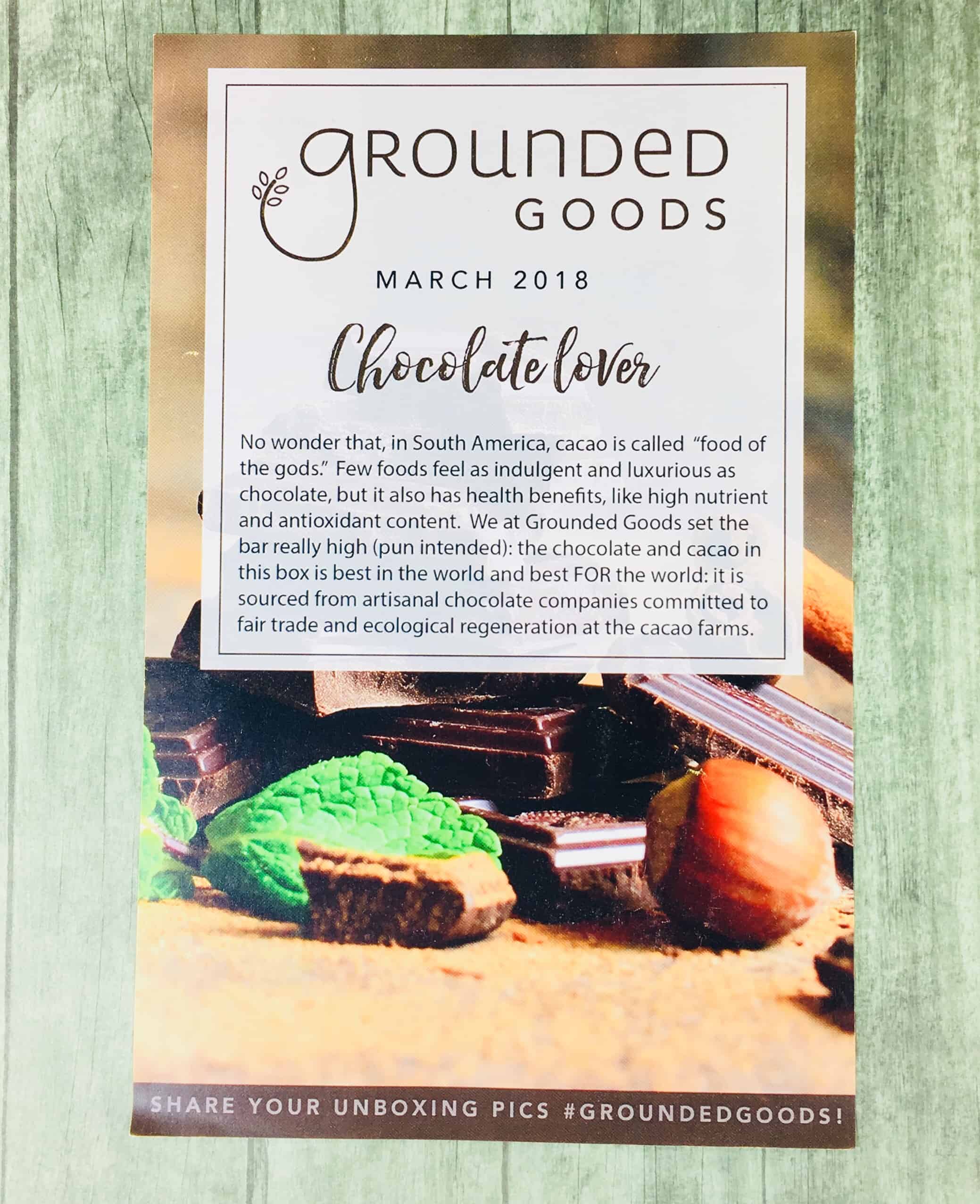 The theme for March is Chocolate Lover. How did they know my name?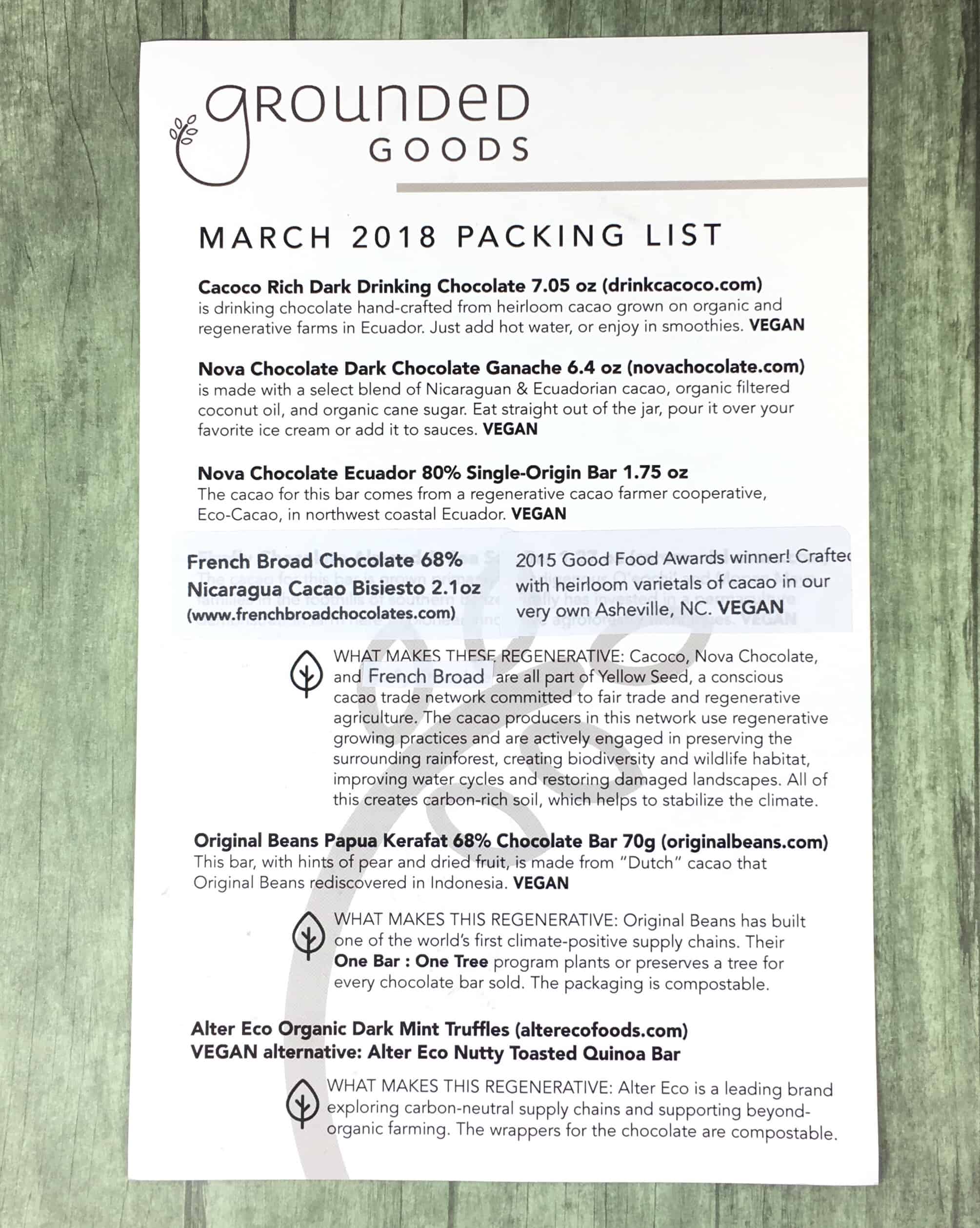 The "packing list" mentioned each item and clearly spelled out which items were vegan. You can choose omnivore, vegan, or vegetarian at checkout depending on you preferences.
This is a lovely, beautiful, magnificent box of chocolate. Just look at the deliciousness.
Everything in my box! Now let's dig in!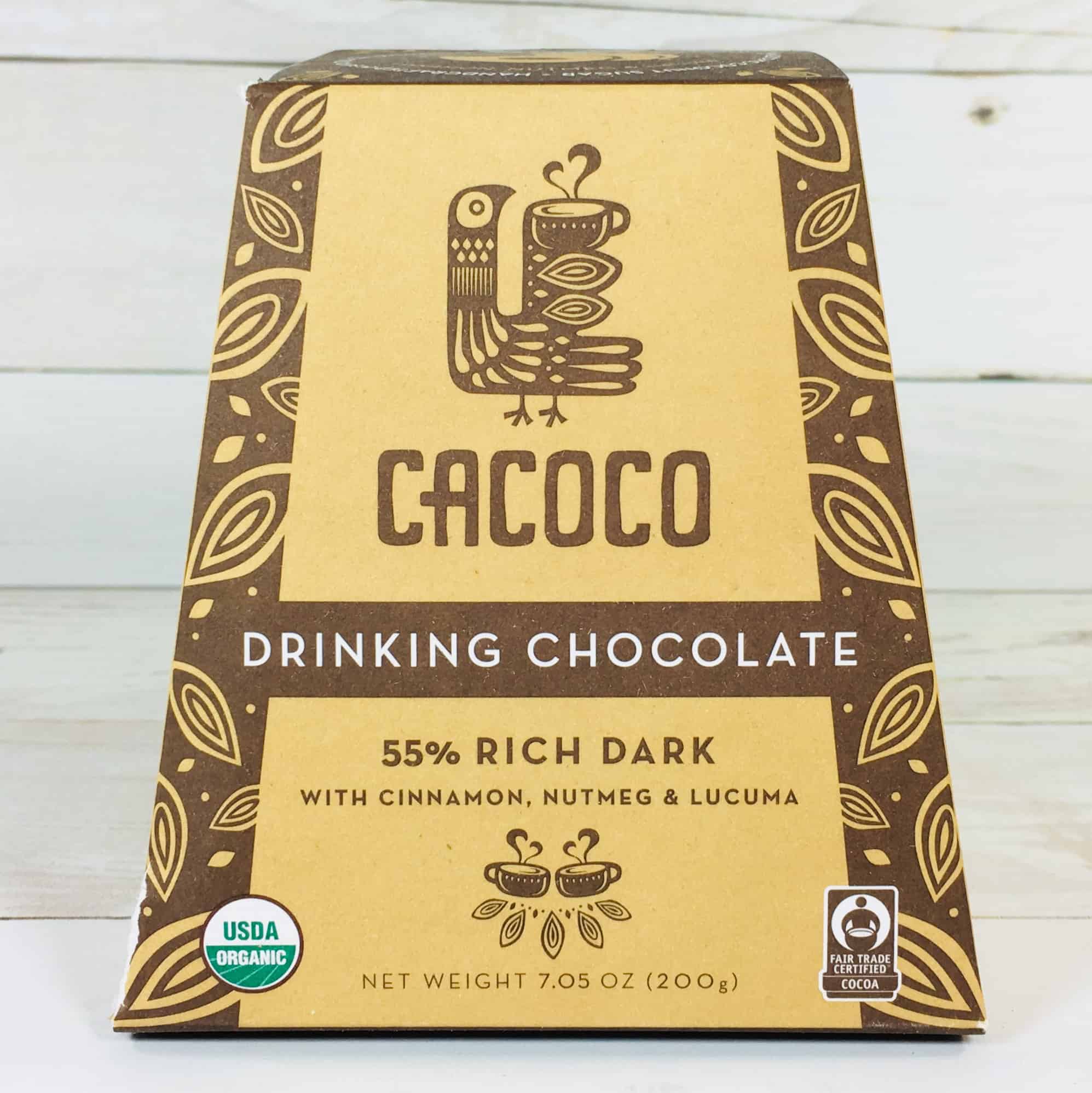 Cacoco Drinking Chocolate ($13.99) The only drinking chocolate I've tried before is various hot cocoas but I know the French drink some that are like melted candy bars. I noticed a USDA Organic badge on the box.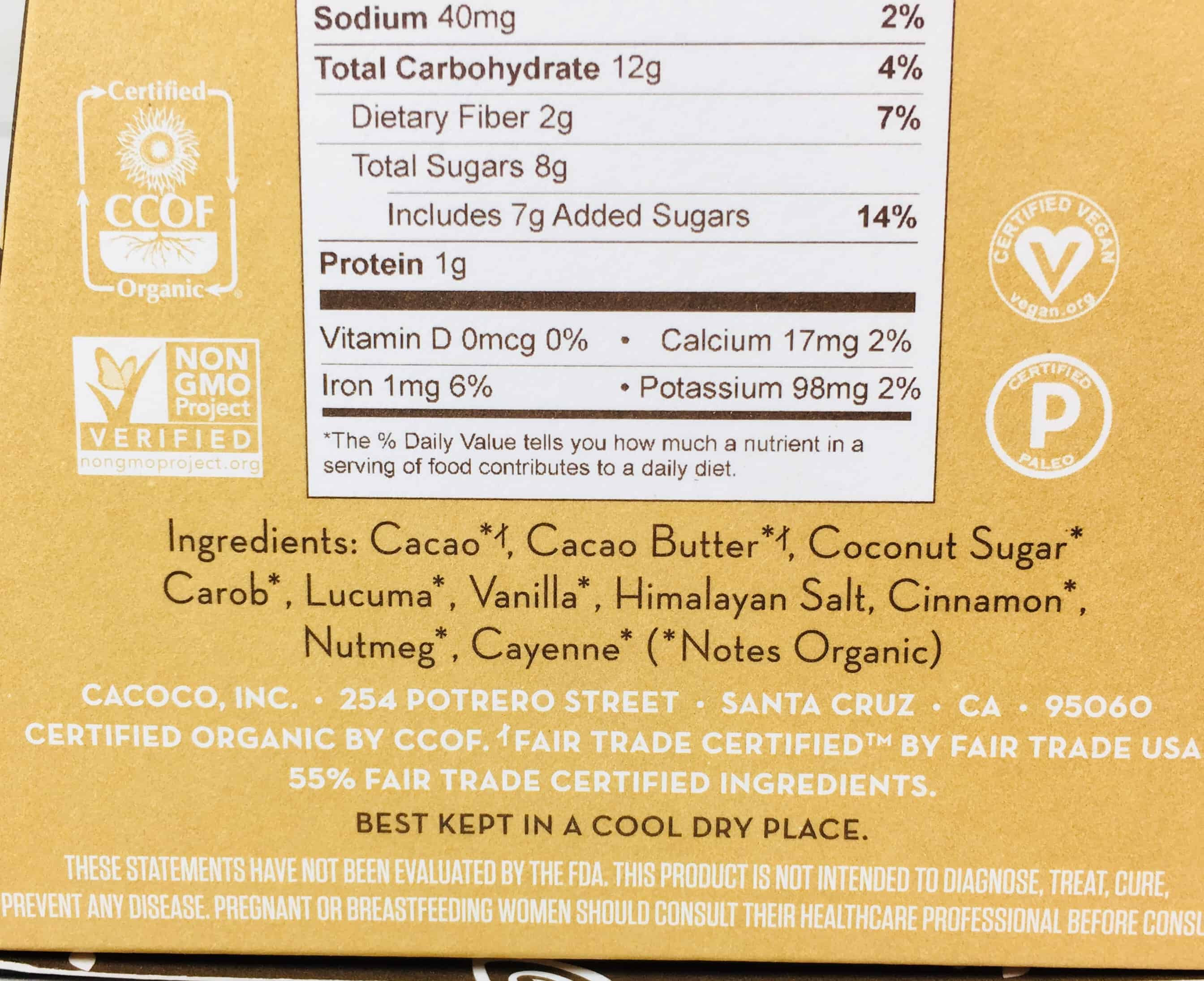 Most of these ingredients are familiar to me and I grew up drinking carob cocoa. I had never heard of lucuma so I looked it up. It's a fruit that grows in South America and has health benefits such as helping the heart.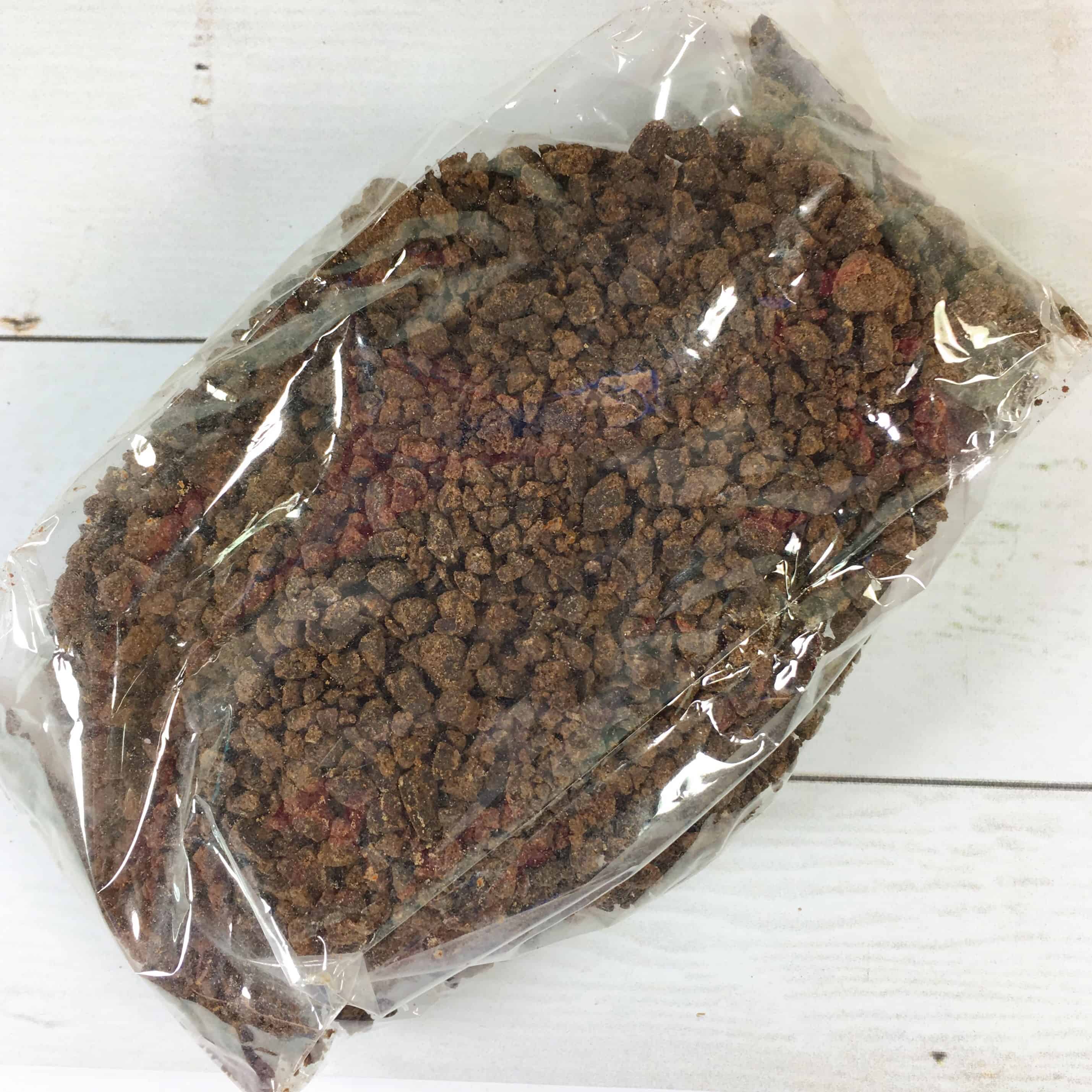 The stuff in the bag reminded me of crushed up cookies. Yes, I did eat it like this off of the spoon!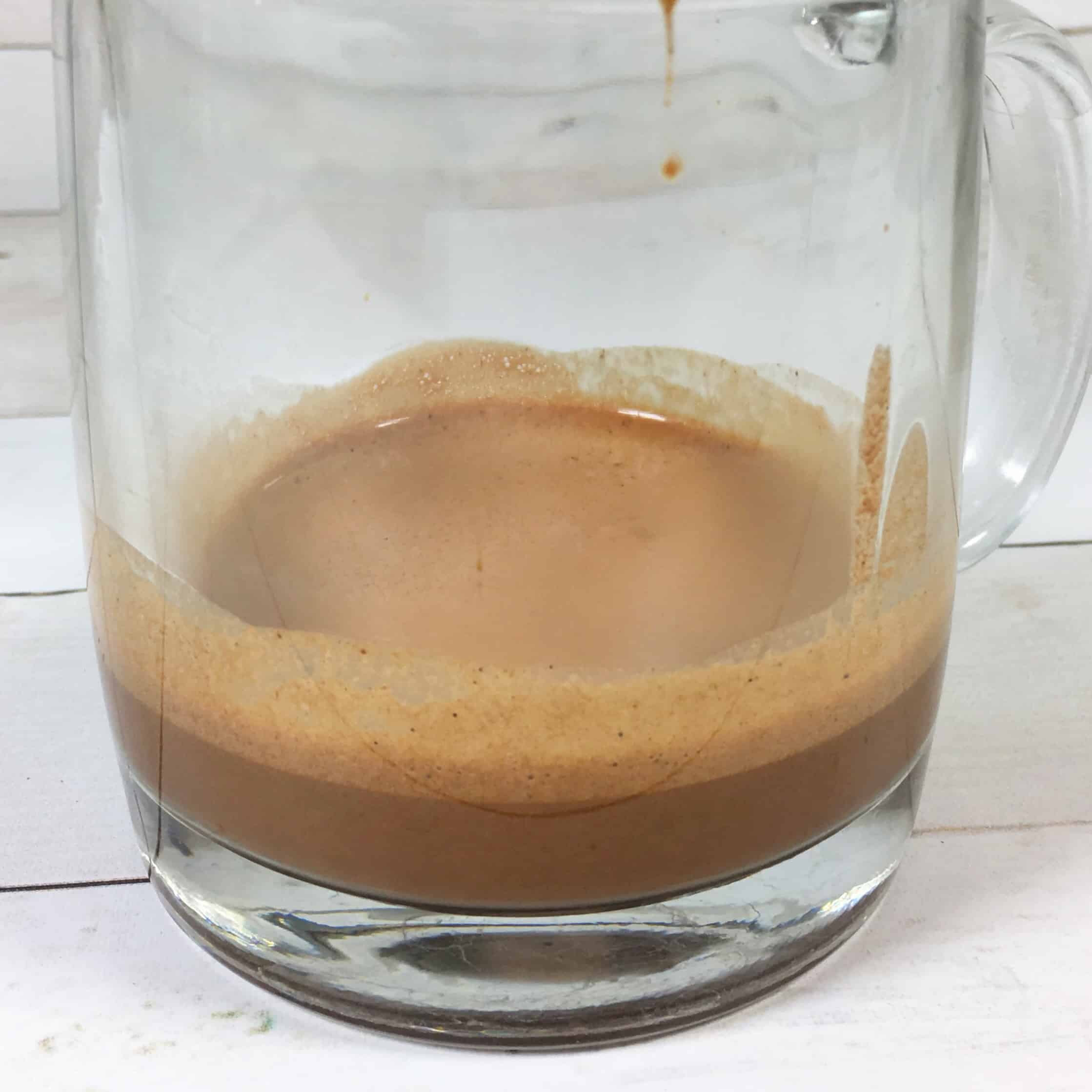 I followed the directions, which said to heat 1/4 cup of water or milk (I used milk). I poured this into my blender and added 3 tablespoons of the mix and then blended until smooth. Caution: When you remove the blender lid it will go everywhere. This was incredibly rich, and I feel like I could mix it with a whole cup of milk for a luxurious hot cocoa. This is intended as a health elixer but it says it can be used in all kinds of ways, including by the handful.
French Broad Cacao Bisieto Nicaragua Dark Chocolate 68% Cacao ($11) How cute is this? It was like opening a mini classic book! French Broad even suggests using the box to hold precious treasures.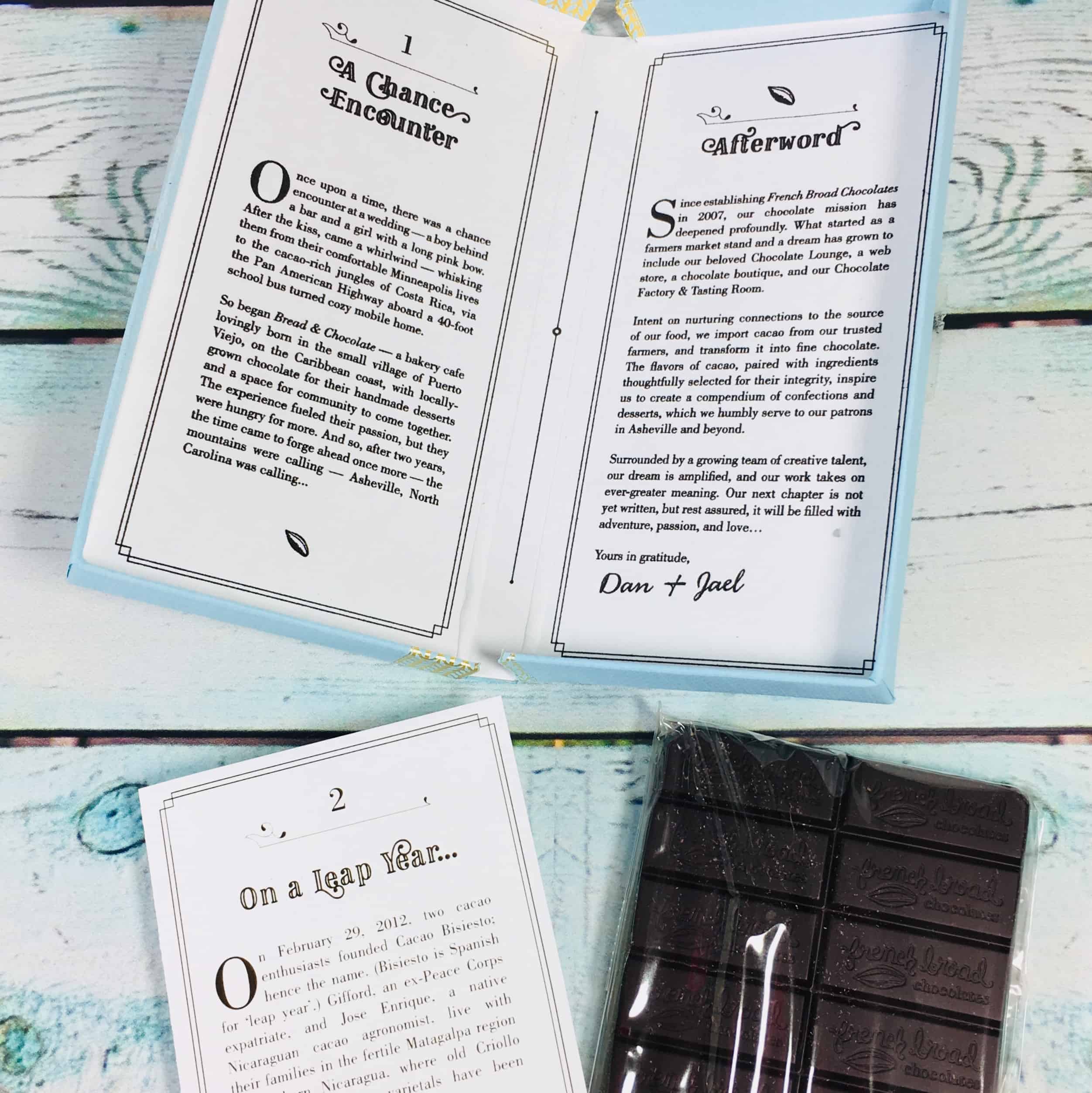 See, reading material inside!
I recently read this piece of advice about stopping and really enjoying your chocolate. This is special chocolate and is very rich and deep. I can eat several peanut butter cups in quick succession but just a bit of this really satisfies so I take the time to enjoy it.
The flavor is deep and sweet with hints of red berry fruitiness.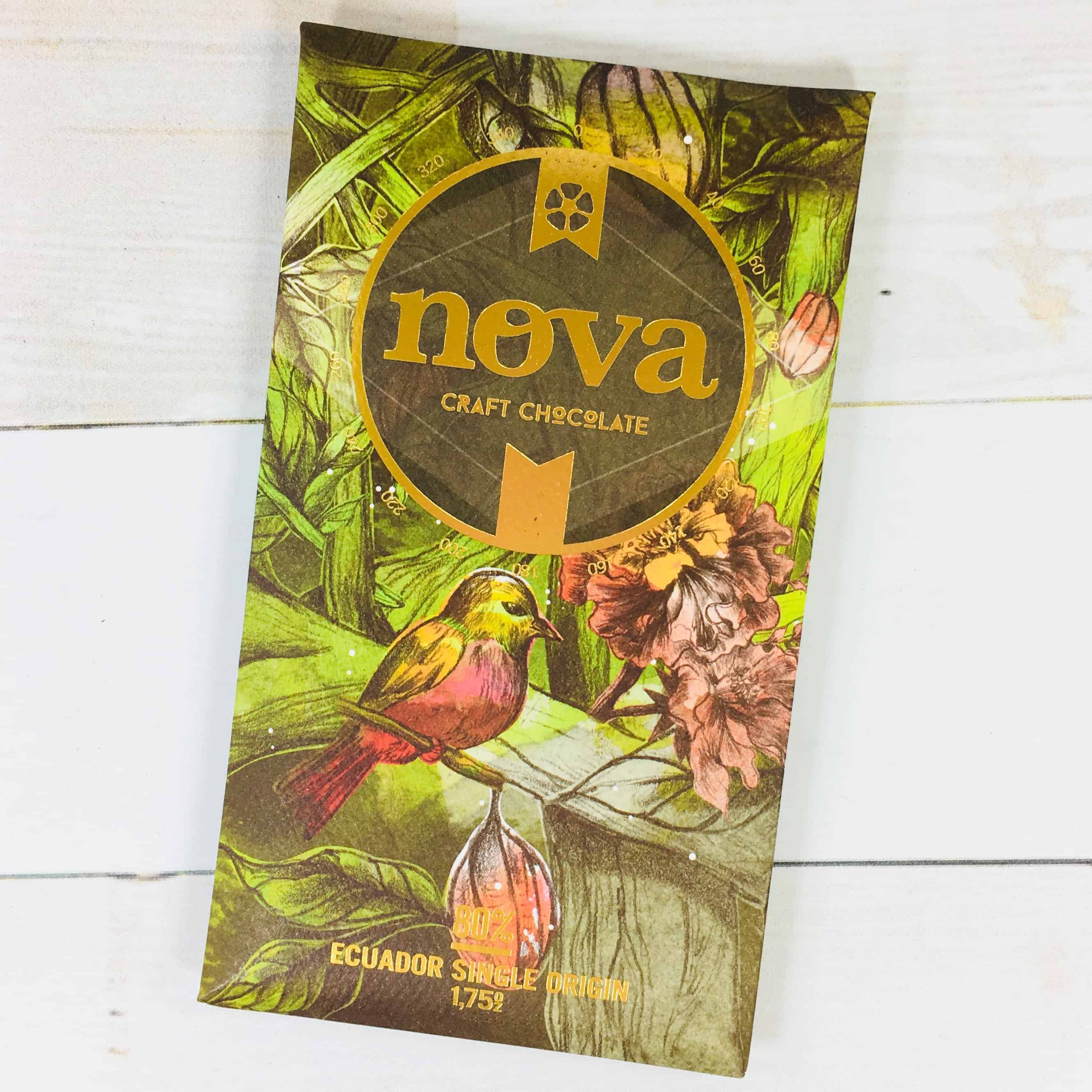 Nova Craft Chocolate 80% Ecuador Single Origin ($8.64) Here is another single-origin dark chocolate bar. Cacao tastes different depending on where it is grown in the world.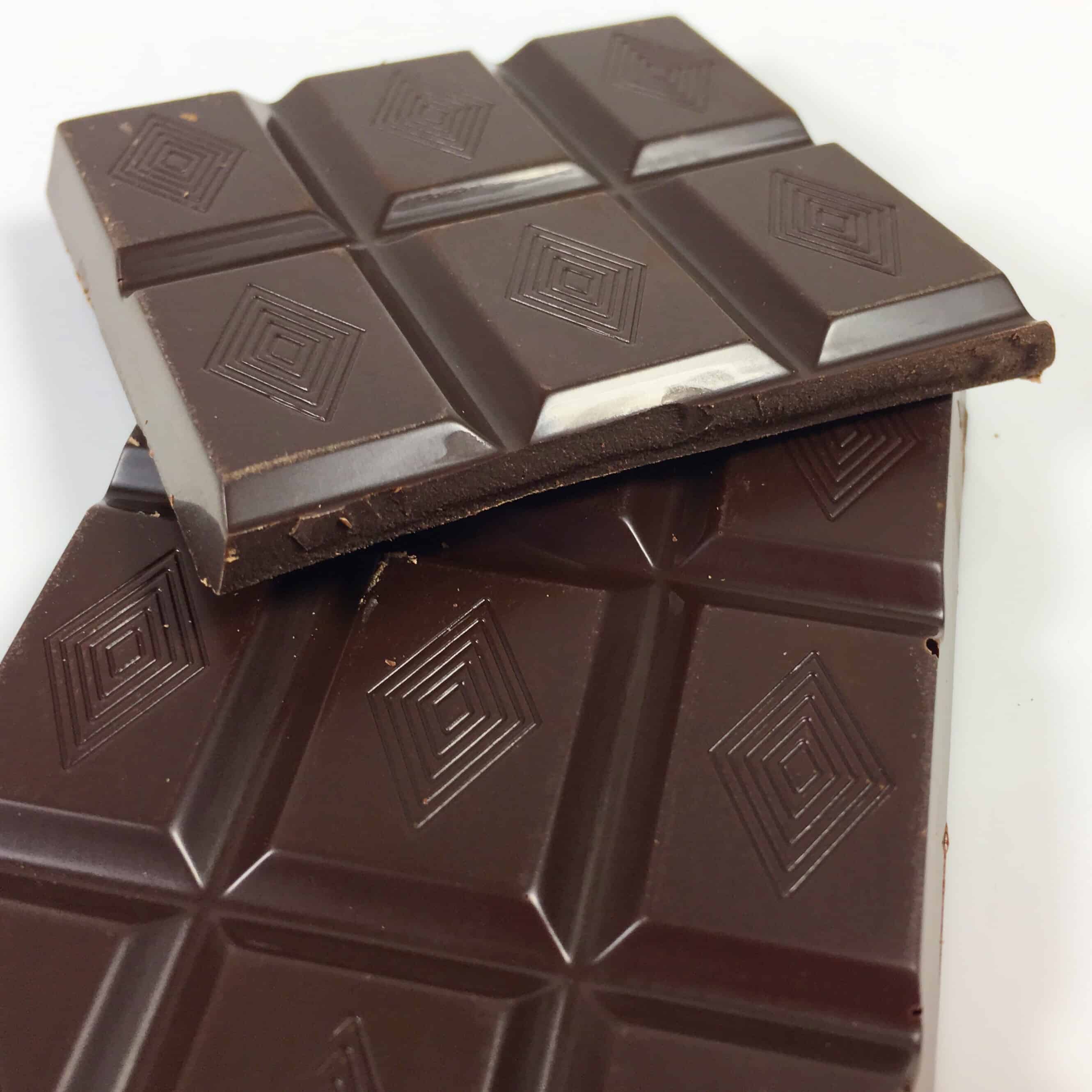 This tastes so different from the previous bar. The tasting notes are less fruity, more, ugh, I can't put my finger on it. Nutty? Molasses? It's very unique.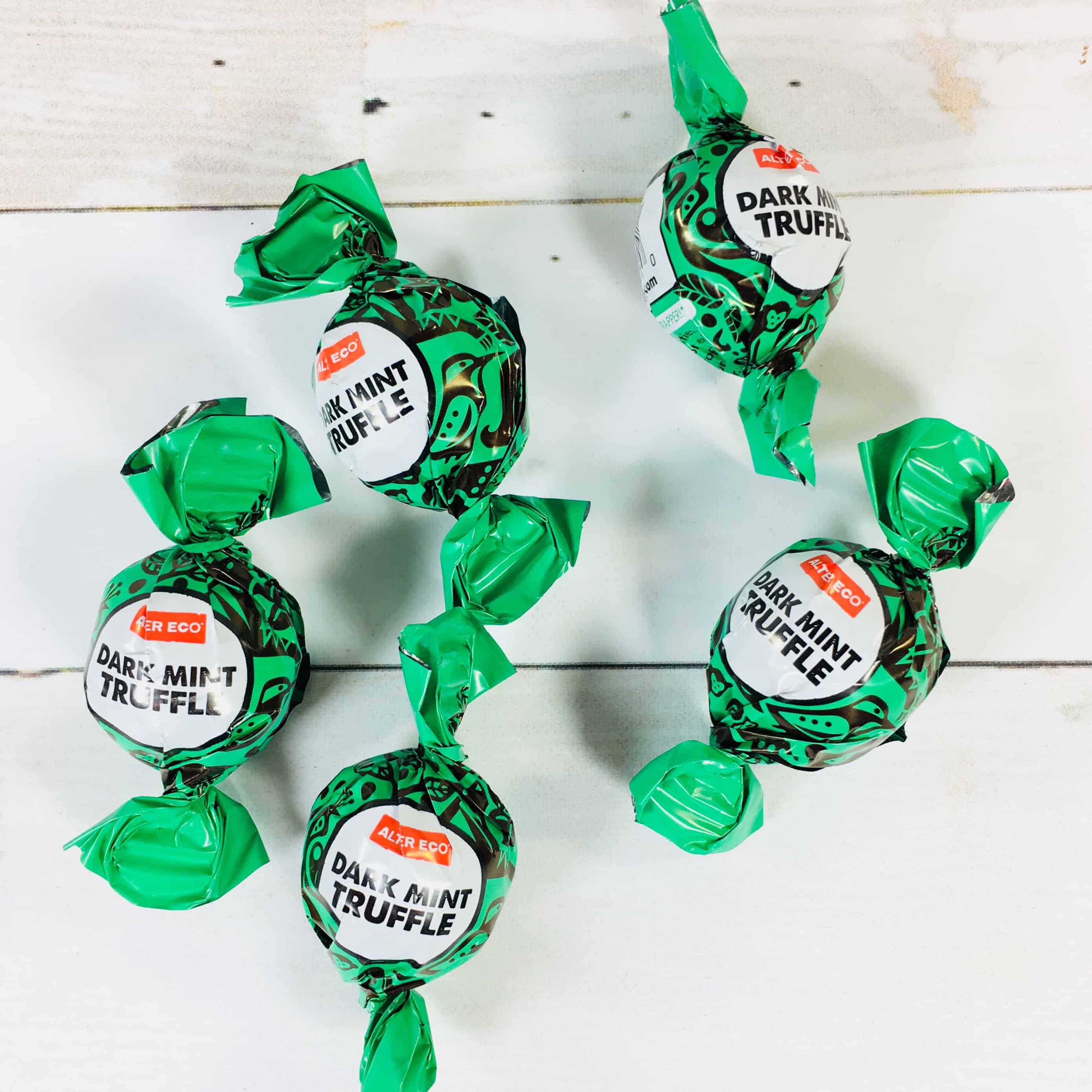 Atler Eco Dark Mint Truffle ($4) Out of all the products sent, this is my favorite and it is the one I would have picked for myself. I LOVE mint!!! Check out the wrapper, it's compostable!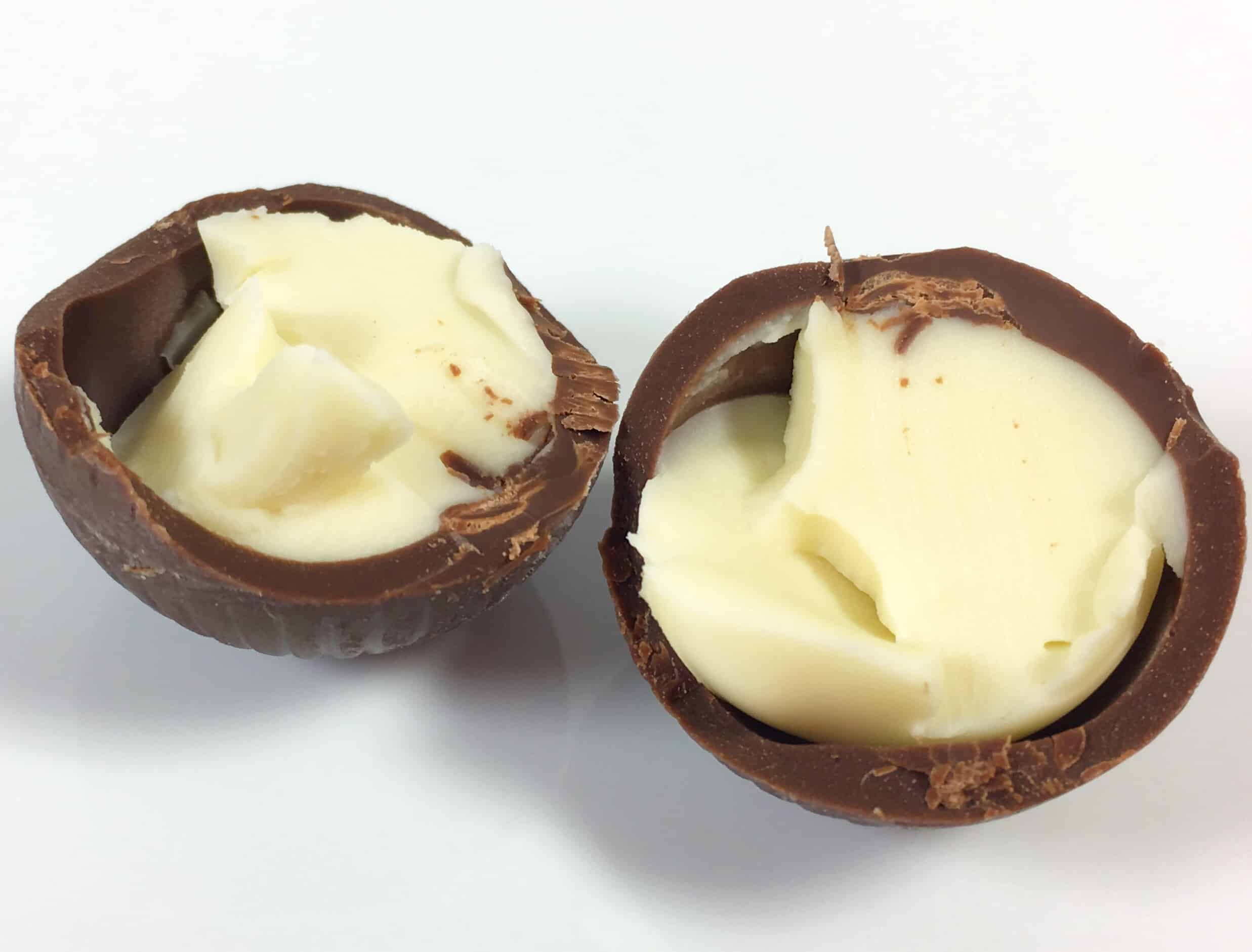 This is similar to a Lindt truffle. It has a minty center that liquifies once it hits your tongue. The chocolate on the outside is perfect. I love this candy!!!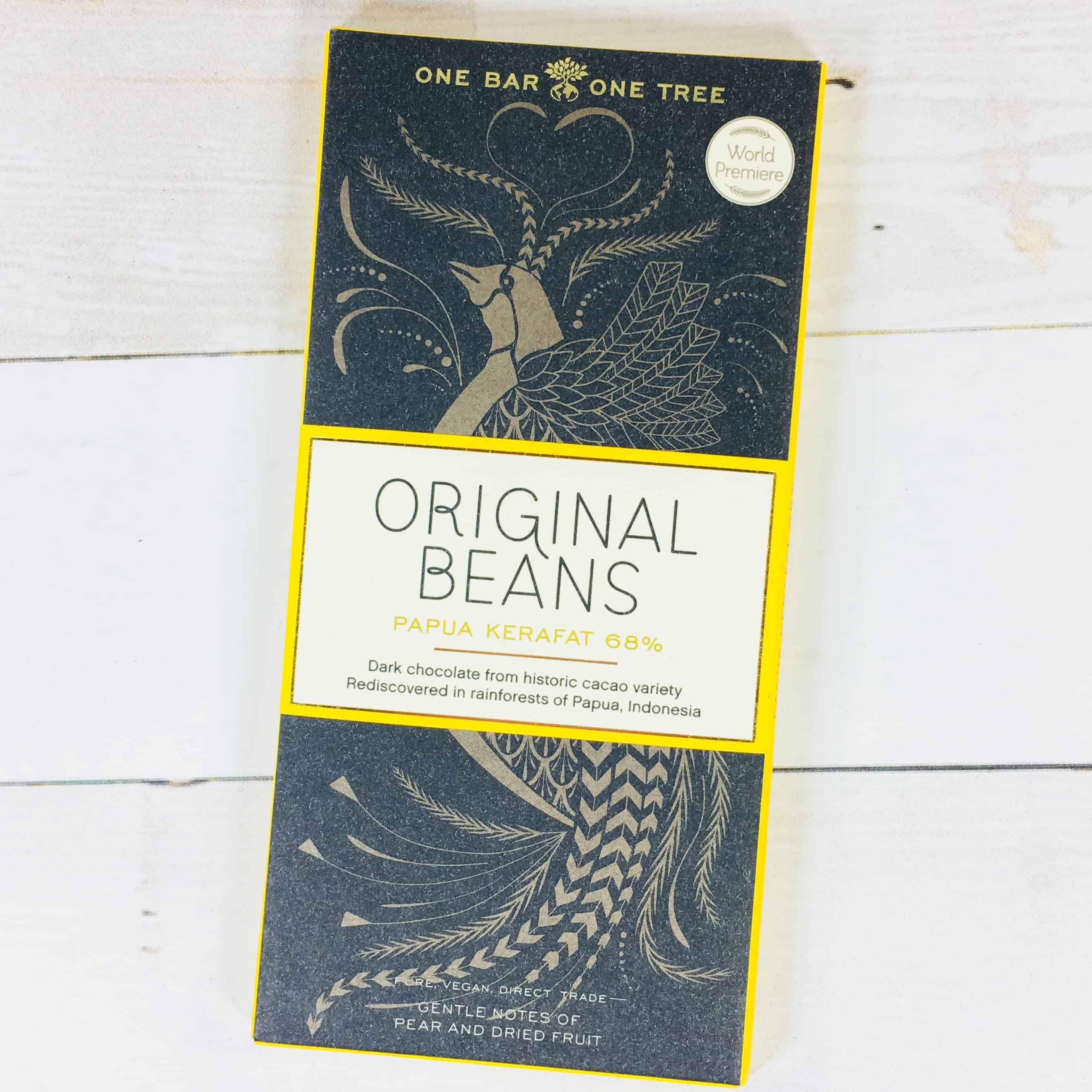 Original Beans Papua Kerafat 68% Dark Chocolate (€4.95 about $6.12) This chocolate is from a recently rediscovered variety from an Indonesian rainforest.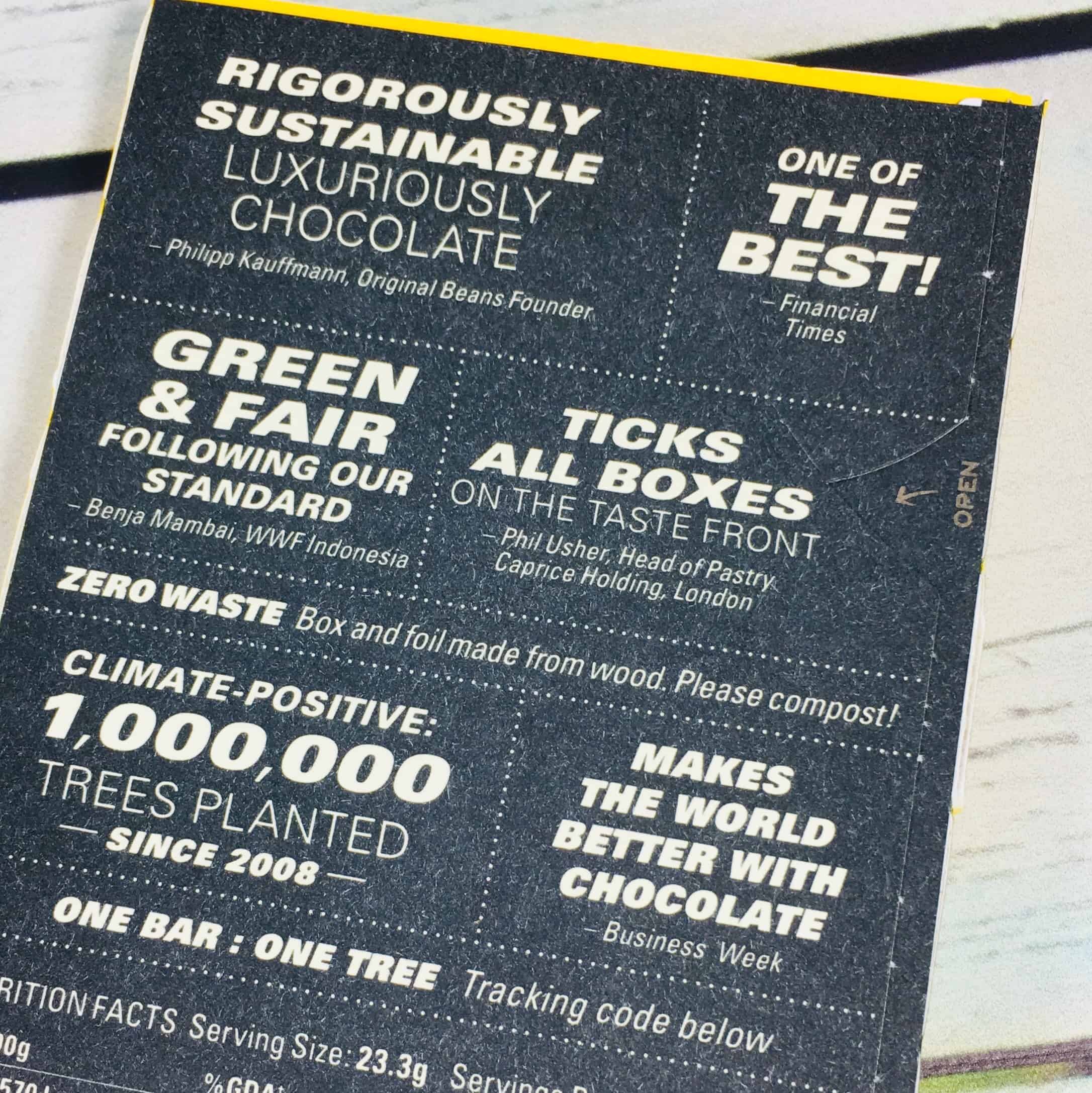 Some of the boxes have good reading material on or in them! Look, the foil is made from wood, so it can go in my compost pile!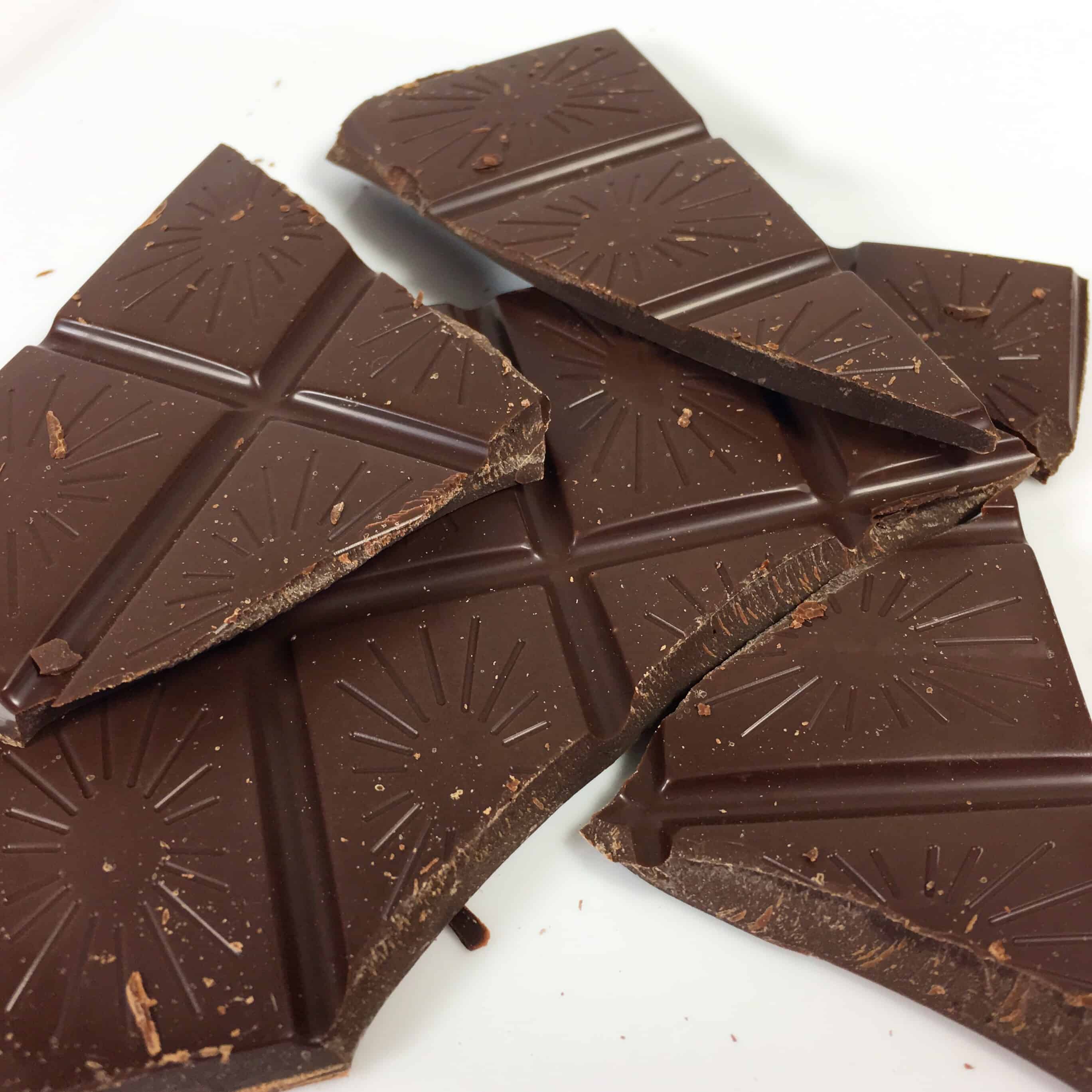 So melty and smooth. The tasting notes mention pear and dried fruit. It is fruity and sweet and just amazing.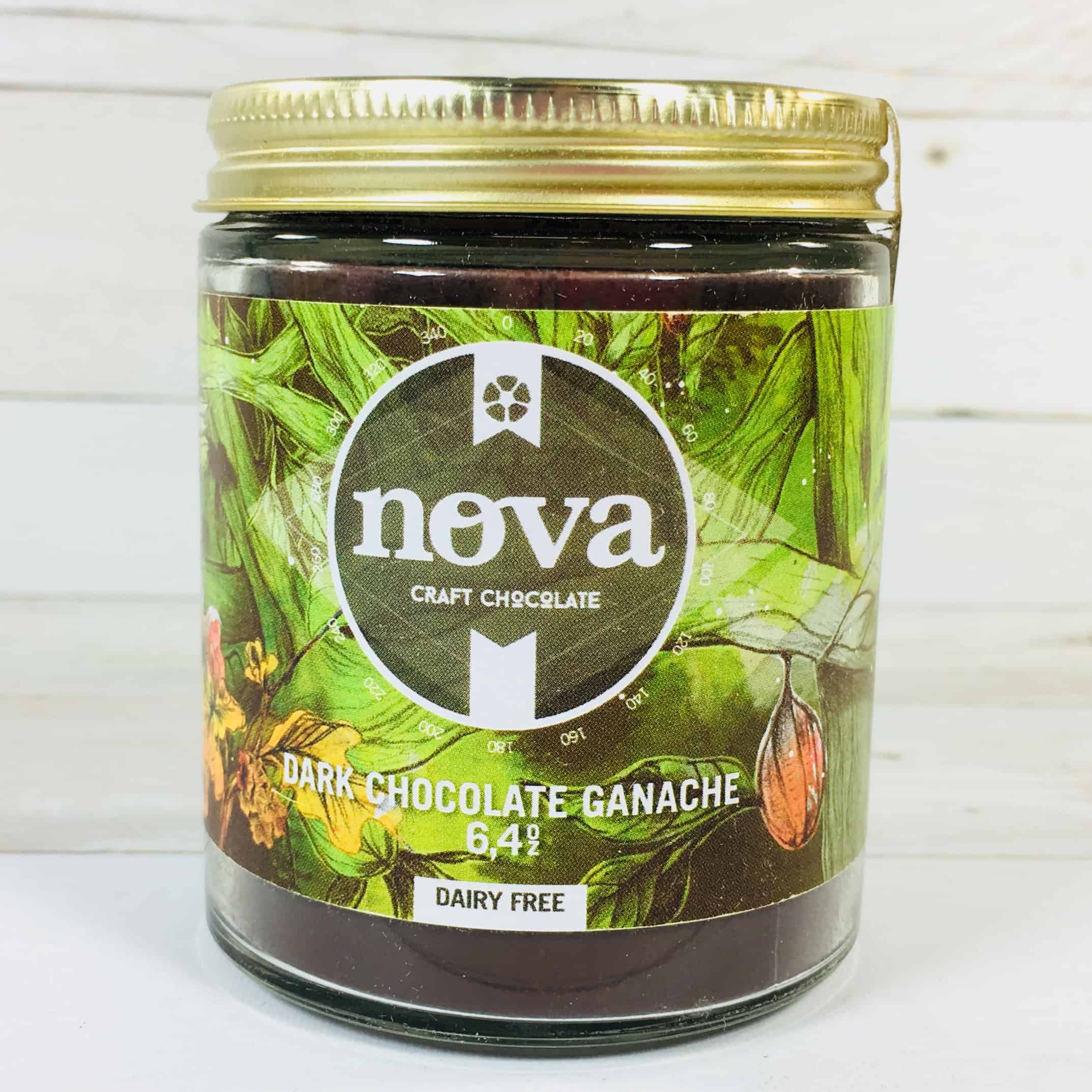 Nova Craft Chocolate Dark Chocolate Ganache ($19.04) Wow, my very own jar of vegan chocolate ganache!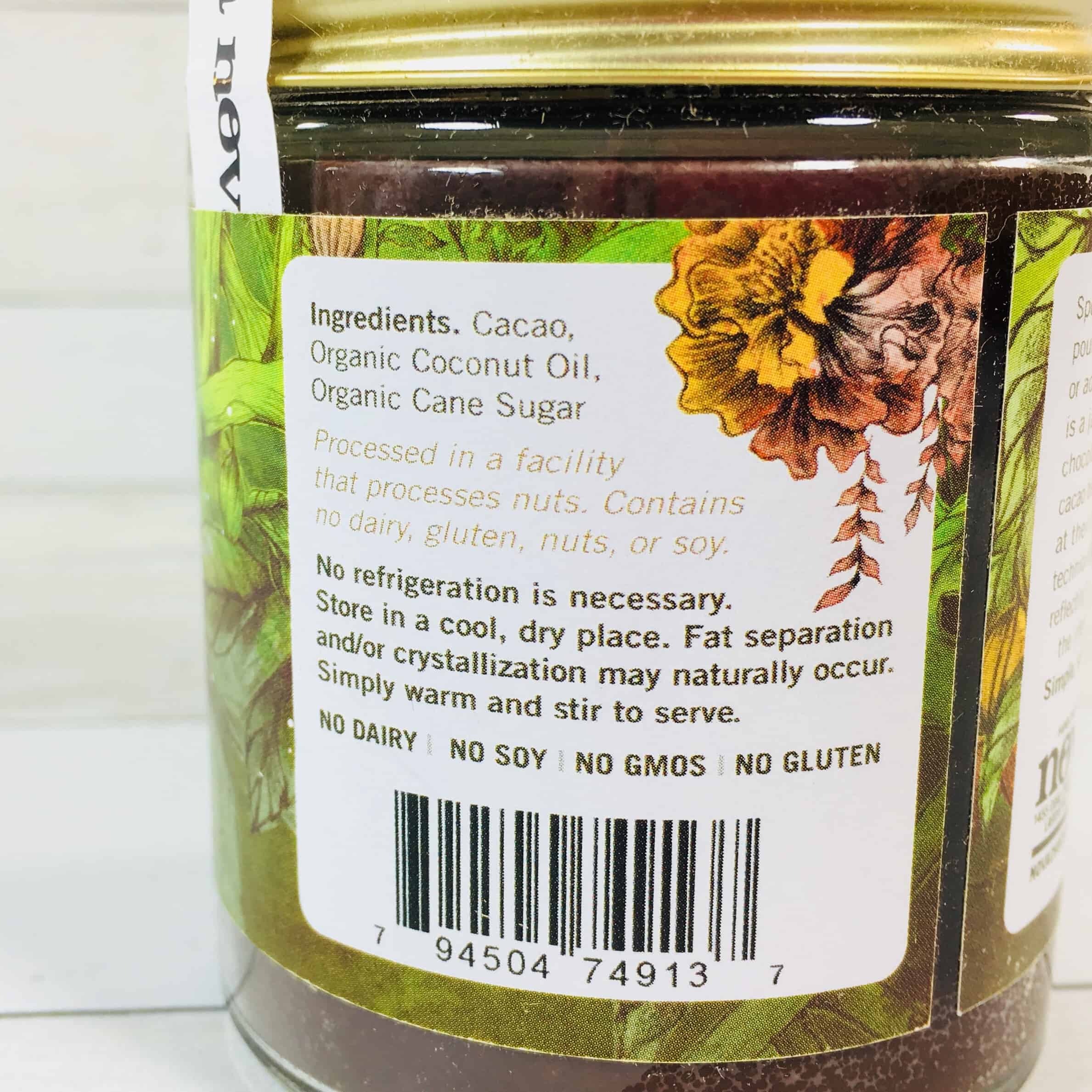 Usually ganache is made with chocolate and cream but this version is made with cacao, coconut oil, and cane sugar.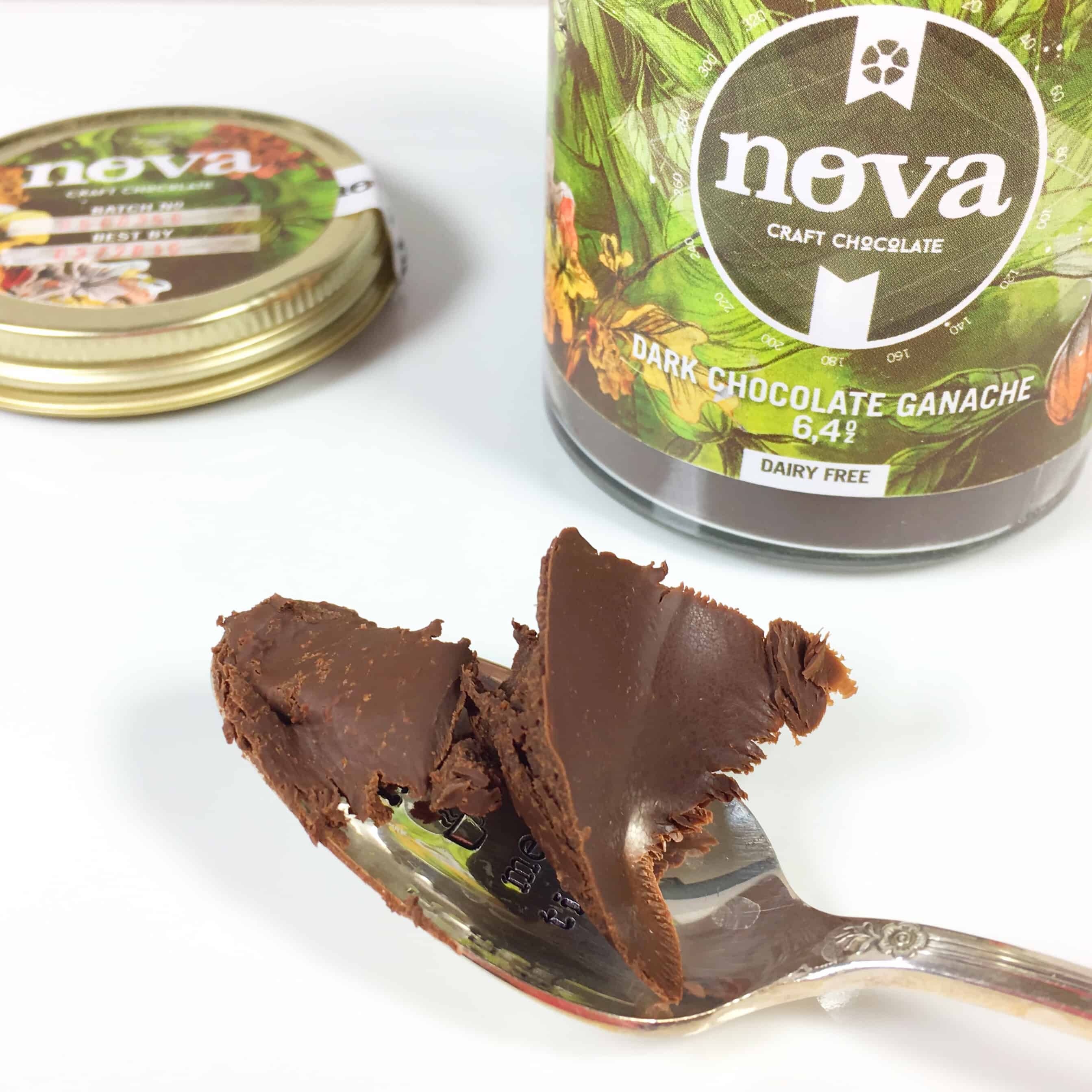 Just spoon out of the jar and heat in the microwave. You can pour it over ice cream, put it in a sauce, spoon over a dessert, or eat it off of the spoon. No refrigeration is necessary.
Wow, what an amazing box of goodies! This was my very first Grounded Goods box and I wasn't sure what to expect, but a box of artisanal, fair trade chocolate was a dream come true! The drinking chocolate was a tasty surprise and the ganache was perfect right off of the spoon (it would probably be great on ice cream, too!). The chocolate bars all tasted so different from each other, and the mint candies were my absolute favorite. The value for March's box came out to around $62.79! I love that Grounded Goods sends items from companies that use regenerative farming practices and help, rather than hurt, our Earth. I am really looking forward to seeing what's in the next box, they had me hooked with this box of chocolaty love!
What do your think of our Grounded Goods Box?