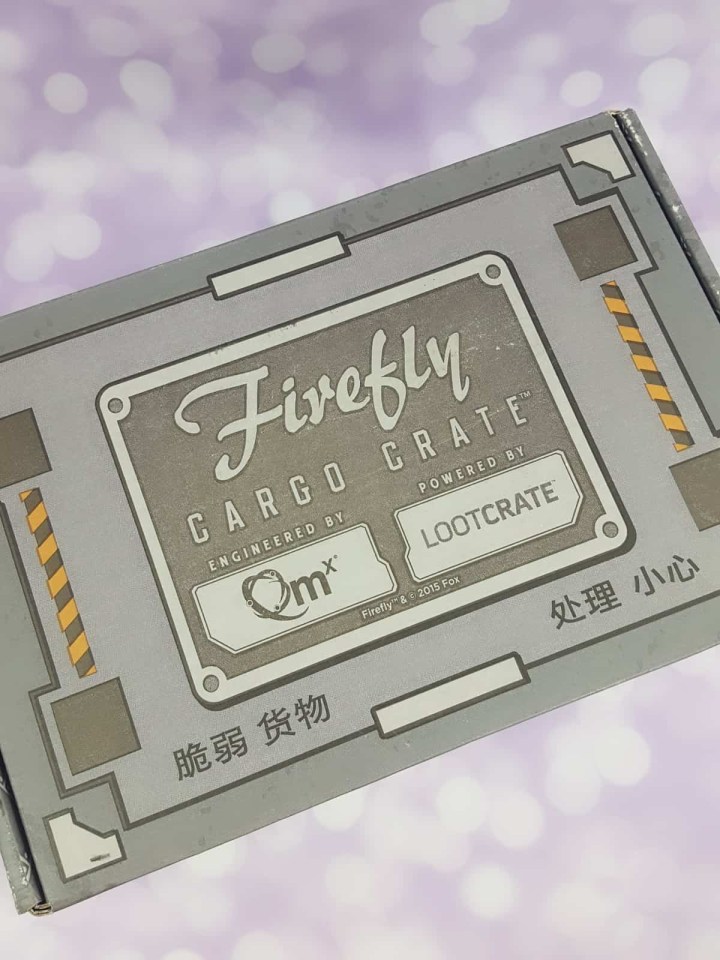 Loot Crate Firefly Cargo Crate comes every other month and each box has a theme to a character from the show/movie. The theme this month is Aim to Misbehave. This box again came really late due to some shipping delays with one of the items and Loot Crate kept us informed with emails. Who isn't a huge fan Nathan Fillion? He was not only the captain but also the heart and soul of Firefly.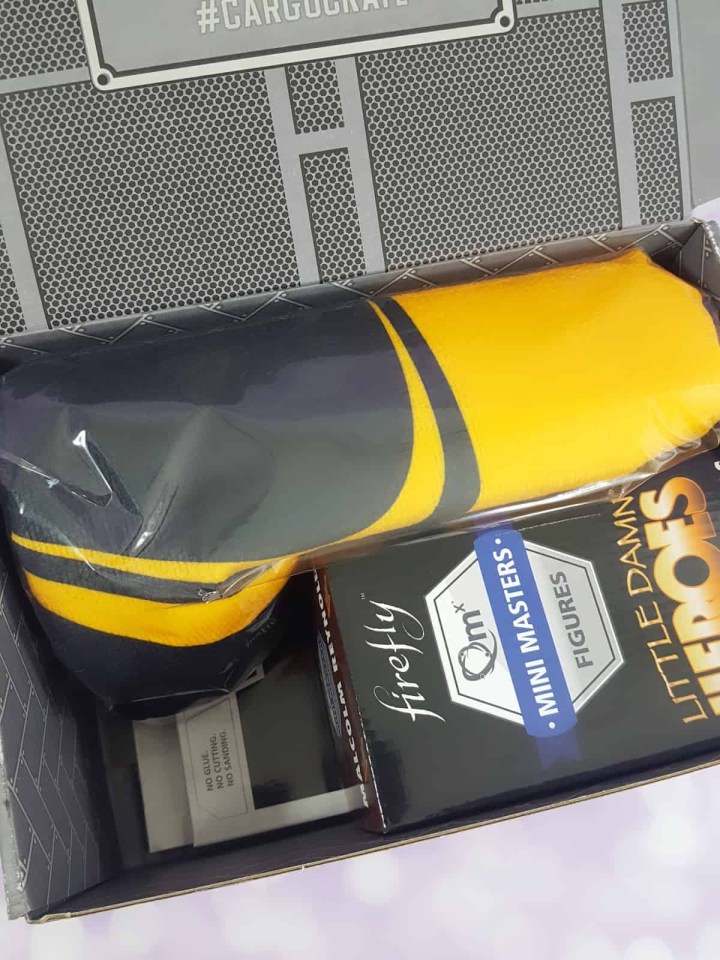 First look into my box. There isn't much packing to these box with the flat paper items on the bottom to keep them a little safer from wrinkling and the rest of the products just sitting on top.
DEAL: Use coupon code HELLOSUBSCRIPTION to save 10% off your subscription.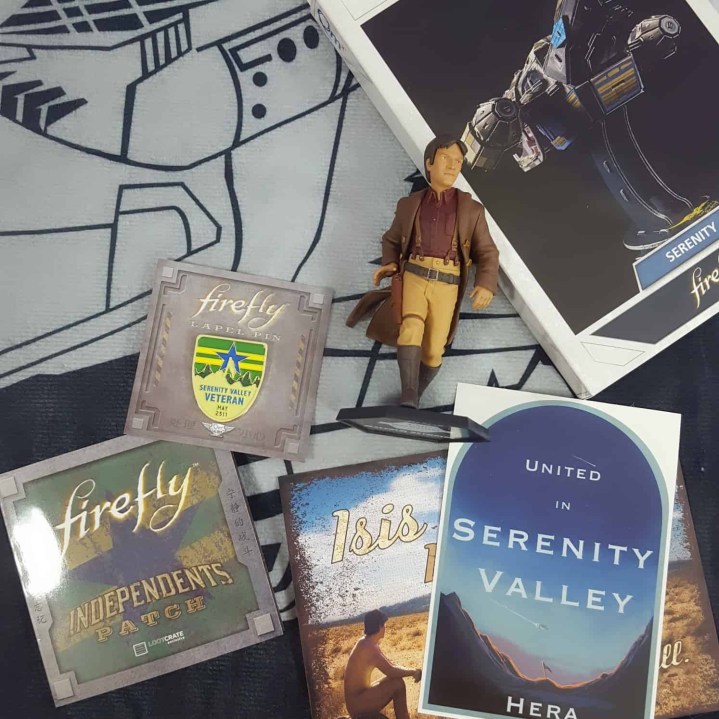 Everything in my Mal crate this month.
The Firefly crate does not just send an info card but they send a whole mini magazine called You Can't Stop the Signal. You Can't Stop the Signal is a big part of the Serenity movie and it talks about all the info in the verse so it is a great title for the information booklet.  It gives information on the items in the crate and other behind the scenes stories and interviews.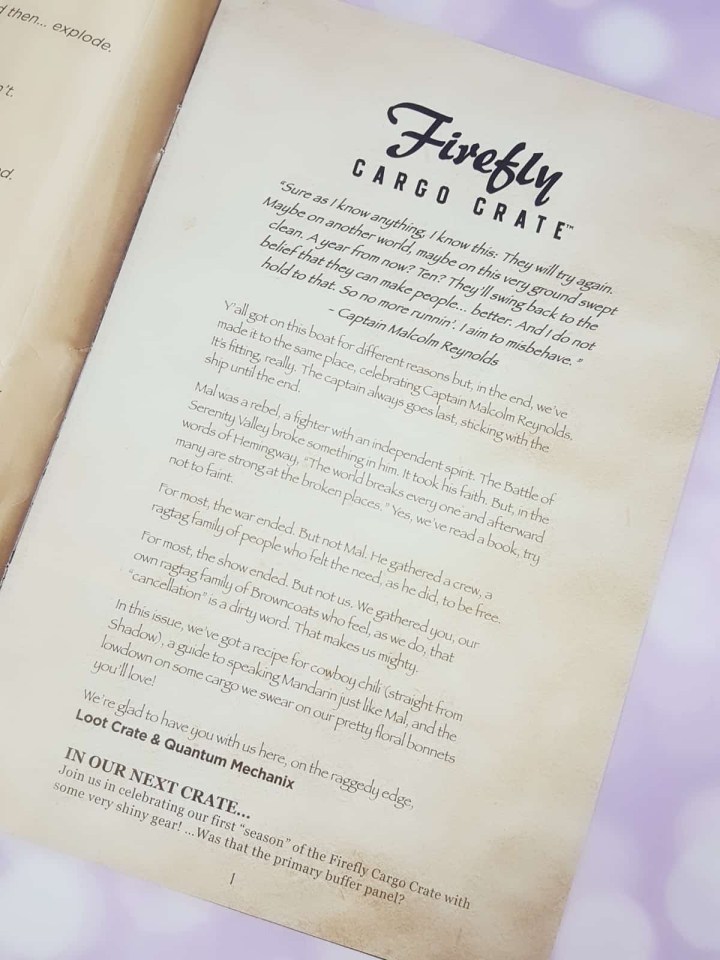 The Signal starts with a note from Loot Crate. Telling us about how Mal got the crew together and brought all of us Browncoats together.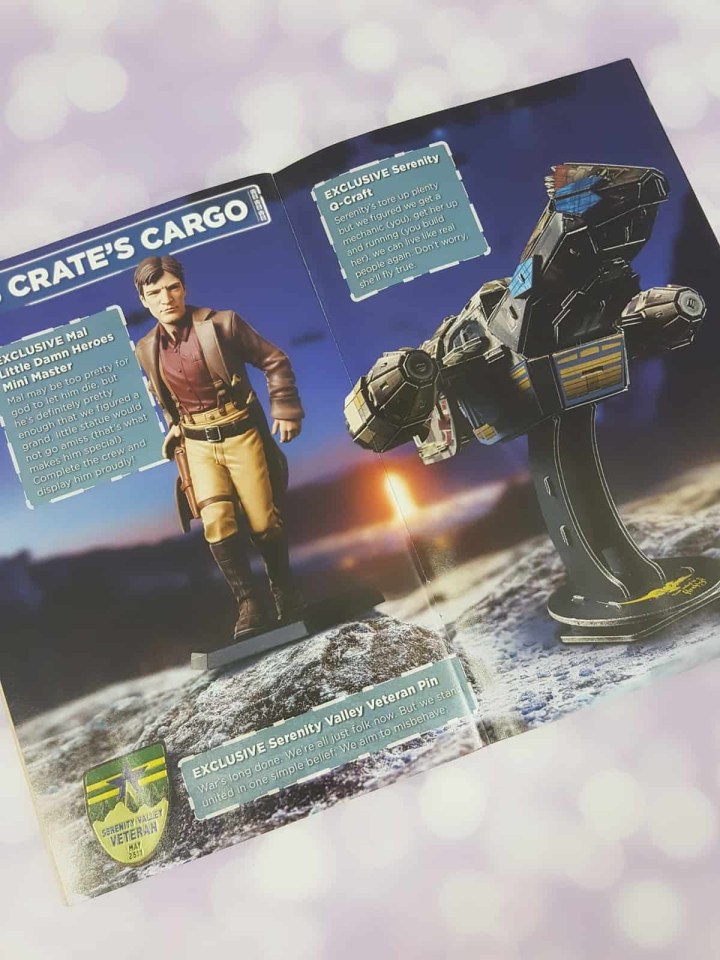 The booklet lists all the cargo in the crate and a little info on each one.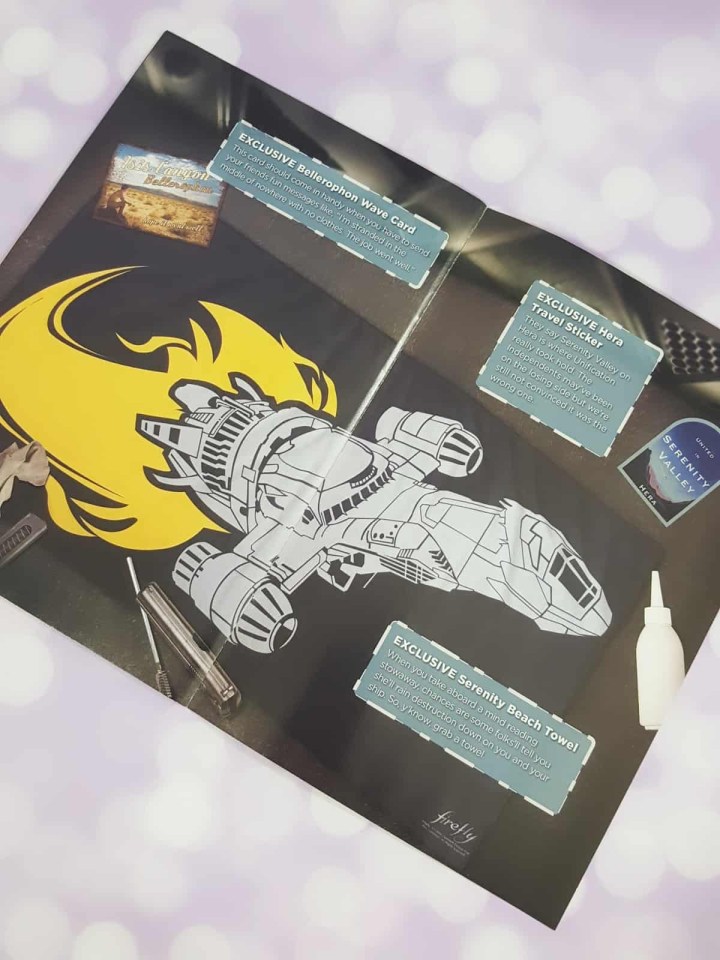 The info pages in the magazine are vibrant and large and easy to read.
Mal Little Damn Heroes Mini Master – What a great way to finish off this season of Loot Crate. Mal is the driving force behind Serenity and is the real heart and soul of the crew and the main man. He runs a tight ship and keeps everyone in line.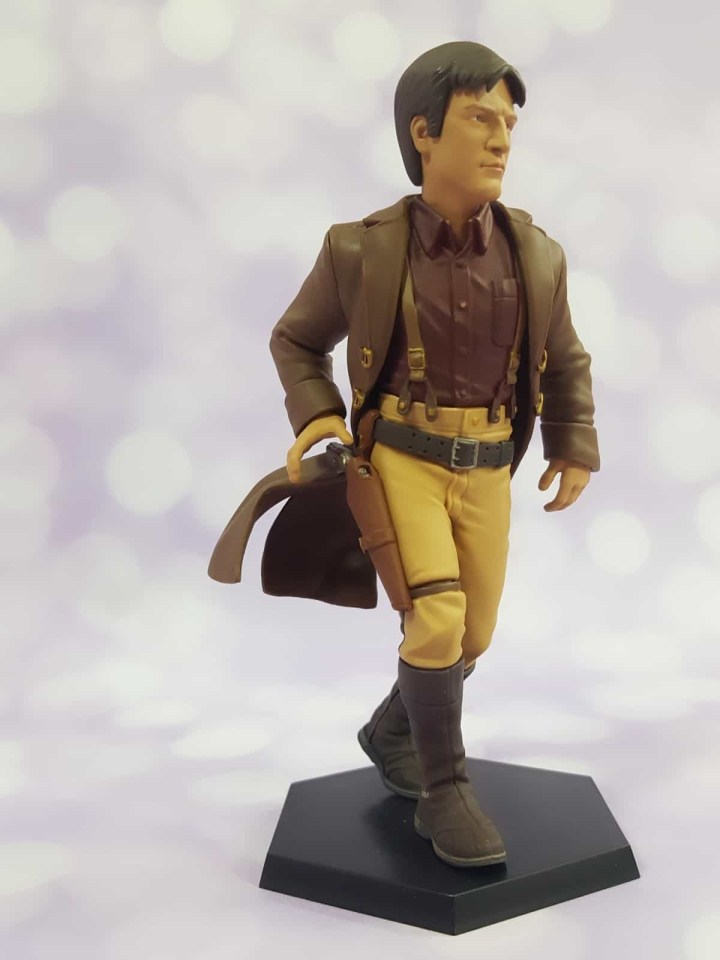 So many details down the the creases in his pants.
I'm even digging the flare of his coat as he running out to misbehave.
Serenity Valley Veteran Pin – The battle that the ship is named after. This is where Mal and Zoe met.
Serenity Q-Craft – These are so great to build and create. I share them with my oldest son and he's a great helper for me.
Bellerophon Wave Card – One of my favorite scenes but then why wouldn't I like it when I get to see my Mal naked? What a fun wave card to add to my collection.
Hera Travel Sticker – Serenity Valley is where unification took hold but the Independents may've been the loosing side but no one is convinced it was the wrong side.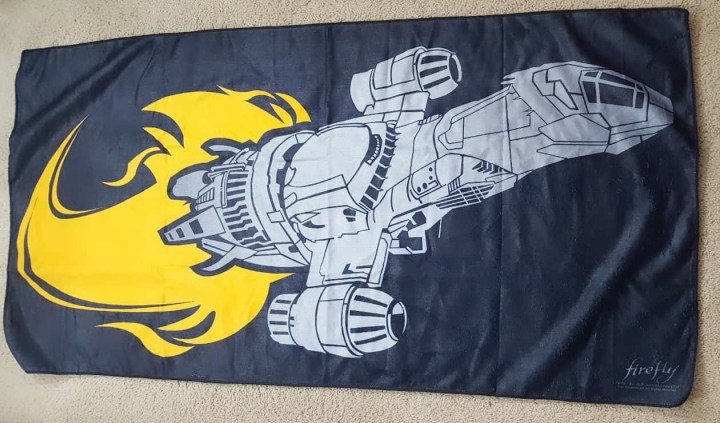 Serenity Beach Towel – Wowsers what a great item! Not something I was ever expecting in a box and I'm so excited. This will be the highlight of my summer pool season and I can't wait to share my love and see what other browncoats I can meet along the way.
Independents Patch – This crate was delayed and Firefly Cargo Crate sent a special independents patch as a thank you for your patience.
Some info on the design.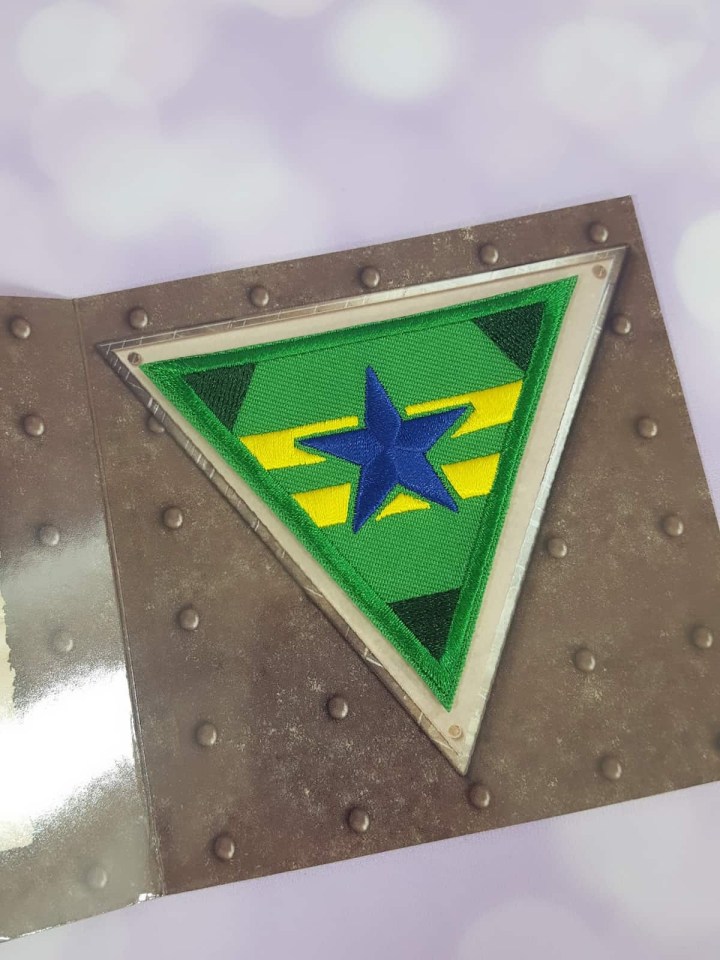 It's the Independents Patch!
Loot Crate Firefly Cargo Crate sent another fun box for me. I'm really loving the beach towel. It was totally unexpected and is so exciting. It's also snowing here today so it is giving me happy summer thoughts and I can't wait for those pool days.  It was the first box without a shirt in it and I'm ok with that since we did get the towel and it was a bigger item.
The theme for the next crate has already been announced: Still Flying.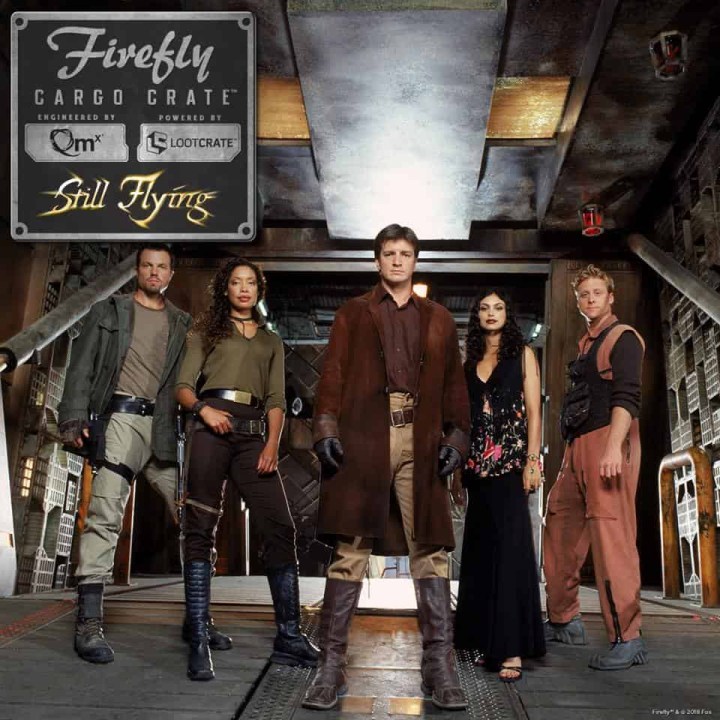 We're having a mighty fine shindig celebrating season one of the Firefly Cargo Crate (stay tuned for season two) featuring the biggest damn heroes in the 'Verse!
Join the crew and get an T-Shirt, Pin and a lot more! This crate is valued at over $90! There won't be a Little Damn Heroes Mini Master in this Firefly™ Cargo Crate as we are prepping our Series 2 figures for Season 2!
What do you think of this month's box?
Visit Firefly Cargo Crate from Loot Crate to subscribe or find out more!