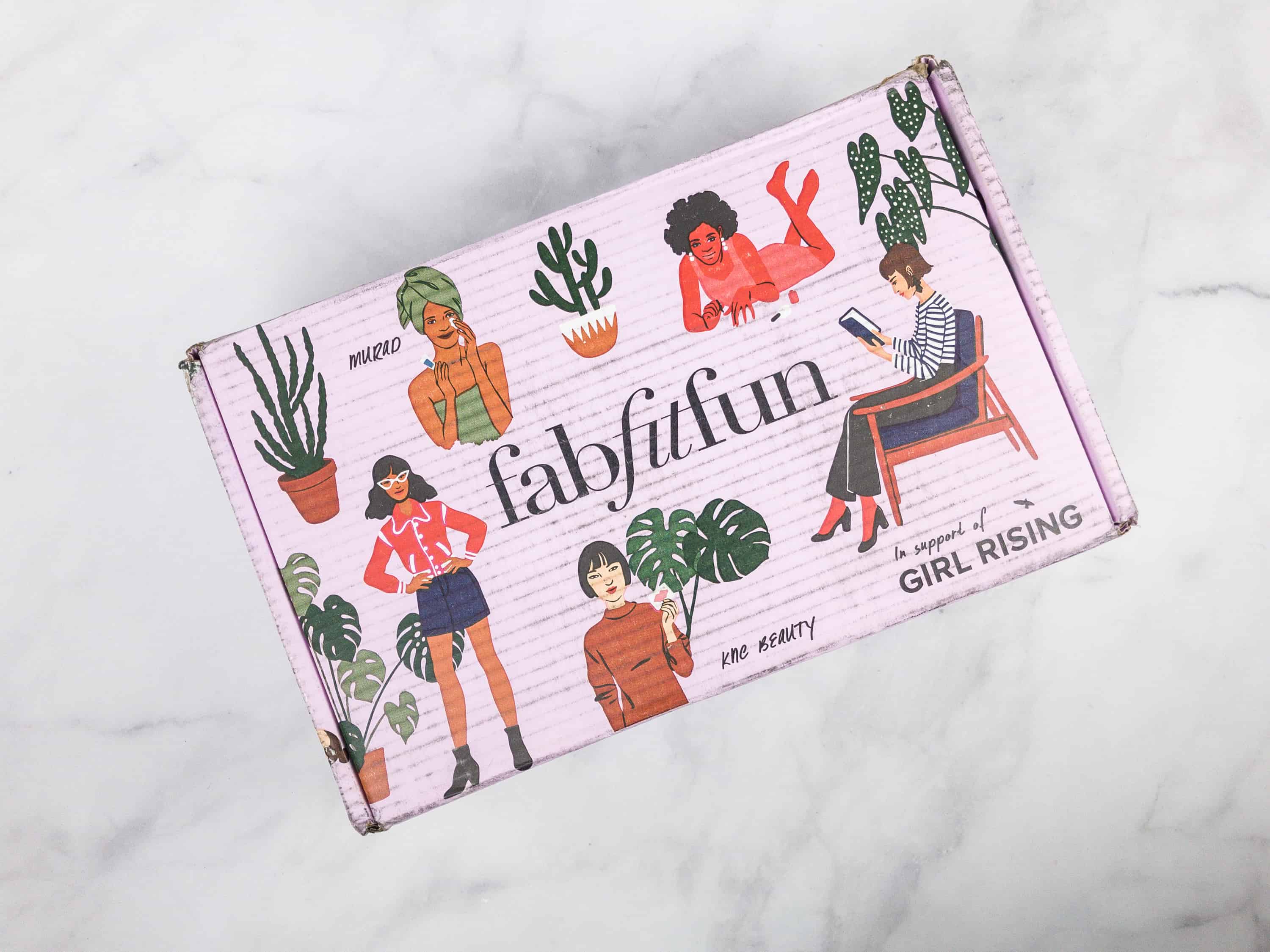 FabFitFun Box is a quarterly women's subscription box that promises fabulous beauty, fashion, and fitness items every quarter, full size and premium.
This box is currently still available but is running out!
DEAL: Save $10 on the FabFitFun Spring 2018 box with coupon code FAB10!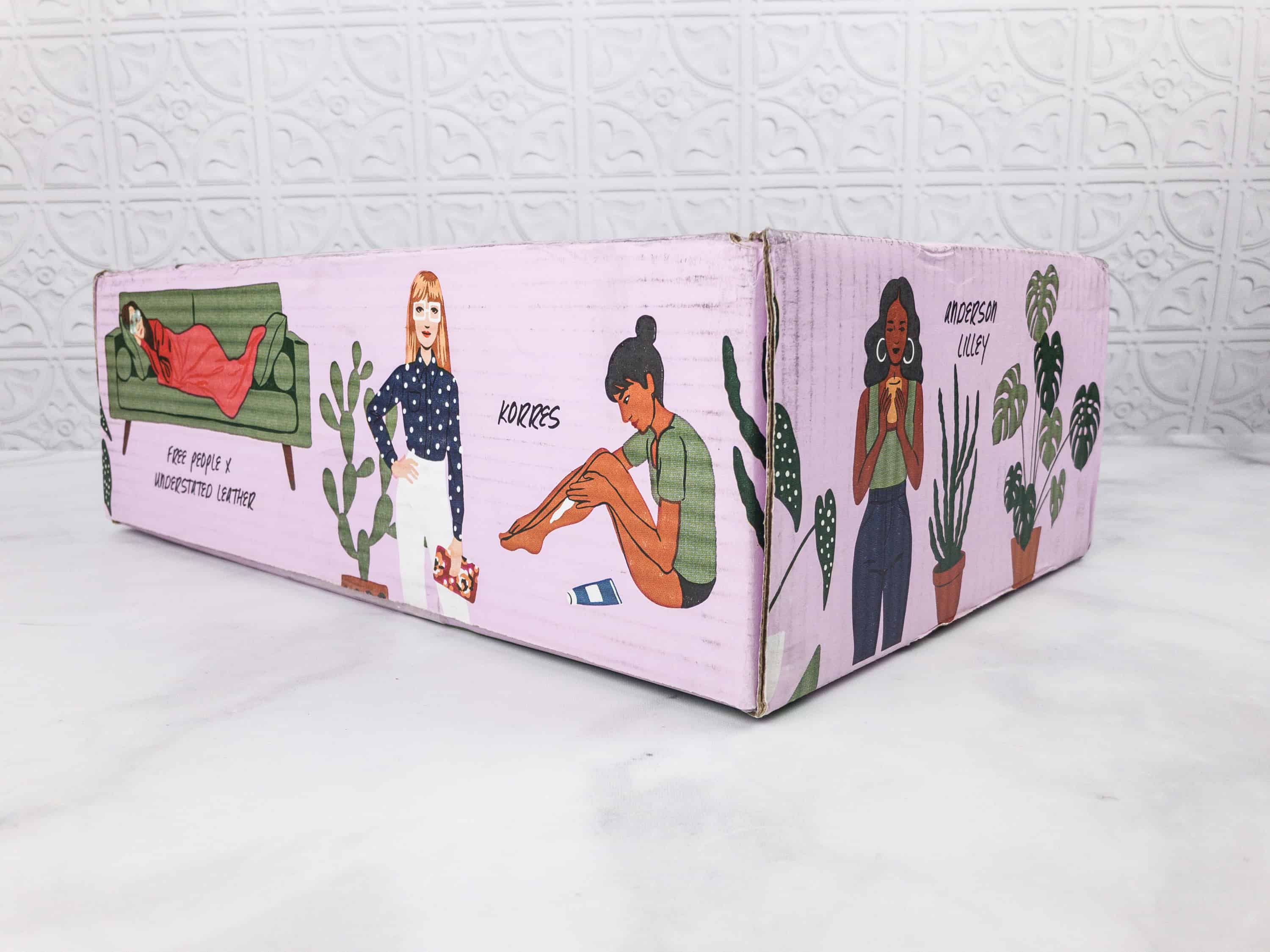 The outside box has a fun and pretty design – they're different every quarter!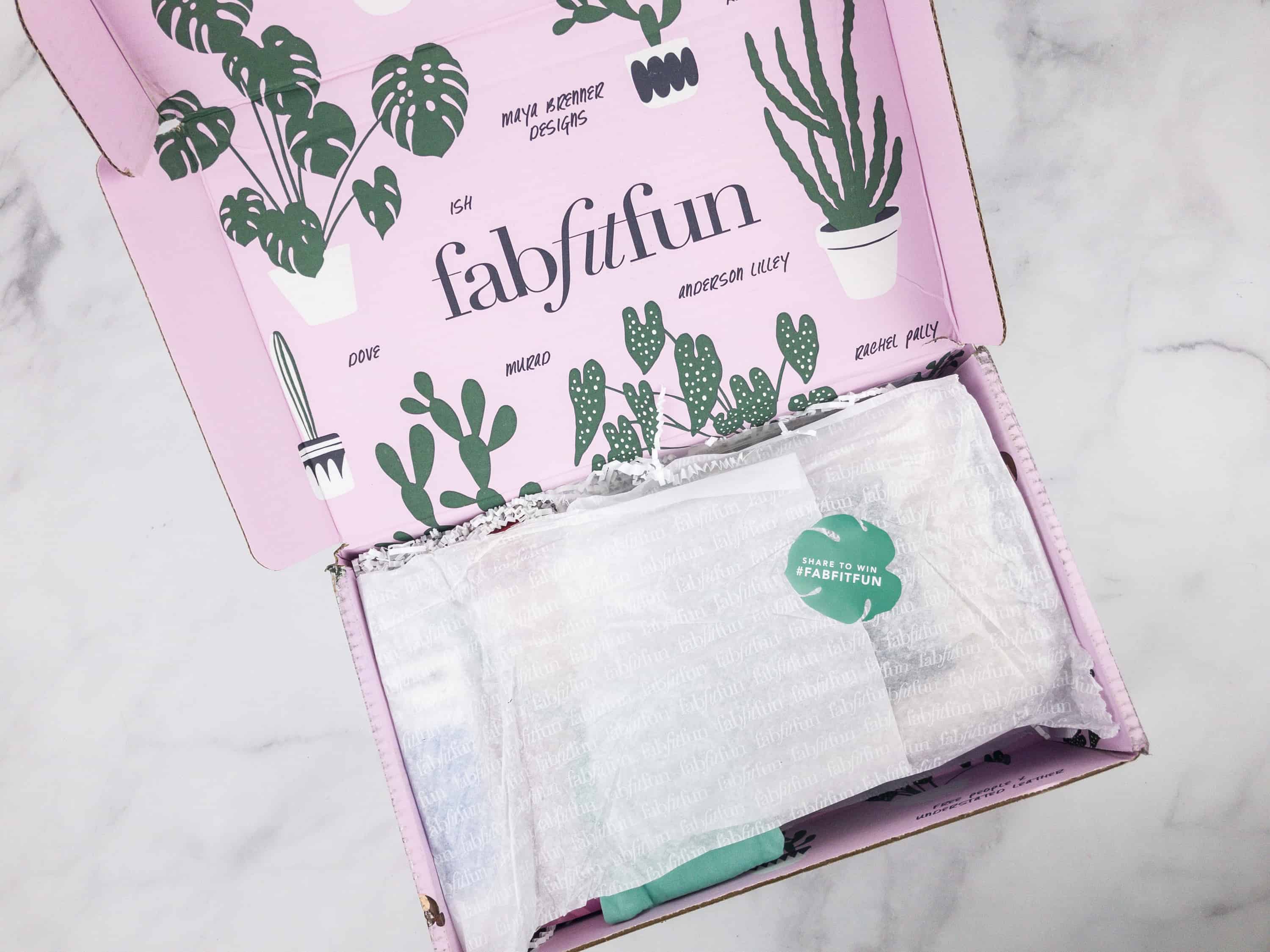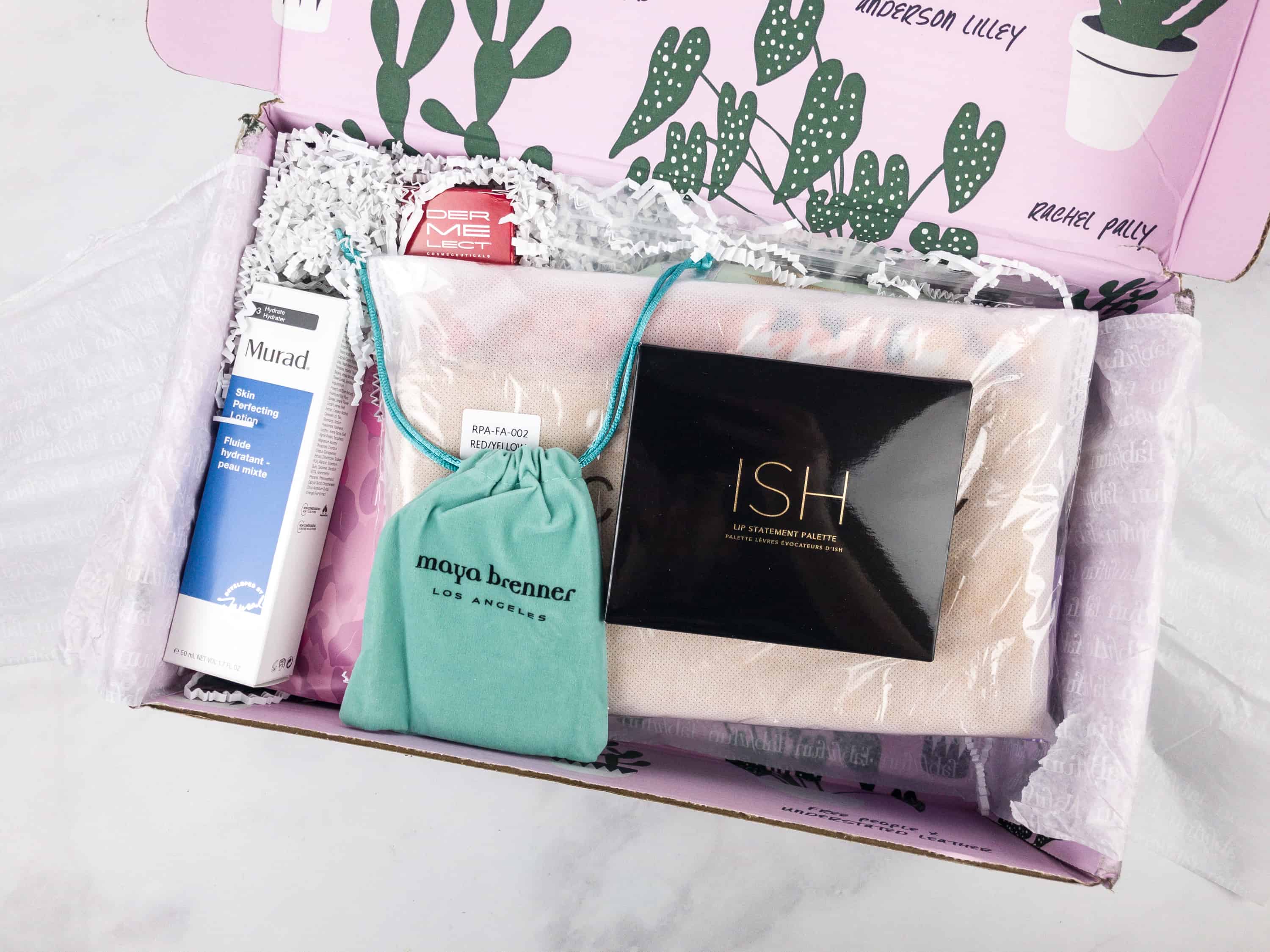 This box is packed full of goodies, as it is every season.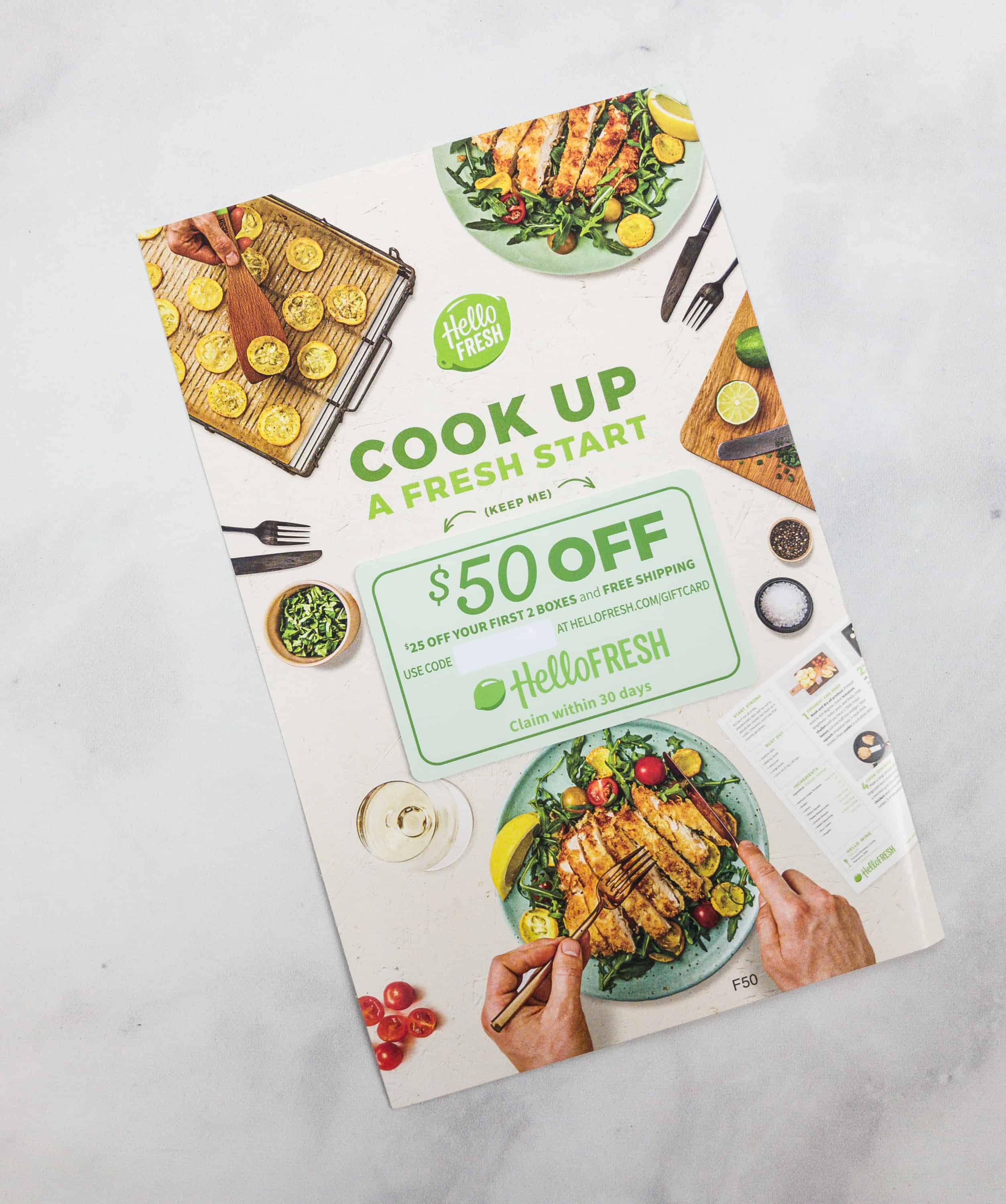 There's also a coupon offering a Hello Fresh discount.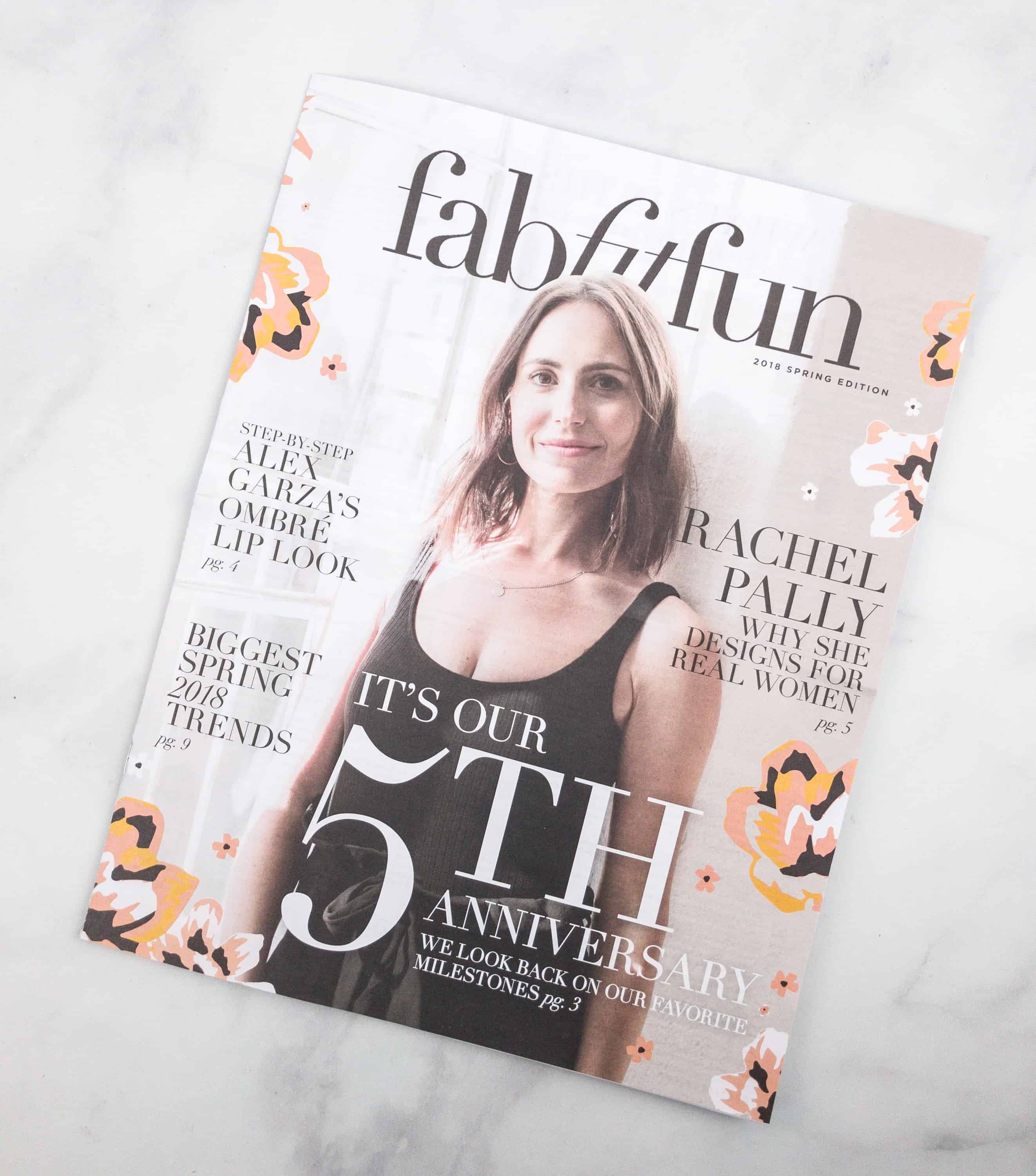 A large format mini-magazine comes in the box.
A full page gives details on every item in the box and all the item variations.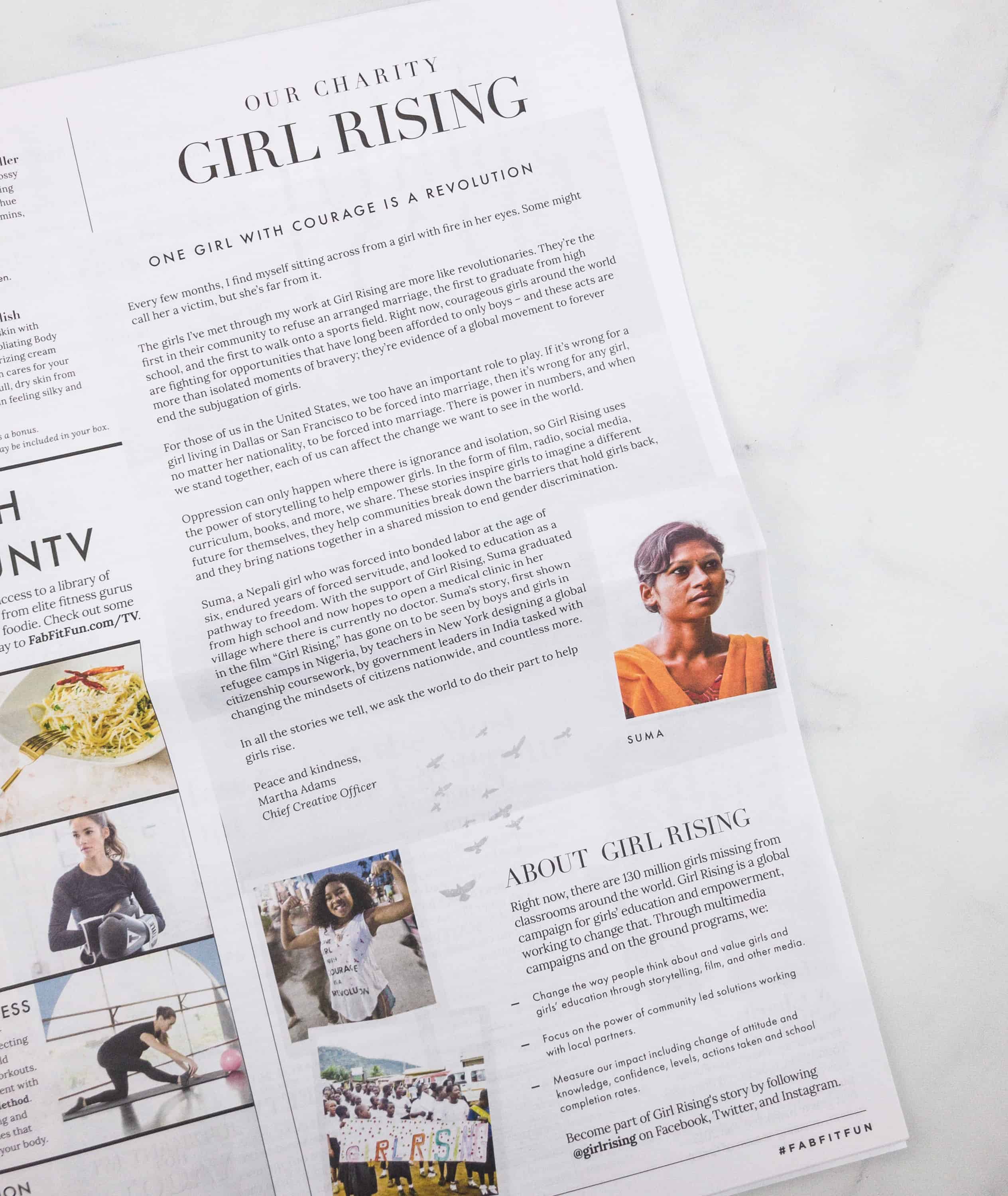 I absolutely love that they partner with and highlight a new important charity each quarter. This quarter it's Girl Rising!
Happy birthday FFF!
It provides all the details on the products, plus fun lifestyle articles too! There are feature articles, like this interview with Rachel Pally…
…and also beauty tips for the beauty junkie!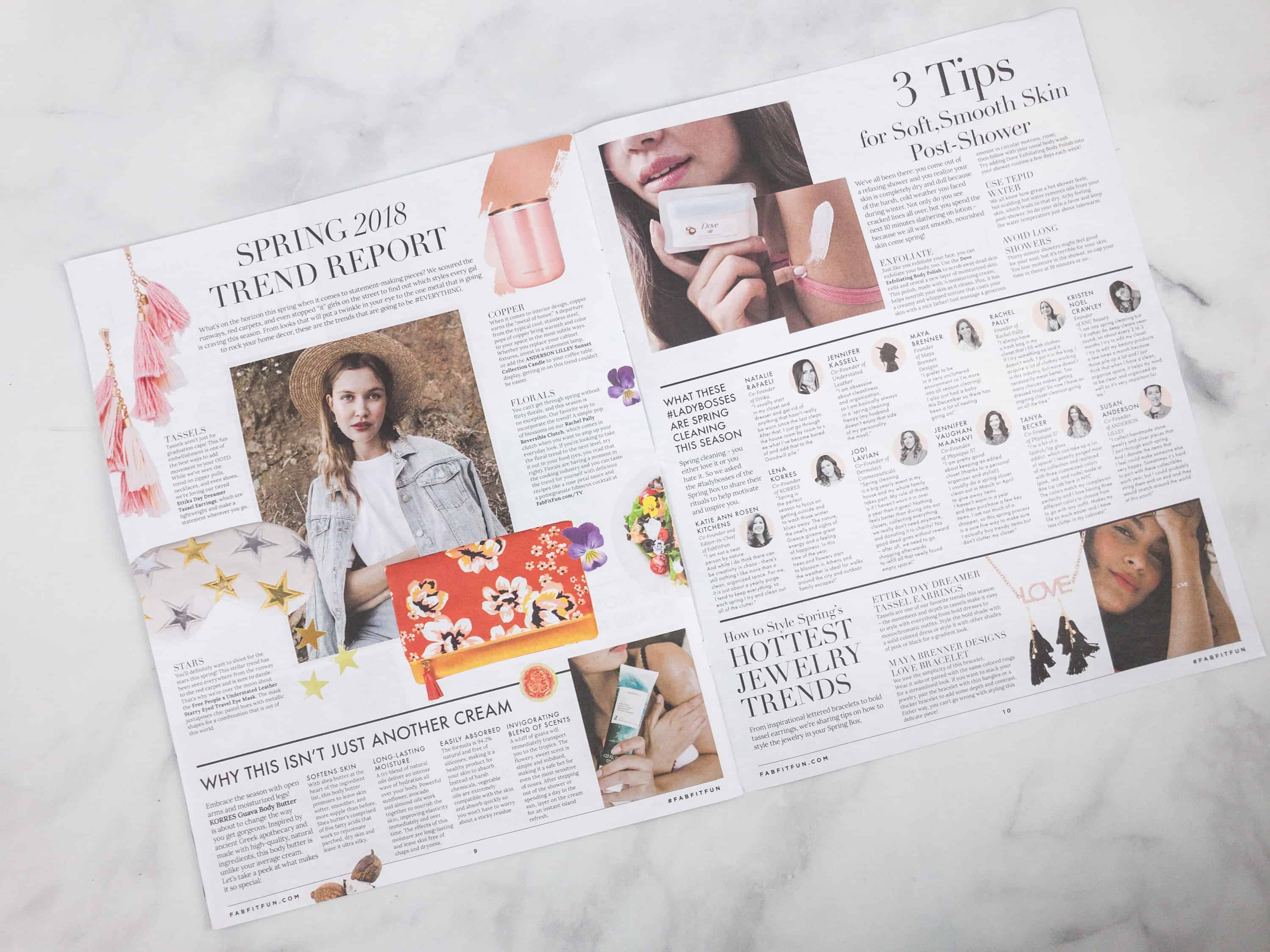 It's really jampacked.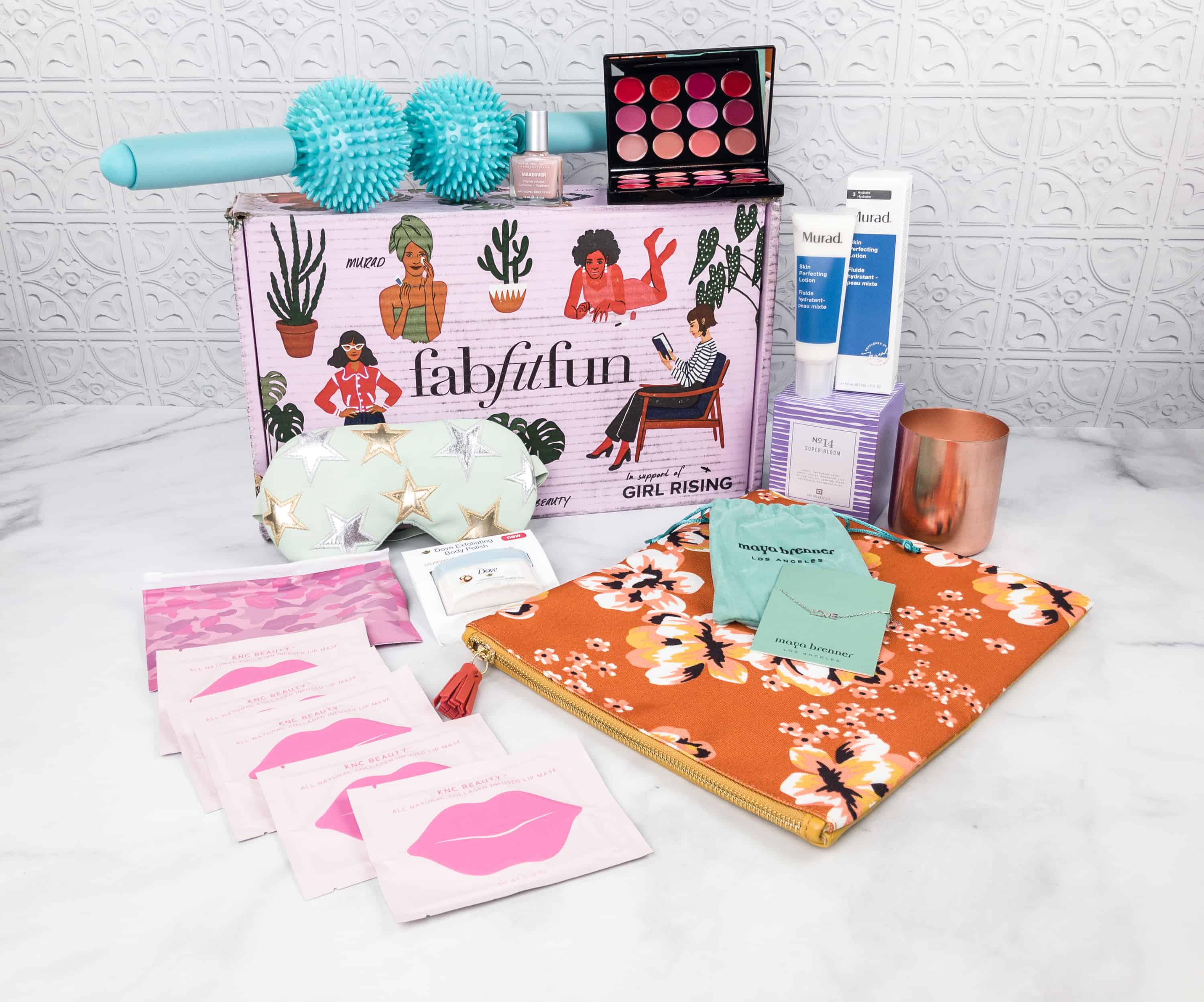 Everything in the FabFitFun VIP Box for Spring 2018! There are a few item variations that are detailed below.
All Subscribers
Free People x Understated Vegan Leather Starry Eyed Travel Eye Mask ($40) All subscribers received this item in one of three colors selected at random.
This sleep mask is made of vegan leather with embroidered star patches, and has a fabric backing with an elastic strap. It is has a cooling pack made of PVC, water, and gel that will keep you feeling and looking refreshed, and say bye to puffy eyes!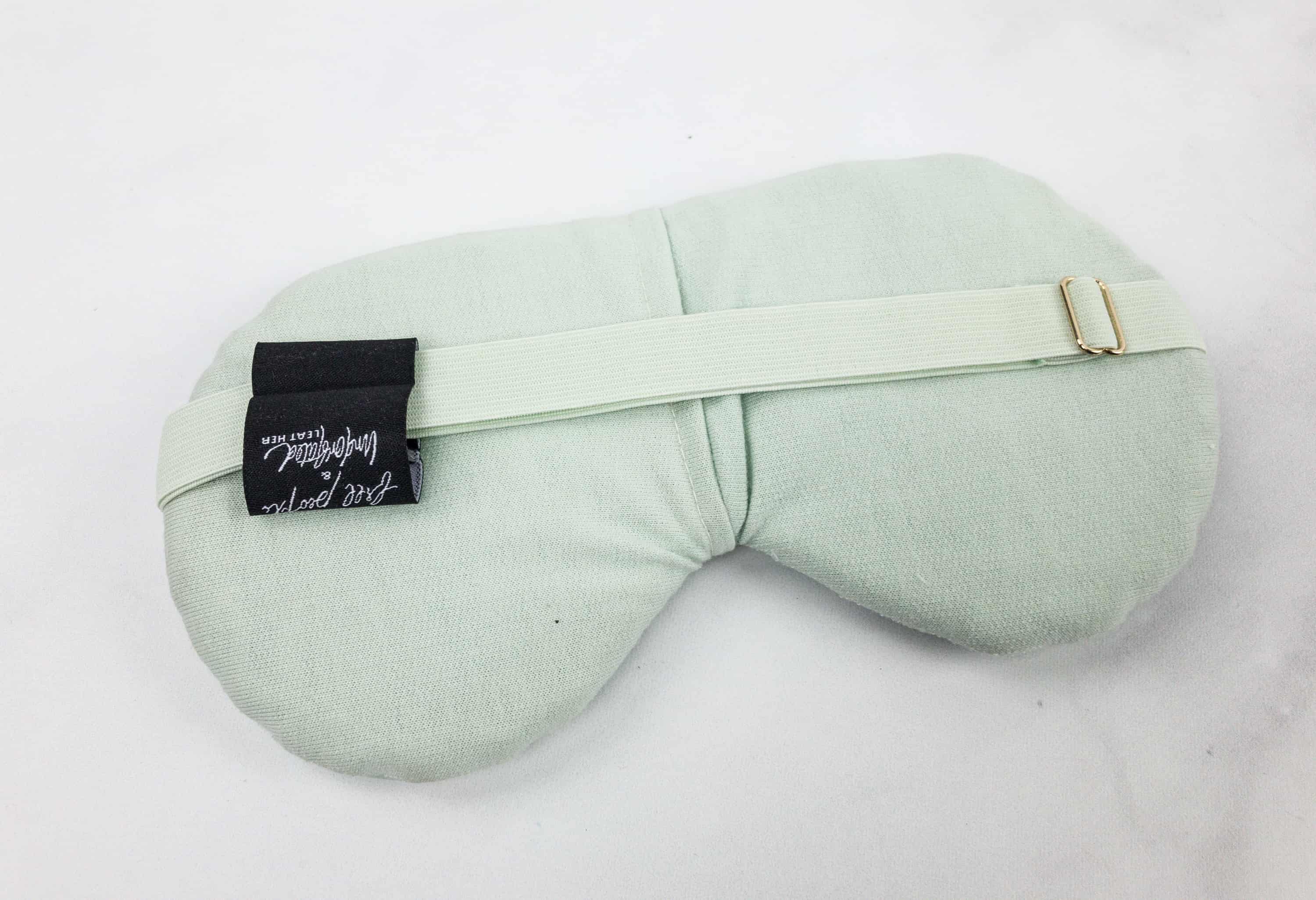 The cooling insert of this mask is extra pampering, and the mask is large enough to tackle the areas around my eyes that need it the most!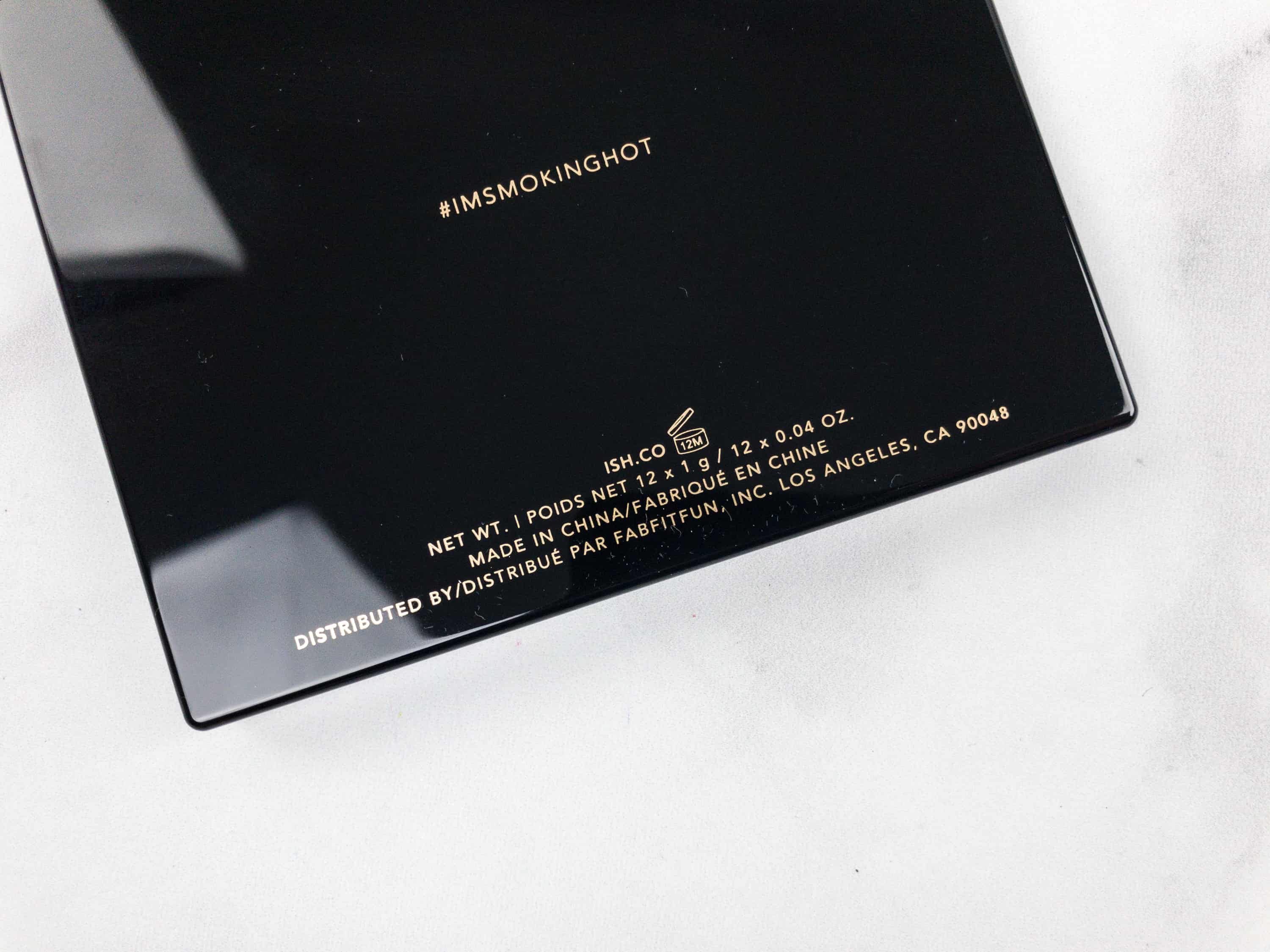 ISH Lip Statement Palette ($42) All subscribers received this item.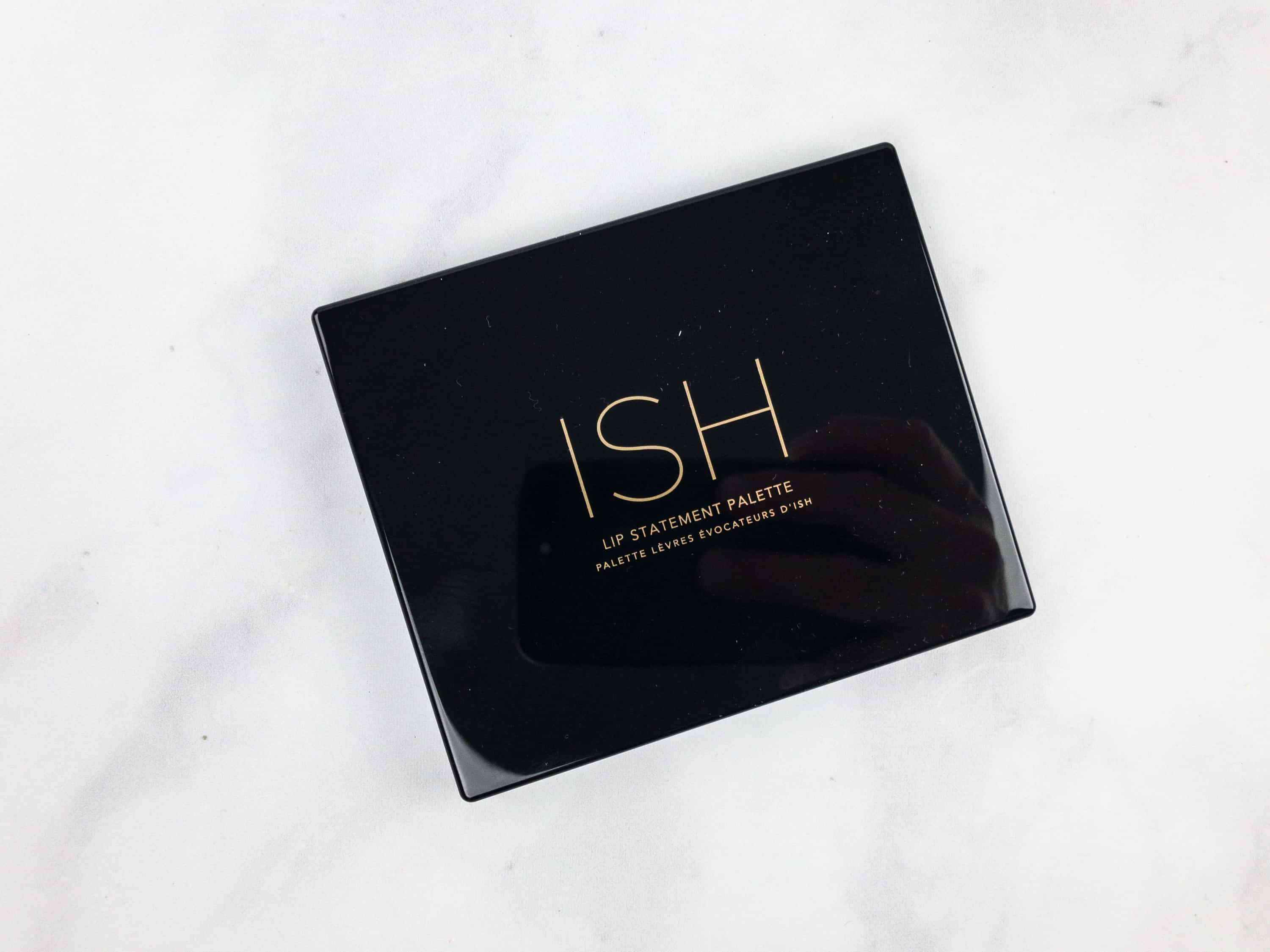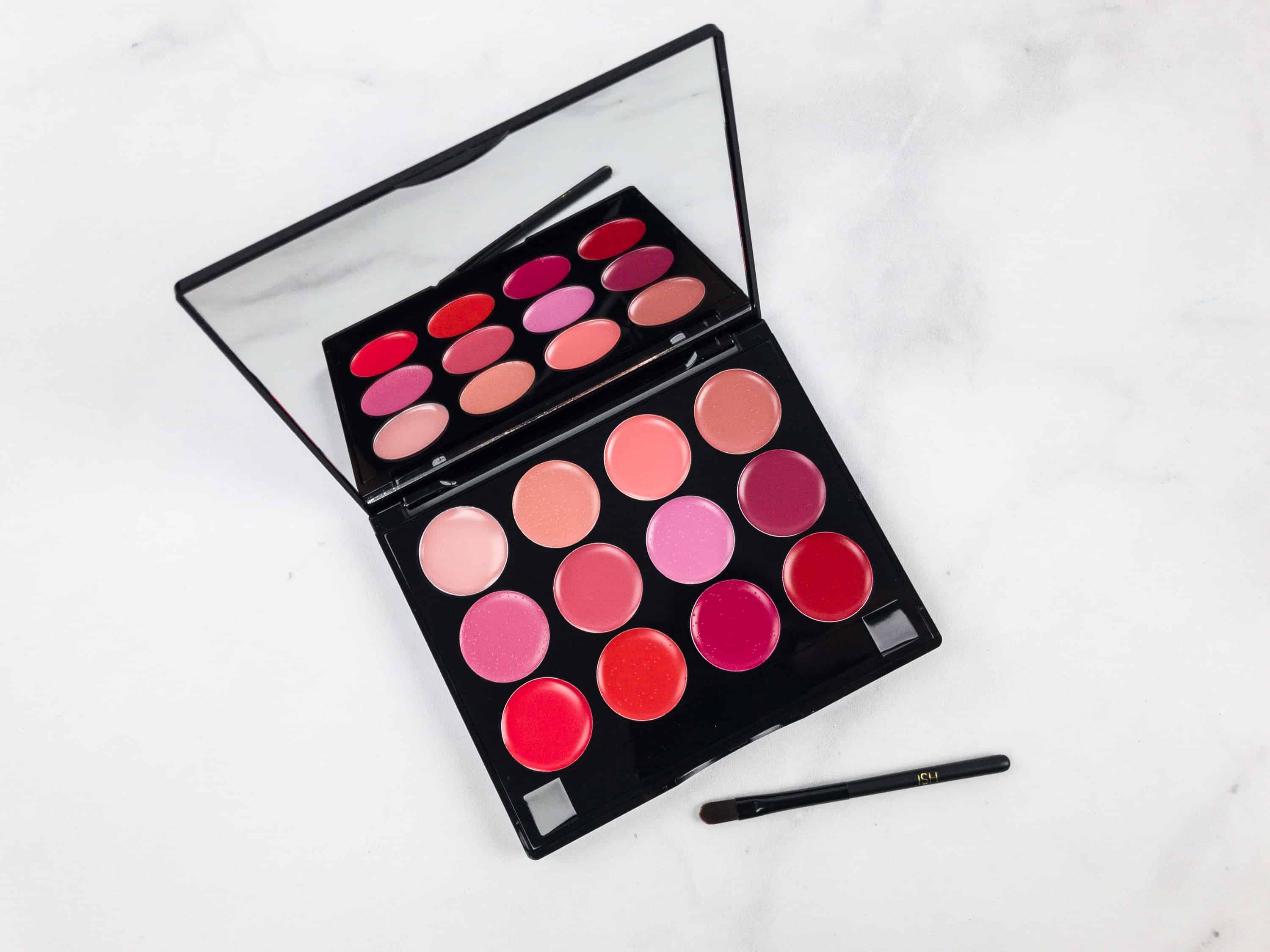 You can mix any shades to create infinite combinations of lip colors from these 11 intensely pigmented shades and 1 tinted lip topper that gives a hint of sheen and a touch of added moisture. They are enriched with rose extracts, shea butter, jojoba oil, and aloe vera for extra moisture and easy wear.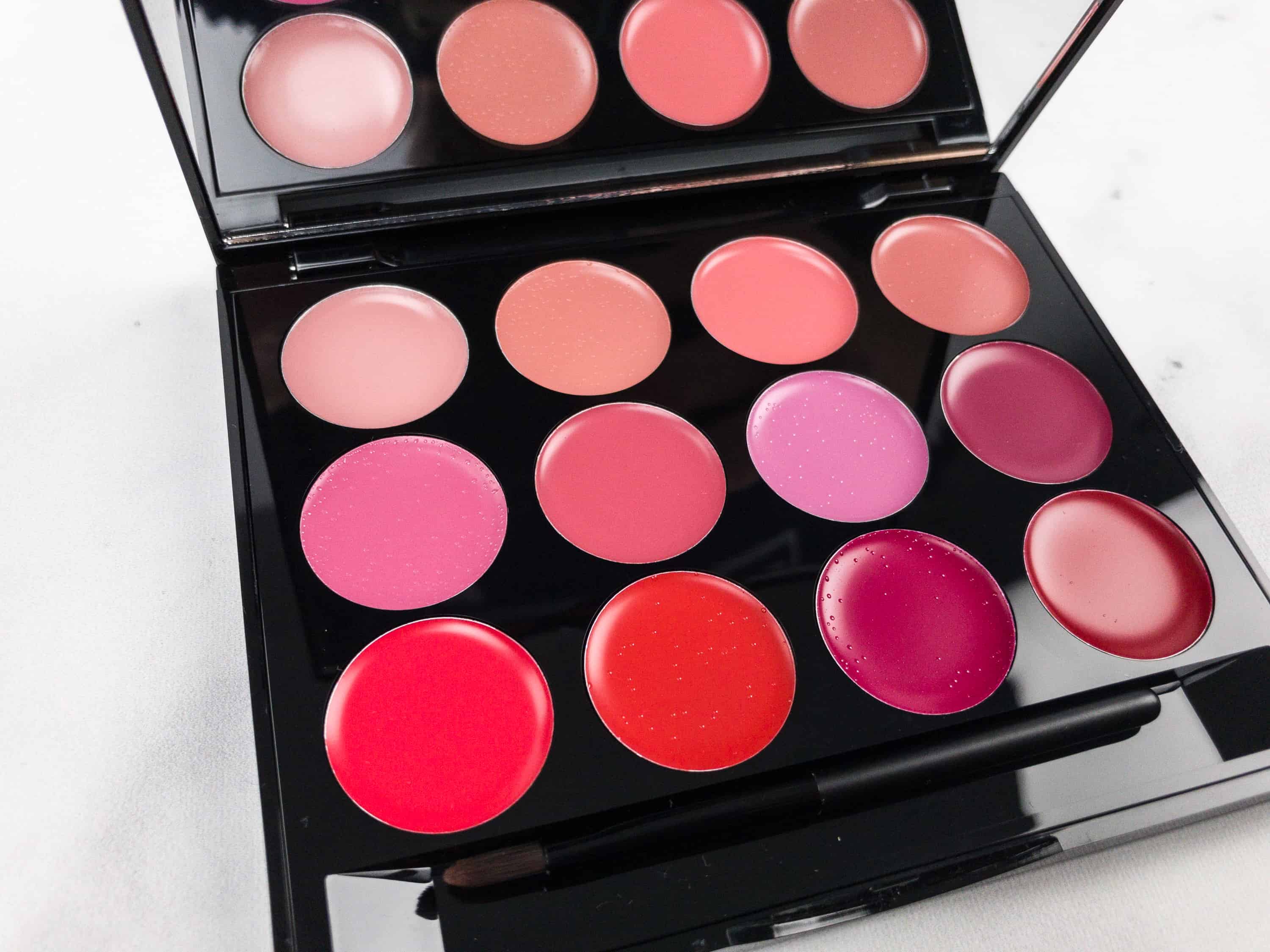 These are so pretty – and I love that they included a lip brush!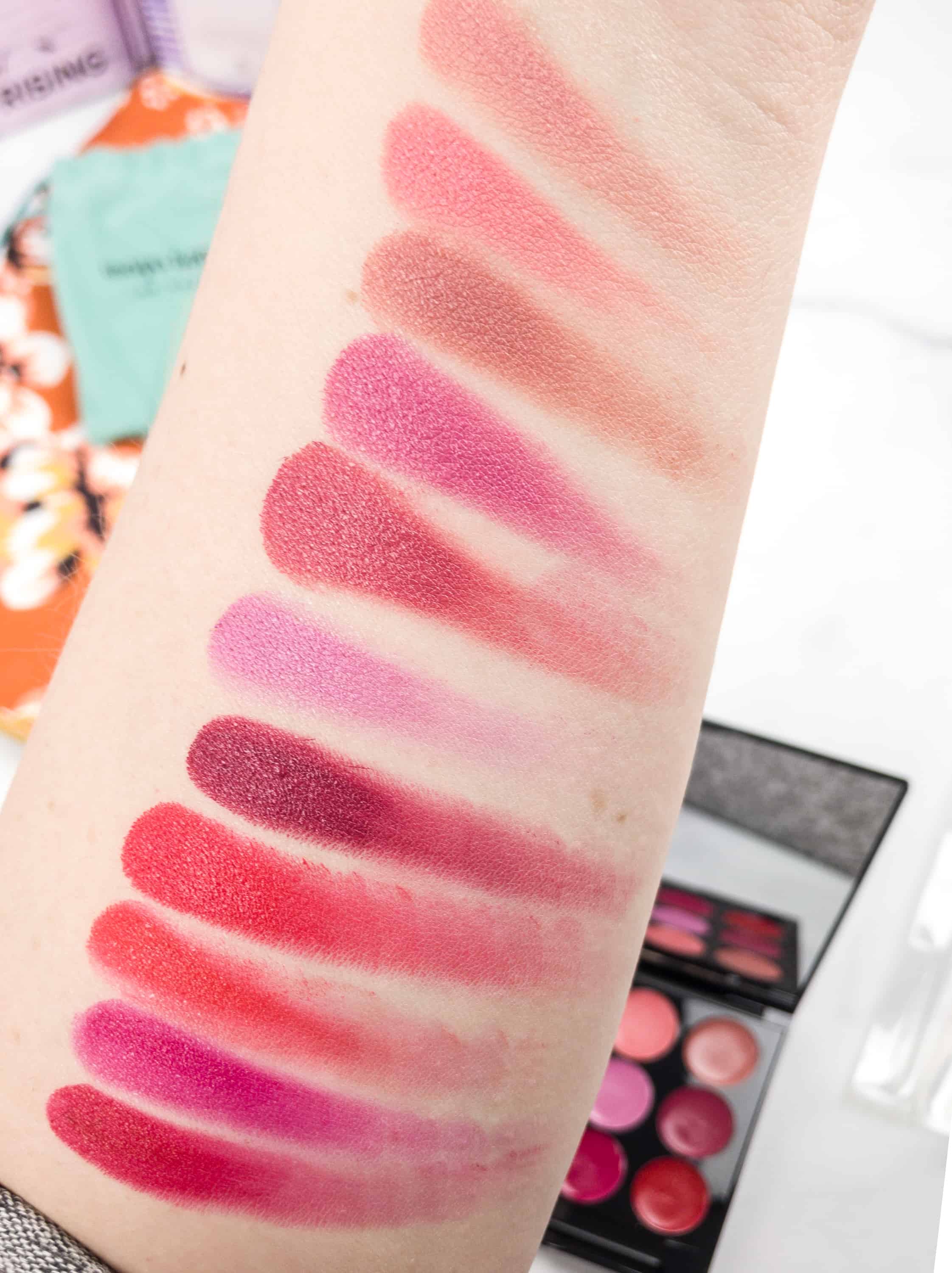 All of the swatches! At the very top you can see a shiny part – that's the lip topper.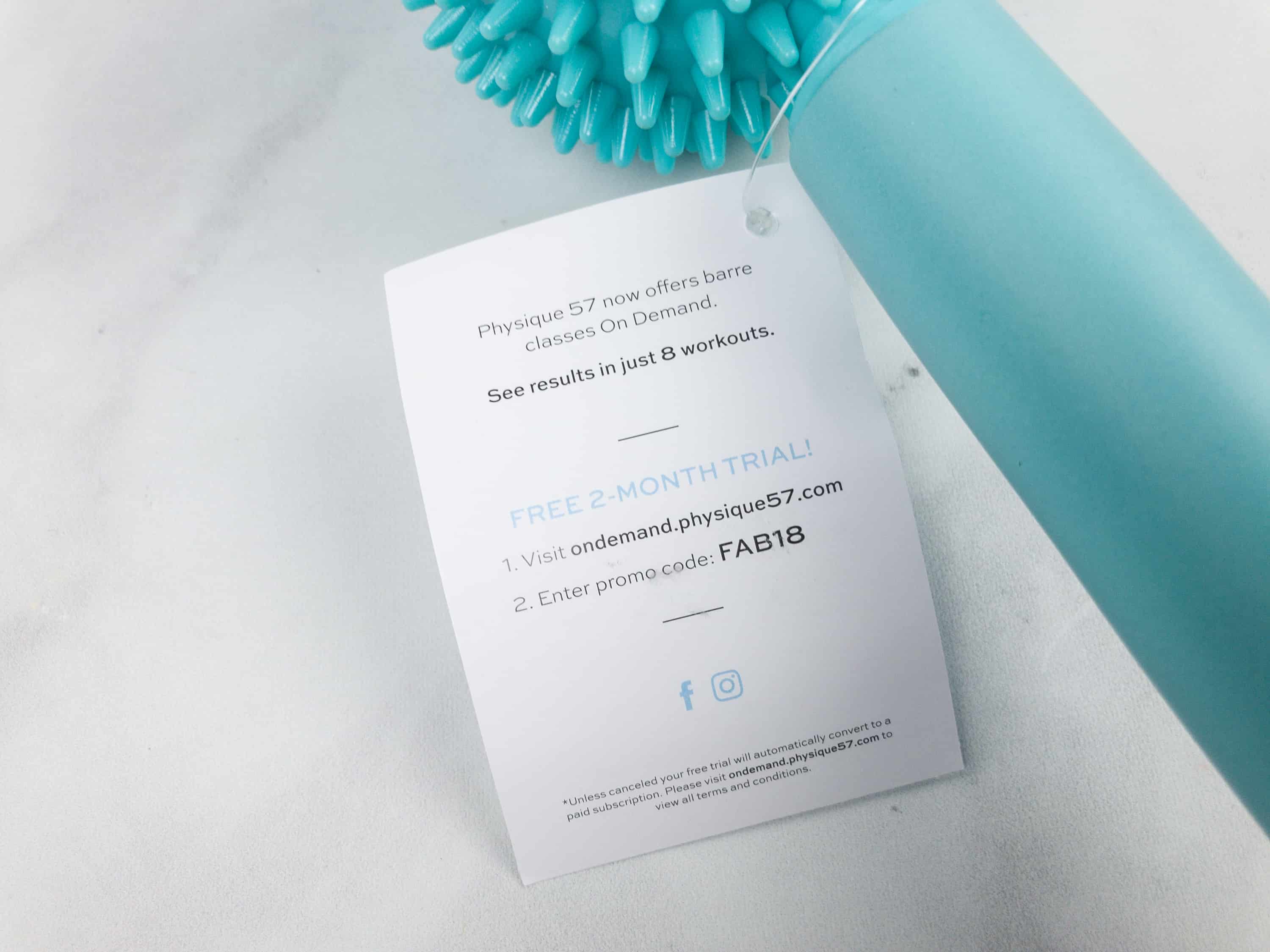 Physique 57 Massage Roller ($20) Subscribers will receive a random color, and I got aqua! There's also a promo code to view barre Classes on Demand.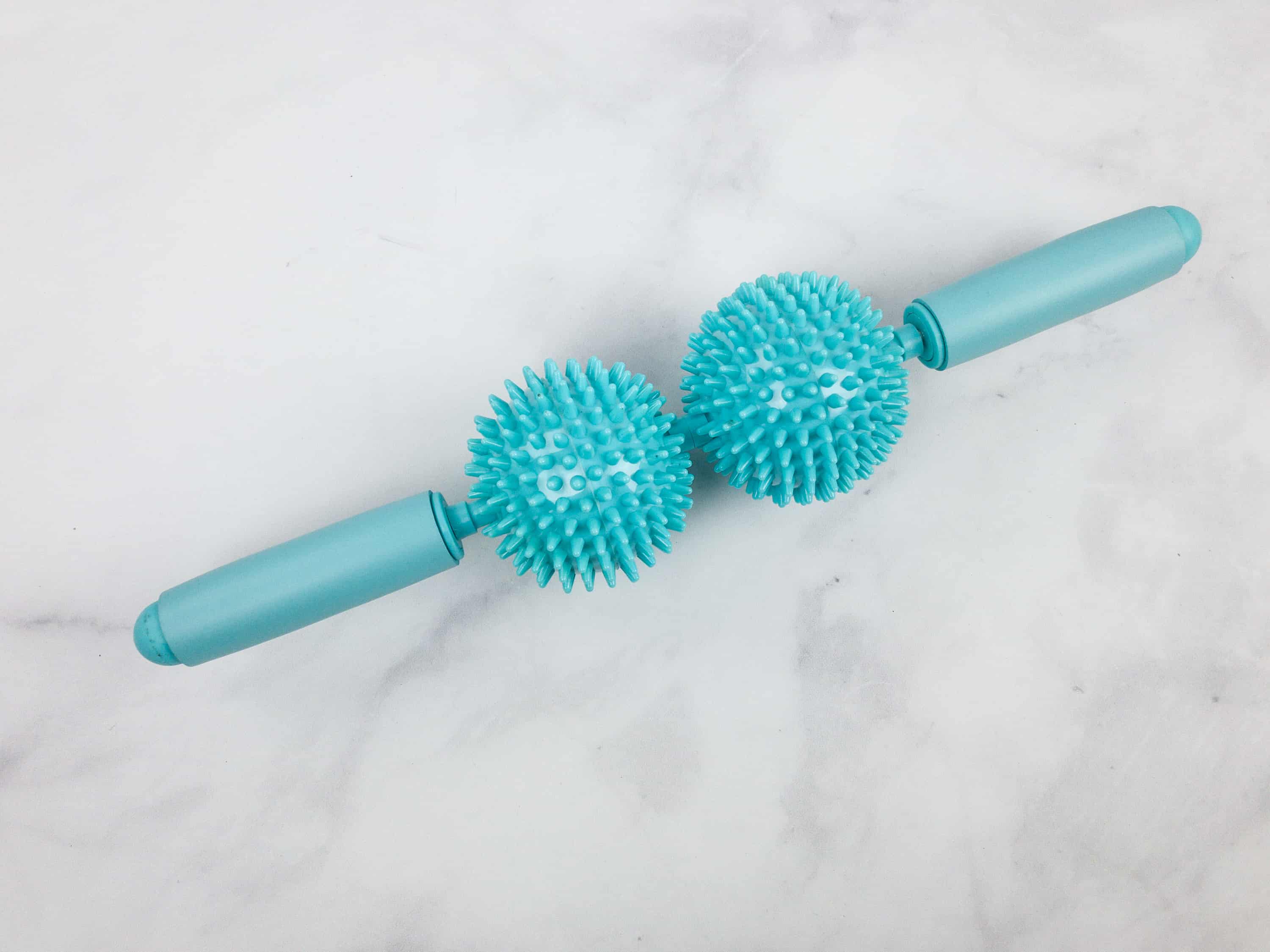 This massage roller has foam flexible grips so it is easy to hold.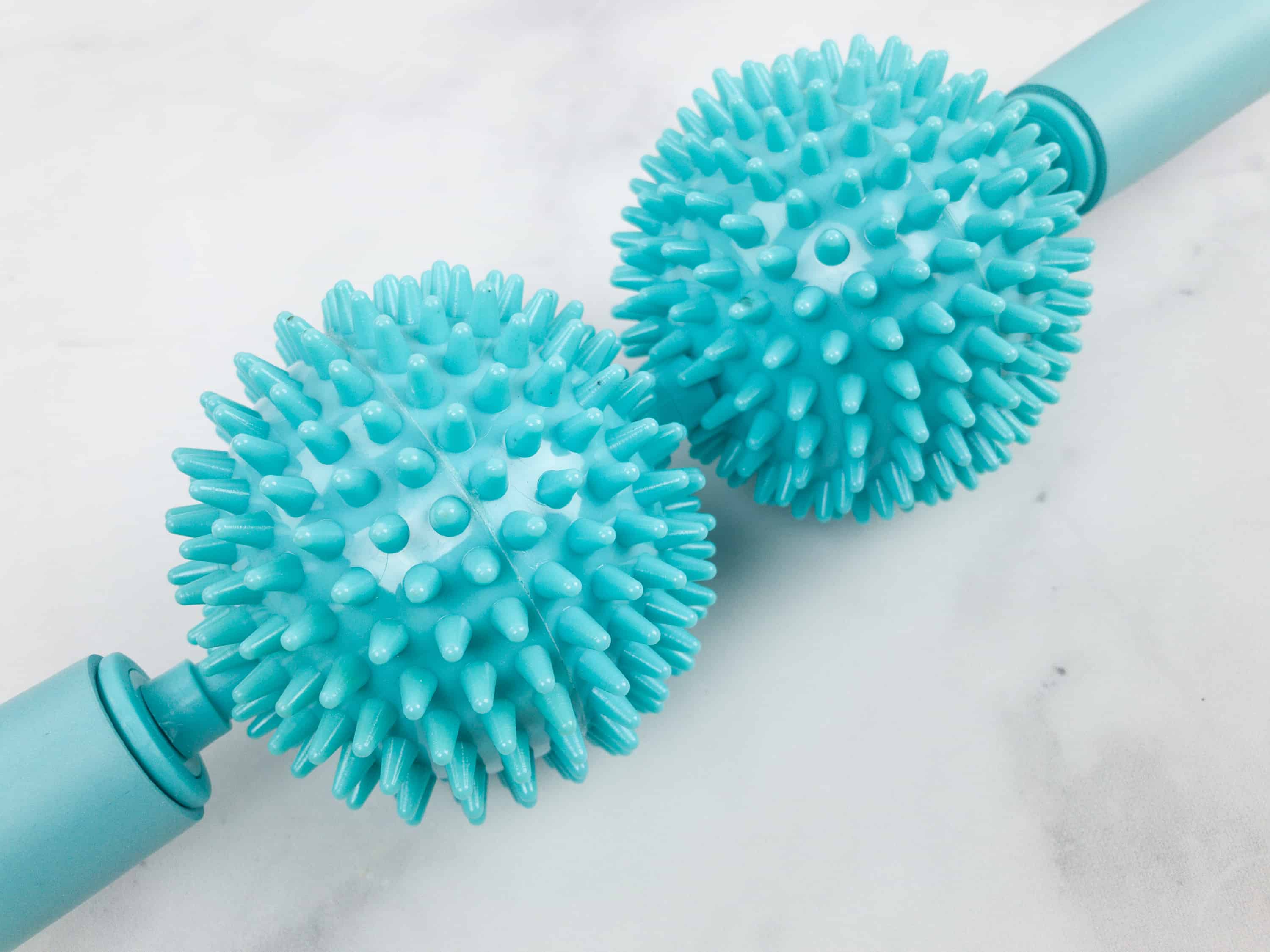 I really love this tool especially using this on my lower legs and thighs, it truly relaxes my tired leg muscles! I'm happy to see a fitness item that is workout focused (or for workout recovery)!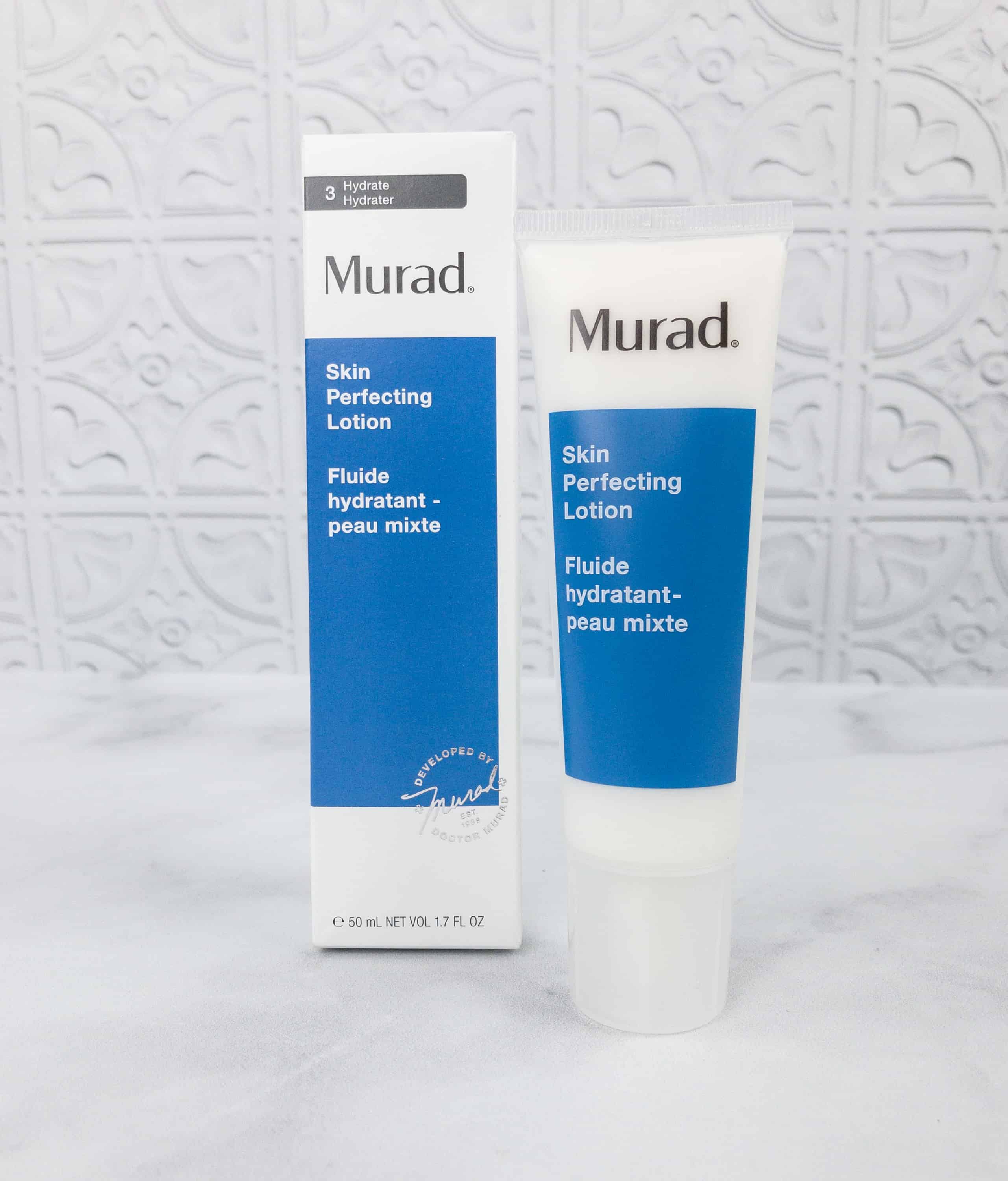 Murad Skin Perfecting Lotion ($40) The Murad lotion is something everyone can use, and it is an oil-free moisturizer, designed to help refine the appearance of pores and help prevent blemishes. It's also paraben, phthalate, and sulfate free! It soothes redness and irritation for smoother, healthier-looking skin.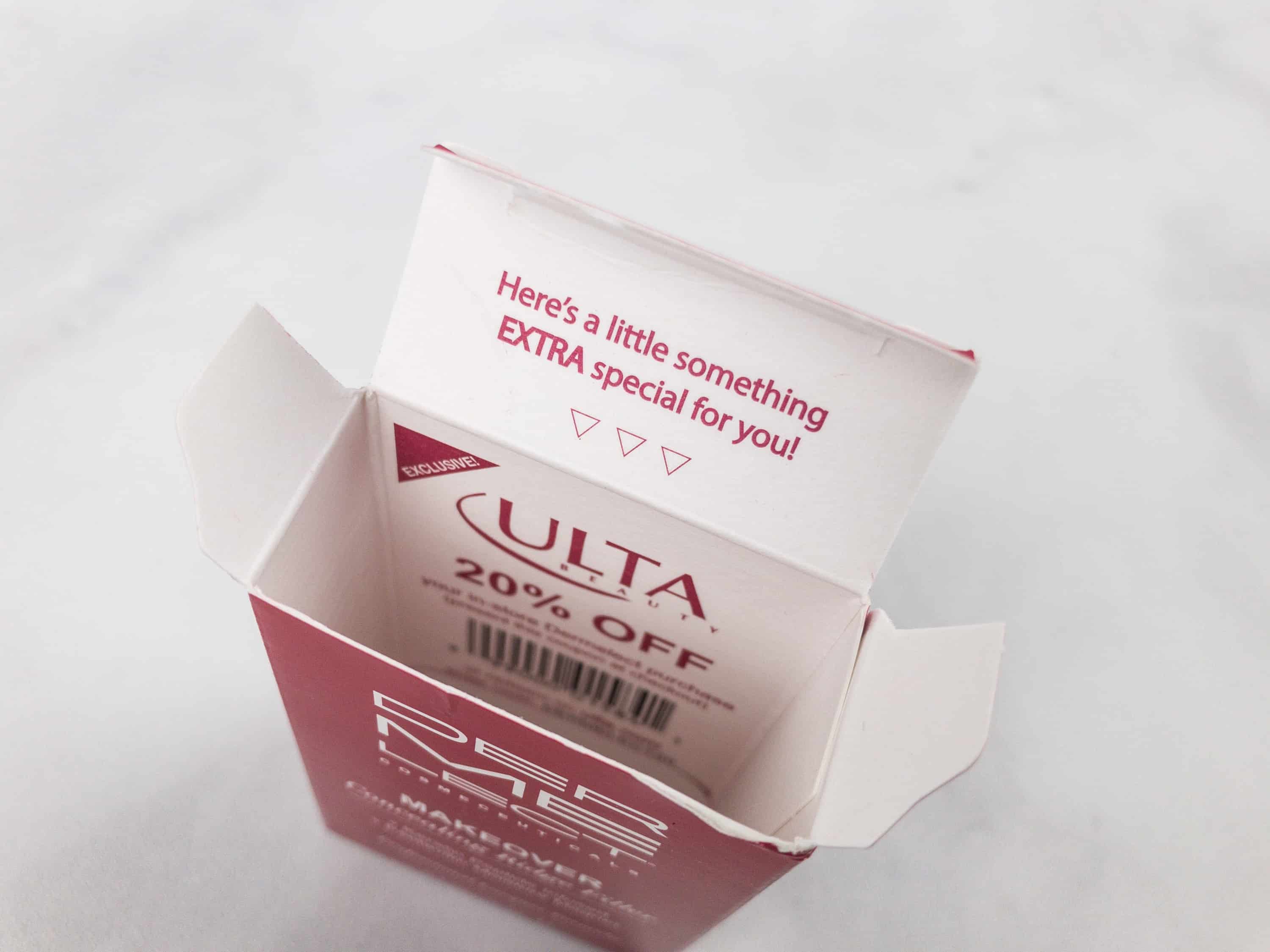 Dermelect Makeover Concealing Ridge Filler ($18) A polished, non-polished look will look great with the aid of this concealing ridge filler.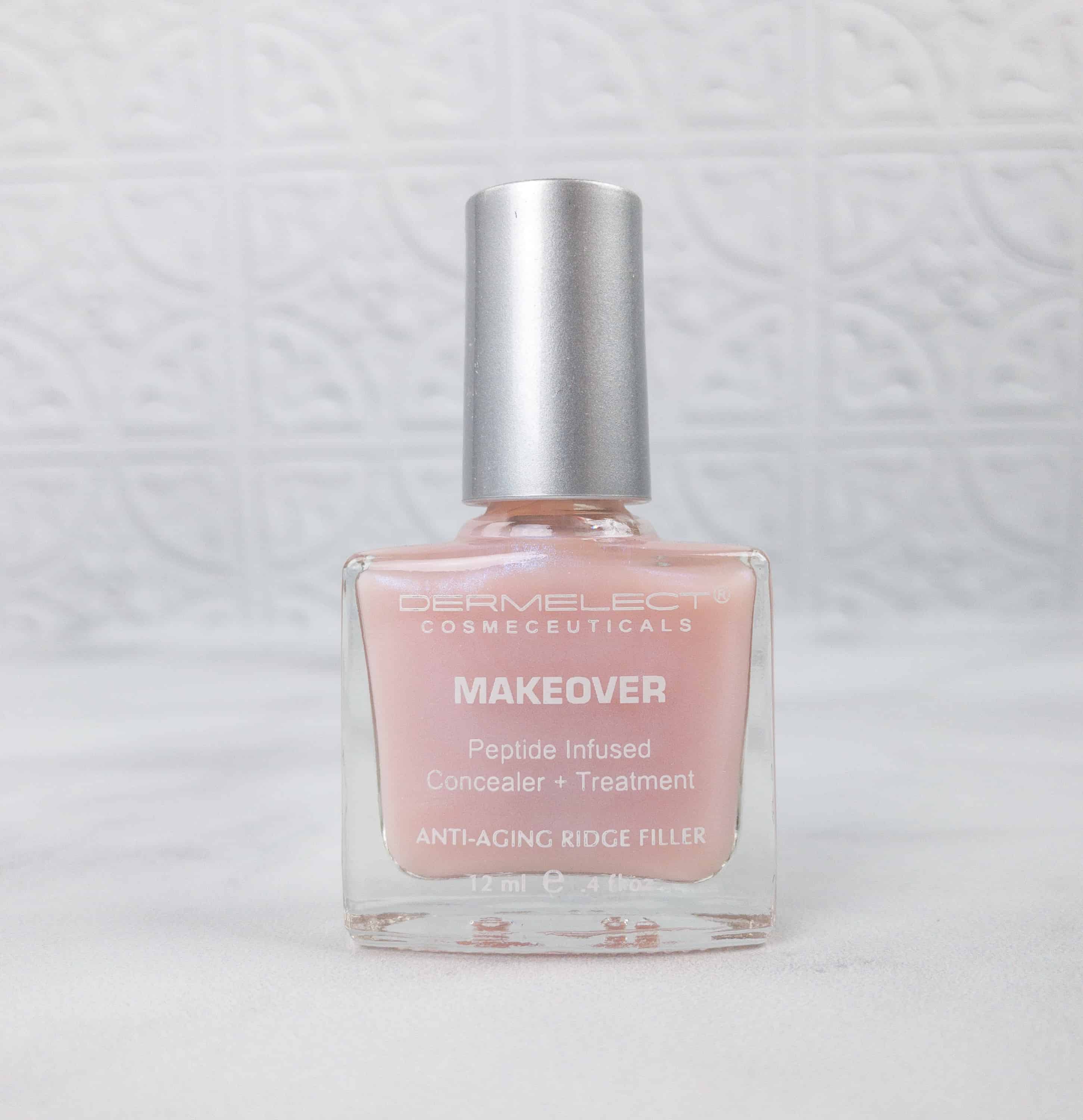 It's designed to help fix the appearance of nail ridges, yellow nail stains, and discoloration, just as a base coat. Nude colored nails look great as it also adds a glossy and shimmery finish to nails.
Subscriber Choice Items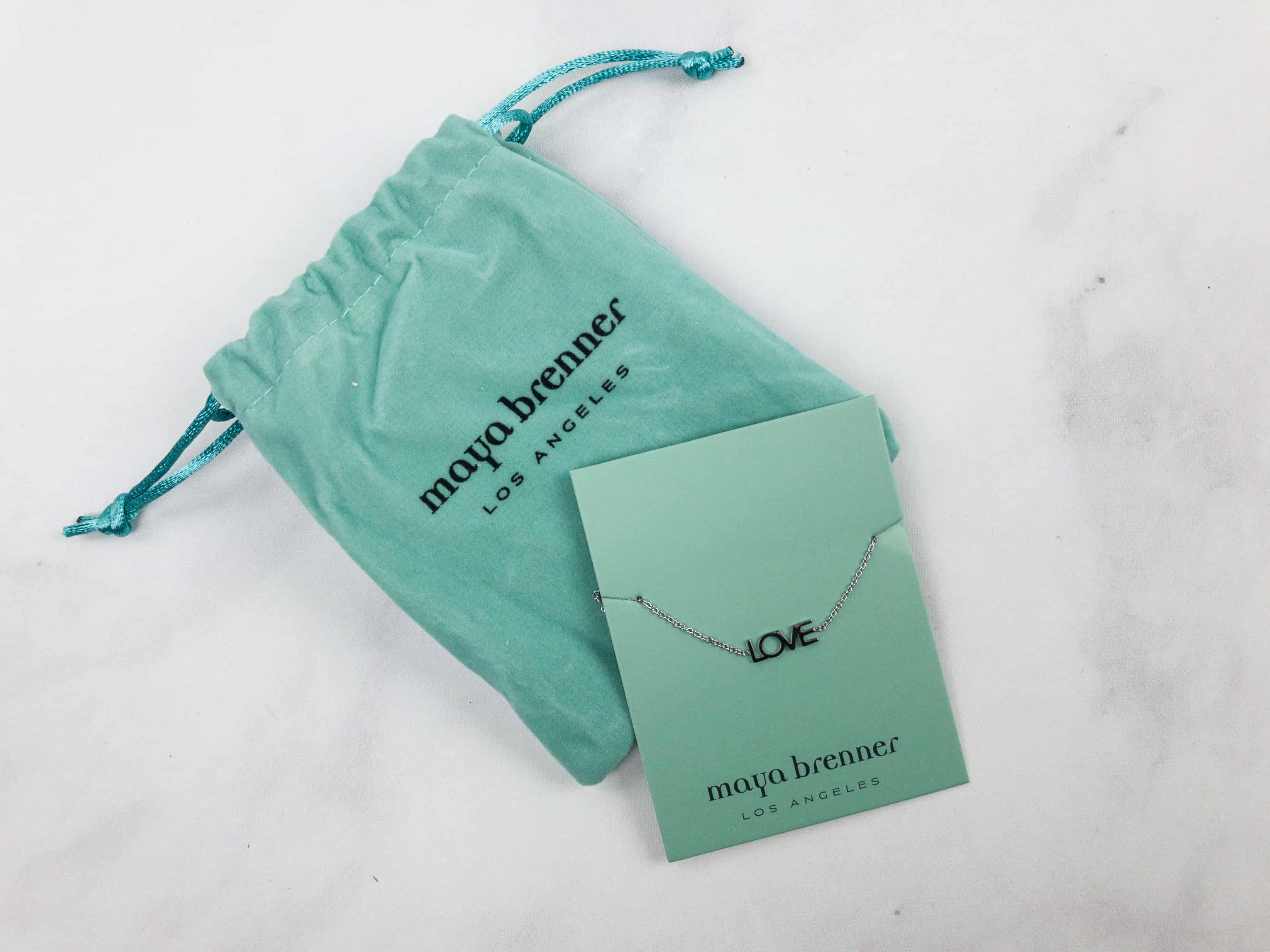 Maya Brenner Designs Love Bracelet ($65) Simple yet very lovable! This bracelet is a silver-plated stainless steel but it's also being sent out in a rose gold color.
All subscribers had a choice between the Ettika Day Dreamer Tassel Earrings ($58) OR Maya Brenner Designs Love Bracelet ($65) during the choice period – and you could add on another for just $10 if you couldn't choose!
It is a 7 inches long, with a jump ring at 6 inches bracelet that is E-coated to prevent discoloration. So adorable!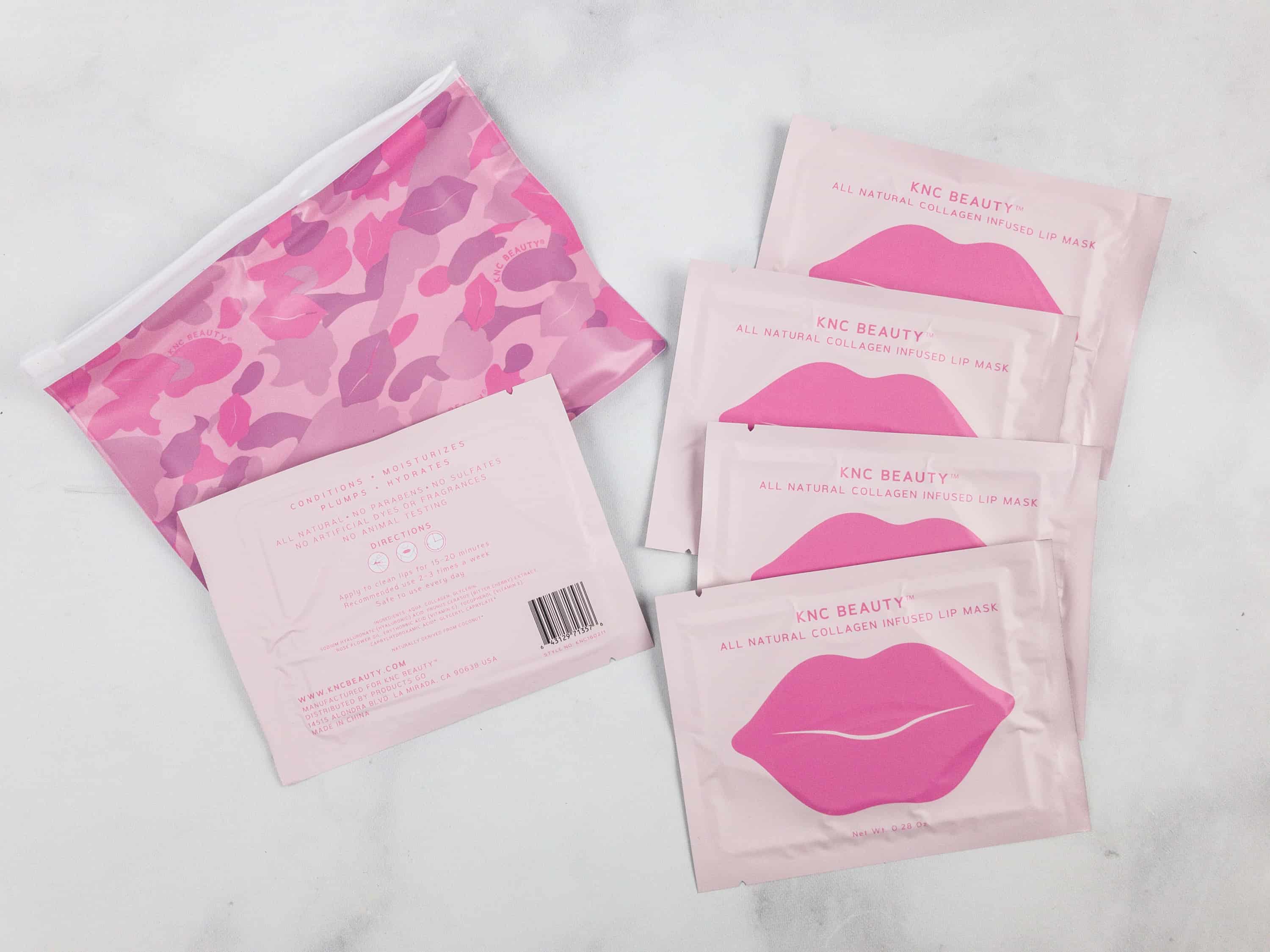 KNC Beauty All-Natural Collagen Infused Lip Mask 5 pack ($24.99) The all-natural collagen infused mask contains Hyaluronic Acid and collagen to condition, moisturize, plump and hydrate your pout all in one application.  Also, it contains rose flower oil, cherry extract, and vitamin E, a gel-textured treatment that will give you with the perfect pout.
Subscribers could choose between KNC Beauty All-Natural Collagen Infused Lip Mask 5 pack ($24.99) OR KORRES Guava Body Butter ($24)
Select Member Choice Items (annual members could choose a variation):
ANDERSON LILLEY Sunset Collection Candles ($45) The container for this candle is stunning – and reusable! I'm keeping mine for the bathroom as soon as it's burned.
Annual subscribers could choose between one of the above scents!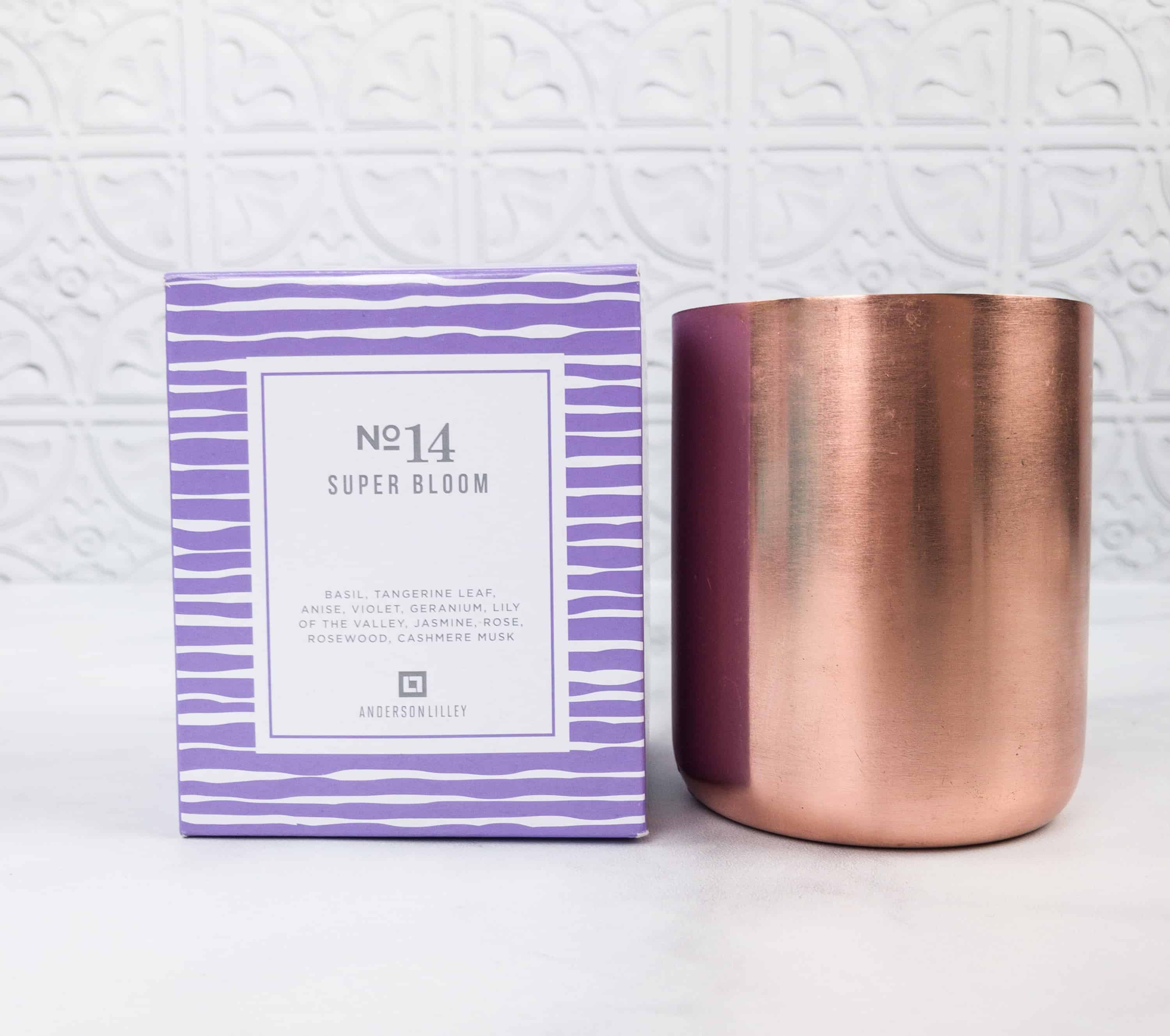 I received this candle in Super Bloom, with notes of basil, tangerine leaf, anise, lily of the valley, jasmine, violet, geranium, rose, rosewood, and cashmere musk.

Rachel Pally Reversible Clutch in Zahara ($60)
Annual subscribers were able to select their print, but I love them all, particularly the vibe of the prints – they match with the throwback 90s southwestern vibe I'm seeing everywhere.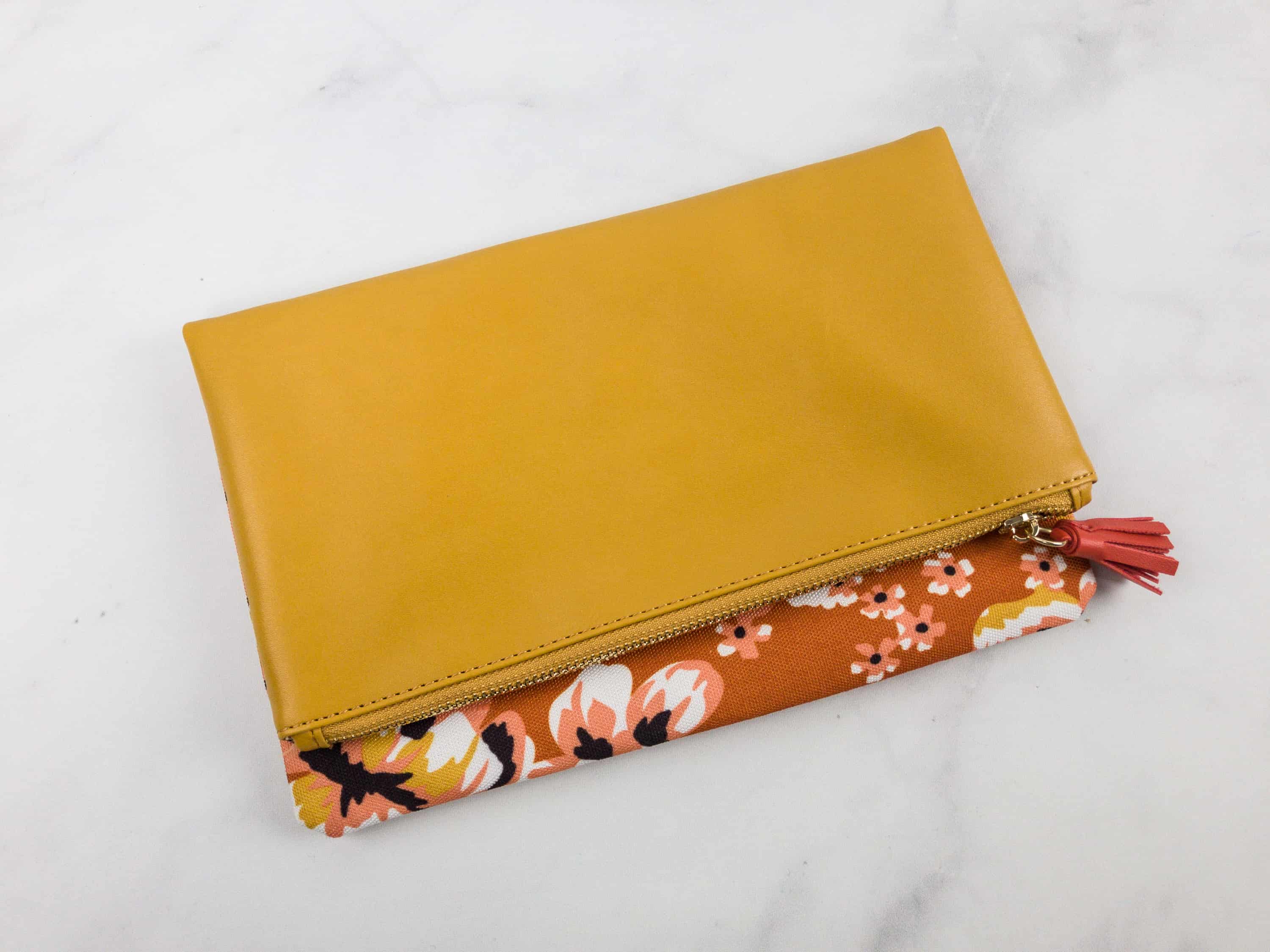 This simple clutch is like a large zipper pouch that simply folds over.
The inside is made of vegan leather and the print is canvas, which is lined with polyester and is lead-free.
The clutch measures 10.25″ across, 6.5″ tall when folded and 11.75″ tall when spread.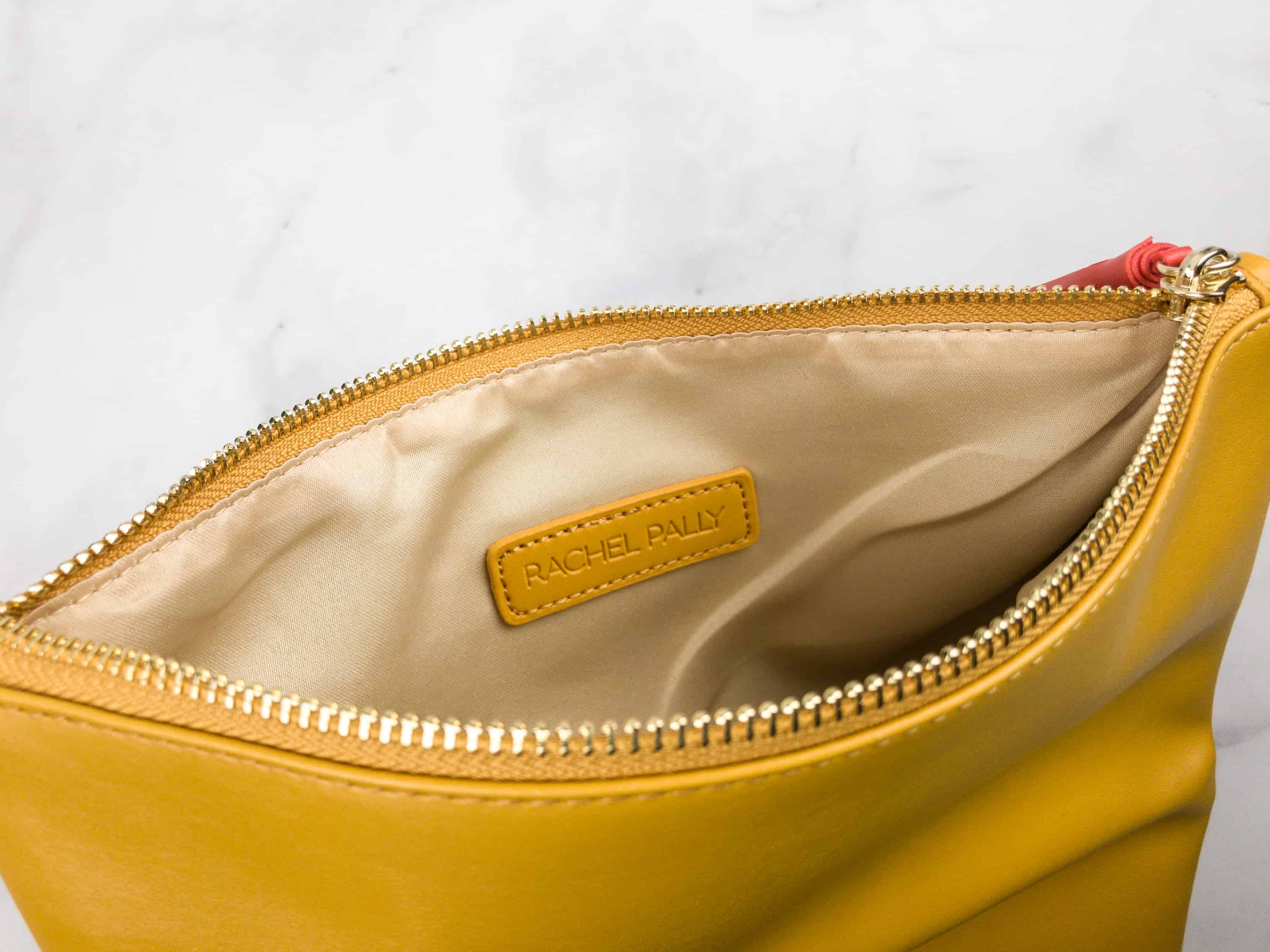 A clutch that can totally work as a makeup bag, or just keep your stuff like phones and keys in place! I love clutches like this for keeping the essentials organized in my large tote and being able to grab and go!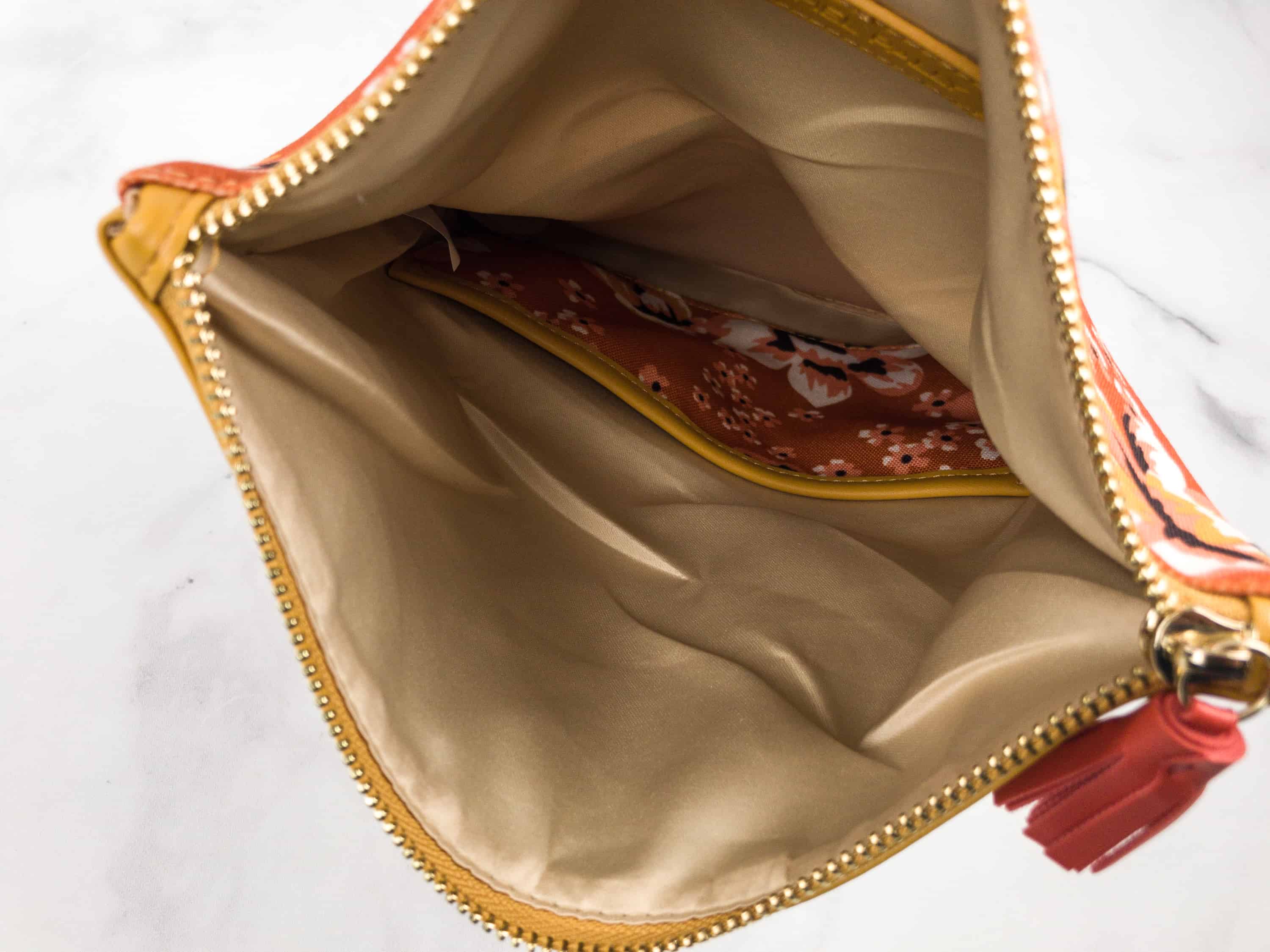 There's even a pocket inside the bag.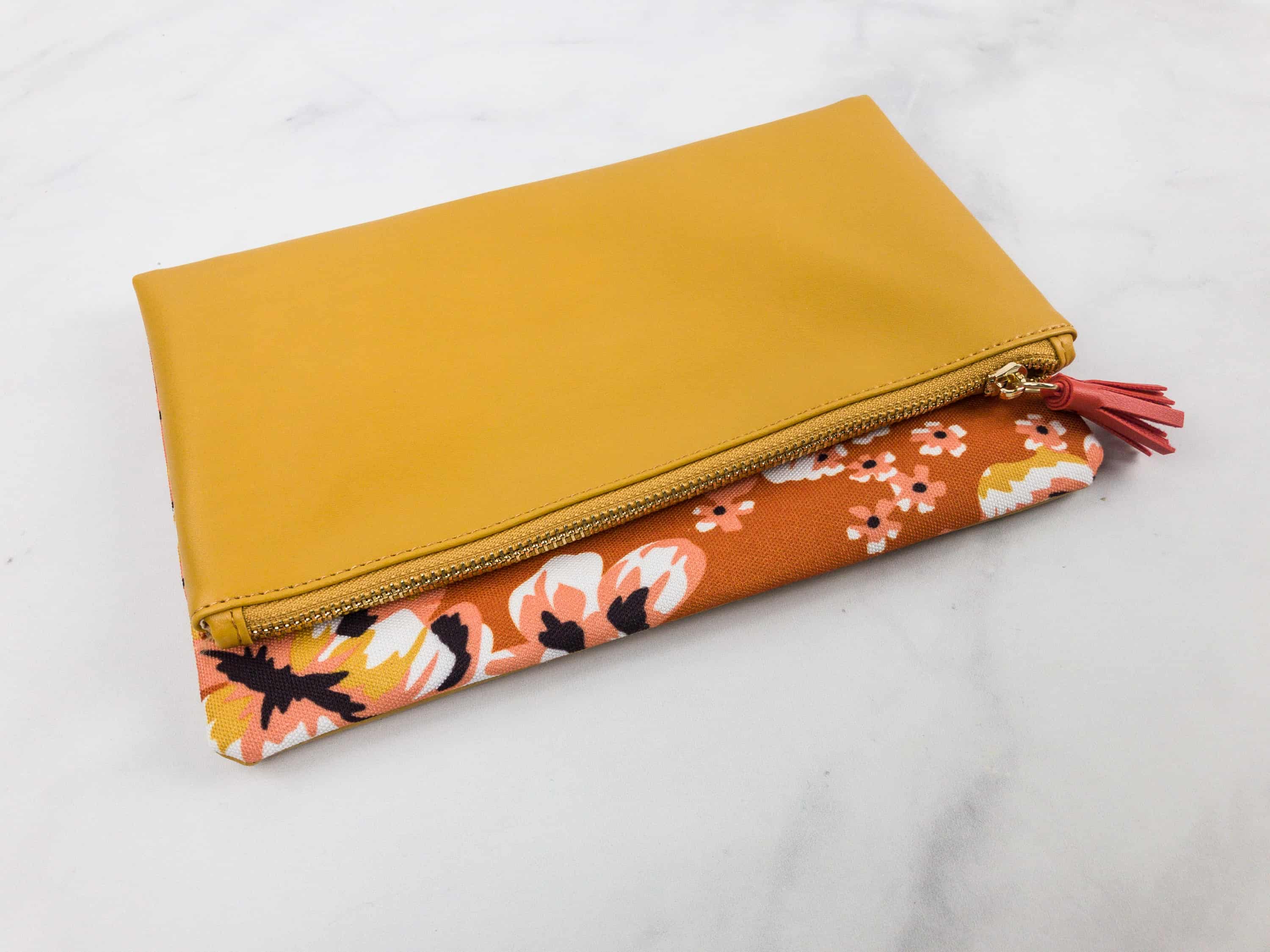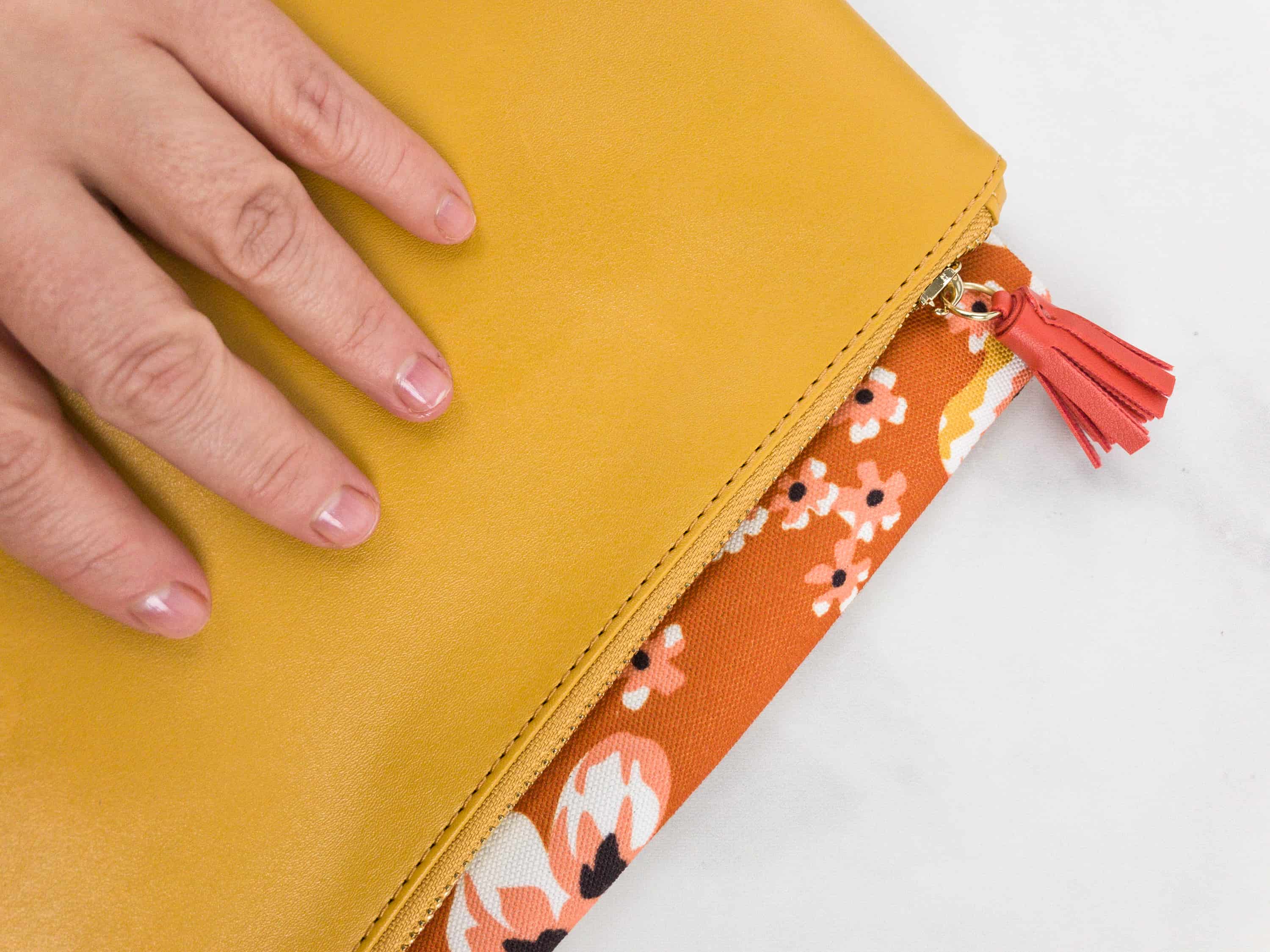 And my shiny nails are all done up in my new nail treatment!
BONUS Sponsored Item:

Dove Gentle Exfoliating Body Polish ($0.25) The polish also has an indulgent tropical ricey scent, thanks to crushed macadamia and rice milk. It is ideally used during shower or bath and before using soap or body wash. The particles are fine, so it's more like a polish than a scrub (think much smaller than sugar scrub, larger than microdermabrasion scrubs!). Also, this exfoliating body cream has a whipped texture and a nice coverage. I like its gentle formula that kept my skin smooth and well-hydrated throughout the day!
I just love this box that I wait for every season! The skincare items are suitable for spring and I love how each item works wonders, especially the concealing ridge filler – this box felt super pampering with all the spa-friendly items. When you're done with self-care at home a few more items are there to help you feel amazing out of the house too. The clutch is darling and fashion-forward without being over the top. Overall, it's a wonderfully curated and value packed box that's a great treat for yourself or for any woman into beauty and fashion! The total value of this particular variation was $355! It's also a great box for gifting, but all I really want is to keep everything – absolutely zero duds in this edition!
What do you think of the Spring FabFitFun VIP Box?