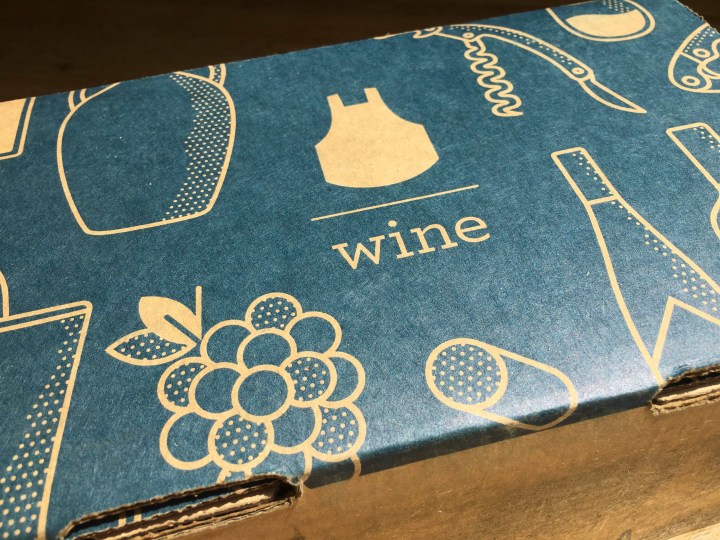 Blue Apron Wine is a subscription for people who love trying new wines as much as they love great food. You may be familiar with the Blue Apron Meal Delivery Kit subscription, which sends boxes of fresh ingredients to make exciting meals at home. The wine subscription is separate from the meal subscription, but it's designed to complement it.
Here's how it works: every month, for about $11 per bottle ($65.99/month, including shipping and tax), Blue Apron sends you 6 bottles of wine, plus tasting notes and pairing recommendations. The wines are selected to pair perfectly with the meals in the Blue Apron kits. The bottles are 500 ml, or 2/3 the size of a standard bottle, which, in addition to being adorable, means that you and your dining partner can enjoy your entire bottle with your meal without regretting that additional glass needed to finish a standard-sized bottle.
Blue Apron pairs with wineries around the world to bring a wide range of new and interesting wines to you each month. I love wine, and I love food, and I love everything about the idea of this subscription.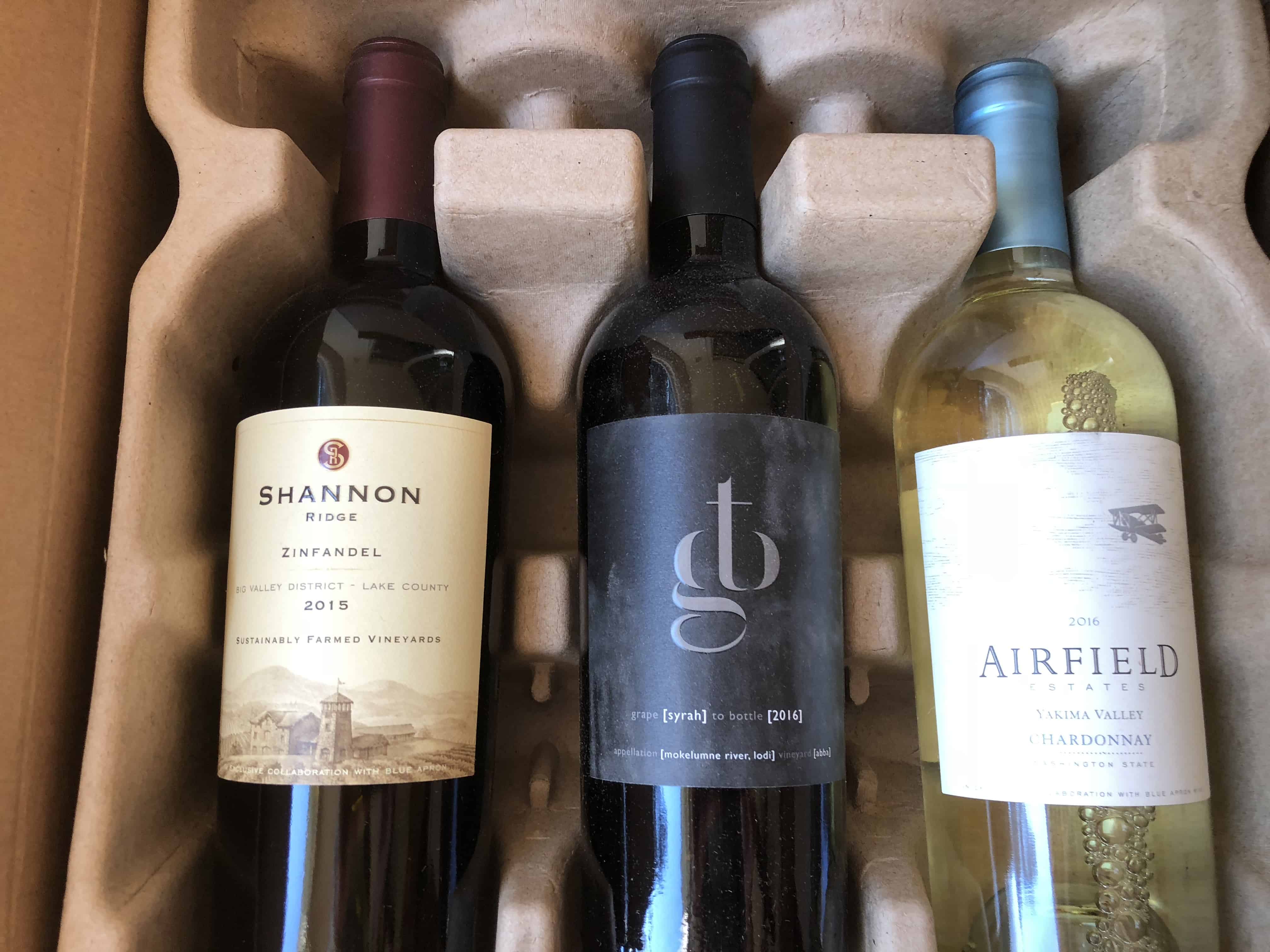 The new packaging is great and keeps everything snug and secure. Keep in mind that someone 21+ will need to sign for it. Everything is in great shape when it arrives, and the packaging remains, happily, recyclable cardboard.
Blue Apron Wine allows you to select your wines–you can go all white, red, or mix it up. I do wish there were sparkling wine options occasionally. After last month's European extravaganza, I went all-American this month. It's incredibly easy to switch out your bottles.
DEAL: You can try out your first box of Blue Apron dinners for $30 off with this link.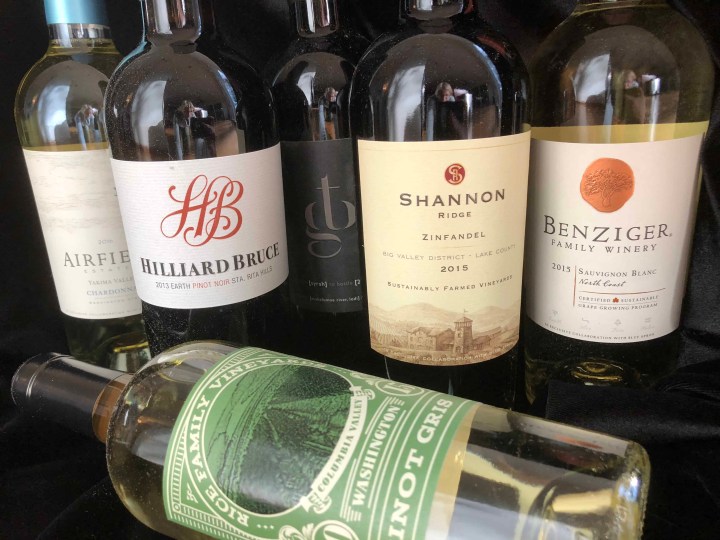 If you're wondering what a 2/3-sized bottle looks like, here is one of the bottles with a standard-sized bottle next to it. You'll get about 3 1/2 standard glasses in a bottle, or a generous pour plus a top-off each if you're with a partner.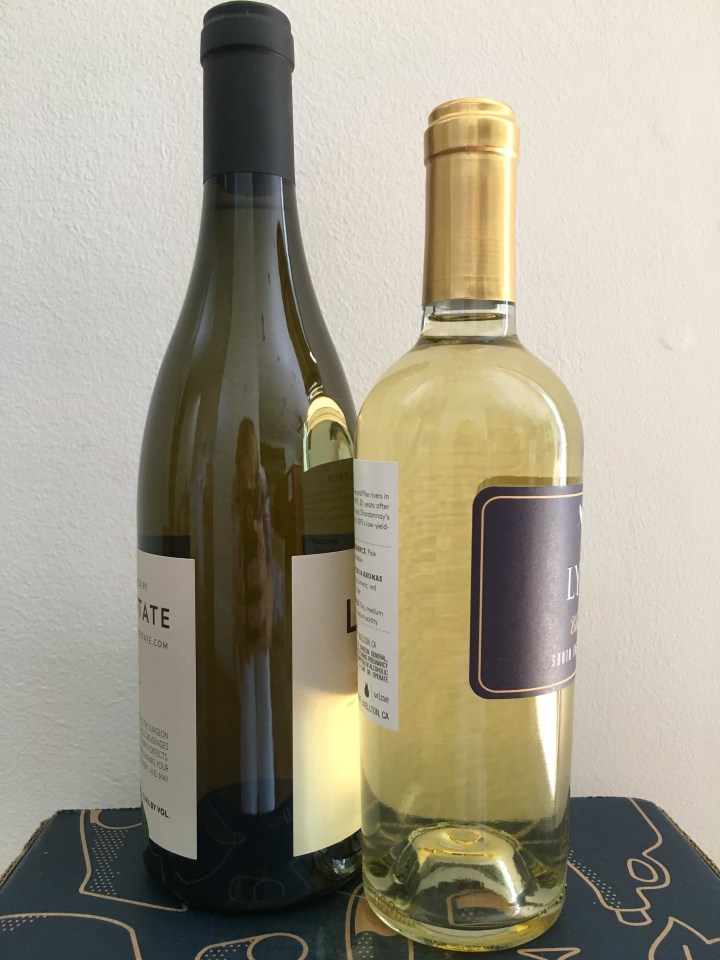 Each box comes with a great collection of tasting notes. Blue Apron tells you a little bit about the winery and how the bottle was made, plus the region at large. Because, come on, you didn't REALLY know where the Central Coast was, did you? The info details the color, body, and structure of the wine, and also gives some thoughtful food pairings for each bottle. The info is terrific – wine is not scary, and tasting it should be fun and informative. Data is your friend.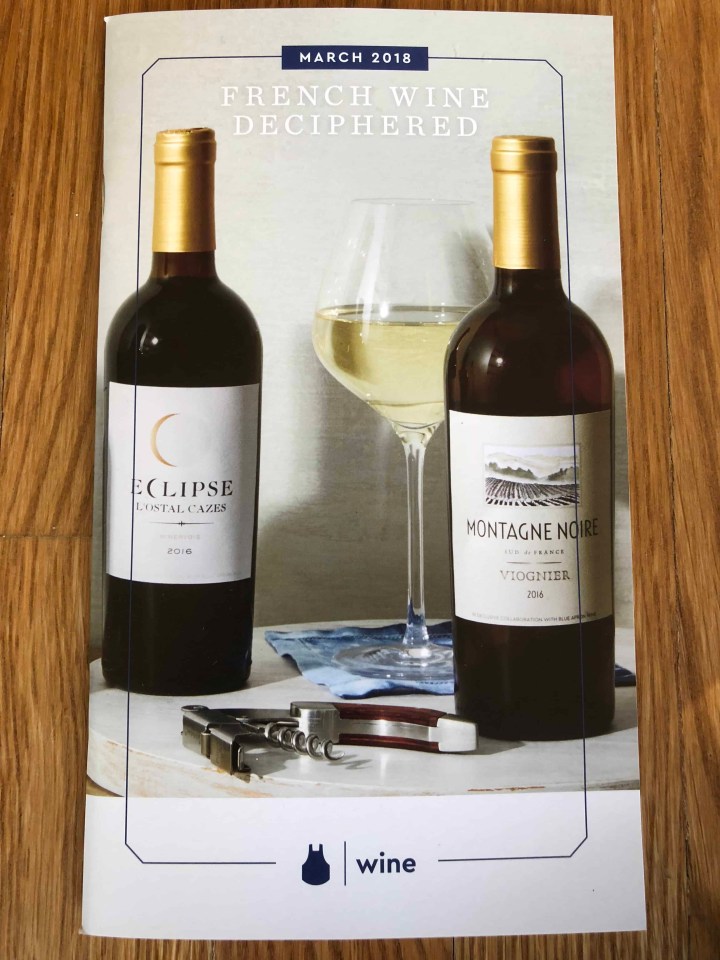 It's March! Time for basketball tournaments and sort-of holidays celebrating all things sort-of Irish. You know, I don't think I've ever had wine made in Ireland; is there such a thing? #Goals. This month, my Blue Apron meal kit and wine box arrived at the same time, a happy confluence of subscriptions. I pulled the Pinot Gris out to have with my meal and took the rest with us to a basketball tournament selection party. (I'm sure they invite us for reasons other than our wine, right?).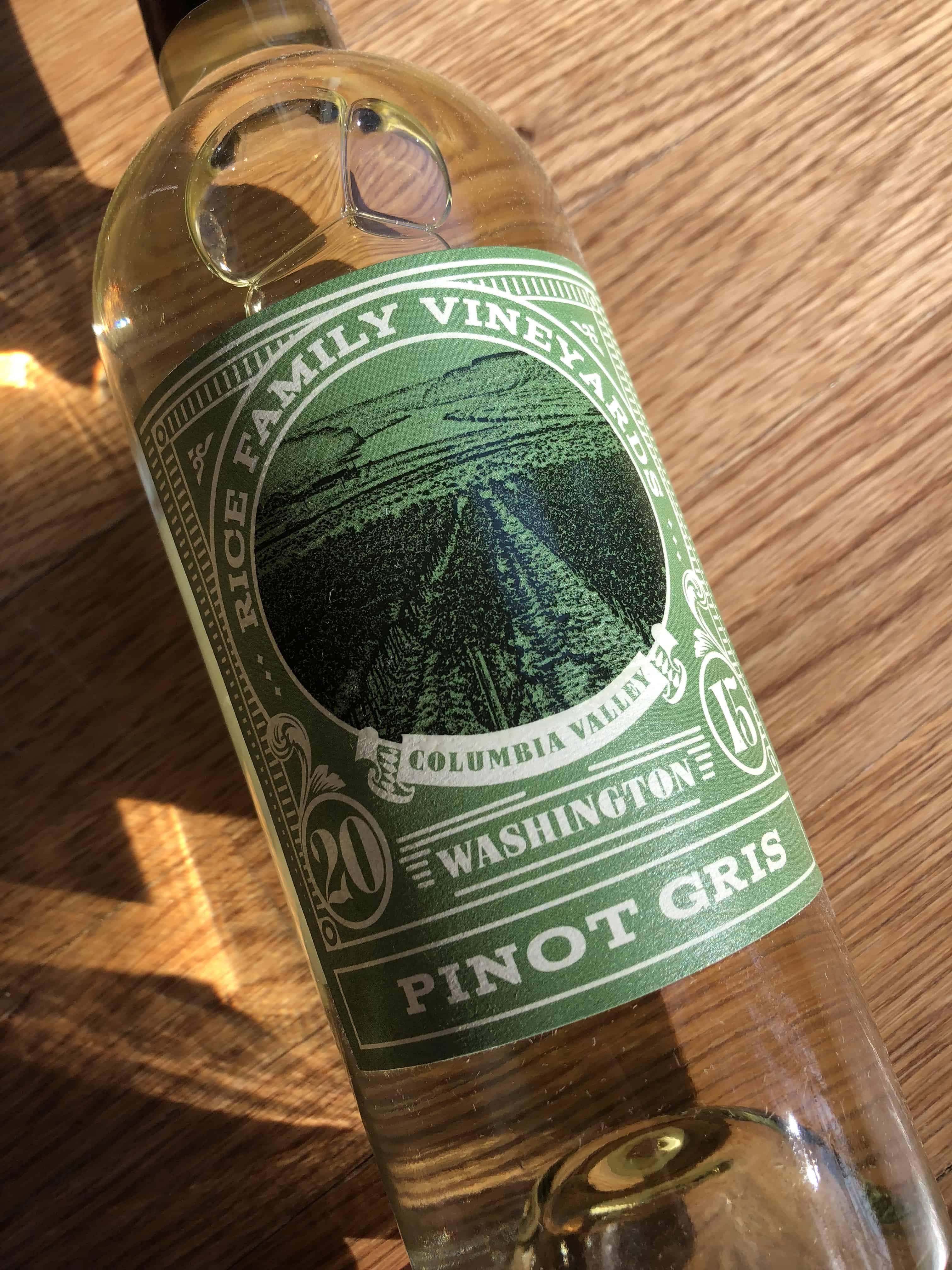 And speaking of that Pinot Gris, here it is, the 2015 Rice Family Vineyards Pinot Gris from Columbia Valley, Washington.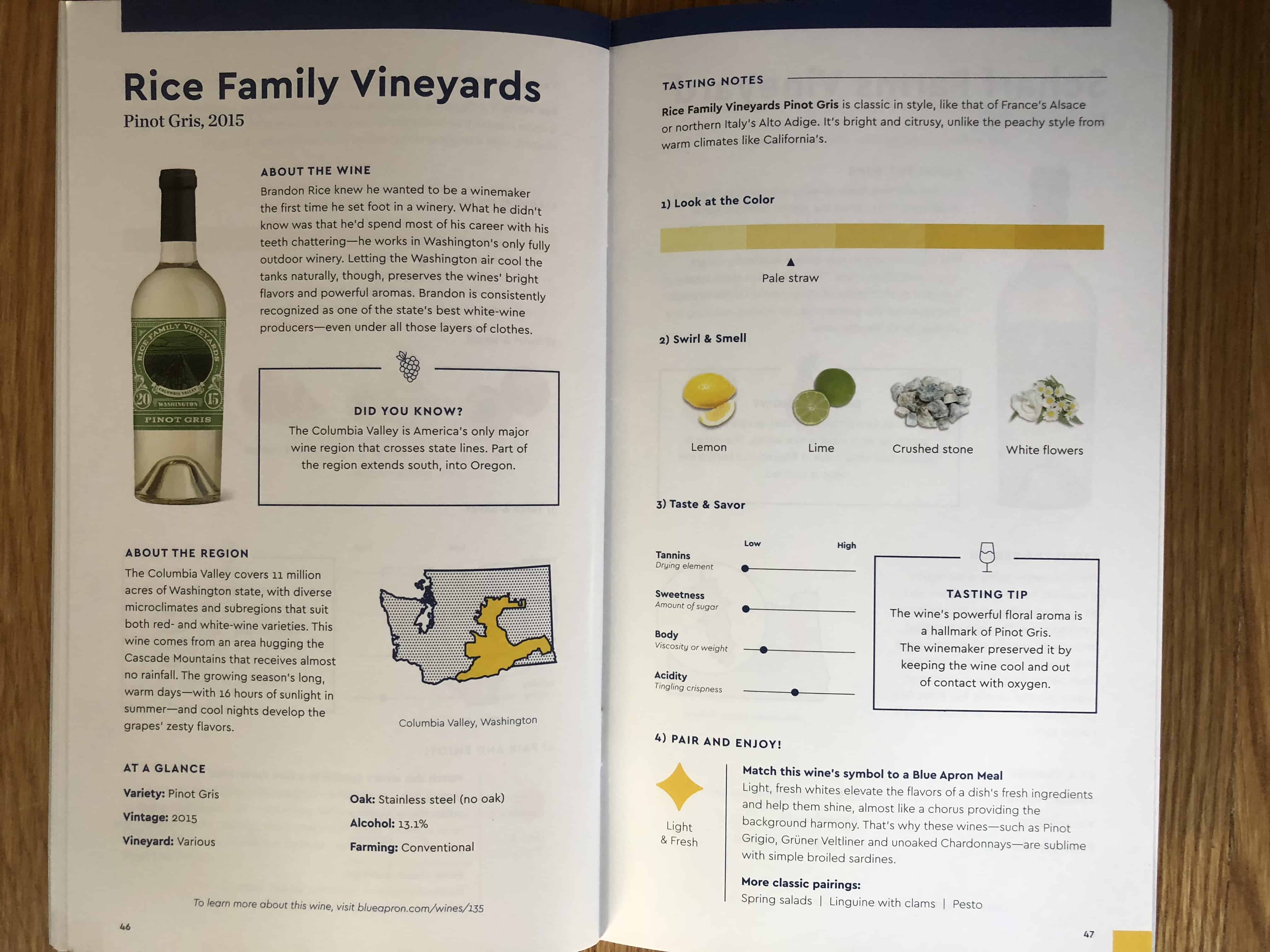 I don't see a lot of Pinot Grigio (the same as Pinot Gris) these days–I think Sauvignon Blanc has taken over for its light-and-can-run-sweet role in the wine ecosystem. PG can be junky and sweet but the lean, mineral kind (mostly from Italy), can be really refreshing and terrific with fish. I was having mine with salmon, so we were set. The Rice PG is very light gold in the glass, almost clear in the light, with a similarly light body. It has a strong floral/citrus nose that is really lovely. The flavor leads with citrus, then shades into an apricot finish with a very round fruitiness. I wouldn't call this sweet because it has a nice zip of acidity that clears the palate, but it's definitely more of a French style than Italian. (I didn't get even a hint of the crushed stone claimed in the tasting notes).  This is a nice, easy wine that your SB-drinking friends will love. We had it with our Blue Apron salmon, and it was a nice contrast to the richness of the fish. It would also go nicely with light apps on your back porch, or maybe an asparagus pasta. Drink it cold.
Our second white is the 2015 Benzinger Family Winery Sauvignon Blanc, from the California North Coast.
Benzinger is a mainstay for Blue Apron wines; it can be counted on to produce quality wines that emphasize the region of origin. In this case, it's making a California Sauvignon Blanc, which is of the tropical fruit-flavored variety. The Benzinger is a light gold in the glass, a touch brighter than the Pinot Gris, and a medium/light body.  There isn't much nose. The flavor is melon and bright citrus, with a just-sweet finish that lingers but is balanced by acidity. This is exactly the wine you think it's going to be, and the basketball-party-attendees were fighting over it. It would be a good choice for a cheese course, particularly one with brie or goat cheese, and it would also be a nice wine to pack for a picnic lunch (hey, it's only a 2/3-sized bottle!). Drink this just off-cold.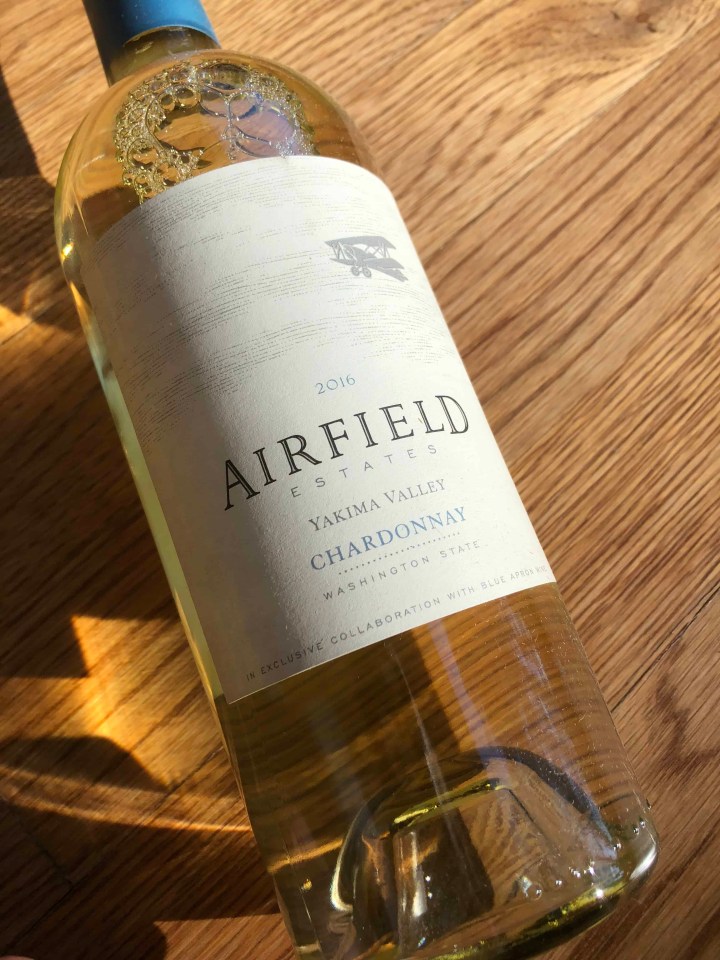 Our last white is another Blue Apron regular, the 2016 Airfield Estates Chardonnay, from Yakima Valley, Washington. Airfield has made a couple different versions of Chardonnay for Blue Apron; this is the leaner, more European style that I prefer.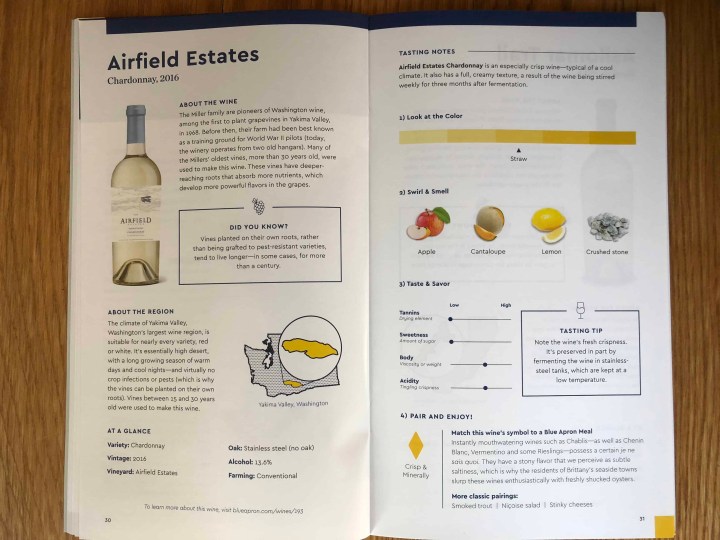 This wine is light yellow in the glass (similar to the Benzinger Sauvignon Blanc), with a bright nose of apple/pear and citrus. The apple flavor leads and gets very big, but then it drops out into a pleasantly mineral sharpness that lingers. No oak flavor in this medium-bodied Chardonnay, of course.  This is a tasty, nicely balanced wine that I really enjoyed. It complemented the chicken skewers and salad we had at the party, but it would also go well with any chicken dish, or even something a little more substantial, like a pesto. Just off-chill here–the flavors get rounder as the wine warms up in your glass, which is nice. This was my favorite white of the box.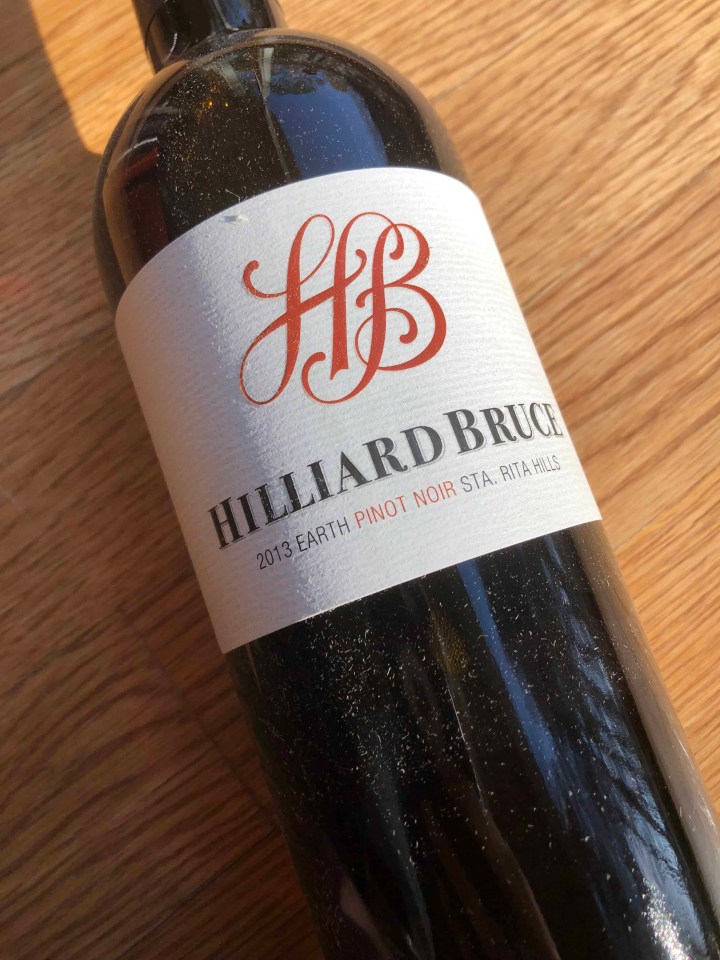 On to the reds. First up was the 2013 Hilliard Bruce Pinot Noir, from the Central Coast of California. Big Cali wine alert!
There is nothing shy about this giant Pinot Noir. This is a classic California Pinot, with a strong nose of red berry and spice. The wine is a pretty red-violet with a huge, mouth-coating body that practically hangs its own shingle.  The flavors are giant, too, with tons of berry, baking spice, and a big dollop of licorice at the back to go along with firm tannins. The big flavors are mostly kept in check by the acidity. If you like this style of Pinot Noir, you'll really dig the Hilliard Bruce. It would be terrific with barbecued pork. Cool room temperature here.
After the fruit bomb of the Pinot Noir, we weren't sure what to expect from the 2015 Shannon Ridge Zinfandel, from Lake County, California. Zins can run heavy and sweetish to astringent and tannic, depending on the type of barrel-aging. In this case, we have French oak and stainless steel, which avoids those vanilla flavors you can get with American oak.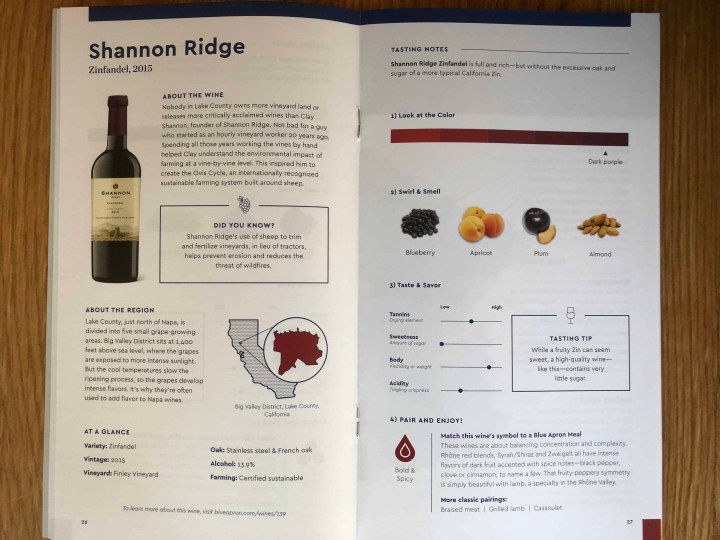 The Shannon Ridge is very dark purple in the glass, and very heavy in weight, almost like a Cab. It has a surprisingly bright nose, with some fruitiness and not much spice. The flavor leads with dark fruit but quickly picks up some tannic, almost-menthol notes that leads to a short, sharp finish. This is an interesting Zin, not particularly heavy in flavor or ABV (a moderate 13.9%), but not sweet or insubstantial. It reminds me somewhat of a Bordeaux. I only got a taste of this one at the party, but I wish I'd had the chance to have a full glass and really think about it. I think it would go very well with any roasted meat–I'm imagining a nice roast with carrots and potatoes. Yum. Cool room temp here.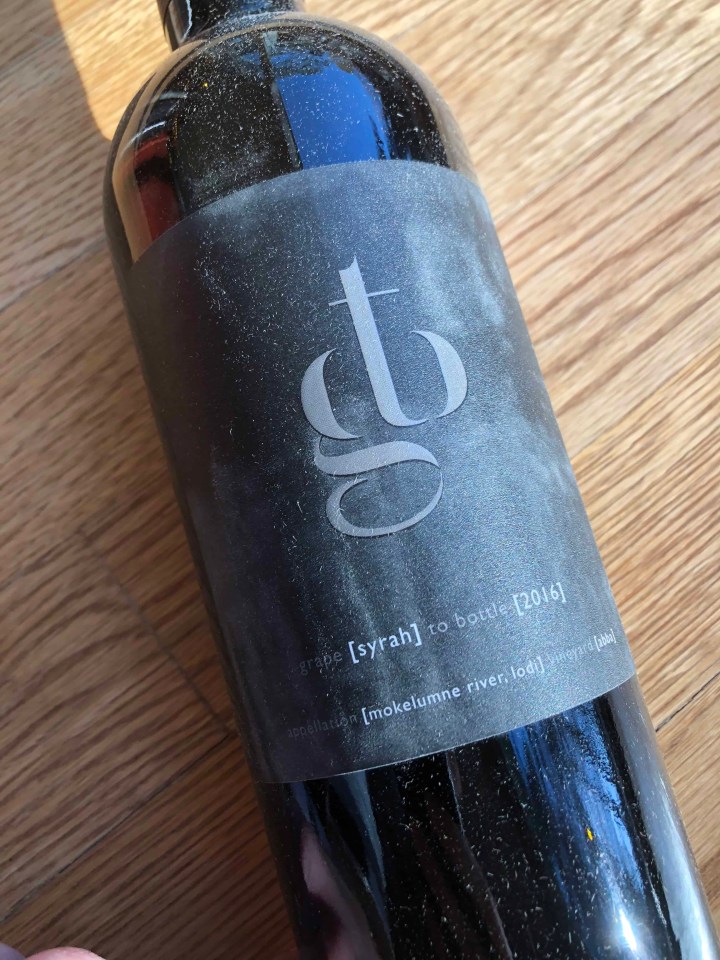 Our last wine on our American tour is the 2016 GTB Syrah, from Lodi, California. The labeling feels a bit engineered-to-appeal-to-Millennials for my taste (not being a Millennial myself) but the vineyard of origin for this Syrah is legit, so I'll overlook the gimmickry.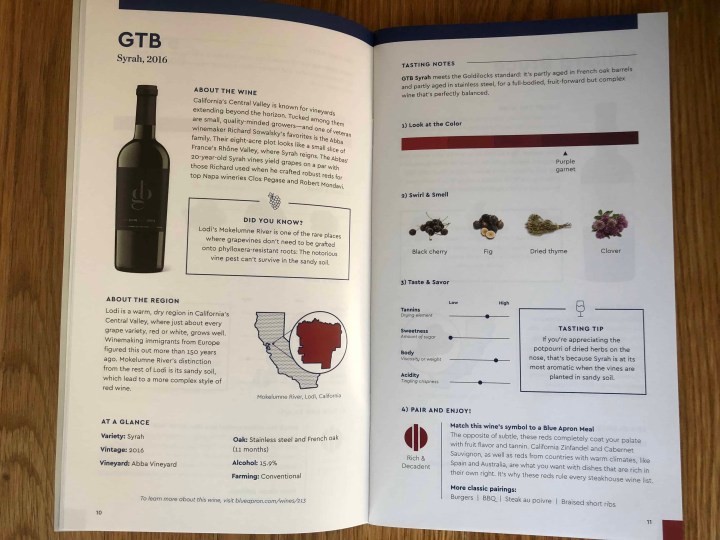 The wine is a saturated dark magenta, with a restrained nose of dark fruit and herbs. The body is not quite as high as the Zinfandel, but still very substantial. The flavors taste a little muddy, with a dollop of plummy fruit to start that gets overtaken by a vaguely floral herbal finish with a bit of alcohol heat to the back and medium tannins. The very high ABV of 15.9% makes this wine challenging to pair with food, but it would probably stand up well to a burger or steak. One of our party-attendees declared this his favorite of the tasting. I'd drink it at cool room temperature.
Our American tour was informative, and it's nice to know that you can try a variety of styles without risk with Blue Apron.
Oh, and if you need some French restraint in your life after all those giant American wines, you can check out this handy map.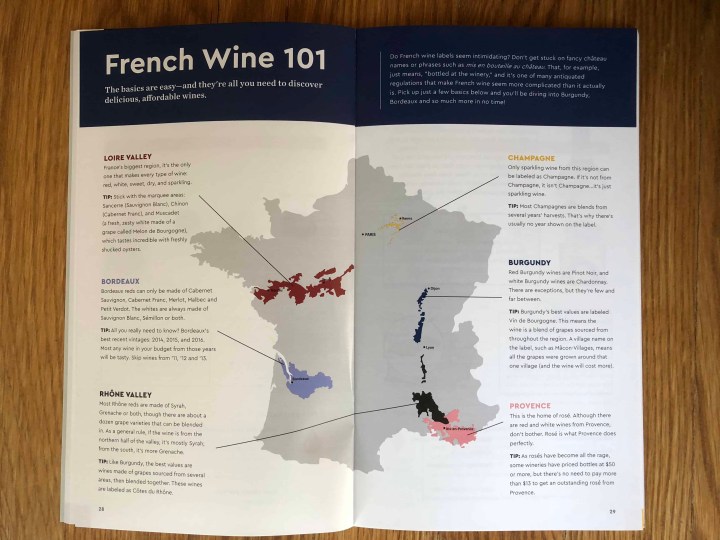 By the way, Blue Apron has an easy system for pairing its wines and its food subscriptions, somewhat like you might have seen in nicer grocery stores — the wines are categorized by type (crisp & minerally, plush & fruity, etc.) and then that symbol shows up on the food recipes. Pair any wine of the recommended type to the food, and voila — you have a great meal!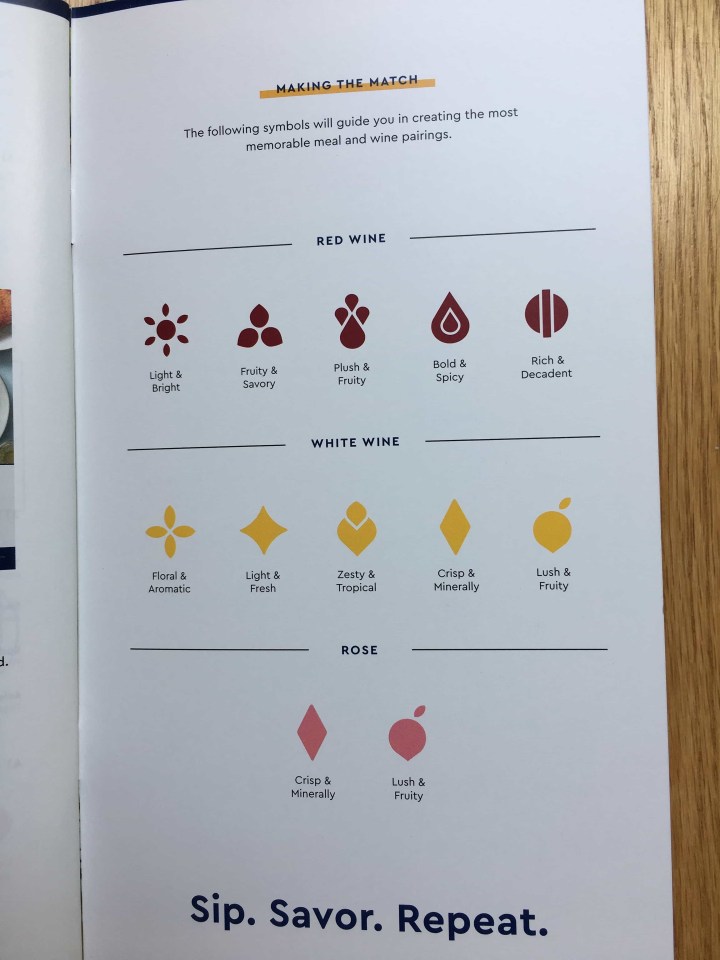 Have you tried Blue Apron Wine? Do you prefer American or European styles? Tell us in the comments below!