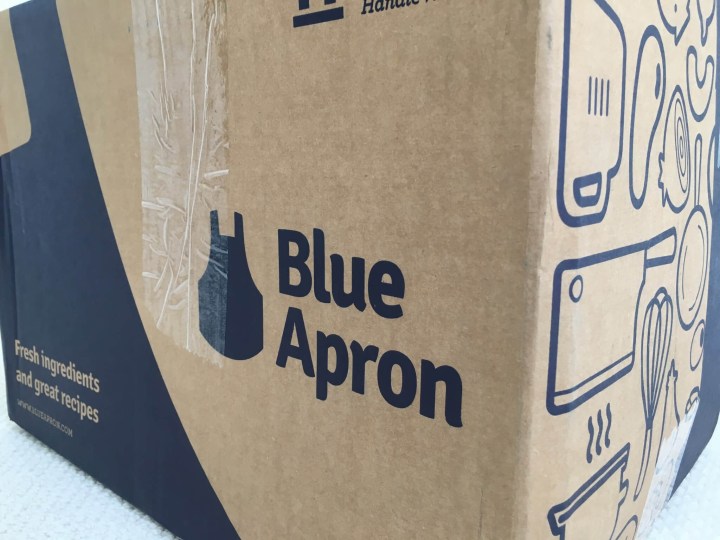 Blue Apron is a subscription box for making great meals at home. If you're like me, you periodically find yourself in a serious cooking rut. You make the same things every week, but the thought of researching a recipe and acquiring all of the ingredients is just too much work. Blue Apron is the solution! Each week, Blue Apron sends you a refrigerated box with all the fresh ingredients you need to make the included recipes. You can select the 2-person plan – 3 meals a week of 2 portions each – or the family plan – 2 to 4 meals a week of 4 portions each. The menus are set, but you can ask Blue Apron to avoid ingredients you don't eat – shellfish and lamb, in my case.
We got the Family Plan for 2 meals. I set the delivery date and it arrived right on time, securely packaged in a heavy-duty box. All of the ingredients are wrapped in an adorable insulated blanket and cooled with ice packs. Mine took a day to arrive and sat on my porch for 3 hours, and everything was perfectly cool inside.
Pricing: 2-Person Plan – $59.94 for 3 recipes. Family Plan (serves 4) – $69.92 for 2 recipes, $139.84 for 4 recipes. 
CURRENT SALE:  Blue Apron is offering $40 off your first 2 boxes of Blue Apron Just use this link to subscribe. Valid through 4/1! Plus, Blue Apron is introducing the new March meal – the Mediterranean Diet Recipes!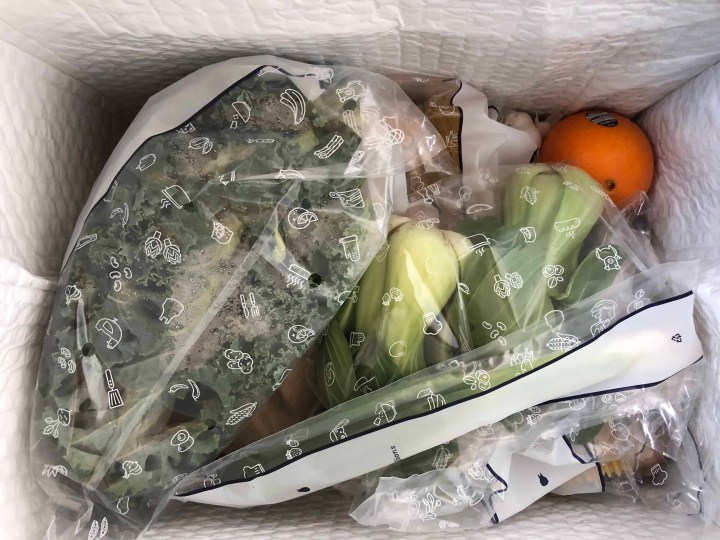 Historically, the meals have been generally divided by meal in paper bags, but I guess they've abandoned that approach. Just adds a little sort time, no big deal.
DEAL: Save $30 on your first order! Use this link – no coupon code required!
The meat is at the bottom, surrounded by still-frozen gel ice packs. The fish was not double-bagged this month again, but the chicken was. Zip-top bags can save a box from a leakage disaster.
Our first meal was the Soy-Orange Salmon and Vegetable Fried Rice. Pretty sure that's an extraneous hyphen.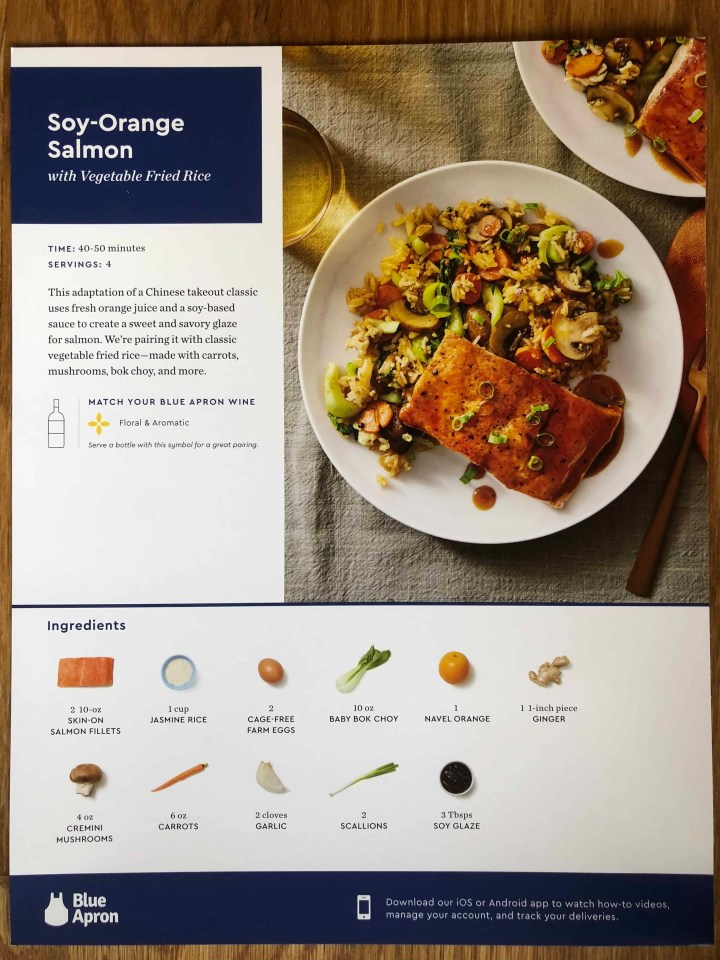 As usual, all of the ingredients were included. We eat salmon often, but I can't say that I've ever made my own fried rice, so I was excited to give this a go.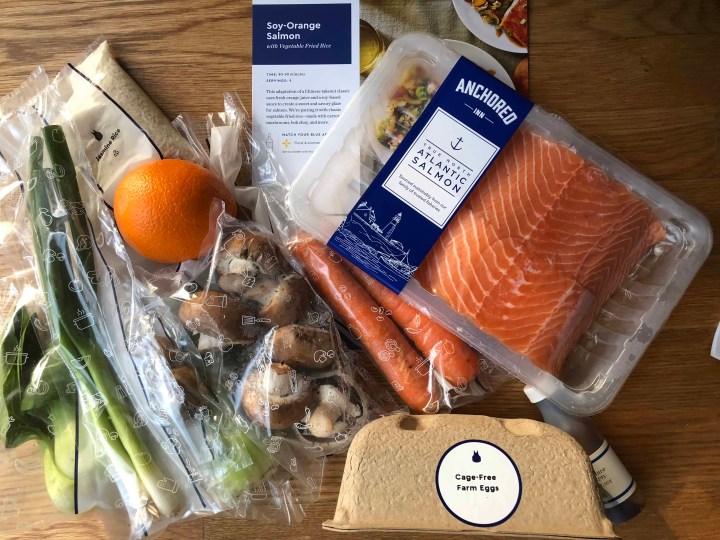 The meals come with nutrition info and ingredients. Know what you're eating!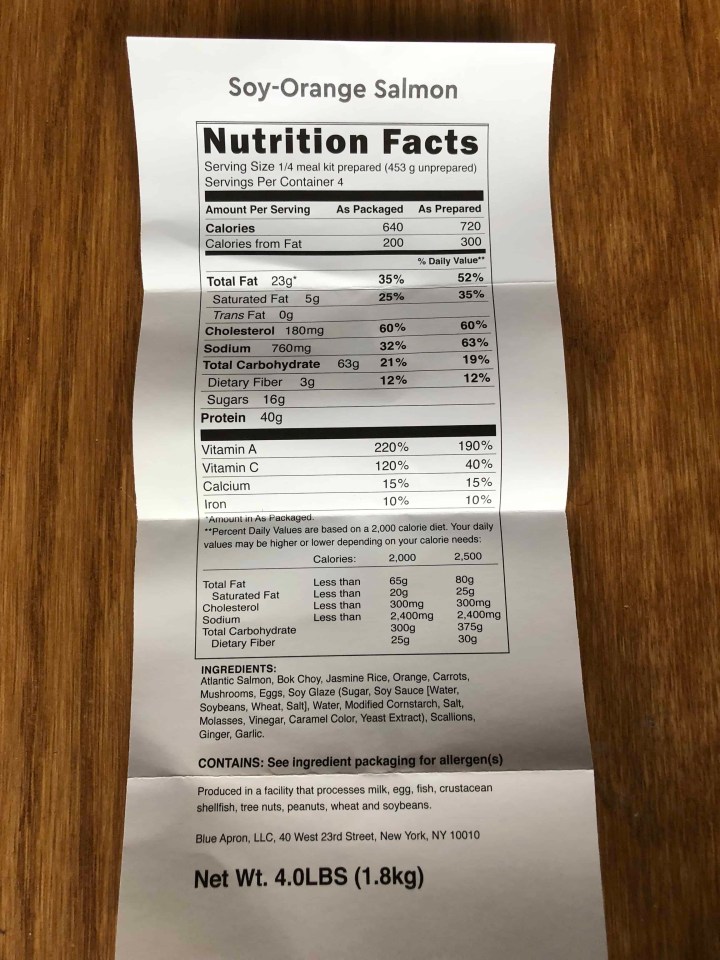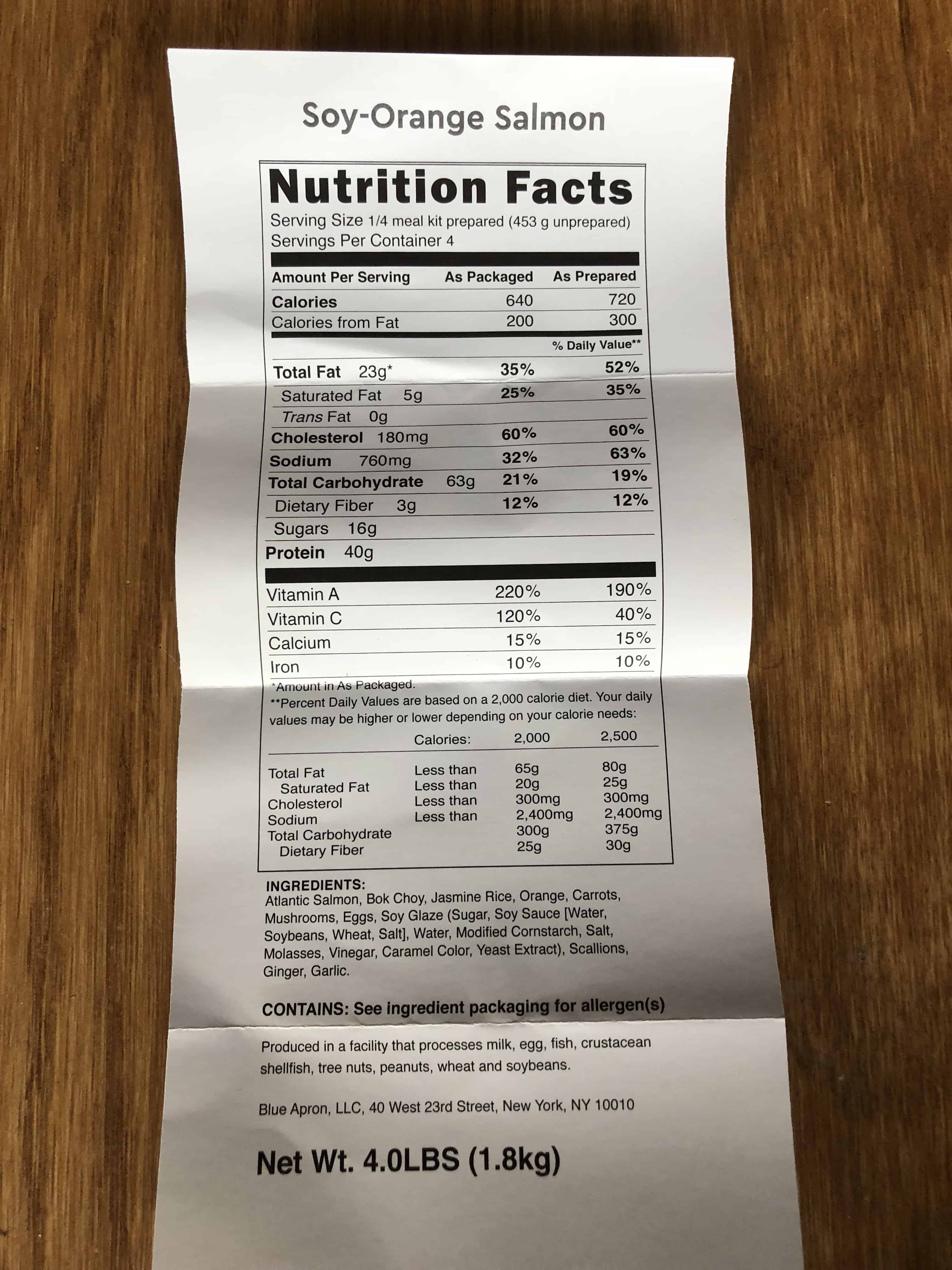 This prep was easy and straightforward, as long as you remember to start the rice at the beginning. A fair amount of chopping but nothing hard. (I always grate the ginger instead of chopping it.)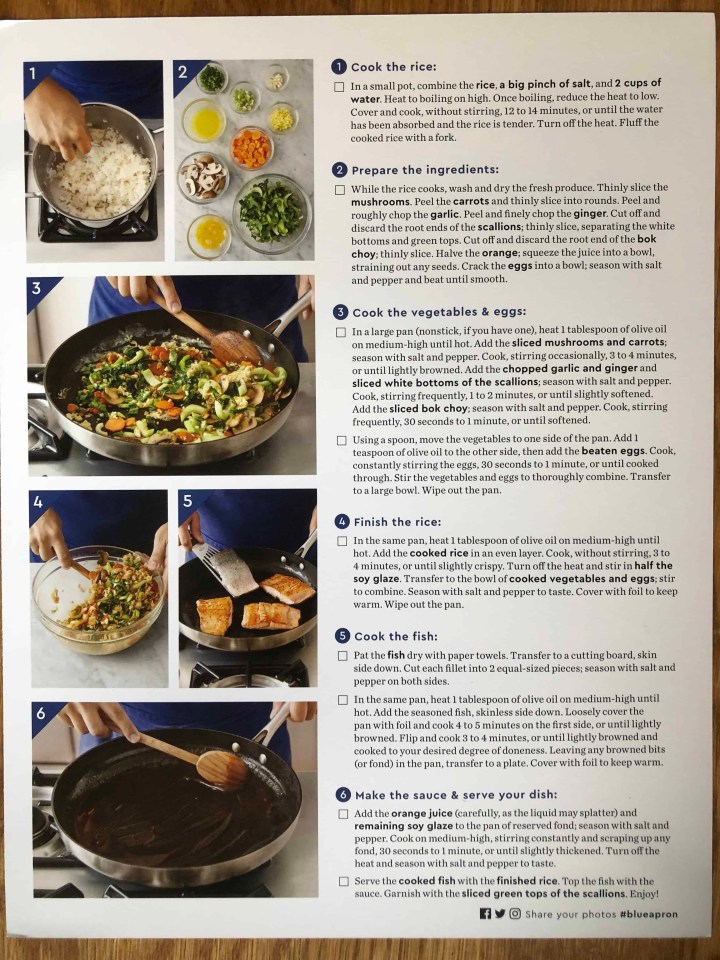 A whole lot of mis en place. And, yes, that's a Blue Apron wine subscription bottle over there.
The fish was in nice shape, without any fishy smell. I like my salmon skin-on, as this was, but I de-skinned for the kids, because obviously it would instantly poison them. (Kidding about that, but not about the actually-potentially-hazardous pinbones in the salmon, of which there were several. Make sure you check your fish before you cook it. Pinbones are easy to remove with scissors–just grab the end of the bone and pull straight out).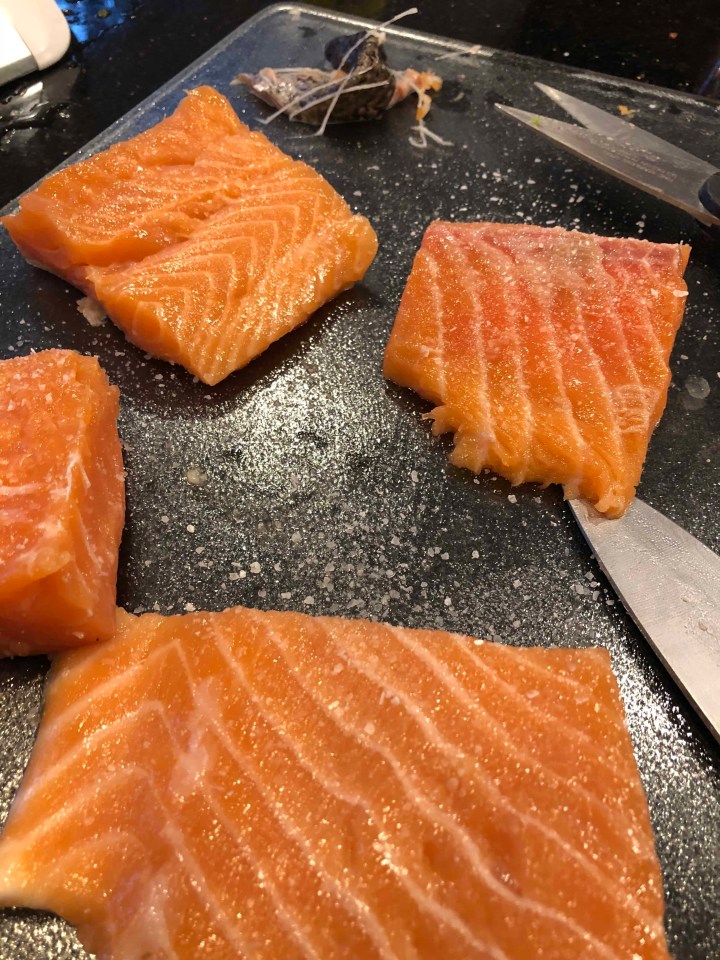 This was tasty, and everyone liked it. The orange-soy glaze was good, though perhaps not quite as plentiful as we would have liked. (I'm also generally side-eye on recipes which depend on one pre-made ingredient, like the soy glaze–I'd rather be told how to make it myself, or at least have it be an item I could easily buy myself from the store). The fried rice was easy and definitely something I could do myself another time, with whatever veg I have on hand. That's one thing I love about Blue Apron–I get experience making something I would never consider trying, and I eat ingredients I otherwise would be hesitant to buy, like bok choy. Thumbs up.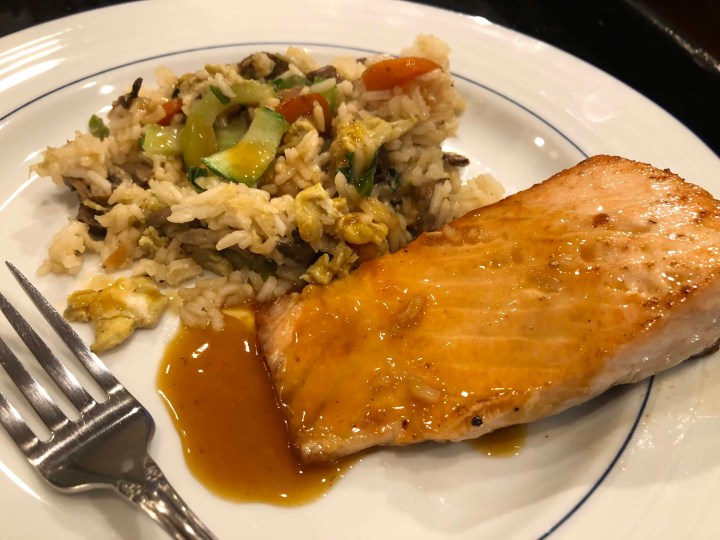 Our second meal was the Stovetop Chicken Parmesan with Spaghetti and Kale. Oh, kale, why do you keep coming back to me?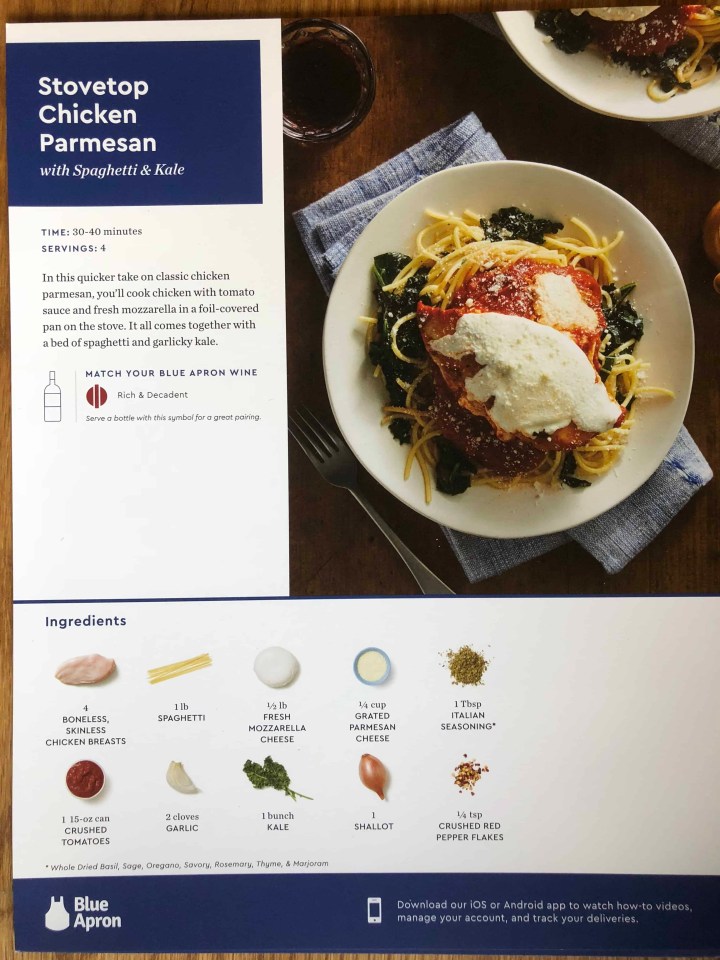 All of the produce was in good shape this month, except–
My shallot was moldy on top. 🙁 Shallots are tasty but I didn't have time to go to the store to replace it, so I left it out.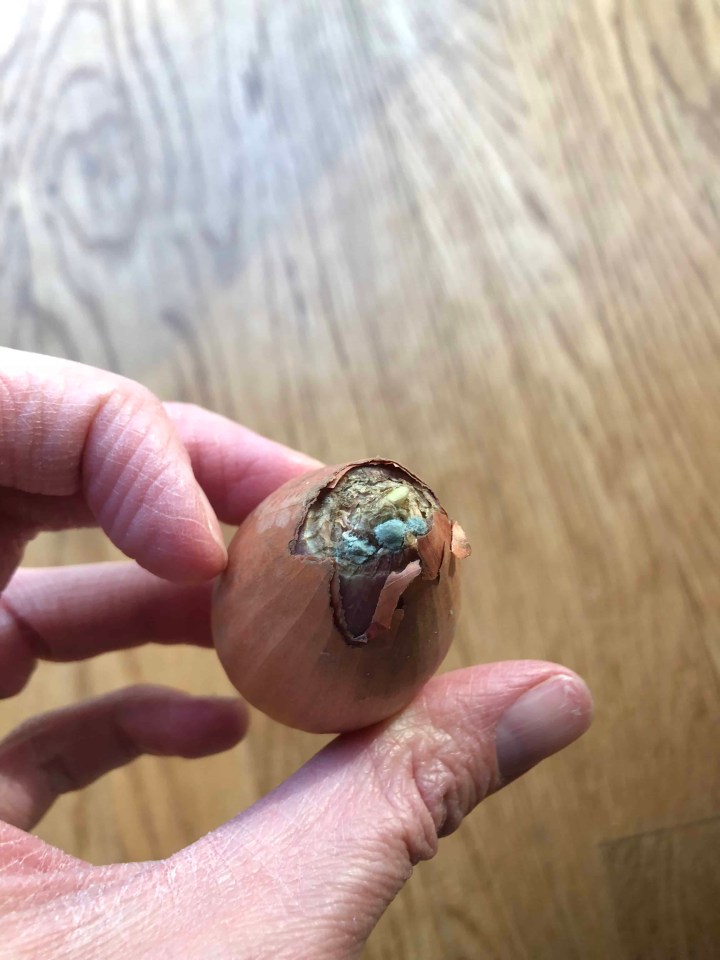 Normally, Blue Apron does a great job of sending you just the amount you need for the recipe, so you don't waste anything; nor do you have to think about how much to add to the recipe. This month, the recipe reviews noted that the sauce was a little sparse for four people, and I'd agree.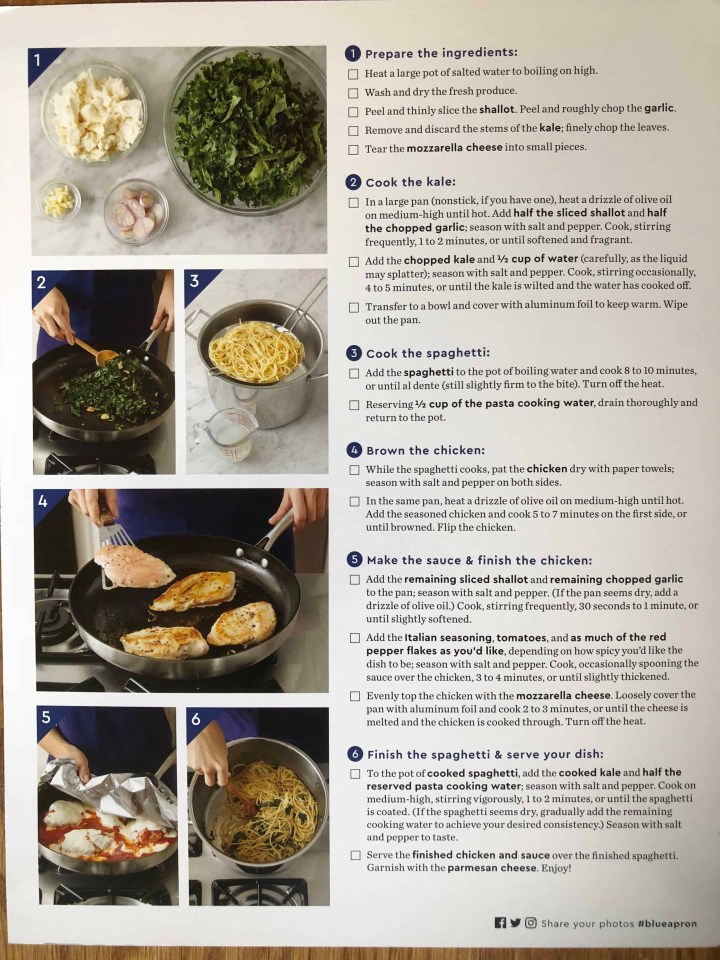 Each recipe comes with these easy-to-follow instructions. Even if you are new to knife skills, you will be able to do everything on this list. Okay, so I hate it when people reviewing recipes are like, "It was great! I only changed these 17 things." In the case of this recipe, however, I changed some things up. I think chicken on the stovetop cooks extremely unevenly, and the chicken breasts in the box were quite thick. So I seared them on the stovetop and stuck the pan in the oven to finish. (Don't do this if you use a nonstick pan.) Use that kitchen thermometer and pull the chicken out when it hits 160.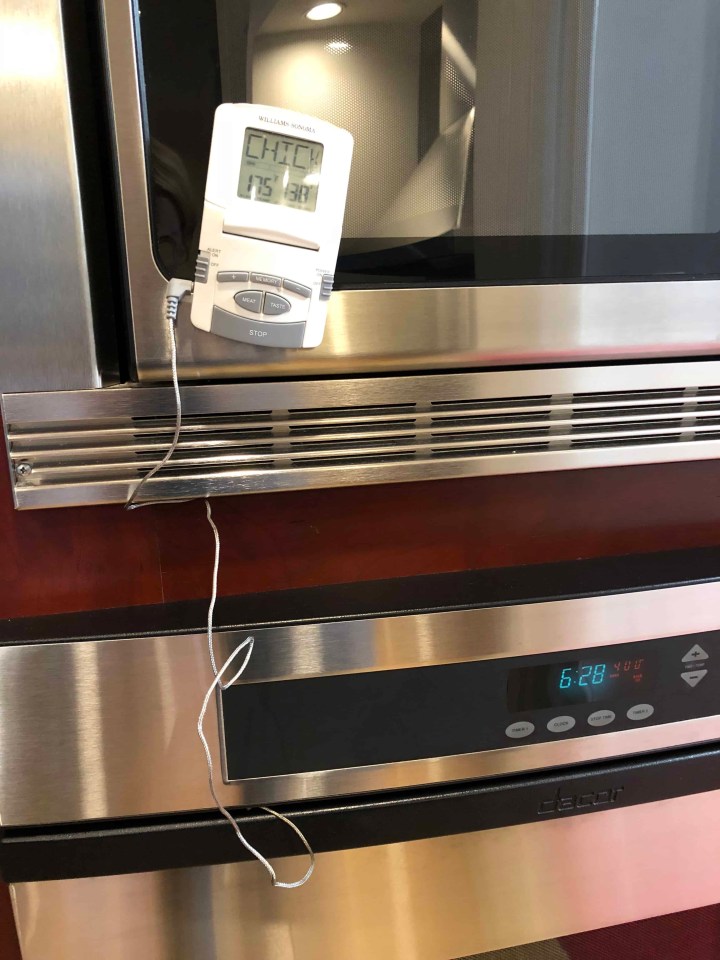 Also, the amount of kale seemed weird to add it to the pasta–there wasn't enough of it to be more than just a few random pieces scattered in your serving. The recipe instructions made it seem like it was supposed to be part of a sauce, but then it put the sauce in the chicken directly. I cooked the kale to an almost-edible state on the stovetop and served it separately. I also heated the sauce through separately on the stovetop, because I wanted to put most of it in the pasta directly. I dolloped a little on the chicken after it came out of the oven to give the mozzarella something to stick to, then I put the pan back under the broiler for a couple of minutes to melt the cheese. Then I assembled all the parts.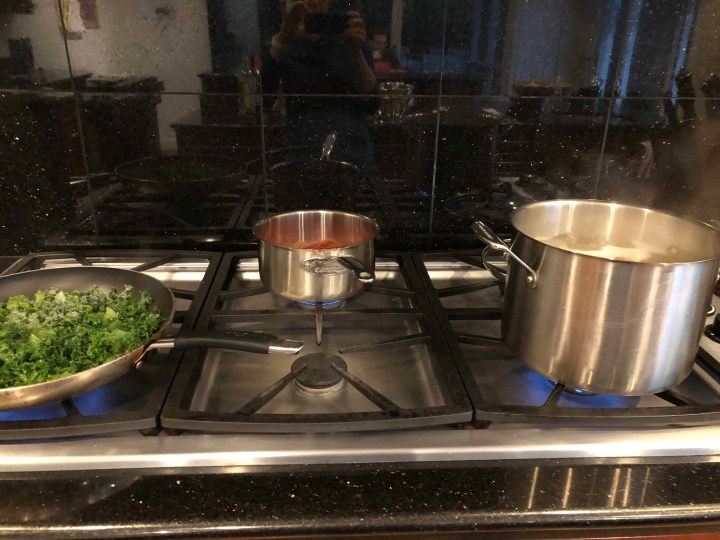 Nutrition facts are good for you.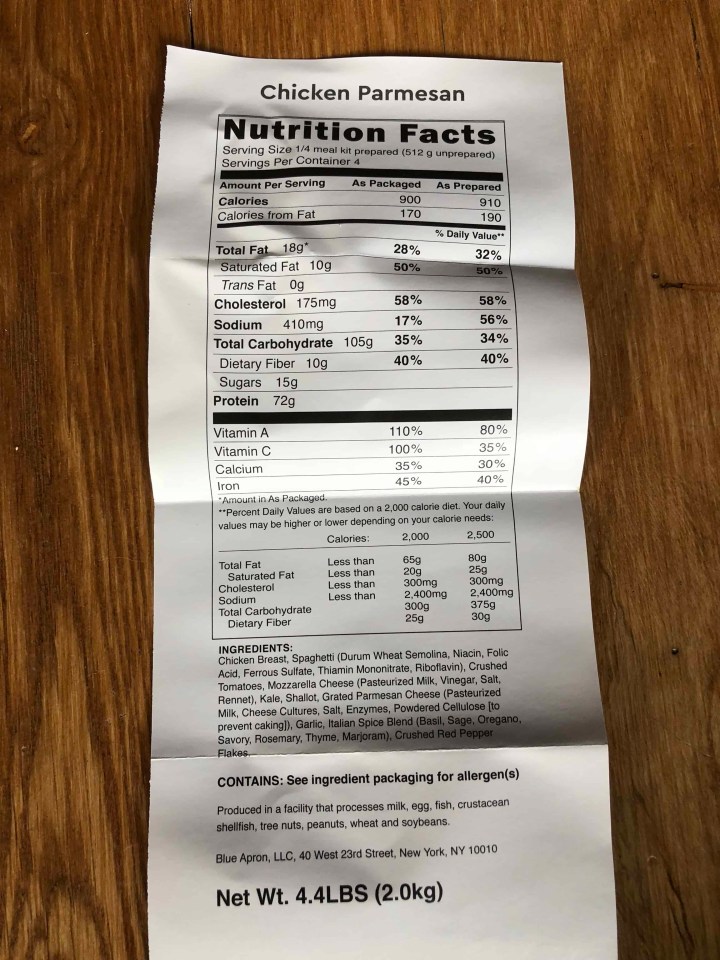 The end result tasted good and was filling. (Yes, I tossed a little fresh basil on there just to be a jerk). Everyone liked it. Well, except for the kale, which we all just tolerated. It's worth remembering that even with a subscription box, you're the boss of your kitchen, so if something doesn't look like it will work, change it up.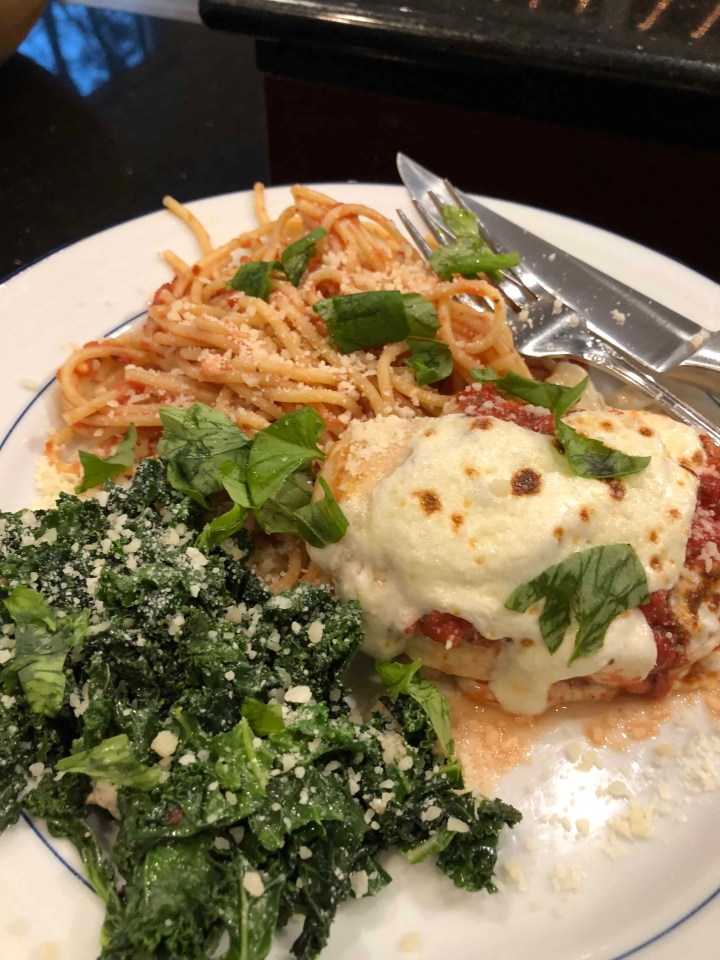 Hey, did you know that Blue Apron has a wine program now? It's super easy to match your wine to your meal, like the tasty Pinot Gris we had with the salmon.
It's nice to not have to decide "what's for dinner" all the time. Overall, Blue Apron has been enjoyable and gets us out of our boring dinner routine. Honestly, you can forget how fun cooking can be. Interesting ingredients, easy recipes, and delicious food. We can't wait to see what we get next time!
Do you actually like kale? Let us know in the comments below!