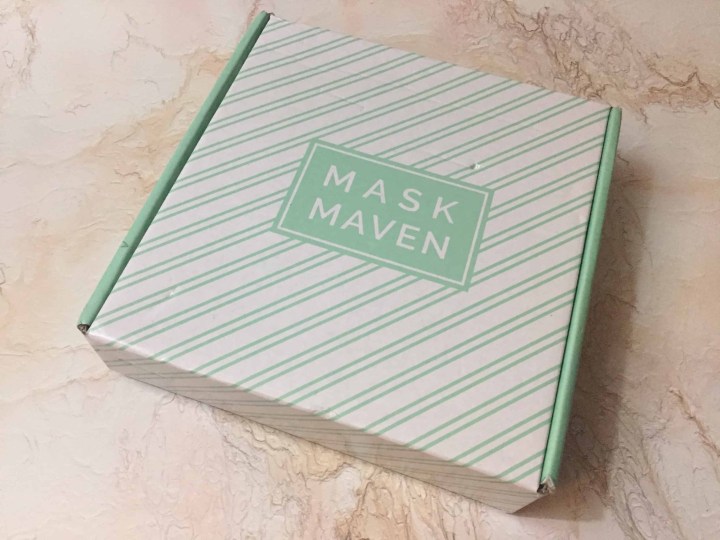 Beauteque offers two ways to get your fill of (mostly) Korean beauty products each month: BB Bag contains 6-8 full-sized products such as makeup, skin care, body care, and more for $24 per month; Mask Maven brings you 9 different masks for $15. Both subscriptions are offered in 1, 3, 6, or 12-month terms that will automatically renew until canceled.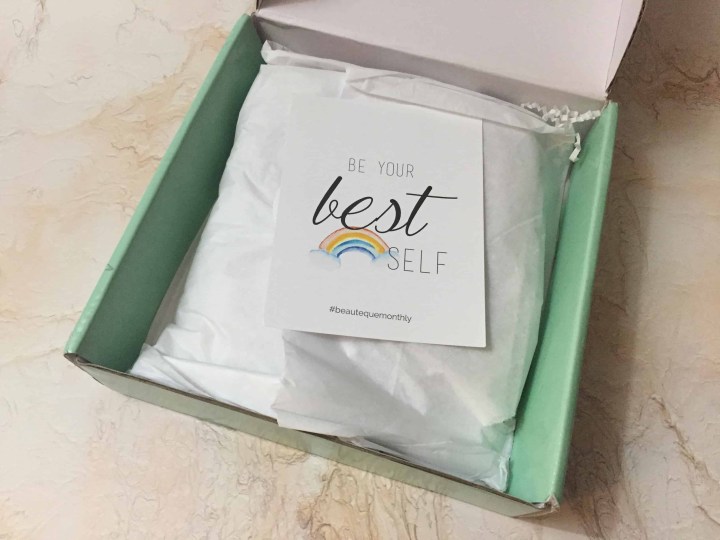 DEAL: Save 10% on the BB bag or Mask Maven with coupon code CRATEJOY10.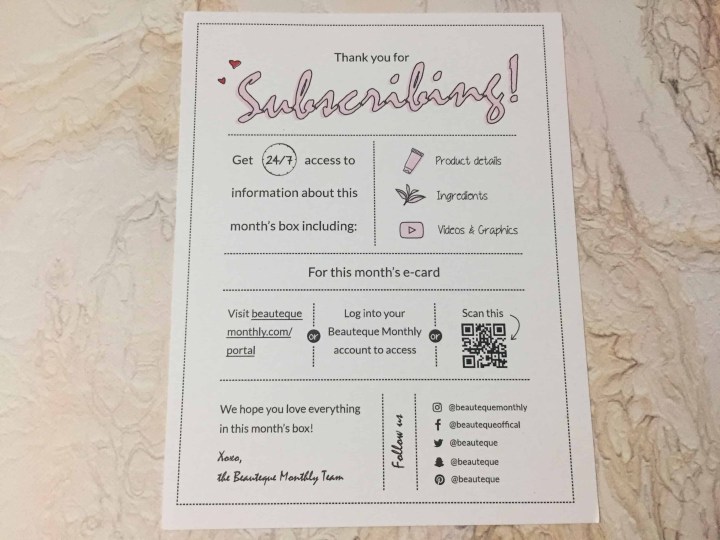 Beauteque has made some changes. Both subscriptions now ship in boxes, and the information card is all digital. You can log in to your account to view the card, scan the QR code, or check the Portal. This is a one stop shop to view all the information on the current boxes, past boxes, and also spoilers for the next boxes.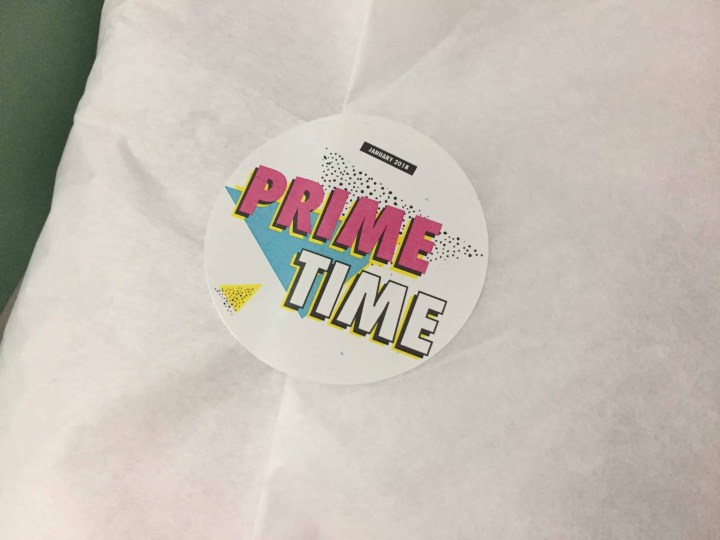 January's theme is Prime Time!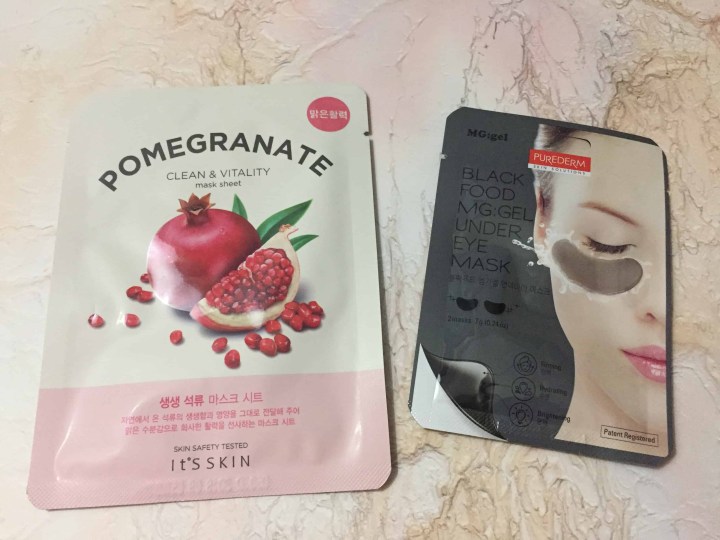 It's Skin Pomegranate Mask — A sheet mask to restore brightness to dull skin.
Purederm Under Eye Patches — These have bamboo water in them to hydrate and help ease dark circles. I love under eye patches when I don't feel like doing a whole sheet mask.
Nohj Aloe Mud Mask — December included a Nohj mask which is a brand I'd never heard of. Their masks are stunning, with gold foil designs and they fit my face really well. This is a soothing aloe mask.
Nohj Tea Tree Mask — Another Nohj mask with tea tree oil in it, which is also soothing.
MJ Care Black Charcoal Mask — MJ Care is another brand I learned of through MM, and their masks tend to fit me really well so I like them a lot. This contains charcoal extract to purify the skin.
Goodal Waterfull Mask — Pretty sure I've been sent this one before, but I love Goodal so that's OK by me! It has hyaluronic acid in it for extra hydration.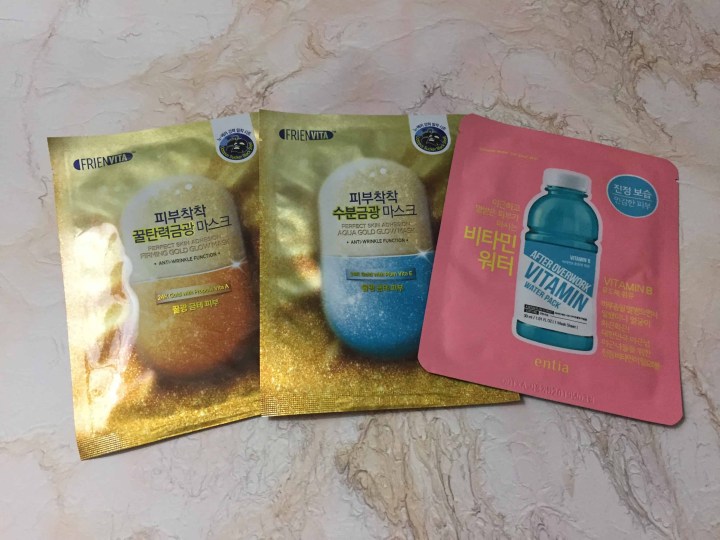 Frienvita Gold Glow Mask — A black mask containing 24K gold. I have never heard of this brand but they claim their mask fabric is as strong as an octopus' tentacles and it won't slip or slide. Apparently the material is made from octopus?!
Frienvita Aqua Gold Glow Mask — Another Frienvita mask, but I couldn't find as much information on this one.
Entia After Overwork Mask — This sounds heavenly, and perfect for a break after a long workweek. Vitamin B, centella, licorice extract and chamomile are all so healing and soothing.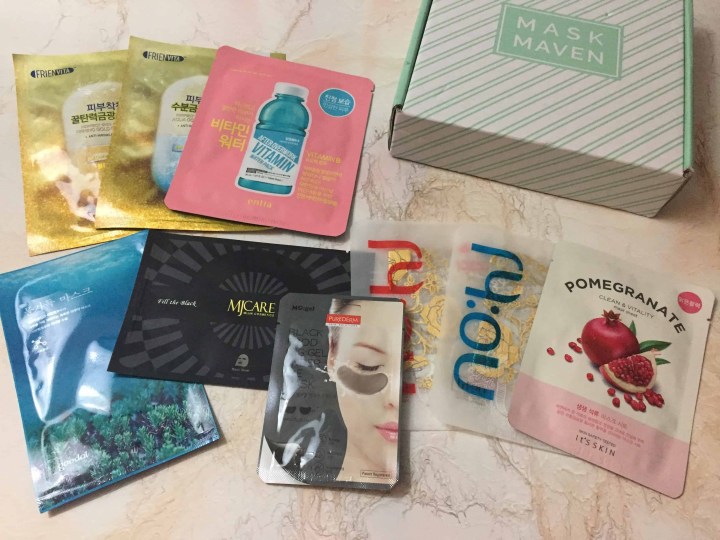 The January box was great. One thing to note about MM is that it is shipped at the end of the month, so I didn't get my January box until the end of February. I feel a bit behind whenever I get my box! But it's worth the wait, as they pack a great selection of masks into the box.
What did you think about this month's Mask Maven?