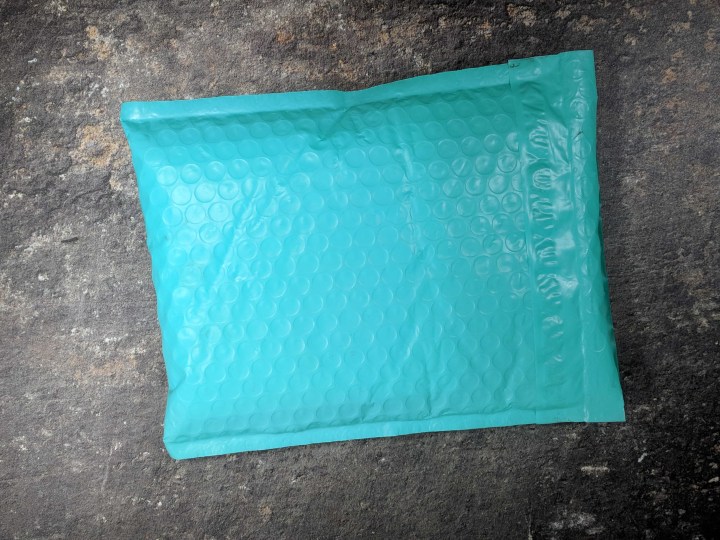 Bargain Bead Box is a monthly bead subscription service. Each month, you'll receive over $40 worth of top-quality jewelry supplies. It can be a mix of loose beads, bead strings, findings, and pendants. You can share your creation on their social media for a chance to win a $25 gift certificate for their sister store Bead Box Bargain. Boxes are $15.95 per month. Shipping is free in the US and $7.50 to Canada. Even if it's technically a subscription box, it comes in a teal bubble mailer, which is less expensive than a box so they can send more beads! And more beads is more fun!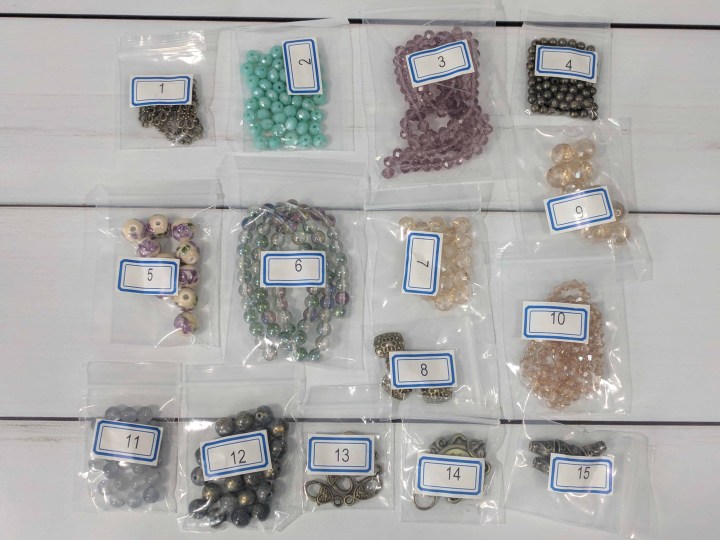 All the beads are packed in well-labeled plastic bags and tucked inside an organza bag. On the reverse of the introduction letter, we get a description of all the items in this month's box, with some gemstones once again!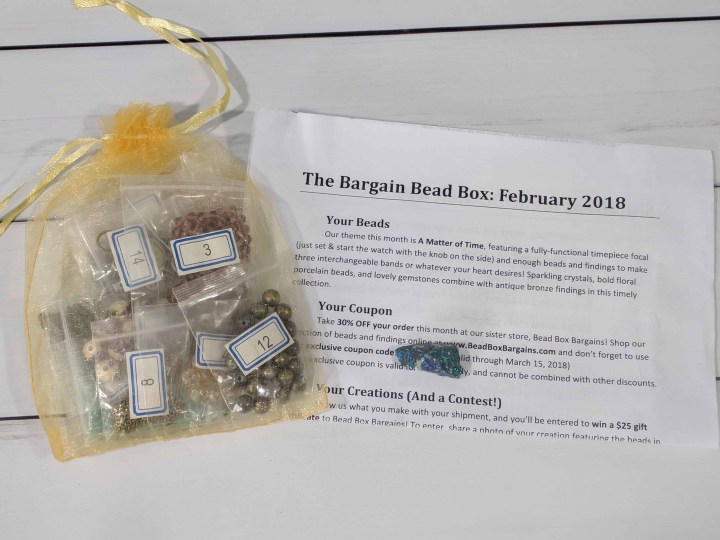 Each month is curated around a different theme and all the beads and findings are coordinated. This month's theme is A Matter of Time and features a fully-functional timepiece focal, with antique bronze findings!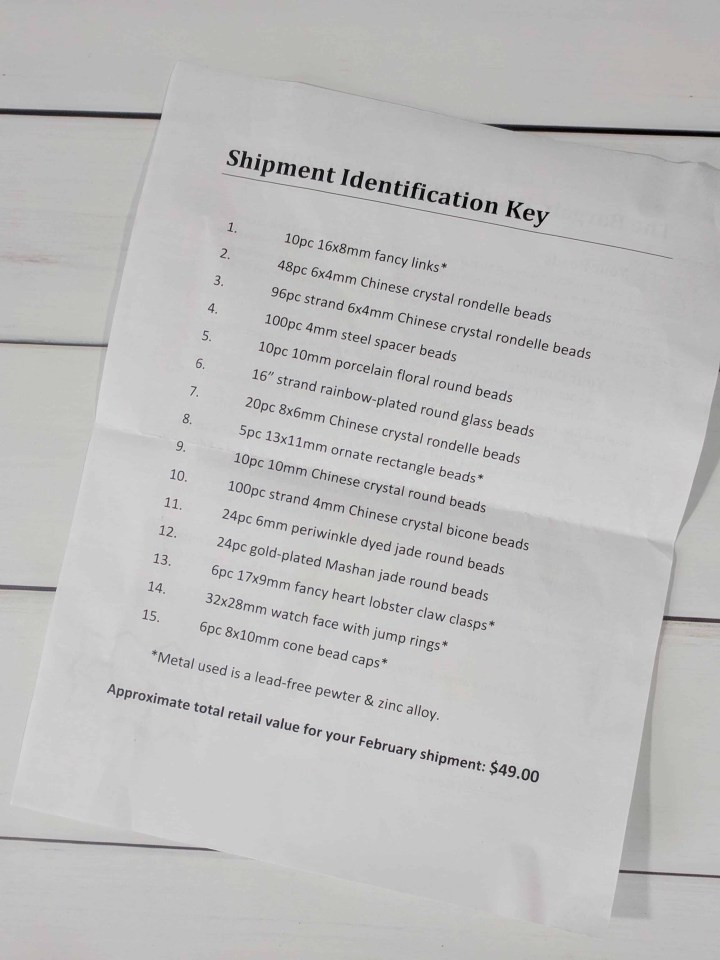 We also have a Shipment Identification Key.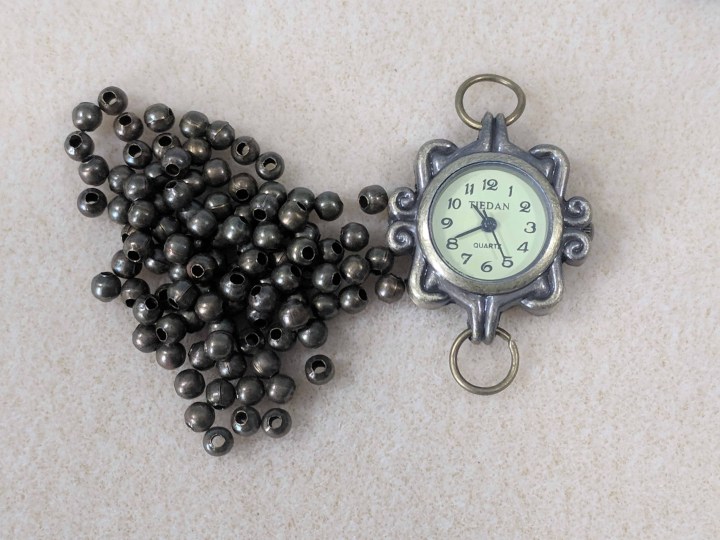 32 x 28mm watch face with jump rings. This a lovely vintage looking watch! I'm happy that it came with jump rings as the holes are big, but it would still be a struggle to fit a jump ring if you don't have the right one in your stash. At least, now, you have a back up plan! As soon as I saw it, I though that it would make a lovely pendant. Which I did in my project!
4mm steel spacer beads. Always a staple in this monthly box, spacer beads are a great way to add a bit of metal in a design and to tie the watch face to a beaded design! I like to add them on both sides of an 6x8mm rondelle beads for a vintage look.
16x8mm fancy links. They are so pretty and delicate! The obvious option would be to use them as a bracelet for the watch piece, but they could be used for chandelier-type earrings, or to make a focal piece on a simple chaine.
17x9mm fancy heart lobster claw clasps. An other staple in the Bargain Bead Box is at least three closure set. The lobster claw clasps are very pretty with enough details to want to make them part of the design. They don't need to be used only as closure, they can be use to add a removable details to a piece (see my design for an example).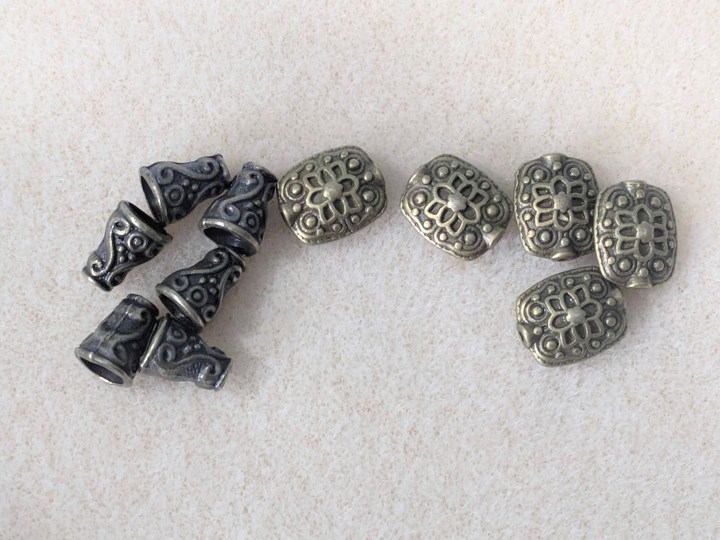 13x11mm ornate rectangle beads. They are little flat pillows of vintage goodies! Paired with a simple pearl, they would make amazing earrings or bracelet component!
8x10mm cone bead caps. They are a bit long for my liking, but bead caps can be used to hide the ends of a threaded necklace, or for a tassel.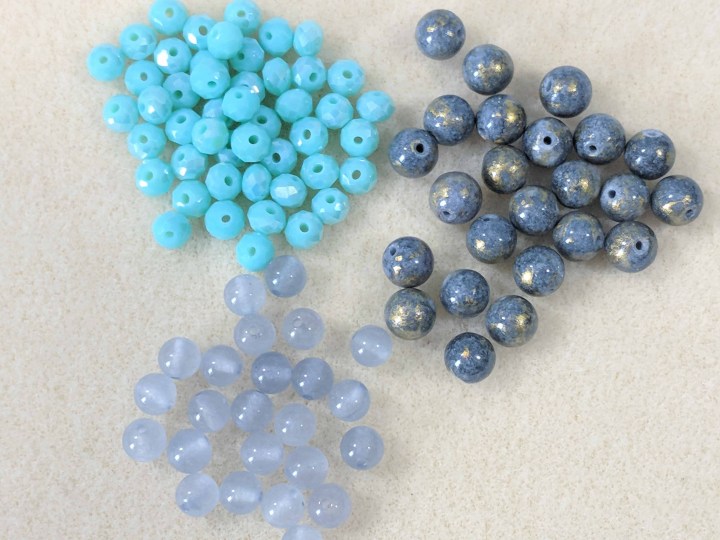 6x4mm Chinese crystal rondelle beads. I love the turquoise color! I think it looks lovely with the antique bronze color. It's so bright and beach looking though…
6mm periwinkle dyed jade round beads. Such a lovely light color! I like simple beads like this, they fit into any design without being to blingy. I also like gemstone, even dyed one, for their weight and they look amazing.
gold-plated Mashan jade round beads. Probably my favorite bead in this month's box. Mashan Jade is not a type of Jade, but a dyed Dolomite. It is still lovely! I will keep them to make a wrap bracelet with black cord.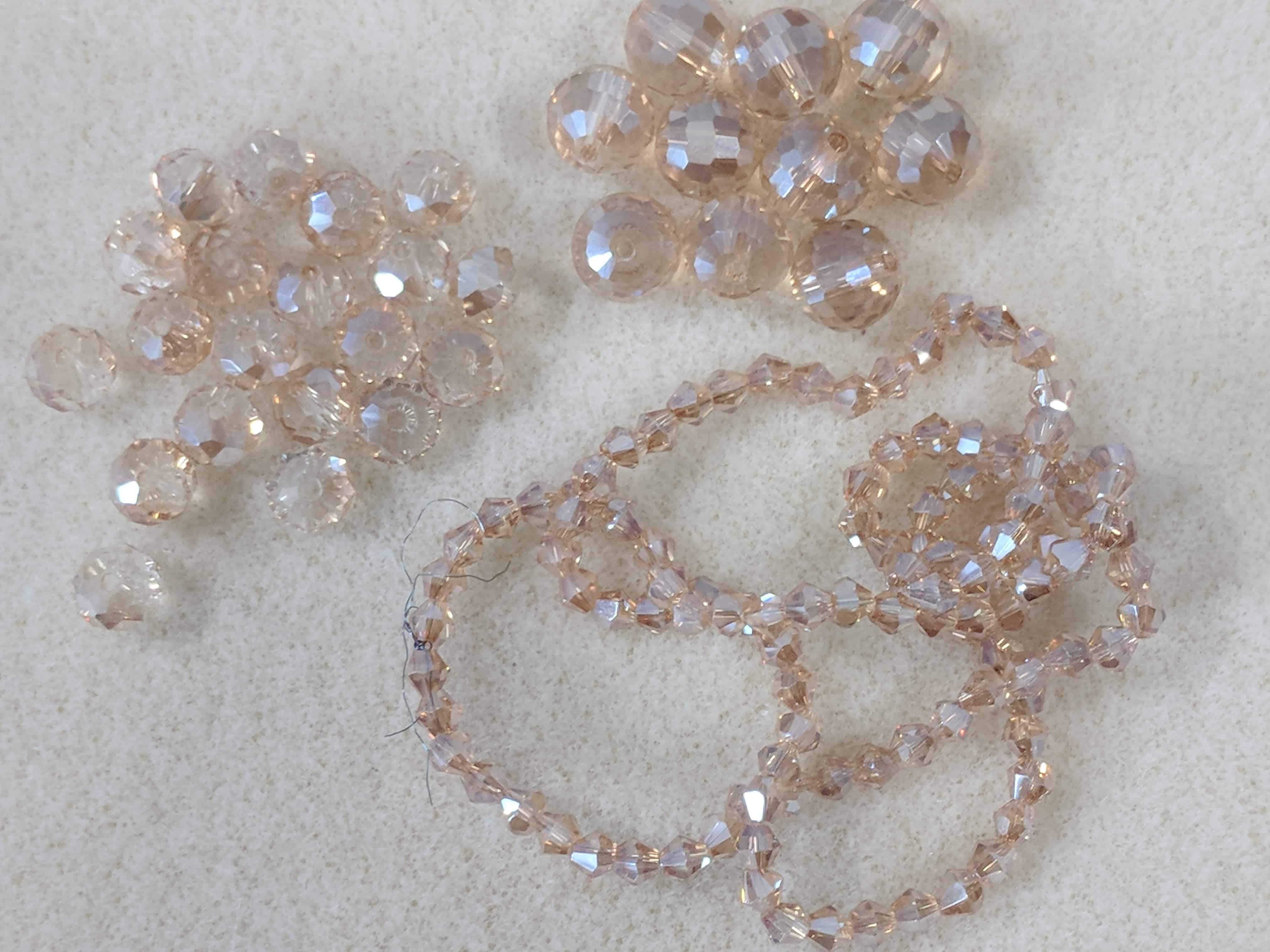 8x6mm Chinese crystal rondelle beads. Rondelles are great paired with spacer beads or bead caps. I like the color, it would nicely goe with vintage pearls.
10mm Chinese crystal round beads. I like this size for dangles or to add to a tassel component.
4mm Chinese crystal bicone beads. Bicones are a staple in the Bargain Bead Box. They are lovely with metal, they can add a bit of sparks to simple design without going overboard. I actually made chain links with them, paired with small tiny spacer beads. Sadly, I ran out of my spacer beads and of metal pins, so I wasn't able to make as many as I wanted.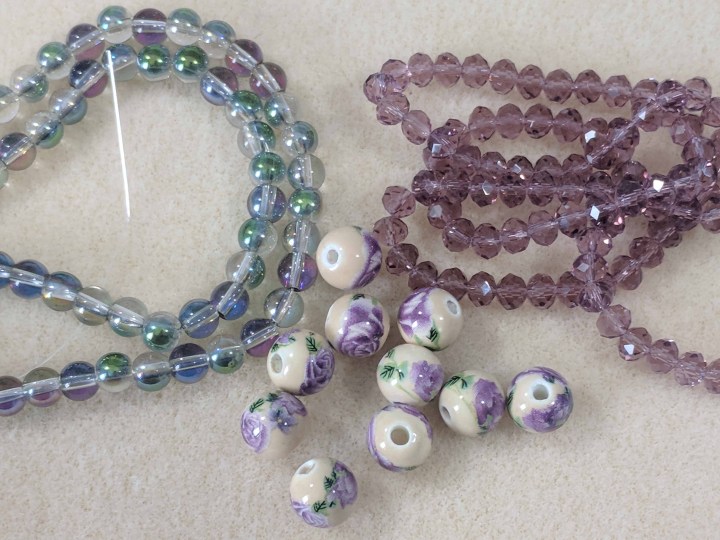 6x4mm Chinese crystal rondelle beads. I like these rondelles, the color goes perfectly with the watch and the porcelain beads we received as well. I used some of them in my design to make chain links.
Rainbow-plated round glass beads. Round beads are fun to pair with bead caps.
10mm floral round beads. They are lovely! I really wanted to use them in my design, but I find them too big to use more than one or two. They would be lovely simply knoted on a thick cord for a necklace or bracelet for a boho look.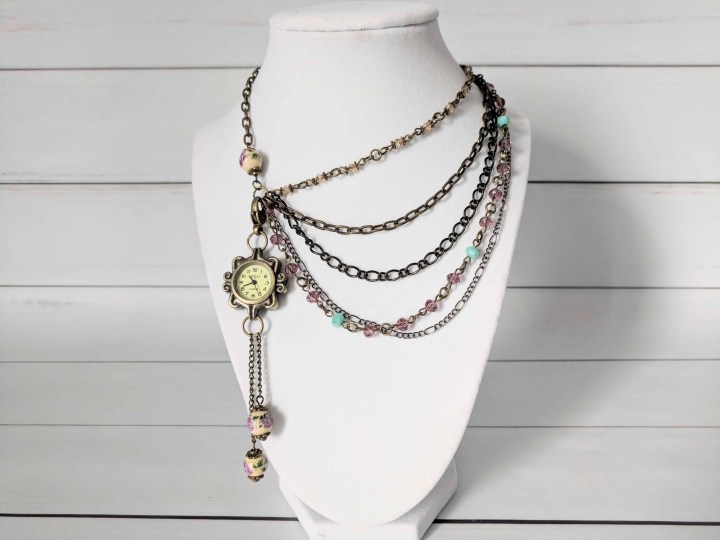 I love chains. I ran out of chains at some point, this is why there's a gap between the top and the second chain. I was going for a seven chains necklace. I've ordered more chains, so this is only a temporary design! The watch is attached to the necklace with the lobster claw, so no awkward twisting if you want to see the time!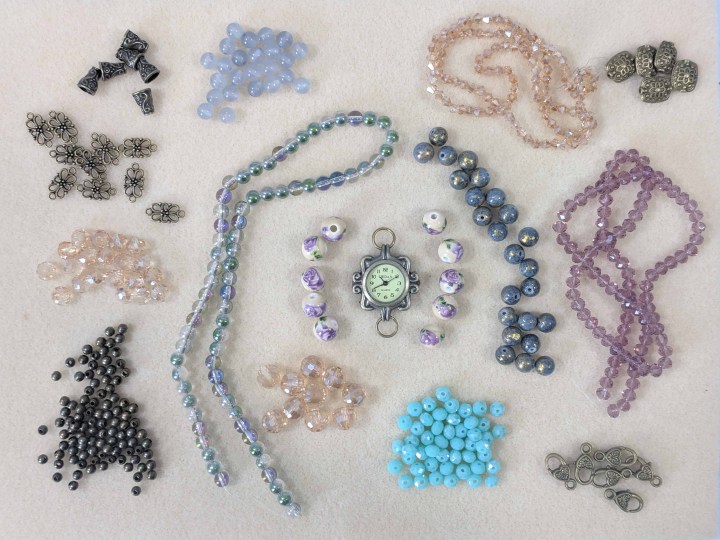 At first, I wasn't a big fan of the watch and that everything in this box screamed for it to be used, but I like when a bead box pushes me to think outside the box. I really liked the Mashan jade beads and I will definitely use more of the porcelain beads for a boho design in the near future!
What did you think of this month's Bargain Bead Box?