Amazon STEM Toy Club is a monthly subscription box service that delivers age-appropriate STEM toy that encourages any child to learn through play. The subscription costs $19.99 per month, and the theme of the month can be anything from natural sciences to robotics. There's always something new to discover in every box of Amazon STEM Toy Club!

There are three age ranges available for this box: 3-4 year old, 5-7 year old, and 8-13 year olds. This is a review of the 3-4 year old box.
The subscription doesn't include any Amazon-generated introductory materials – just the toy in its commercial packaging. It arrives in the usual Amazon shipping materials – multiple age range selections usually ship together.
We ordered the 3-4 year-old and 8-13 year-old subscription items this month. This review will cover the 3-4 year old subscription.
In case you're wondering what's included in the other subscriptions, here's what they have:
Hape Handyman Go-To-Caddy Kid's Wooden Tool Box Set (Amazon Exclusive) ($39.99)This 72-piece set is a fun way for a child to harness their creativity in building and in solving problems. It's a great toy to play pretend handy man. For the life of me I can't figure out why it's called Handy Man!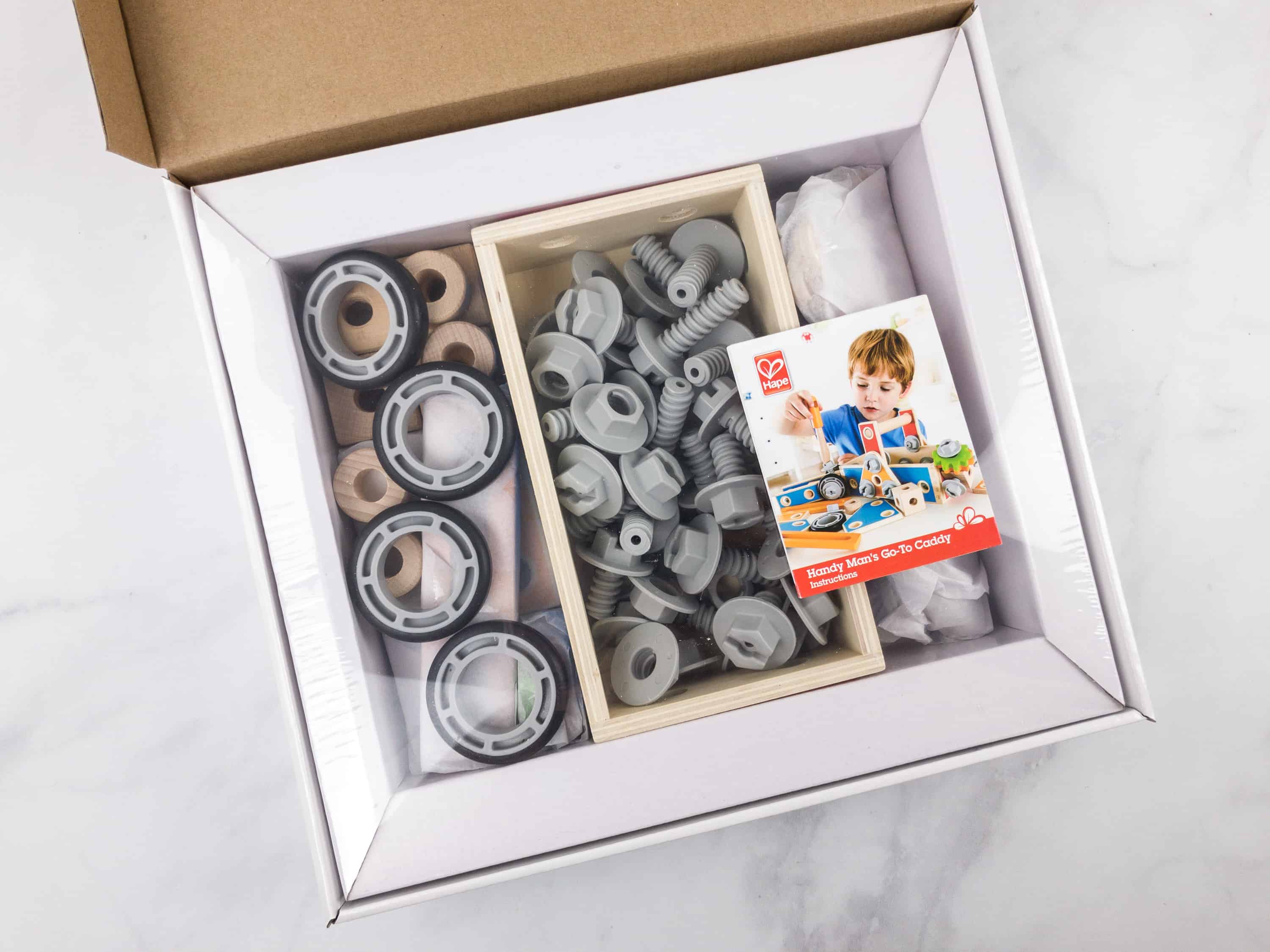 Upon opening the box, you will see the different parts and tools that your child can use to build. They are properly packaged and organized according to their type.
The package also includes a fold out guide which has instructions and pictures on how to build different designs and things. A special page is dedicated to all the pictures of the pieces included in the kit. This way, inventory is a breeze.

All instructions are in pictures so it easy for a child to follow.
The pieces are made of wood and lightweight materials. It has a wrench, screwdriver, screws, colorful wooden pieces, as well as wooden blocks that your child can play and get creative with.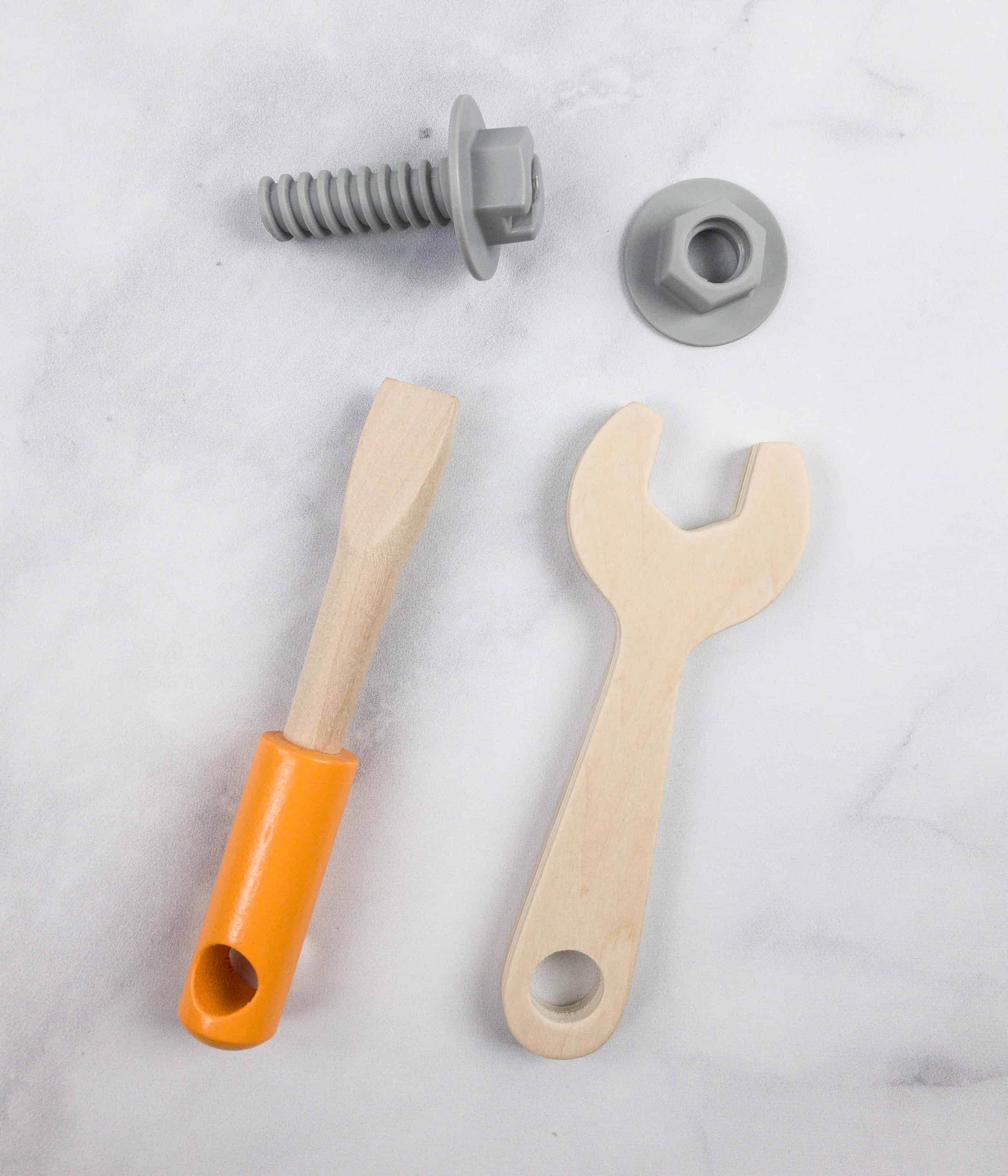 Tools are made of non-toxic, high-quality materials which makes it surely child-friendly. The pieces are carefully crafted to be child proof.
At the back of the box are some information and a diagram of the different skills that Hape offers through their toys. It's good to know that a child can have fun and learn different skills at the same time. No need to think outside the box on this one.
The toolbox is very versatile! It has a lot of holes were you can put knots and screws depending on your kid's desired toolbox design.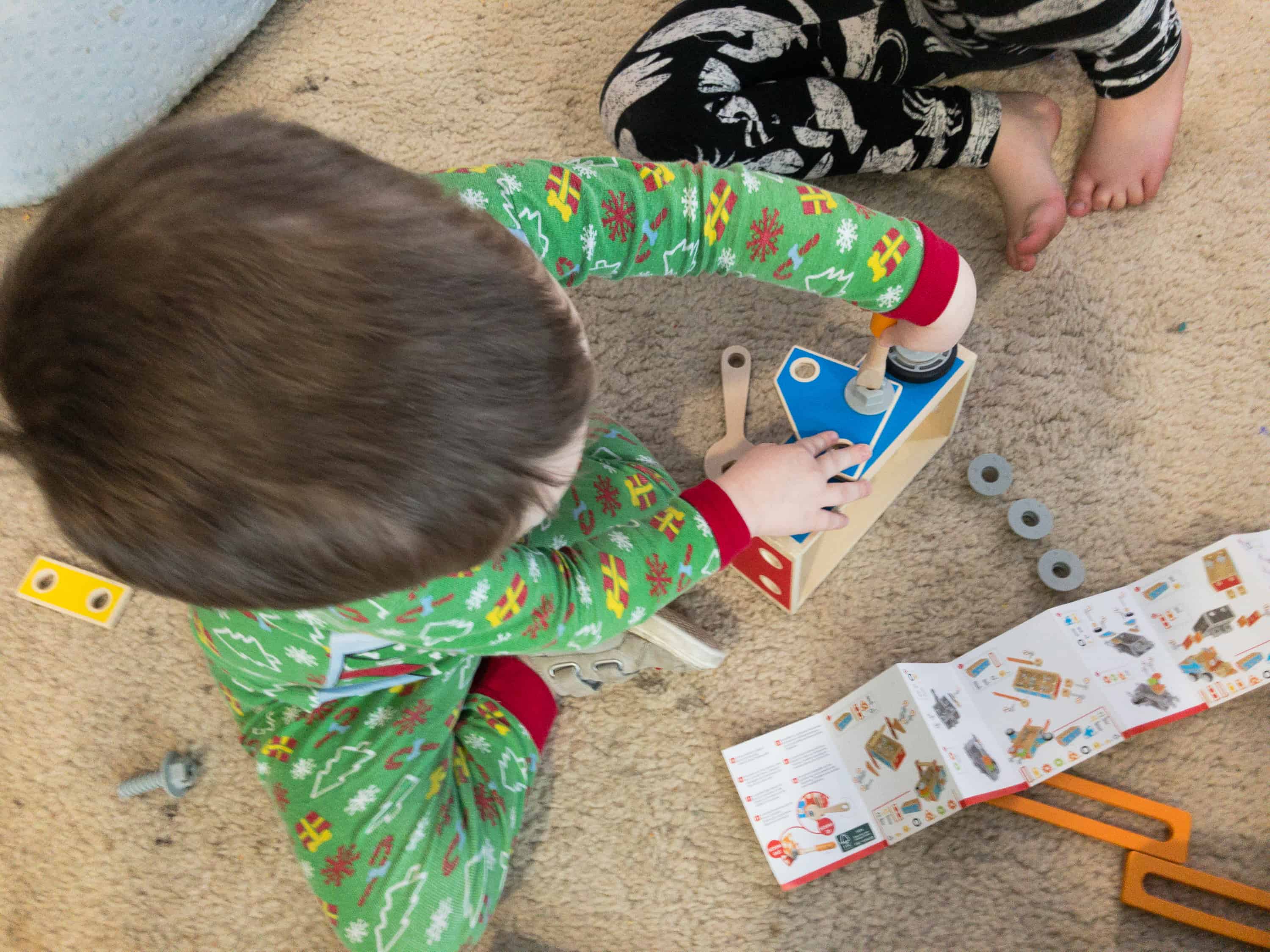 Both my kids are working hand in hand to finish this project. My younger child is attaching the handle on the toolbox's body.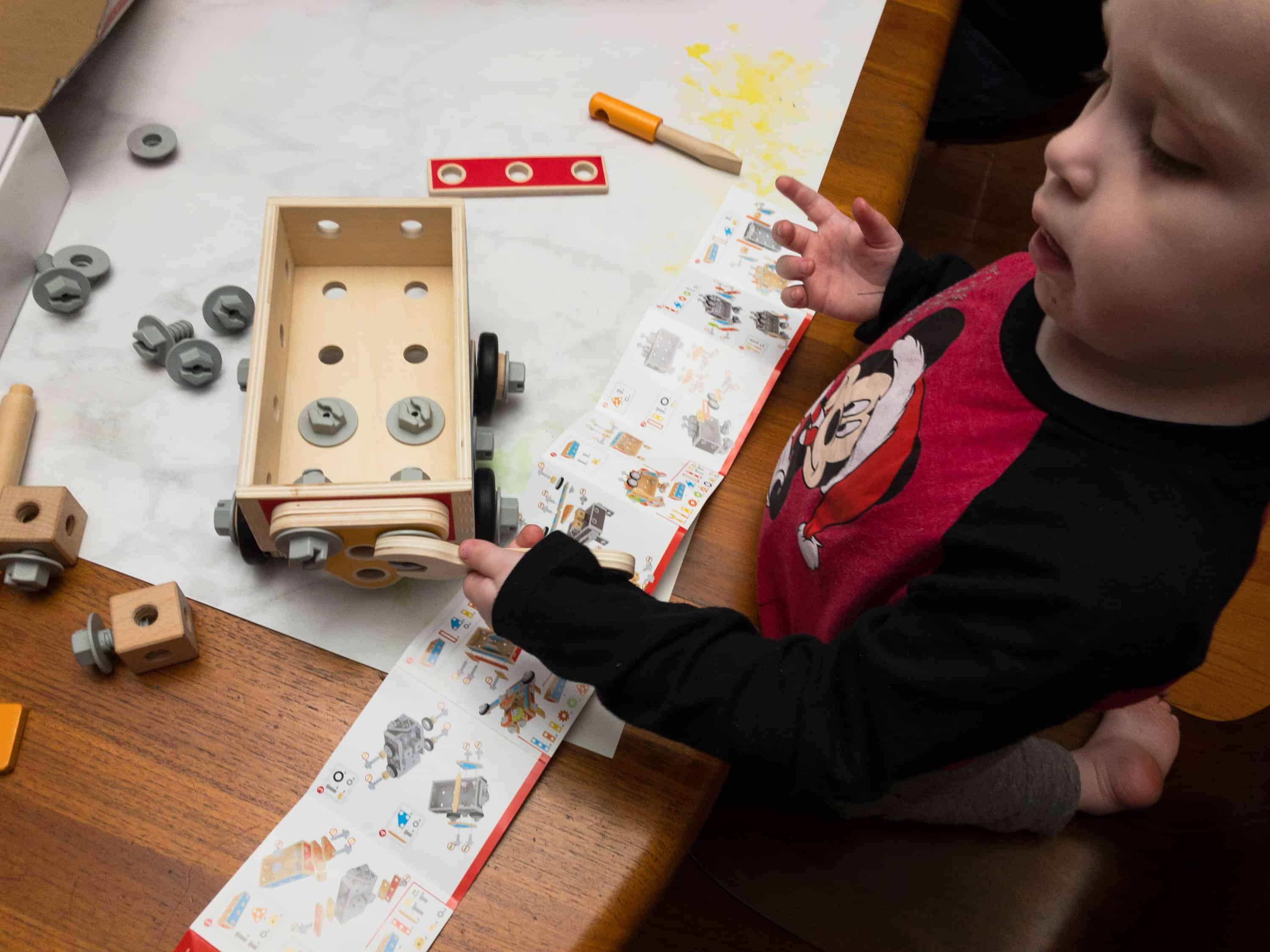 This time they have successfully attached the wheels and now are tightening some part of the box.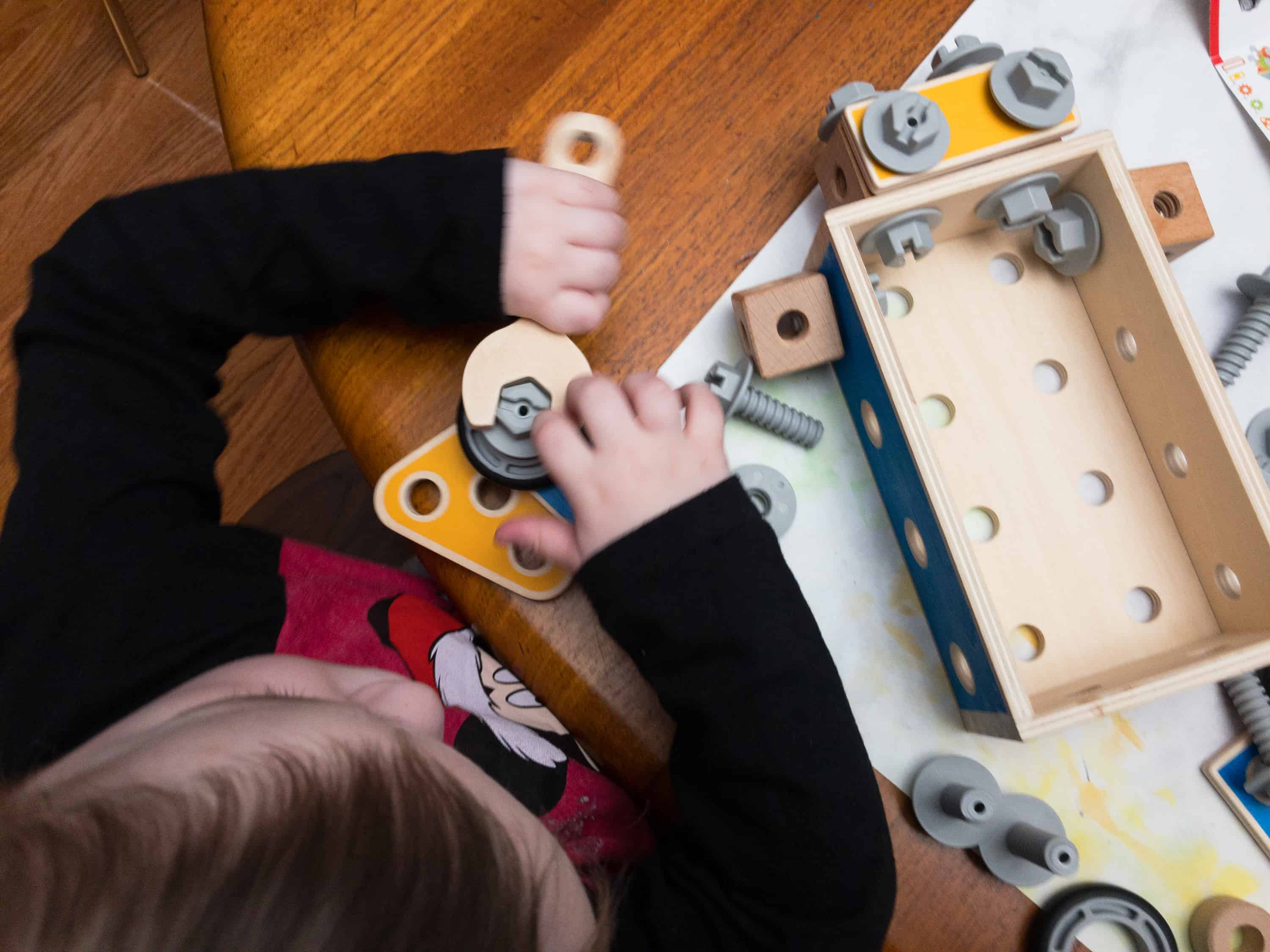 Although you can follow the instructions, we ended up with a lot of open-ended construction play!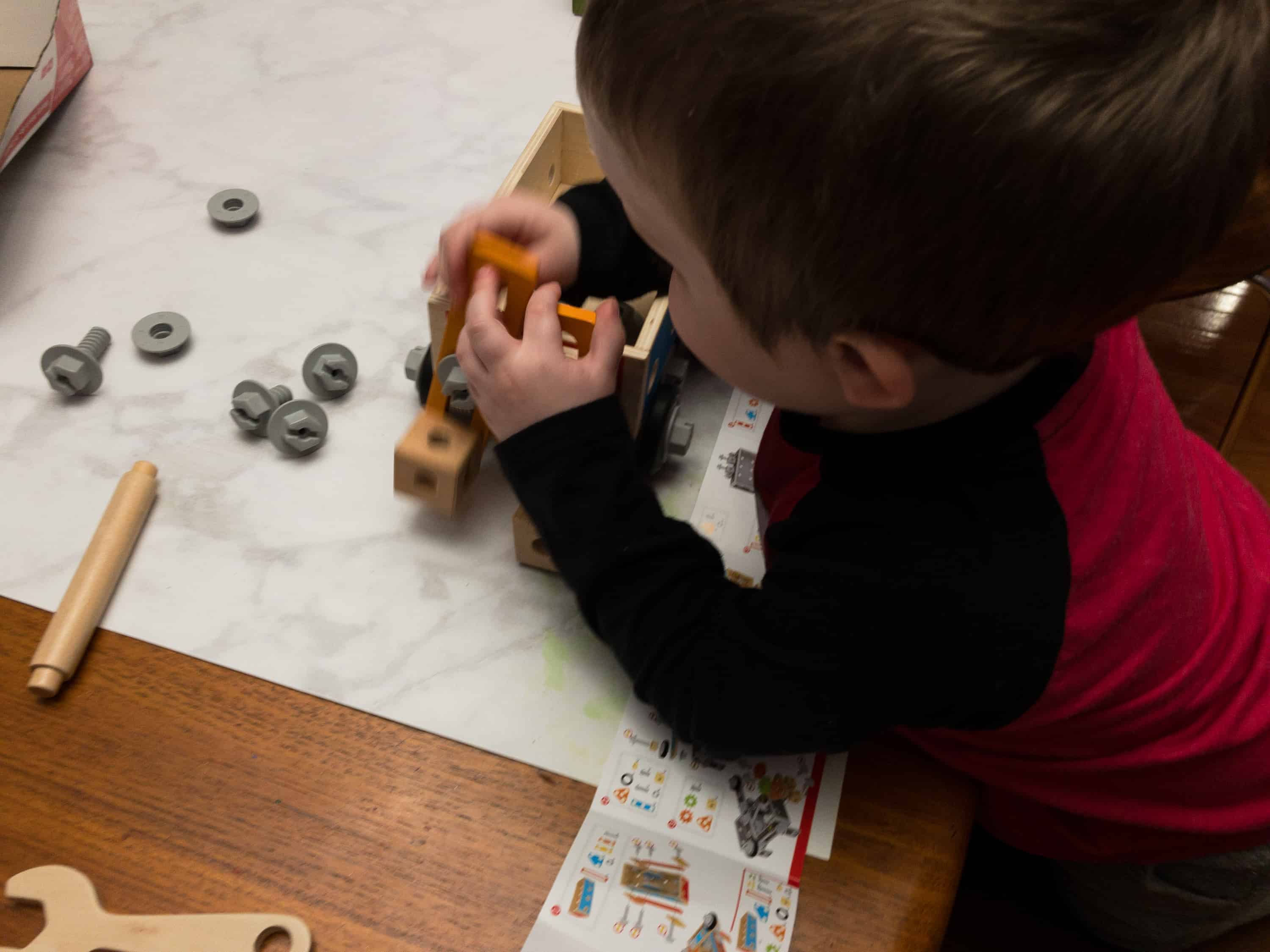 He made sure that each item is installed and working properly. At a young age, he has been learning a lot from this crate and has continued to play with it long past the novelty phase!
This month's toy from Amazon STEM had been an effective way of teaching the kids how to solve problems and build things on their own. The kids also learned about various tools and how to properly handle them. The individual pieces are big enough so they won't get lost easily and they won't be a choking hazard. My kids are happy with this kit and they're excited to add more STEM toys to their collection!
What do you think of this toy set? If you received something different than our family, let us know in the comments!