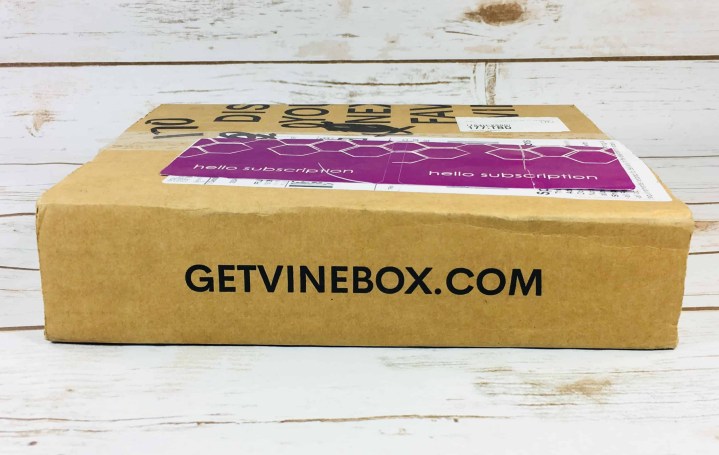 VINEBOX is a monthly wine-by-the-glass subscription box that provides its subscribers with three wines to taste for $29 a month, or save on a longer subscription. The wines sent are very nice wines that are usually at least $30 a bottle so this is the ideal wine club for people who enjoy high-end boutique wines but want to try them before committing to purchasing an entire bottle. You can choose from reds, whites, or a mix, plus you can choose Adventurous, Classic, or Newcomer to get the best experience for your comfort level. Because the wine has been repackaged from its original bottles, the shipped tastings will only last for about 3 years from date of receipt. I usually drink mine within just a couple of days!
DEAL: Save 5% on all products including memberships, additional glasses purchases and limited edition boxes! Use coupon code HELLO5.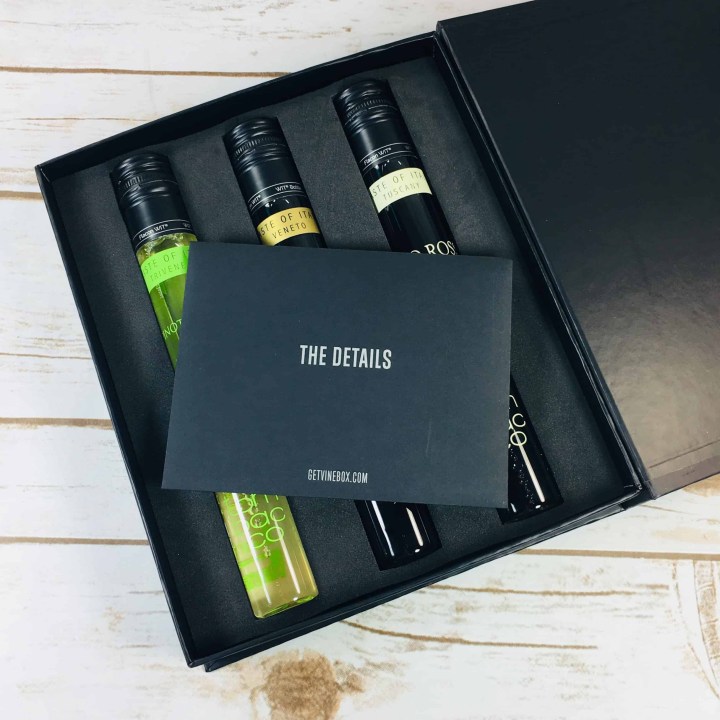 The three glasses of wine arrived packaged inside of a sleek black box with cushioning to keep them safe. Mine were delivered by FedEx and keep in mind that an adult 21 or older must sign for the package, or you can arrange to have it delivered to a FedEx site for pickup (Walgreens is one of the options!).
You can find information on each wine under "Wines" on the VINEBOX website.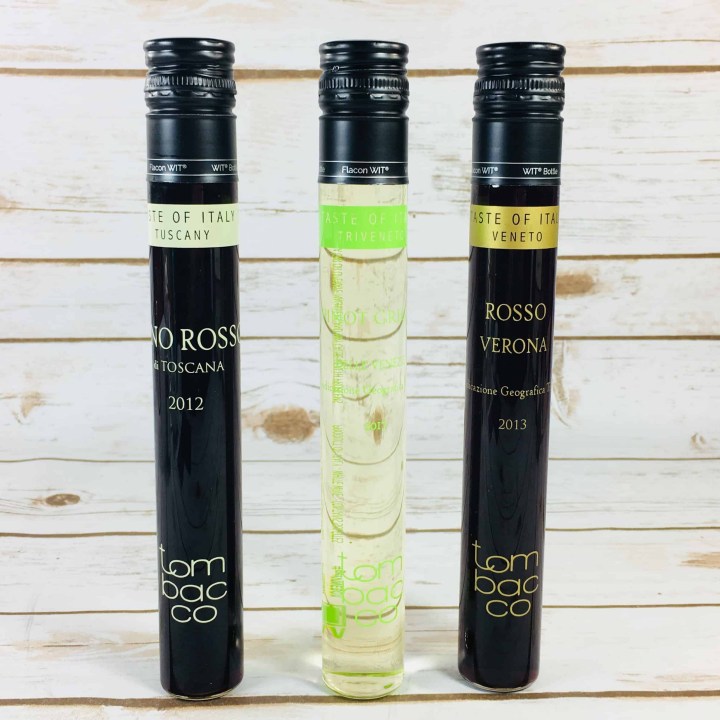 I received two reds and a white this month! I found a card to go with each of the wines. Each card has a quote on the front and tasting notes, food pairings, and other info on the wine. They all said "Taste of Italy" at the top and then had the region from where the wines originated listed underneath.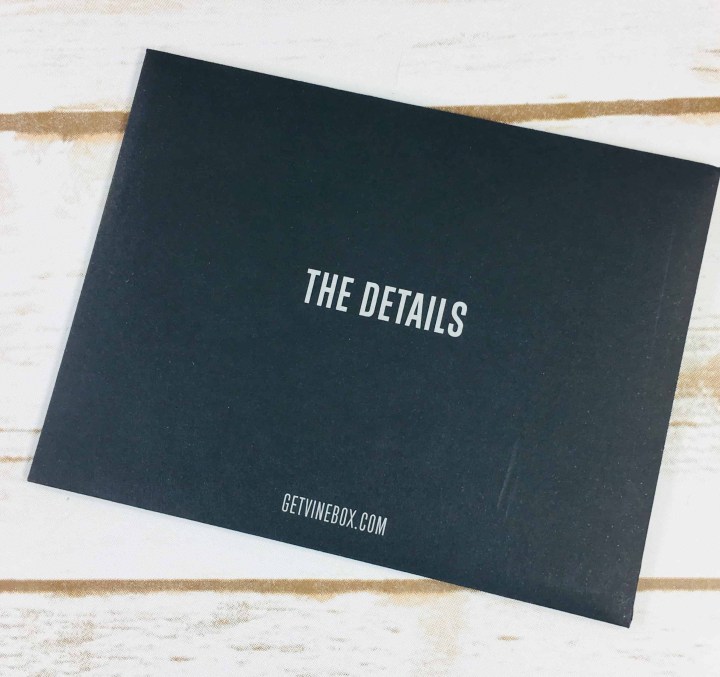 I love the classy envelope!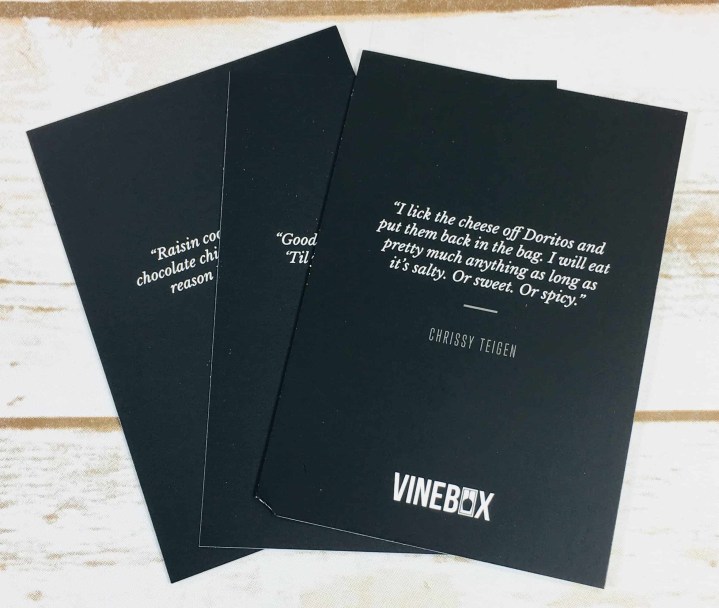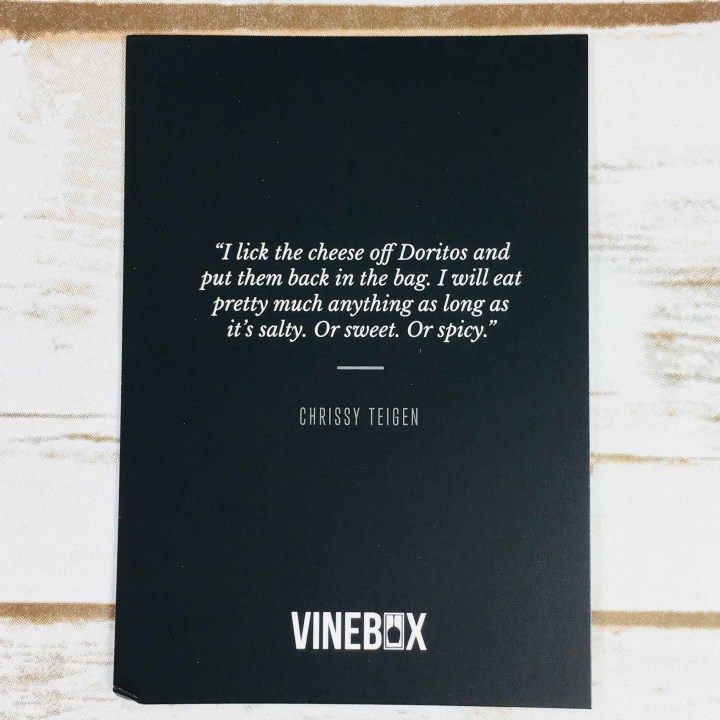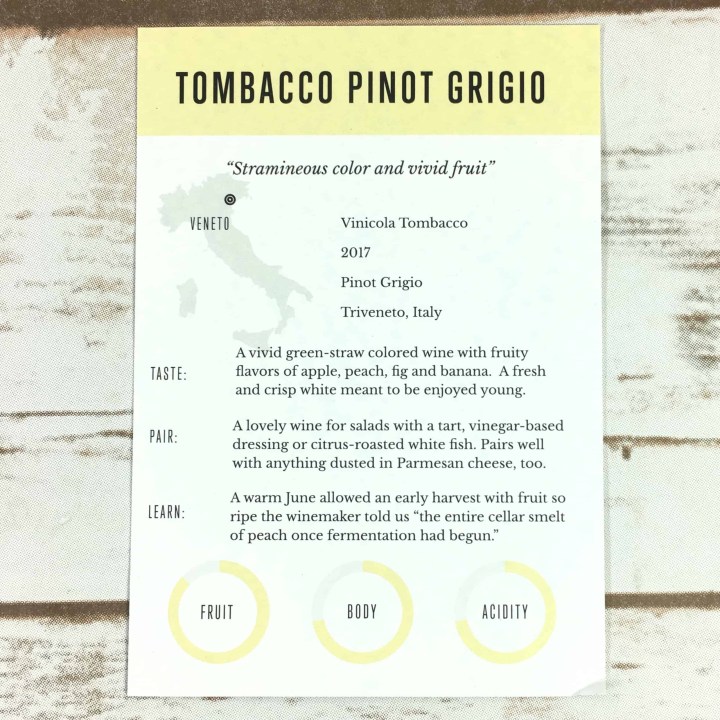 2017 Vinicola Tombacco Pinot Grigio is a white wine made with Pinot Grigio grapes in the Triveneto area of Italy.
This is a light-bodied wine that packs a punch, maybe I should have had a hefty snack before sipping this one! I'm not sure how to expand on what the card says, since they hit the nail on the head. I had to look up the word "stramineous", which simply means "straw-colored", which this wine is. It's fruity yet tangy, like a less-sweet lemonade, and yes, it is fresh and crisp. Overall, a very nice wine that would be perfect for a warm summer day with a light meal.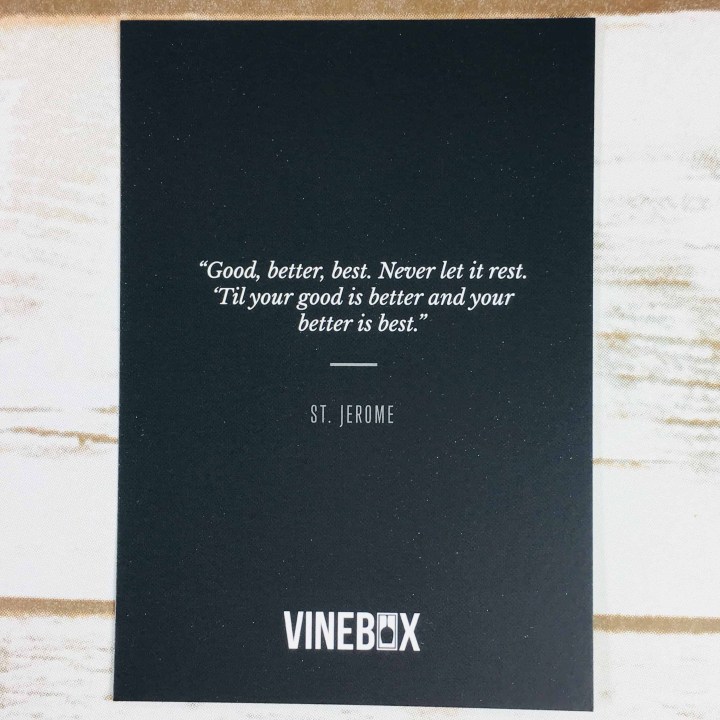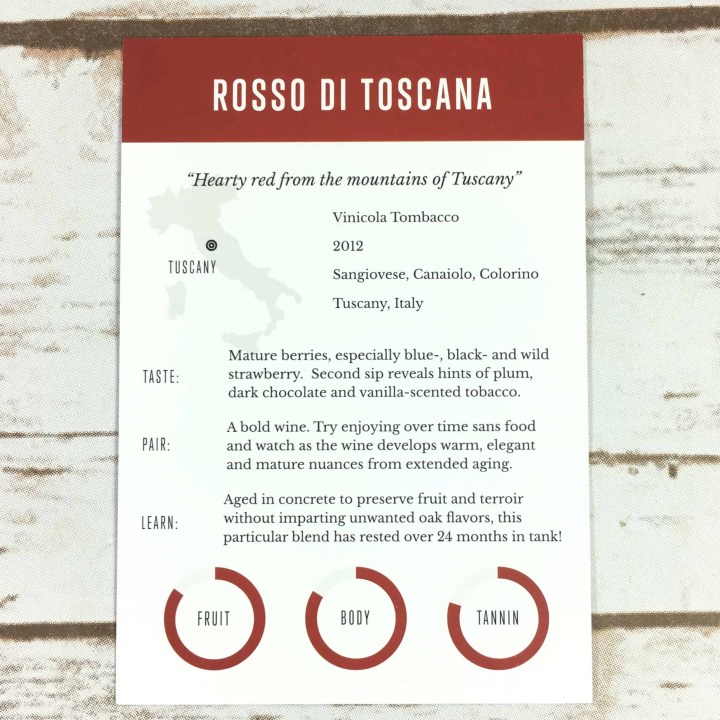 2012 Vinicola Tombacco Rosso di Toscana is a red wine from Tuscany. It is a blend of Sangiovese, Canaiolo, and Colorino grapes (which are also often used together to make Chianti.)
My husband loved this wine and I was amazed that he picked out the flavors as noted on the cards. He picked out berries and plum and said he really enjoyed it. I let it "age" and found that it's sharpness mellowed as it warmed up and it was softer, yet it still made me cough when it hit the back of my throat. An interesting thing to note: this wine is aged in concrete, rather than oak, to preserve the fruitiness!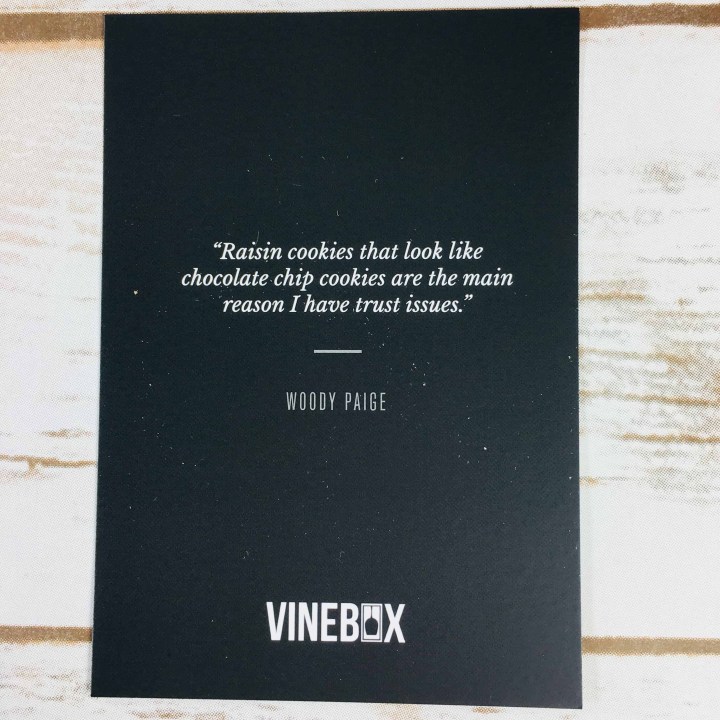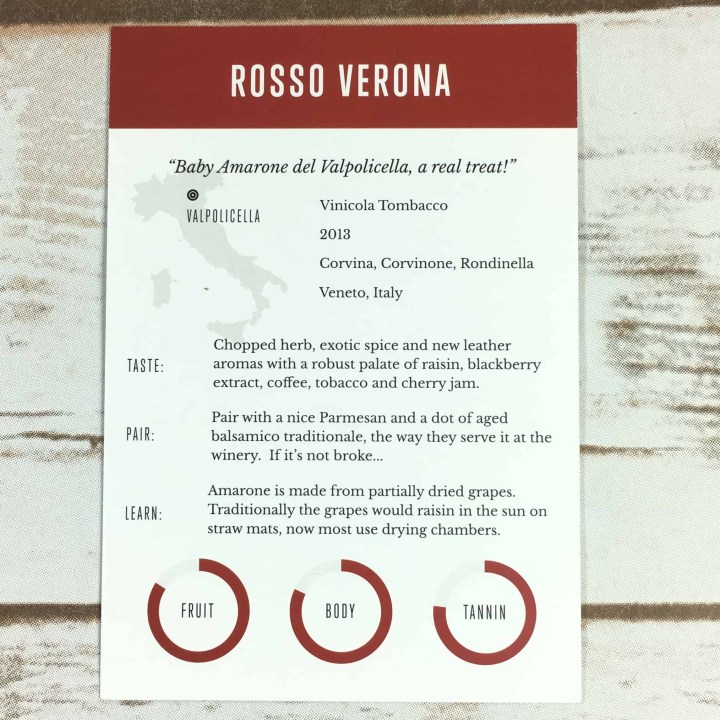 2013 Vinicola Tombacco Rosso Verona is made with Corvina, Corvinone, and Rondinella grapes in the Veneto region of Italy. These grapes are almost always used together to make a traditional red blend from this region that is mildly fruity with a touch of almond.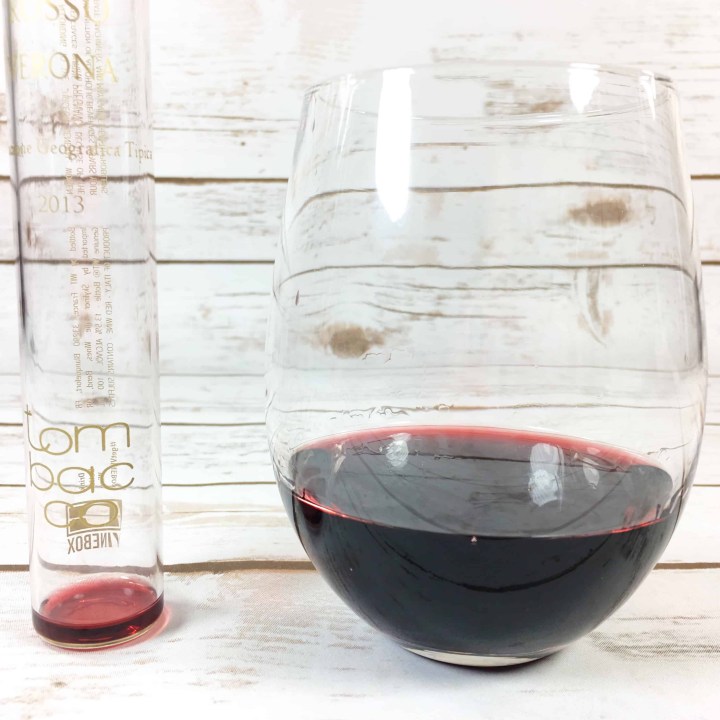 Hubby detected cherry and chocolate flavors and said it was very delicious, he really loves the red wines in this subscription as a whole. I thought it was fruity but not sweet, dry but not overly so. Serve with the usual – pasta with red sauce, grilled meat, or aged cheese.
I really enjoy my monthly VINEBOX! I loved how they had tasting notes and info on the cards. I like to drink a little wine at a time (otherwise I feel ill) so this amount was perfect for me, plus the screw top lids meant that I could pour a few sips and then place back in the fridge to enjoy another time. I also appreciate that I can choose which types of wine I would like to receive. If you like to drink upscale wines but prefer to enjoy them in moderation, then I would suggest you give this subscription a try!
Have you tried VINEBOX?