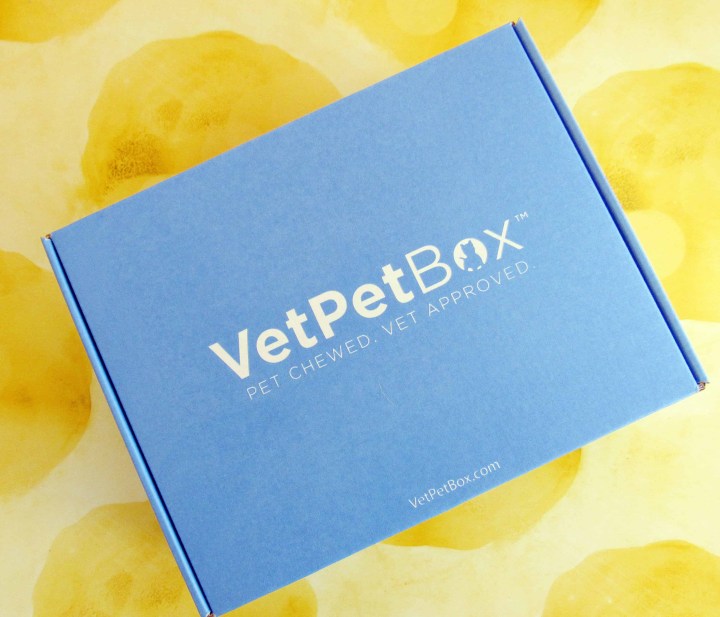 VetPet Box is a wellness service that offers dog and cat boxes curated by veterinarians and their pets. Expect to receive high-quality toys, treats, wellness products, and educational materials. Customized the dog box by selecting one of six different weight sizes, chewing style, allergies (if any), and opt to fill out an extended questionnaire which includes "anxieties, blindness, fashion preferences, and more!" VetPet Box also gives back annually a portion of the profits to nonprofit organizations.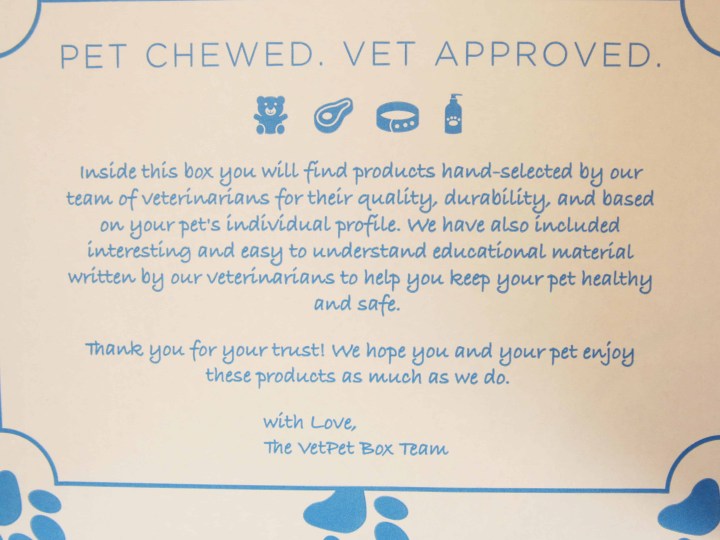 The inside cover has a short letter from the VetPet Box Team.
DEALS:
Get 25% off your first box with any month to month subscription! Use coupon code HELLOVETPET25.
Get $10 off any 3 or 6 month subscription purchase! Use coupon code HELLO10.
Get $5 off any purchase! Use coupon code HELLOSUBSCRIPTION5.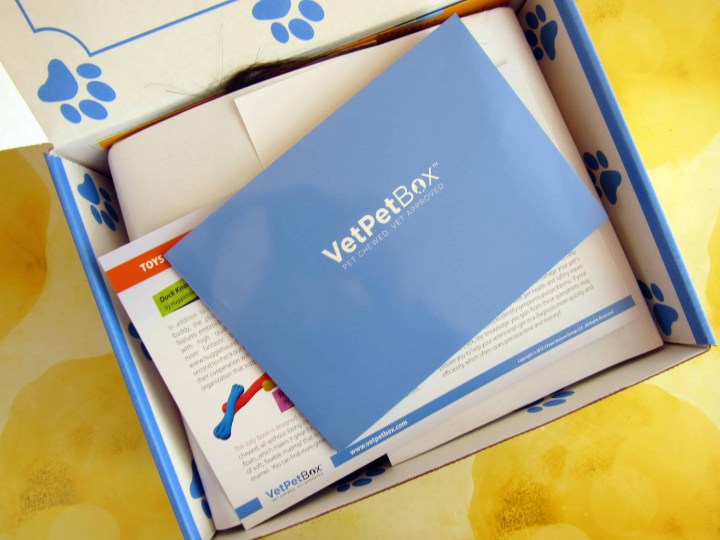 Daisy couldn't wait to see what was inside.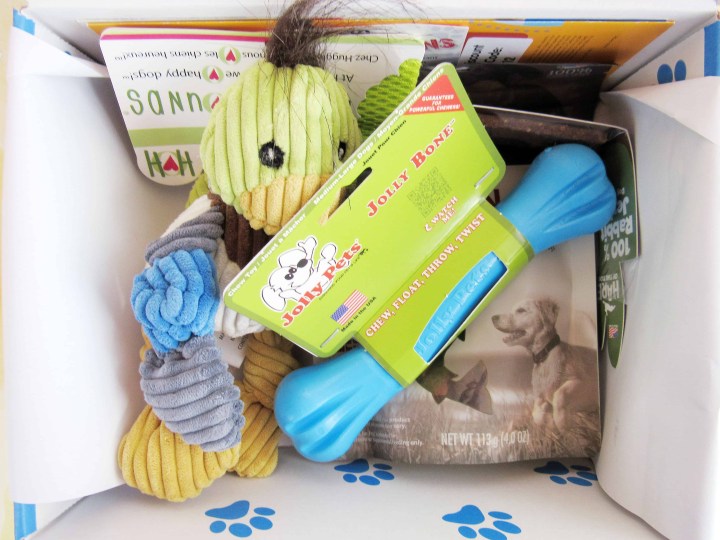 It has a baby for her!
The Toys and Education products are described on one side which also includes prices. Daisy will receive two out of the three toys because both variations of the chewing style toys are listed. The chewing styles are Responsible Chewer and Power Chewer.
The flip side lists the Treats and Wellness items. The allergy pet option is also listed. I like the detailed information provided by the information card because I have three different size dogs with different needs that feel they should be able to eat all treats! Daisy is the only doggy with food allergies.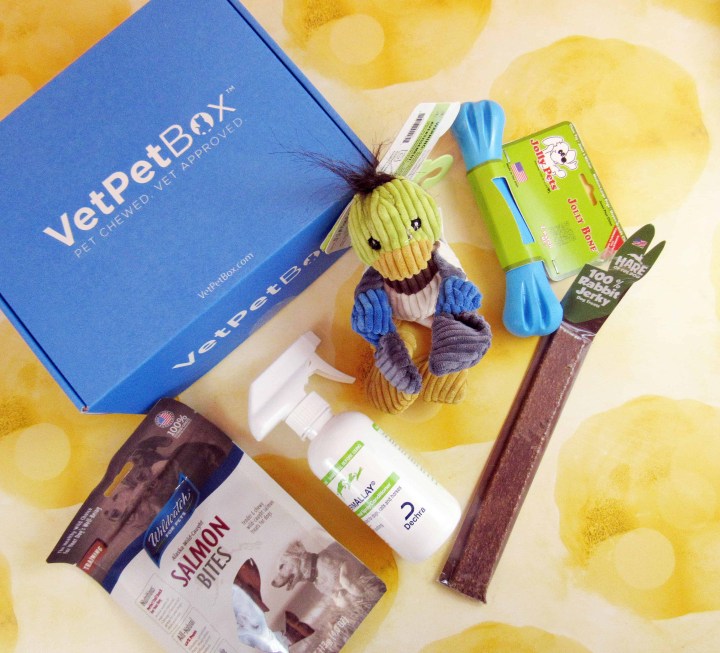 Here are the items in the current Welcome Box for New Subscribers medium size dog. Future boxes will fall into the current rotation of topics determined by the vets based on your dog's profile and time of year. For example, the December Dog box addressed holiday dangers.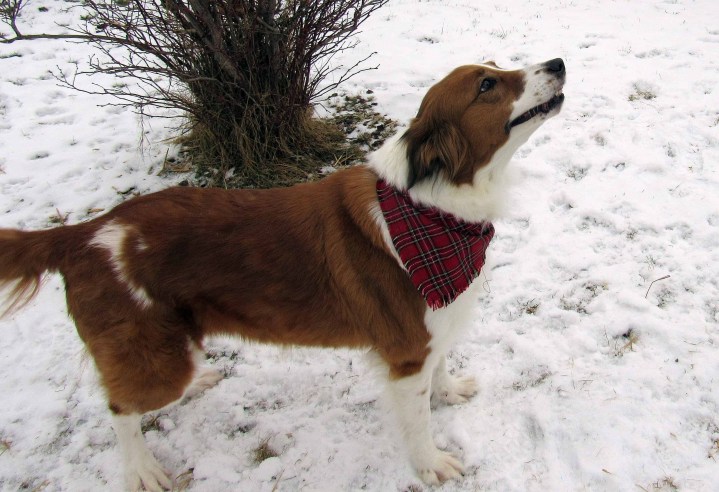 Daisy's profile is medium size dog, responsible chewer, and has a chicken allergy. She weighs 47 pounds with her full winter coat and is on the high end of the medium size dog box which is 31-50 pounds. Daisy is an English Shepherd.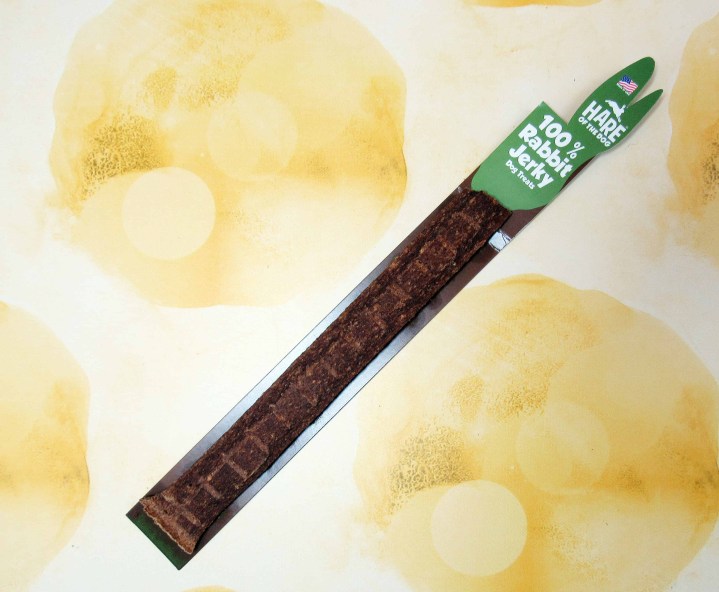 Daisy was a good girl while she waited to eat the Hare of the Dog 100% Rabbit Jerky Treat ($3.99 Information Card, $2.99 Chewy). The 100% USDA, all American rabbit treat had her barking in anticipation as we went outside for pictures.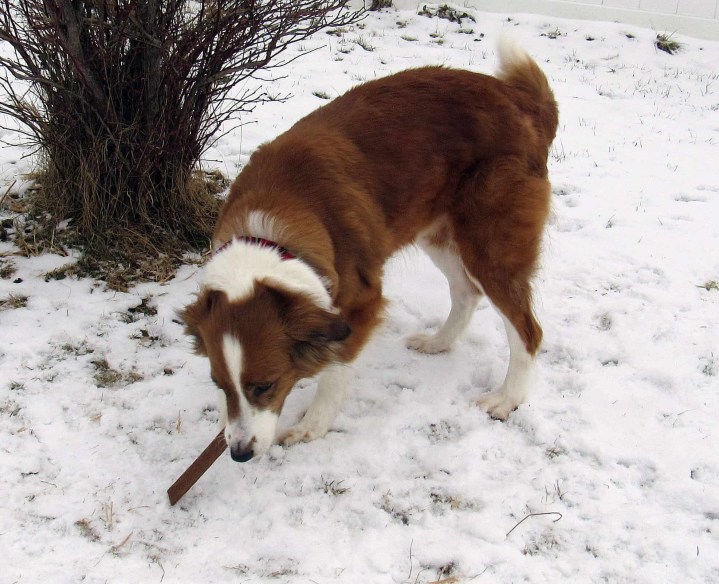 She gobbled it down in three large bites. She heartily approved of the treat.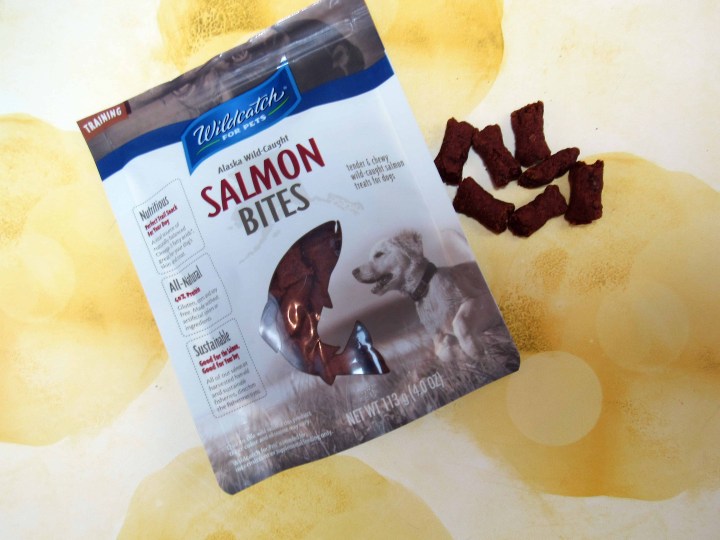 All three doggies loved the Made in Alaska, USA Wildcraft for Pets Alaska Wild-Caught Salmon Bites (4 oz, $9.99). Salmon is the first ingredient of the woofilicious treats which are also free of gluten, corn, soy, artificial colors, and artificial ingredients. She is giving me the big brown eyes as I type the review because she wants more yummy treats.
Our adorable scaredy-cat reluctantly stood still for me as I sprayed her with the DermAllay Oatmeal Spray Conditioner (8 oz, $13.99). I used it as a leave-in conditioner and paid attention to her hot spot which developed when my older son gave her a treat with chicken in it. The spray soothed her skin and moisturized her coat.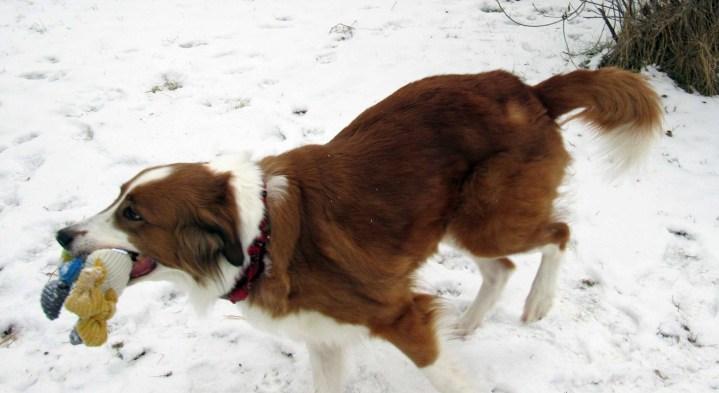 Here's a picture of her hot spot that is by her tail which is now nicely healing up because of the spray. I am impressed with how it calmed down her hot spot quickly. It also has a pleasant scent.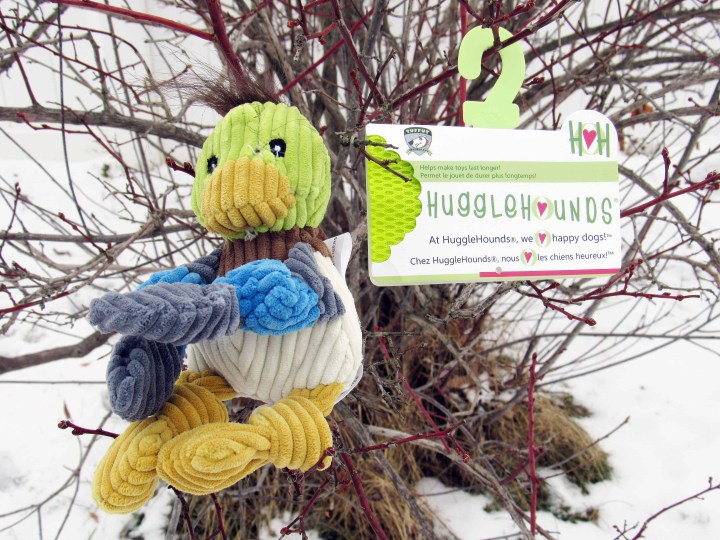 Daisy loves her newest baby which is the  HuggleHounds Large Duck Knottie Toy (17.49 Information Card, $19.01 Amazon). The toy has no external seams which make it difficult for most dogs to rip apart. It makes Daisy happy because it gives Mommy time to rescue her baby if Odie or Bella take it.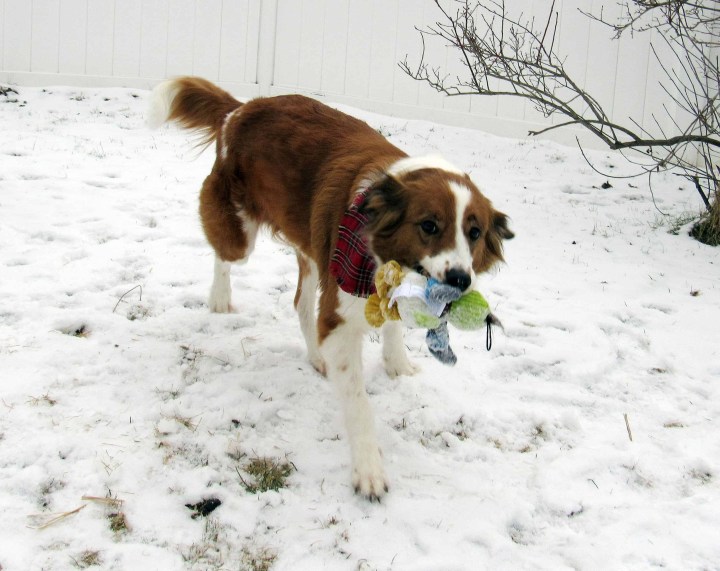 She enjoyed running around with her duck which now lives underneath the bed with her other babies. She brings her babies out to bathe them and sleep with them. She loves her toys.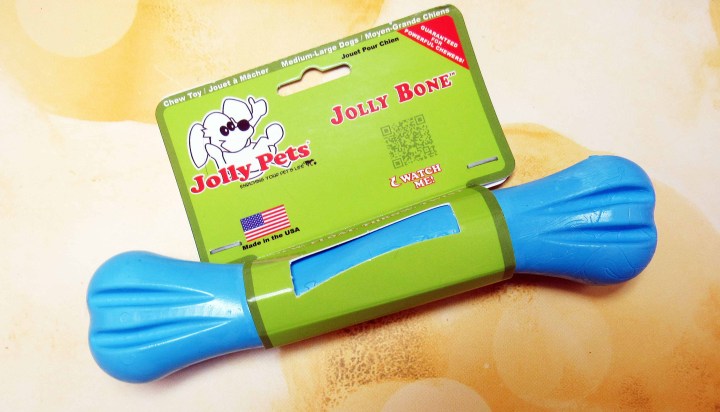 Her second toy was the Made in the USA Jolly Bone™ by Jolly Pets ($9.00 information Card, $7.99 Amazon). The vanilla-scented toy can be tugged, chewed, and bounced and still keeps its shape. Daisy did not receive the Treat Dispensing Chew Ball toy on the information card because it is the powerful chewer toy.
Daisy is very much a responsible chewer. As an English Shepherd, she does not believe in chewing on toys and becomes upset if she sees the other two dogs chewing and ripping apart toys. Odie, our Labrador Retriever and Border Collie Mix, was happy to chew on it. He stopped when he heard my helper say that she will put peanut butter on the ends. Odie lives for peanut butter!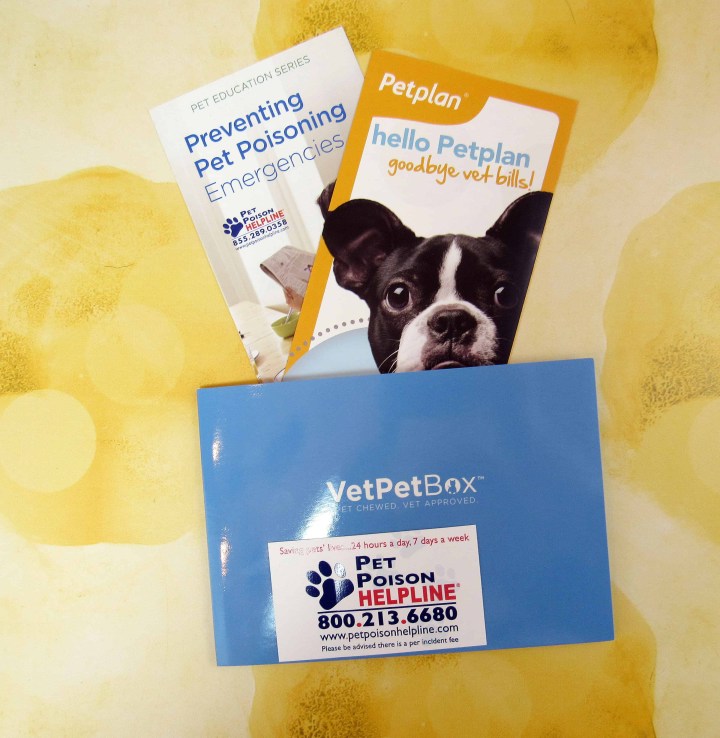 Education is an important part of the VetPet Box experience. The Welcome Box Wellness Topic for all doggies is excessive thirst and urination. I haven't observed that issue in our pets, but it is good to know how to recognize the signs.

The VetPet Monthly Wellness Pamphlet discussed excessive thirst and urination symptoms and what actions to take if you suspect a problem.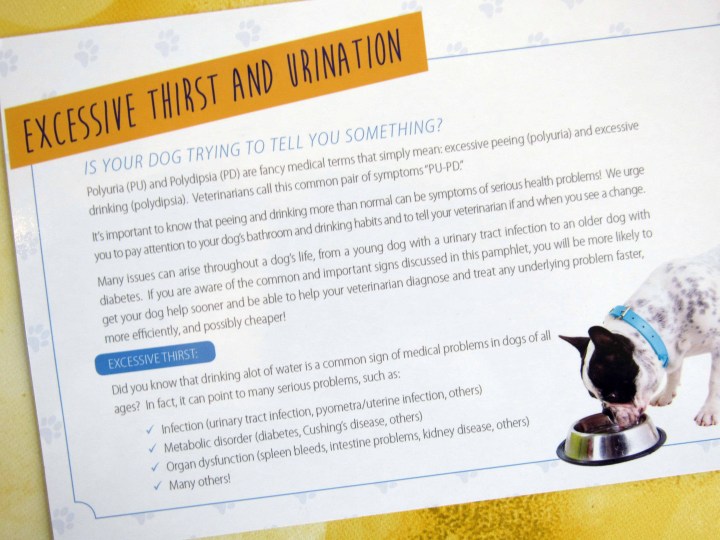 J, our 9-year-old, and I read the vet-authored pamphlet and will be observing our doggies! The booklet presented the pertinent information in an easy-to-read format.

The back side included two notes from the curator to welcome us to VetPet Box and to thank us for our purchase.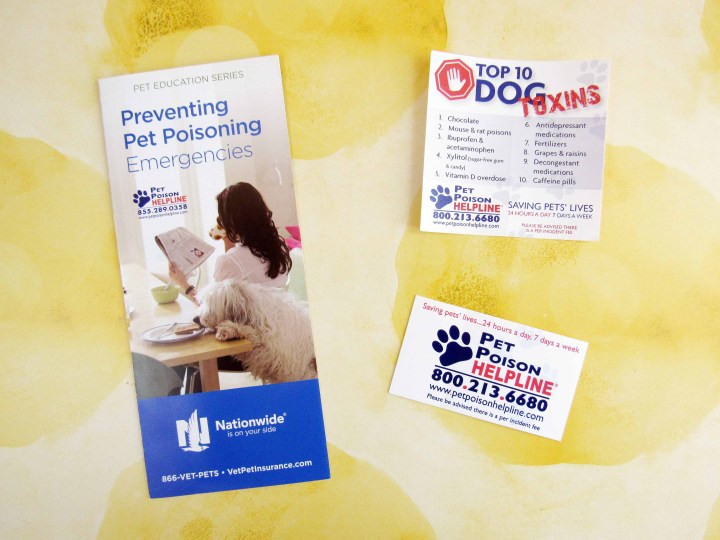 We also read the Pet Poison education material which was informative. J and I were surprised to learn that the number five dog toxin is Vitamin D overdose.
I entered Daisy's information to receive a free quote from PetPlan. Her insurance would cost me between $34.36 to $66.35 monthly depending on the level of coverage. It does cover a lot of things including surgery and cancer treatments. It can also be further customized to suit your and your pet(s)' needs.
Here are a few more doggy pictures!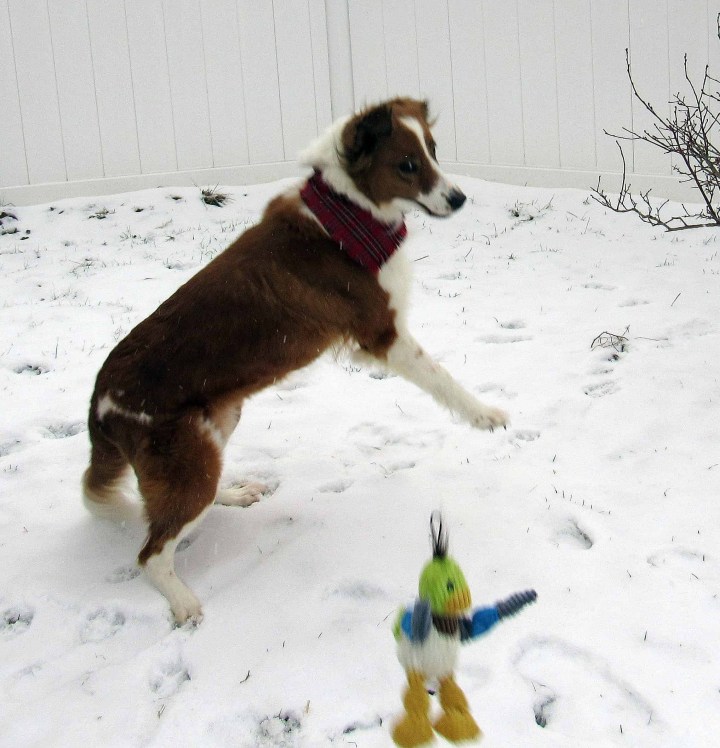 Oh no, Daisy! You missed catching your ducky.
Great job, Daisy Girl! You did it.
VetPet Dog Box differentiates itself from other dog boxes by being a wellness centered box curated by veterinarians. Our family valued the wellness product and educational material. Daisy was one very happy to girl to receive a new baby and treats that she could eat. She's pleased that her hot spot is healing even though she hated being sprayed. The value of the box came to $54.46 which has free shipping to the contiguous 48 states. This value does not include the value that the vet-authored material and additional educational material brings to the box. It's an excellent customizable box for doggy parents that are seeking wellness, toys, education, and treats from a vet's perspective and their doggies.
What do you think of this month's box?
Visit VetPet Box – Dog & Puppy to subscribe or find out more!