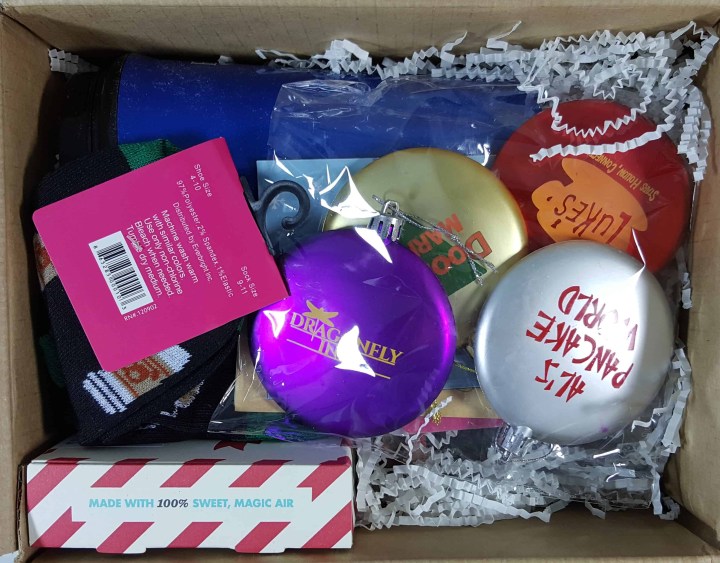 Stars Hollow Monthly features 3-5 products which are inspired by the Gilmore Girls and the fictional town of Stars Hollow. (Inspired by, meaning items that relate to, are inspired by, or are artistic renderings of the show and its inhabitants/characters.) For $34.90, you can expect anything from tee shirts (on occasion), home decor, fashion accessories, bath & body items, and much much more.
The goal for the Stars Hollow Monthly Box is to send subscribers items they will adore as fellow Gilmore enthusiasts, but also items anyone would enjoy – high-quality items that won't gather dust in a drawer somewhere.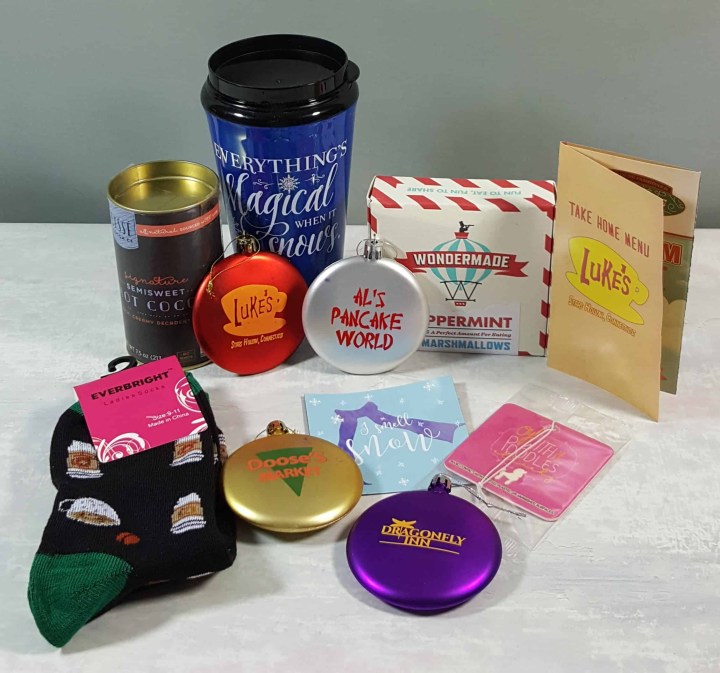 December's Stars Hollow Monthly Box. I see winter worthy goodness here! Lorelei may be able to smell snow, but I can smell cocoa. LOL!!!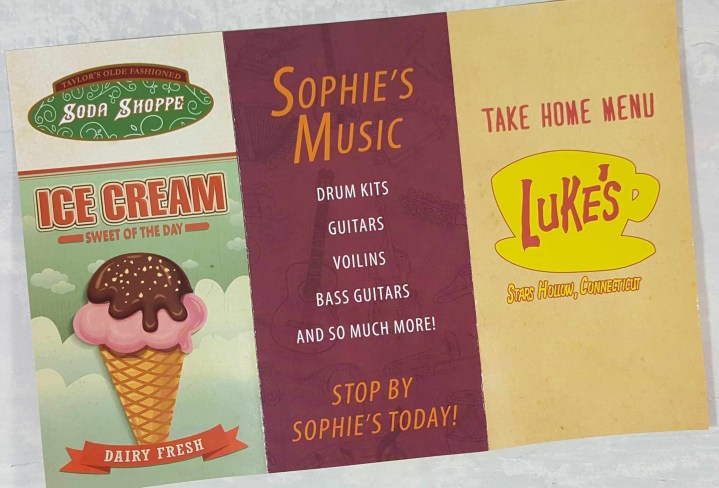 The outside of Luke's menu features ads from around Stars Hollow. The ads change every few months, and I love trying to figure out what will be highlighted next. The featured venues are Taylor's Olde Fashioned Soda Shoppe and Sophie's Music. Who doesn't remember the legendary Carole King as Sophie?!?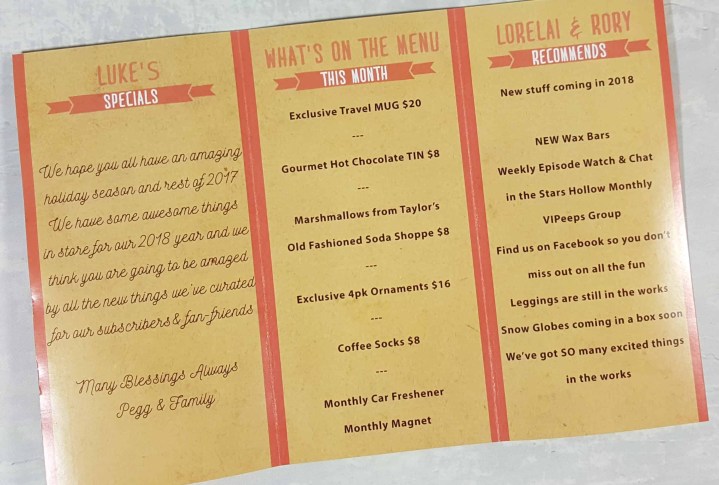 The inside of the menu contains a list of the box contents with pricing, as well as discount codes and offers for other Gilmore Girls related products. StarsHollowMonthly.Live is a new site to grab your favorite Gilmore Girls products. Be sure to check to check the sales and giveaways on the site too! This month's menu had a note to subscribers included. Here's what it says:
"We hope you all have an amazing holiday season and rest of 2017. We have some awesome things in store for our 2018 year and we think you are going to be amazed by all the new things we've curated for our subscribers & fan-friends.

Many Blessings Always

Pegg & Family"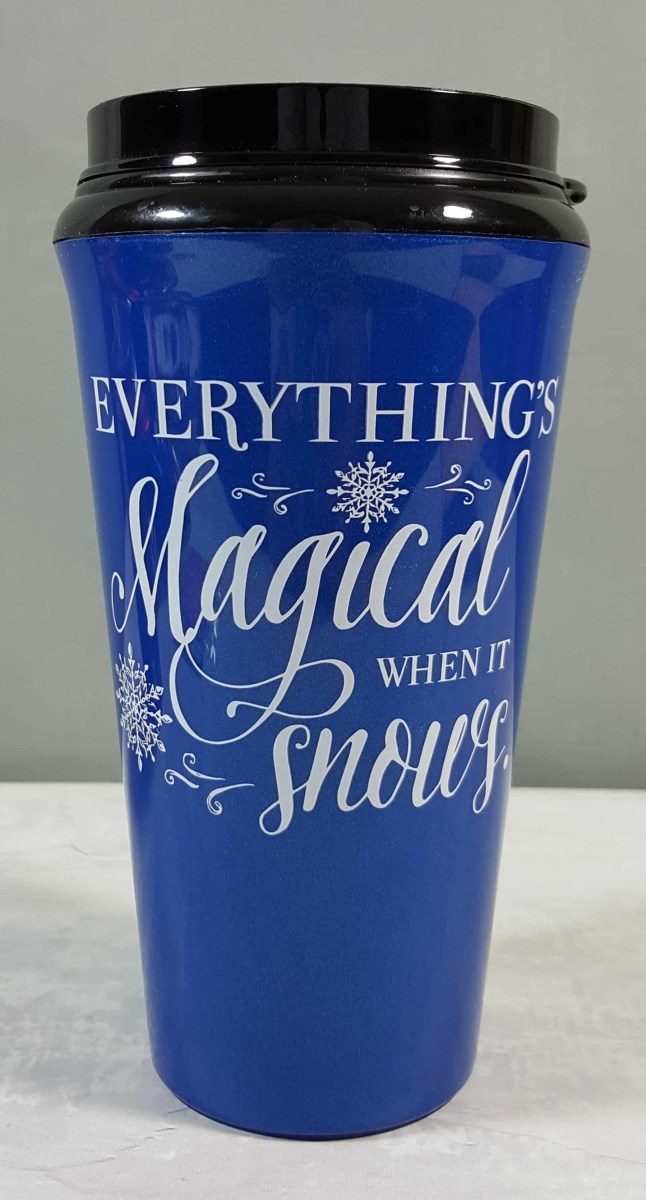 *EXCLUSIVE* Travel Mug ($20): "Everything's magical when it snows, everything looks pretty. The clothes are great. Coats, scarves, gloves, hats." Ever the snow fanatic, the saying on the mug is one of many that Lorelei has about snow. This 16 oz. (?) travel mug will be the perfect accessory to carry coffee or cocoa in during those cold winter days.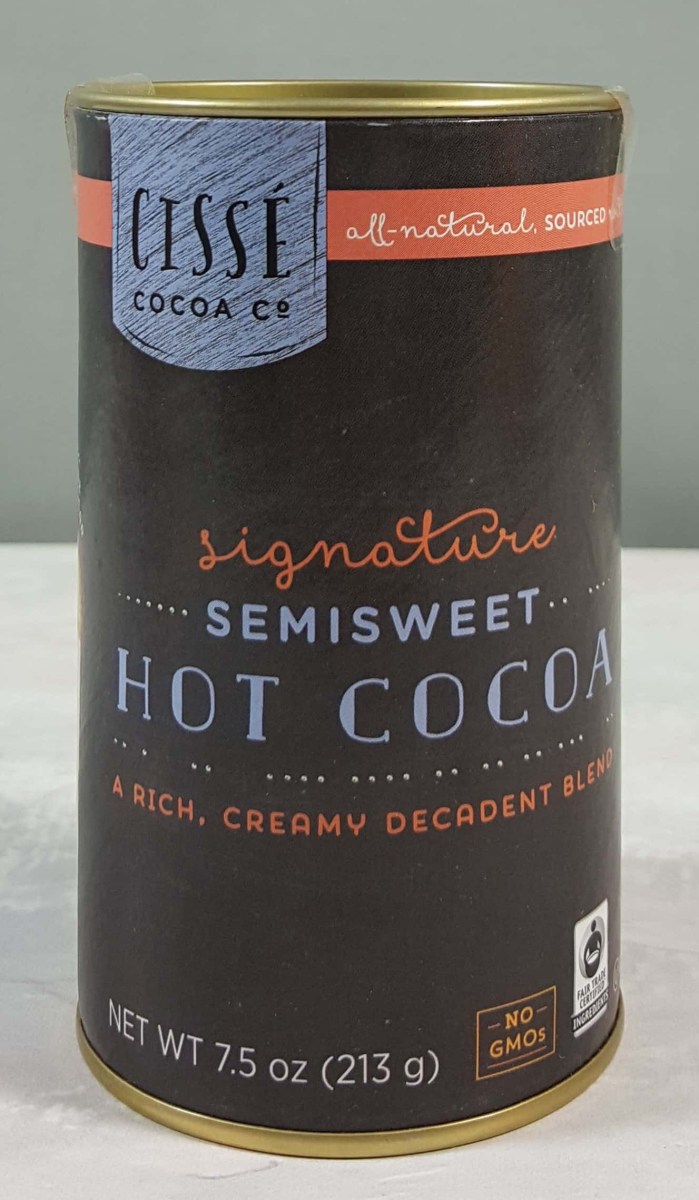 Gourmet Hot Chocolate Tin ($8): While I do love my coffee, hot chocolate is a little more comforting on a cold winter's day. This cocoa by Cissé Cocoa Co. is made with sugar, cocoa powder, milk AND dark chocolate chips, and salt. Just add to some hot milk and enjoy. The little bits of chocolate in the mix made this my new favorite.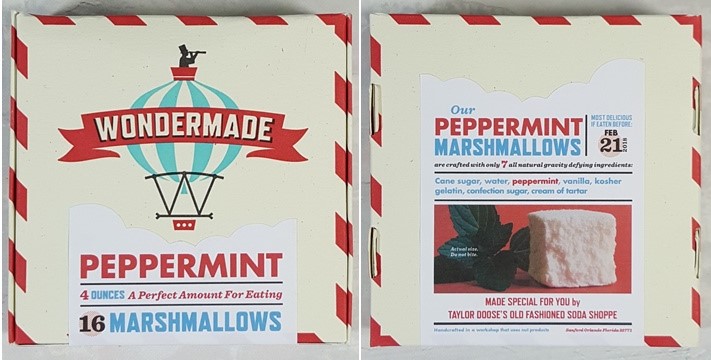 Marshmallows from Taylor's Old Fashioned Soda Shoppe ($8): I thought the theming on these was cute. Of course Taylor's Soda Shoppe would have handmade marshmallows… These little pillowy bites have a nice peppermint flavor that wasn't overpowering. They were good in the mug of cocoa, but are just as delicious on their own. On a side note, I really need to venture around town more. The Wondermade shop (sorry, Taylor Doose did not actually make these goodies) is not far from me. They are located right here in the Orlando-metro area. I'm so going to visit and check out more flavors.
I was afraid that this was going to be one giant marshmallow, but it's cut into 16 decent sized portions. These are smaller than a regular marshmallow but larger than a mini. Just a few are enough to top off a mug of cocoa.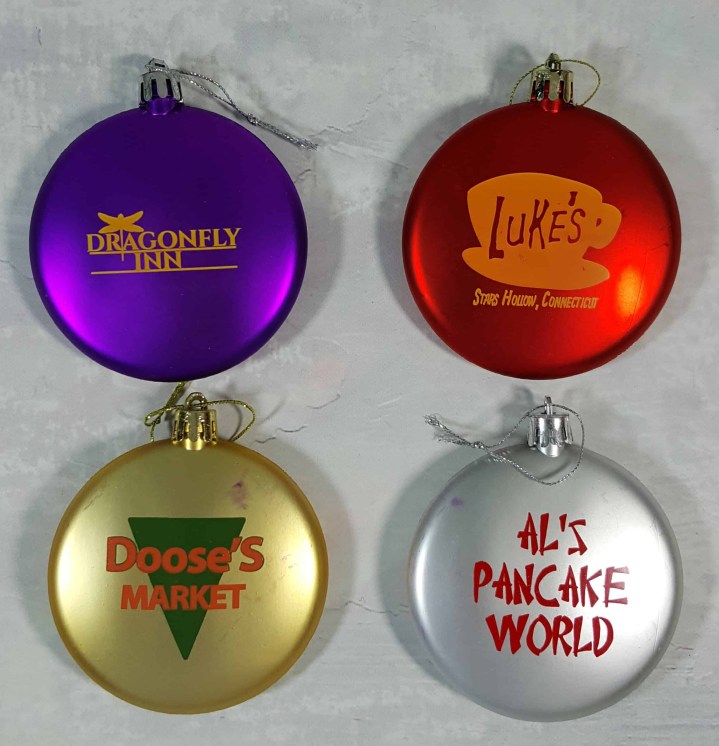 *EXCLUSIVE* 4-pk Ornaments ($16): Just what I needed to finish off my tree this holiday season. These shatterproof ornaments represent some of the featured locales from around Stars Hollow and the Stars Hollow Monthly boxes. Is it me, or is there a common theme of food connecting each of these?!? Unfortunately, these weren't wrapped individually and had some paint transfer/rub off during shipping.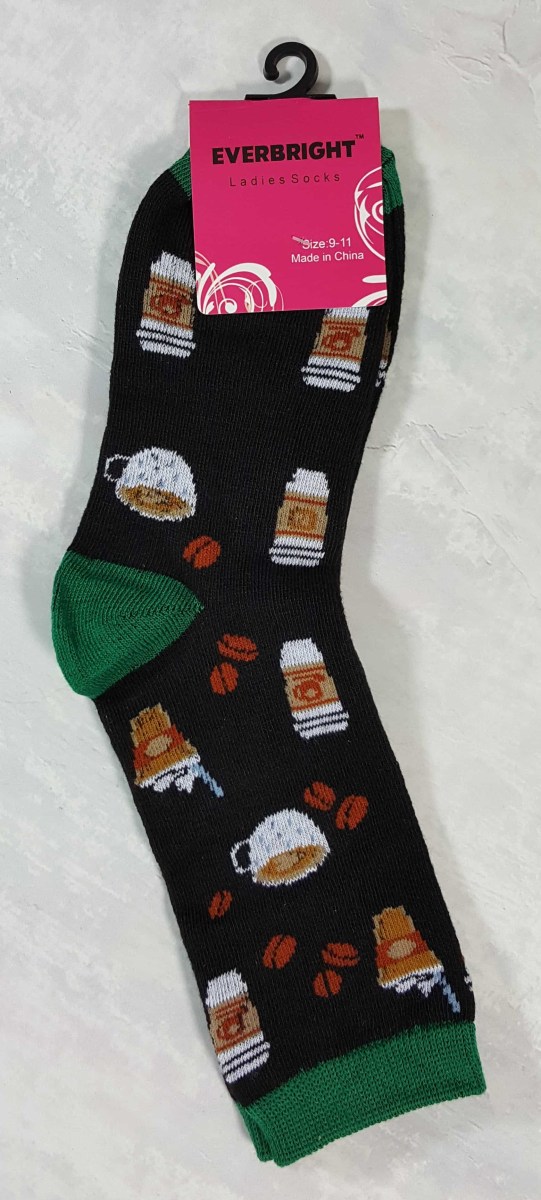 Coffee Socks ($8): These crew length socks have a fun caffeinated pattern. The green accents on the socks remind me of an iconic location full of baristas. Can you guess where I'm thinking of? LOL! I wasn't able to locate these exact socks online, but similar styles from Everbright were sold in 3-packs for about $15. So, the price on these is a little inflated.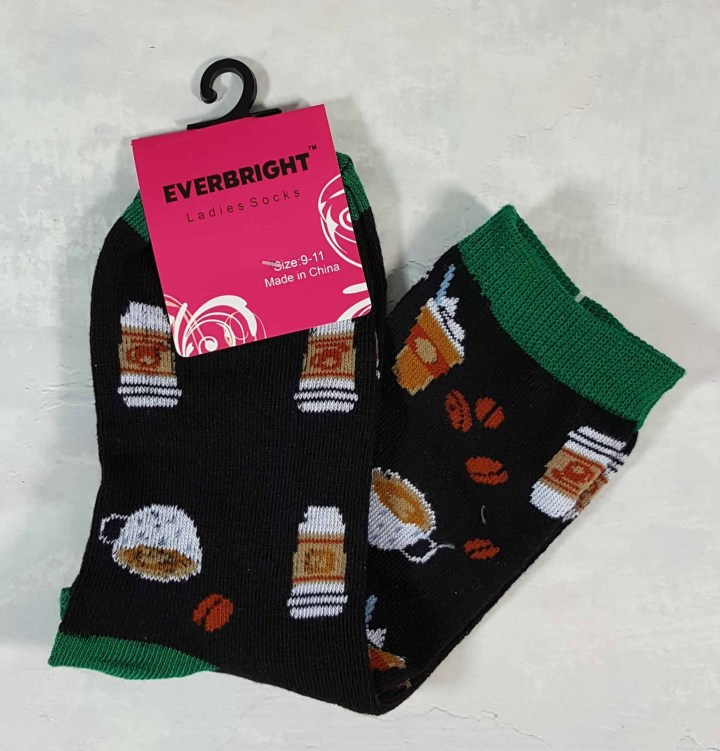 Here's another look a the socks. I wanted to make sure that you could see the cappuccino mugs, coffee beans, and travel mugs clearly (and right side up).
Monthly Magnet: "I Smell Snow" I wish this magnet had come in last month's box to match back to the car freshener. Regardless,  I like the design (is that one of Lorelei's scarves?) and can't wait to display this with my other magnets.
Monthly Car Freshener: "Oy with the poodles already…" This line still makes me laugh every time I see or hear it. The freshener from last month is still active, so I have to wait to use this one. These are great for keeping your car fresh, but I also like them for small spaces/closets.
December's Stars Hollow Monthly Box had a listed value of $60, excluding the magnet and car freshener. As I noted, the price I found for comparable socks was a little lower, and I feel that the travel mug was also priced a bit high. I'd estimate that the value is closer to $50. Either way, it still exceeded the cost of one box. The hot chocolate was my favorite item this month, and I'm afraid that it won't last until next month's box arrives. For me, the Wondermade marshmallows were a great find, especially since I know I can drive across town to grab more anytime I want. I'm excited to see what my Stars Hollow Monthly subscription has in store for 2018. According to Pegg, they're working on new wax bars, leggings, snow globes, and more!
What was your favorite item this month? Leave a comment below and share your thoughts.