Rare Beer Club by The Microbrewed Beer of the Month Club is a limited-release beer subscription. Each box comes with a total of 4 bottles (750 ml each), from two different breweries. Selections include styles, often ideal for cellaring, like Farmhouse Ales, Russian Imperial Stouts, Belgian Abbey Ales, varied Imperial and Grand Cru offerings, oak and other cask-aged ales, and much more.
The Rare Beer Club is $35.95 per month.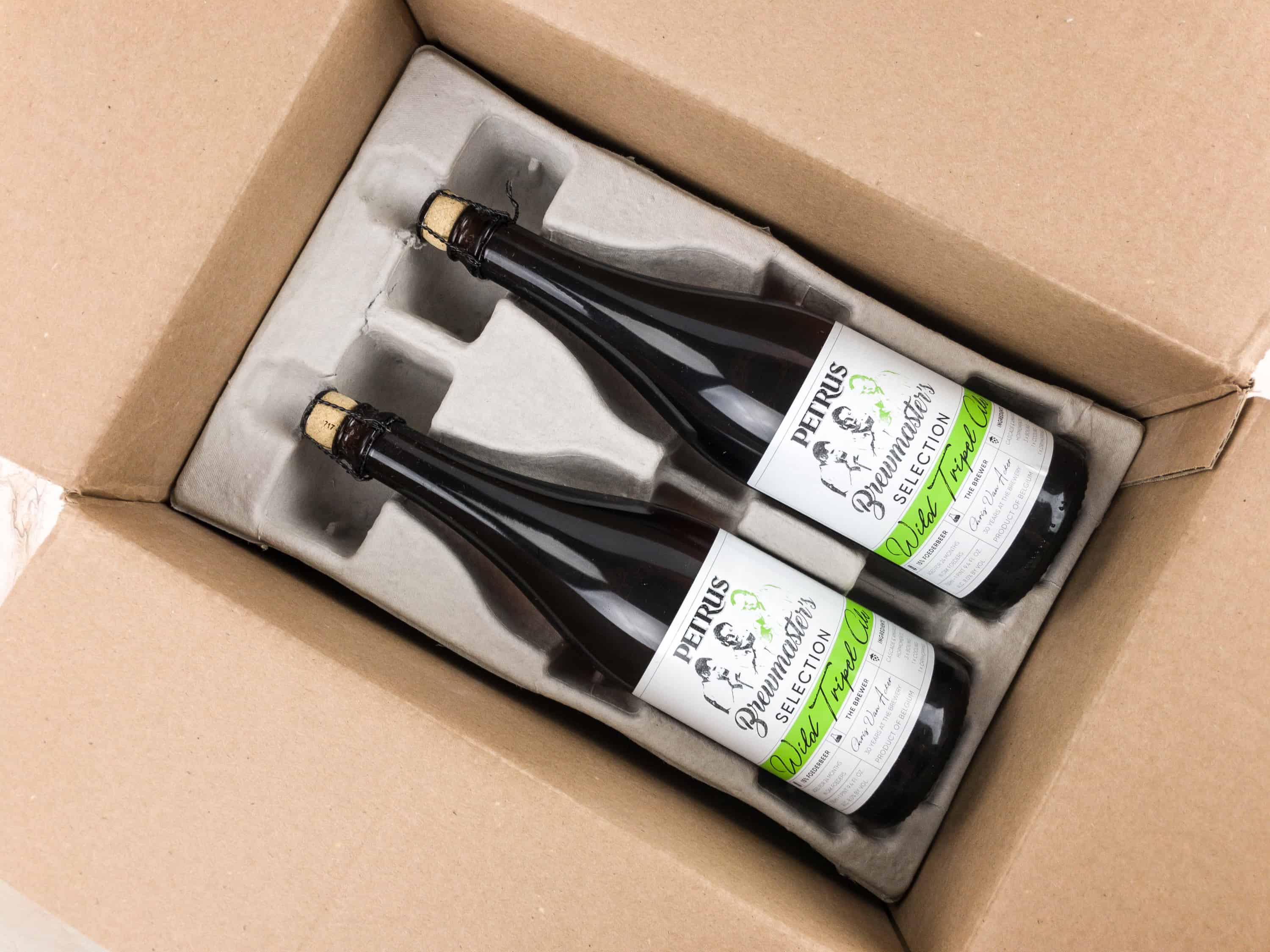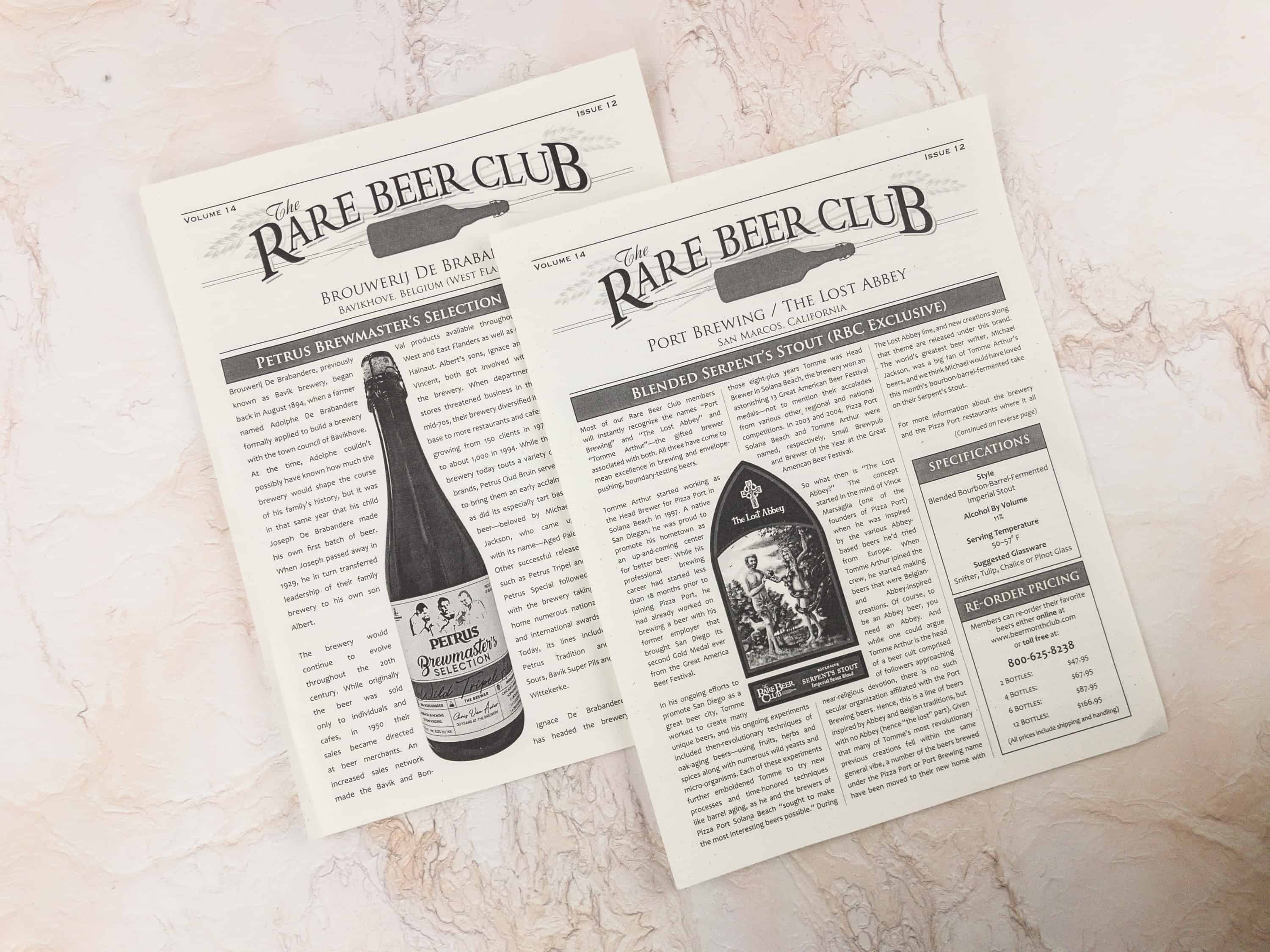 The box comes with a detailed information sheet that features the history of each brewery behind the month's beer selections. This month we were treated to two very different blended selections.
It also provides a thorough description of each beer, including notes on its characteristics and proper serving temp and vessel. Pairings are suggested, as well as notes on aging potential and expected changes are included, too, since the Club chooses beers that are generally good for cellaring. Some selections are ideal for aging for several years, undergoing drastic shifts in flavor balance. Since two bottles of each selection are included in my subscription, I like to drink one for my review and tuck the other bottle away to see how it ages.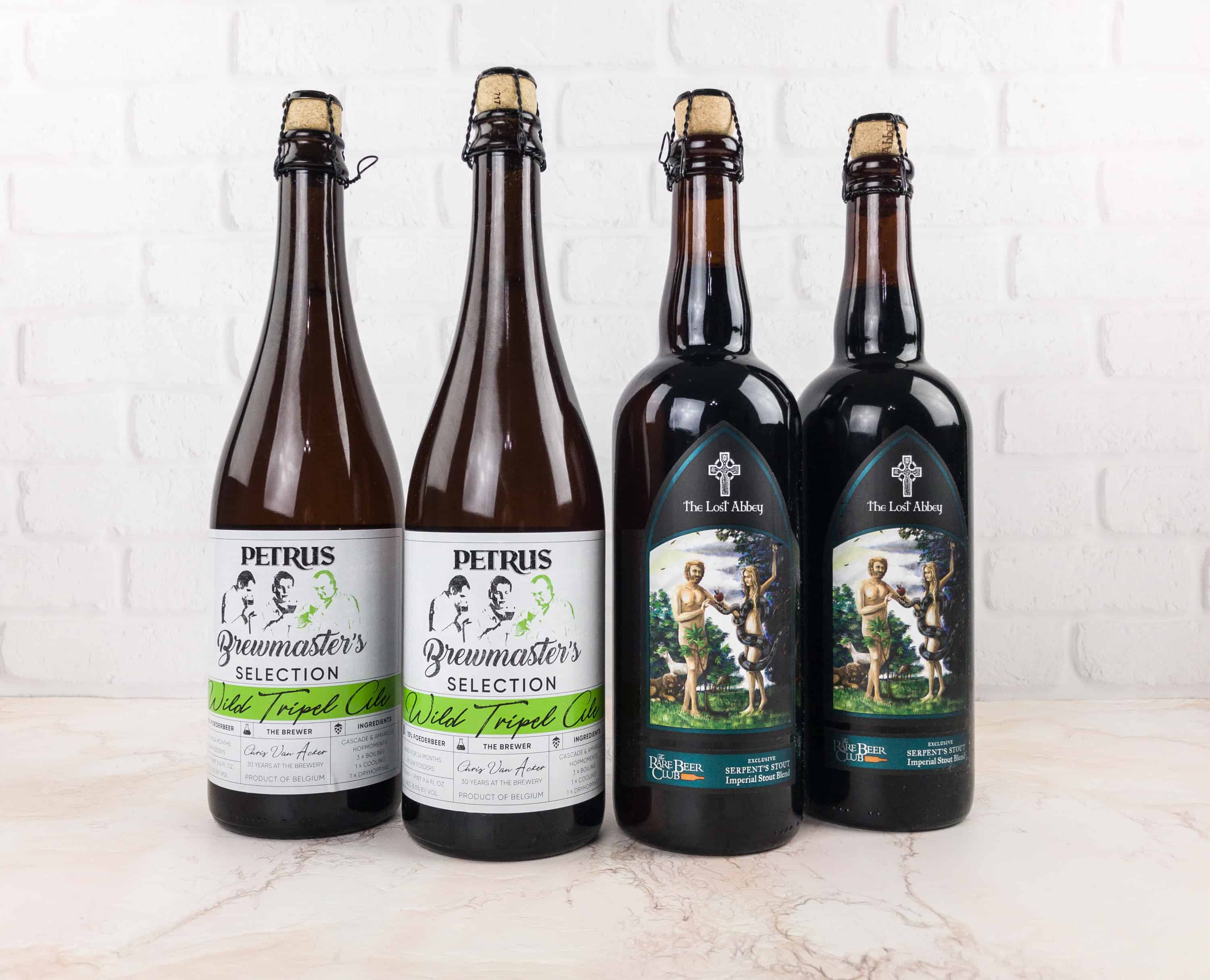 Everything in my January 2018 Rare Beer Club box!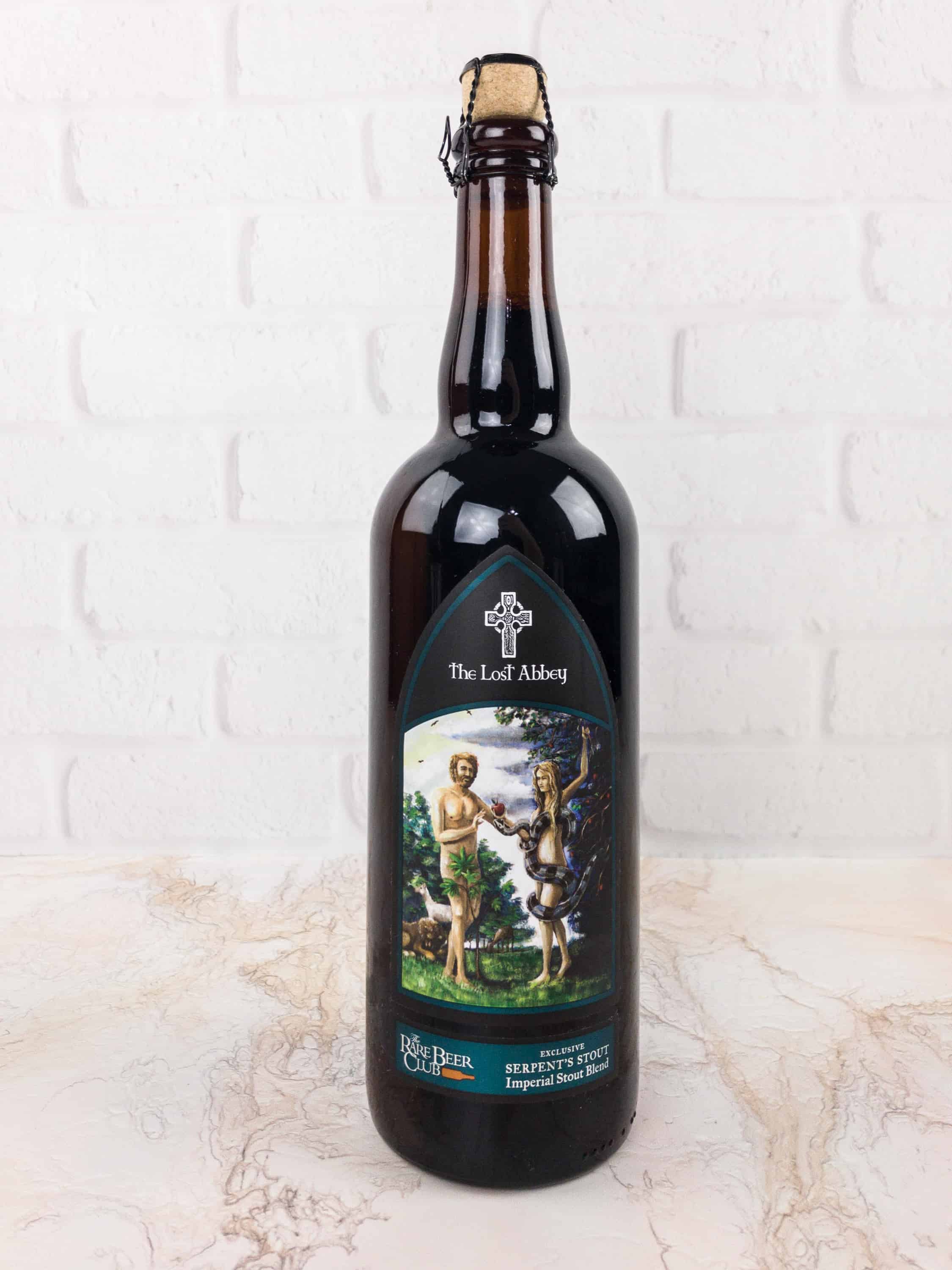 Port Brewing The Lost Abbey Blended Serpent's Stout. This is a massively thick and opaque beer with a tactile sensation running smooth around the mouth. I found it to be exceptionally well-balanced and pleasant — it clocks in at 11.5% ABV, but it remained smooth and lacked any pronounced heat from the alcohol content.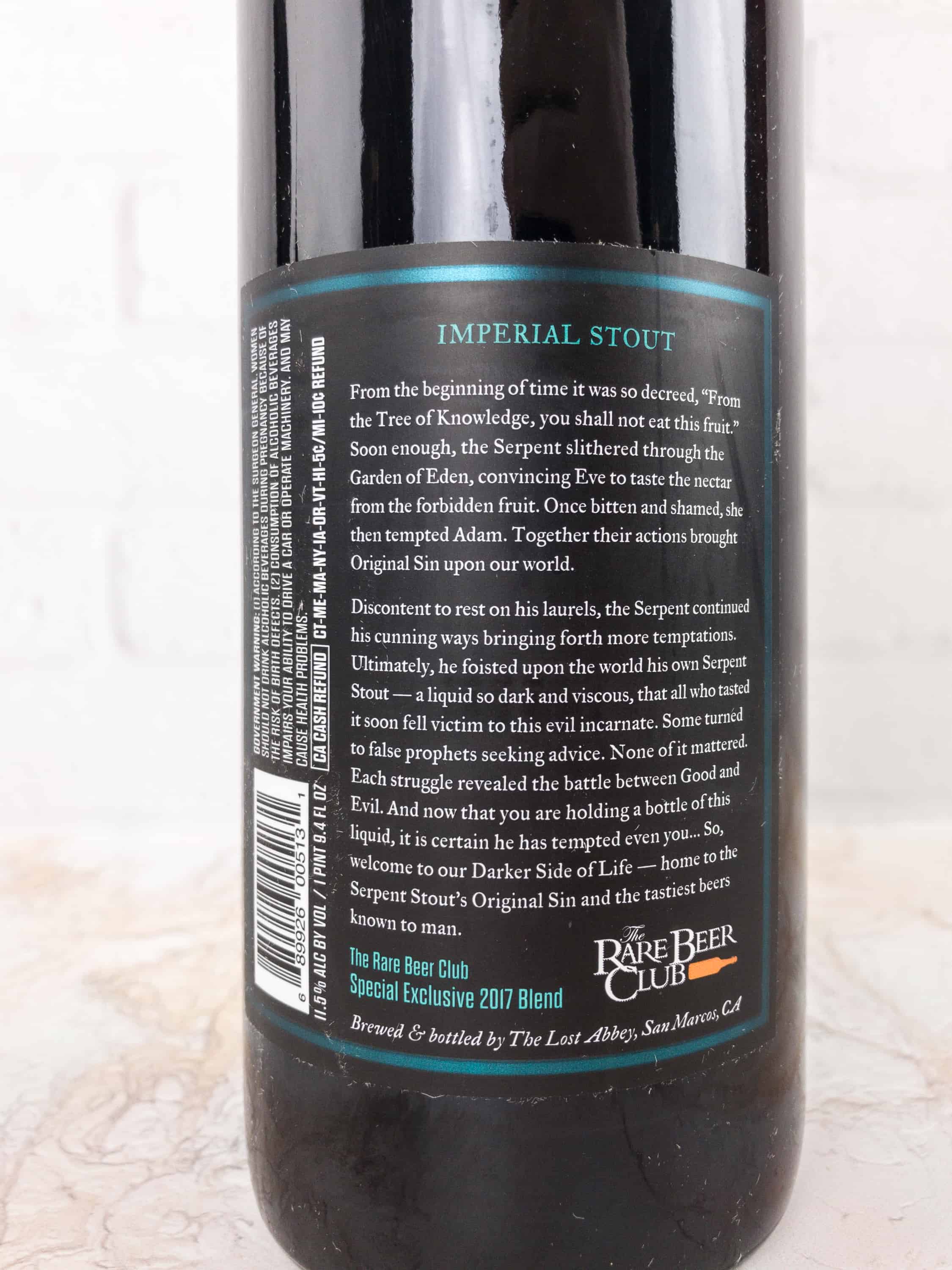 It pours dark and thick, with a creamy mocha-colored head and aromas of roasted malts, dark chocolate, and French roast coffee.
The history of the bible and religion is indeed the skirmish of good vs. evil. This Serpent's Stout distinguishes the evil of the dark side that we all struggle with.
The taste is rich and lush, and the vanilla notes imparted from the oak bourbon barrels lends a smooth elegance. The color is perfectly opaque, with the dark coloration extending even into the well-formed head. I love the marriage of flavors in this stout — you can pick out the cocoa, coffee, malt, and nougat notes, but none runs roughshod over the others, and each has a very natural and perfectly-suited intensity.
Petrus Brewmaster's Selection Wild Tripel Ale. It tastes a little sour, dry, and nicely bitter. The Petrus Tripel Ale is triple hopped with a combination of Amarillo and Cascade, two american hops varietals, enhancing its character and fruity aroma. Cascade is a variety with which I am familiar, but I found lovely notes of citrus, dry-wood, and a bit of grassiness that I can only attribute to the Amarillo.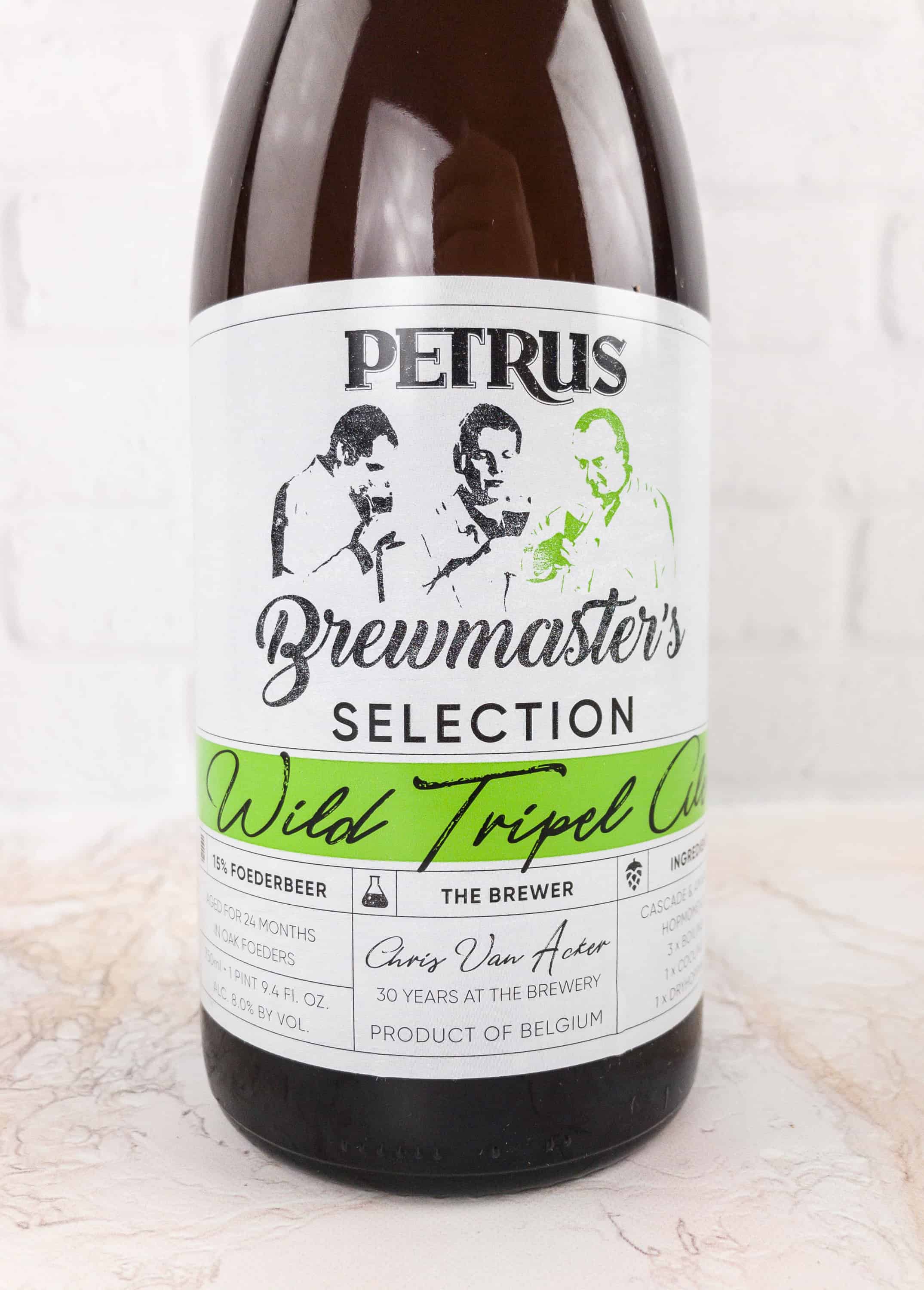 The brew master also added 15% of foeder beer to add some stunning tartness and beautiful rich color.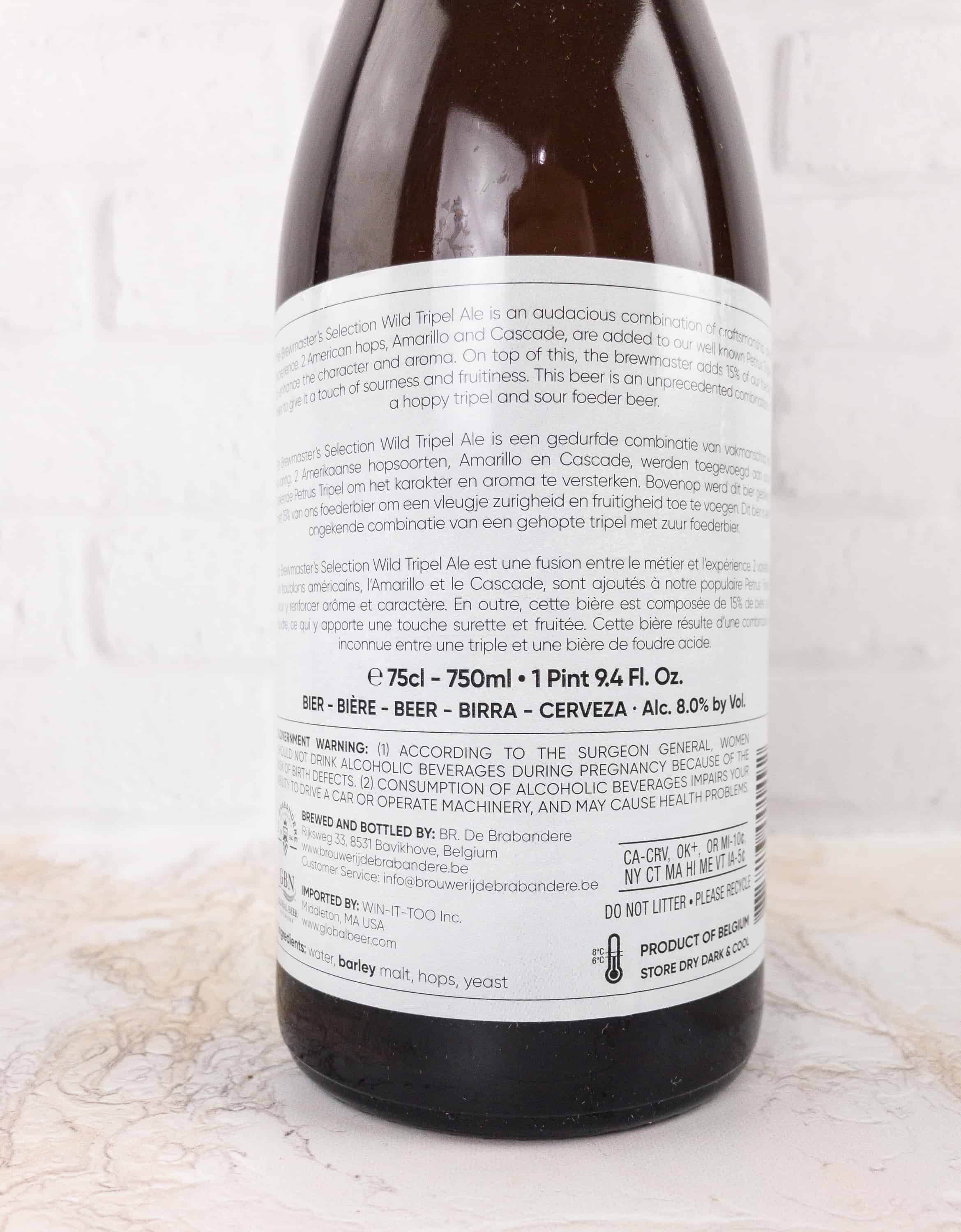 This beer is a perfect marriages of a hoppy tripel and sour foeder beer.
This pours bright gold with a foamy white head has a strong fruity aroma and mildly sour taste. There was lots to love here, and the character of the ale shone through the sour — I loved being able to enjoy all aspects of the beer instead of just experiencing the attack of the sour.
This ale achieved a superb balance, showcasing lovely sourness, brightness and fruitiness at once, with welcome restraint on the contributions of the aging barrels. The carbonation was superb as well, with the ale exhibiting a Champagne-like effervescence. The head was just magnificent, with and effusion of fine and well-formed bubbles.
Rare Beer Club never disappoints! They really know their beers, and I've been very pleased with their selections — heavy on the sour and wild ales, with their dark selections reserved for beers with really great balance and depth. I love that I can order more of my favorites – it'd be sad to fall in love with a rare beer and not be able to get more – they also cellar well, so they are great selections to keep around for special occasions.
What do you think of this month's beer selections?
Visit Microbrewed Beer of the Month Rare Beer Club to subscribe or find out more!