PetGiftBox is a monthly subscription box for dogs or cats. A selection of toys, treats, chews and accessories are included based on your pet's size. With each purchase you can earn points to redeem for free boxes and other great goodies. Plus, each purchase helps feed 10 rescue pets! PetGiftBox costs $25 for a monthly subscription, and you can also sign up for a full year or just buy a one-time box.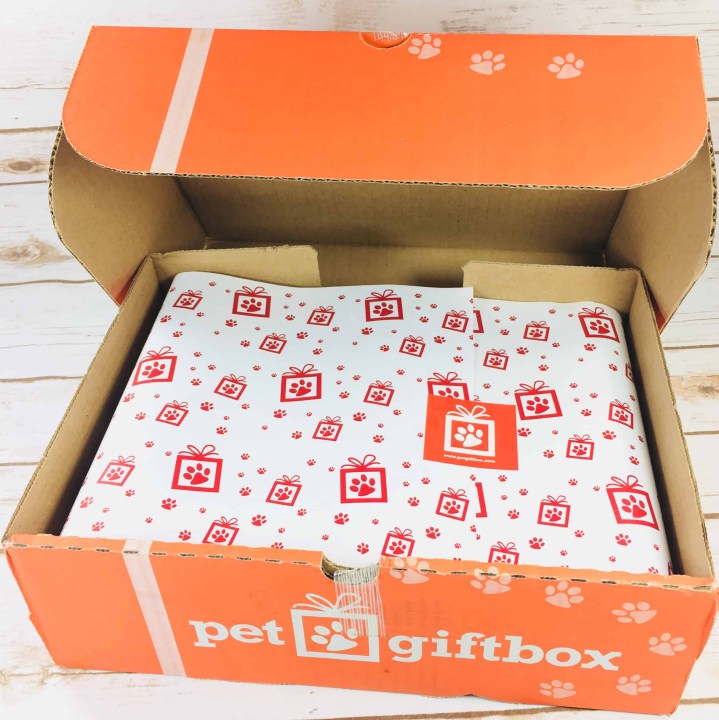 DEAL: Save 50% on your first box! Use coupon code HELLOSUB50.
My PetGiftBox came wrapped in paper and was sealed with a sticker. Inside I found an assortment of kitty play things and a cat treat!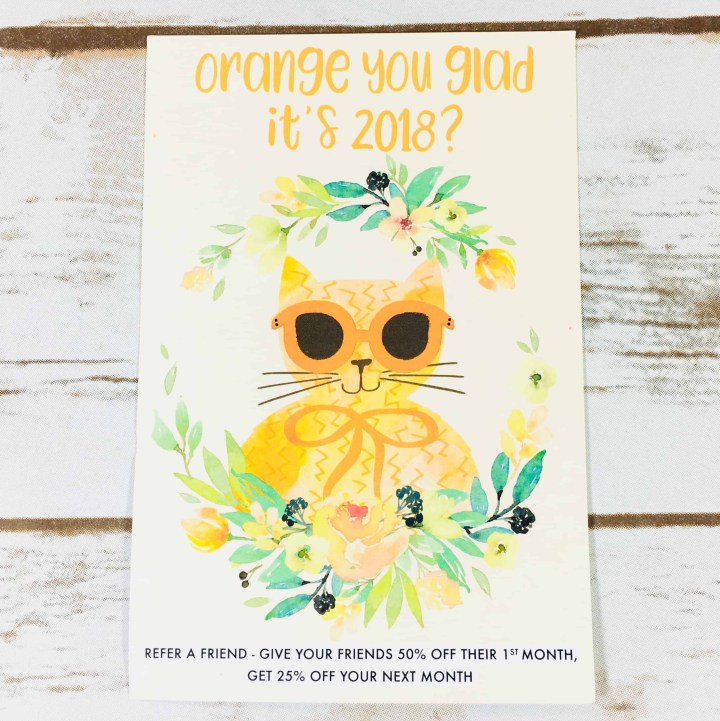 January's box theme was Orange You Glad It's 2018!
The information card listed each product and how to put it to use.
All of the items in my January PetGiftBox!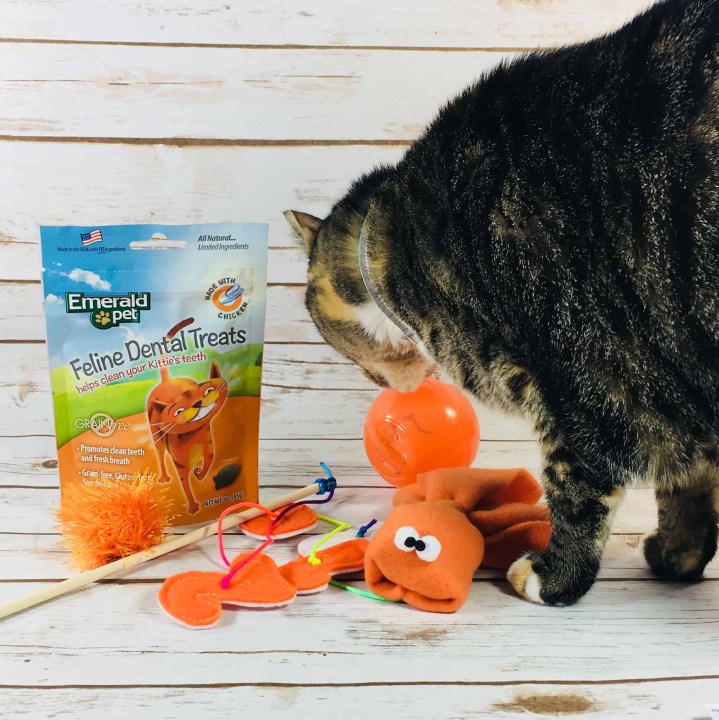 Here is the biggest surprise: Before I had even finished taking pictures, Zoey jumped up on the table and started investigating! I was very surprised, because A. she shouldn't be on the table and B. she was really interested in this box!
Sunny loves this subscription but waited her turn on the floor.
I couldn't find this Crochet Kitty 2018 Wand Toy on this Etsy vendor's site but she has some other lovely items to choose from.
The wand has the year "2018" made of felt and is attached to a stick for teasing your kitties.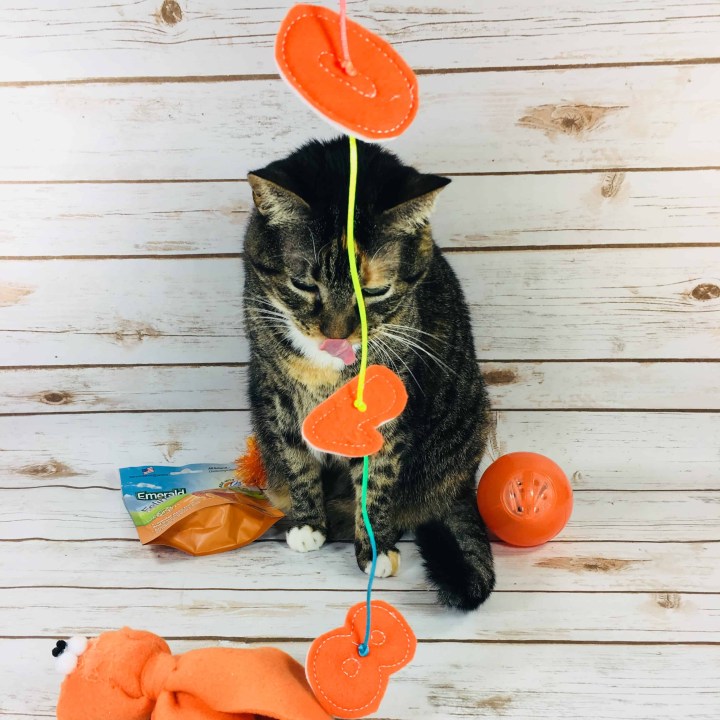 Zoey licked her chops but didn't bite.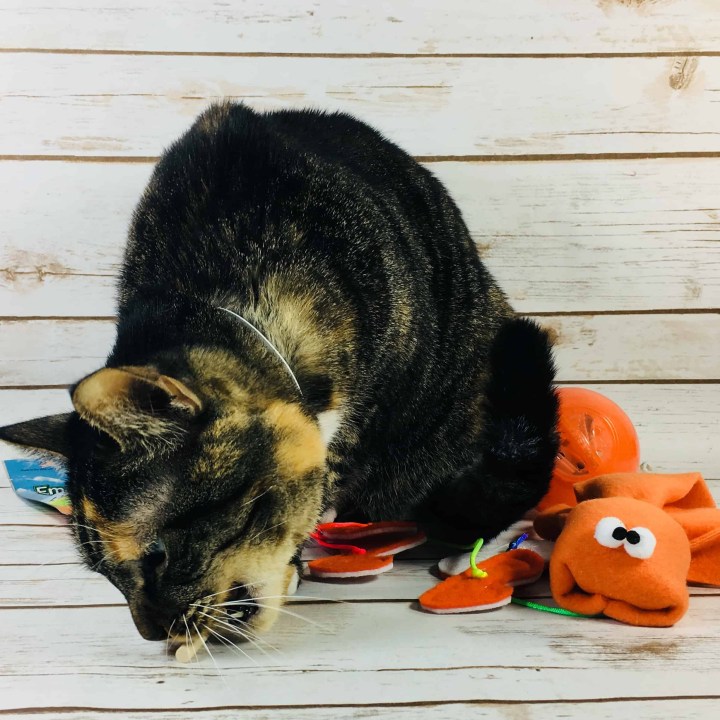 Here she is trying to pick it up.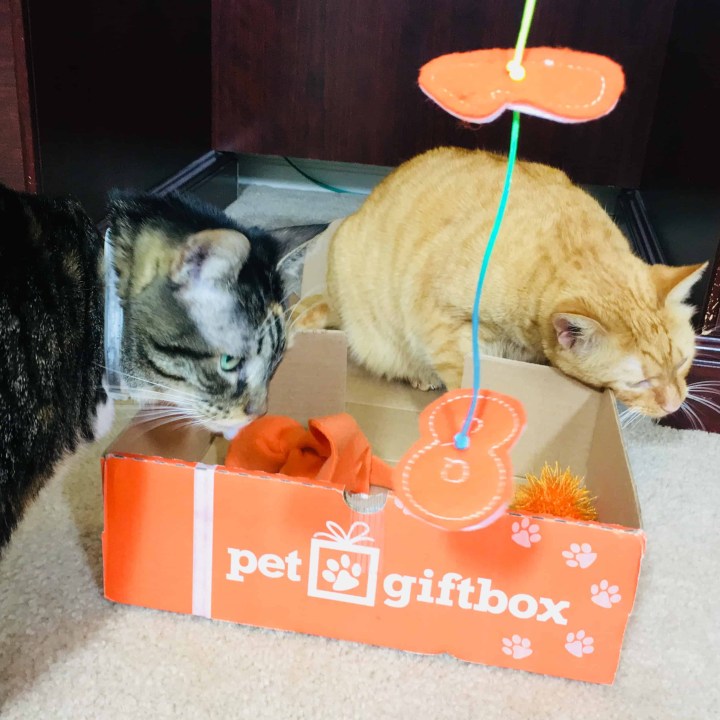 Sunny was too busy rubbing her face on her favorite box, but I assure you they will play with this. I have one wand toy around here from the October box (and same vendor) that they actually drag around the house and drop at my feet.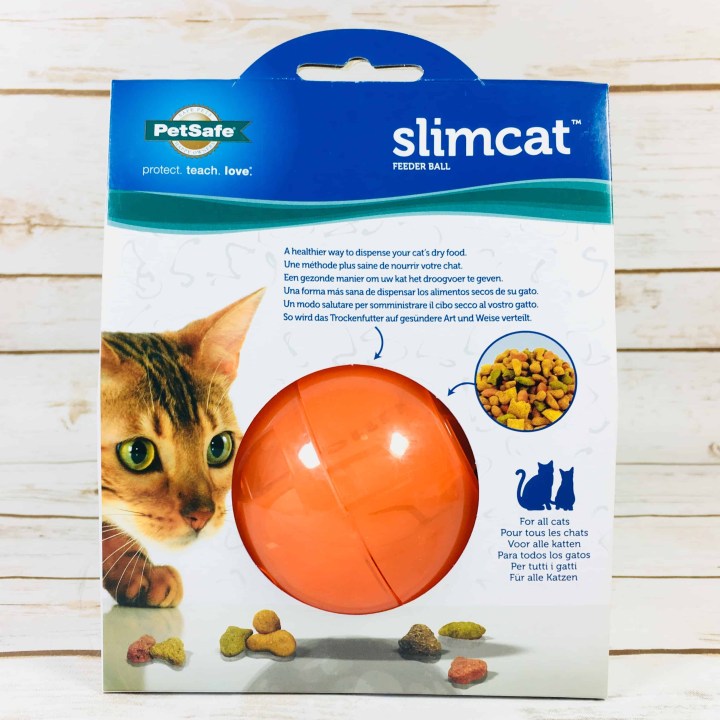 The Slimcat Feeder Ball looks like a giant orange but is a dry food dispenser.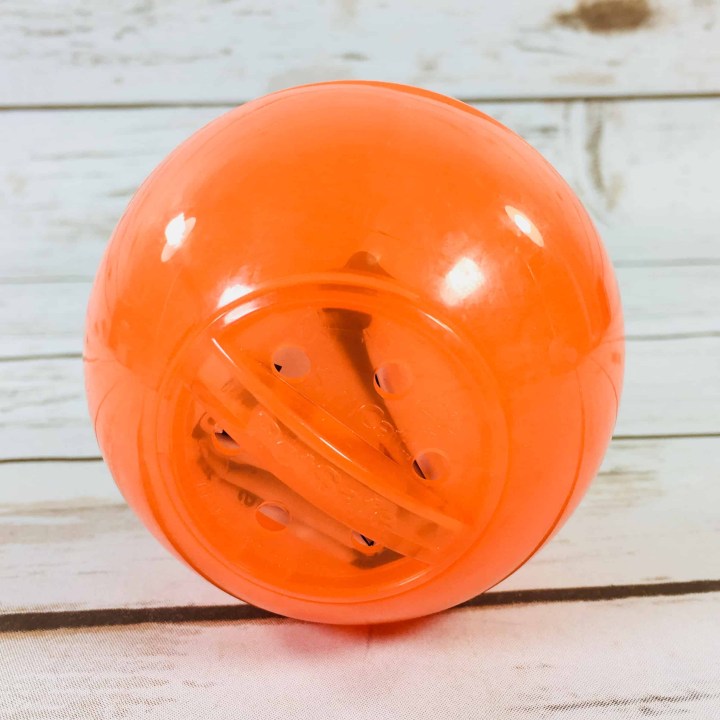 There were instructions included on how to work this thing, but basically you put food in and adjust the holes and let your cat go to work.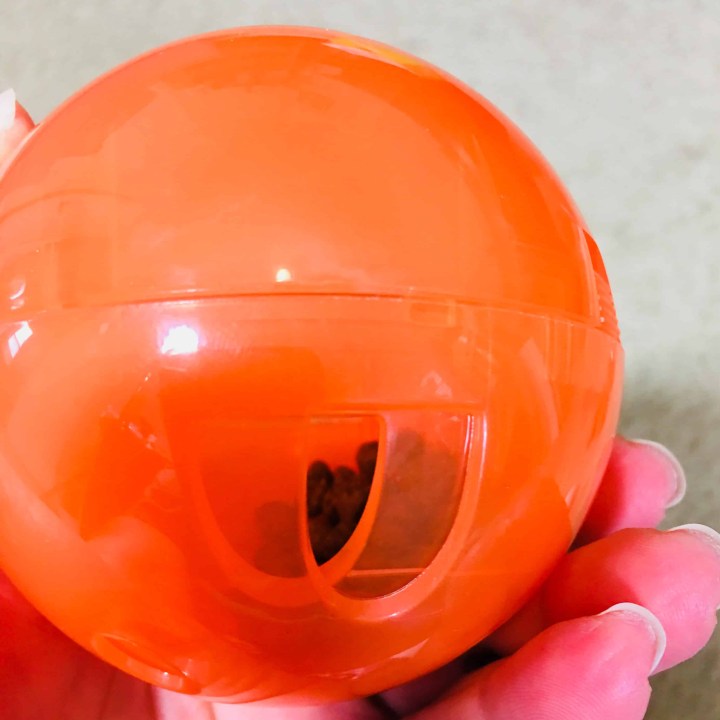 My cat wasn't all that interested in getting her regular food out of this ball but I bet she would like it better if I used a special dry treat instead.
Emerald Pet Feline Dental Treats look like little green fish and are made with chicken, peas, and alfalfa and are supposed to help reduce tartar and plaque on your kitties teeth and are free from artificial colors and flavors.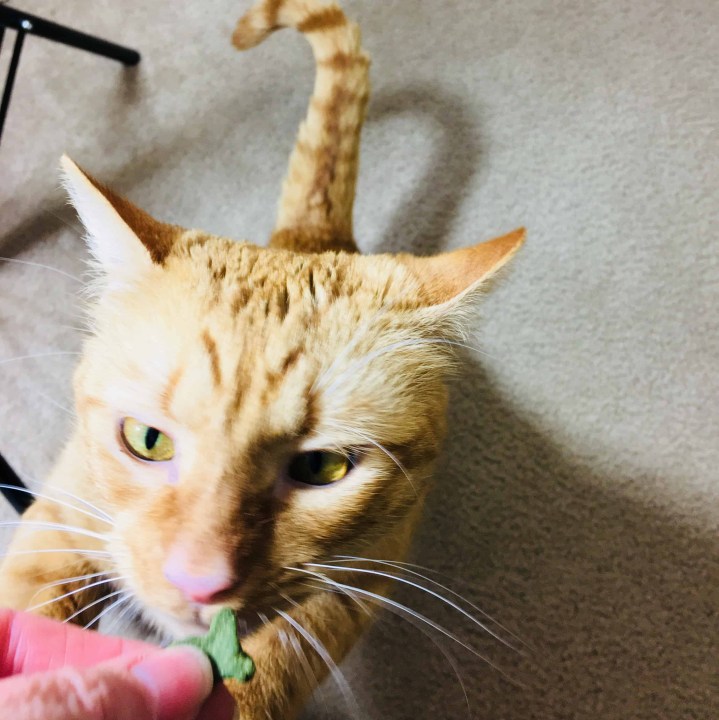 Sunny got a whiff of these and stood up to get a closer look. Here are several pictures of her looking extremely cute in a weird sort of way.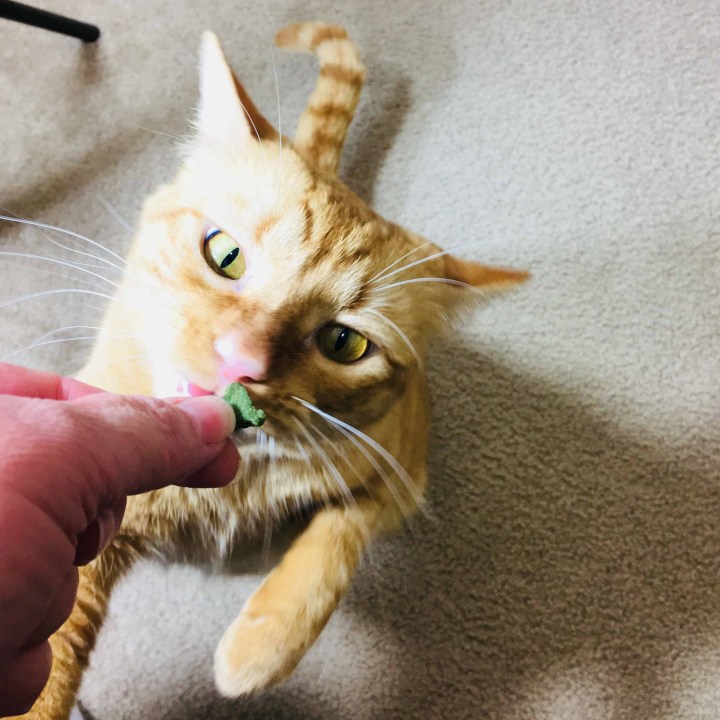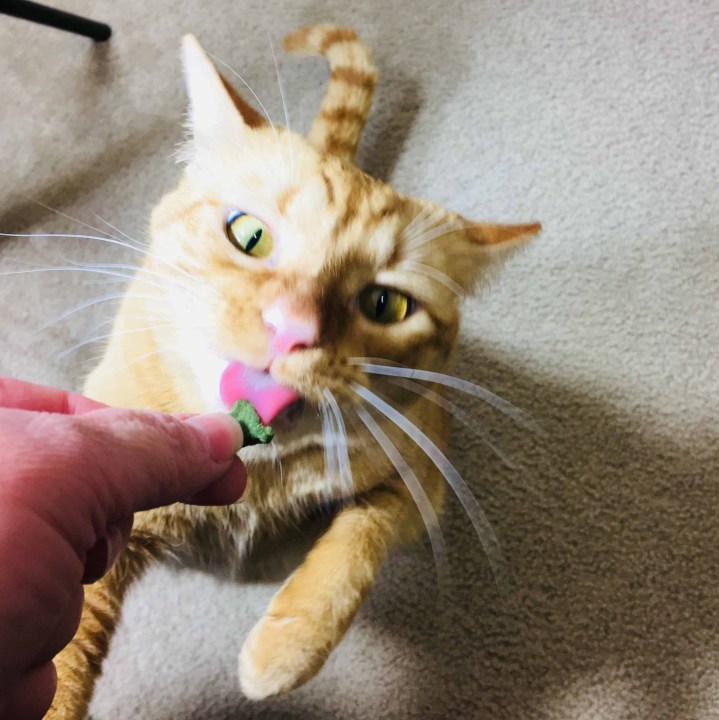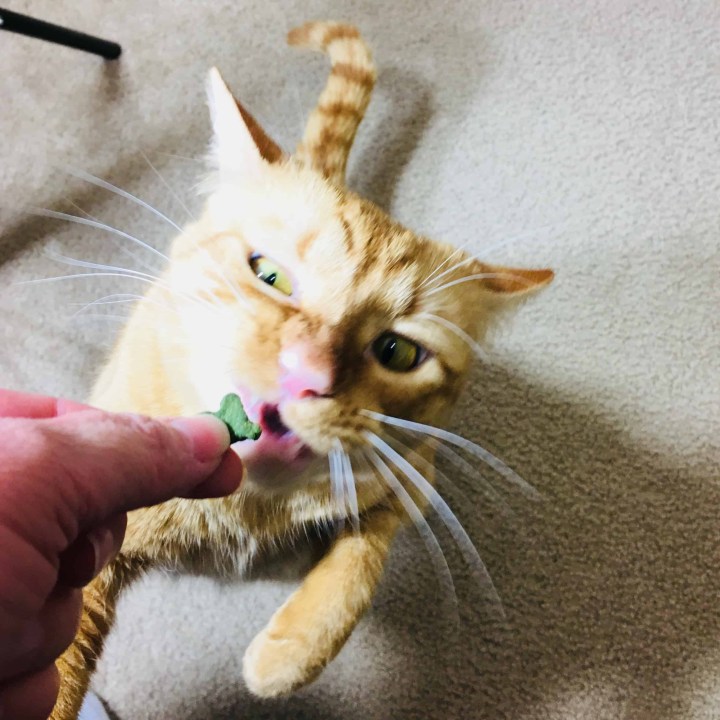 In the end both cats ended up not eating the treats, just sniffed and licked them a bit then left them alone.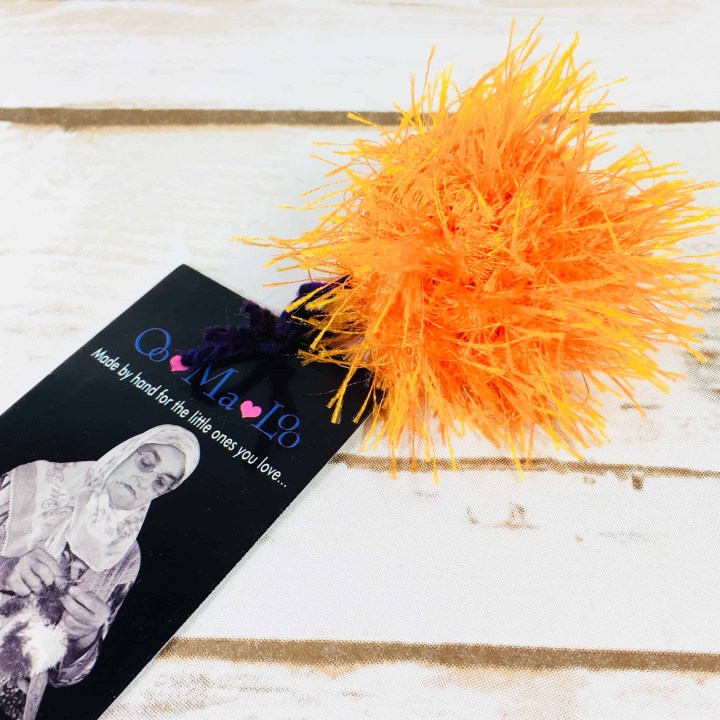 Oo♥Ma♥Loo Handmade Cat Ball with Bell was hand-crocheted in Anatolia (which I believe is Turkey!) and helps impoverished women earn an income.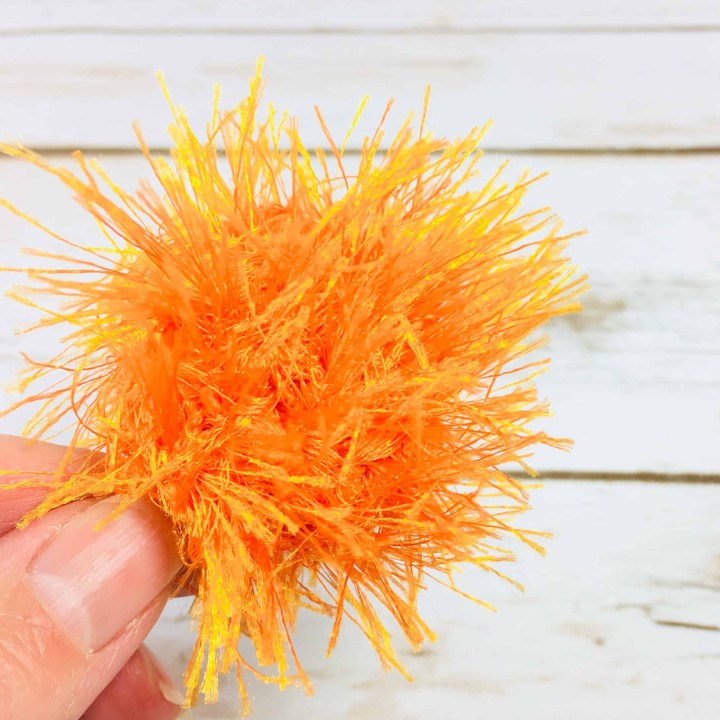 It's made of a soft material and has a bell inside.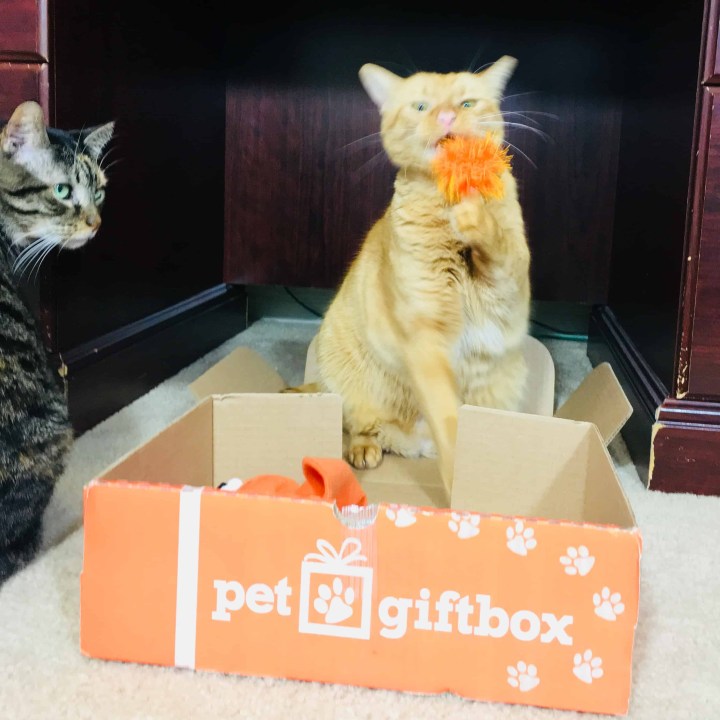 Sunny was a blur when she played with this toy.
Zoey will pick it up and throw it in the air and have a good time with it.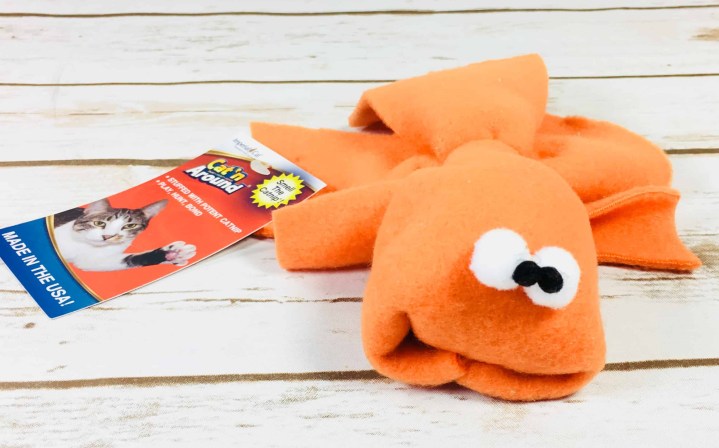 Imperial Cat Catnip Stuffed Fish Oh my goodness, isn't this toy cute?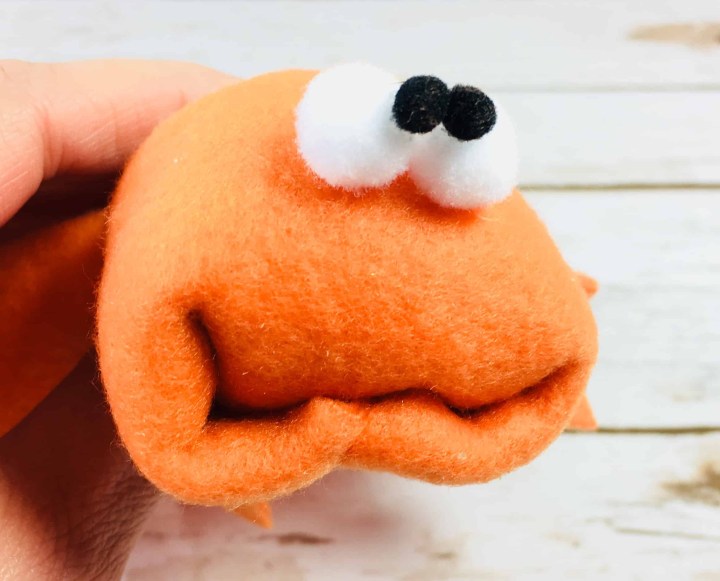 Look at his eyes!!! He's stuffed with organic catnip to encourage your cat to have a good time with him.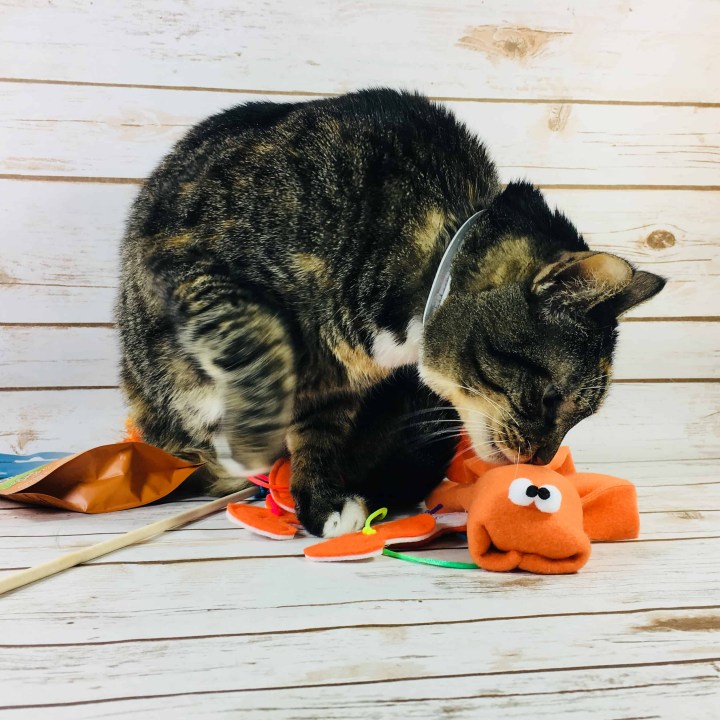 Zoey LOVES catnip.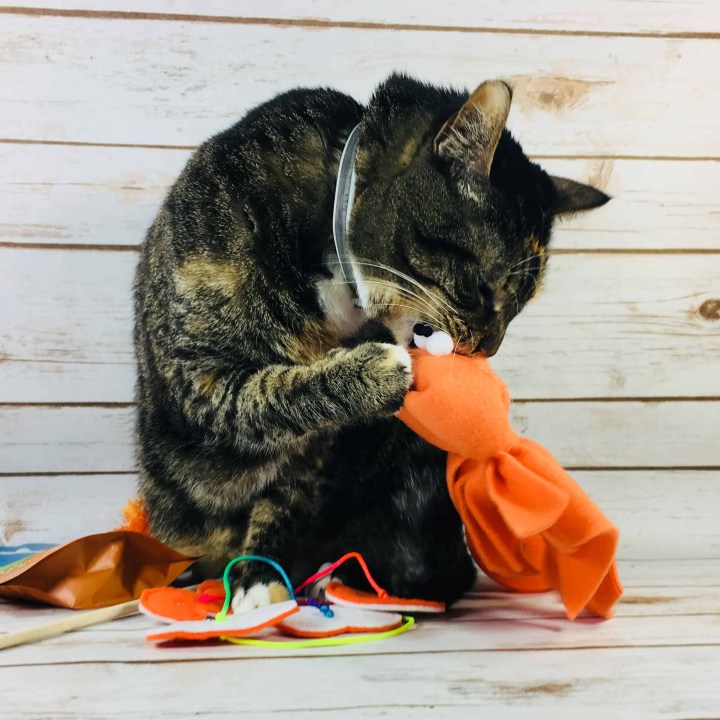 Here she is gnawing on Goldie.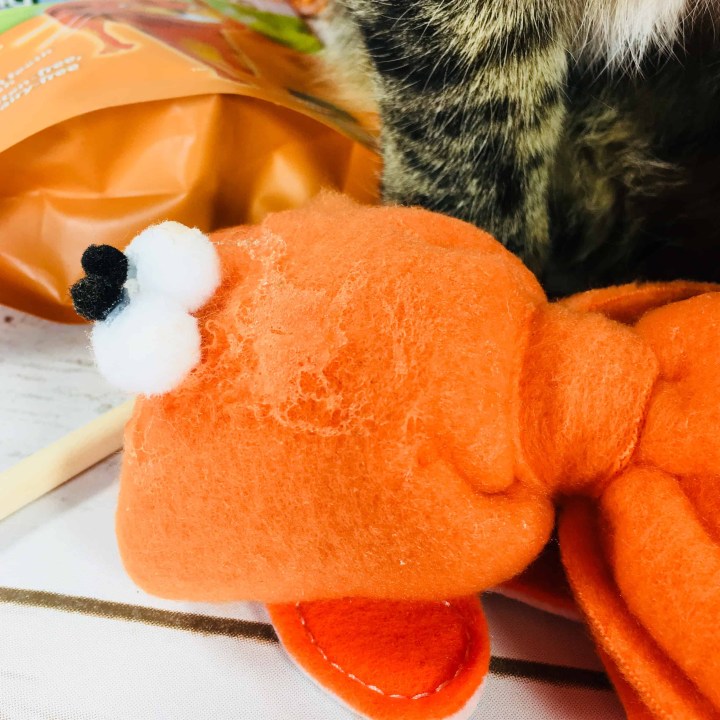 Yuck, cat drool. Well, at least she really liked this toy.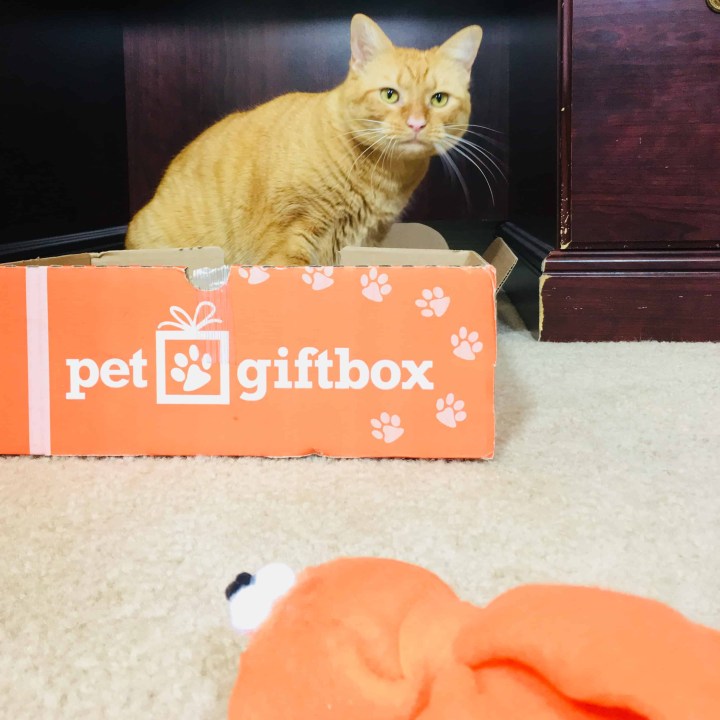 Sunny looked at him from the safety of her box. Maybe he smelled like cat drool or something.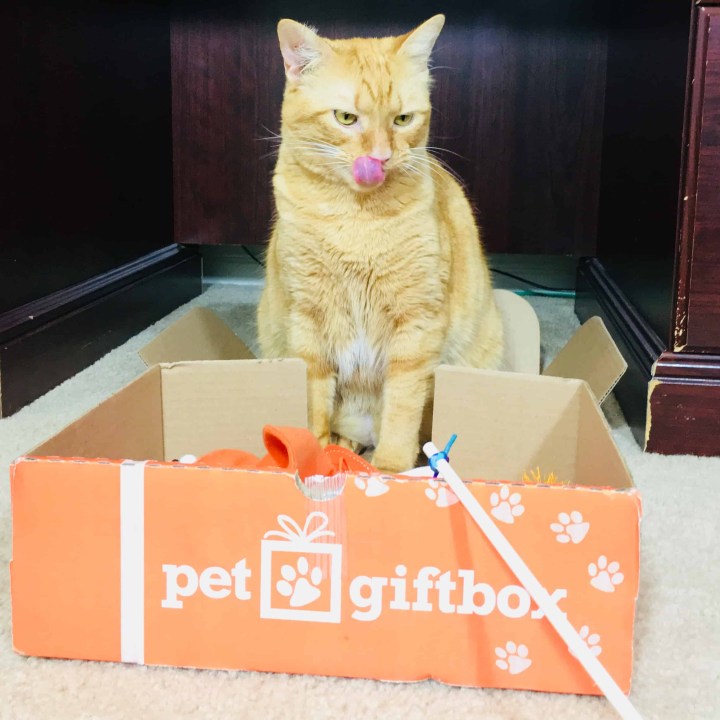 PetGiftBox is my cats favorite subscription box! This box consistently sends items that my cats continue to play with long after the picture-taking session is finished. The snacks are always hit or miss, but then again Zoey doesn't really like treats and Sunny is very picky. The toys keep their interest for the long-term and as you can see from the pictures, my cats couldn't wait to start playing with their new playthings. Plus, how cute was the theme? I loved seeing the bright orange color both inside AND outside of this box on a dreary February day (it took a while to get here I guess)!
Let me know what you think of this box in the comments!