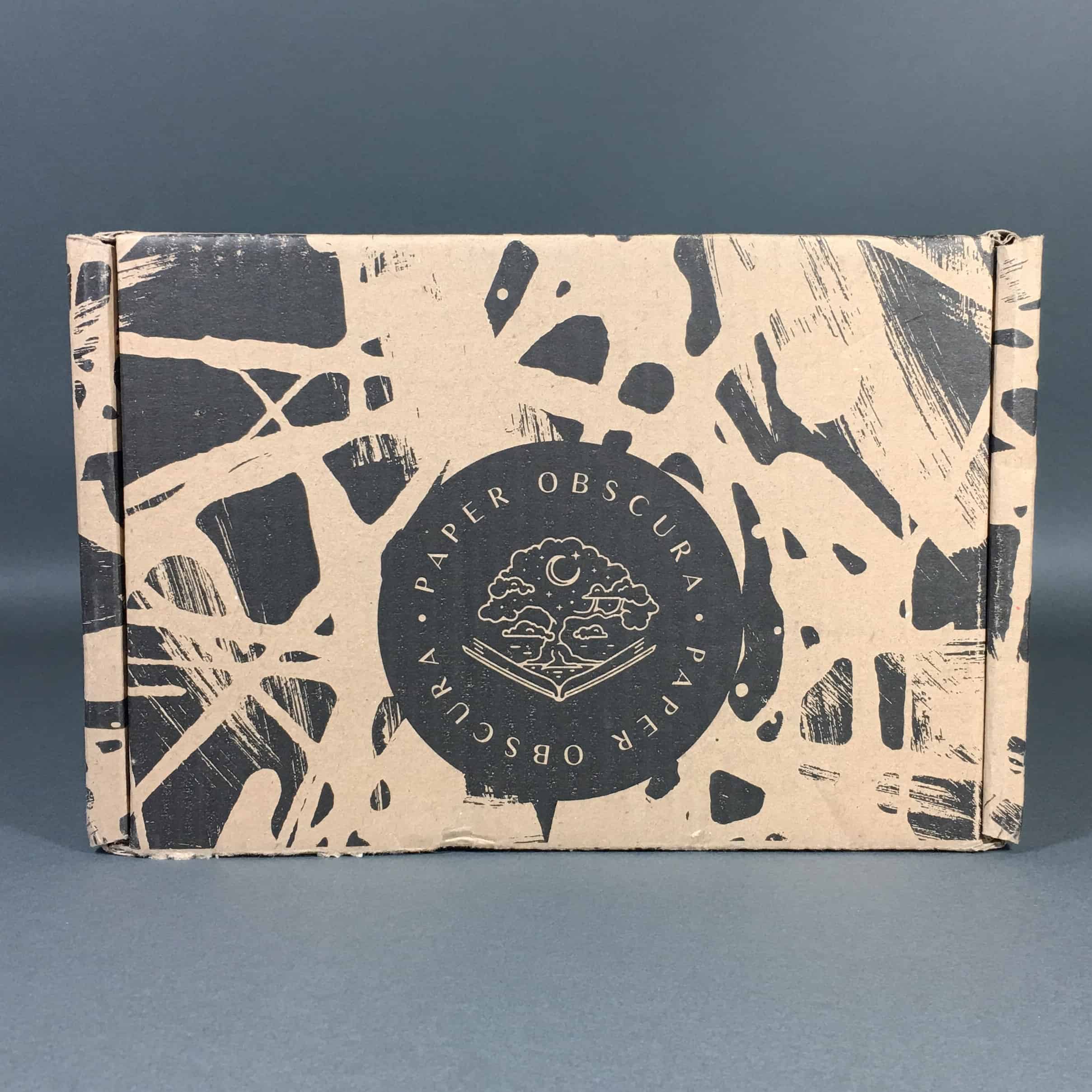 Paper Obscura is a monthly box fit for every Mystery, Thriller, and Suspense enthusiast with an eye for the unique, obscure, and handmade. Each box delivers a new release book with 3-5 items sourced from talented makers and proprietors that live and work in the settings of the monthly book pick.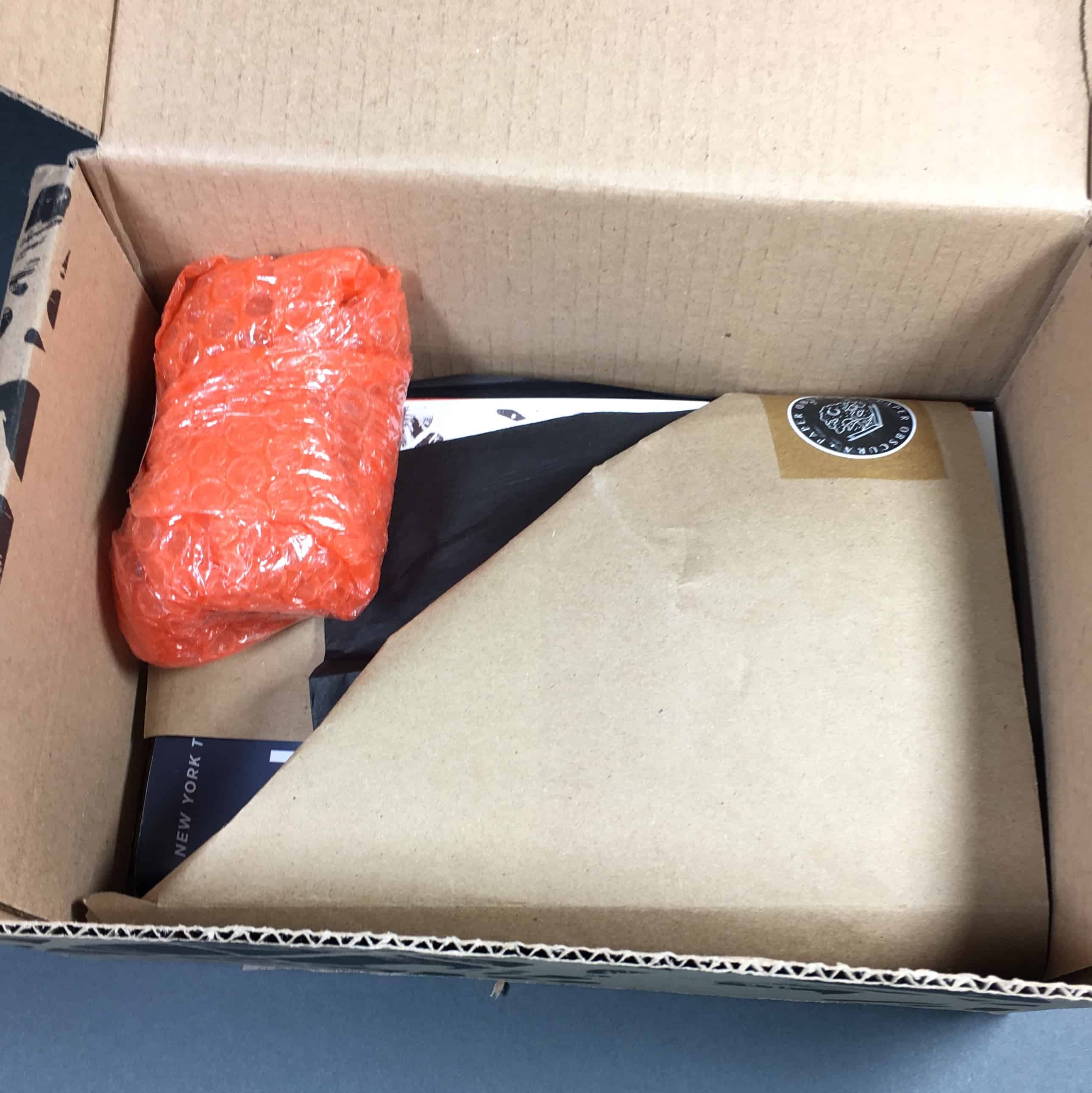 DEAL:  Save 10% on your first month! Use coupon code HELLOWICKED.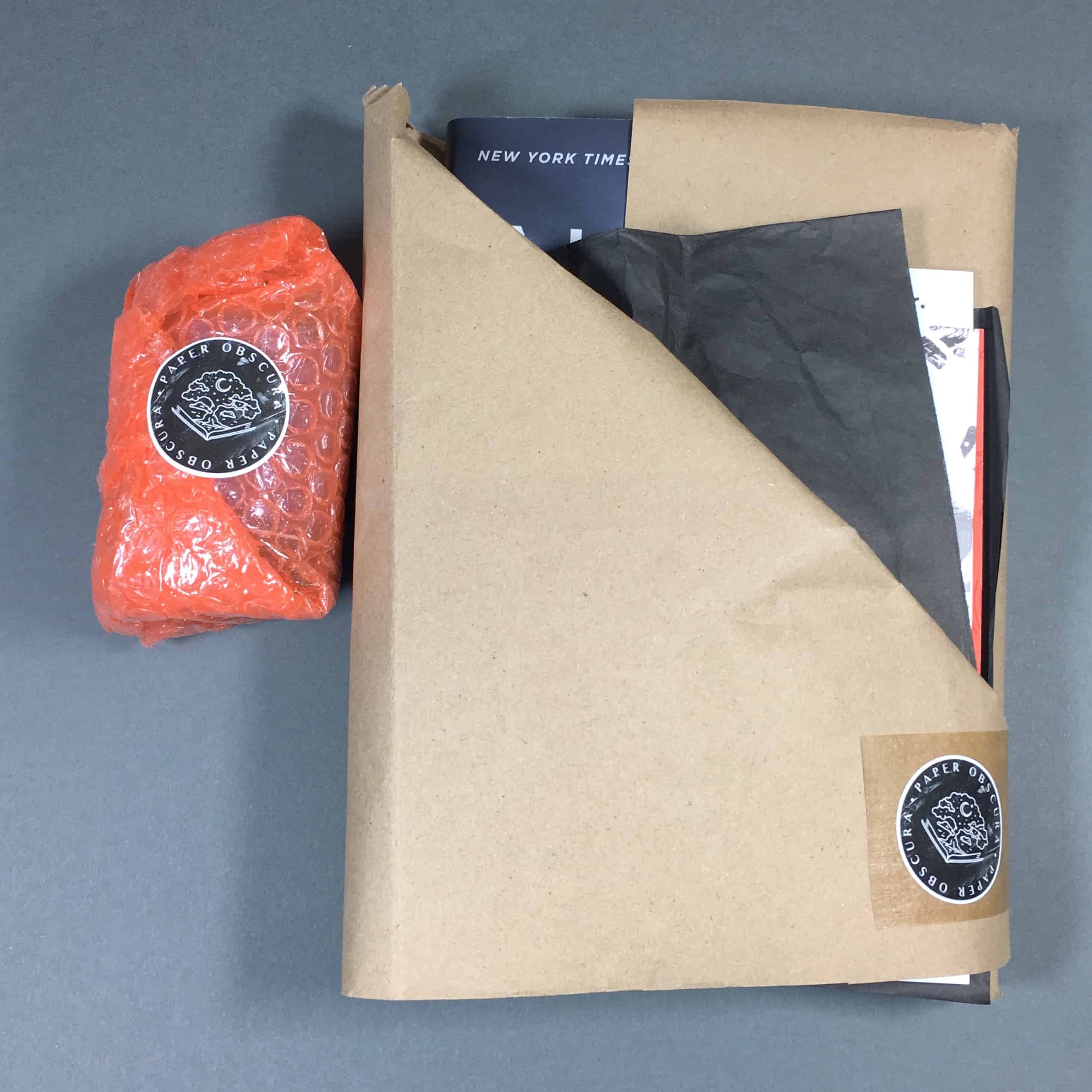 My items were wrapped in brown paper, which reminded me of my high school days when I would do the same thing to my school books! It was sealed closed with a sticker and I love that it was layered, so it was like opening a present.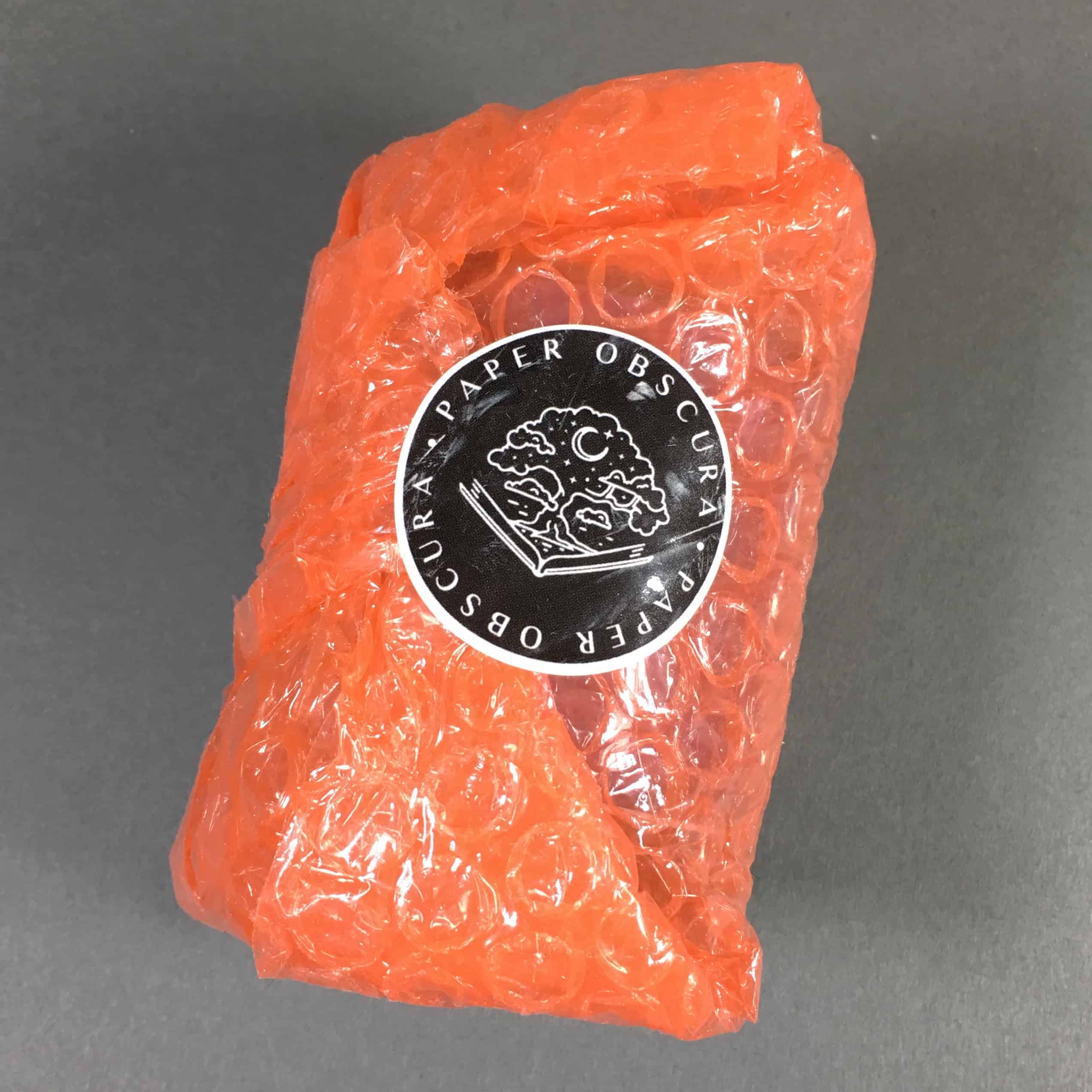 One item was made of glass and wrapped appropriately for its trip through the post.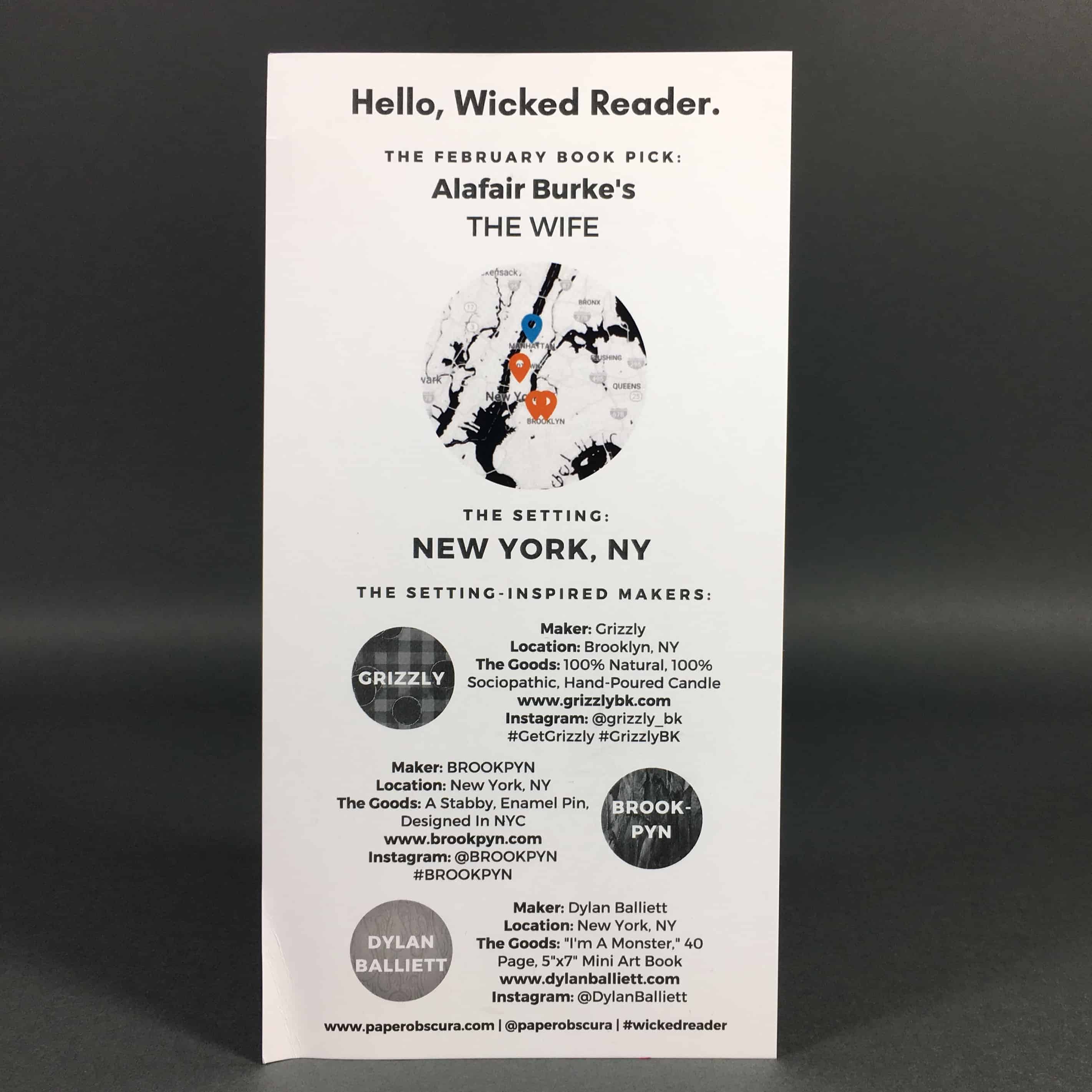 My product info card mentioned the book title and setting – all of this month's items take place in and/or hail from New York, New York!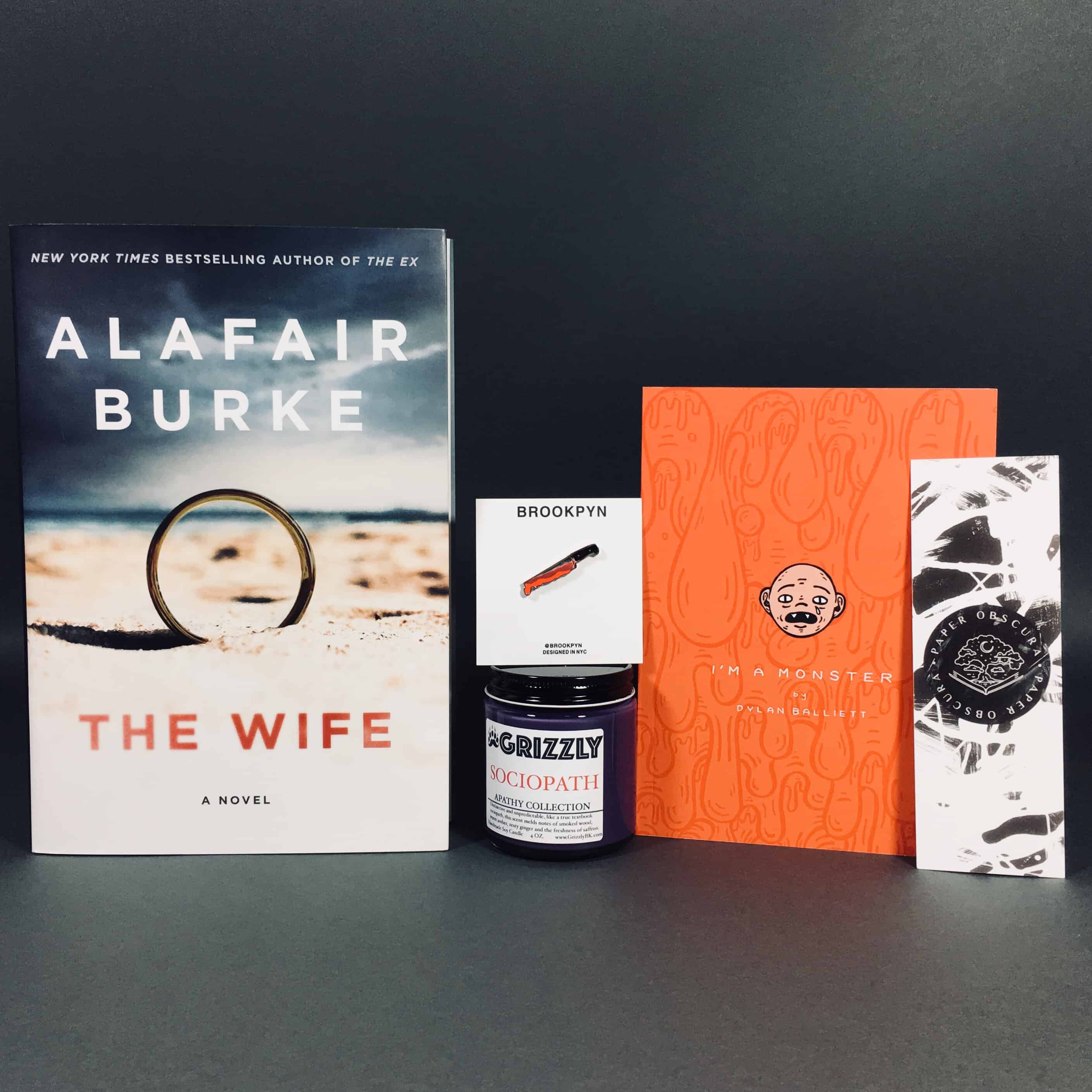 Everything in this box!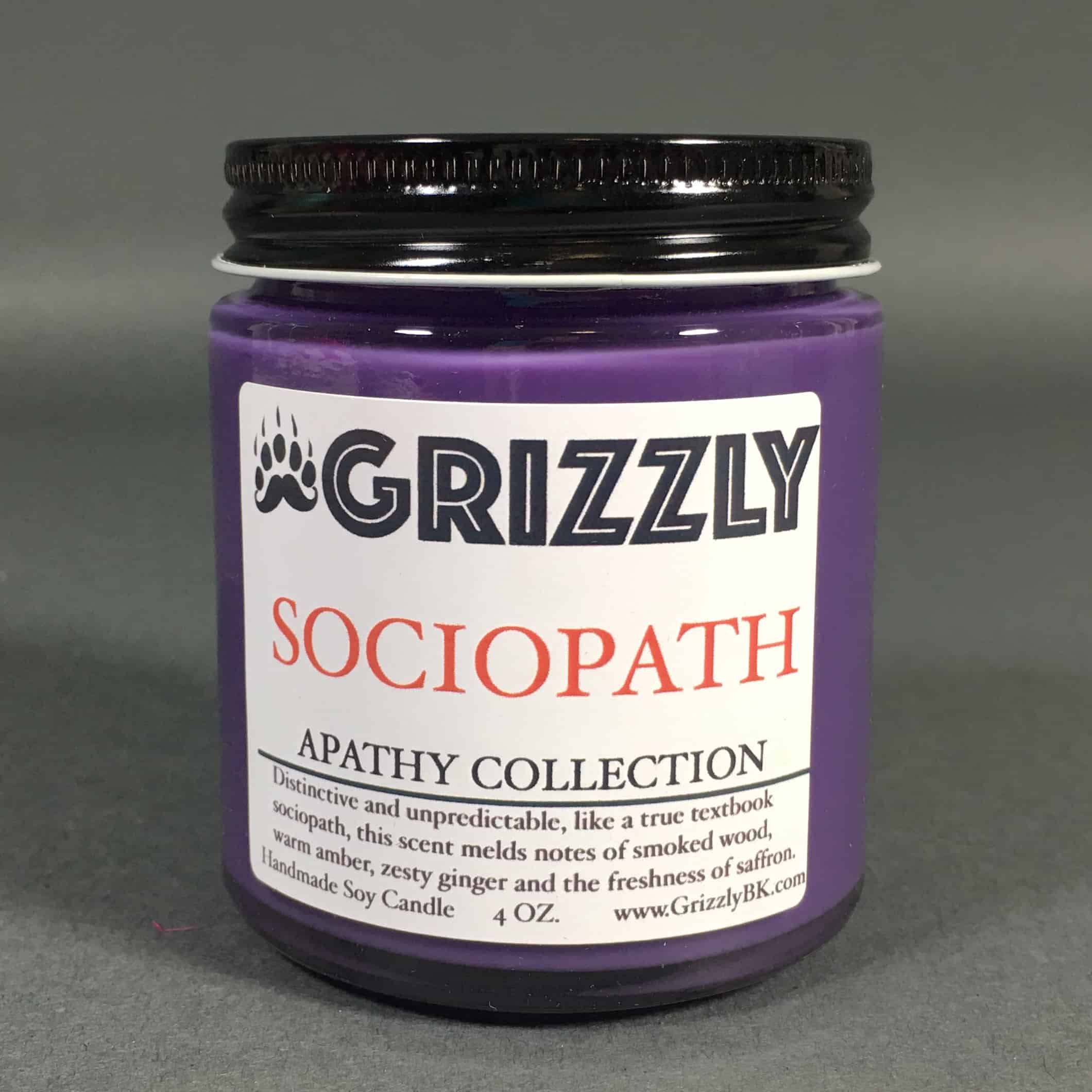 Grizzly Sociopath Apathy Collection Candle ($7.60) I love a good candle and prefer woodsy, smokey notes as I tend to burn them more in the fall and winter and love to feel transported to the cabin in the woods in my head.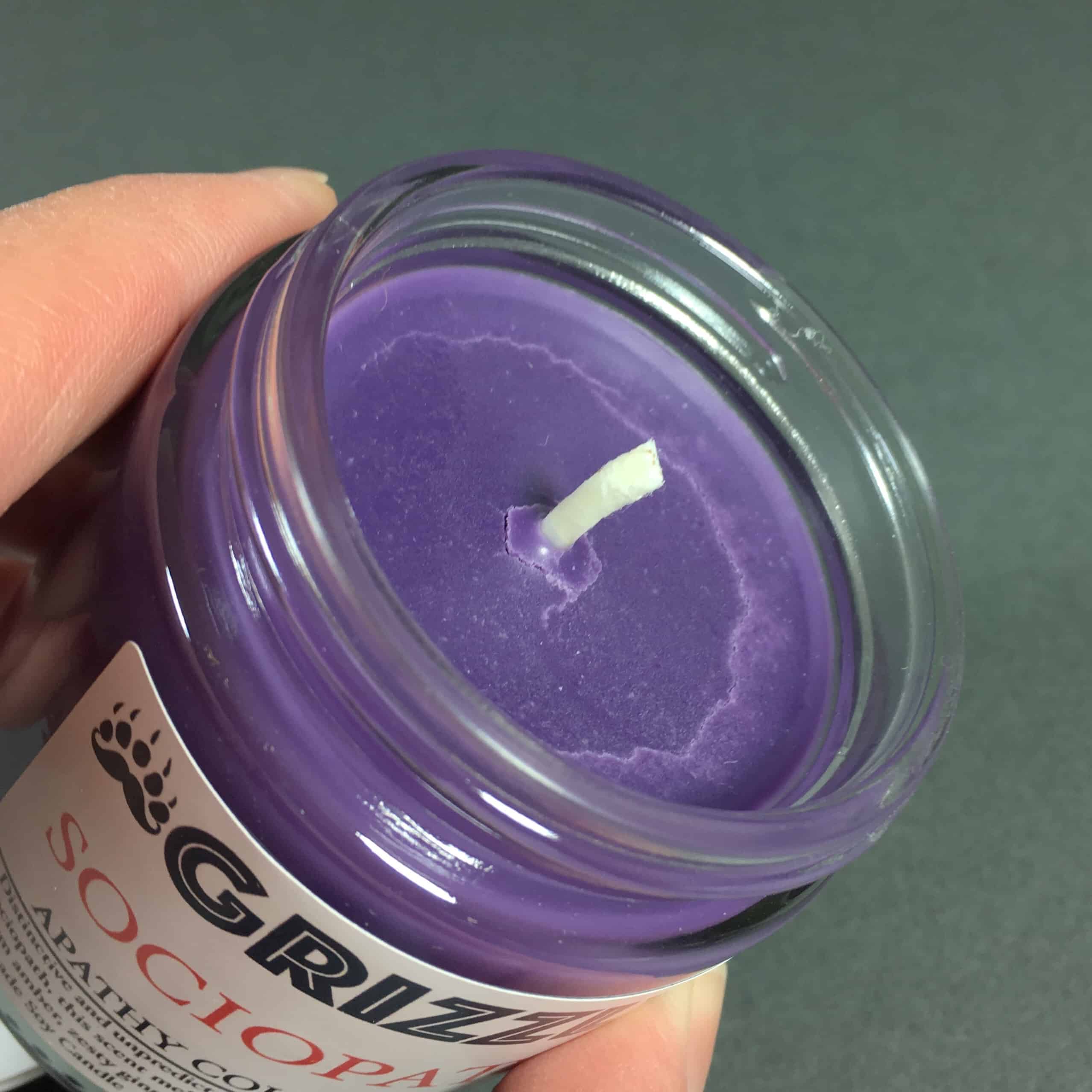 Plus, it's purple, always a winner in my opinion! The scent notes include smoke, wood, clove, amber, sandalwood, patchouli, ginger, and saffron. Made with soy wax and phthalate-free fragrance, it's no mystery, I love this candle!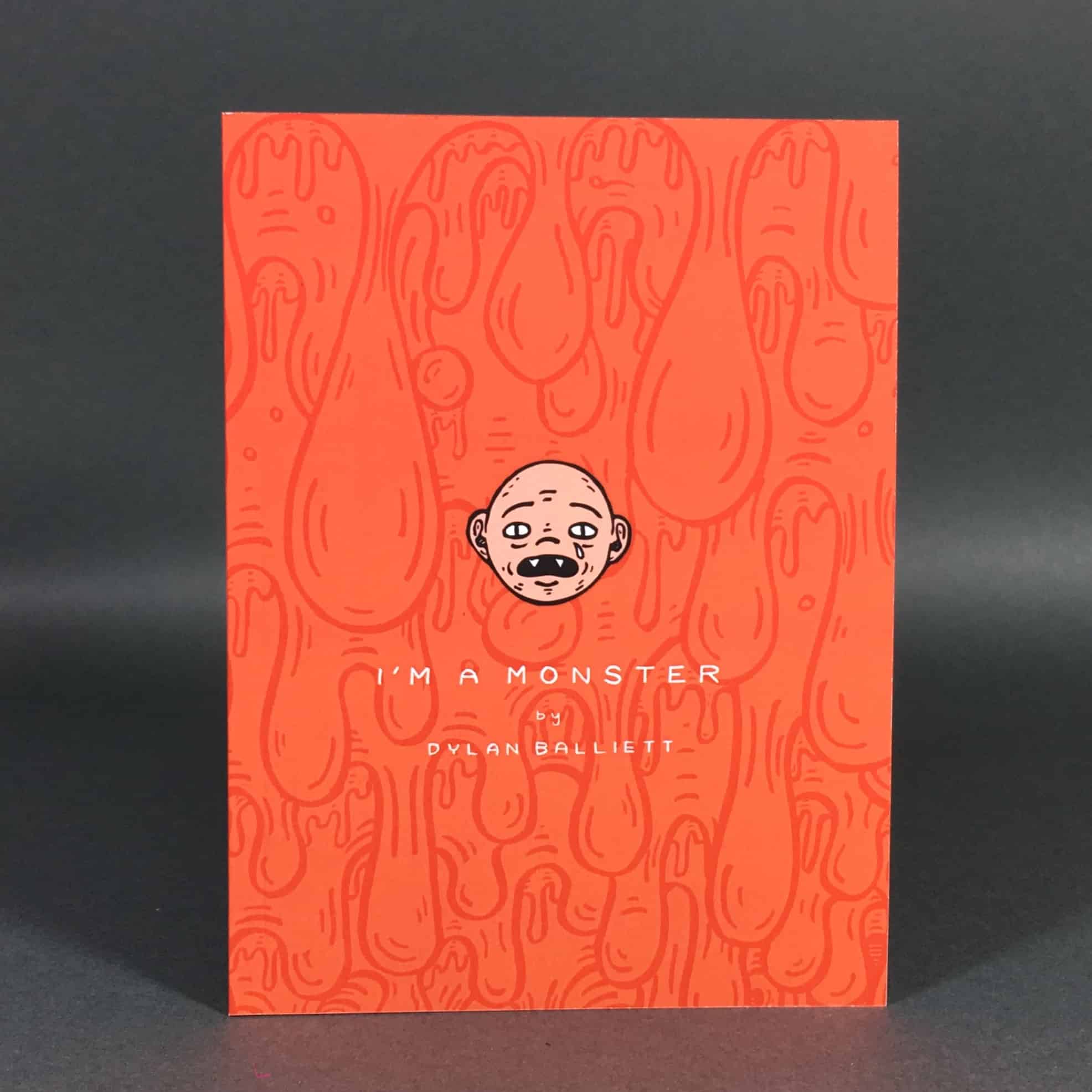 I'm A Monster By Dylan Balliett Mini Art Book ($7) OK, this one is a different kind of book. The artist is very talented but the pictures are perhaps over my head. Various characters state that they are monsters, and maybe the artist wants us to know we all have a bit of a monster inside somewhere.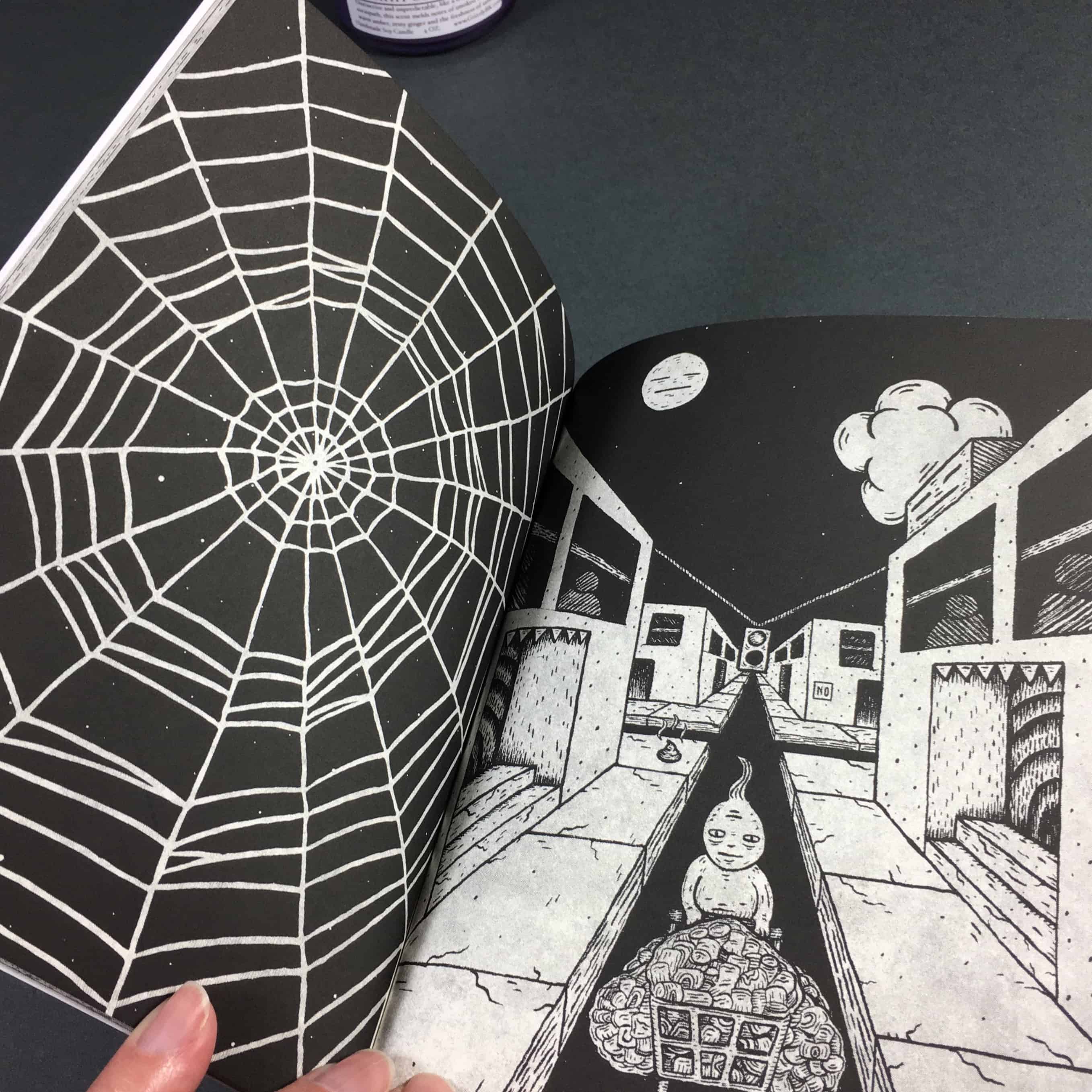 A collection of drawings by illustrator Dylan Balliett addressing themes of self-loathing, social isolation, depression, and alienation through images borrowed from classic horror tropes.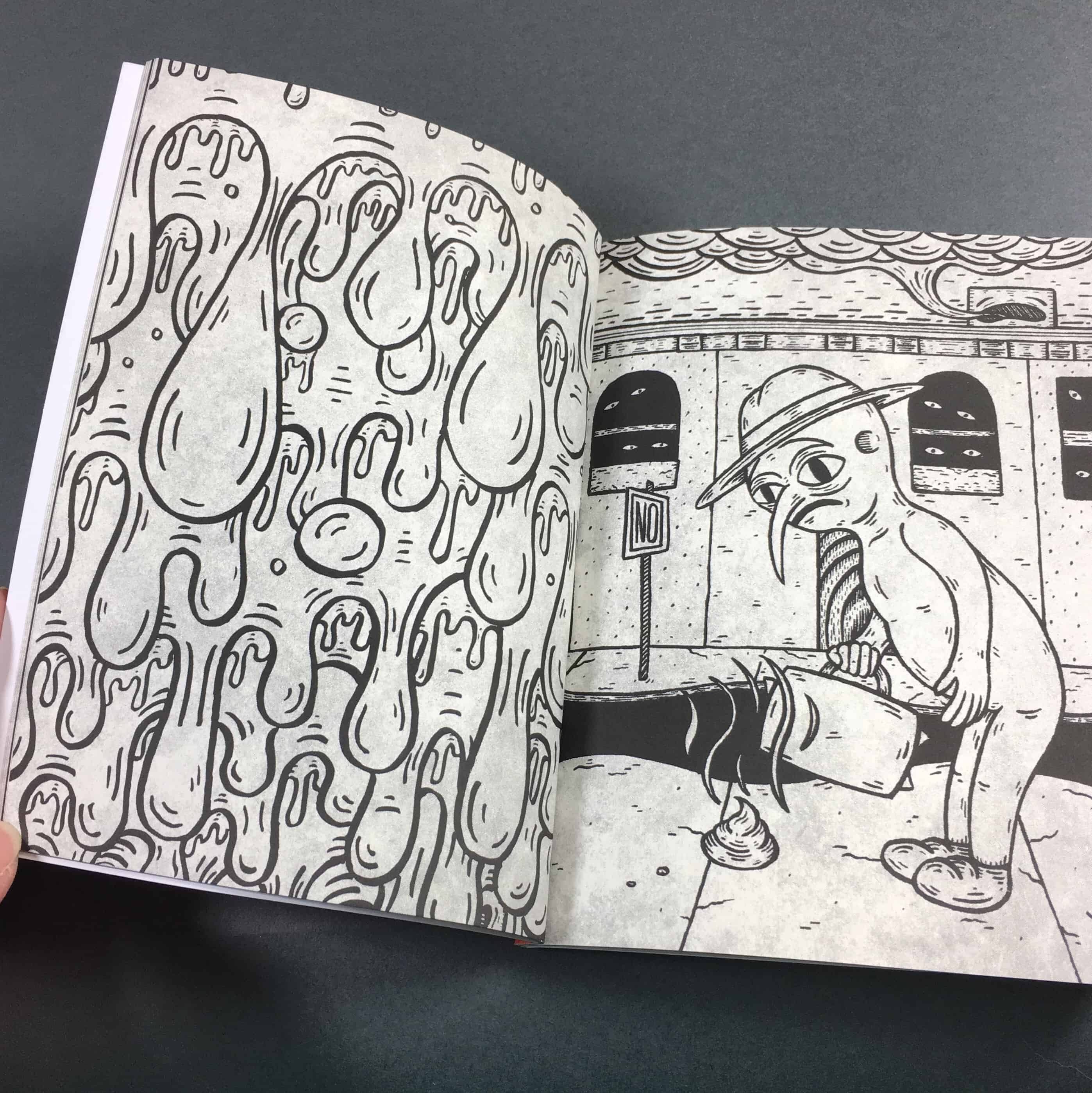 Piles of steaming excrement show up frequently.
Brookpyn Bloody Knife Enamel Pin ($10) I receive pins every once in a while and add them to my book bag. A bloody knife made of enamel on nickel plated brass will look stunning next to my kitty cat pins.
I received a Paper Obscura Bookmark, which is always nice to have on hand, otherwise I'm grabbing those tear-out cards from the middle of magazines. This looks so much nicer.
The back of the bookmark features the name of the subscription box.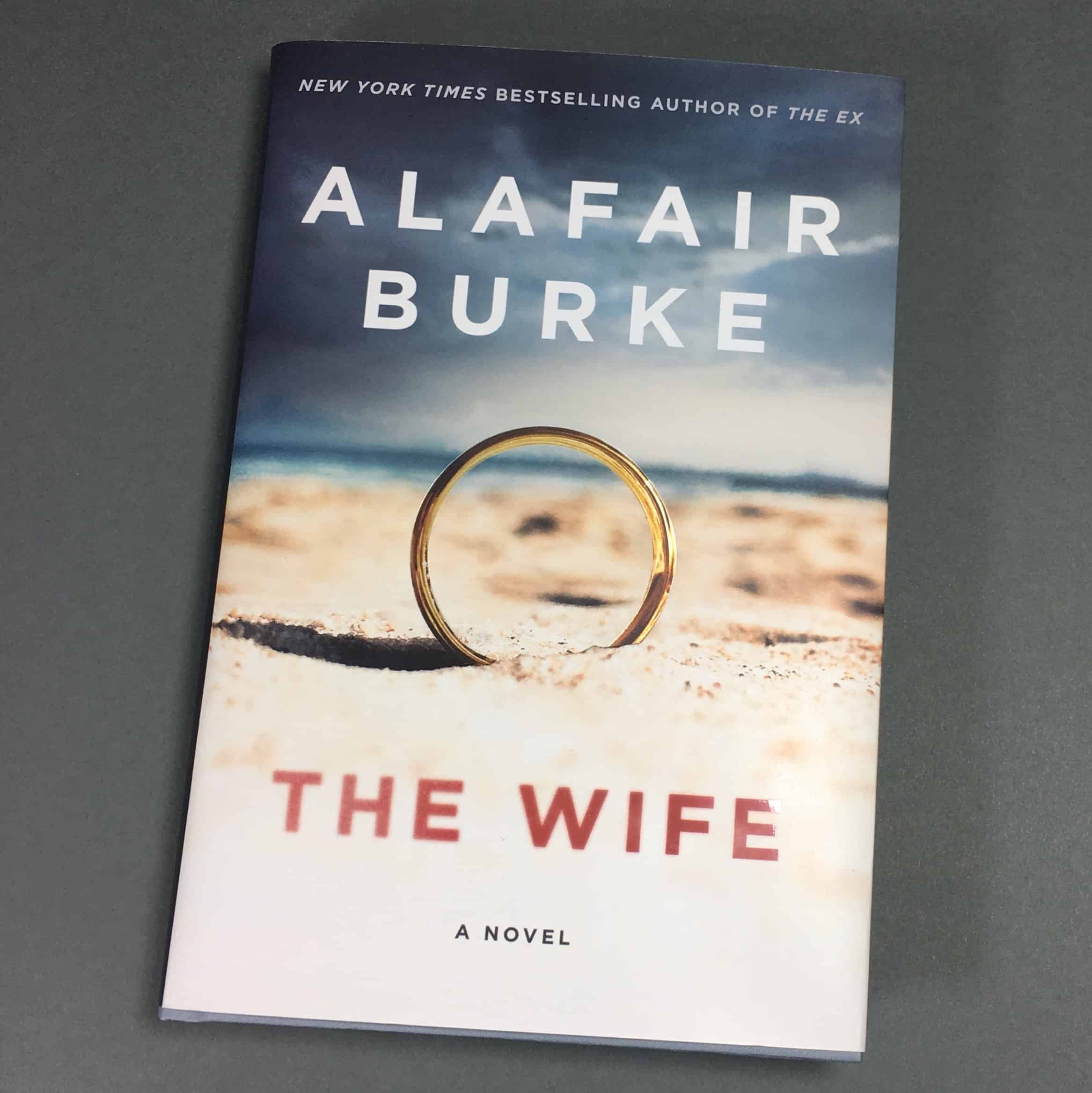 The Wife By Alafair Burke (List price $26.99, currently $13.49 on Amazon) I have recently started reading mysteries such as The Woman in the Window, The Girl on the Train, and other books with some feminine word in the title, so I was thrilled to find this brand spanking-new release book in my box! I am putting this one on top of my To Be Read pile, right after I finish reading The Child, which has a 50/50 chance of being about a girl.
His Scandal
Her Secret

From New York Times bestselling author Alafair Burke, a stunning domestic thriller in the vein of Behind Closed Doors and The Woman in Cabin 10—in which a woman must make the impossible choice between defending her husband and saving herself.

When Angela met Jason Powell while catering a dinner party in East Hampton, she assumed their romance would be a short-lived fling, like so many relationships between locals and summer visitors. To her surprise, Jason, a brilliant economics professor at NYU, had other plans, and they married the following summer. For Angela, the marriage turned out to be a chance to reboot her life. She and her son were finally able to move out of her mother's home to Manhattan, where no one knew about her tragic past.

Six years later, thanks to a bestselling book and a growing media career, Jason has become a cultural lightning rod, placing Angela near the spotlight she worked so carefully to avoid. When a college intern makes an accusation against Jason, and another woman, Kerry Lynch, comes forward with an even more troubling allegation, their perfect life begins to unravel. Jason insists he is innocent, and Angela believes him. But when Kerry disappears, Angela is forced to take a closer look—at both the man she married and the women she chose not to believe.

This much-anticipated follow-up to Burke's Edgar-nominated The Ex asks how far a wife will go to protect the man she loves: Will she stand by his side, even if he drags her down with him?
The Wife has high ratings on Amazon and Goodreads and I am really looking forward to reading this one!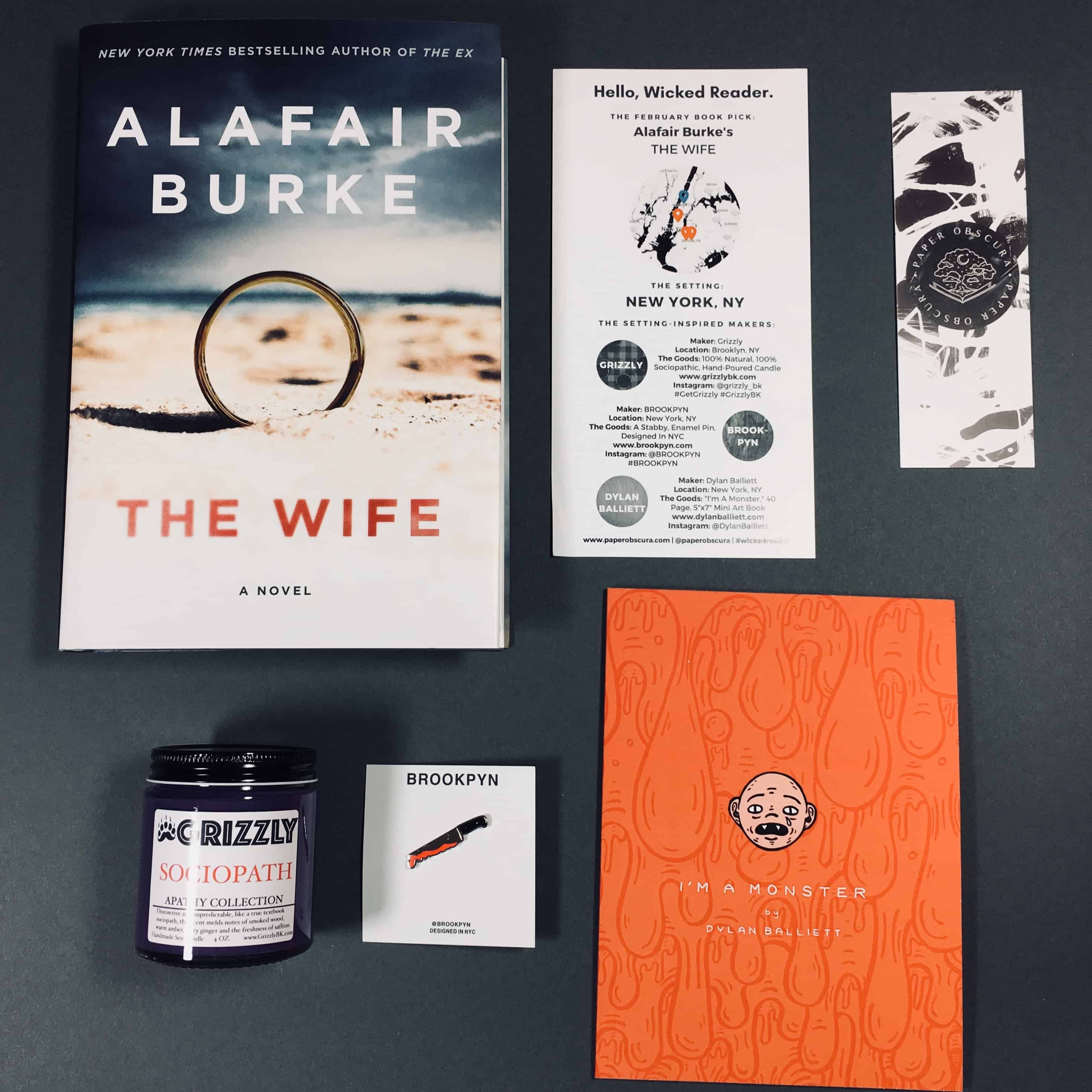 I was very pleased with my first Paper Obscura box! I wasn't quite sure what to expect but I was happy to get a brand new mystery novel and the candle was exactly what I would choose for myself if I were in a shop. The pin and art book were nice touches, maybe not something I would pick up but then again this subscription probably isn't for someone with delicate sensibilities. If you like a new thriller in your hands and some accessories to help immerse yourself in the book experience then check out Paper Obscura!
PS I am really excited about this subscription and can't wait to see what's in store next month!
Are you getting the Paper Obscura Box?