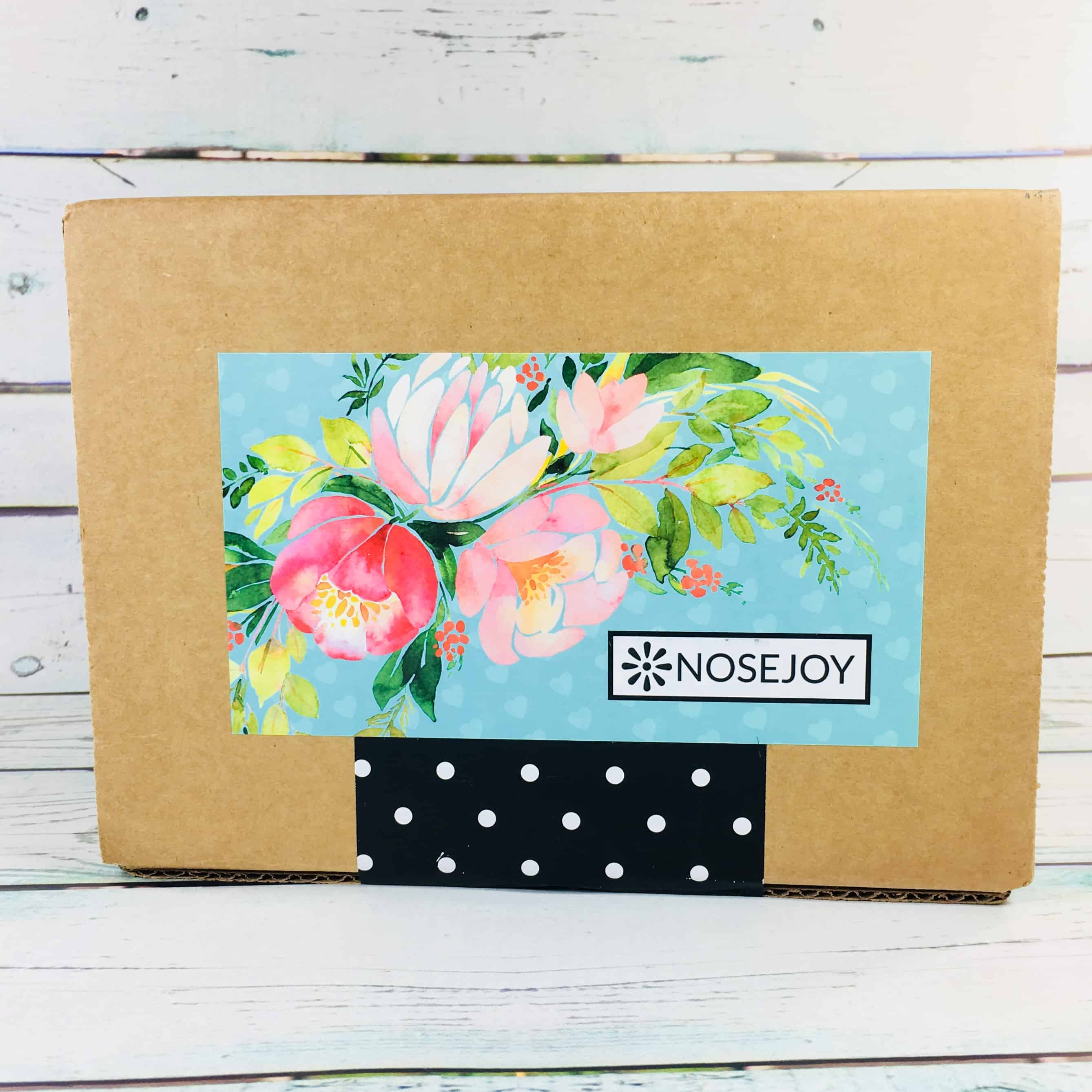 NOSEJOY is a monthly subscription box that sends items for your olfactory pleasure! Make your nose happy with lovely smelling soaps, candles, lotions, and more for $34.95, which includes shipping. Each box will be curated to the season and will include upscale and boutique brands.
Enjoy 4 to 5 scented products delivered to you each month. Generally every month will include a candle and a soap, plus other items for home and body. Product sizes are full size or travel size.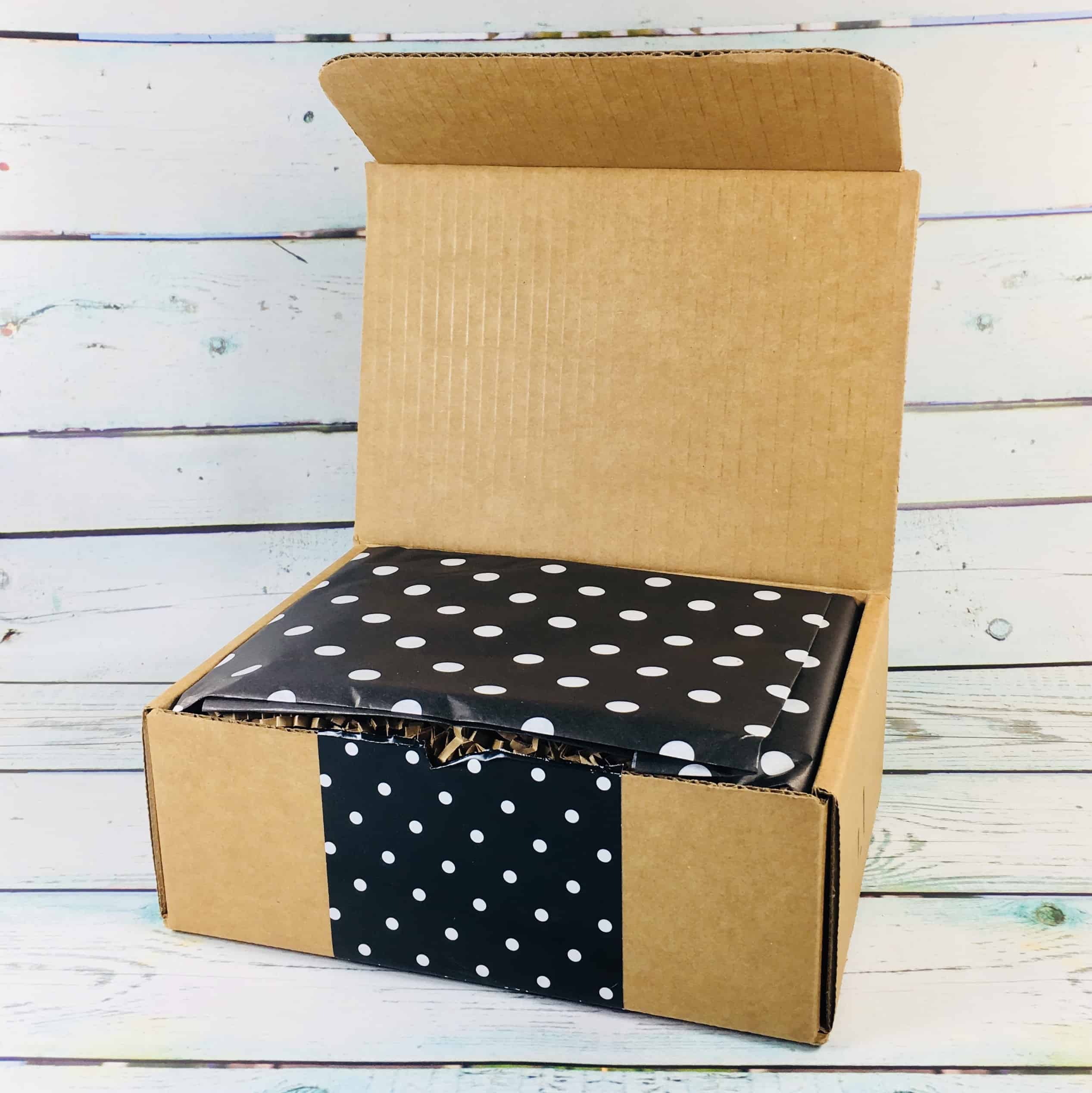 The presentation was lovely, with a seasonal sticker on the outside and patterned tissue paper inside. I love that the sticker outside the box is changed every month, it is a nice touch!
DEAL: Get $5 off your first box! Use coupon code HELLO5.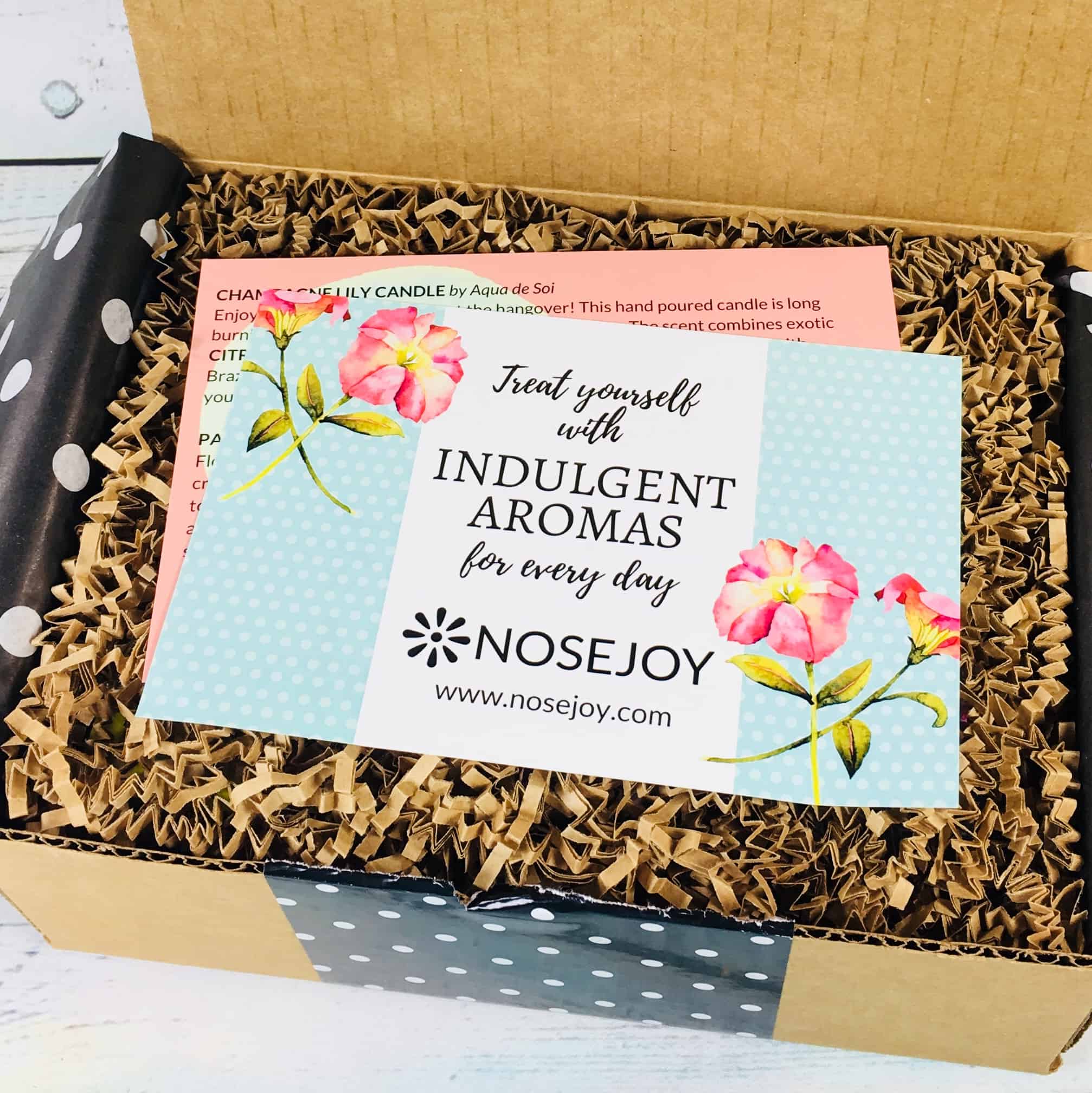 NOSEJOY makes the prettiest product inserts, they are glossy and feature beautiful colors and in this case, lovely flowers.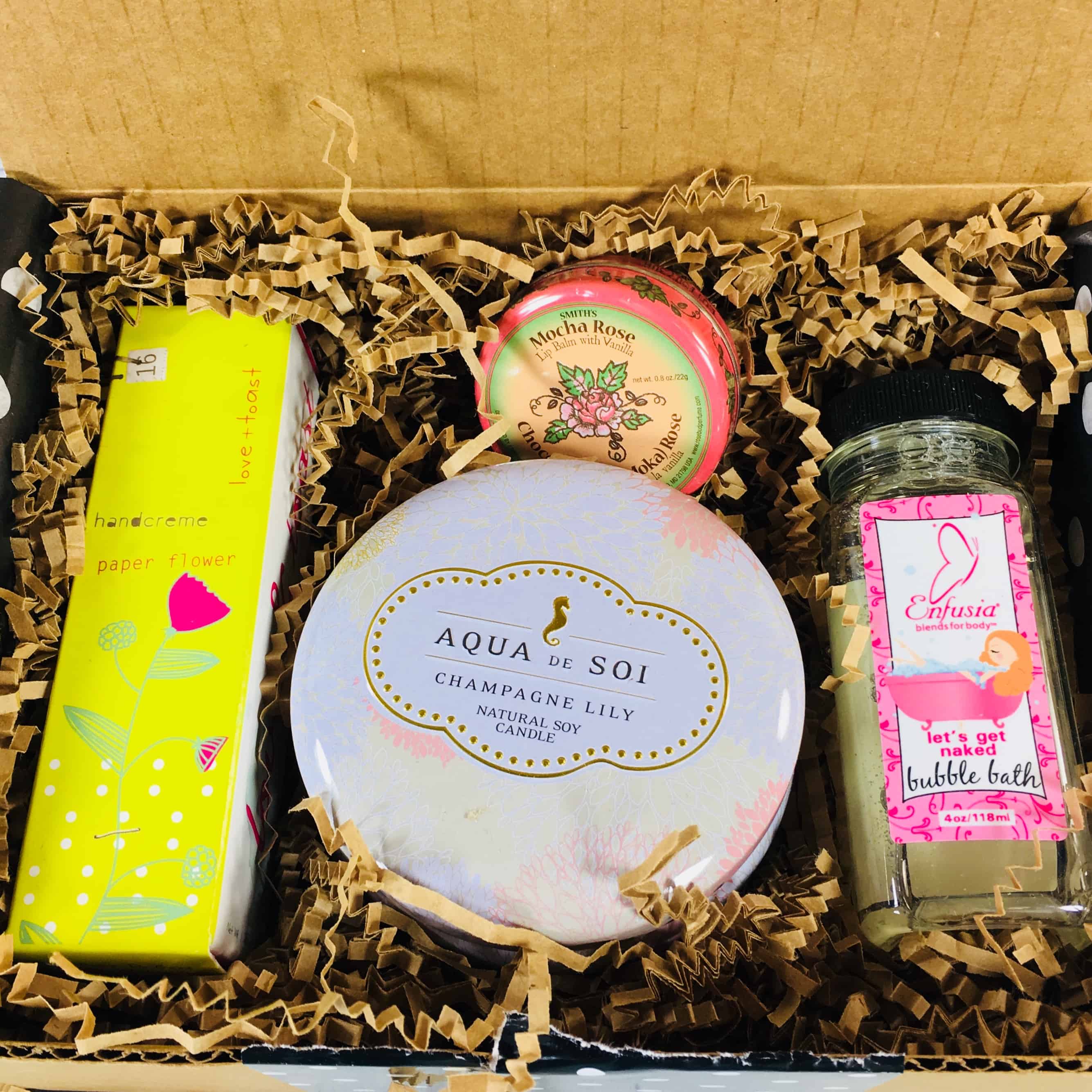 The colors are bright and remind me that spring is just around the corner. I was excited to see Love + Toast hand creme in the box – I've been eyeing that brand at my local Whole Foods!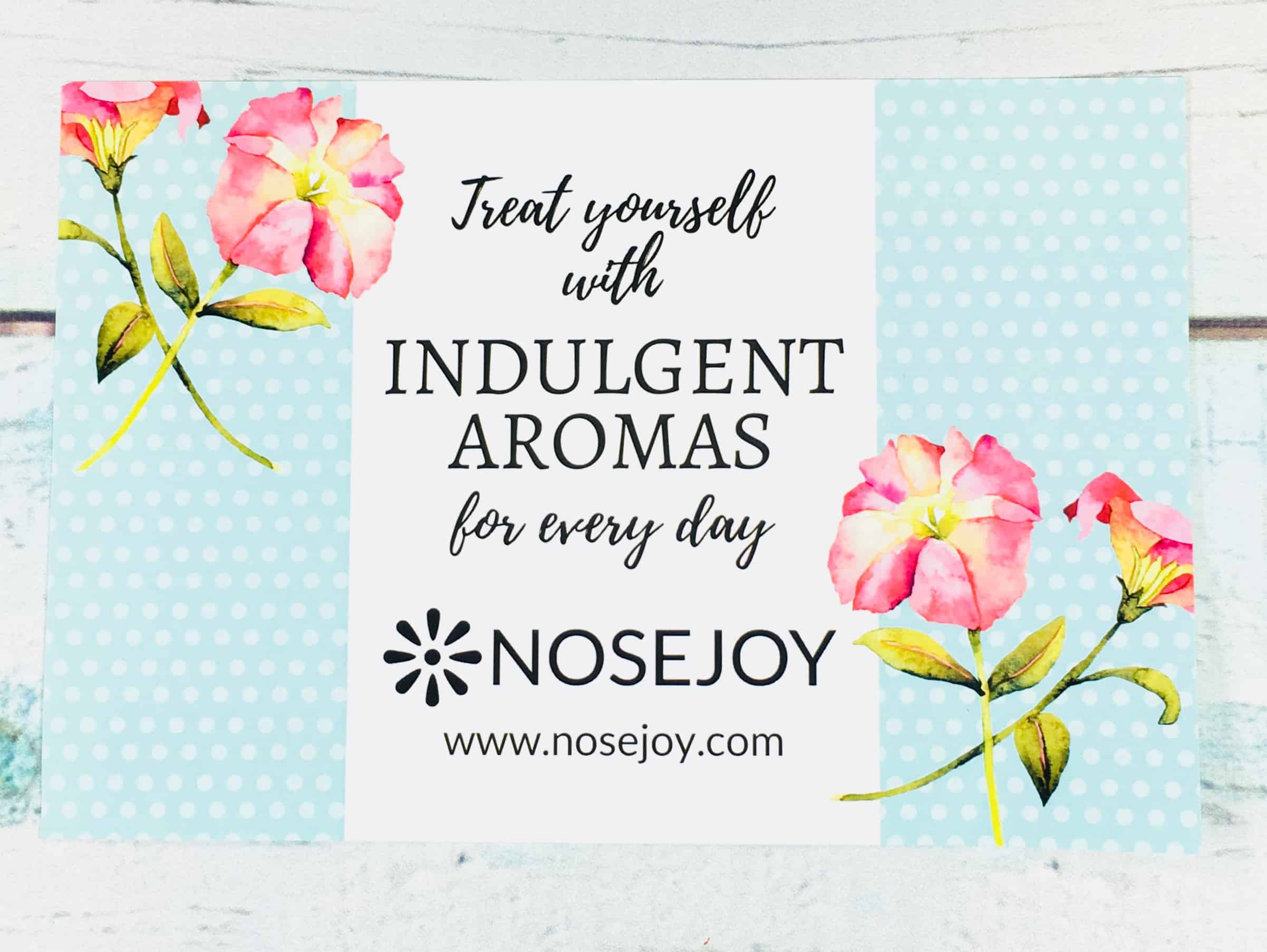 I found a card that announced the February theme, Indulgent Aromas for Everyday. 
You can feel indulged all month long with the items in this month's box. I always feel like NOSEJOY puts a lot of thought into the scents that go into this box and I am always pleased with the curation.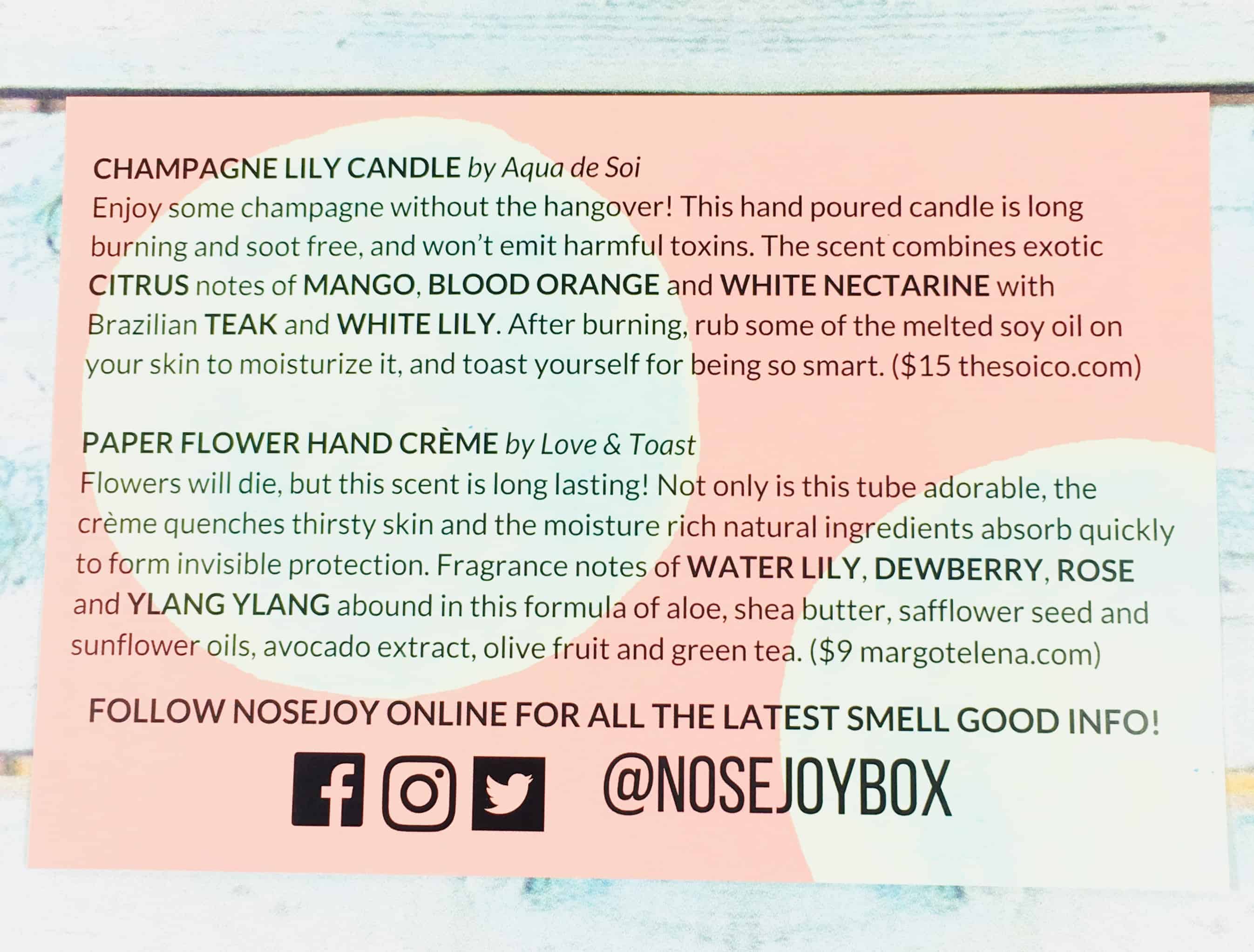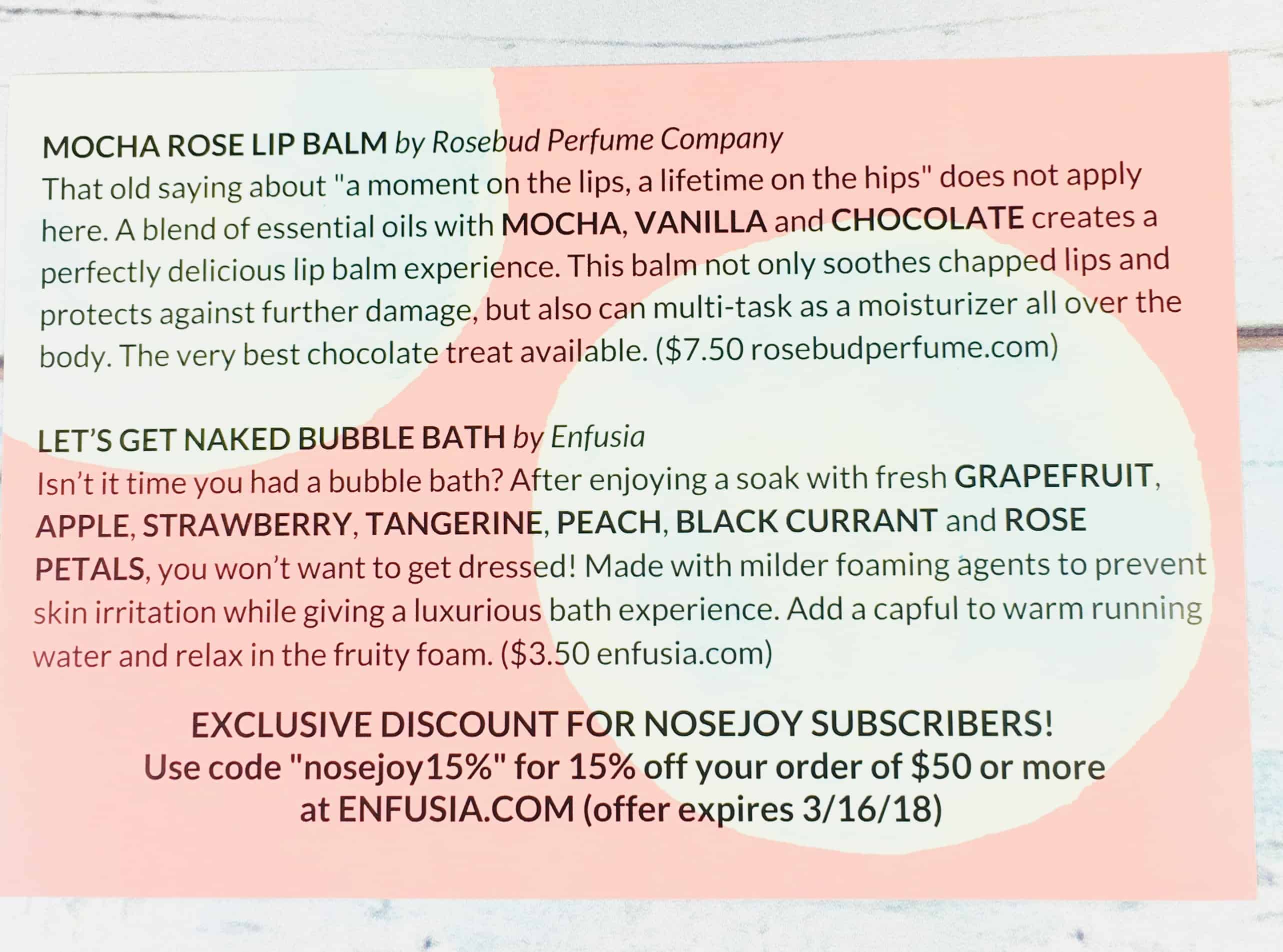 I found a second card that listed each item, some info about the item, the retail price, and where to find more. It also had a discount code for one of the makers in this month's box.
Everything in my February 2018 NOSEJOY box!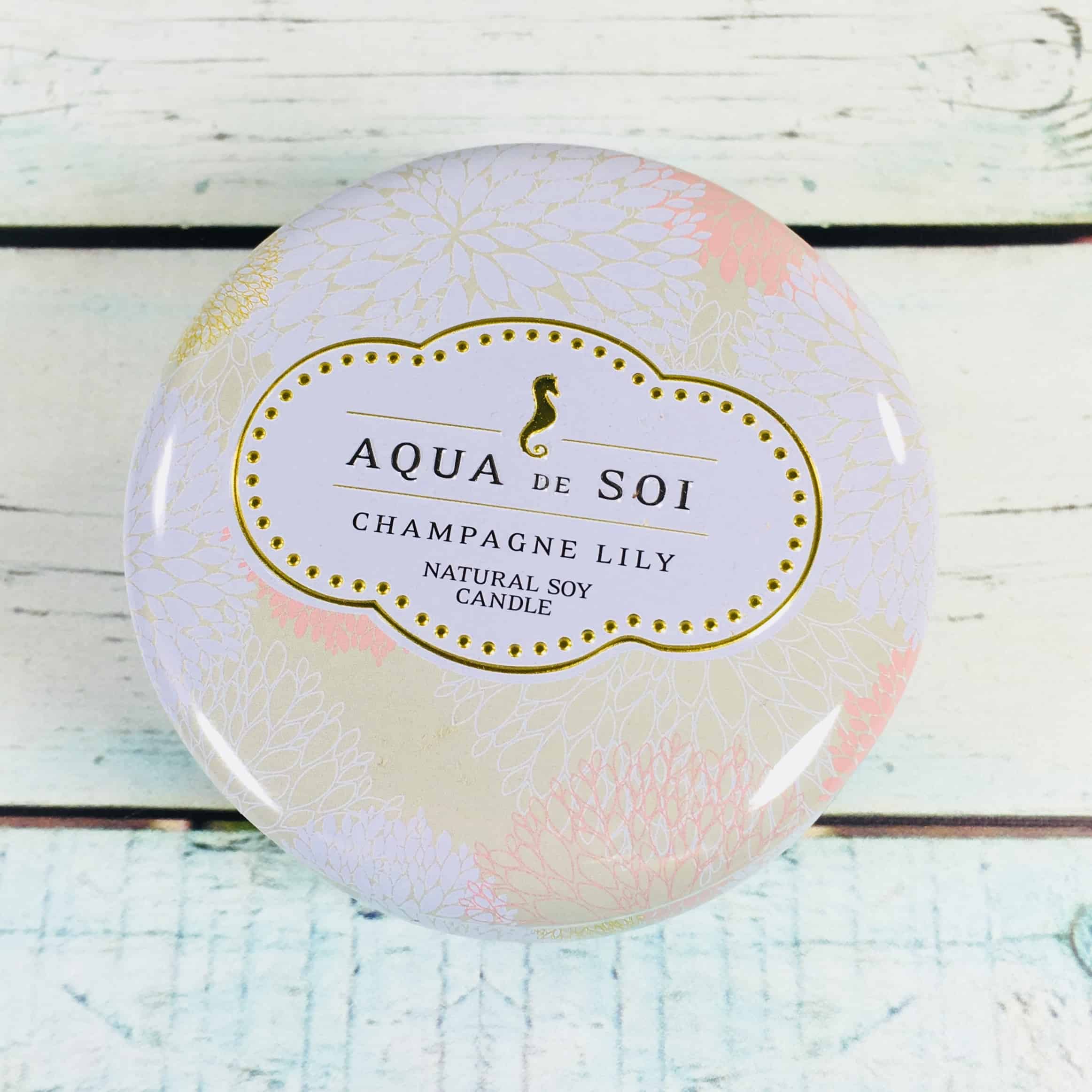 Aqua De Soi Champagne Lily Natural Soy Candle ($15.79) is a hand-poured soy candle and comes in a variety of fragrances.
Champagne Lily has notes of white lily, blood orange, and nectarine. It is floral, fruity, and sweet.
The melted wax can be used on dry skin as a moisturizer! I thought it had a strong cold throw and wasn't overly strong while burning in my living room. In fact, I liked it better while it burned, and it helped create a warm atmosphere when I lit it on a cold, rainy day.
Love + Toast Handcreme Paper Flower ($7.65 + $4.99 shipping) Every time I go to Whole Foods I take a gander at the beauty department and this brand has always caught my eye with its bright colors and charming packaging. I didn't notice before but this brand is from designer Margot Elena, of ToykoMilk and other lovely perfumey products.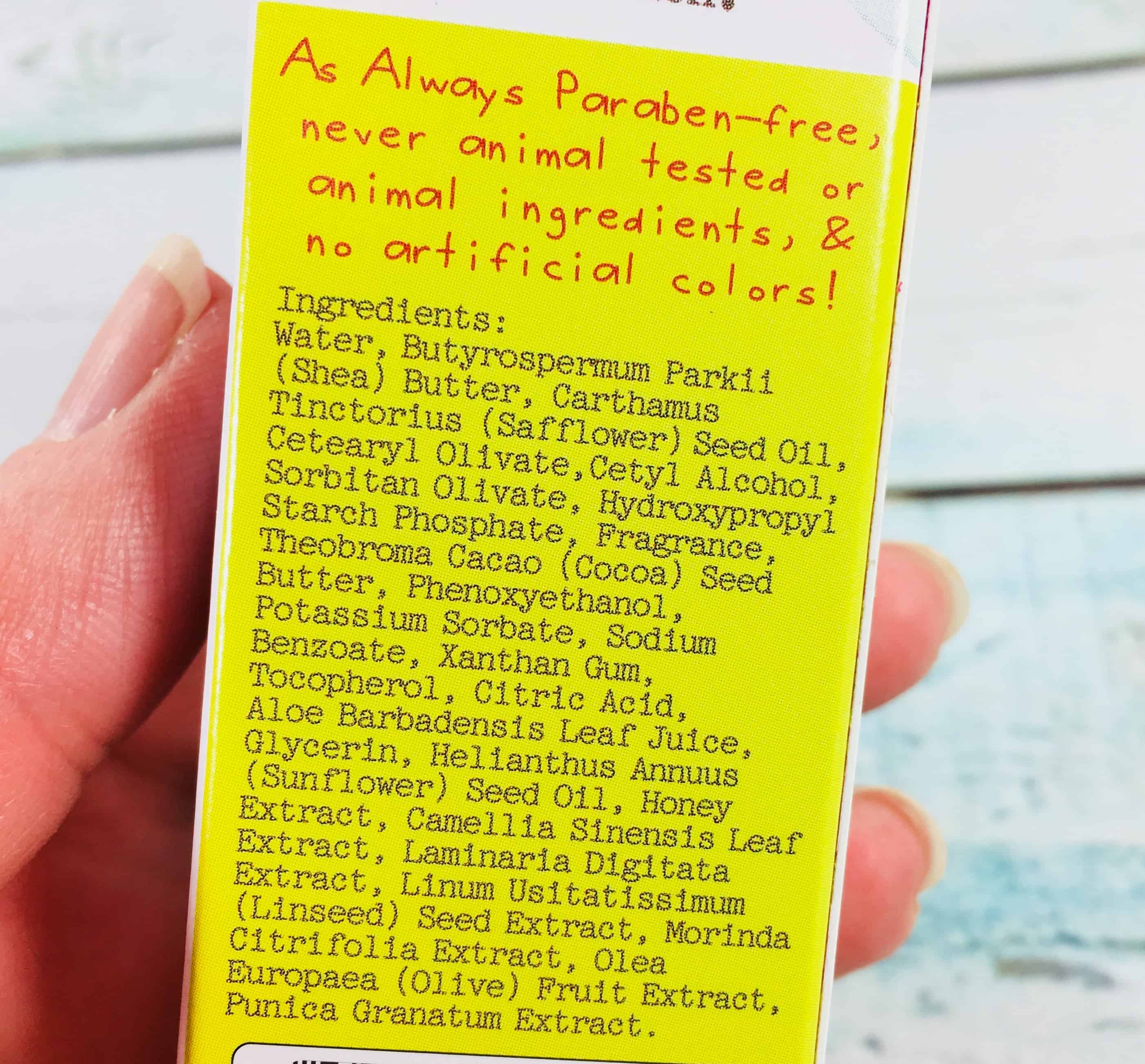 Shea butter, aloe, and cocoa butter are a few of the skin softeners in this cream. The scent Paper Flower has notes of water lily, blackberry, rose, and ylang ylang. It's hard to describe, other than "floral", since I'm not sure what a water lily smells like and I can't really pick out the other three items that are more familiar to me. Maybe "yellow flower".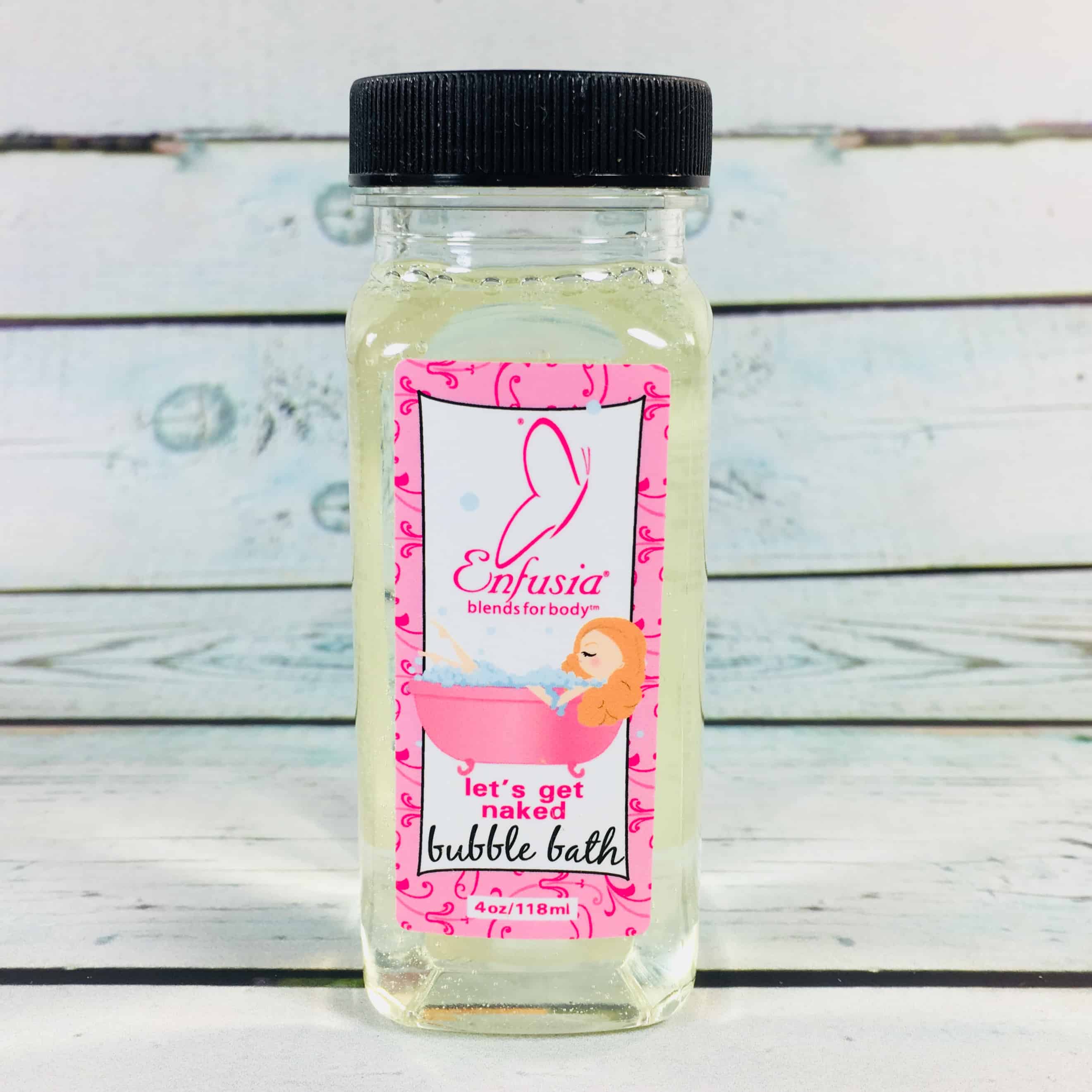 Enfusia Let's Get Naked Bubble Bath ($3.49) smelled so good, like fruity candy! The fragrance notes include a fruit salad of scents, such as grapefruit, apple, peach, strawberry, and black currant. Yummy yummy!
Yes, I know this is bubble bath, and I was happy to see that this product didn't have any SLS in the ingredients, but I decided to use it as a shower gel! I poured a bit on my mesh sponge and lathered up. I loved it, it was just foamy enough and it rinsed completely away. It's staying in my shower from now on.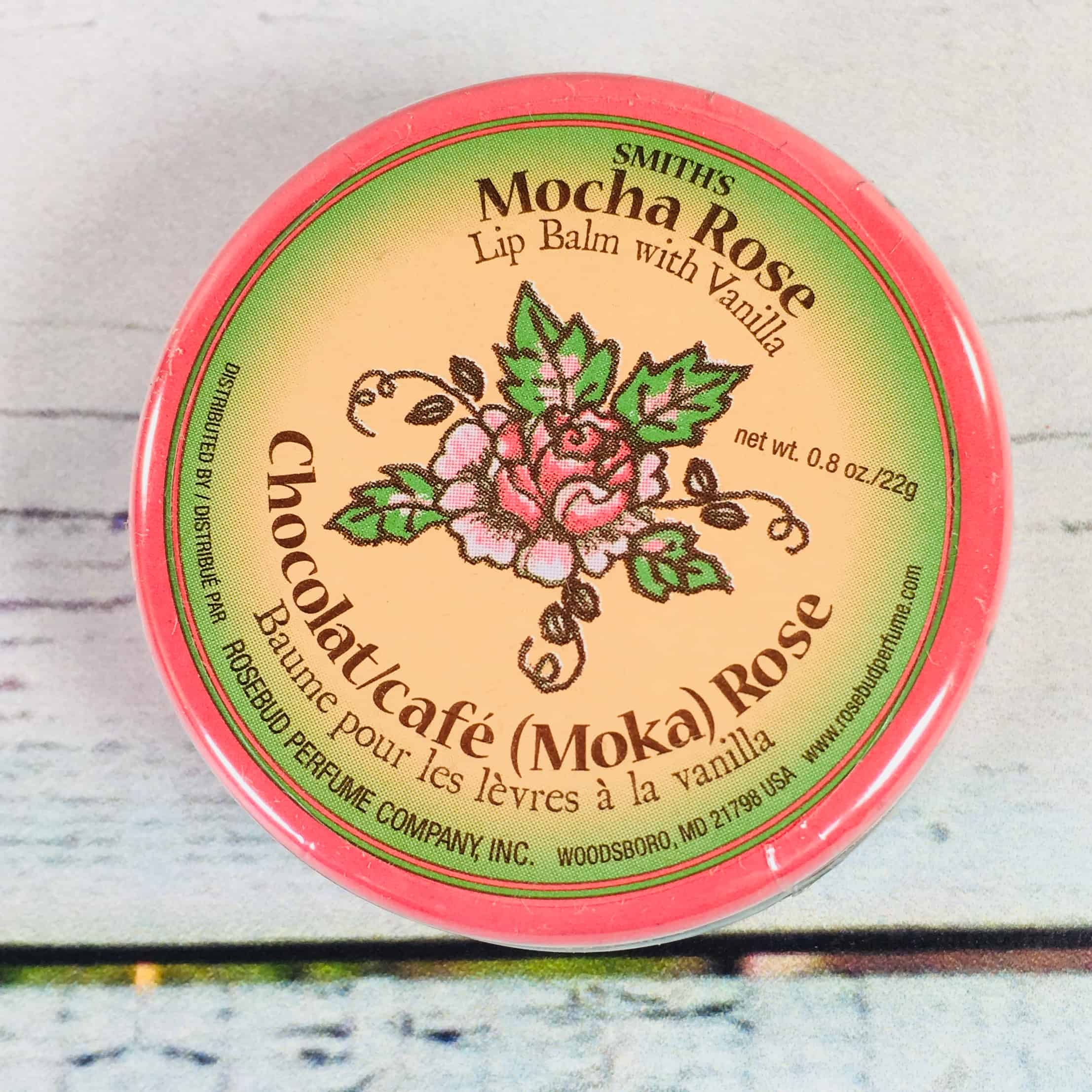 Rosebud Perfume Mocha Rose Lip Balm With Vanilla ($7.66) I've tried Smith's Rosebud salve before but this flavor was new to me! It's also a multitasker that can be used not only on the lips, but on dry elbows, cracked heels, or anywhere else that's feeling dry. Or just apply to pulse points like your wrist for a bit of fragrance.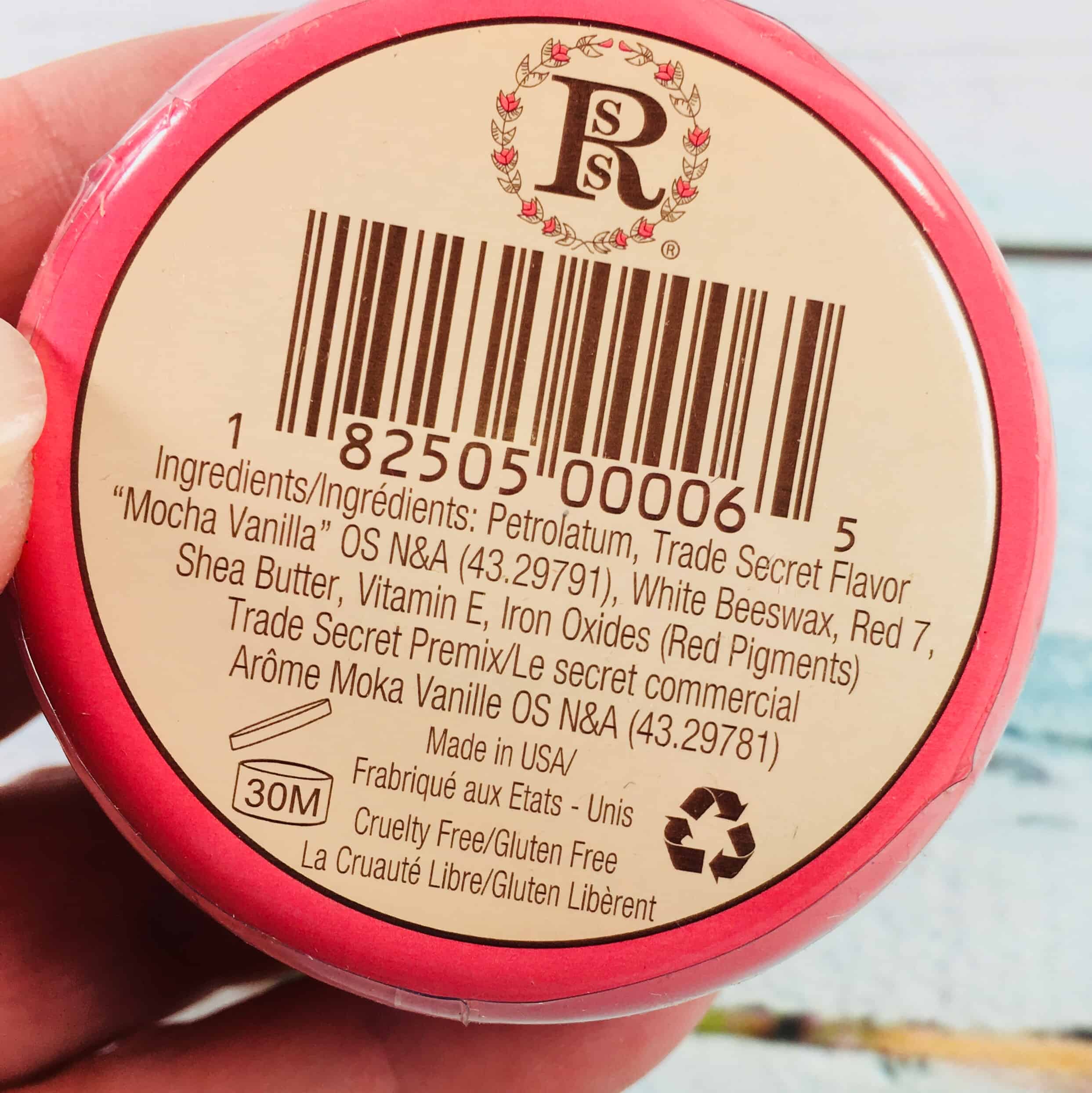 The mocha vanilla flavor/scent is a "trade secret" but some of the other stuff in here is petroleum jelly, beeswax, and shea butter.
This pot is pretty big so depending on how you put it to use, you may have it around for a while. I think it looks feminine and have no problems leaving it out on my dresser to remind myself to moisturize throughout the day. Or stick it in your purse or bag to dab on dry cuticles or whatever when you're away from home.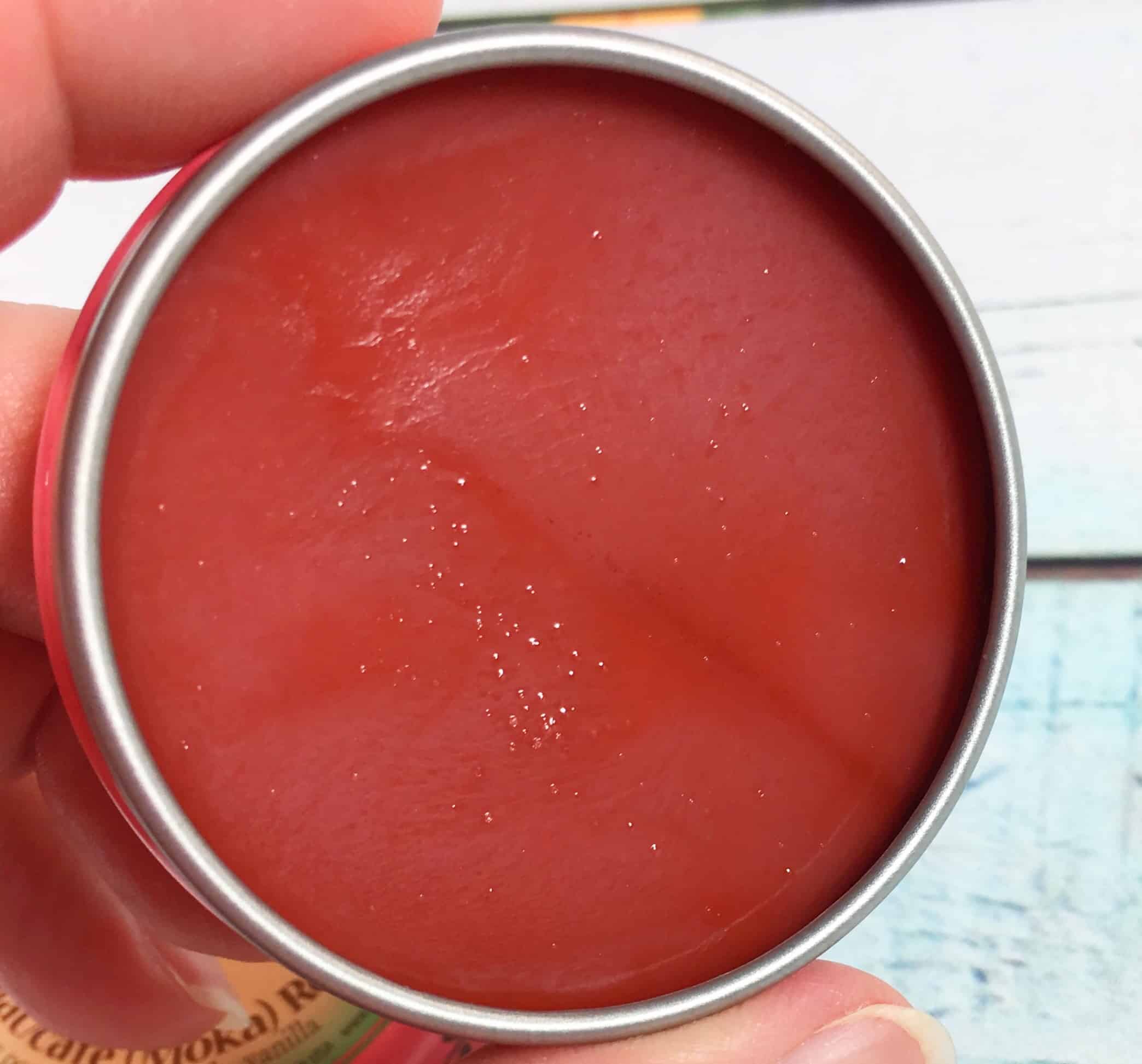 I didn't see any difference in color on my lips, but they were definitely softer in the morning after I wore this for the night.

What a lovely romantic box from NOSEJOY. Flowers are always perfect for anytime of the year, but in February they are especially welcome, but these floral-scented products will last long after the real flowers have died. NOSEJOY always puts a lot of thought and care into choosing the items every month! I found the products to have a value of around $35, not including the price for shipping on the hand cream. This is right around the cost of the box but I doubt I would have discovered many of these items on my own, plus, shipping is already included in the price. I really believe NOSEJOY has a nose for finding great smelling stuff. This box features lovely curation and I look forward to discovering items that please at least one of my five senses (and sometimes more) and learning about new, undiscovered (by me, at least) brands.
Have you tried NOSEJOY? What do you think of this box?