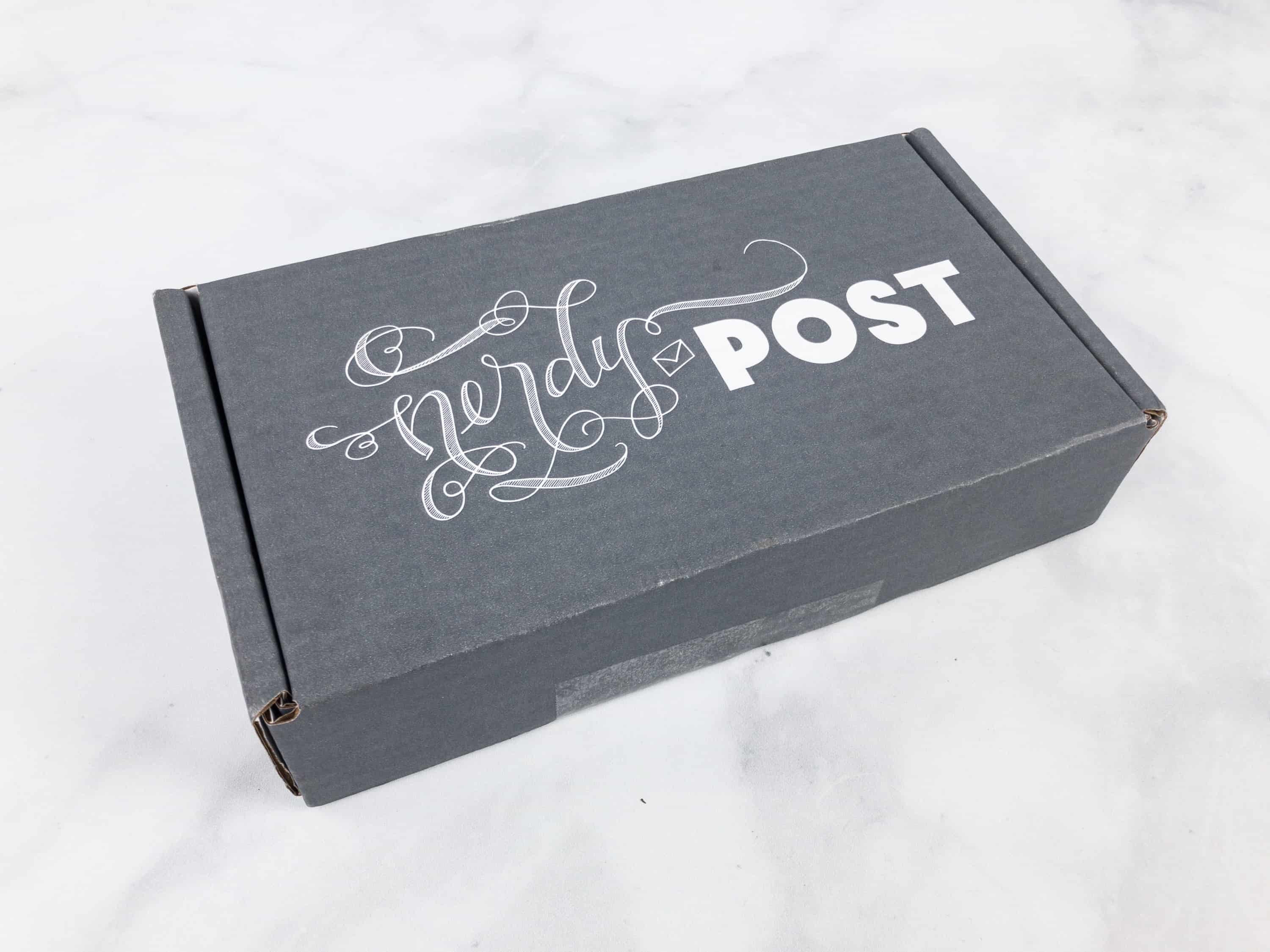 Nerdy Post is a subscription that sends original, hand-lettered stationery, posters, prints, stickers, and other paper ephemera around a different theme each month! Not into that month's fandom? You can easily skip your shipment. While most items are created by Alexis Lampley, the owner of Nerdy Post, they've been including items from other artists and shops, too!
Nerdy Post has a variety of box options:
Nerdy Post – streamlined a smidge but otherwise, nothing changes – $13.95 + shipping
Nerdy Tees: just the matching tee – $15.95 + shipping
Nerdy Combo – Nerdy Post + Matching Tee – this combo saves $5 in shipping.
Ultimate Nerdy Post: all that is included with Nerdy Post, plus two more-substantial items such as a mini candle, a tote, etc + a bonus item –  $22.95 + shipping
Ultimate Nerdy Post Combo: Ultimate Nerdy Post + Nerdy Tee
Nerdy Post Lite: featuring 5 core items from the Nerdy Post box. A great option if you are low on cash but still want to get it, or want to just try one out -$9.95 + shipping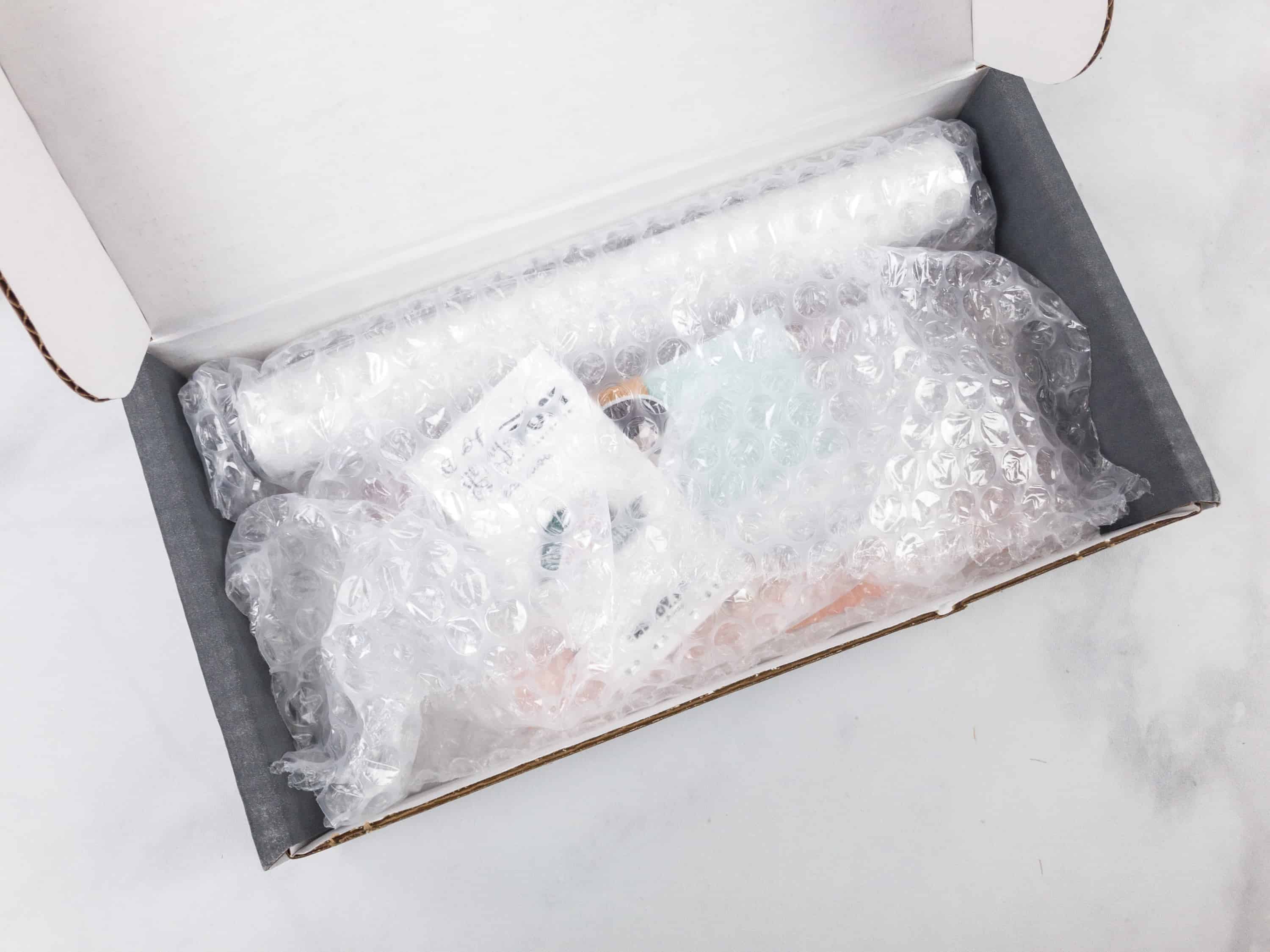 Everything is packed nicely into a box to protect all the contents.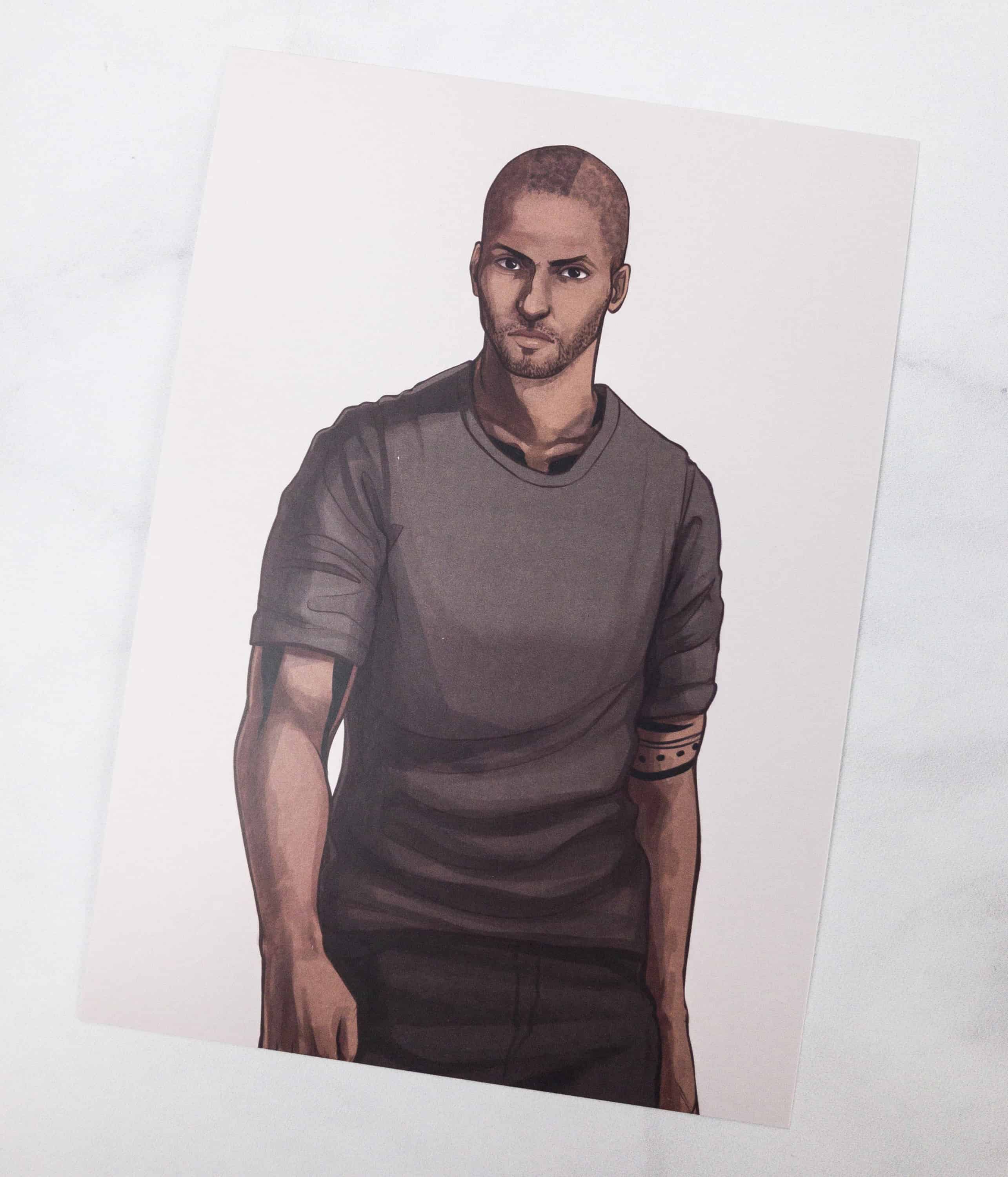 DEAL: Save 10% on your first month of Nerdy Post! Use coupon code NERDYNEWBIE. Does not apply to Nerdy Tees box or combo.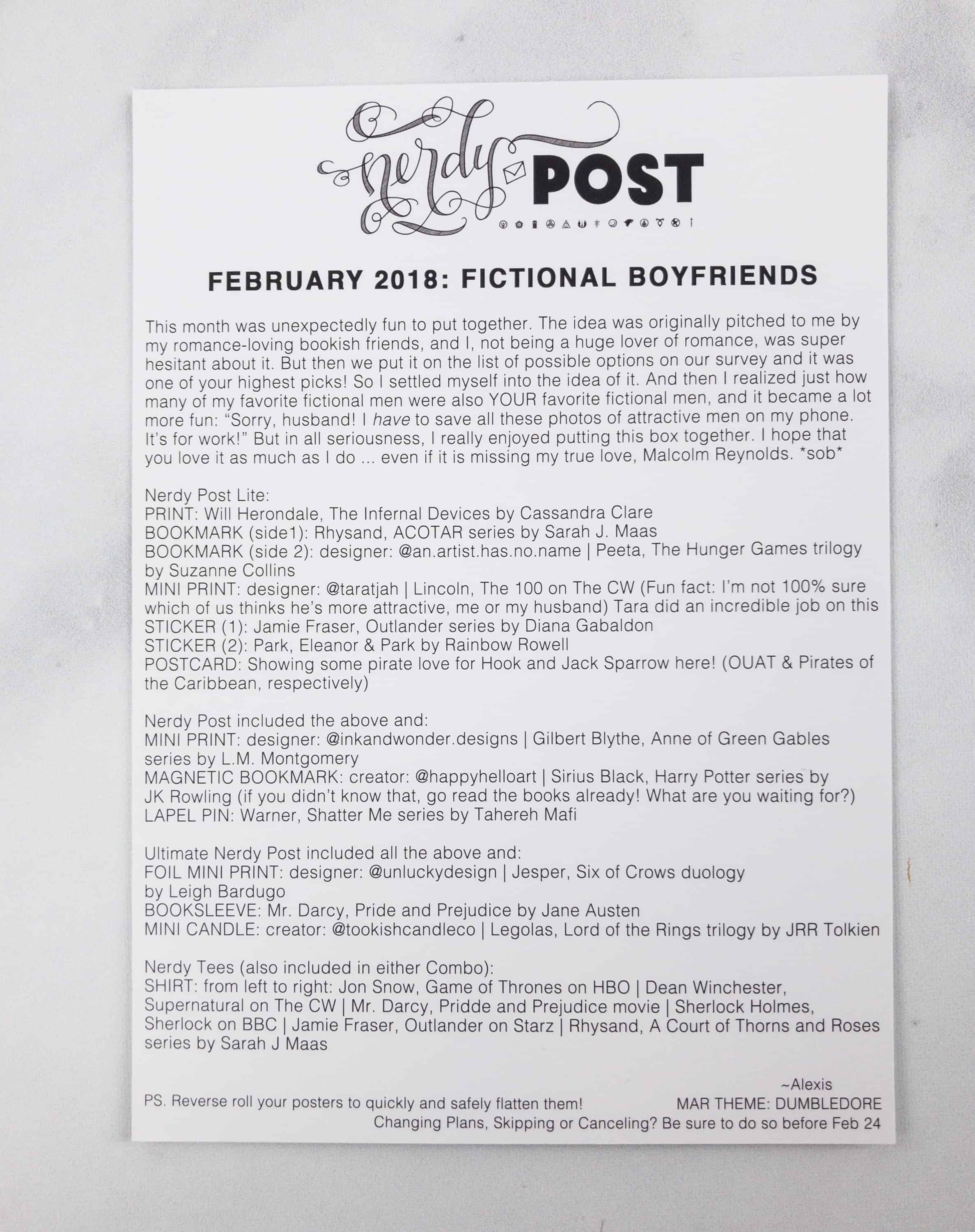 The theme for February is FICTIONAL BOYFRIENDS! The information card gives you a list of all the items in the box and a bit of an idea of the creation process.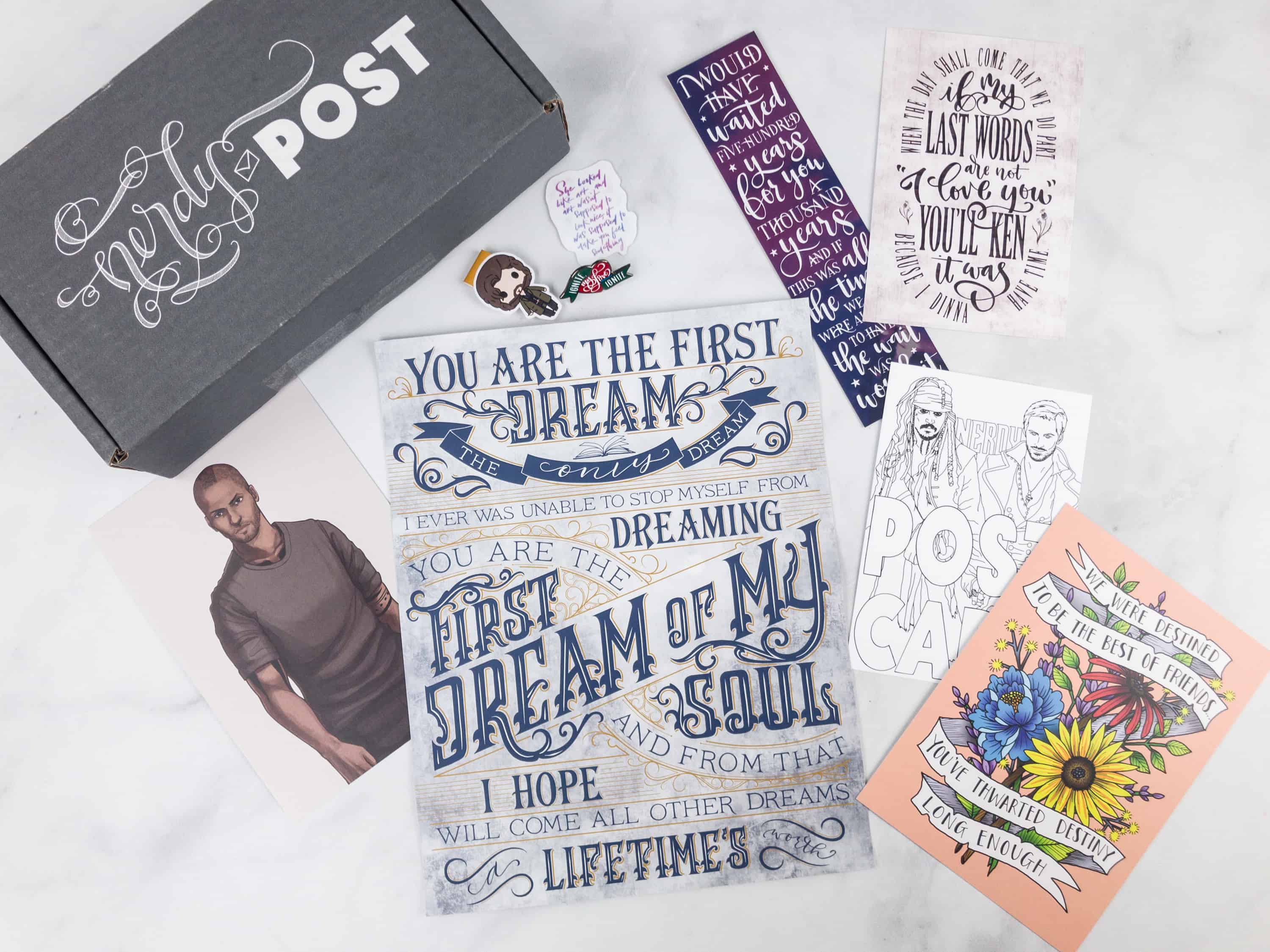 Everything in the February 2018 box!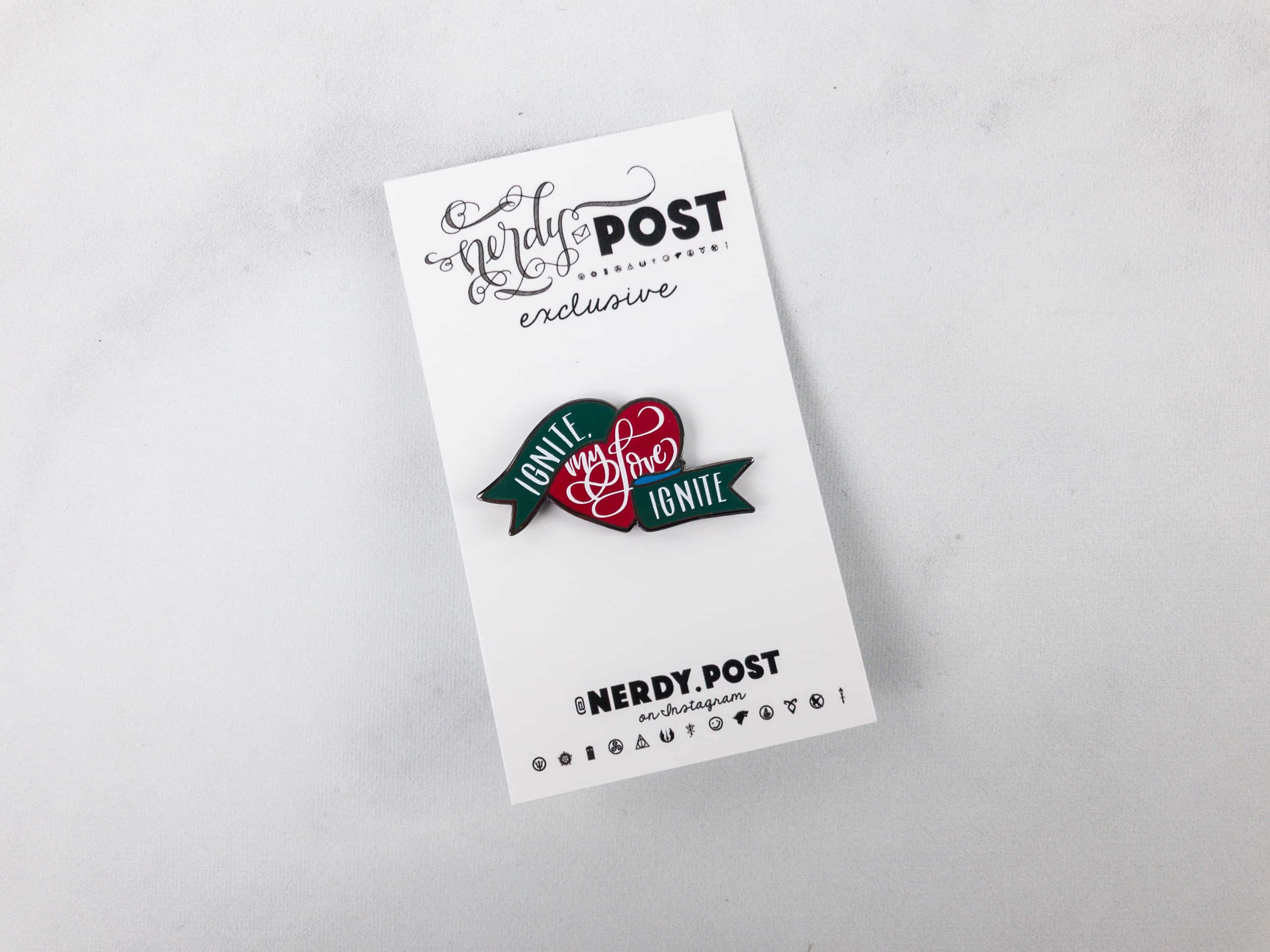 Warner Shatter Me Series Lapel Pin. In the series written by Tahereh Mafi, Aaron Warner is a psychopath to his soldiers but a true lover to Juliette Ferrars. This lapel pin is inspired by his love for her.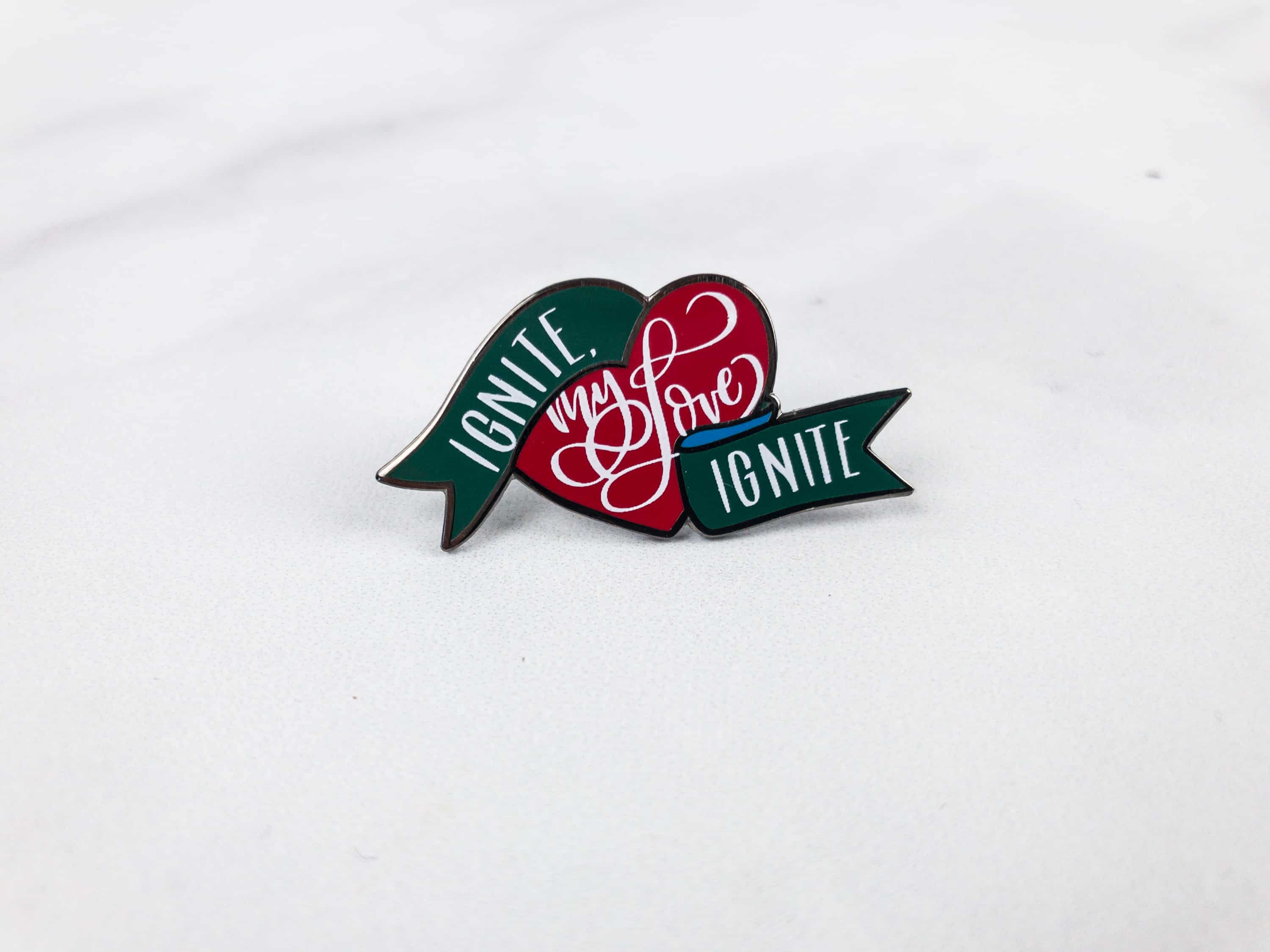 The pin features a heart and a ribbon, with a simple yet catchy quote from the book.
The Hunger Games Trilogy Bookmark Design By @an.artist.has.no.name. Peeta Mellark's love for Katniss Everdeen is really felt through his words, and this bookmark design gave life to it. If this isn't sweet for you, I don't know what is:
I wish I could freeze this moment, right here, right now and live in it forever.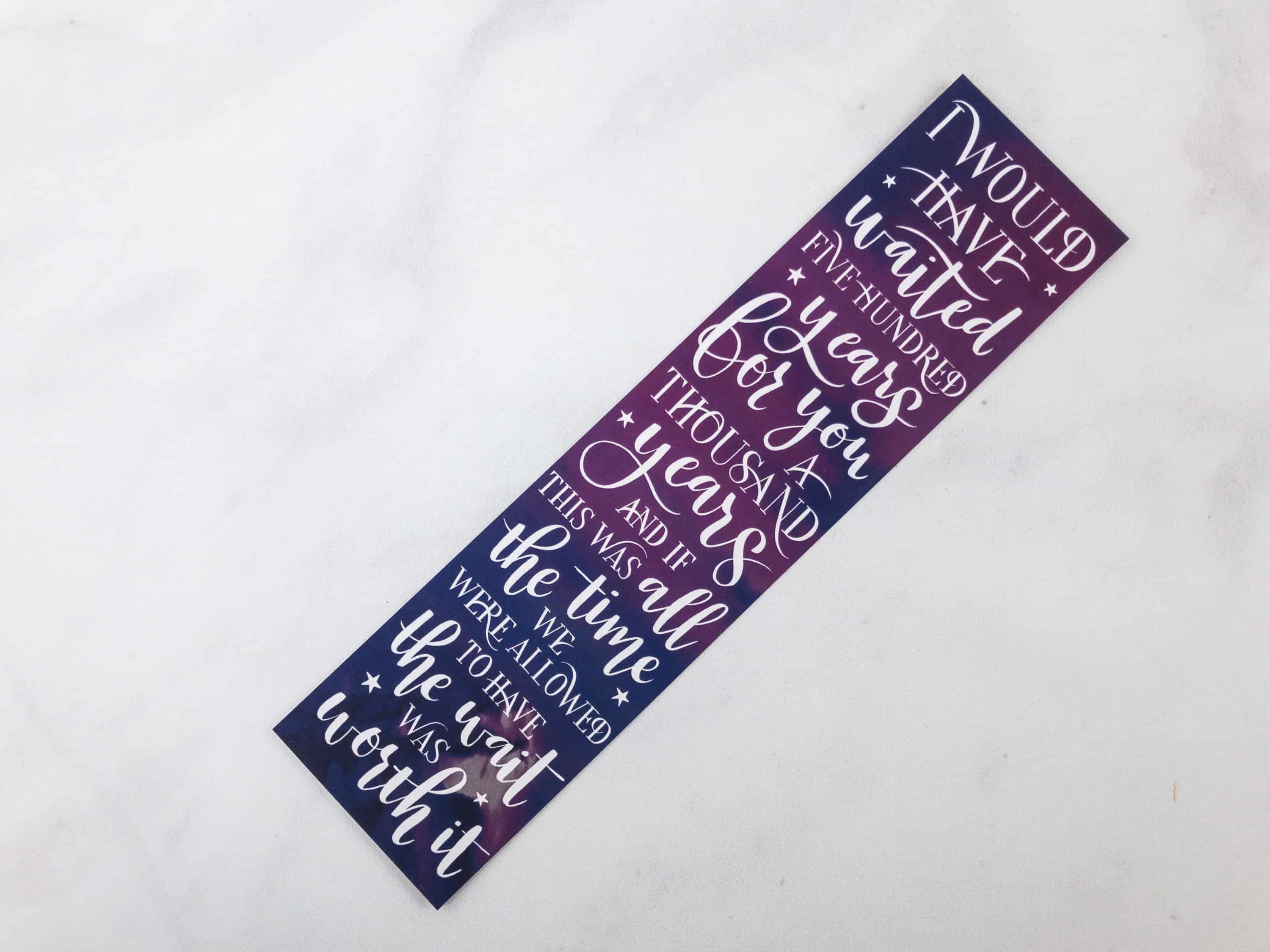 ACOTAR Series By Sarah J. Maas Bookmark Design. The other side of the bookmark is a quote from Sarah J. Maas' A Court of Wings and Ruin, from her Acotar series.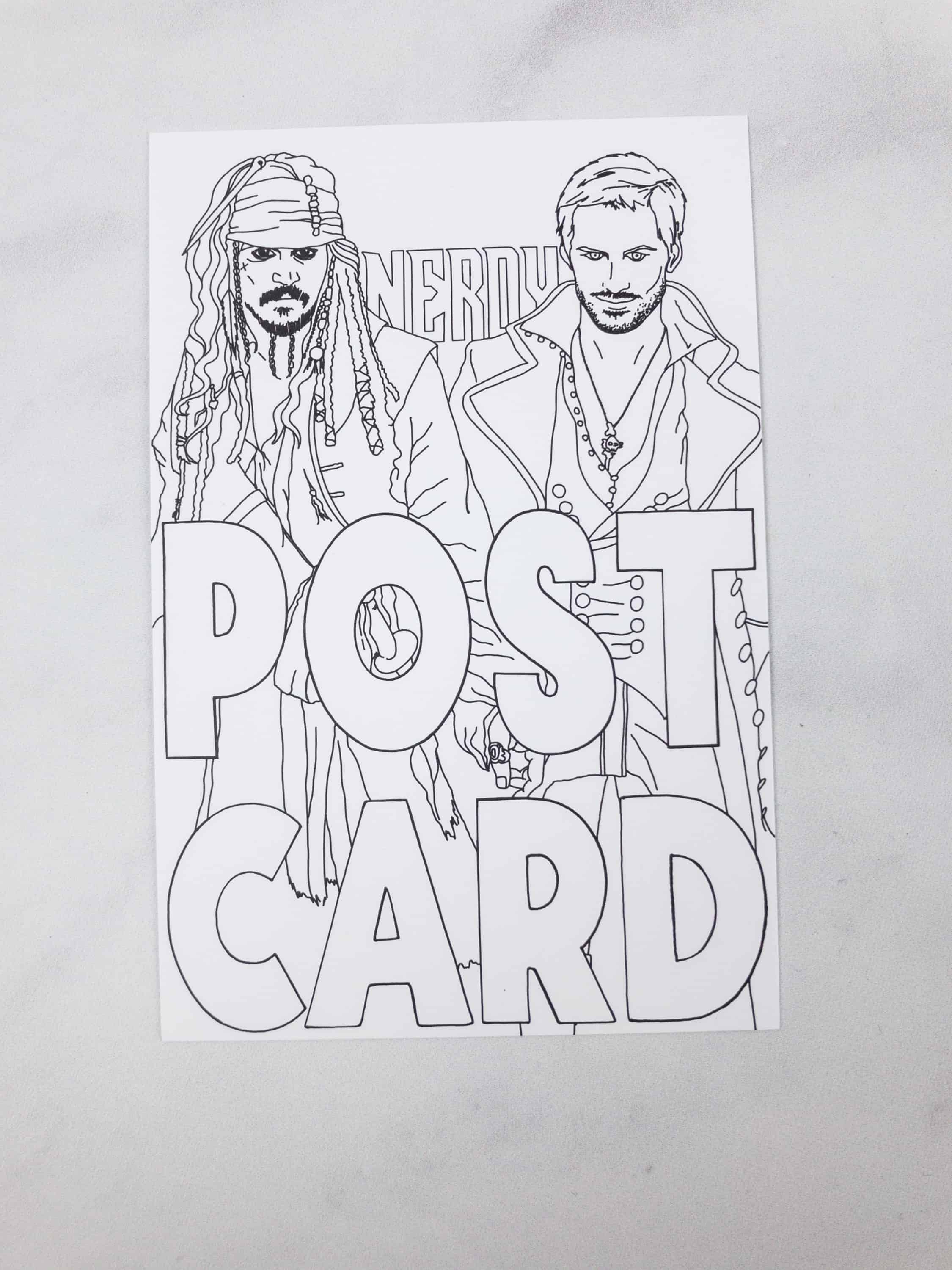 Post Card. A staple in every Nerdy Post package is a coloring postcard. This month's post card features Jack Sparrow from the Pirates of the Caribbean and Hook from Once Upon A Time!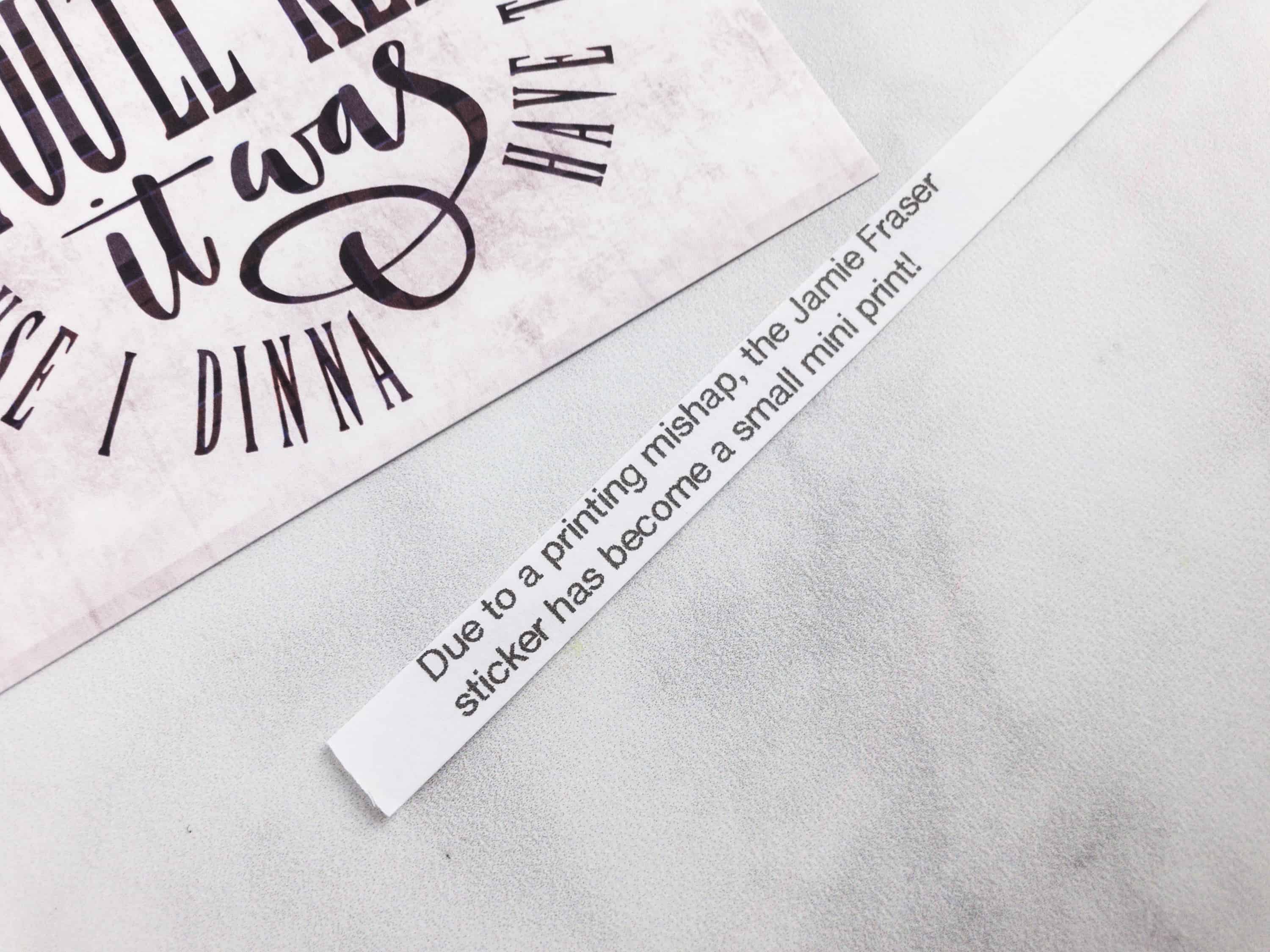 We got a little note here that says, due to a printing mishap, the Jamie Fraser sticker has become a small mini print, It kinda makes me feel bad not getting the sticker, but I guess I'll just let it pass. I still got another mini print, anyway.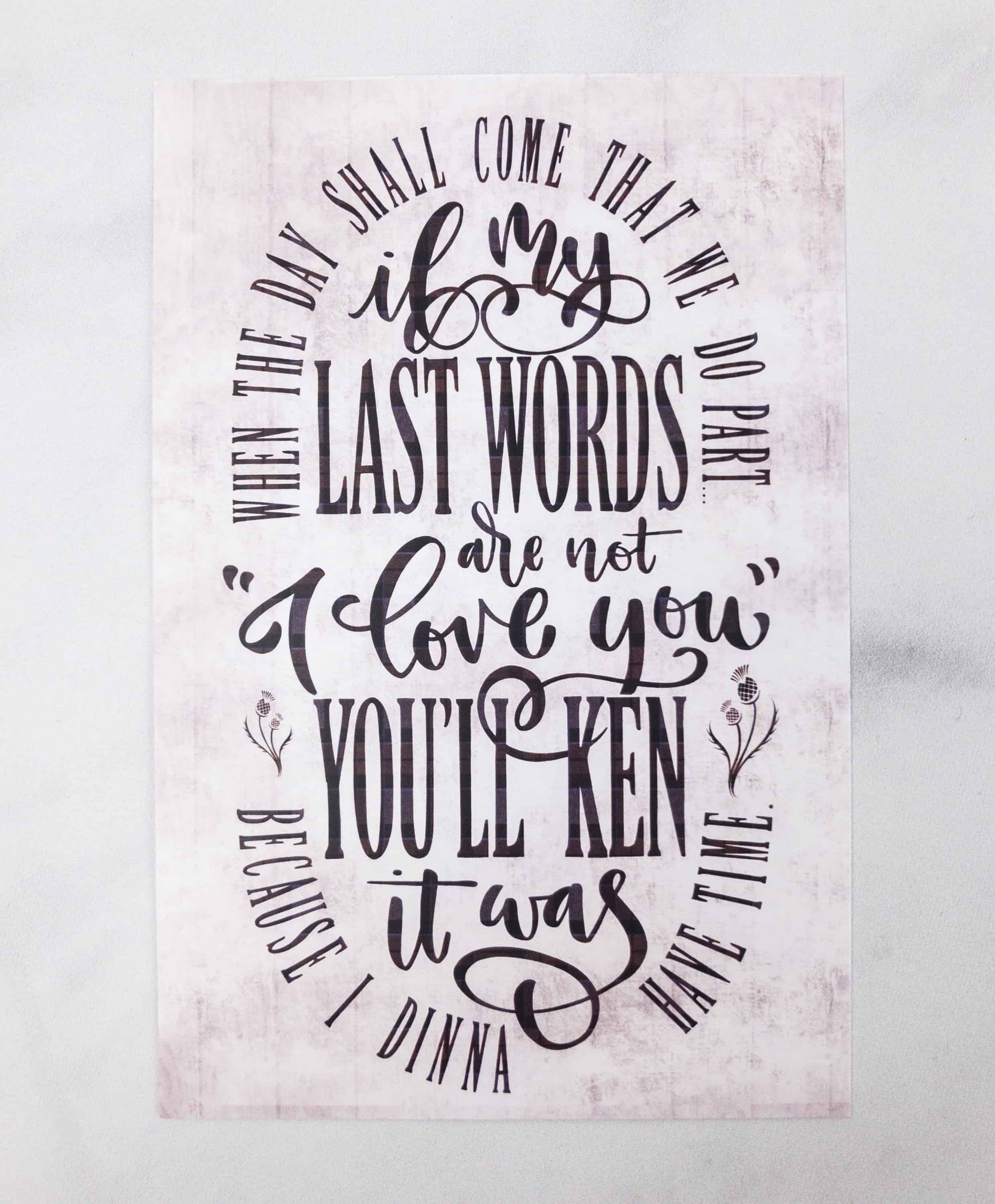 Outlander Series By Diana Gabaldon Mini Print. The mini print, in place of the Jamie Fraser sticker, is still from Diana Gabaldon's Outlander series. The words were said by fictional BF Jamie:
When the day shall come that we do part, if my last last words are not I love you – ye'll ken it was because I dinna have time.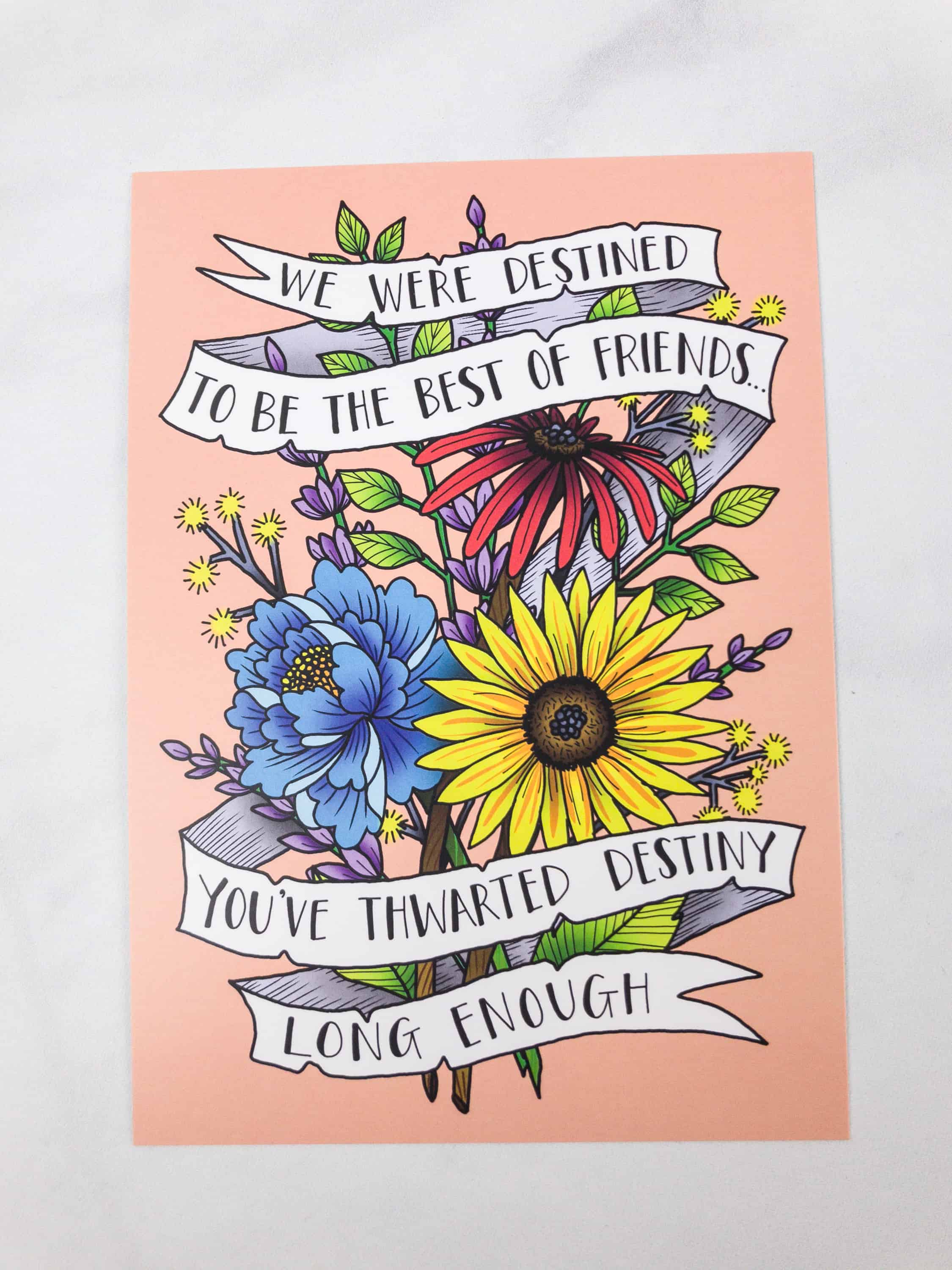 Anne Of Green Gables Mini Print Design By @inkandwonder.designs. Gilbert Blythe, the husband of Anne Shirley, said these words that started their beautiful friendship that eventually ended up in marriage. The design is so pretty and colorful!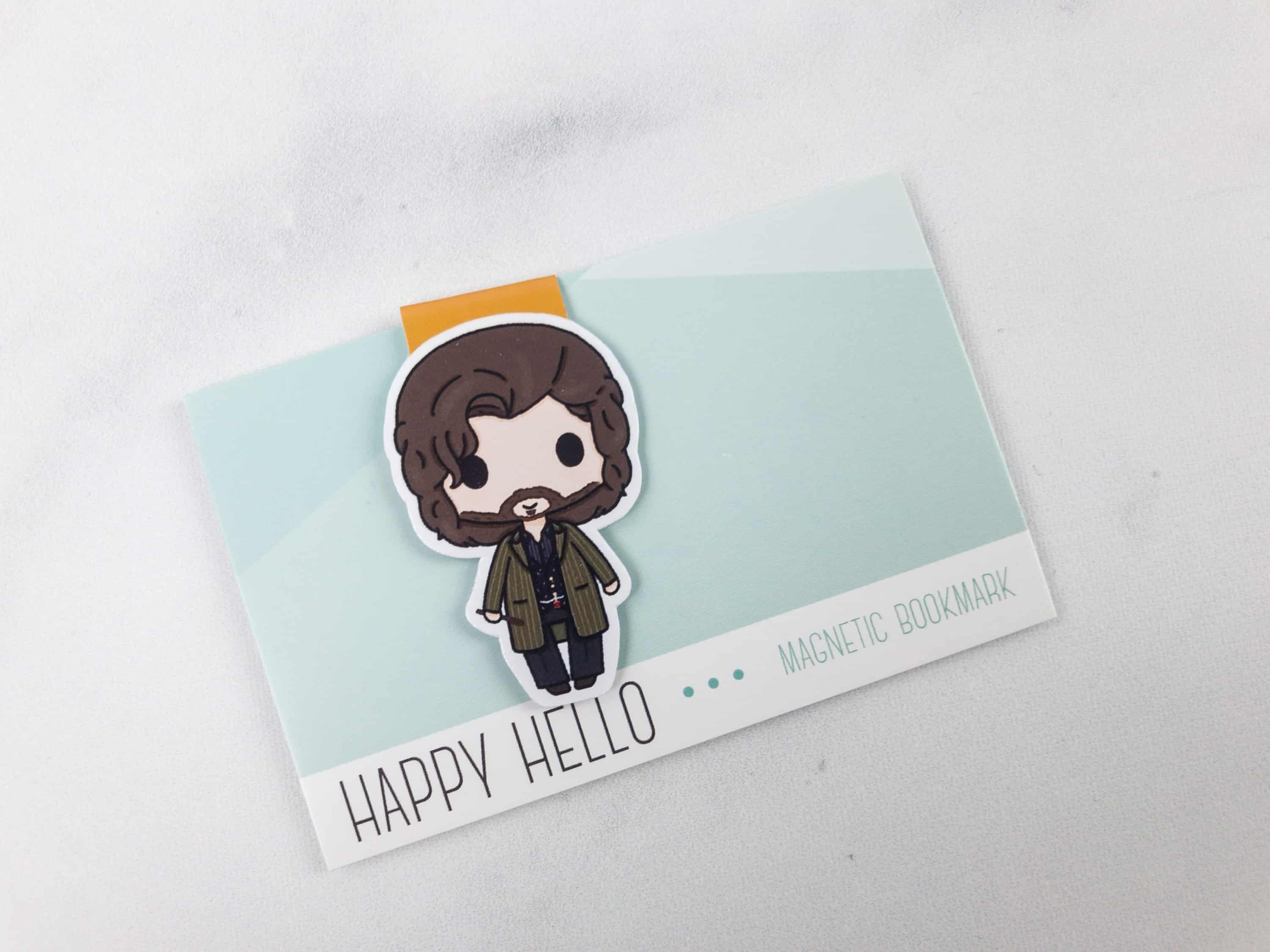 Harry Potter Series Sirius Black Magnetic Bookmark By @happyhelloart. I'm happy to get something HP from this box featuring fictional BFs. It's Sirius-ly cute and useful for my book readings!
However, I admit upon first glance that I thought it was Tyrion Lannister. There may be something wrong with me for thinking that!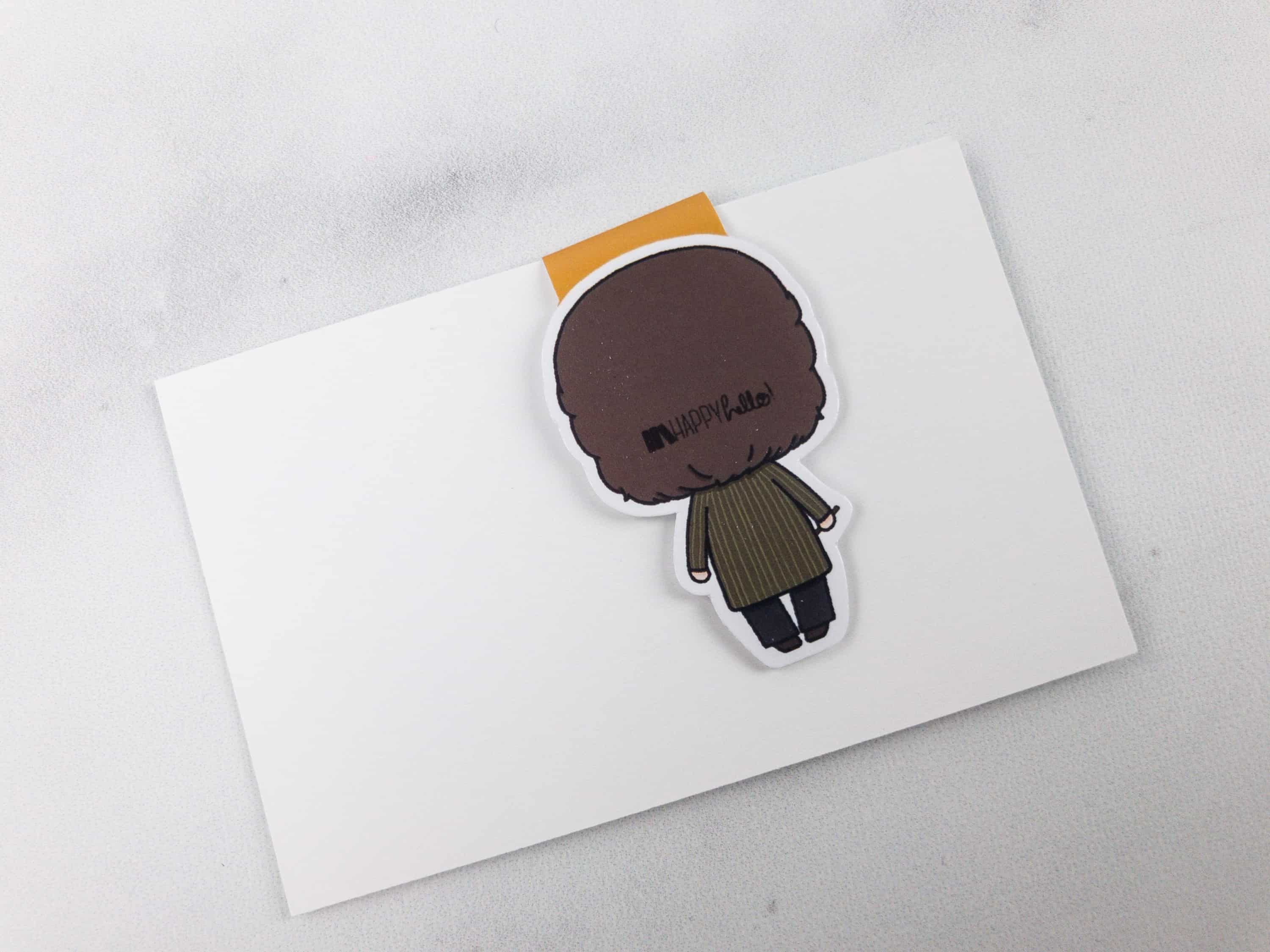 I also Sirius-ly think that he's just not a great Godfather, but a great boyfriend too, given a chance!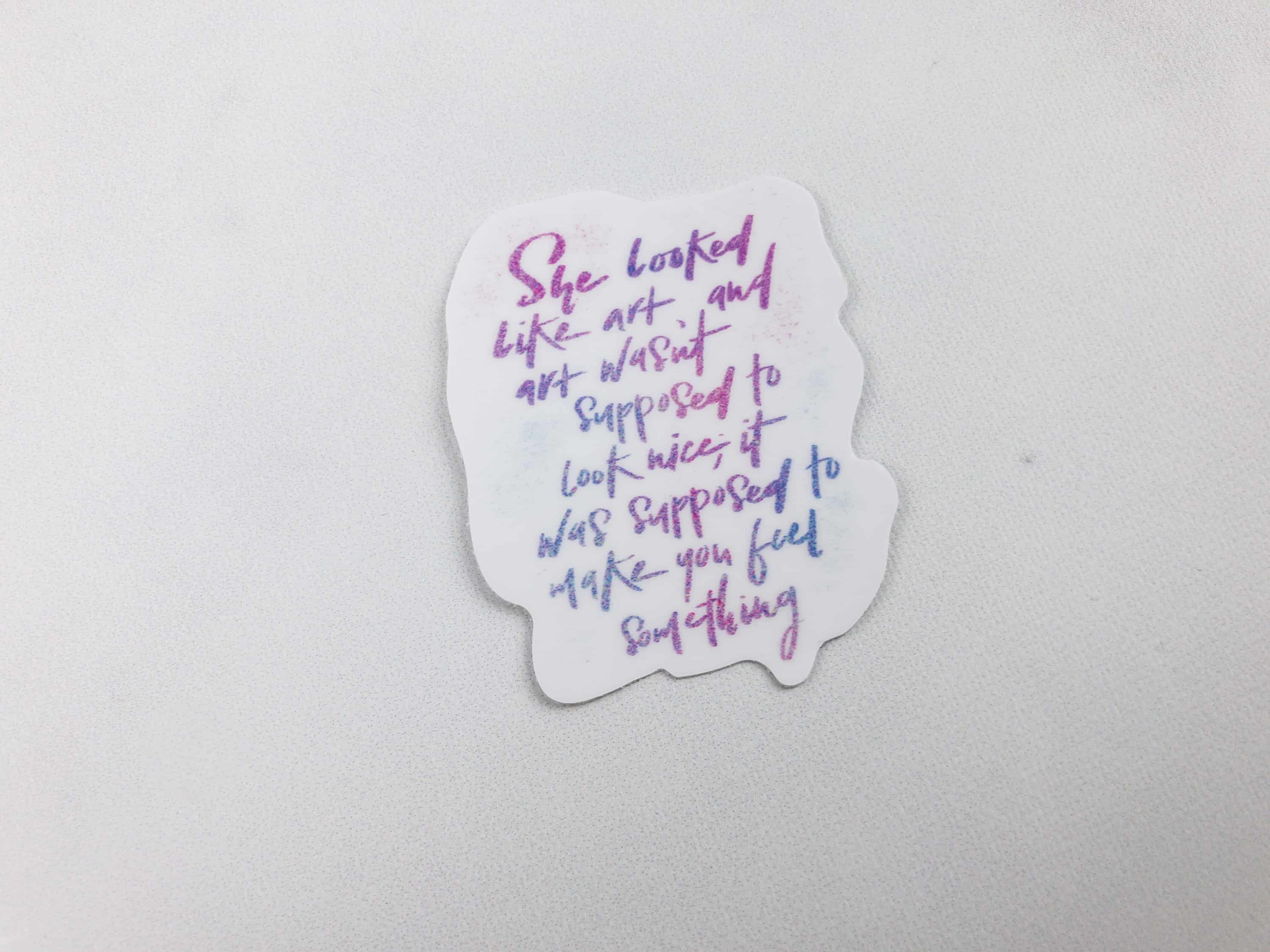 Eleanor & Park Sticker By Rainbow Rowell. These nice words are from Park Sheridan, a half-Korean highschool guy and one of the main protagonists of Eleanor & Park. The sticker is quite small, but really cute!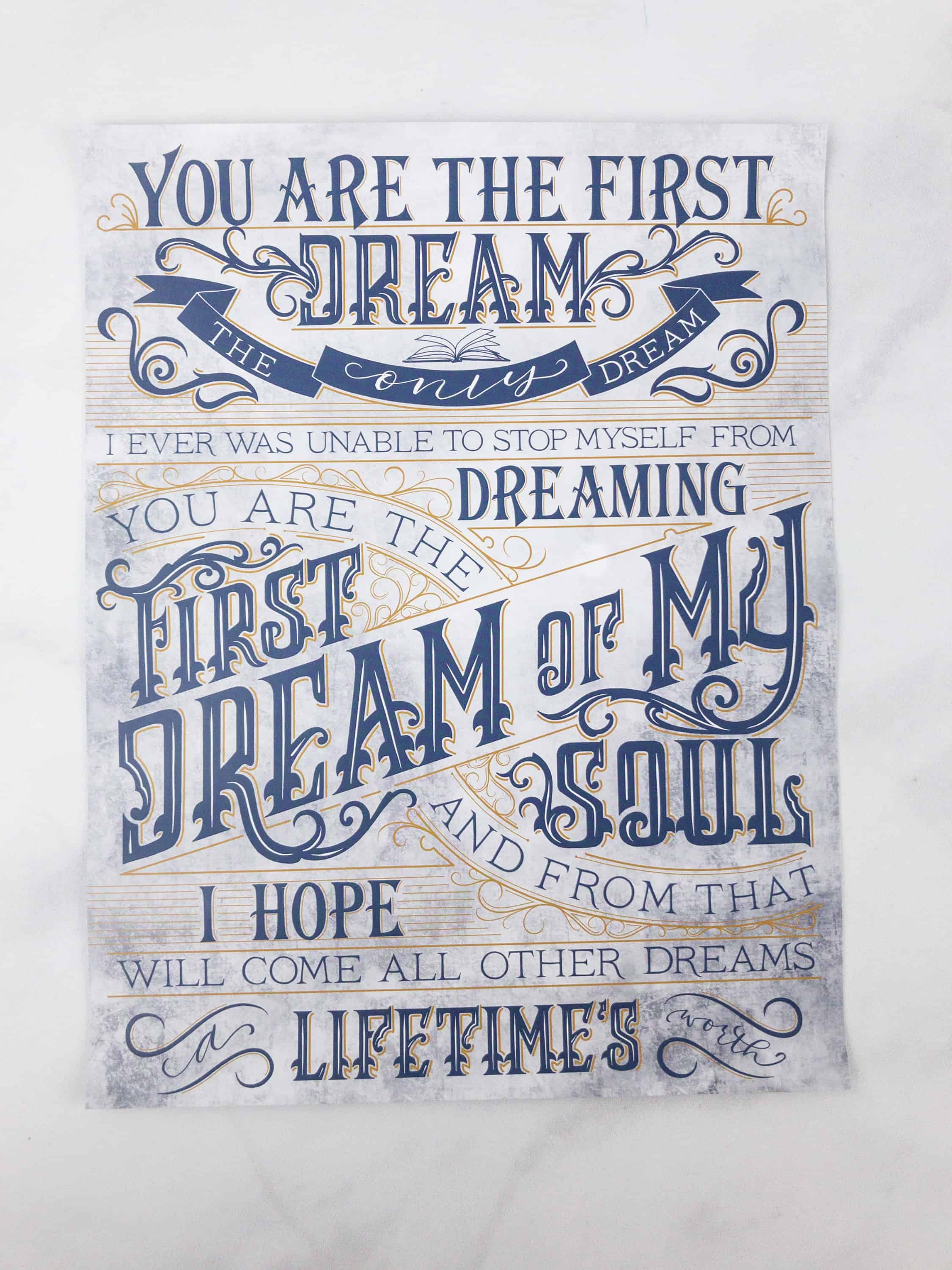 The Infernal Devices Print By Cassandra Clare. This print will look great framed and hung, as the typography looks eye catching, and it's in quite a different style than the normal lettering in this box – and we all loved it!. The quote is said by Will Herondale in Clockwork Prince, the second book in the Infernal Devices series.
Honestly, I wasn't really that excited when I learned about this month's theme but everything turned out great! Nerdy Post always produces the best prints and posters, and I also like their choices when it comes to the books/series the items are based from. Needless to say, my favorite item is the Sirius Black bookmark! Next month's theme is DUMBLEDORE and I wonder if he's tagging his army along! Let's wait and see!
Next month's theme is DUMBLEDORE. Are you excited?