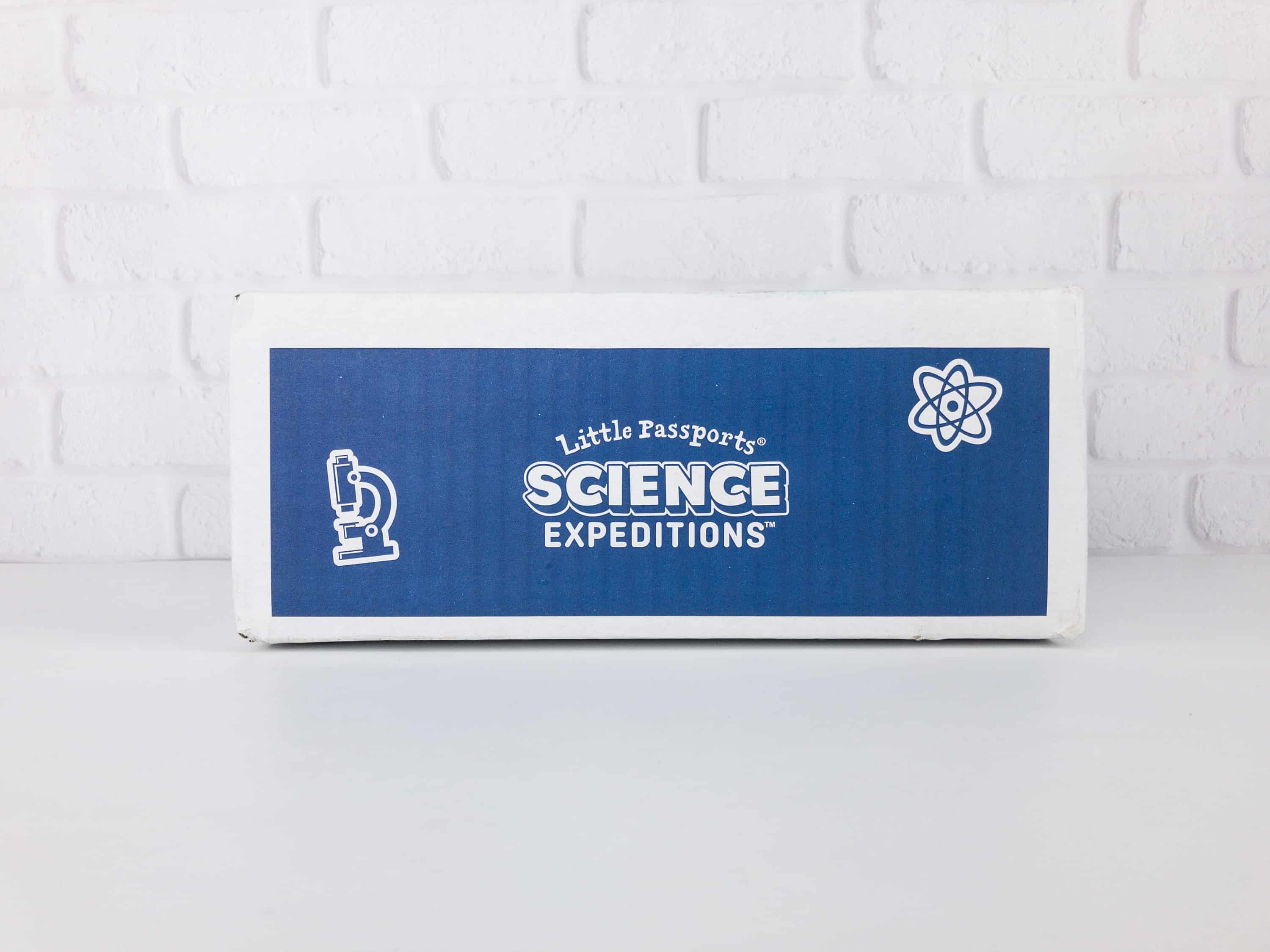 Little Passports Science Expeditions is a monthly subscription science kit packed full of science experiments related to themes like rockets, forensic science, vision, caves and crystals, northern lights and magnetism, hydrology, and more! Science Expeditions lets kids solve real-life scientific mysteries every month through science experiments, hands-on STEM activities and more! Every box includes a 16 page comic with scientific mysteries to solve and fun activities, 8 page experiment guides, hands-on experiment guides, and achievement badges for your lab notebook! This subscription is intended for children ages 9 and older.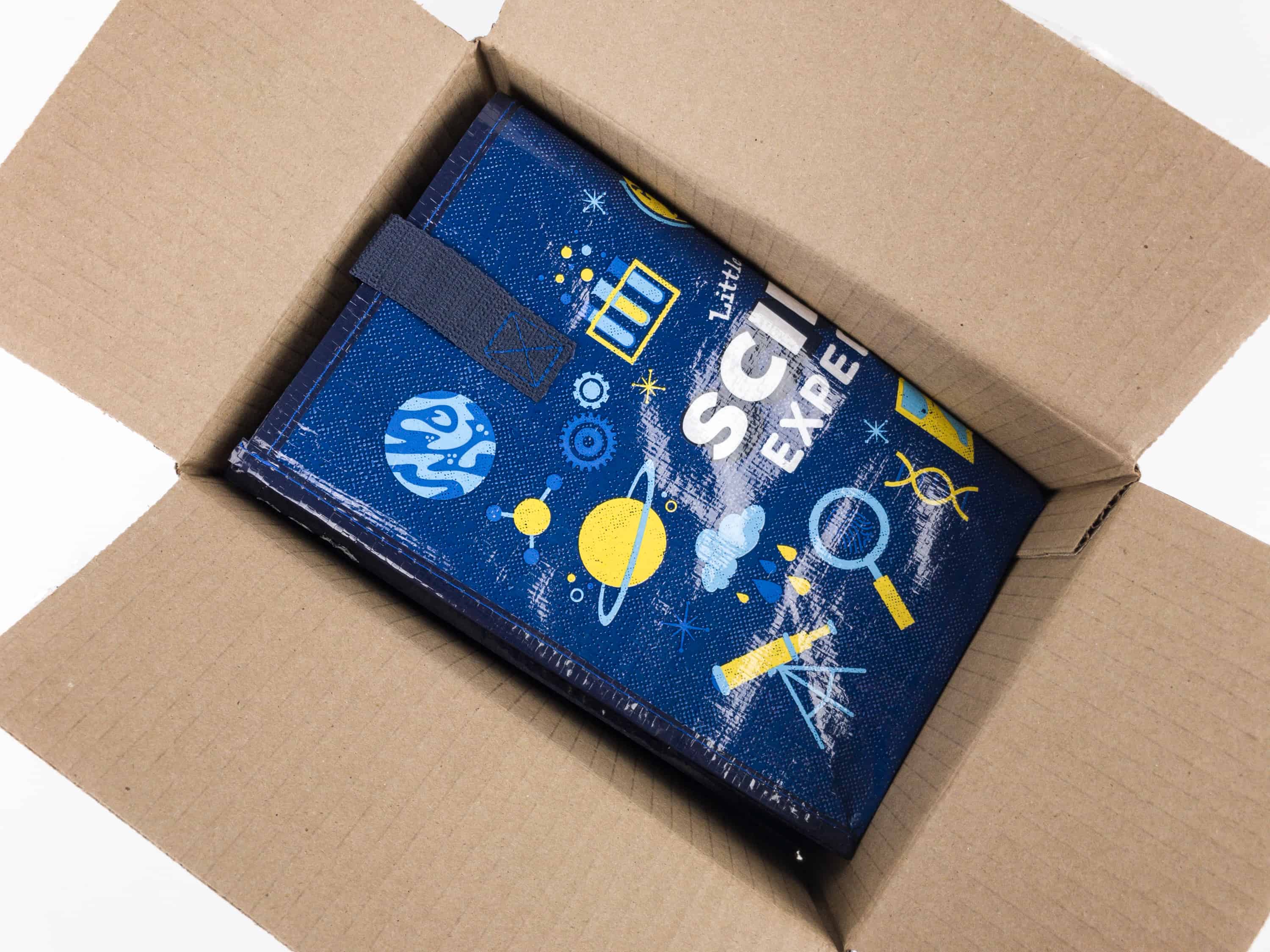 Everything in the Forensic Science box & starter set.
Starter Set
Tote. Your first package includes a science tote and lab notebook. You'll want to save these to collect all your scientific goodies. Unlike other subscriptions, all Science Expeditions subscriptions start with the same kit.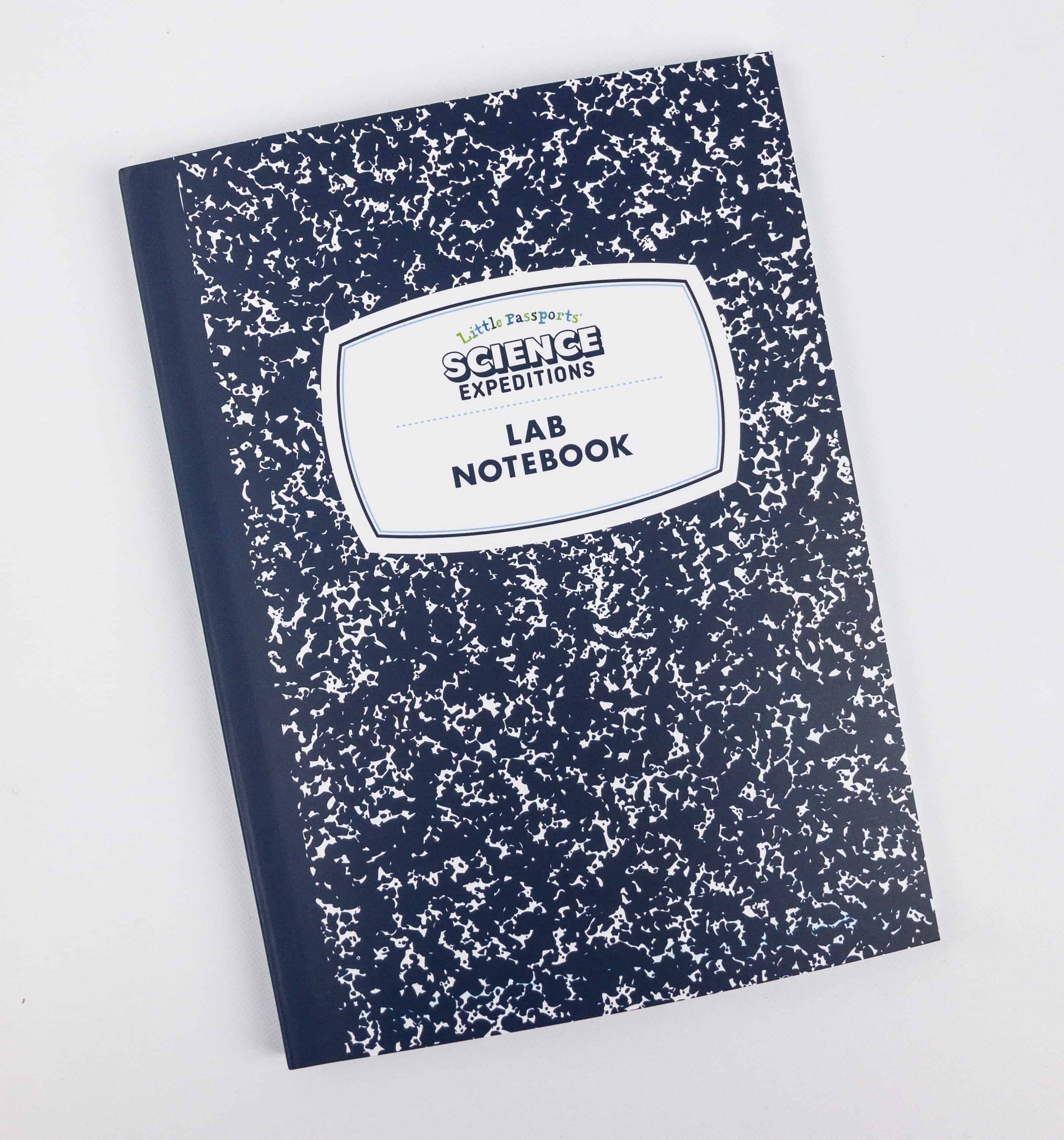 Lab Notebook. A lab notebook serves as a blueprint for the experiments where the kids get to draw, write results and observations regarding their experimentation.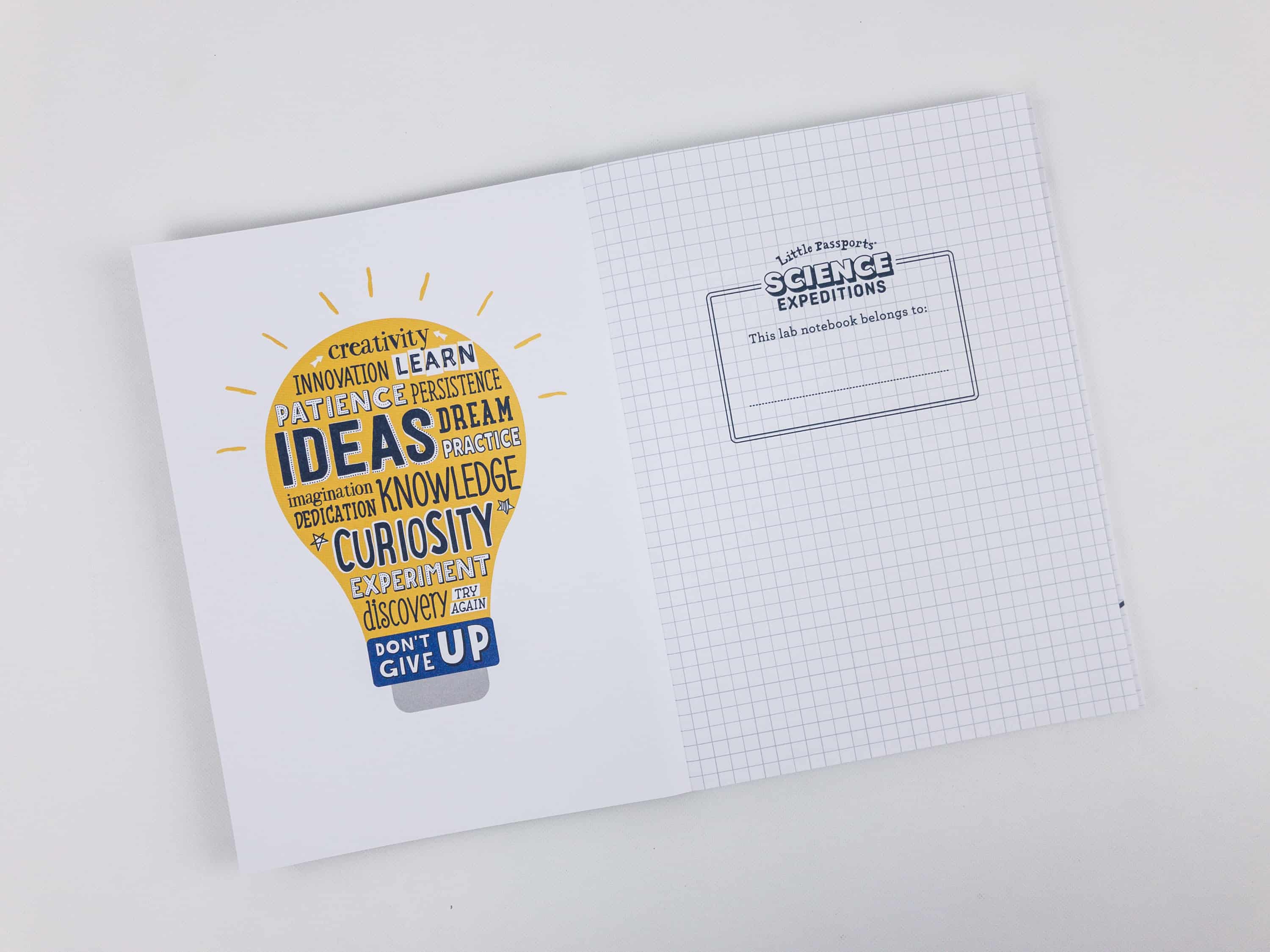 The notebook comes with gridded pages.
There's also a whole spread for badges!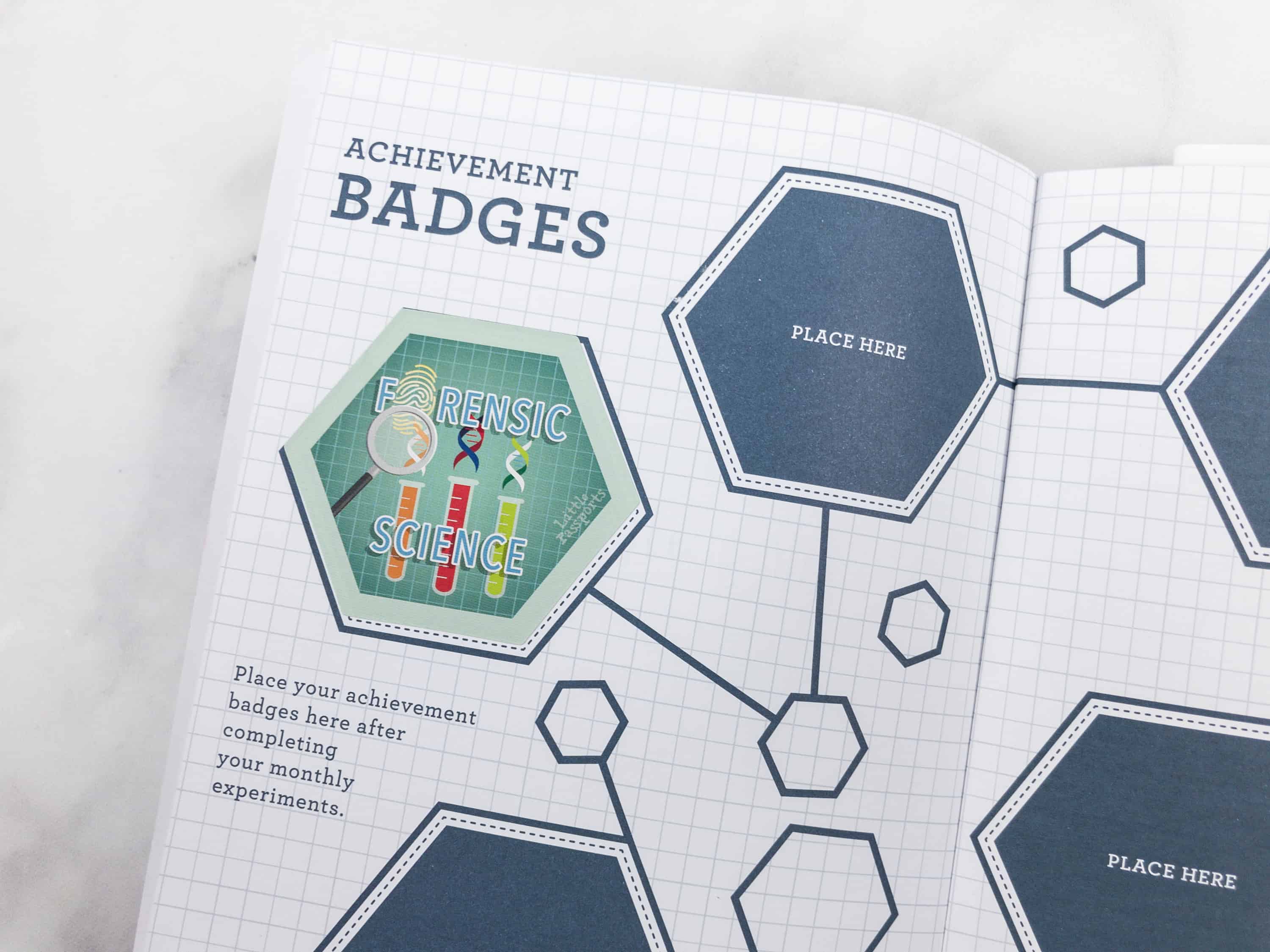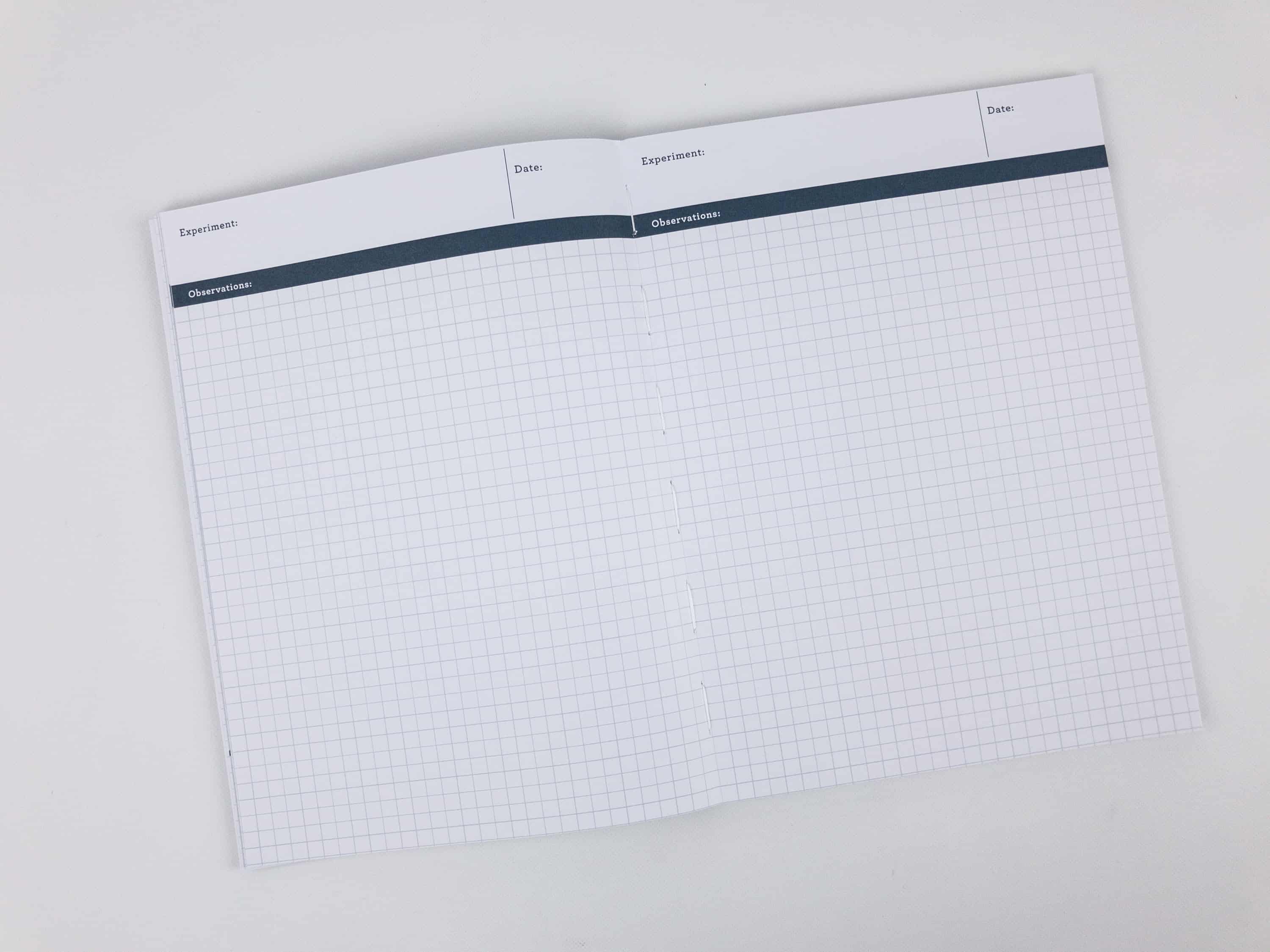 There's a space where the kids can write the experiment title, and even more space for all their notes and doodles!
Forensic Science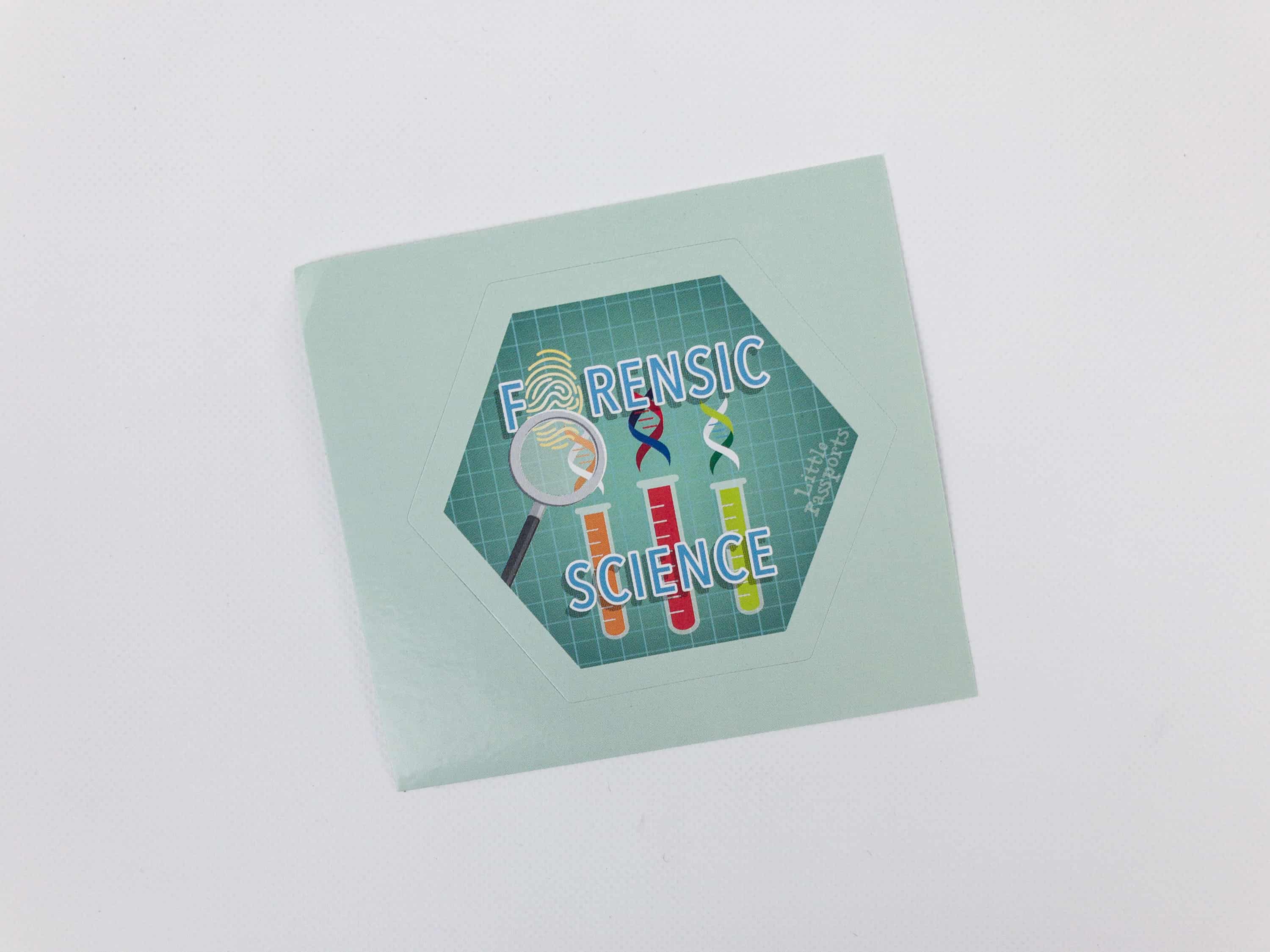 Achievement Badge. This sticker badge can be placed and collected in the lab notebook when your child has completed the tasks.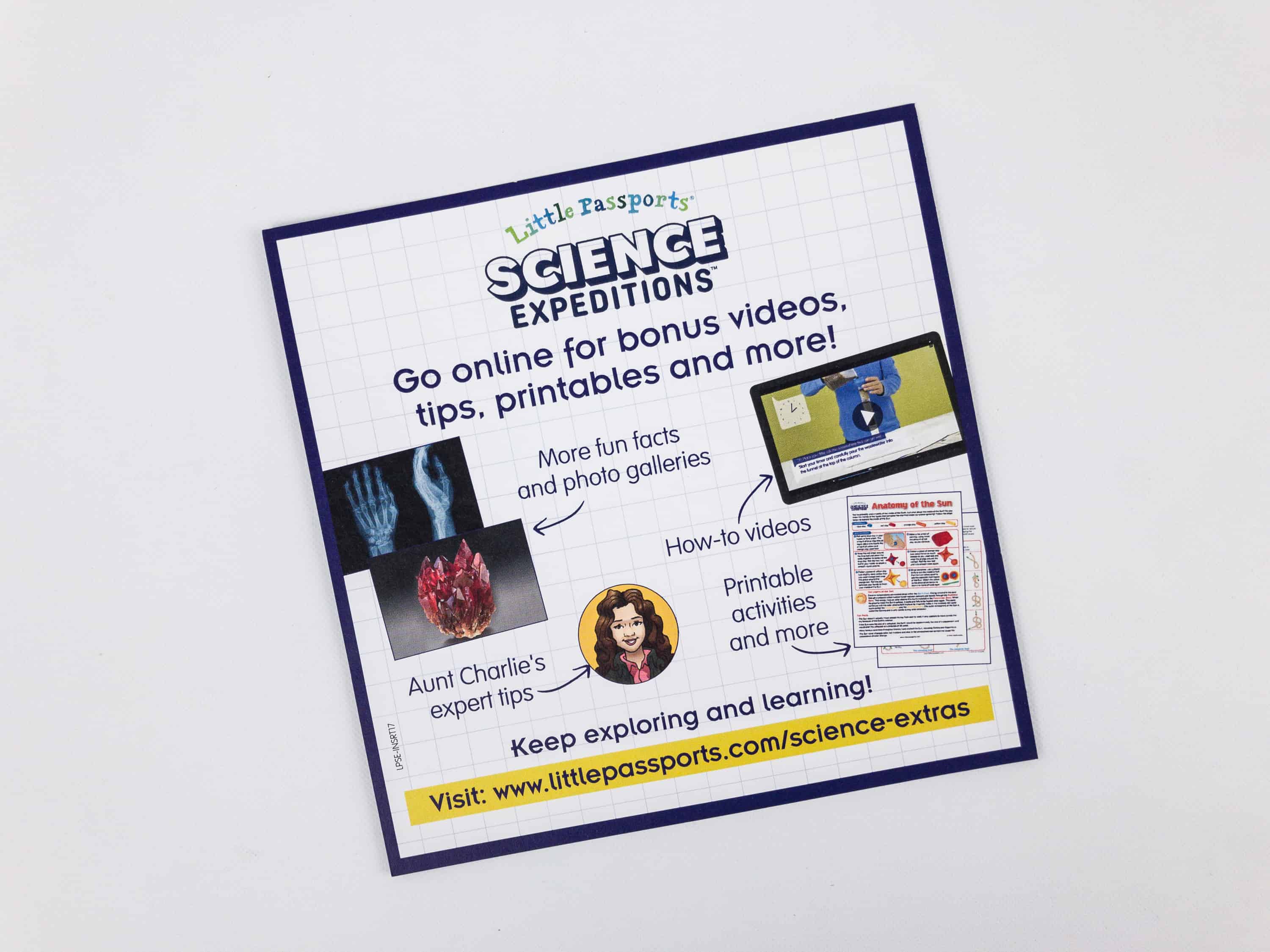 The website for Little Passports also has extra Science activities for more scientific fun!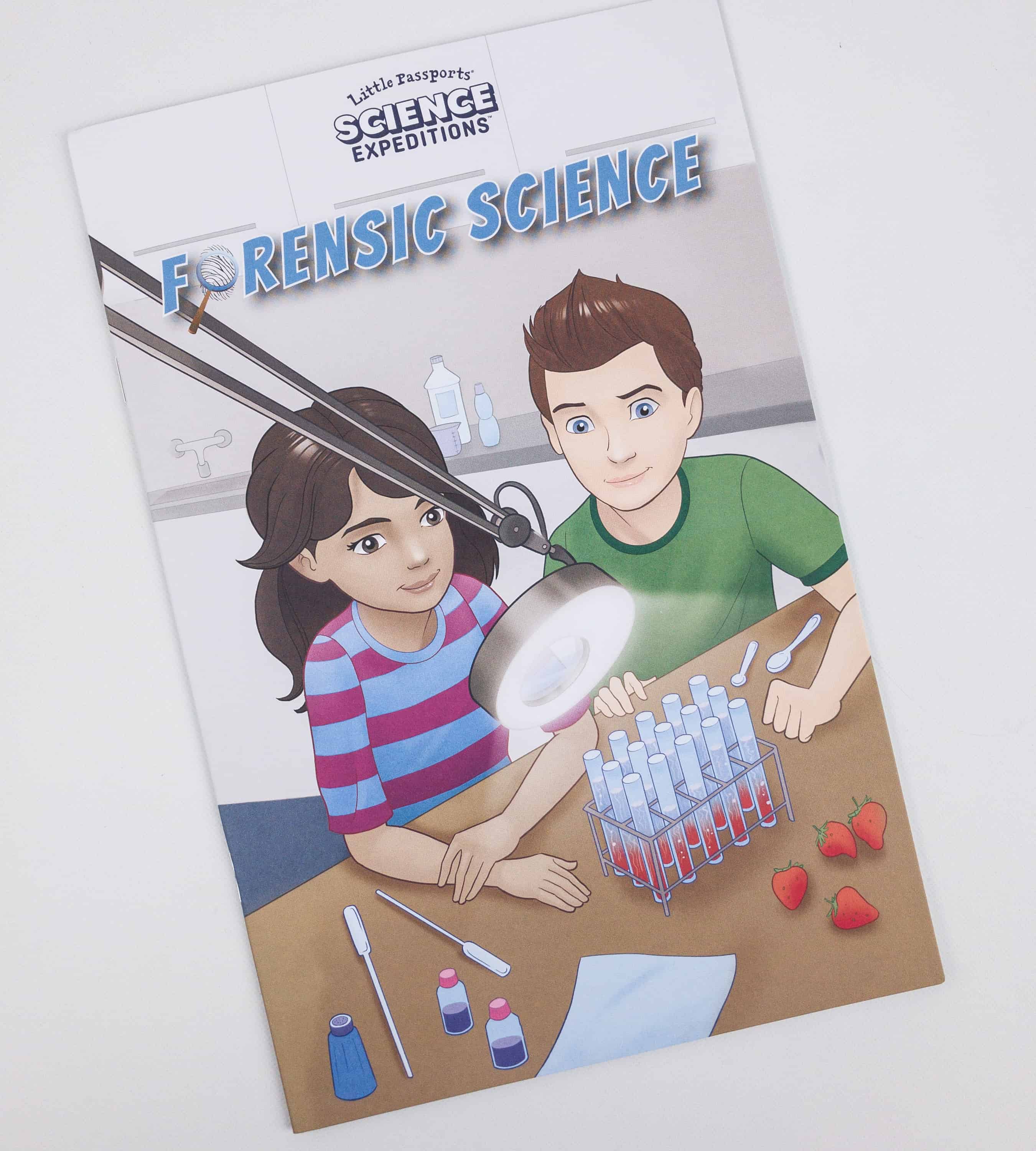 Little Passports Science Expeditions: Forensic Science Comic: Every box includes a 16-page comic book with glossary and bonus activities.
Here's a long message from Sofia and Sam! If you've delved in to the other Little Passports subscriptions, these characters will be familiar. There's more to check out on the site too!
The magazine introduces kids to Forensic Science through a fun comic.
The illustrations are great, and the story is really engaging. It's such a creative way to get the kids' attention and make them understand what Forensic Science is all about in a nutshell.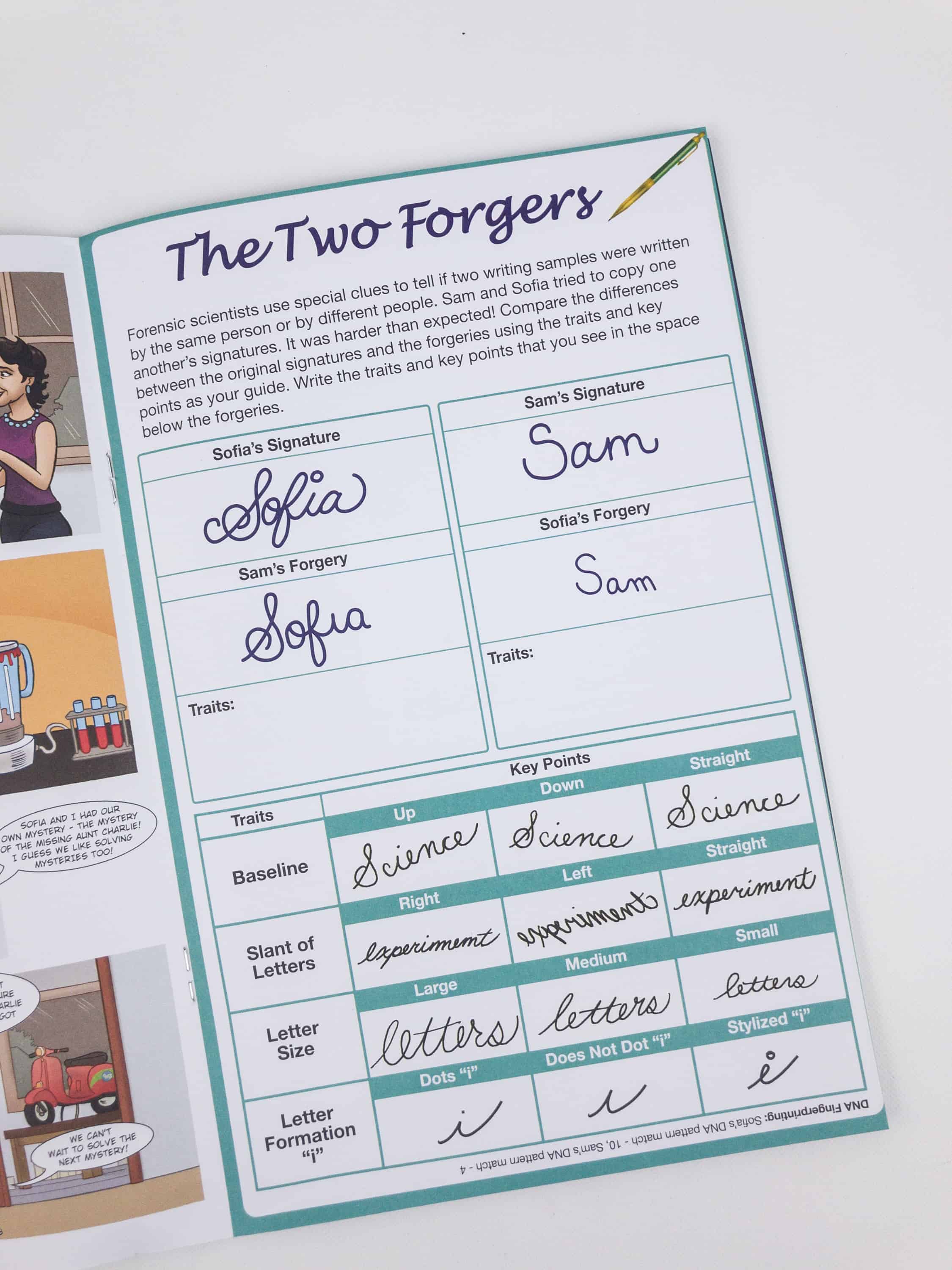 First up on the Forensic Science activities: analyzing signatures along with forgeries. In this activity, my daughter analyzed the signatures.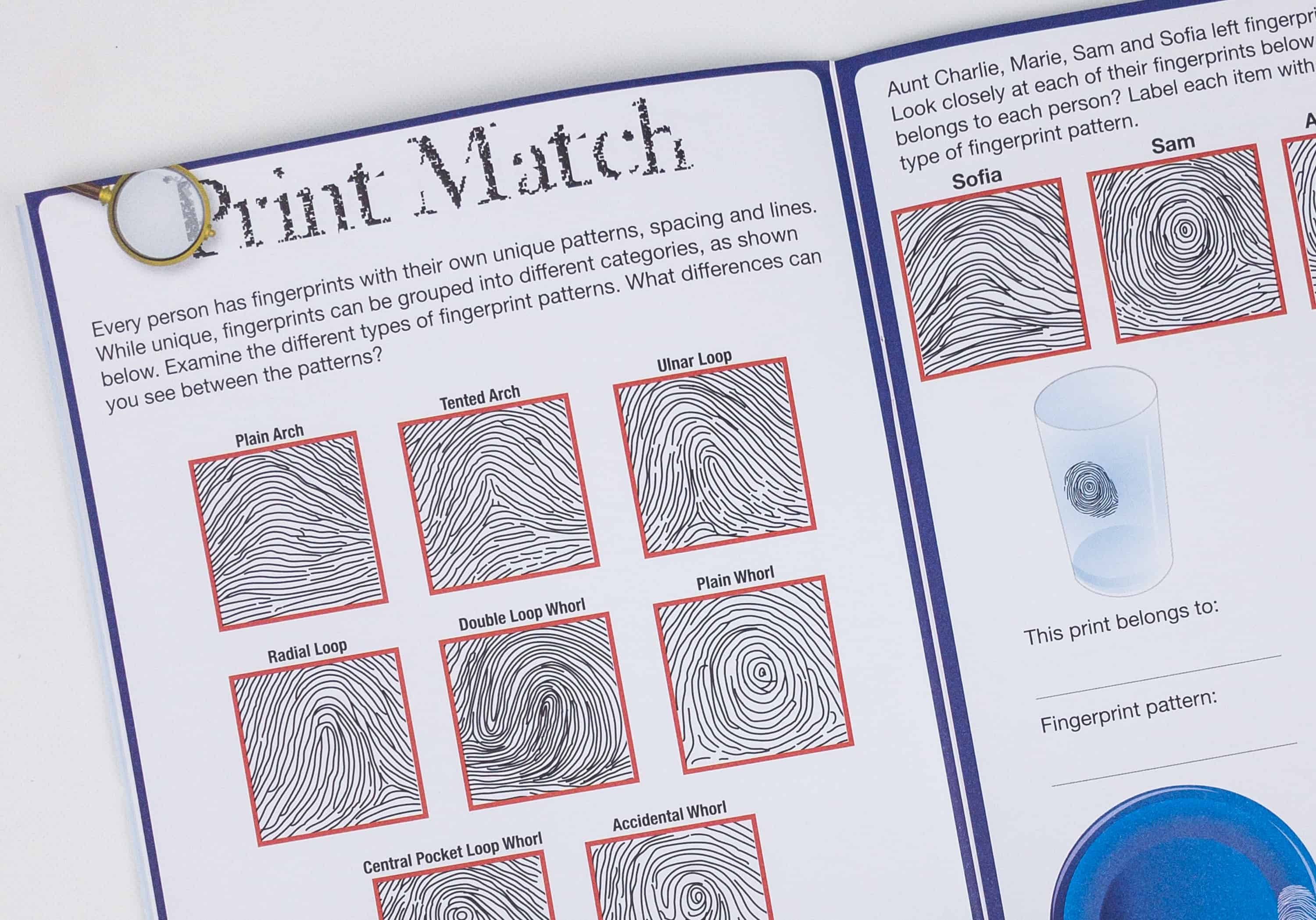 Another activity is finding the print match. Sharp eyes are definitely needed!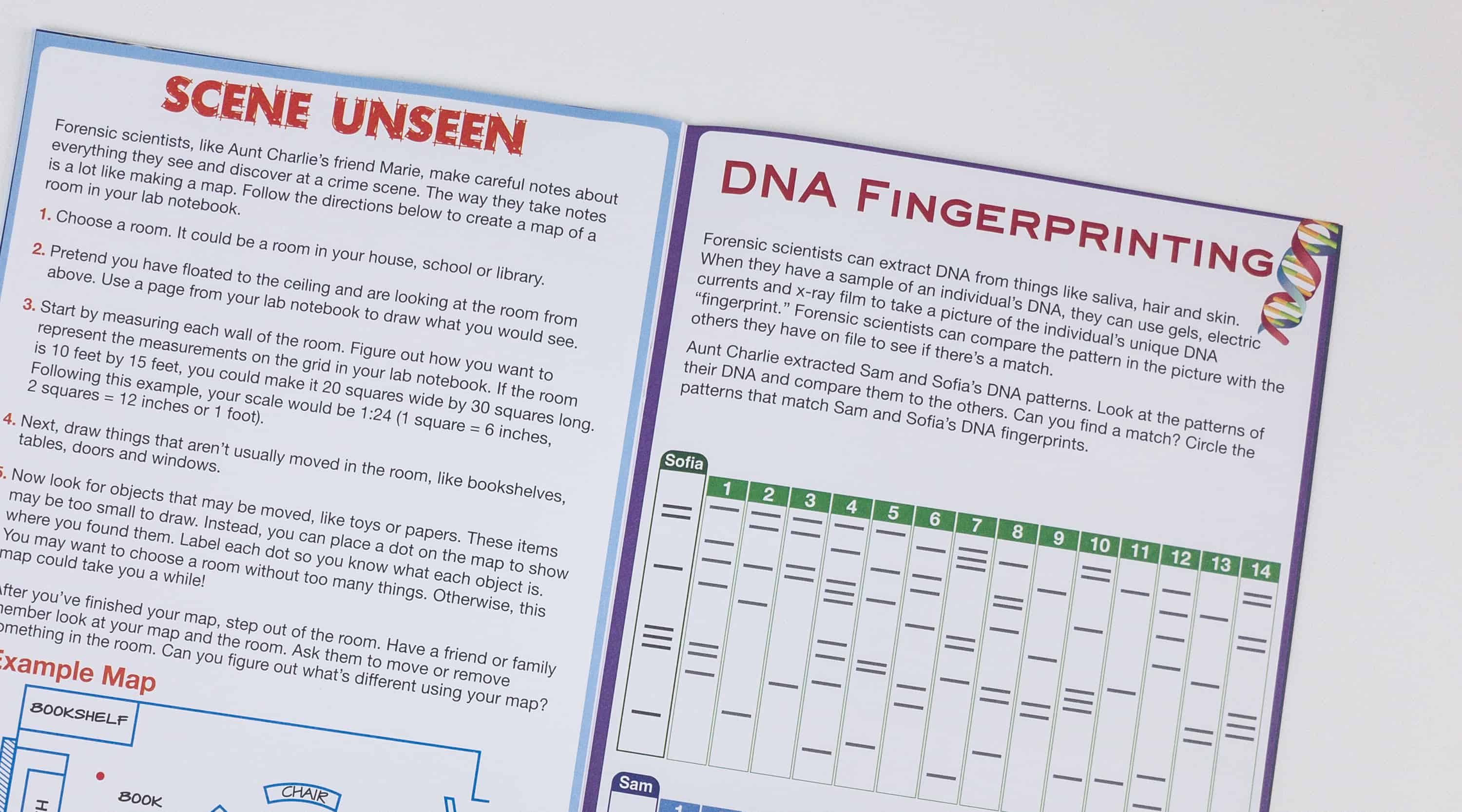 A DNA fingerprinting activity is also included! How cool is that for little scientists?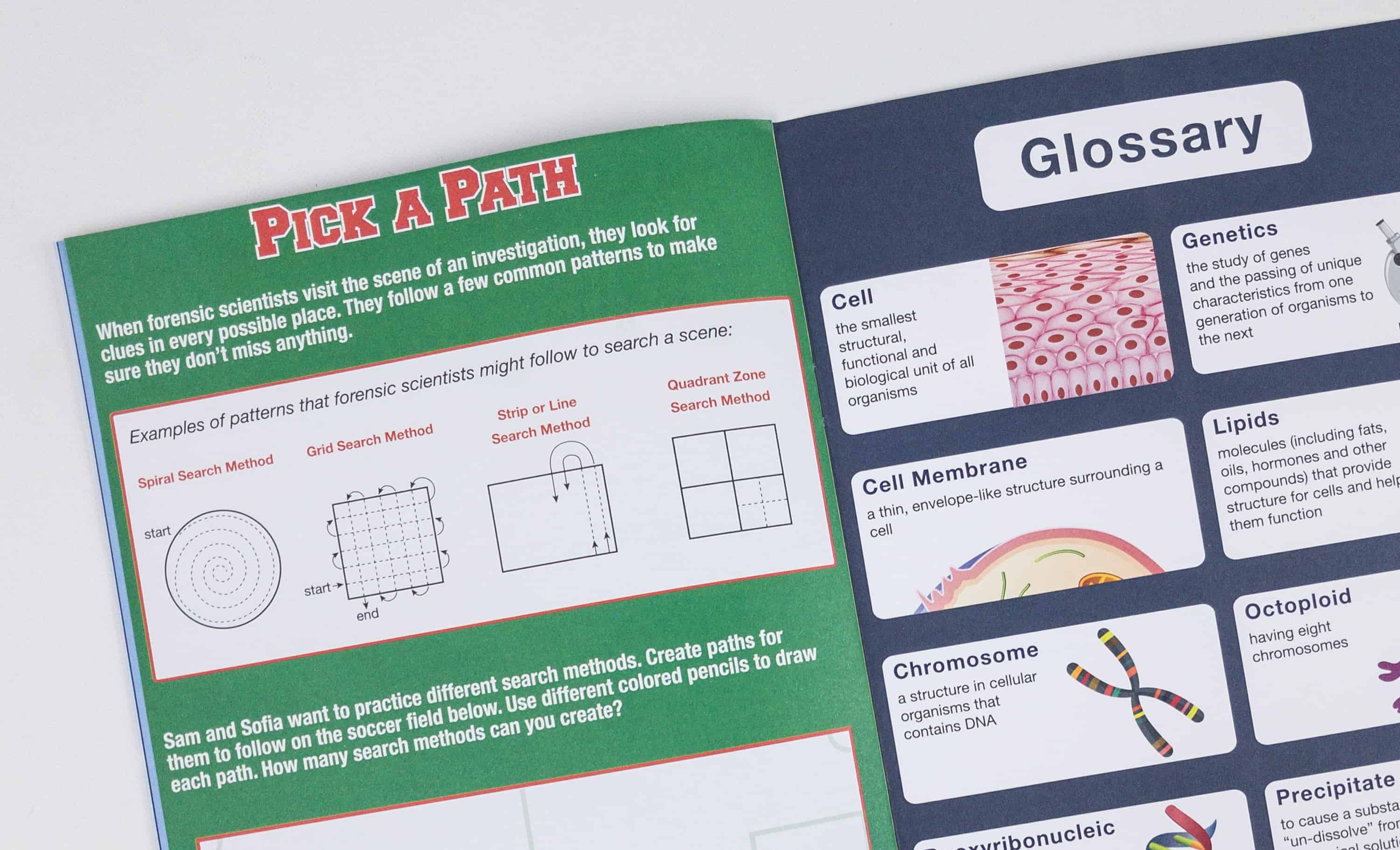 We loved the fun topical activities and the illustrated glossary.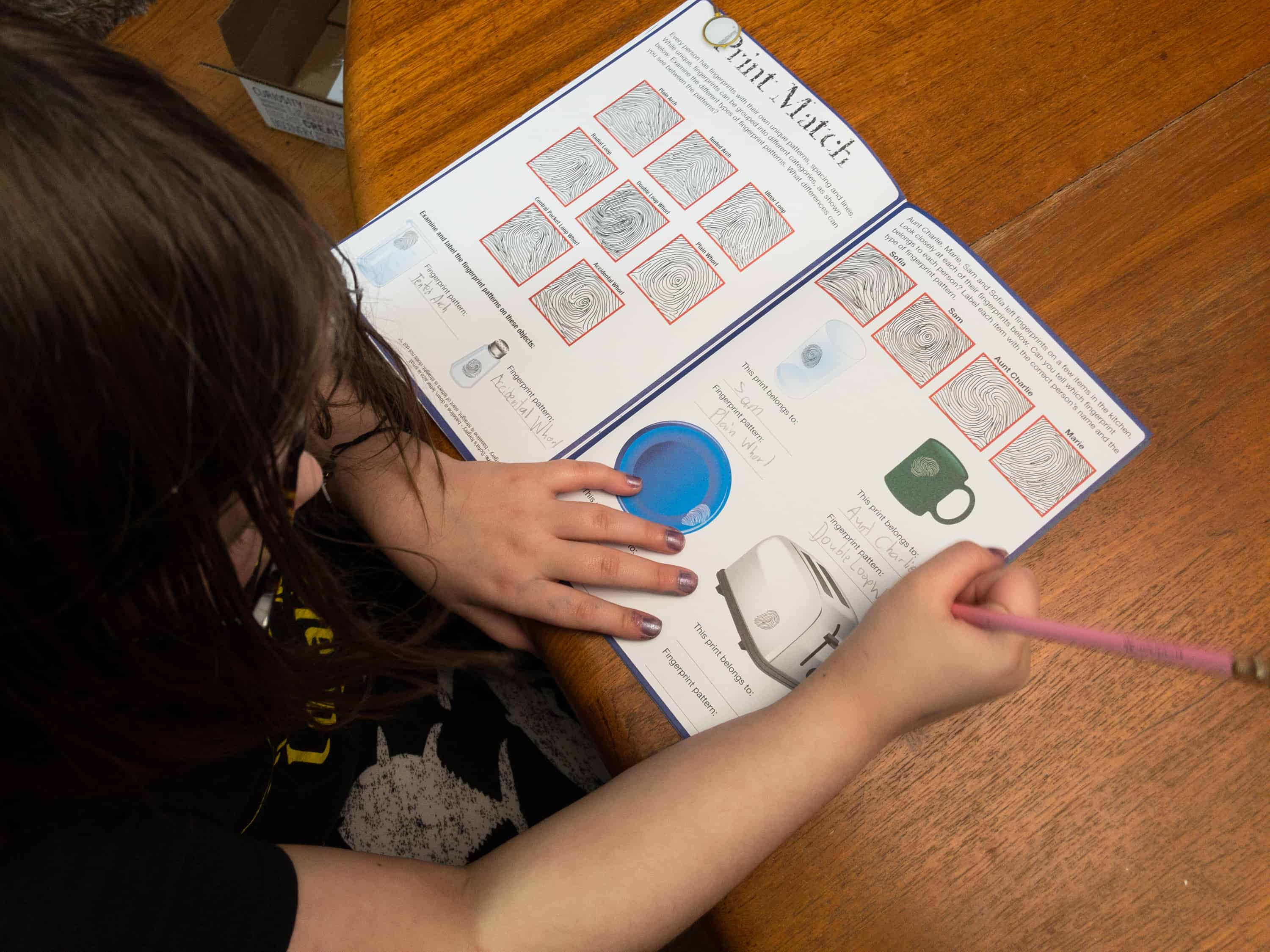 My daughter loved reading and working on the comic and completed every activity.  I would rate completing the booklet as highly important before moving on to the rest of the set.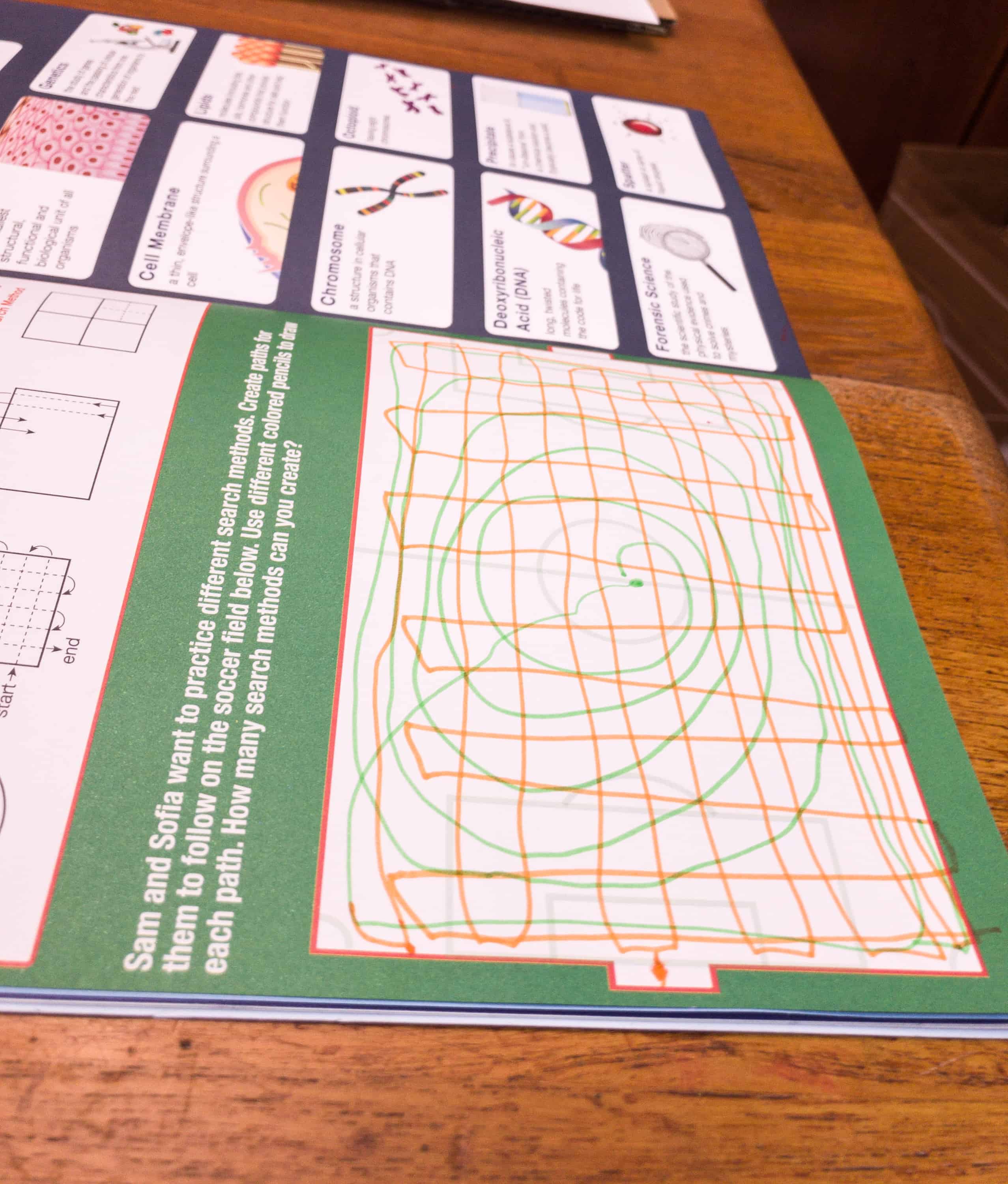 Some of it was just for fun though! My daughter learned that she can create a lot of search methods through this activity where she created paths but we didn't use this for the experiments (she has put this new methodology into play during ninja training..).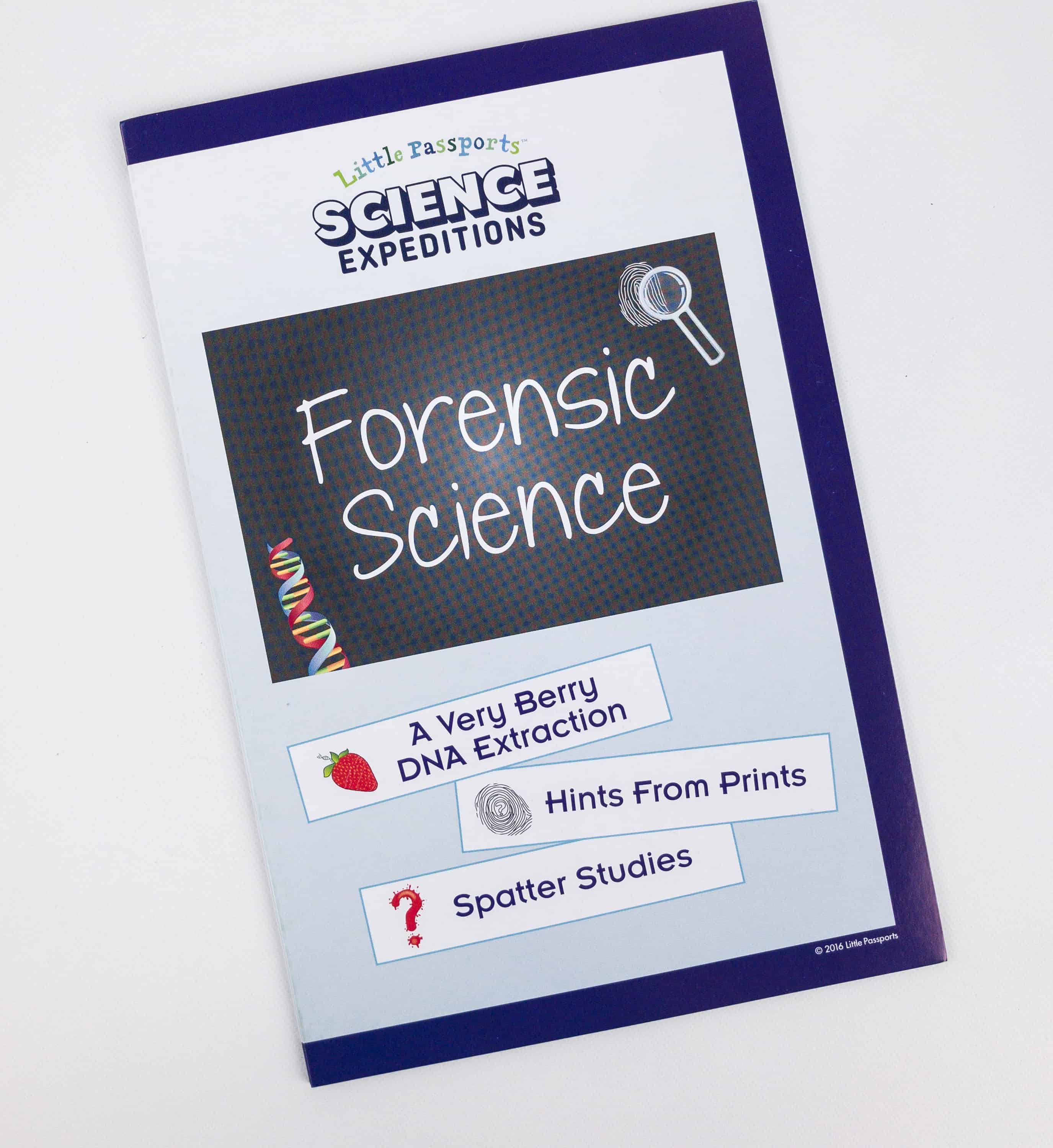 After reading and working through the enclosed Forensic Science comic, my little scientist was excited to get to work on the experiments.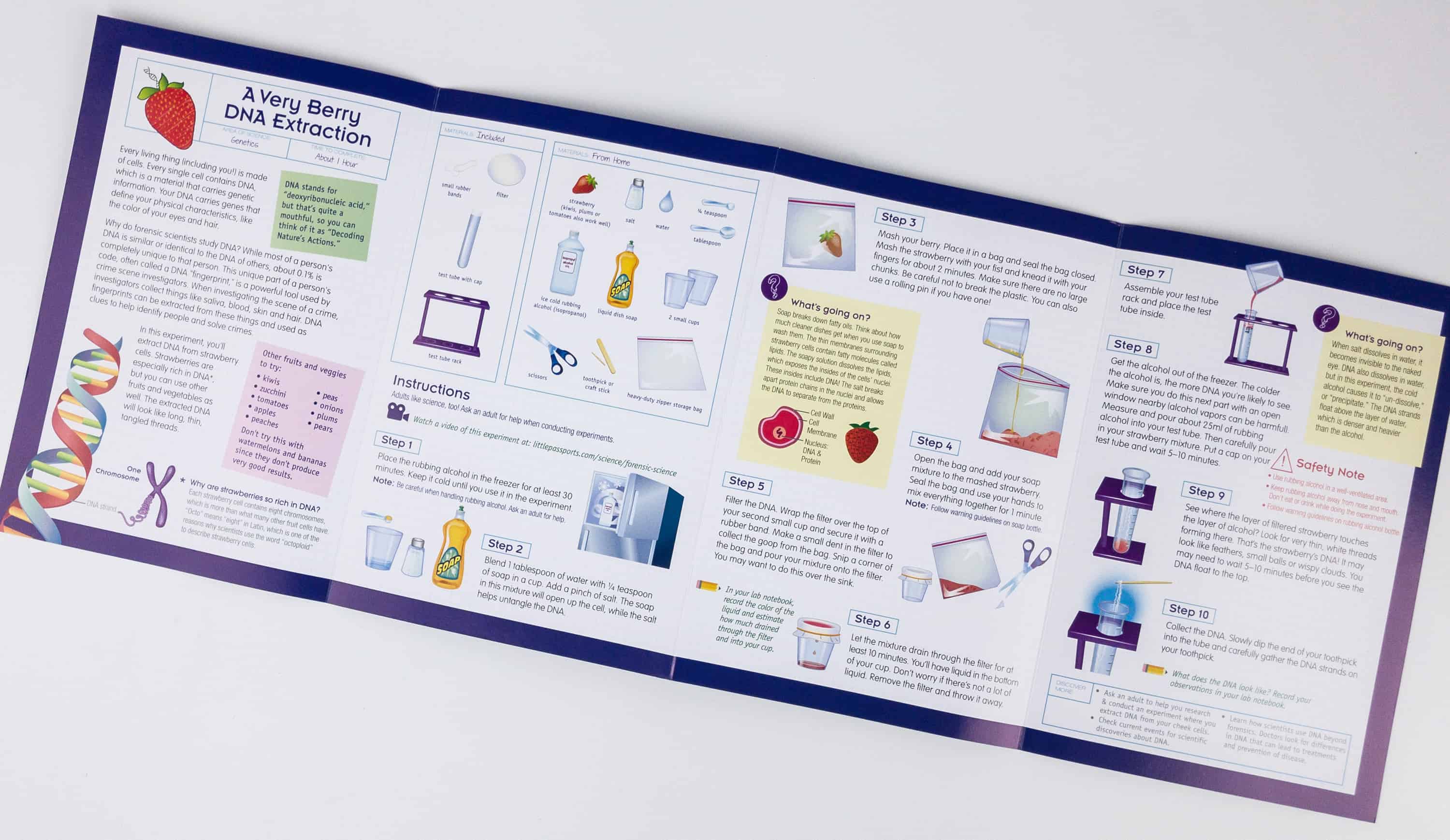 This lengthy scientific activity let us extract strawberry DNA. How cool is that?! Unfortunately that meant not all needed items were included but it also meant that we were able to do more involved experiments.
The instructions were clear and also included tidbits on what was happening, and prompts to record observations in the lab notebook.
Two more investigations – fingerprinting and spatter!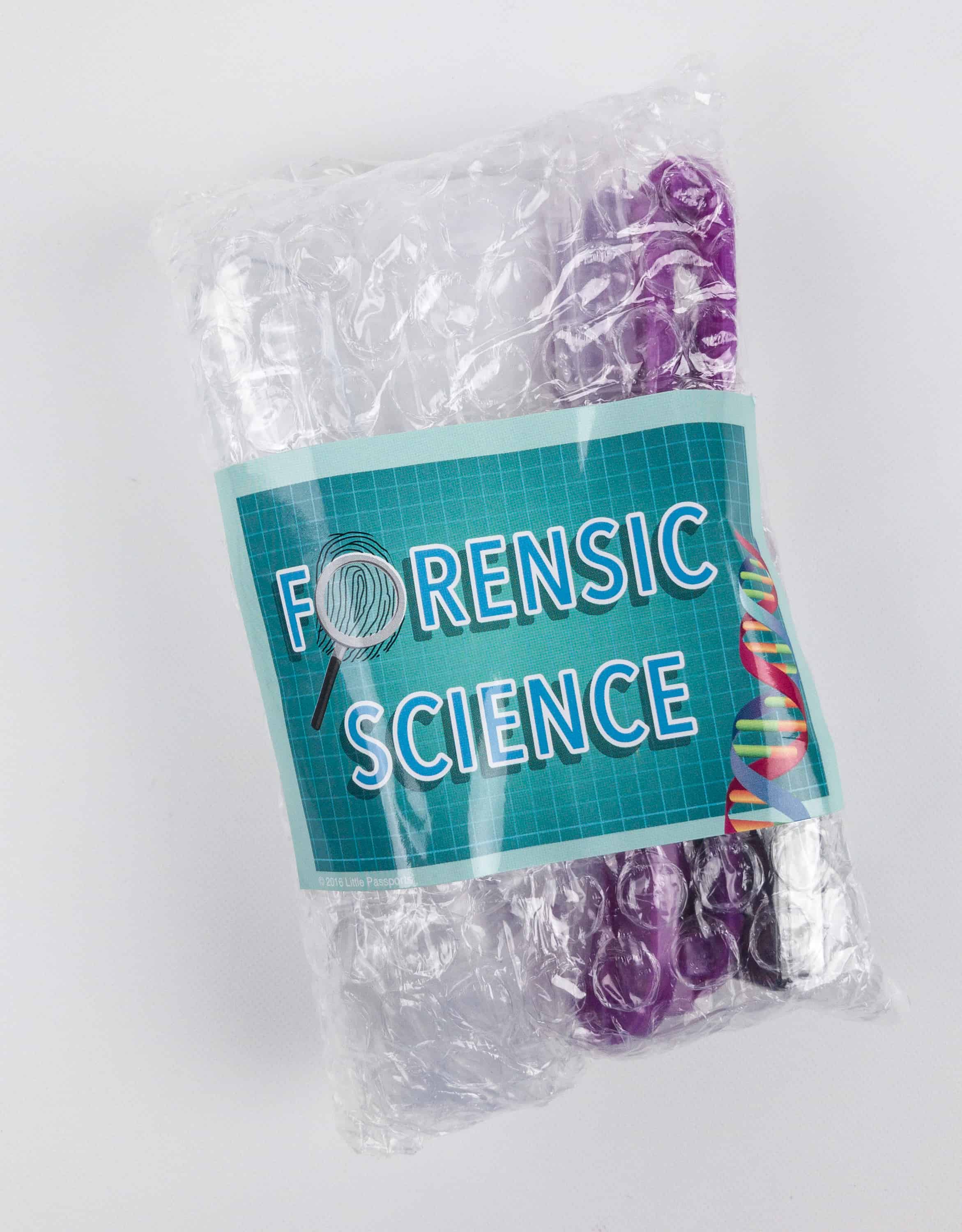 Forensic Science Lab Equipment. Of course, conducting an experiment wouldn't be possible without the equipment!
This set includes a test tube, rack, pipette, magnifying glass and an ink pad. Sadly, the ink pad was dried out and adding water didn't help so we used another ink pad.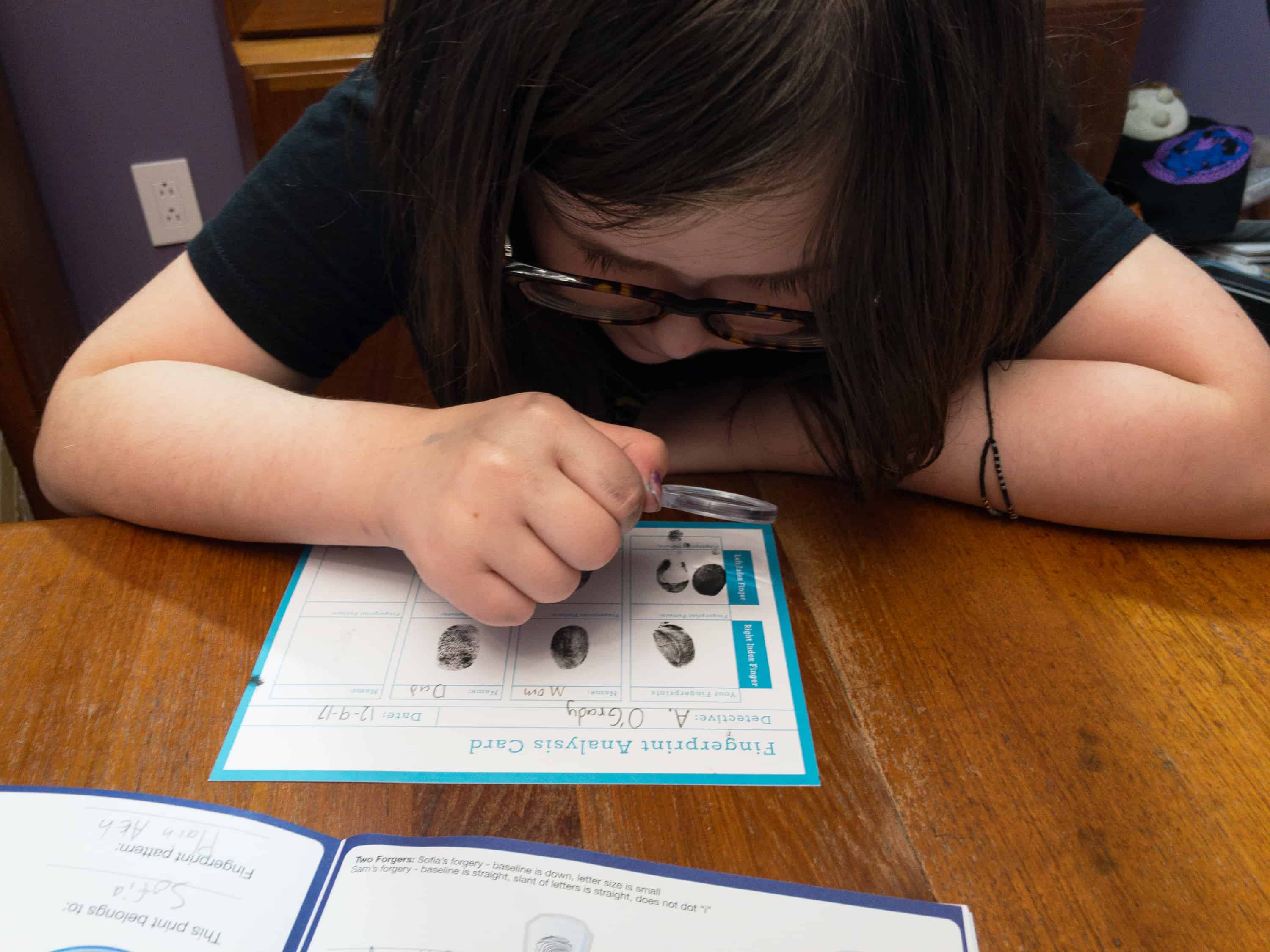 We duly submitted our fingerprints which she then analyzed. The swirl patterns on our prints were nearly identical but differed from dad's!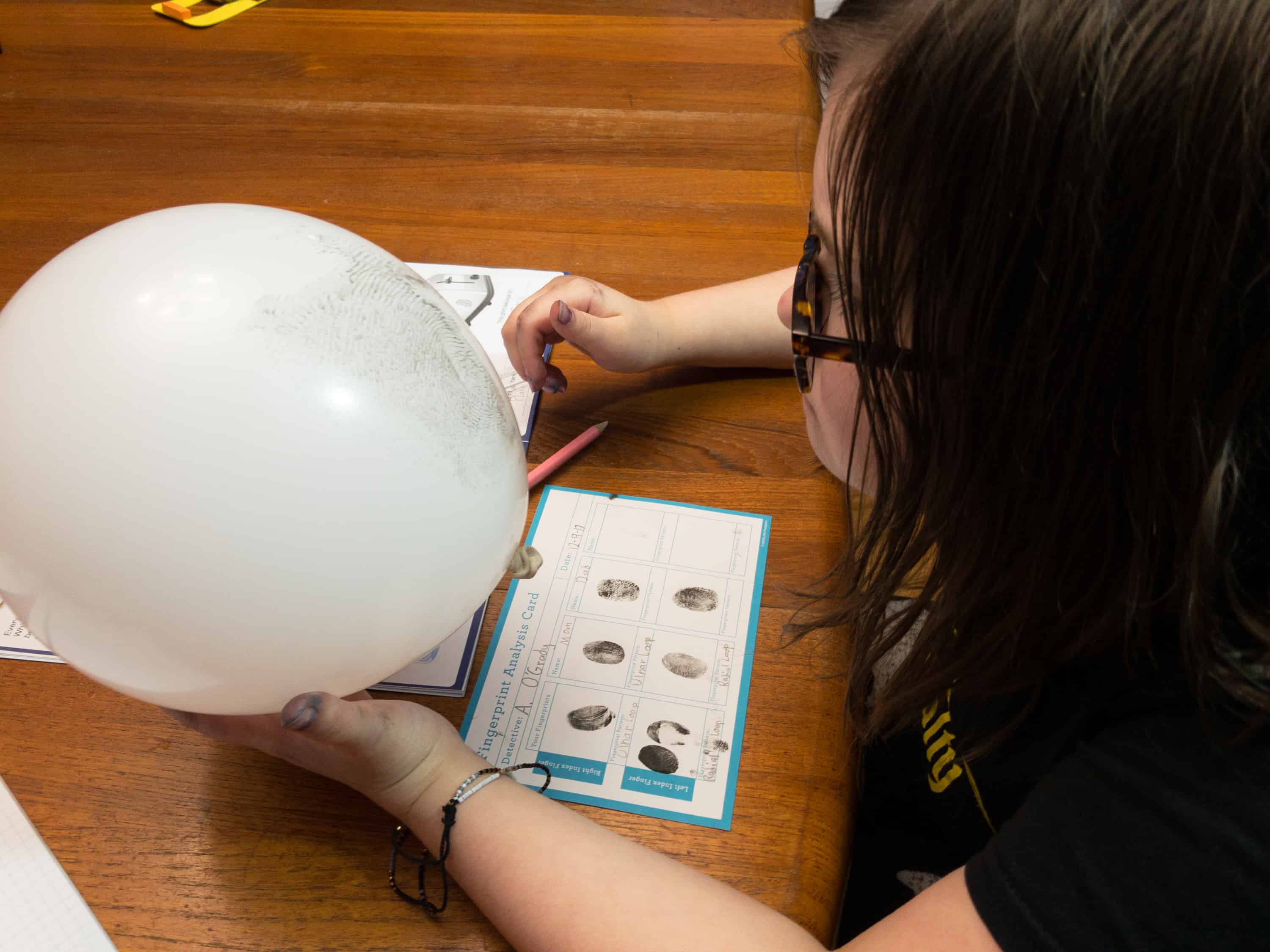 She also investigated the fingreprints on the balloon.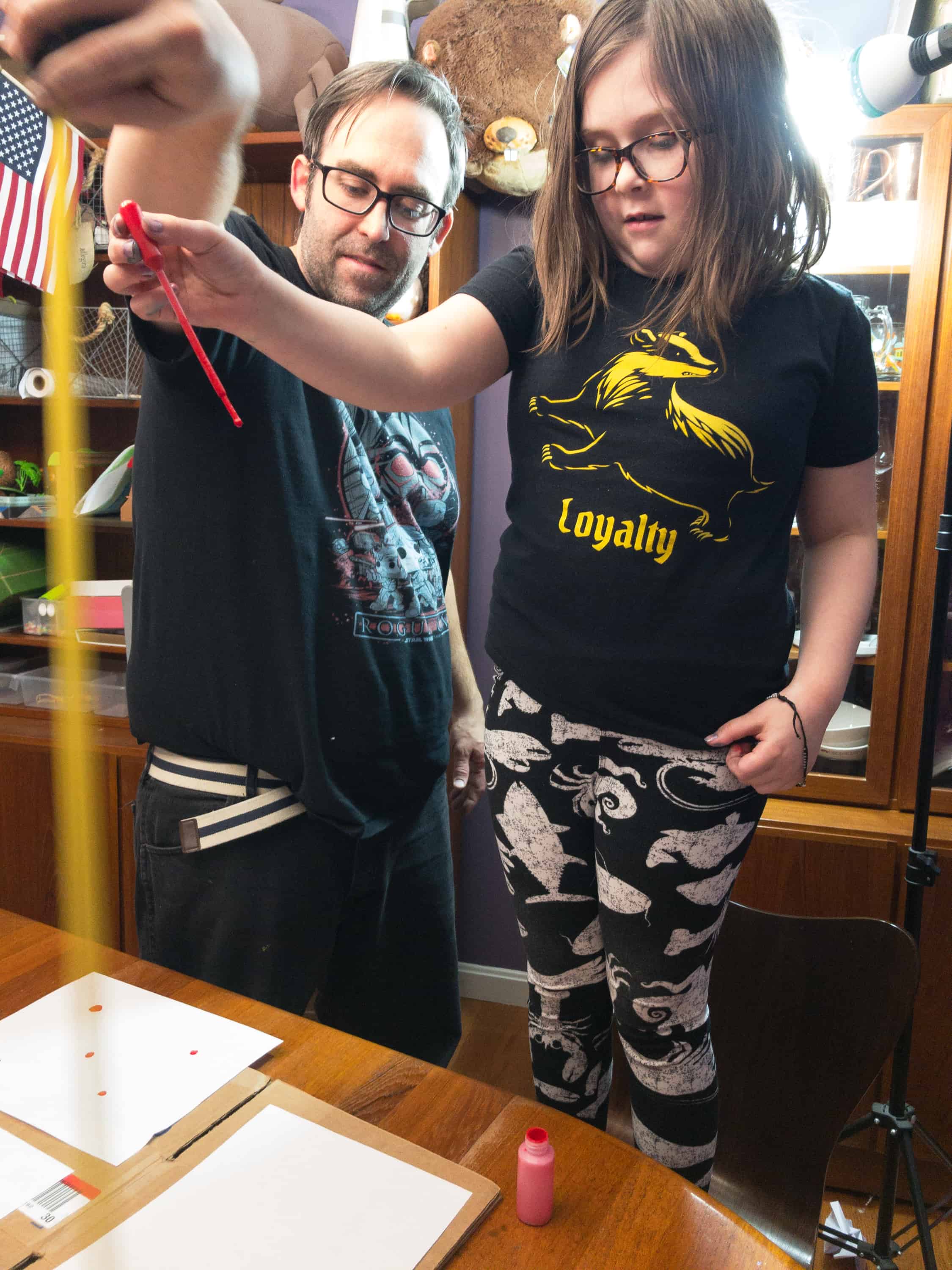 My husband helped her with the Spatter Studies. We had to supply our own paint, and it would have been useful to have a packet or vial of paint for this activity. She insisted on red.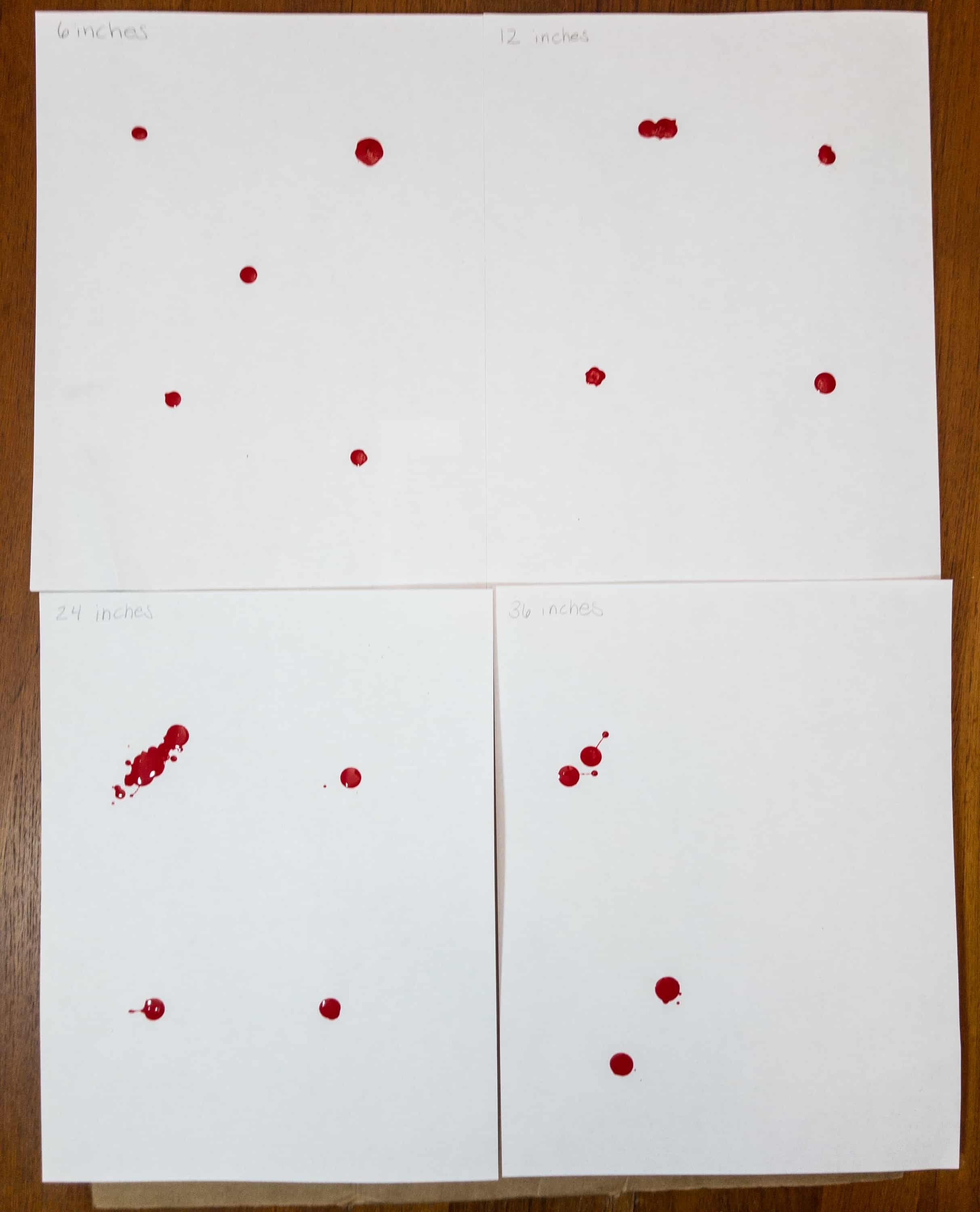 We can see that from varying distances, the spatters look different from each other.
The spatters look like drops of fresh blood. Lots of Dexter jokes between me & my husband! Finally, on to DNA extraction:

Here she is preparing the strawberries with soap.
She's filtering the DNA!

This is the next step after adding the alcohol. The white thread she got is the strawberry's DNA!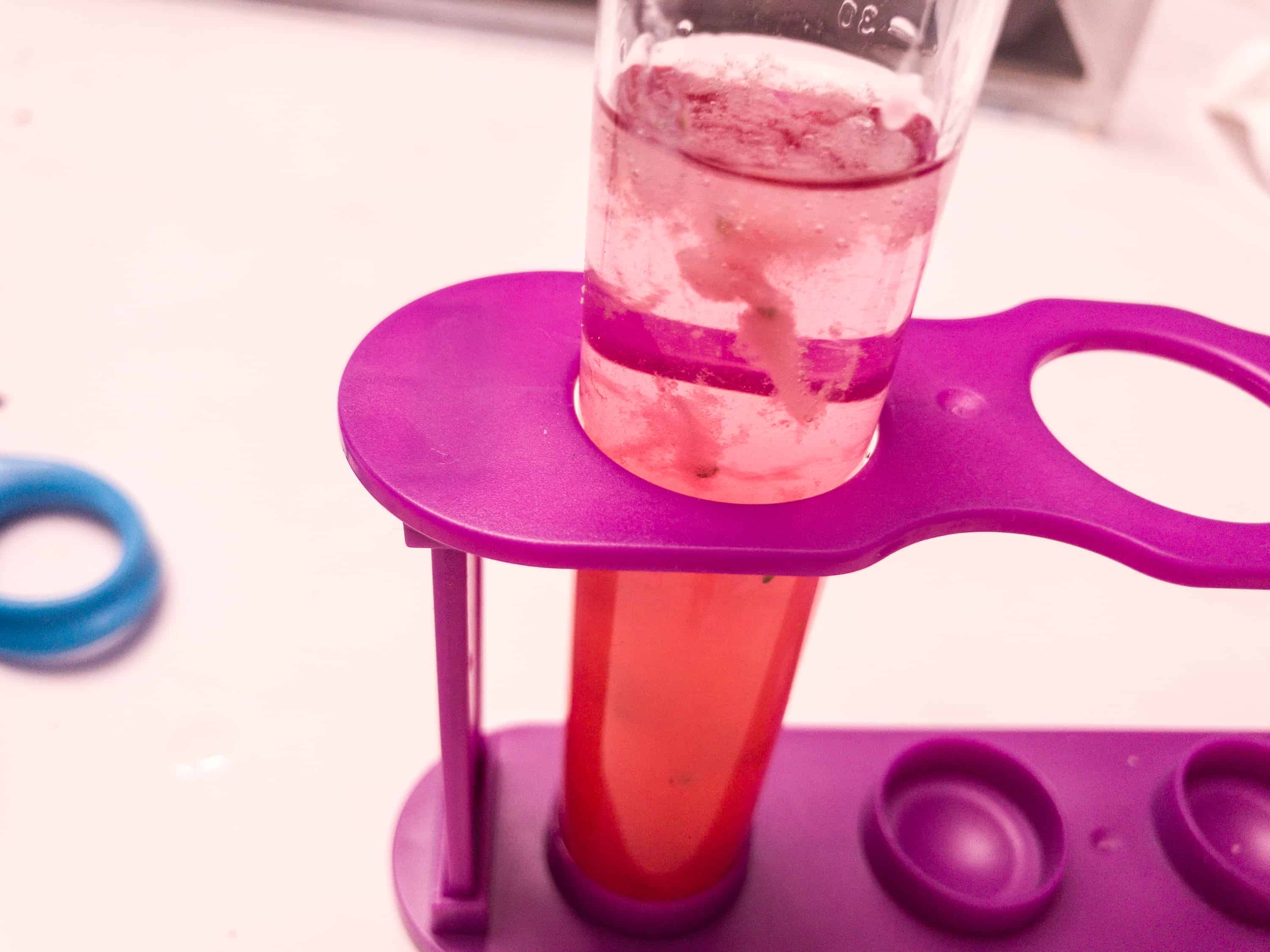 Can you see it? This is one successful experiment and we're very happy with this!
I was really happy with our first Science Expeditions box! The science and terminology were solid, and the activities were fun and engaging – and different from those we've encountered in other subscription boxes. Not everything was included in our box to complete the experiments, but a few simple items from home made it easy to accomplish more complex and varied activities like DNA extraction than we've done in other boxes. I felt the level of content was just right – deeply engaging but not overboard, and without the expectation that you'd go out and gather loads of items for related activities. This box is perfect for an older elementary age child who wants to engage more deeply with science and engineering topics. The next box after this is Stars & Planets, which looks totally cosmic!
What do you think of Little Passports Science Expeditions?
Visit Little Passports Science Expeditions to subscribe or find out more!