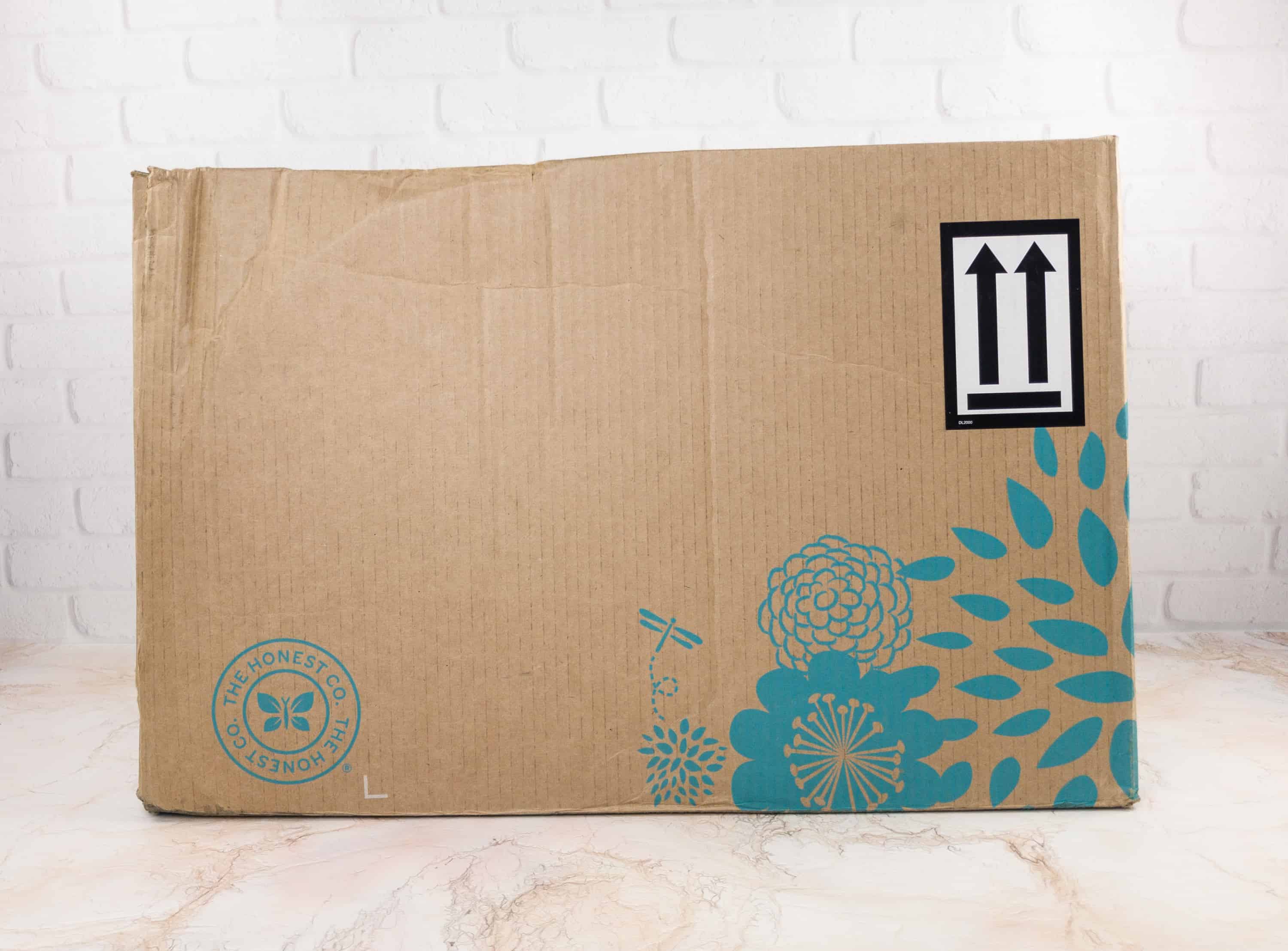 Honest Company Diaper Bundle is a monthly diaper subscription service from the Honest Company for only $35.95 per month. You'll get cute diaper designs in every bundle, plus wipes. You can also include training pants and overnights in your diaper bundle.
Note that you can get a free trial bundle with 7 Honest Company Diapers & travel sized wipes for $5.95 shipping.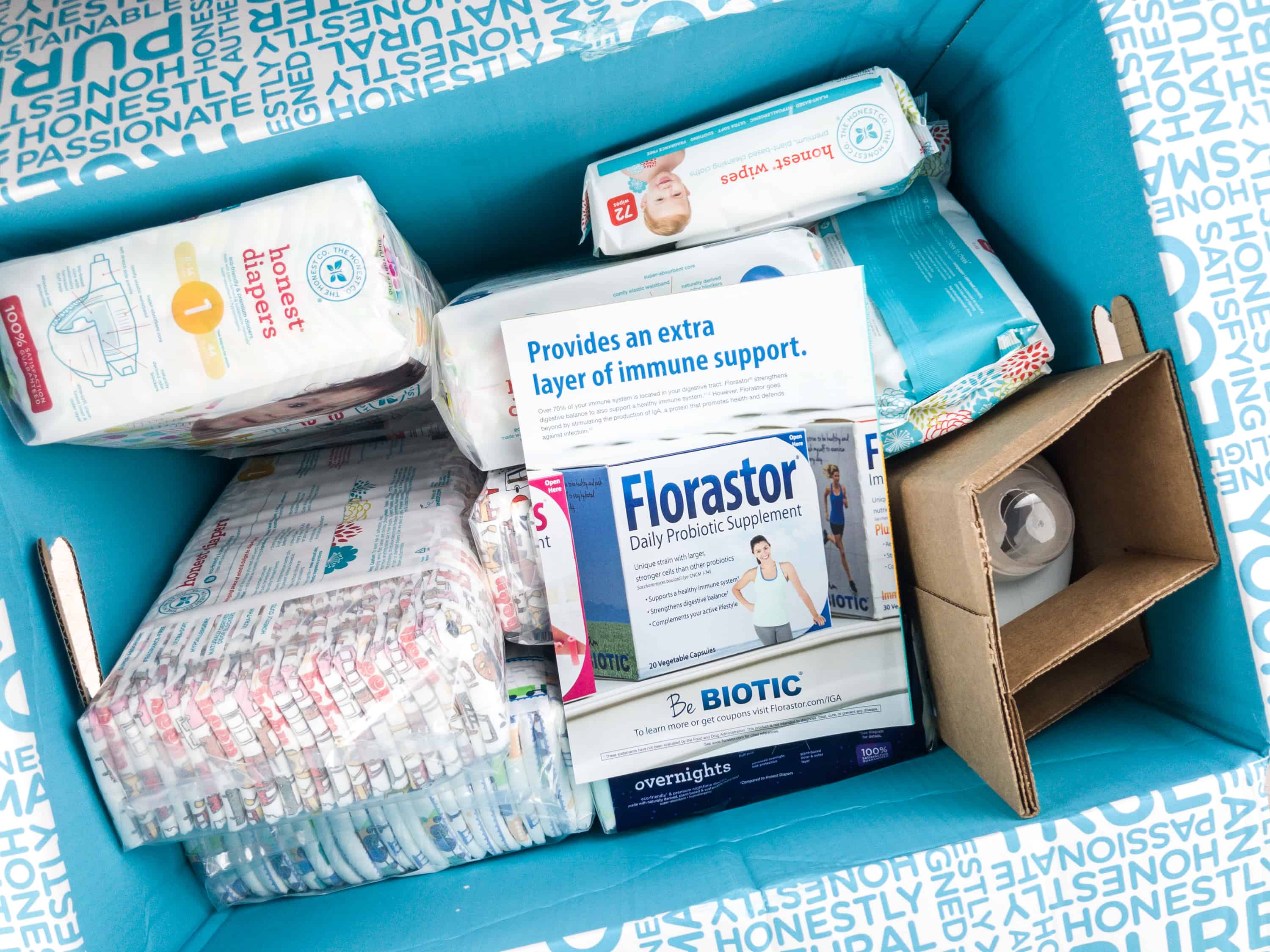 I've been subscribing to the Honest Company Diaper Bundle for too years – plus made it as a gift multiple times (it makes an amazing baby shower gift!).
The Diapers & Wipes bundle is $79.95 per month (you can adjust the exact frequency and change the date). You will get 6 bags of diapers and you can adjust how many diapers vs. training pants you get, if you're into those already, and select your patterns. Plus you will also get 4 packages of wipes.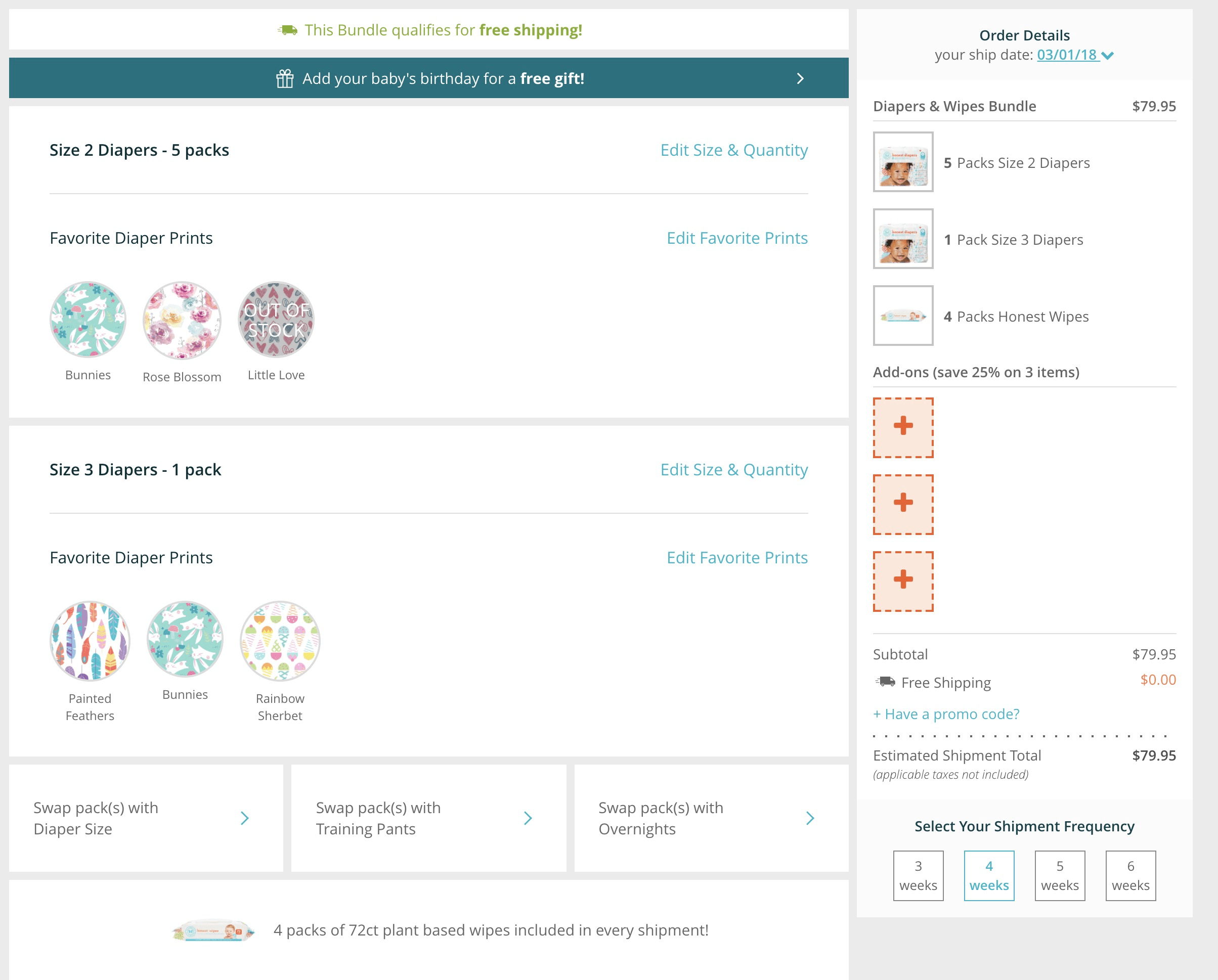 With the bundle we photographed we had mixed sizes between my 3 year old and my newborn, but my screenshot just shows diapers for the baby.
DEAL: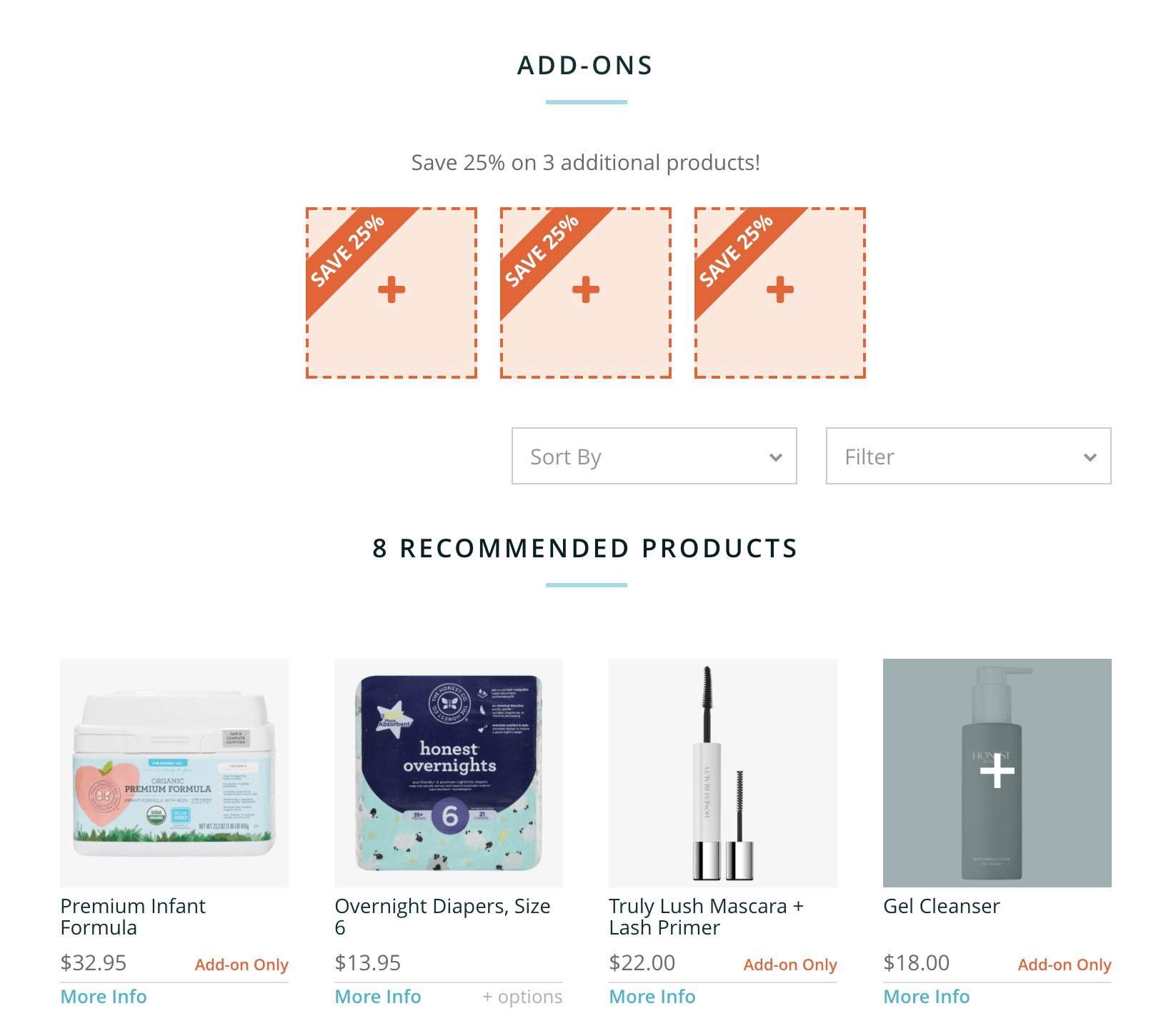 Honest Company Diaper Bundle Add-Ons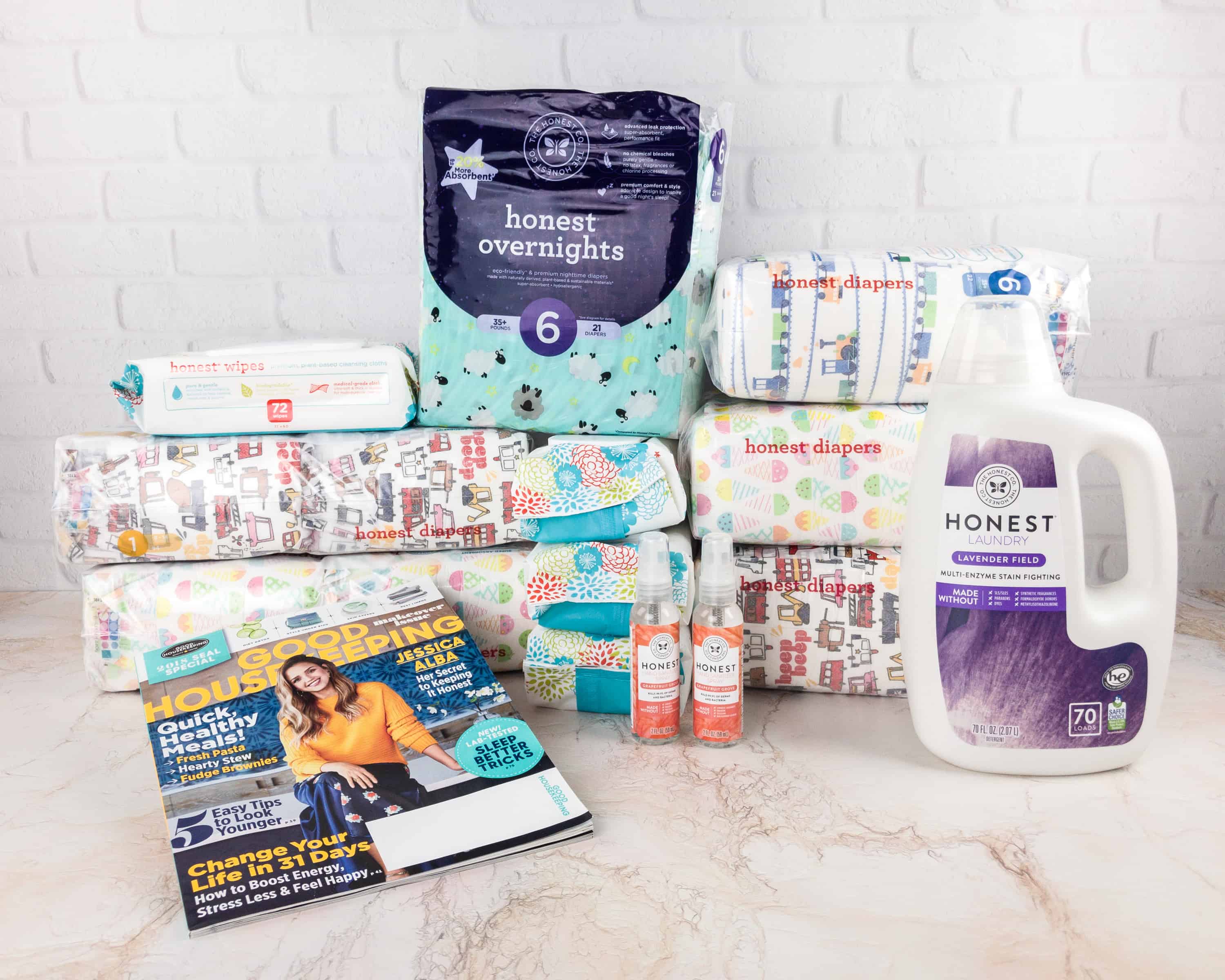 Everything in my box this month!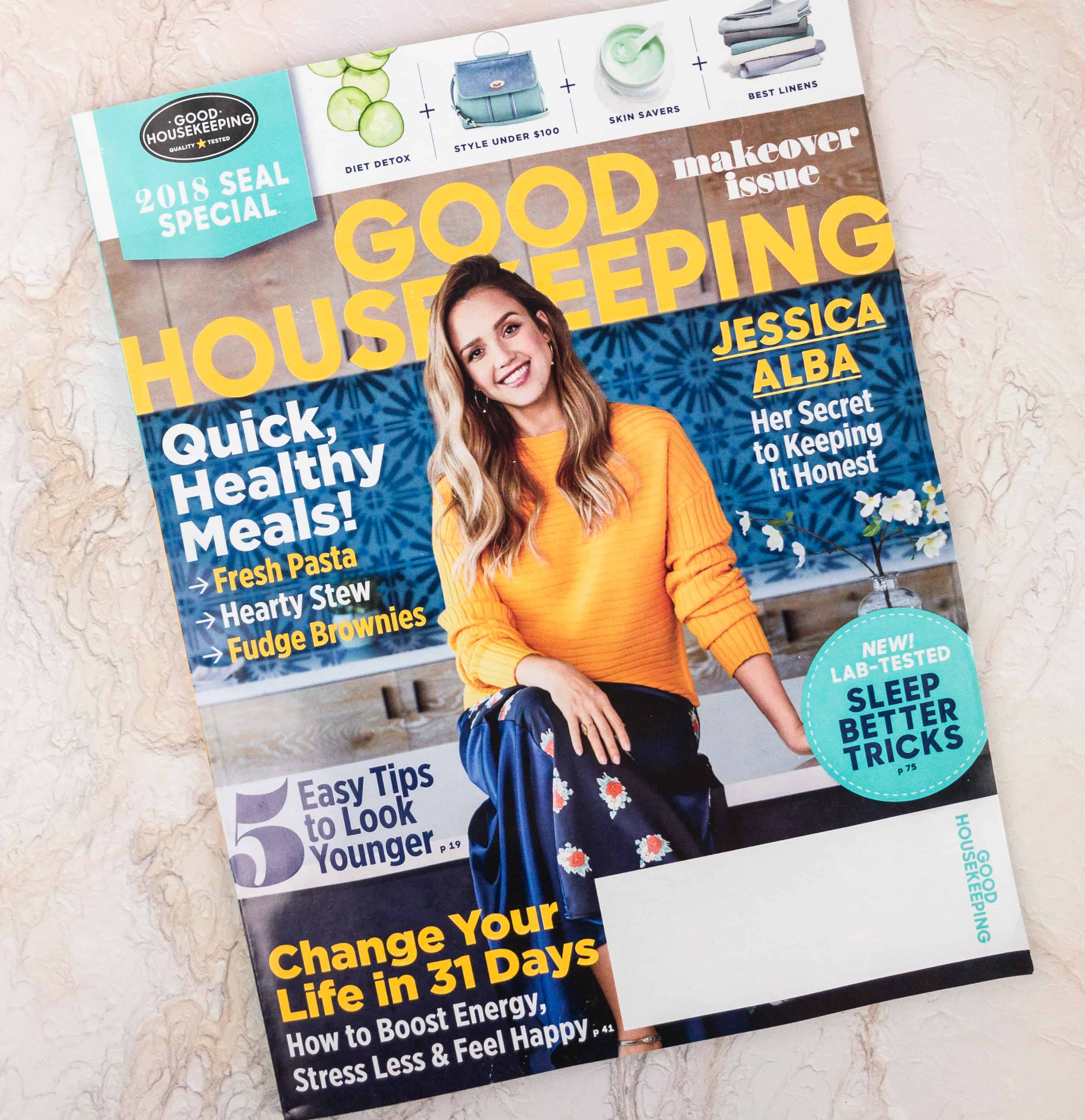 Good Housekeeping Magazine Included in the box is an issue of Good Housekeeping featuring Jessica Alba on the cover. She is the founder of Honest Company!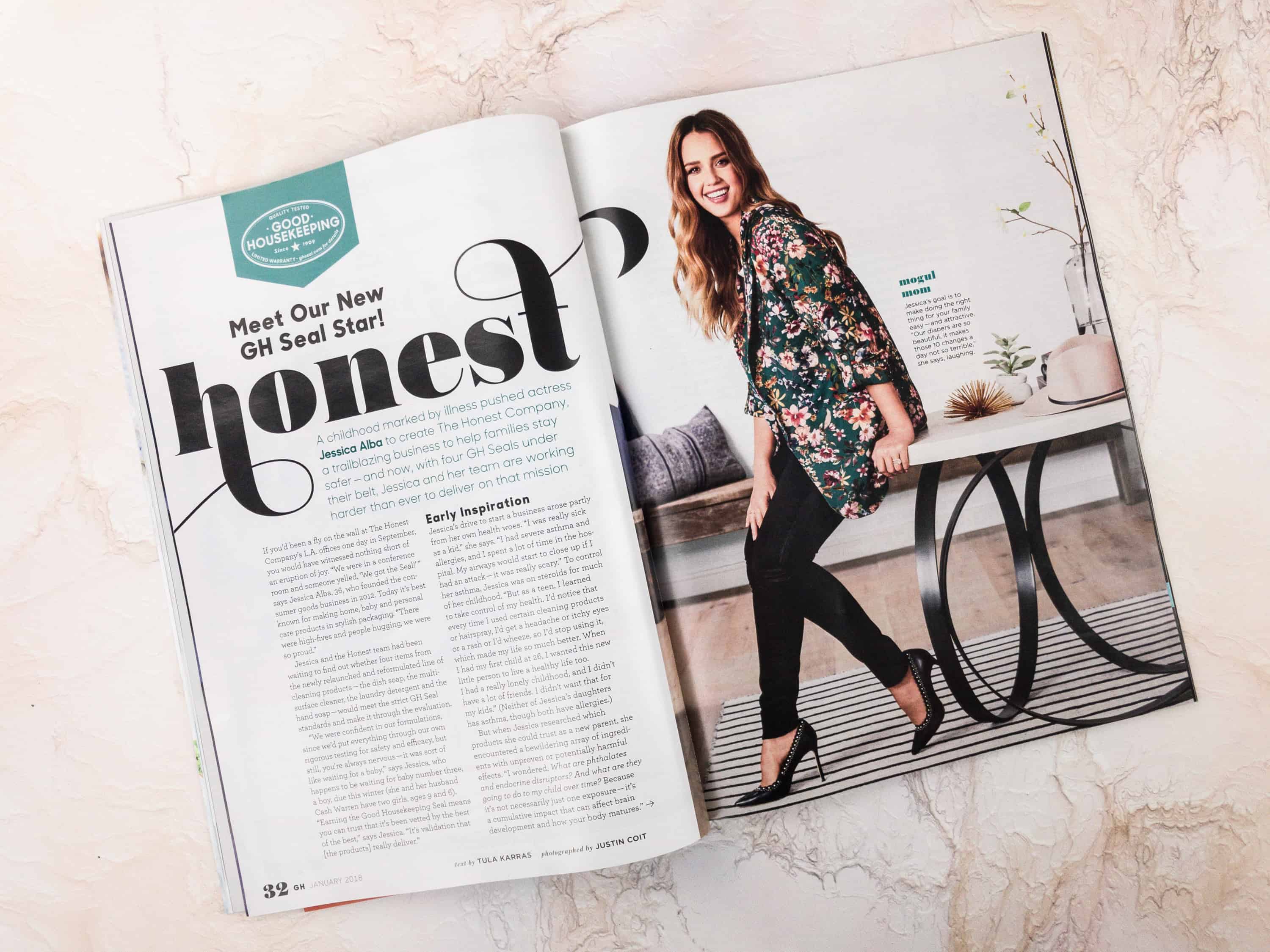 This feature about her is such an inspiring read!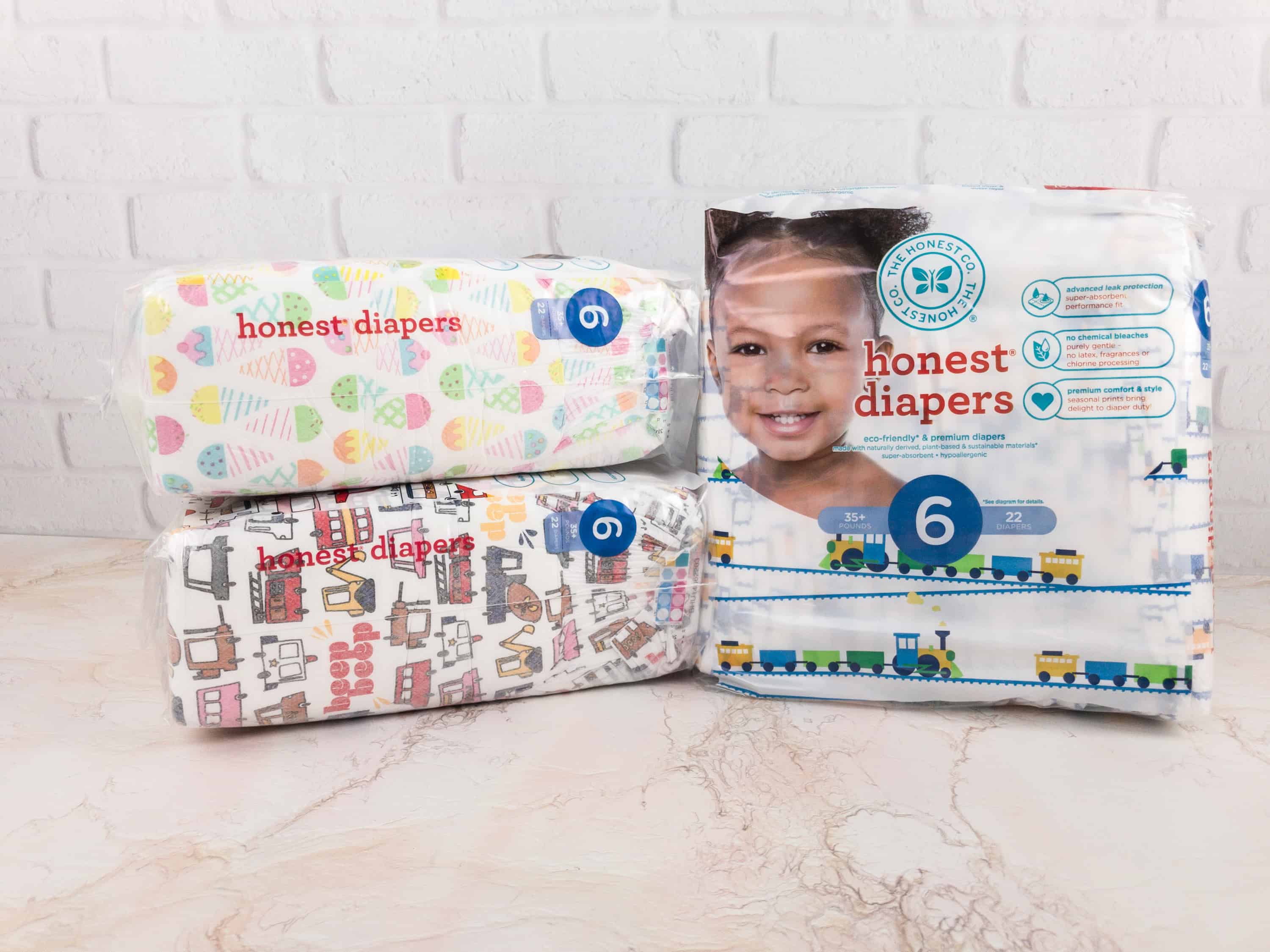 The Honest Co Diapers Size 6 ($13.95 per pack) My baby has never had a leak, blowout, or even really any sort of diaper rash when using Honest Company diapers. These are so soft and absorbent and they have a great fit too.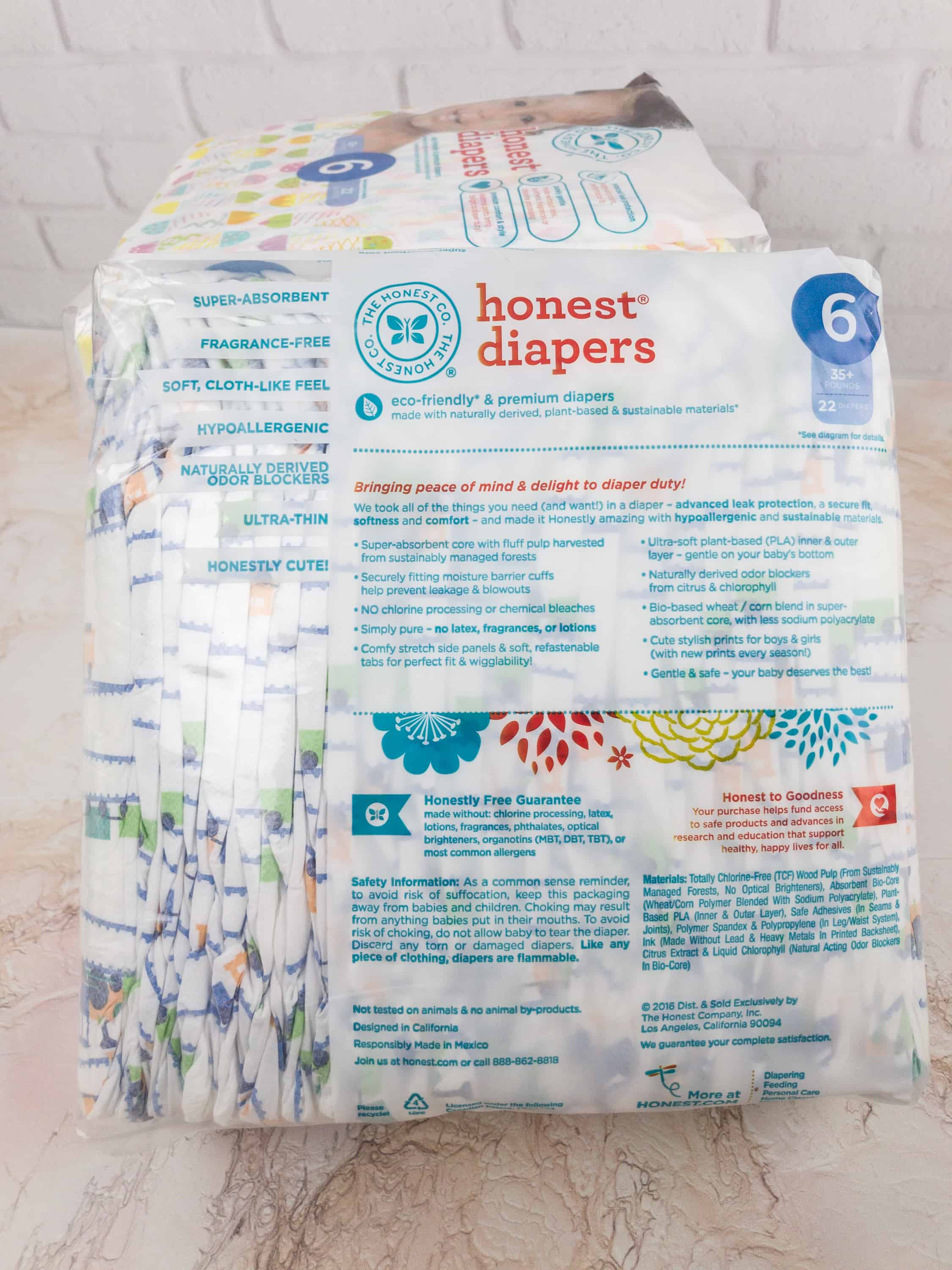 More information about the diapers are printed at the back of the packaging. Honest Company has quite a selection of designs you can choose from and everything is just adorable!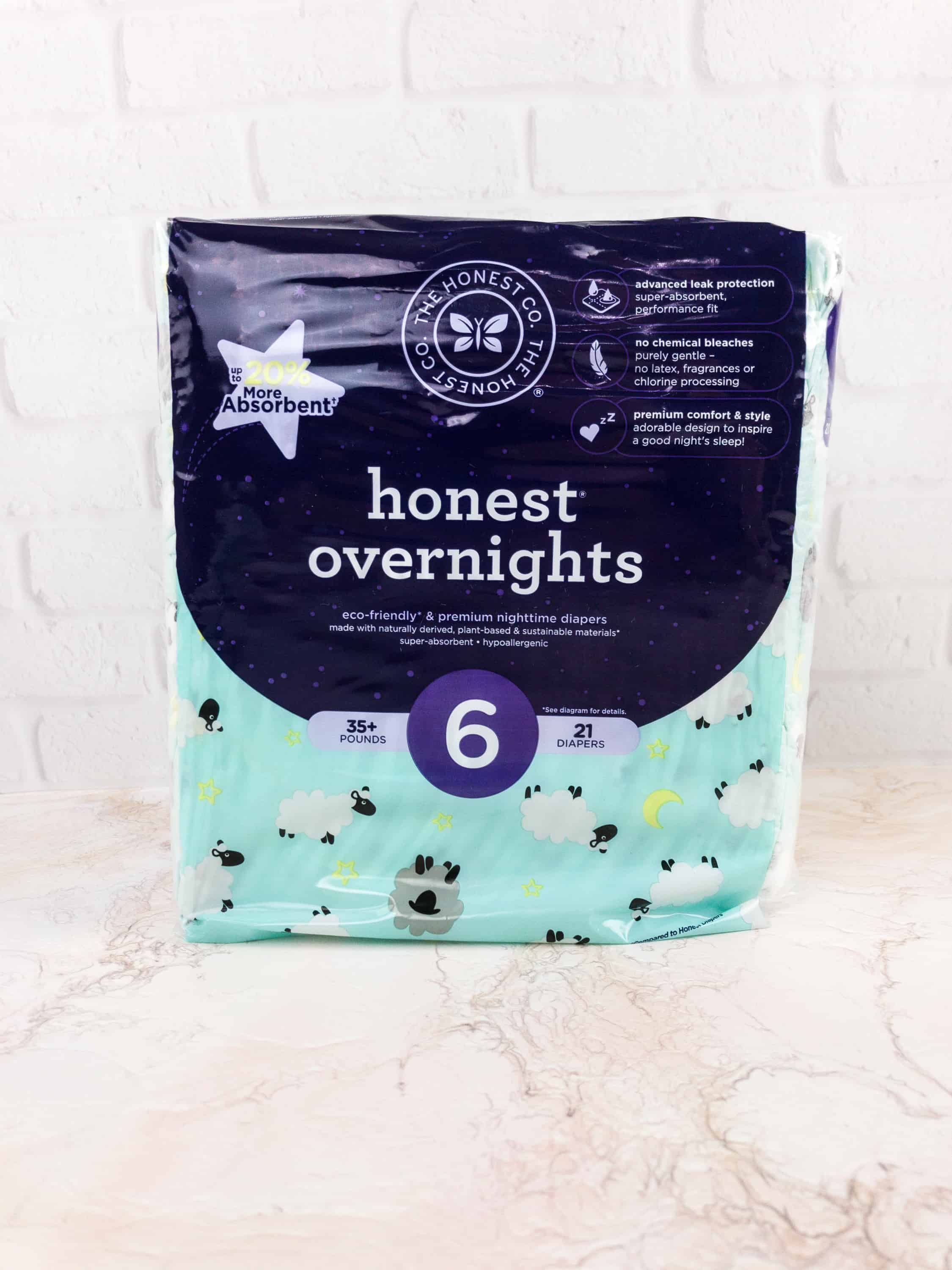 The Honest Co Overnights Size 6 – 21 Count ($9.76) Also included in the box are overnight diapers (for my 3 year old – I just swap out the packs!) which are designed to help your kids sleep soundly. It feels so great not having to worry about the kids leaking through a diaper in the middle of the night.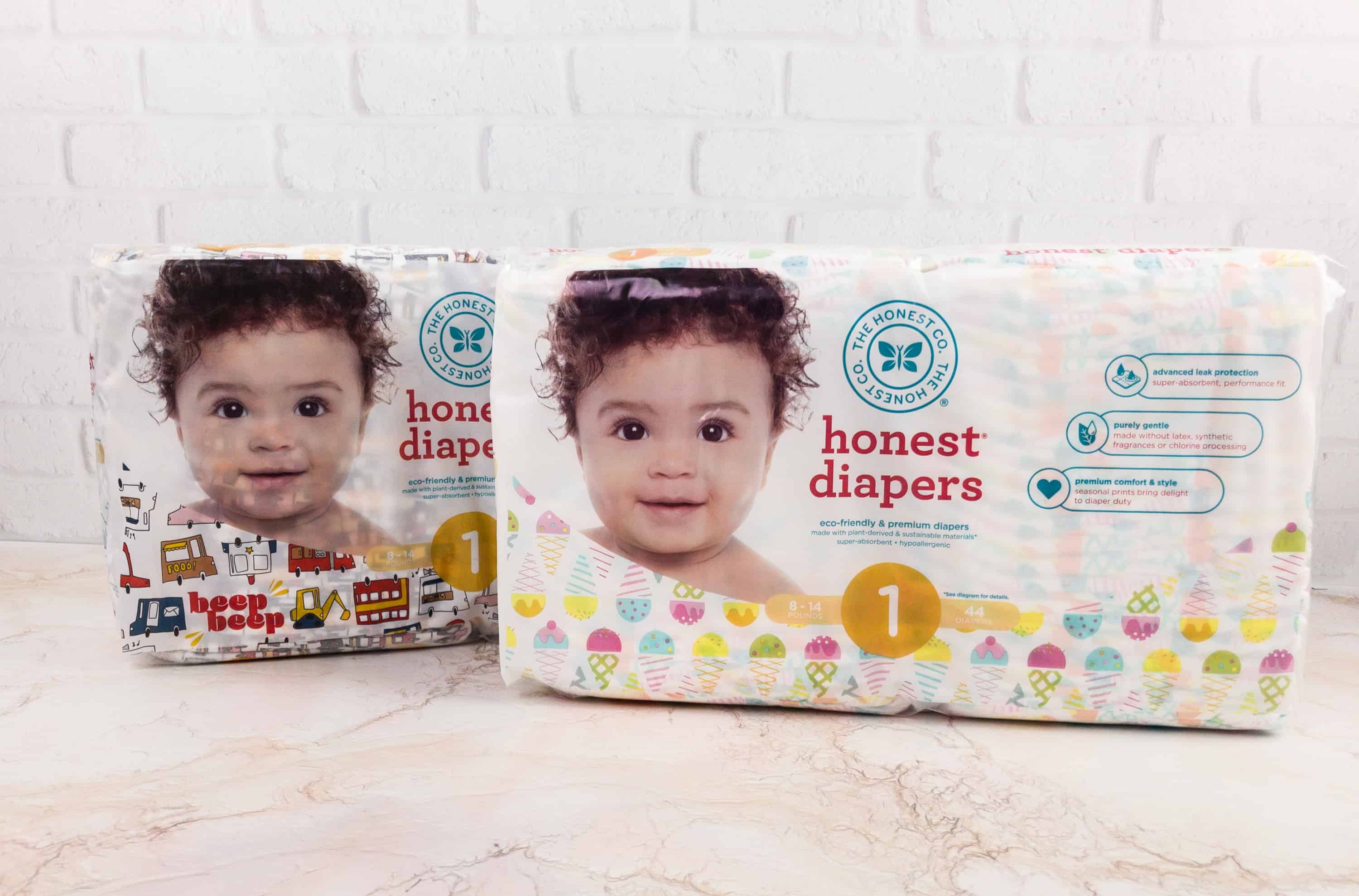 The Honest Co Diapers Size 1 – In Rainbow Sherbet & Sweet Rides ($13.95 per pack) Here's another batch of eco-friendly diapers in size 1. This size fits babies who are around 8-14 lbs.
Oh look, here's a baby that's 8-14 lbs! Baby M arrived mid January. She's my fourth baby and the third one in Honest Diapers. Their products really do make it easy to manage my family's needs. In my experience the hospital Pampers are super soft but after the baby is a few days old their absorbency isn't great – Honest Diapers will hold an entire pee!
My baby was 9 lbs 9.5 oz when she was born, and like my other children, we knew she would go straight into size 1 diapers, and she did. We used about 4 packs in 2.5 weeks and then moved to size 2 (we could have done one more pack of size 1). These Valentine's Day diapers are so sweet – we love all the fun seasonal prints!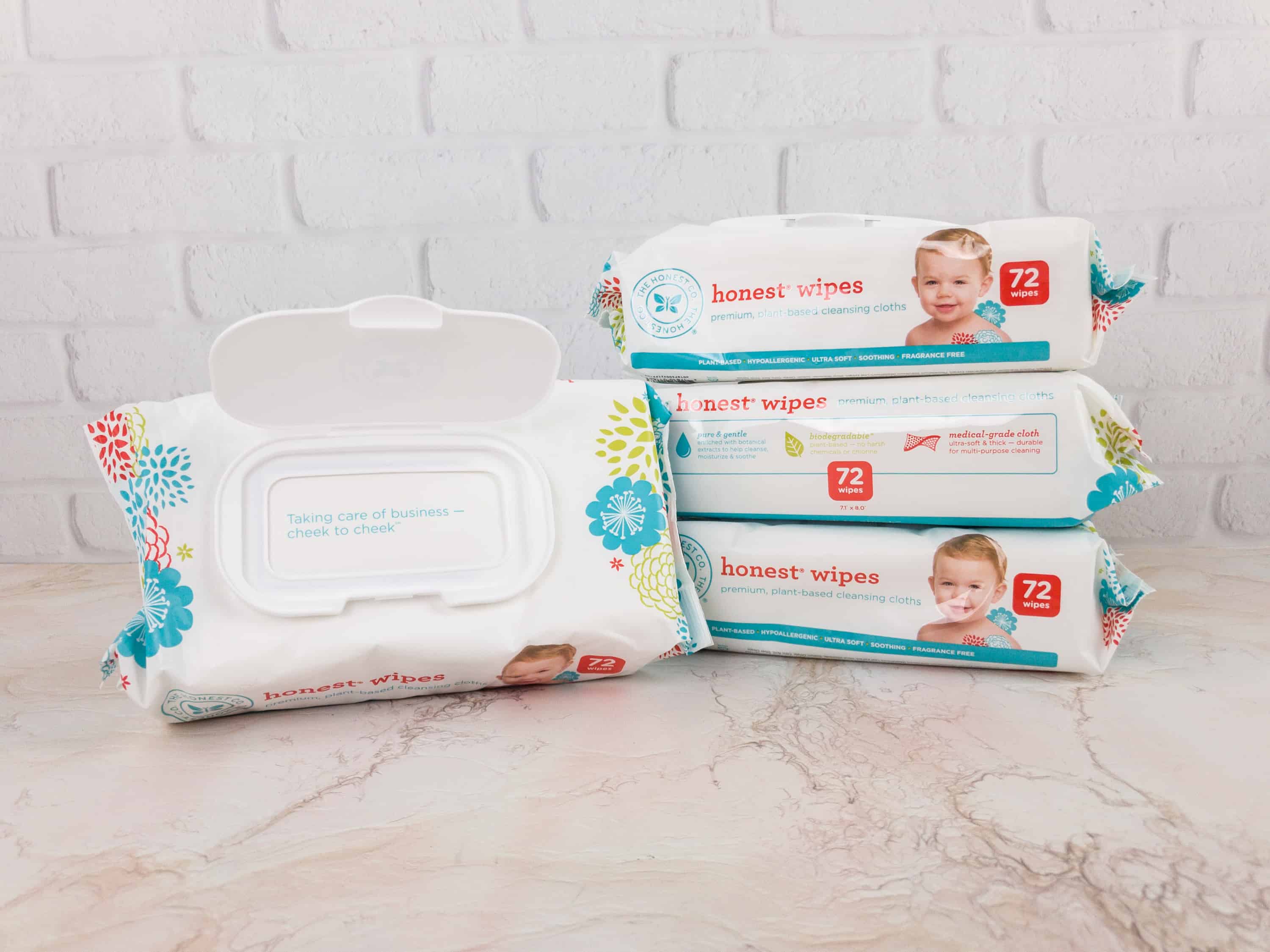 The Honest Co Baby Wipes – 4 Packs ($19.90) I really love these wipes because you can use them for just about anything and everything. They don't have any alcohol or chlorine, not even fragrances, so they are gentle on the skin. And I love the closable wipes package – no more silly wipes containers or anything like that – they dispense right out of the package.
TIP: Instead of purchasing the travel wipes we usually just stop when we have about 20 or so wipes left and then they go into the diaper bag.
The Honest Co Laundry Detergent In Lavander Field ($12.99) Also included in my bundle as an add-on is a laundry detergent made with plant derived ingredients. It works well in removing stains and it's hypoallergenic too.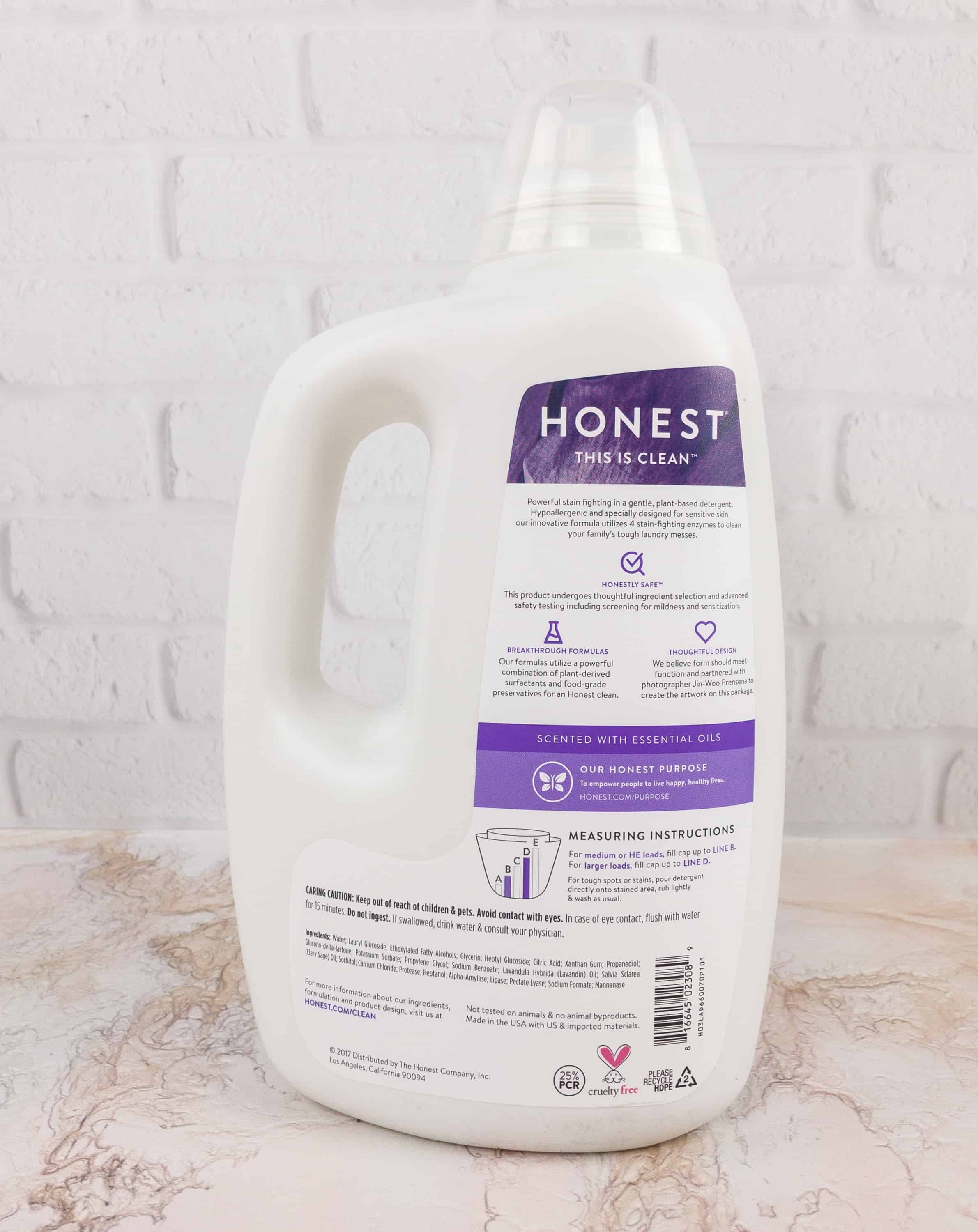 There are measuring instructions at the back of the bottle. We also have the baby detergent from Honest for the actual baby but we love the Lavender scent for everyone else! I think the cap is a silly design (it doesn't have grips on it), but I guess it saves a little plastic so I can get behind that.
The Honest Co Sanitizer Hand Spray In Grapefruit Grove 2-Pack ($5.95) We got two bottles of this hand sanitizer that kills 99.99% of germs. Theycan fit easily in your bag or in the baby's bag. It's also hypoallergenic and it dries fast so no icky feeling! I carry one everywhere I go and spray all our hands frequently to avoid picking up germs.
Honest Company's products are all high-quality and effective. I really appreciate that they offer a great variety of items from baby care to personal care to house care and all of these are made with safe materials and ingredients! They offer a great value for money without sacrificing the quality of the products and that is really awesome! It's hard to give a better recommendation than that I have personally used these on 3 babies and have really truly always been happy with them! The convenience of adding on great products for my whole family is a bonus!
Have you tried this subscription? What did you think of the items in my bundle?
Visit Honest Company Diapers Bundle to subscribe or find out more!