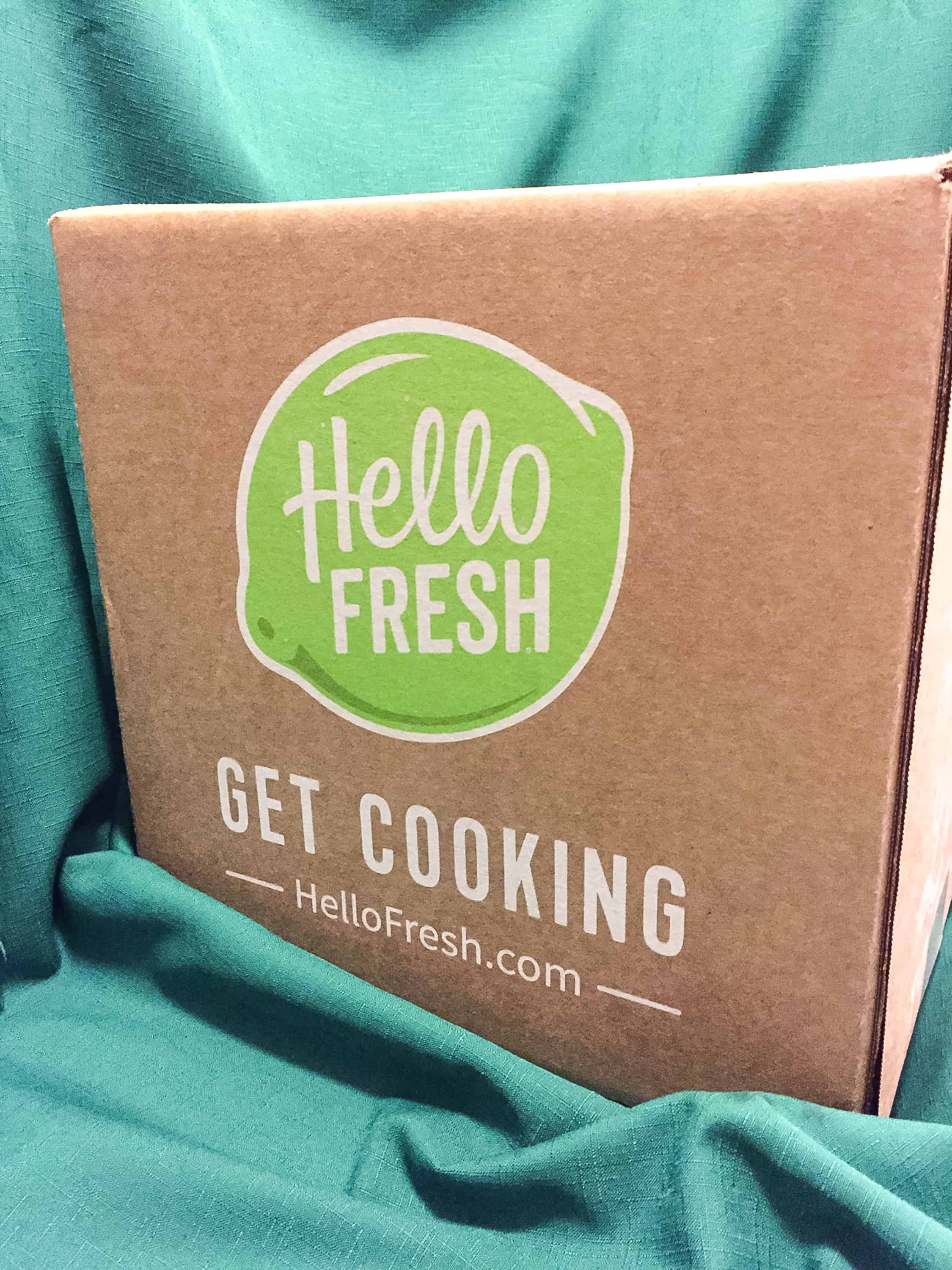 Hello Fresh is a meal kit subscription box with complete recipes and ingredients to make 3 meals every week, with each meal feeding either two or four people, depending on the plan you choose.
Though it is a subscription, you can pause your deliveries when needed – whether you are out of town, have other dinner plans, or just aren't in love with that week's selections. The standard subscription provides high-quality meats (free-range chicken, antibiotic meats, etc.) to use in the recipes.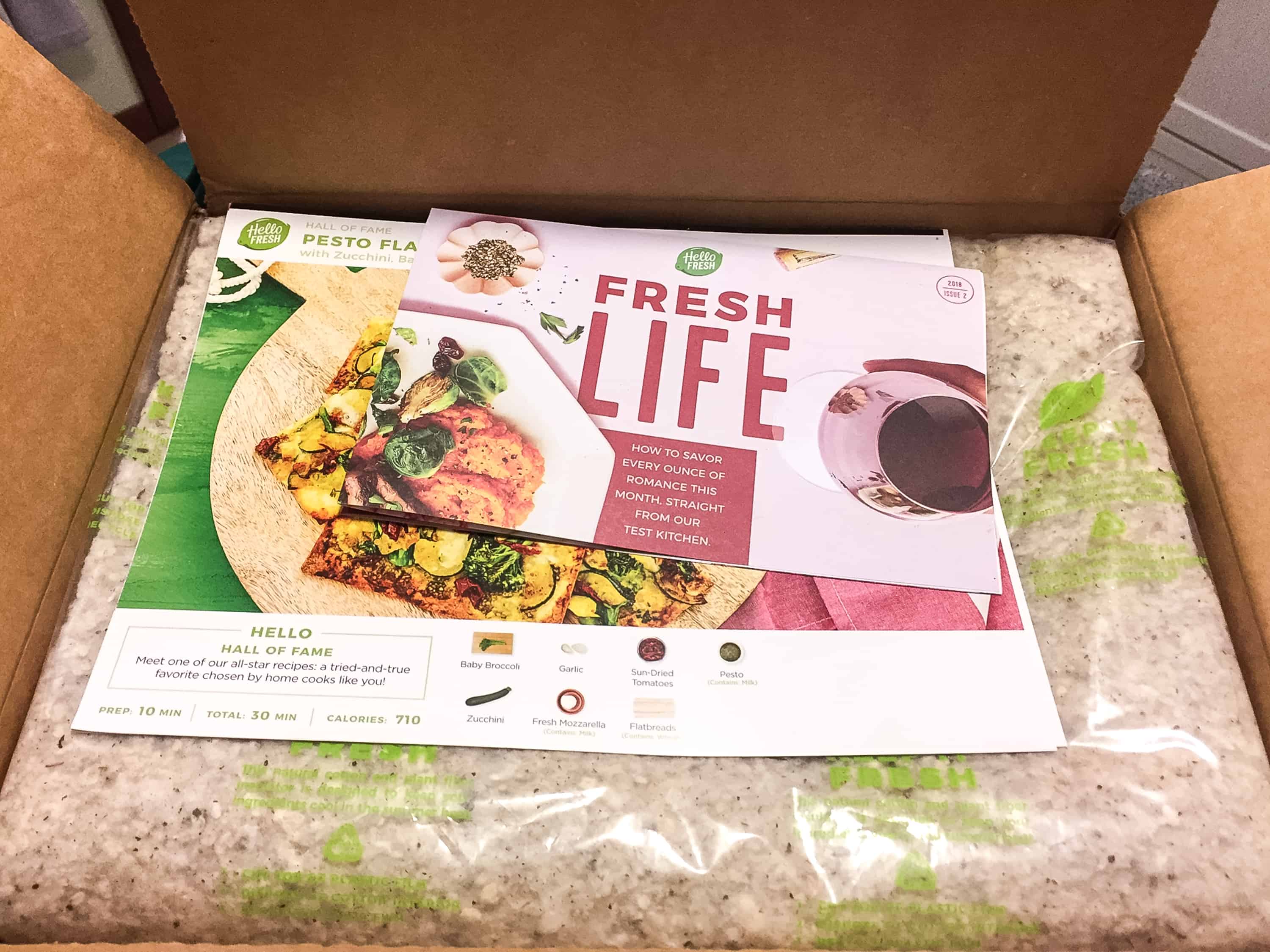 This review covers the Vegetarian box!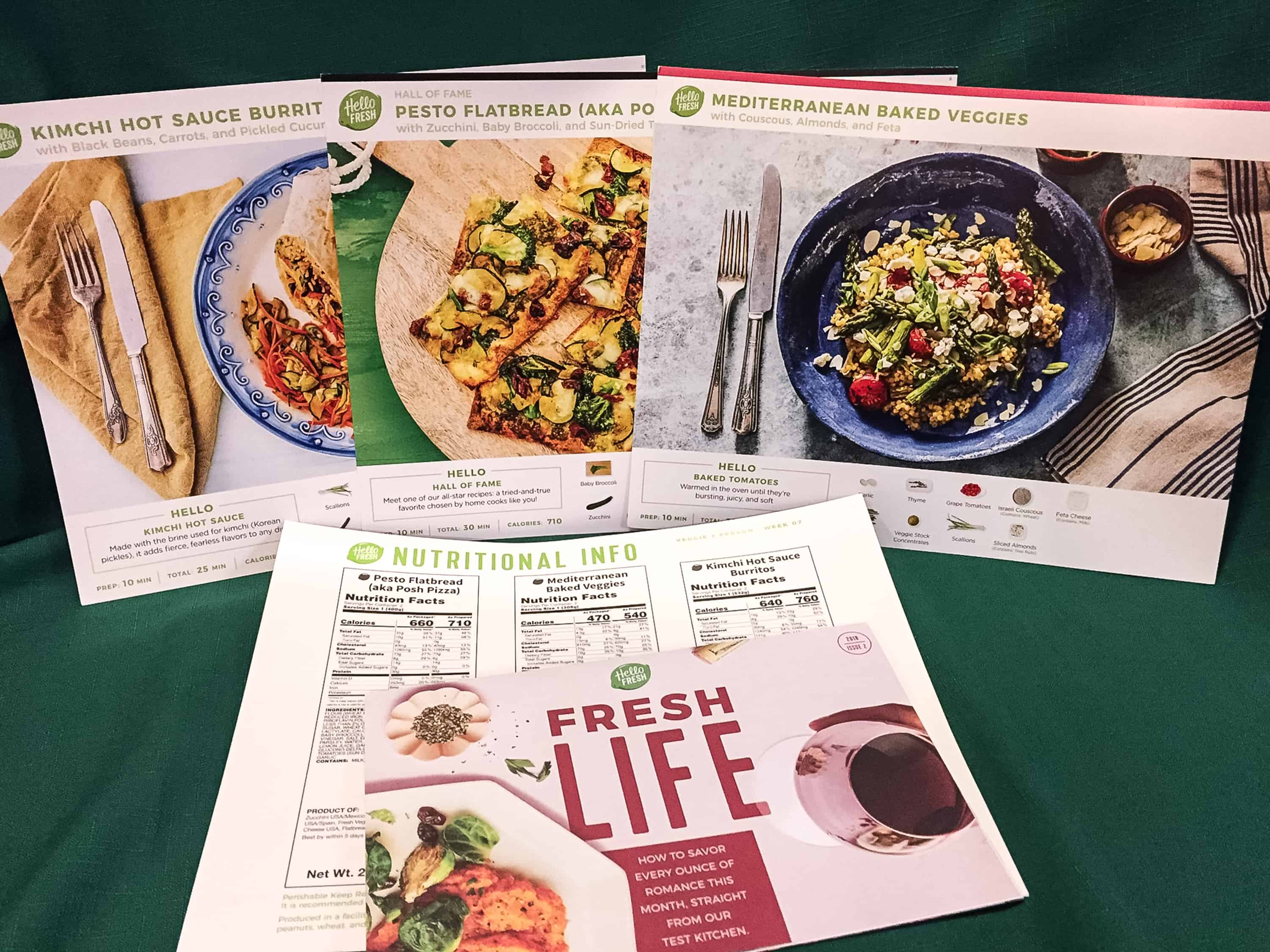 Hello Fresh has great instructions, and they are easy to follow even if you are an inexperienced cook. Each recipe includes several pictures so you maintain a sense of how the dish should look as you go along.
DEAL: Currently, you can save $40 off your first two boxes when you use this link to subscribe.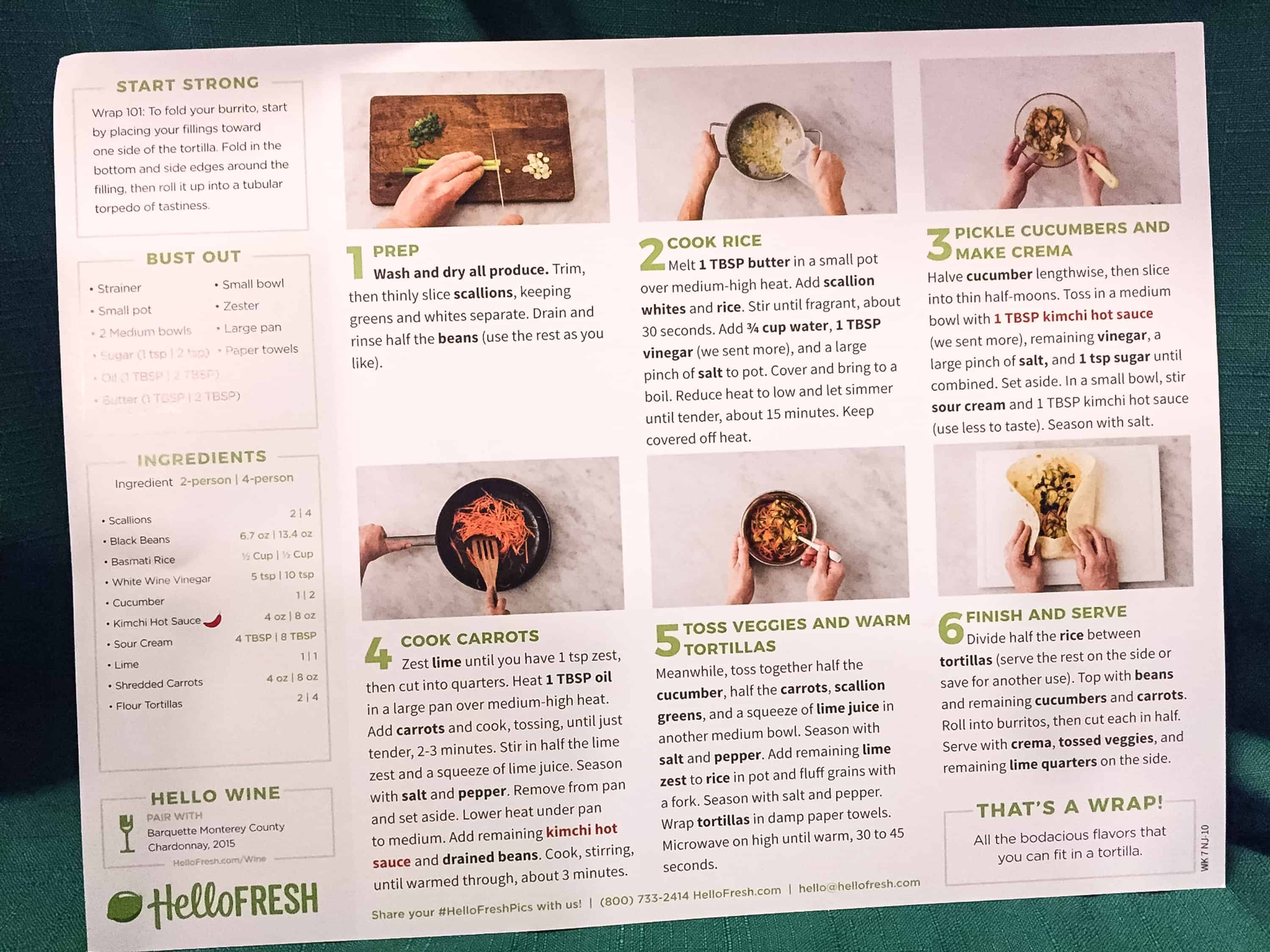 There are even some kitchen tips included on the information card.
Though we do eat meat, we cook vegetarian three times a week. Thankfully, Hello Fresh has a vegetarian subscription for both casual and dedicated vegetarians.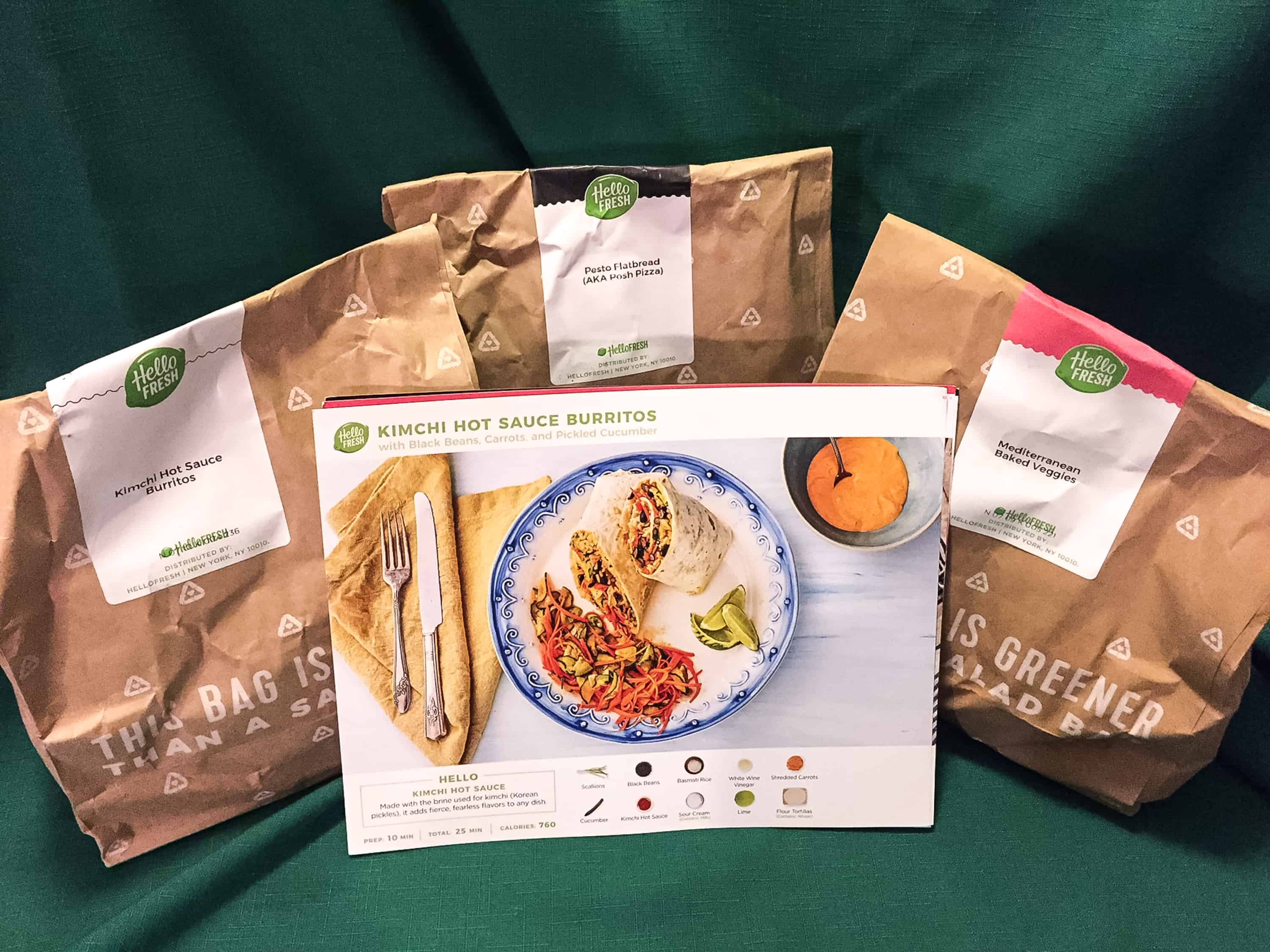 The bags used by Hello Fresh keep all the ingredients for the recipes in order, and they stack nicely in the fridge. Within each box, everything but the largest vegetables is separately packaged and is packed at the bottom. Condiments and canned goods are provided in high-end, commercial packaging. Hello Fresh usually provides spices in their own, pre-measured branded packaging.
Kimchi Hot Sauce Burritos 25 minutes, Level 1, 760 calories per hour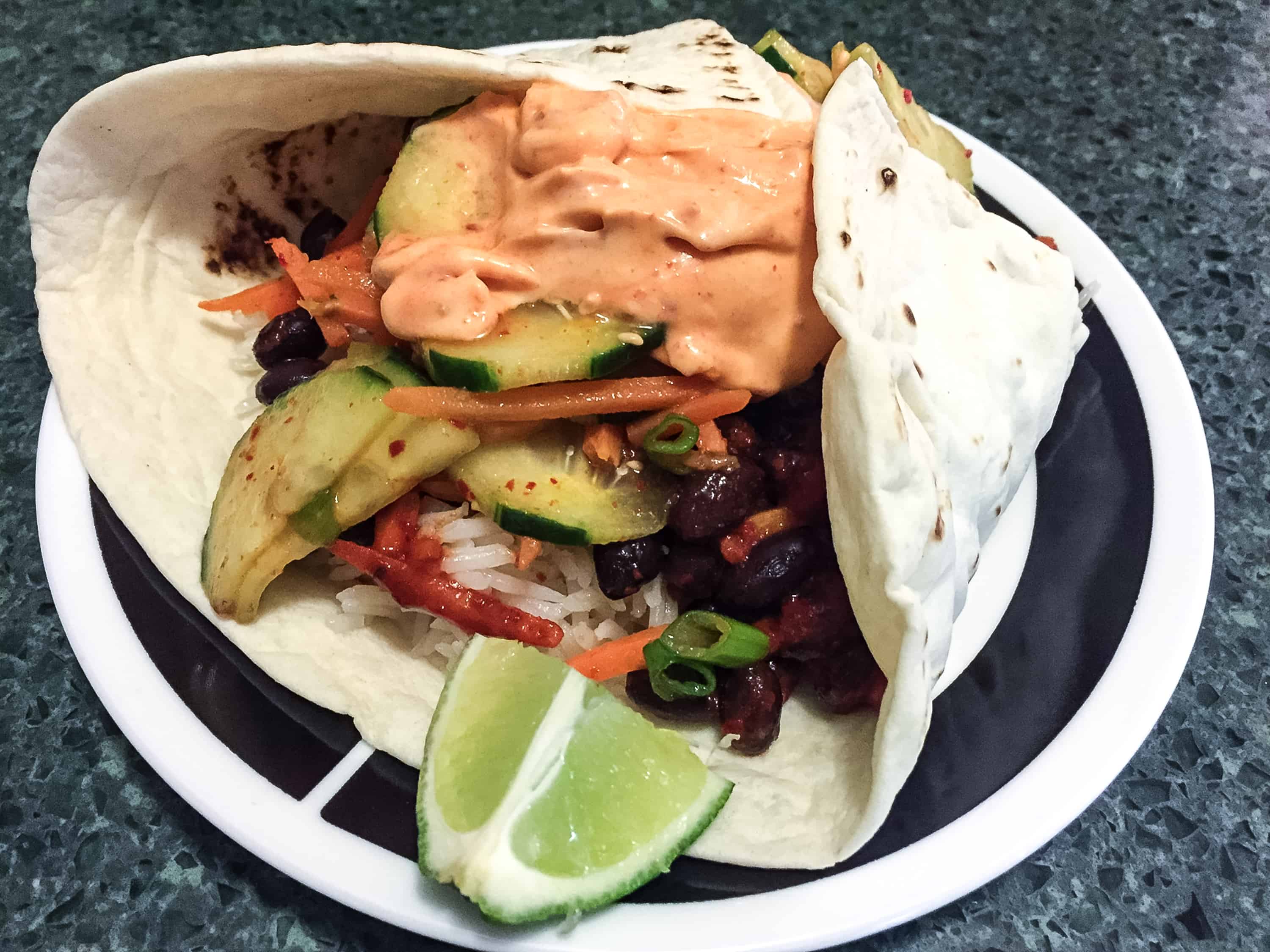 This is a Korea meets Mexico in a delightful meal. We, my husband and I, like mildly hot food but decided "what the heck" and used all the hot sauce. We figured we'd just drink a lot of liquid later or whatever you do to get rid of the heat. Weren't we surprised when it wasn't too hot at all. It was deliciously mild.
We couldn't stuff the burritos like a pro and ended up dumping out the burritos onto our plates, using forks and just eating the tortilla like a biscuit. There was just too much to stuff the inside with. We didn't quite follow the recipe as we were distracted with the grandkids. We inadvertently put all the ingredients together instead of keeping some of the tossed veggies to the side. Oh well, it all ends up in the same place and tasted marvilloso!
Another grand dinner from Hello Fresh.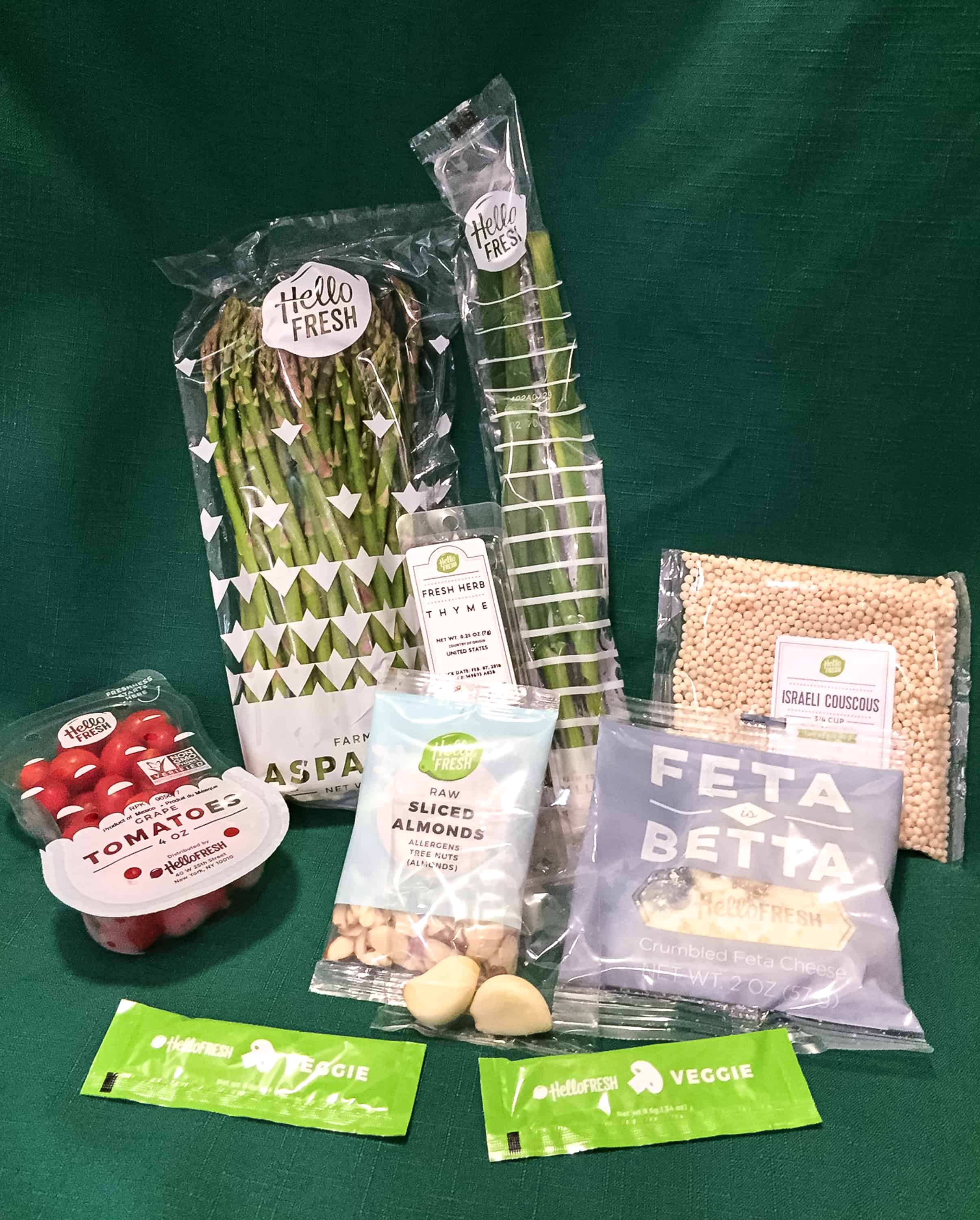 Mediterranean Baked Veggies 30 minutes, Level 1, 510 calories per serving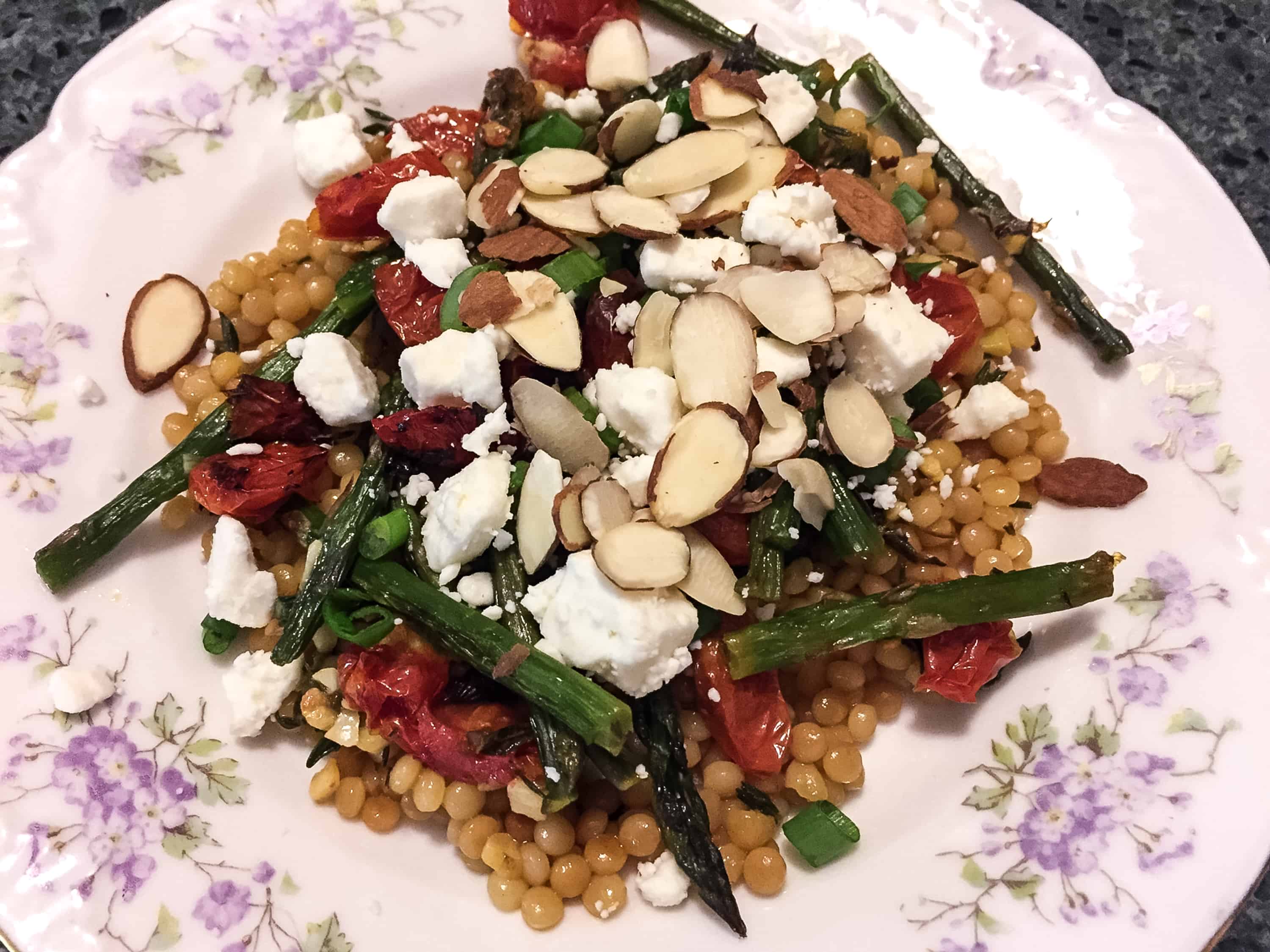 Hello again baked veggies! This is a recipe they've sent before and it was just as good this time as it was the first time they sent it. Love, love, love. My husband can't get enough of the Israeli couscous cooked in the stock they send. Put on top the asparagus and tomatoes along with the Feta, you just can't ask for more taste. Forgot to mention the thyme, OMG, we have just fallin' in love with this herb and yay, it was in there, too. Thanks Hello Fresh for sending another favorite.
BTW, if you wanted to buy the stock online you could but it sure is expensive. You definitely get your money'$ worth when you order Hello Fresh online. There just is nothing like fresh produce, and good groceries. And be sure to save the recipe cards, I reuse mine all the time. As a matter of fact I used one at lunch today. I had some vegetables to use up, looked through my cards (I file them alphabetically) and found one. Thanks to the pictures of the ingredients I could scan very easily to see which recipe would work for me. I had to substitute a little (I don't keep wasabi paste on hand) but it was delicious as usual.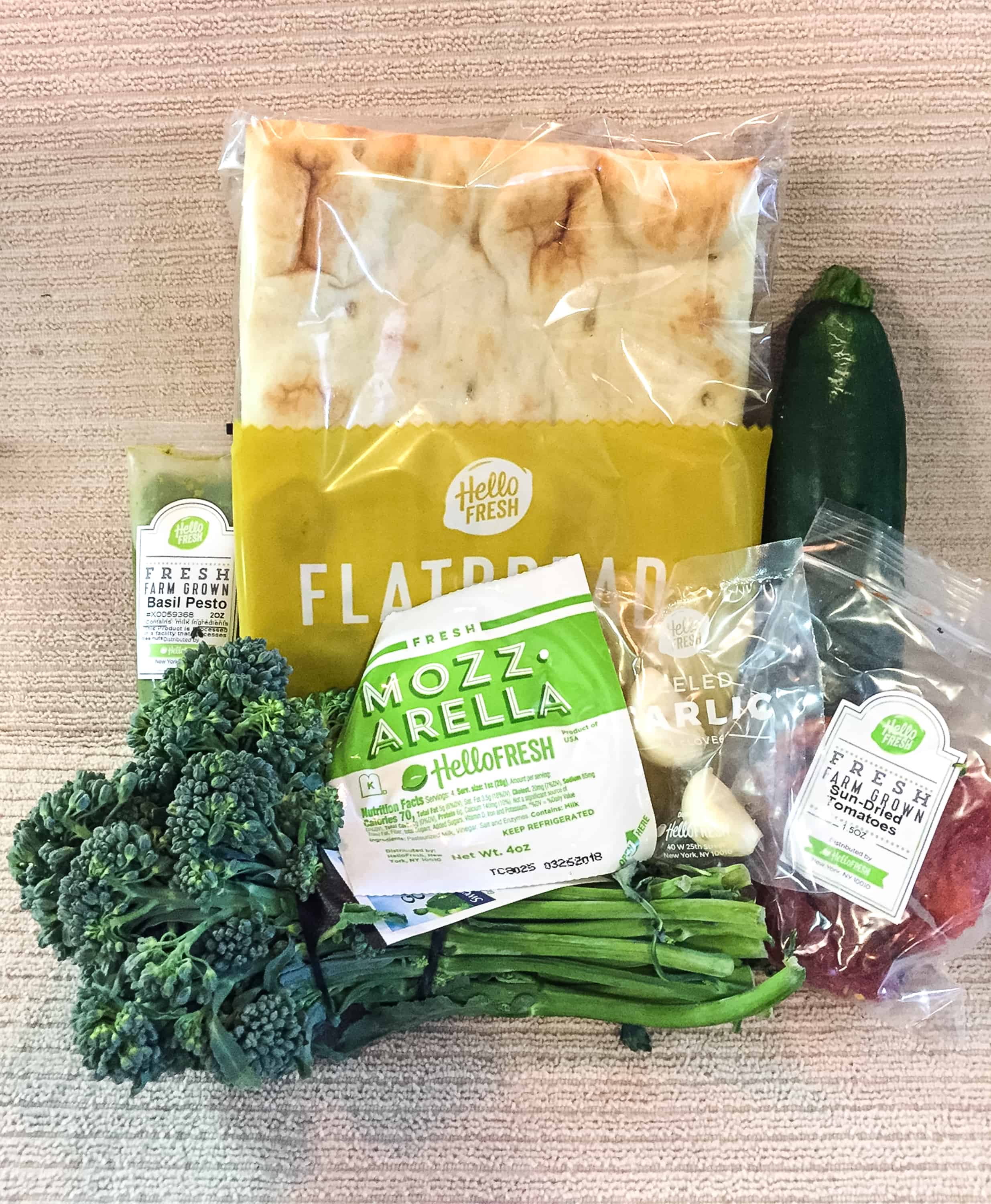 Pesto Flatbread AKA Posh Pizza 30 minutes, Level 1, 670 calories per serving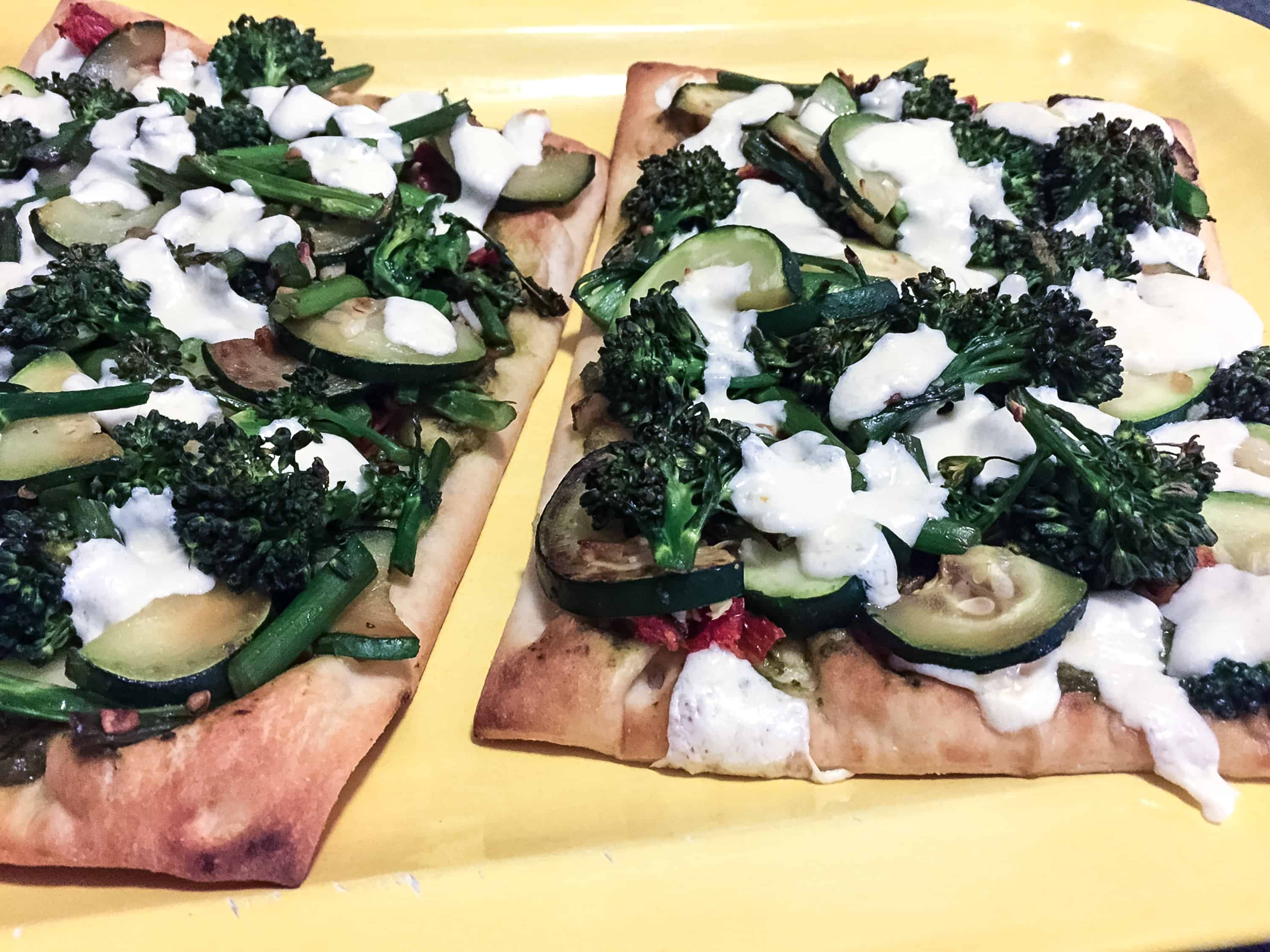 I think one of the most surprises I've learned is that the taste of sun-dried tomatoes is out of this world. The tomatoes are so flavor packed. I really like them a lot and in this recipe the amount is perfect but I could have easily doubled and been in the 7th heaven of taste.
We really like the flat bread, it's so easy to cook with, not like doughy gooey pizza dough (at least mine is). And top it with pesto, broccoli, tomatoes, zucchini and mozzarella – hello taste buds.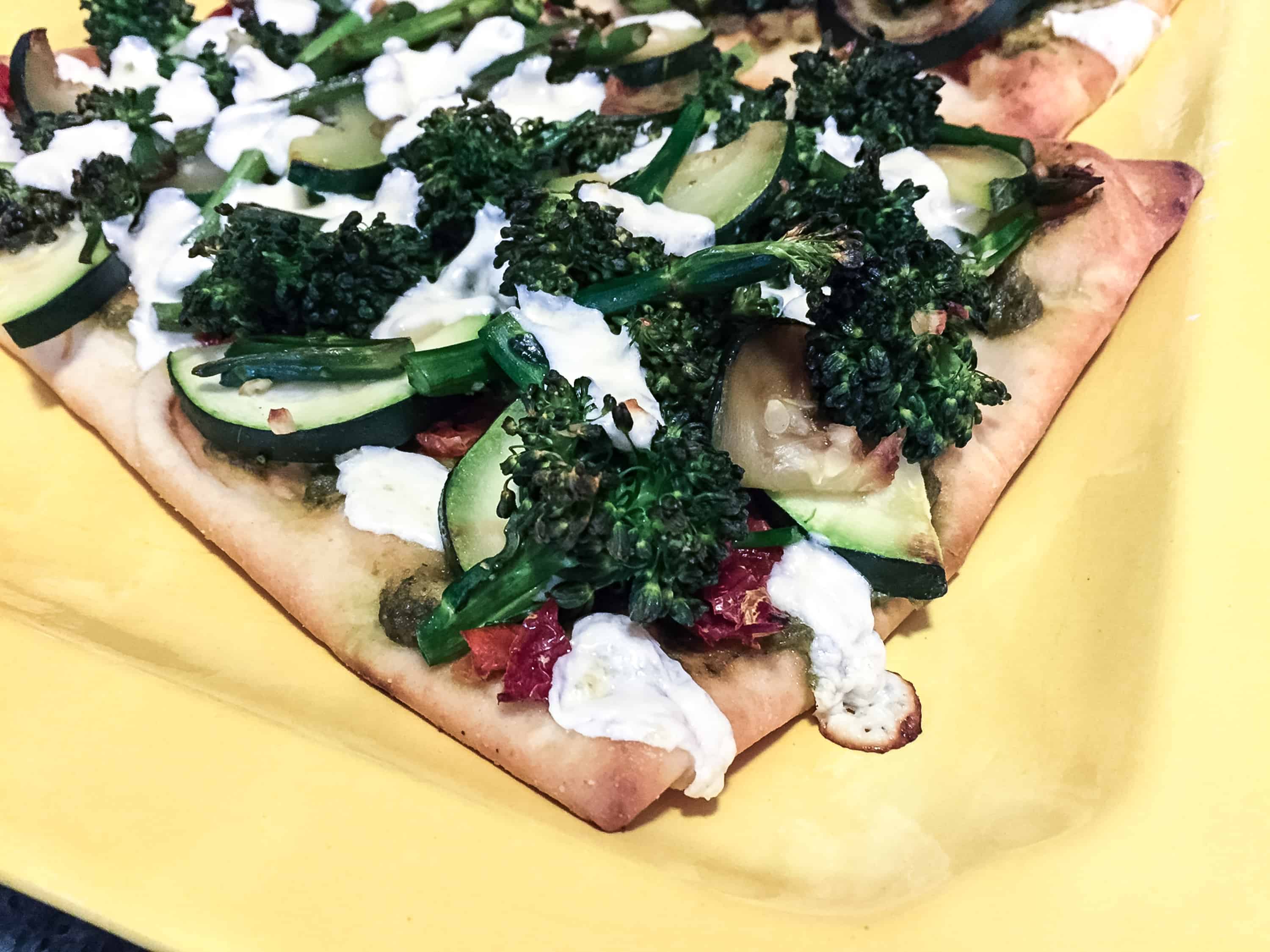 This meal would be great paired with a local beer or even a nice glass of wine. It could also be served as an hors devours for a get together. So many uses for this particular dish.  It's one of Hello Fresh's all-star recipes. I can taste and see why!
Thanks, Hello Fresh!
What can you say about the vegetarian recipes in our box?