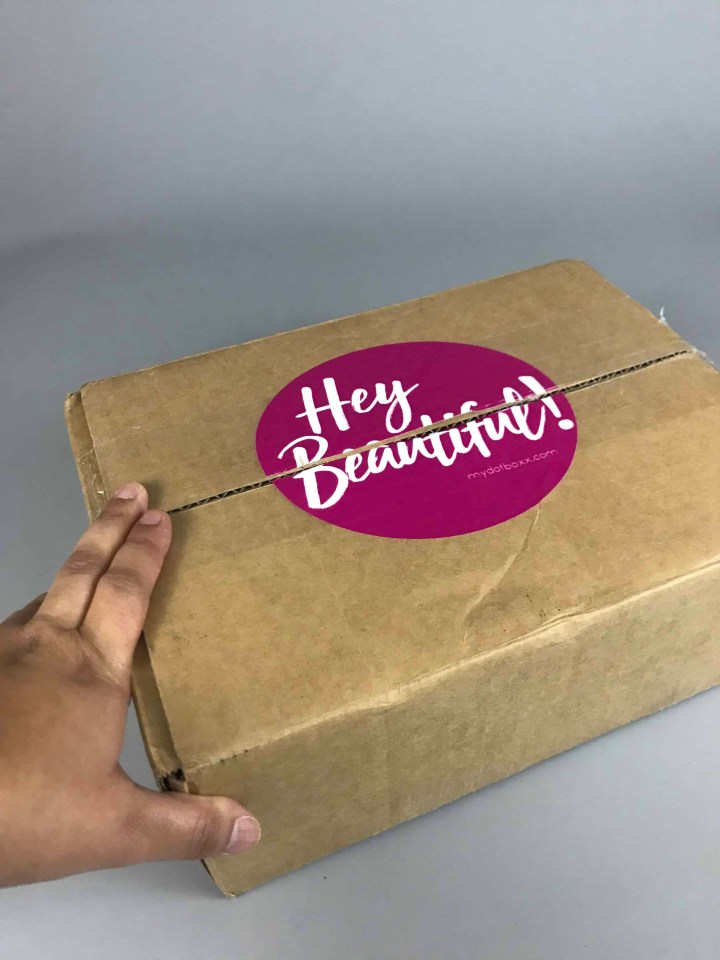 Dot Boxx is a period subscription box for ages 9+. They deliver period essentials to spoil yourself or a female you love. Each box includes up to 4 additional products including beauty, skincare, treats, and fun, trending accessories. They also offer customized boxes for tweens and adults. The price of this box is $37.99 with $6 shipping and handling, without period essentials it's $34.99.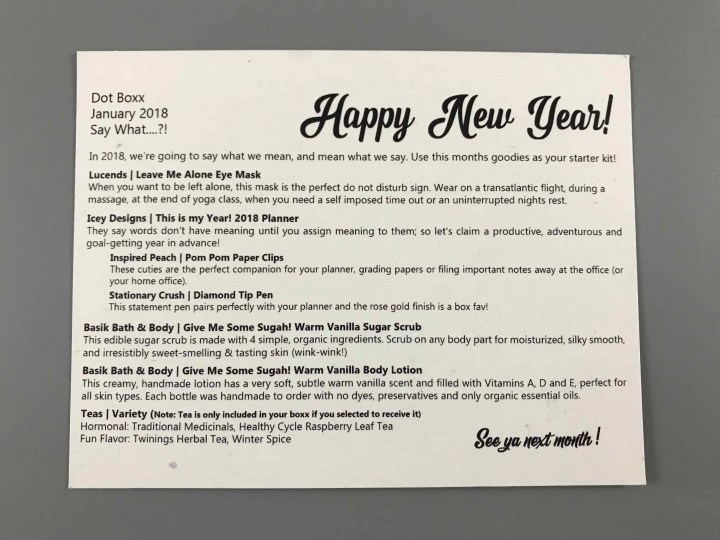 Here's the content card with details and price. This month's theme is Say What?! and it's all about saying what you mean and meaning what you say… this is an idea I can get behind!
DEAL: Save 20% off your first box! Use coupon code HELLOSUB.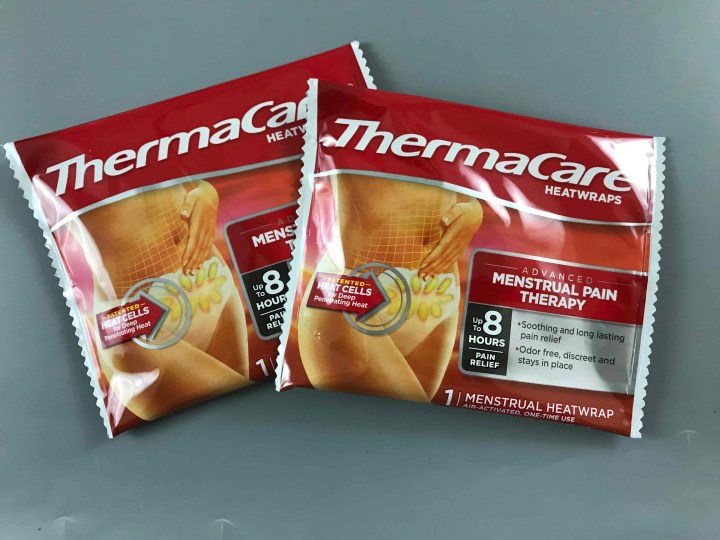 Thermacare Heatwraps. These are  the best hidden secret ever to combat menstrual cramps, I swear by these wraps and so does my daughter. A full eight hours of soothing pain relief, these are amazing!

Period Stuff. I love that this box of necessities is packaged together and takes nothing away from all the pampering goodies. Pads, tampons, panty liners, cleansing wipes and Advil… everything I need without going to the store. Does it get much better than this, I think not. I love that the brands Dot Boxx sends are trusted and the creme de la creme of women's products.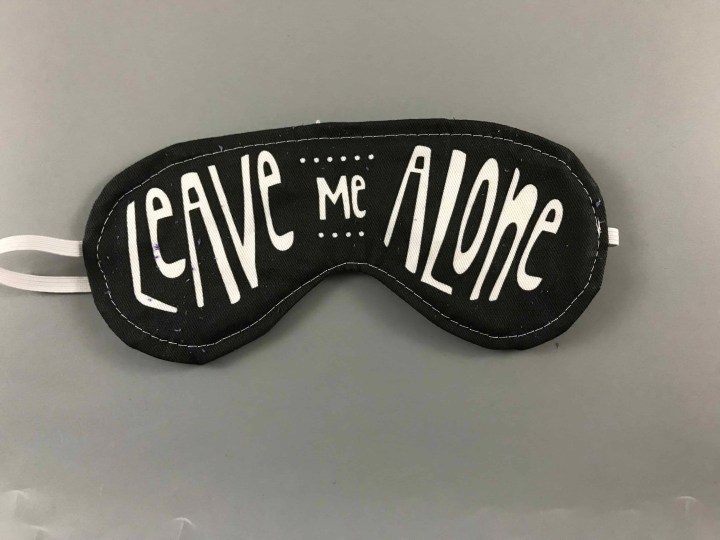 Lucends Leave Me Alone Eye Mask. I just love this eye mask, it says all I need to say when it's time for a nap or bed. It's lightweight and there is no light peeking in from the sides. I know I'll be getting a much needed good night's rest with this mask.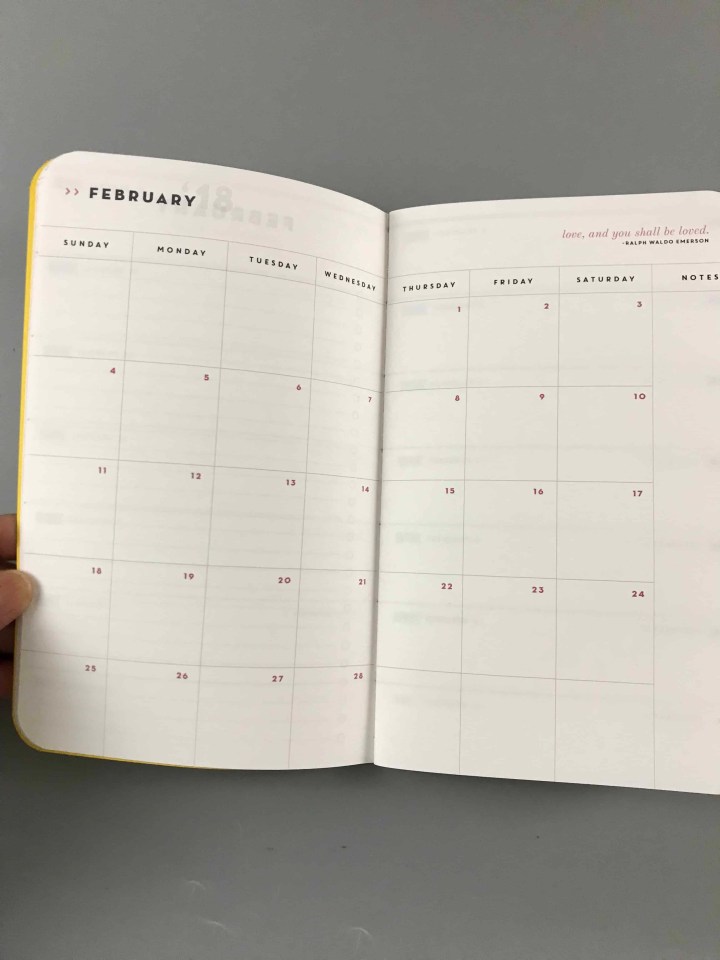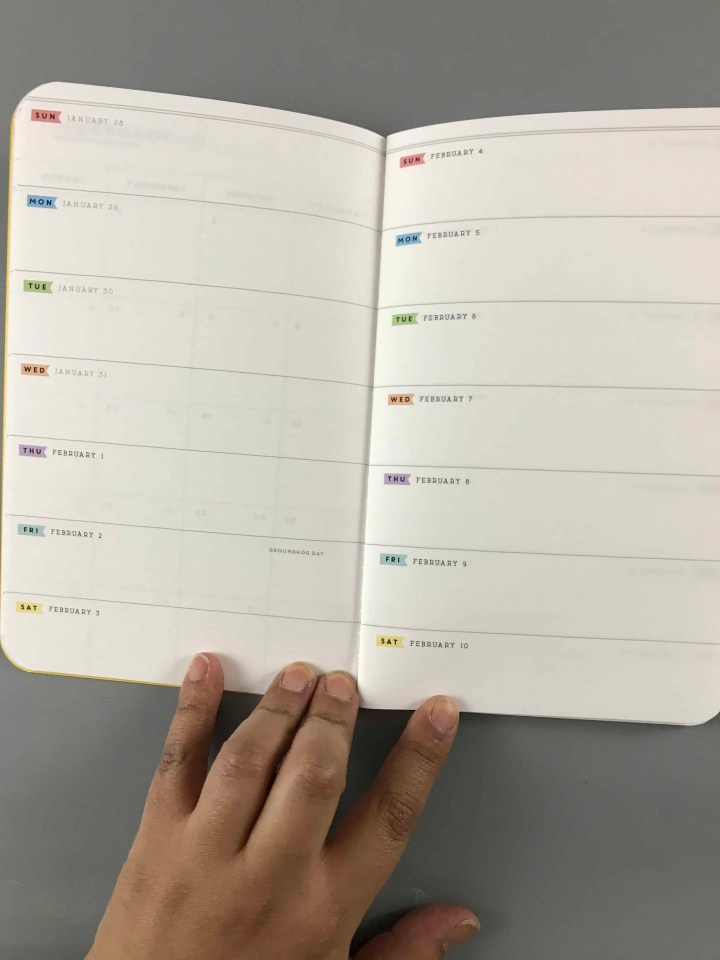 Icey Designs This is my Year 2018 Planner. First, I love the bright yellow color I received, it's a perfect match for my loud personality. I also love that there is room for fitness goals, adventures to have and books to read. I can glimpse the entire month or just a week at a time. This is going to keep me organized and I can keep it for years to come just to see how far my journey has brought me.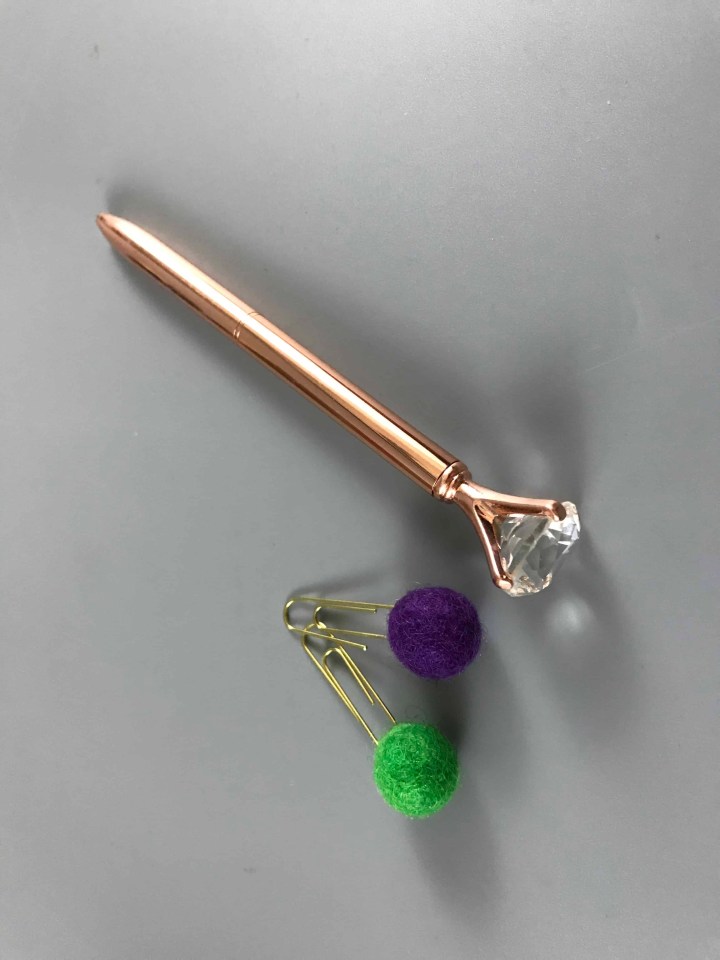 Inspired Peach Pom Pom Paper Clips and Stationary Crush Diamond Tip Pen. As if my new planner didn't have enough personality I can add more by saving pages with these clips. A cute pen will always make meetings and doctors visits seem so much more glamorous. It's almost impossible to have bad days when writing with an adorable instrument.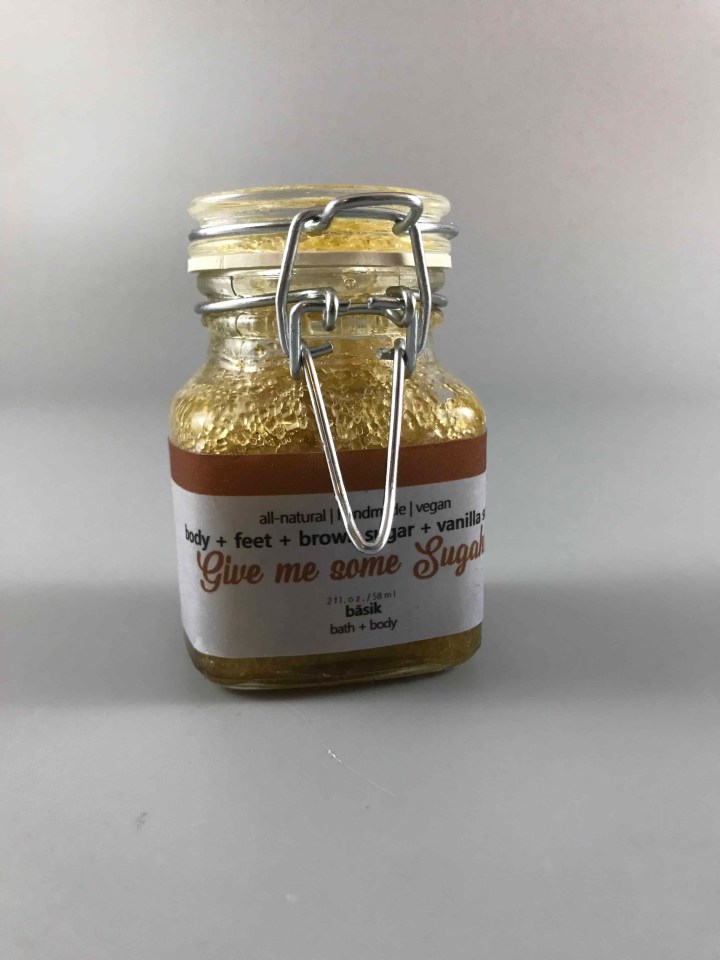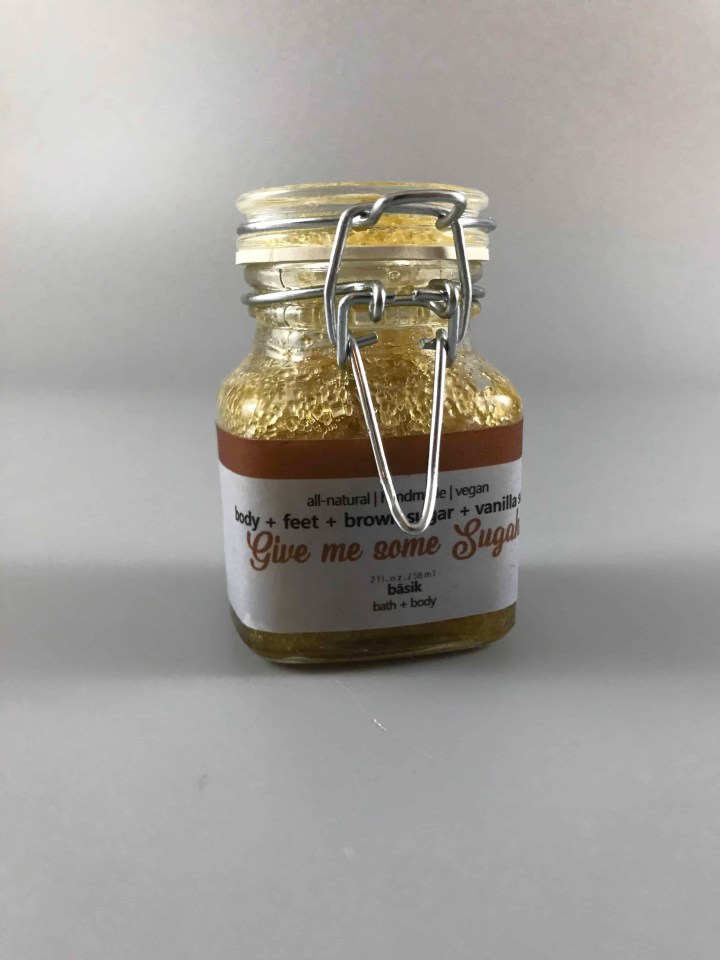 Basik Bath & Body Give Me Some Sugah! Warm Vanilla Sugar Scrub. This edible sugar scrub is made with 4 simple, organic ingredients. Scrub on any body part for moisturized, silky smooth, and irresistibly sweet smelling and tasting skin. Just in time for Valentine's Day!
Basik Bath & Body Give Me Some Sugah! Warm Vanilla Body Lotion. Creamy, handmade lotion that is very soft with a stuble warm vanilla scent and filled with vitamins. There are no dyes, preservatives and only organic essential oils. I think I might be in love! This is perfect for work too, it so gentle and shouldn't mess with anyone's allergies.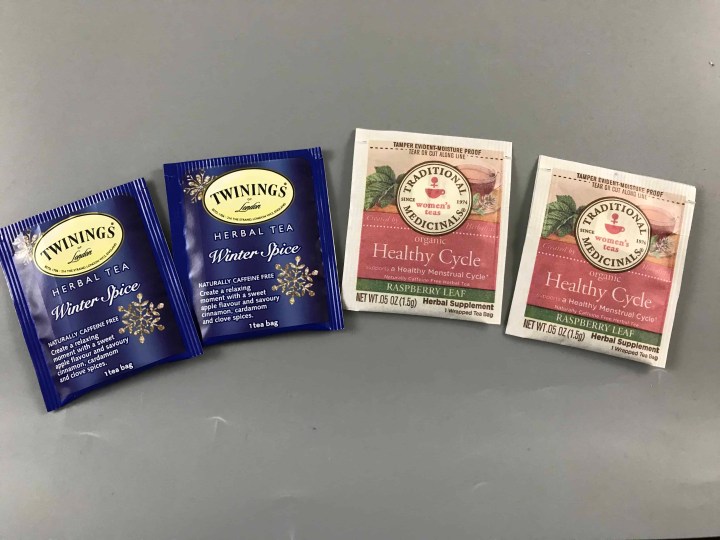 Teas. (Note: you only get tea in your boxx if you selected to receive it). Hormonal: Traditional Medicinals Healthy Cycle Raspberry Leaf Tea and Fun Flavor: Twinings Herbal Tea, Winter Spice. No matter what the tea it has a great place in our house especially during period week. We use it to help keep the cramps and mood swings at bay.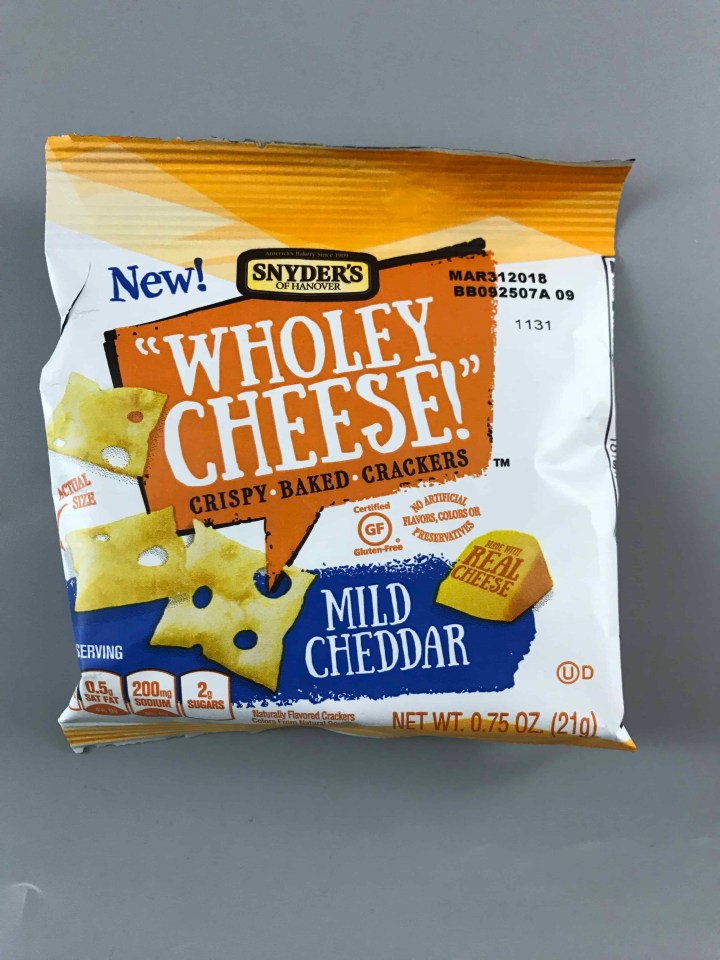 Wholey Cheese. These are great, I just wish they hadn't been crushed into tiny pieces. I'd say these are the best cheese cracker I've ever had.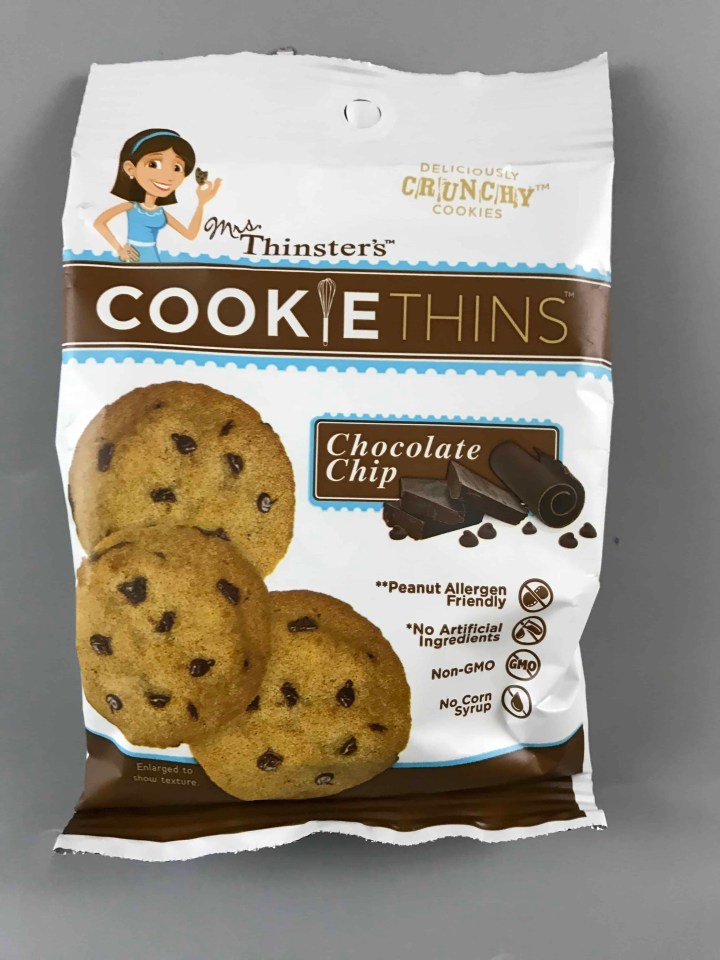 Cookie Thins. Packaged chocolate chip cookies never tasted better. They are crunch and buttery while being peanut and corn syrup free. There may have been a little arm wrestling going on for the pleasure of finishing off the bag.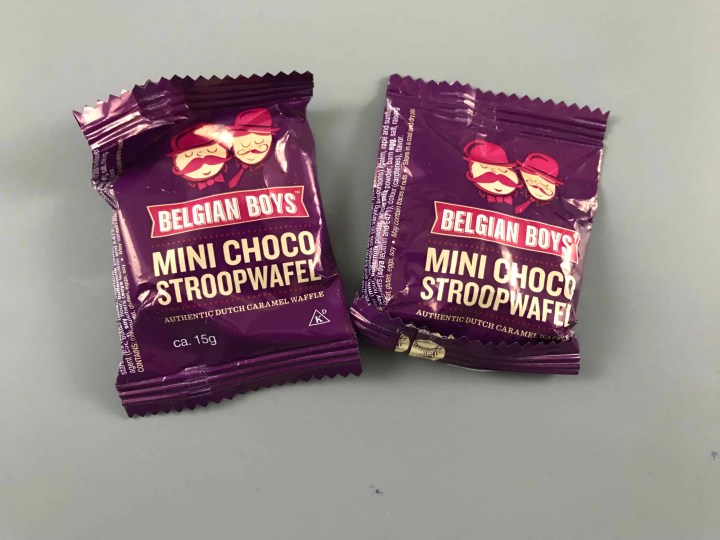 Belgian Boys Mini Choco Stroopwafel. This might be the new best candy/dessert ever! Caramel sandwiched between cinnamon waffles and then dipped in Belgian chocolate, heaven.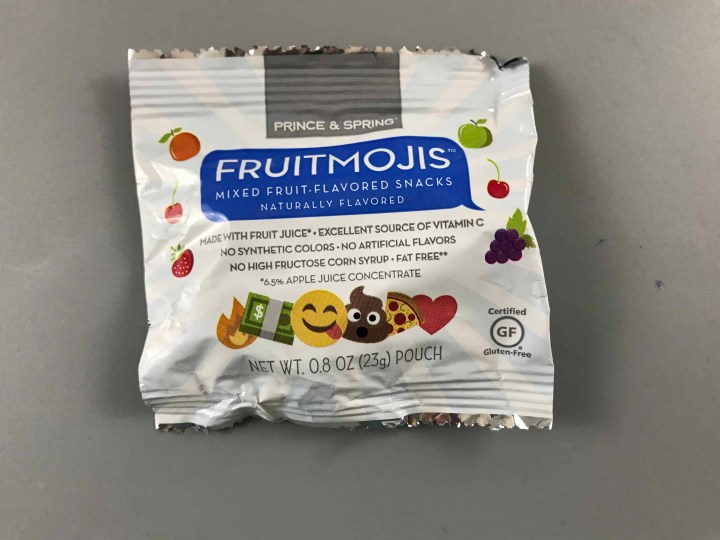 Fruitmojis. These are a bit more plump than normal fruit snacks but super flavor packed. I loved the little emojis on each one, super cute and so much fun to eat. My favorite flavor was the green apple. To answer that burning question, yes I am truly five at heart.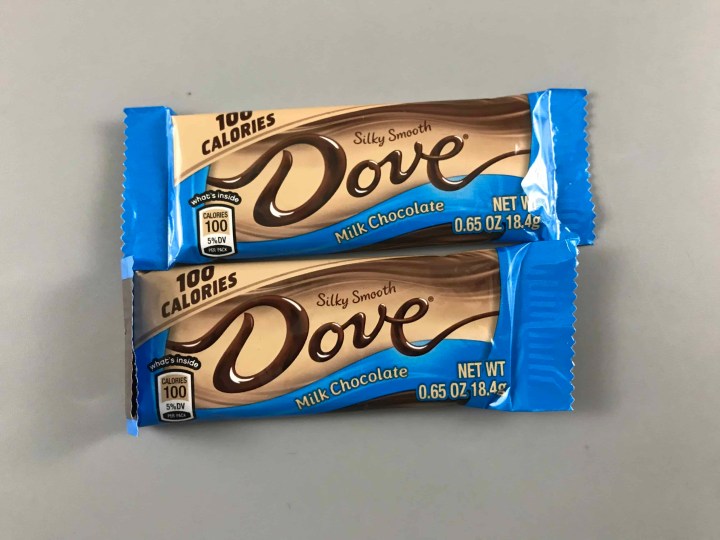 Dove Milk Chocolate (100 calorie package). I am one happy girl to know that my favorite chocolate comes in a nice low calorie package. I'm seeing a happy ending to the need chocolate debate that my New Year's diet has sparked.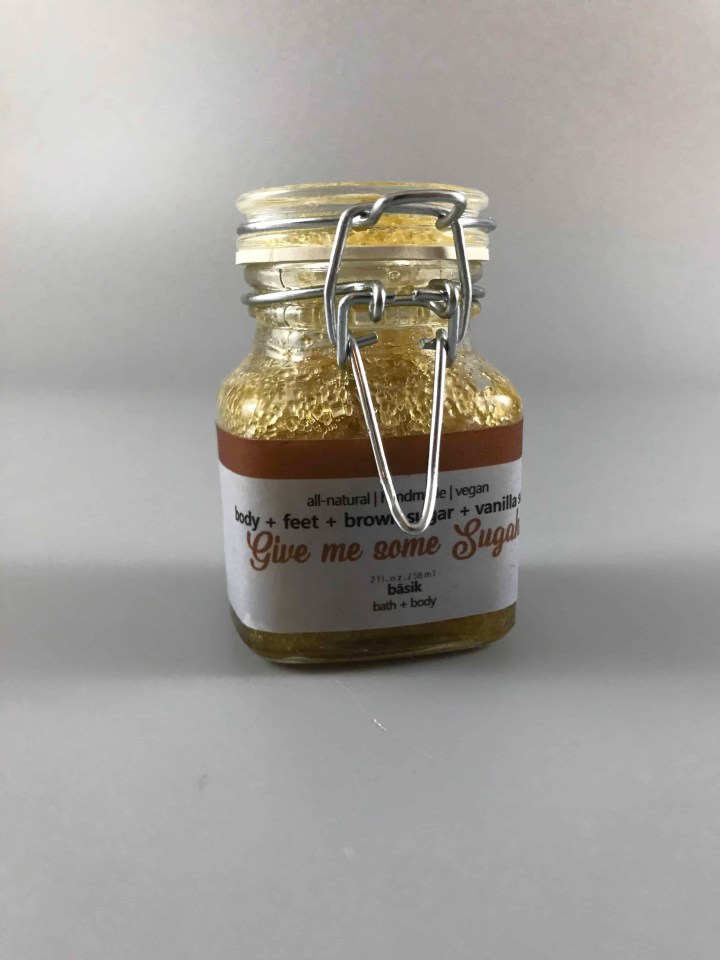 Dot Boxx is a great way to treat yourself or someone else every month. They always make sure I am the star of the show by making it about pampering myself and just tossing in the necessities. The label that says Hey Beautiful! always makes me smile and gives my step an extra bounce. So to the curators of Dot Boxx, I tip my forever grateful hat.
What do you think of this month's Dot Boxx? Let us know in the comments!