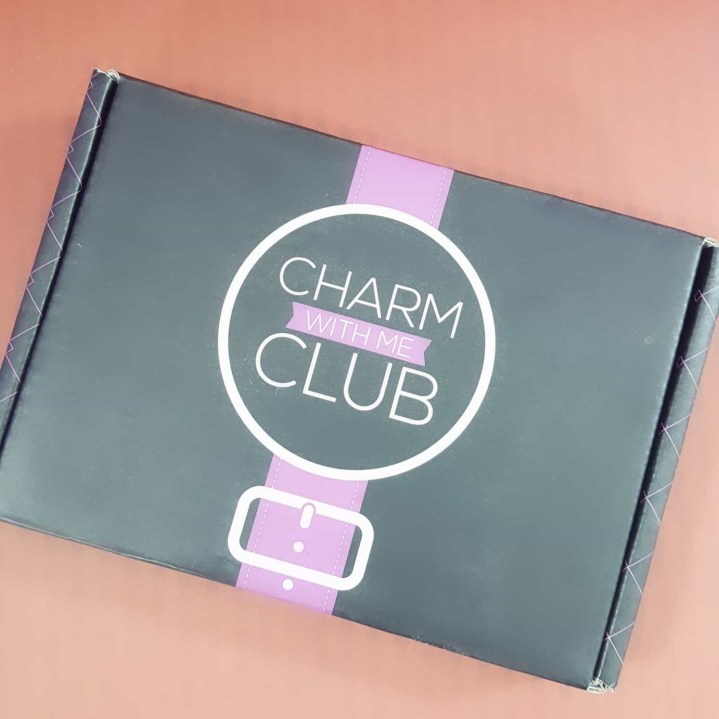 Charm With Me Club is a monthly subscription box that brings the most amazing fandom charms! With your first month, you'll be sent a starter bracelet, and then you can build your own bracelet with themed fandom charms that fit on Pandora bracelets each month. The subscription costs $19.99 per month and ships in a cute little mailer box.
Note: once you're a member you'll need to watch for the theme announcements. If you don't like the theme you can switch your subscription to "surprise me!" Also note – this subscription sells out!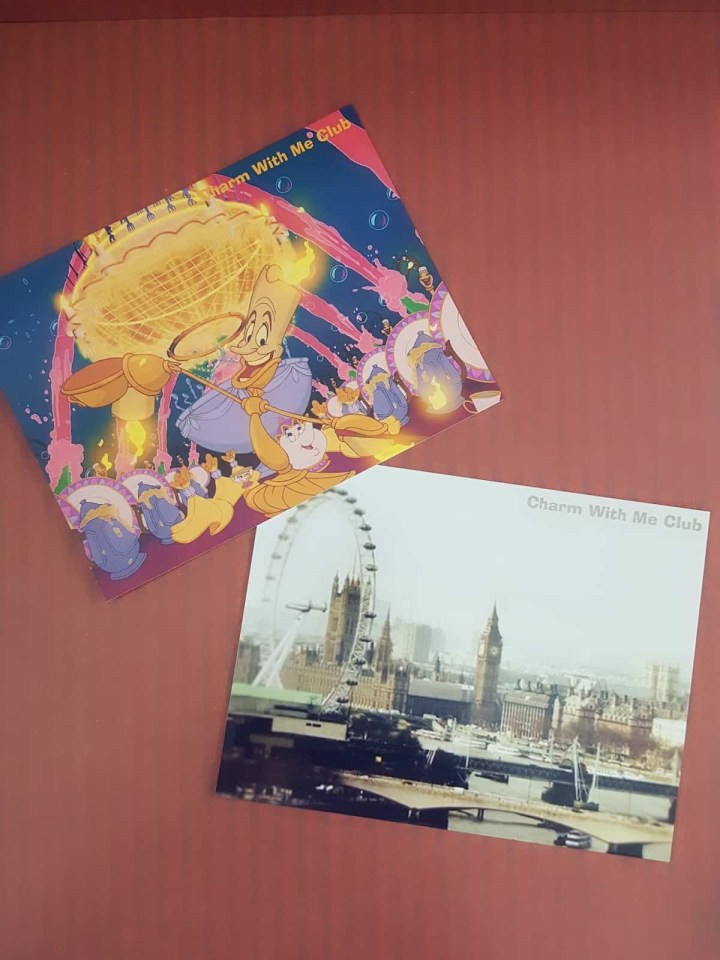 This month we could choose between Be Our Guest and Sherlock. They sent an email for us to select which one we wanted however if someone signed up with your link you were sent both collections!
DEAL: Save 10% on your subscription! Use coupon code HELLO10.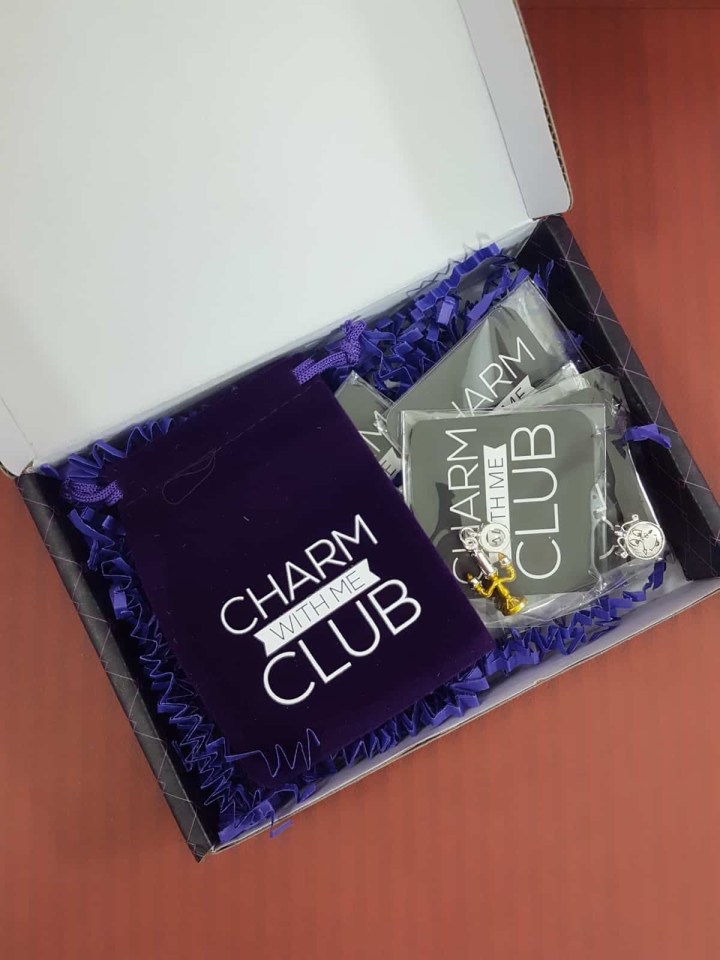 All of the charms come in individual little baggies in the box. It's a great way to keep them from getting lost in the purple packing squiggles.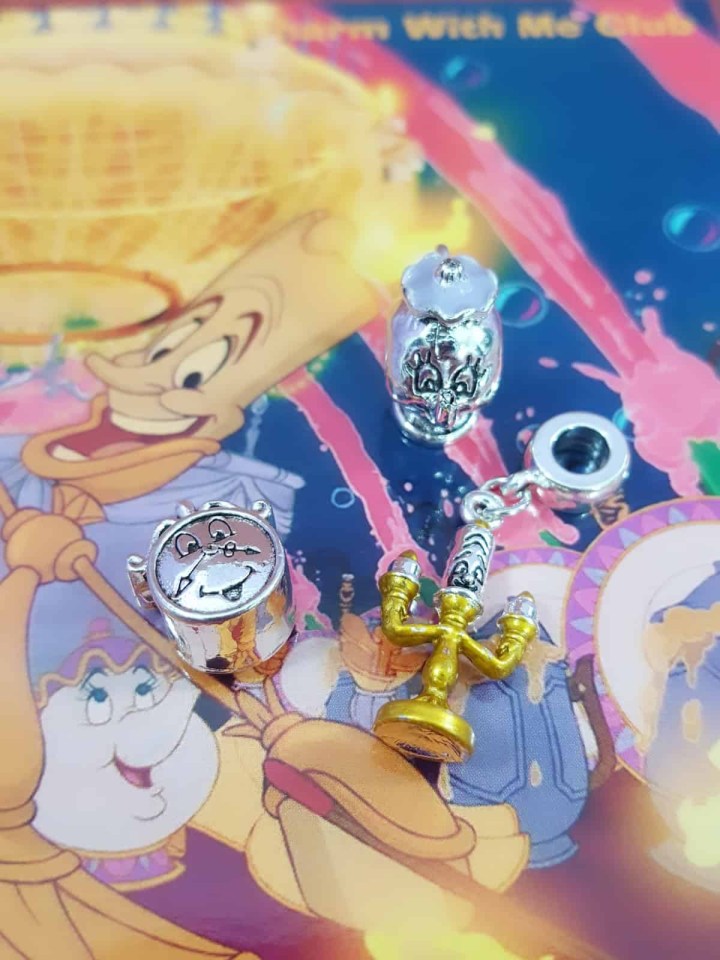 First up and my Disney loving heart squealed with all the cuteness. The three charms in the Be Our Guest theme this month are Disneyriffic!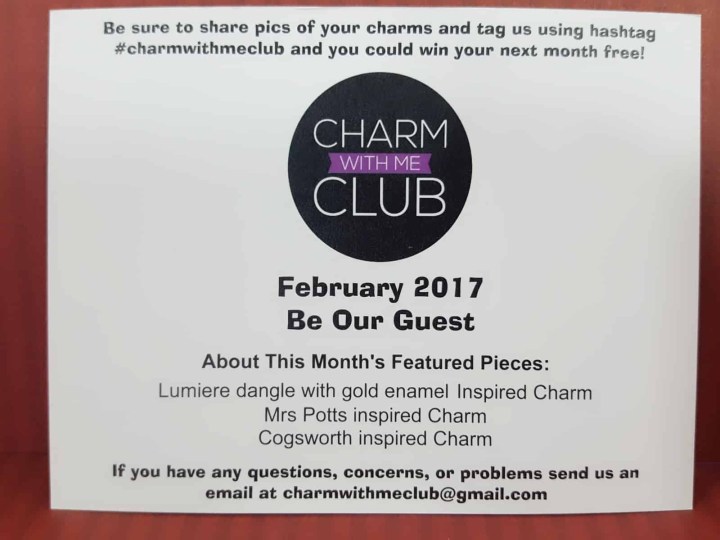 The back of the them cards lists out which charms are in the box and contrary to what the card says this is the February 2018 box.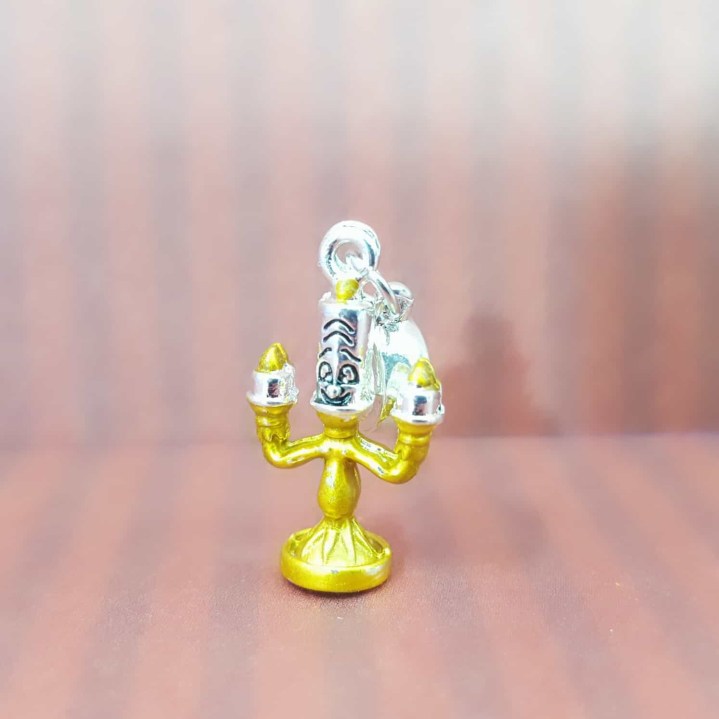 First up is Lumiere who was the maitre'd of the castle before being turned into a candlestick. He is funny and randy and a true casanova. The charm this month has a great dangle length and will be real feature on a bracelet.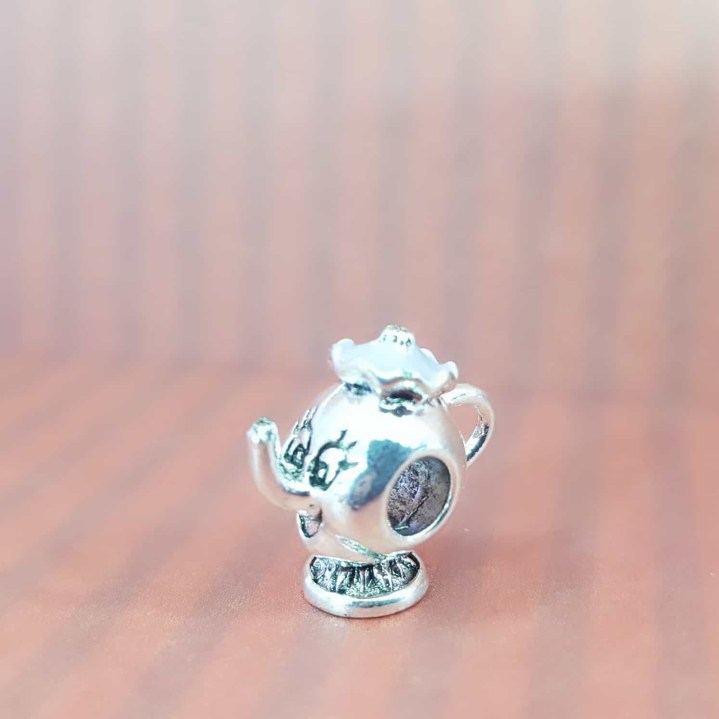 Next we have Mrs. Potts. She is the mom we all wish we had. She is like a grandma in her treatment of everyone and has such a loving and caring nature. You can't see it in this picture but the top if her lid is painted purple just like in the movies. I love her smile and overly happiness of this charm.
And finally we he Cogsworth. He was the butler before the curse and turned into a clock. He is often treated as a bit of a stick in the mud and very methodical so a clock was he perfect palace item for him. This is  just his clock face and a great detailed look. I love his little mouth.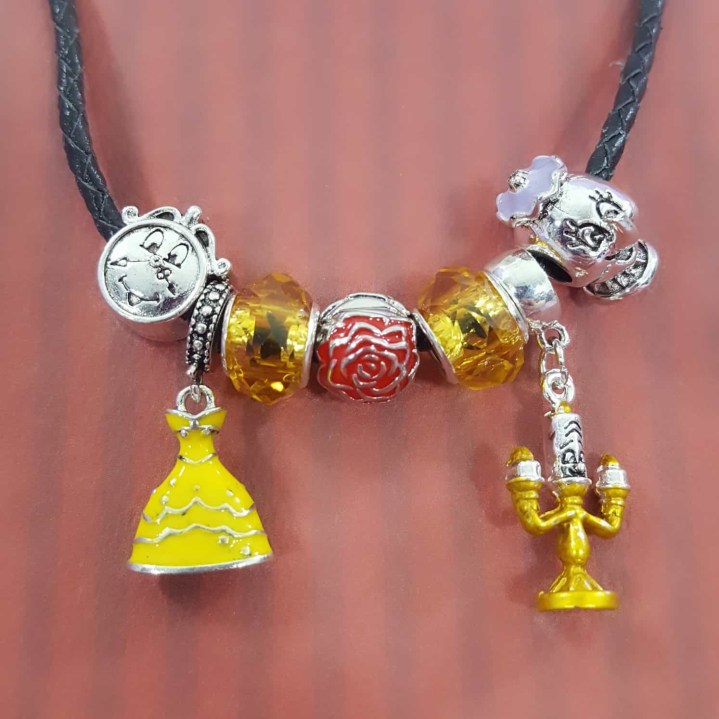 You know I couldn't resist pulling out my other Beauty and the Beast inspired charms to put a bracelet together or as it looks above possible a necklace. The new charms work in famously with the first set that I got and are really rounding out the whole movie inspiration. I'm really excited that I know have two dangling charms to go together and offset each other. Oh and I just noticed in this picture you can see the cute purple on the top of Mrs. Potts.
The other theme this month was Sherlock.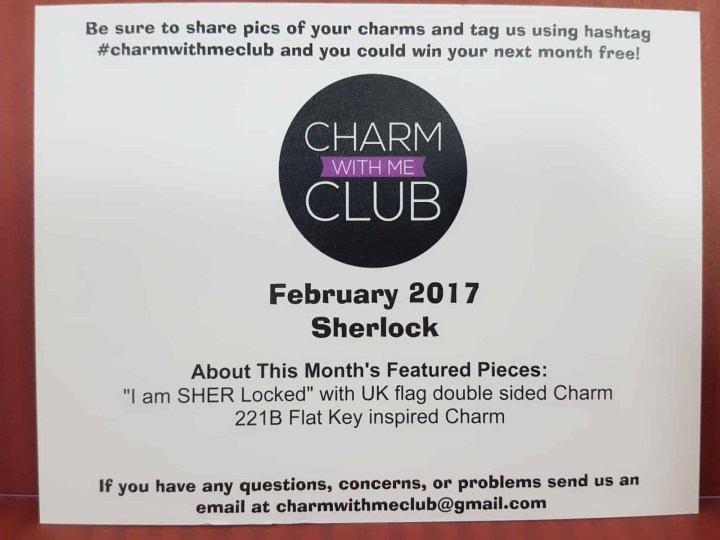 With the Sherlock theme we got two charms.
First up is his flat key. There is so much detail in the key head of this charm. It is stunning and I'm thinking it would be perfect in any bracelet combination.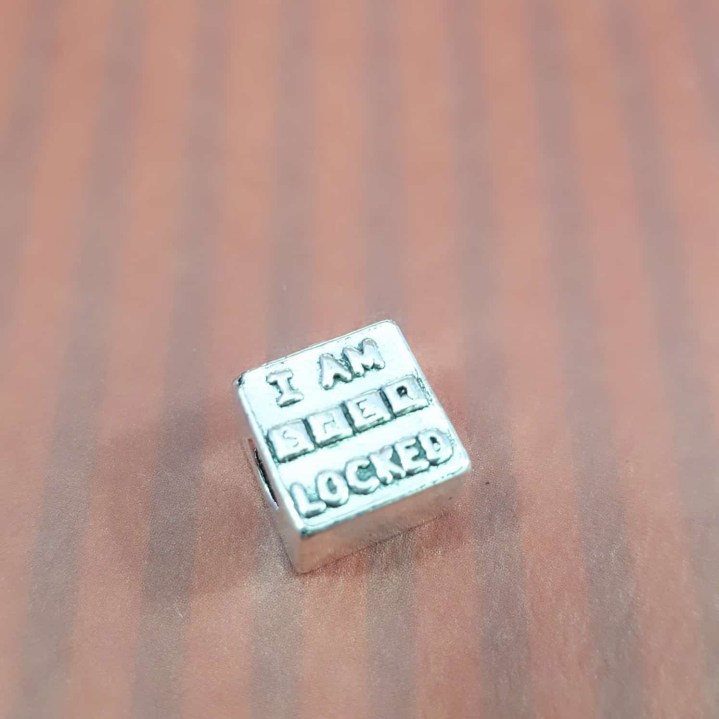 The second charm is a double sided square charm with the "I am Sherlocked" saying on one side and then the UK flag on the other side.
There are lots of things that use the Union Jack flag on them but I always think of Def Leppard. Yes I'm that old and yes they are my favorite band of all time so you know I'm loving this one. Did you know they are touring with Journey this summer? I may need to take my youngest to his first Def Leppard concert.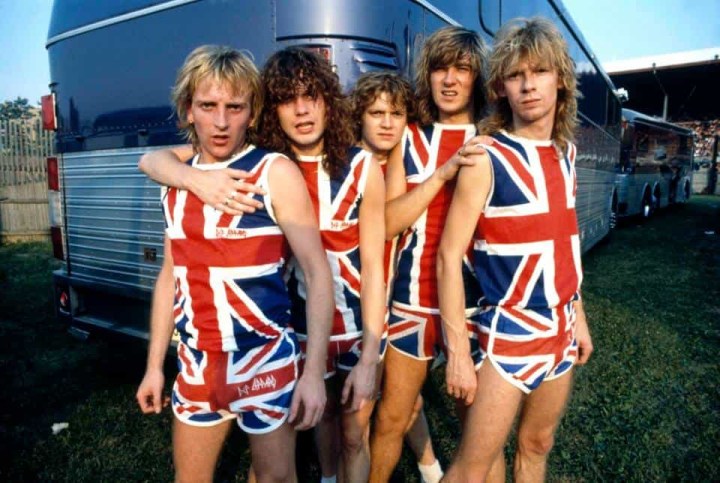 They still wear a lot of Union Jack on their clothing but not to this extent from back in the day. This one is even a bit before my Leppard loving time but I couldn't resist. It just makes me smile.
Another super fantastic month for Charm With Me Club. Disney is always my first choice but I'm really  loving the Sherlock ones this month if course one reminds me of something else but that is part of what I love about this box. Even if a charm isn't exactly my fandom with them being inspired by there is a lot of flexibility and they can be worn with lots of different options.  I can't wait to get a good chance to really wear these out and see who might notice all my loves.
After the subscription has shipped, you can go on their site and normally order the beads themselves. However, the monthly sets go for about $29.99, so getting the subscription is the better deal. You can always go and check out the past months and see if there are any that you missed and want to add to your collection.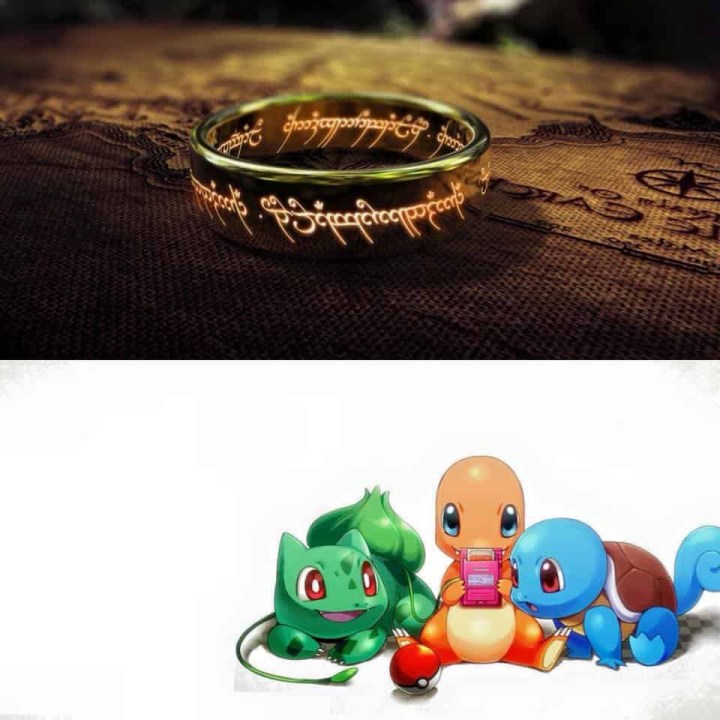 There is another double theme for March you get to choose between Lord of the Rings and Pokemon! And again if you refer someone new to the subscription both of you get both themes. I can't wait to see what they come up with for both of these themes!
What did you think of the Charm With Me Club charms this month? Are you a fan of the shows?