Let's take a look at December's Box of Happies! This box is made up of handmade art from different artists throughout the US. The contents vary every month. The box, which starts at $29.99, makes a great one-time gift as there are no recurring charges involved.
Four to six items are included in each box, but you can also customize and add another bar of soap, candle, or piece of jewelry. Or, you can treat yourself to a little grab bag for just $15! This month's box had 5 items in it, neatly wrapped in a reusable craft box.
DEAL: Receive a free handmadenecklace with your first Box of Happies purchase. Use coupon code HAPPIES.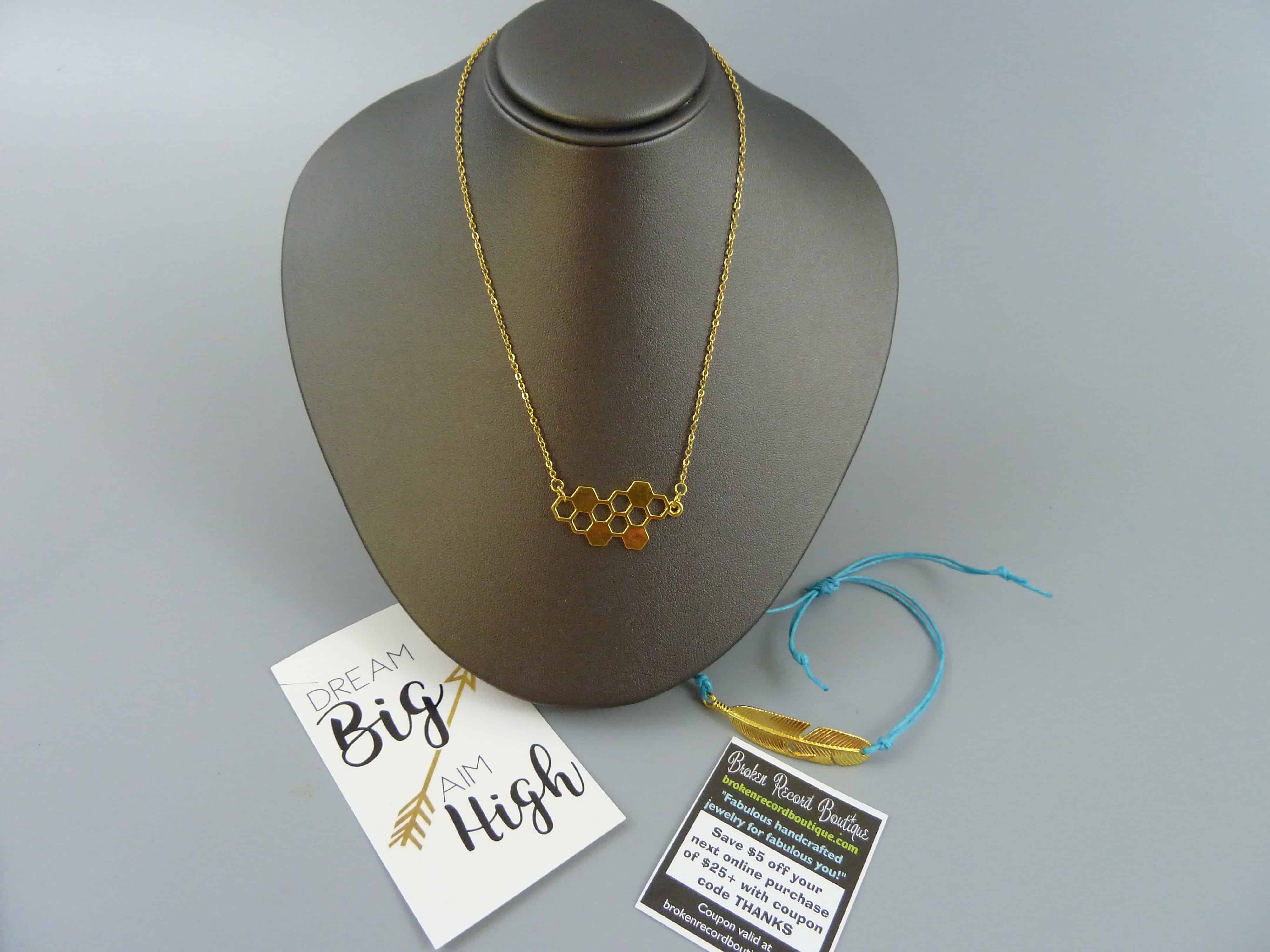 Box of Happies Necklace ($15) The necklace has a fun honeycomb pattern and a nice metal plating.
Broken Record Boutique Adjustable Bracelet ($10) A nice and delicate adjustable bracelet, it is single stringed and has a nice gold feather accent. I love that its simplicity makes it look elegant, and putting it on and taking it off is so easy!
Box of Happies Key Ring ($7) The quote on this key ring is so cute!
Box of Happies Hair Ties ($4) These ties will keep my hair neat. I love the colors too!
Nerdtastic Handmade Designs Tinted Lip Balm ($4.99) The tinted lip balm is actually nice with a yummy strawberry flavor and moisturizing powers! However, it's not really that tinted unless you hold it longer in light to see the color. Still, it's a good lip moisturizing item, and will surely keep the lips from chapping!
Finally, a contents card is included in each shipment, letting you know the value of each item selected that month. This month's box was valued at $41 + the value of the craft box that is included in each shipment.
If you are looking for something out of the ordinary to make you or a loved one smile give this box a try! It's definitely a fun box for that special someone who enjoys the beauty of handmade things. I love the jewelry pieces for this month, they all look gorgeous!
What do you think of this month's Box of Happies?