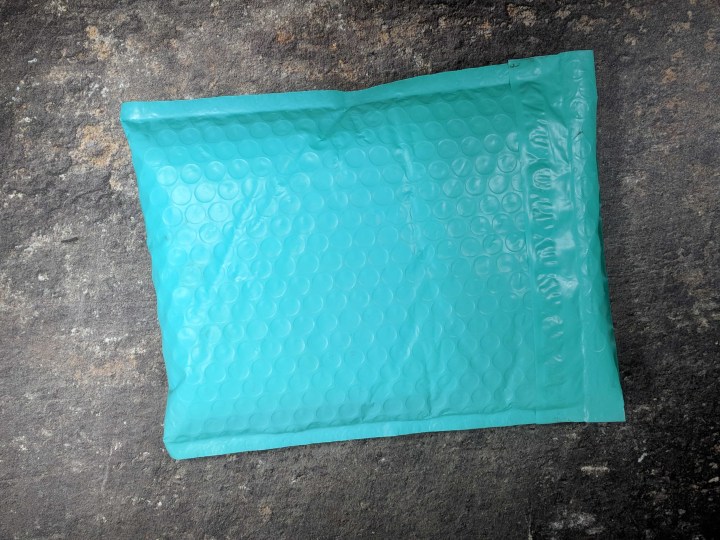 Bargain Bead Box is a monthly bead subscription service. Each month, you'll receive over $40 worth of top-quality jewelry supplies. It can be a mix of loose beads, bead strings, findings, and pendants. You can share your creation on their social media for a chance to win a $25 gift certificate for their sister store Bead Box Bargain. Boxes are $15.95 per month. Shipping is free in the US and $7.50 to Canada. Even if it's technically a subscription box, it comes in a teal bubble mailer, which is less expensive than a box so they can send more beads! And more beads is more fun!
All the beads are packed in well-labeled plastic bags and tucked inside an organza bag. On the reverse of the introduction letter, we get a description of all the items in this month's box, with some gemstones once again!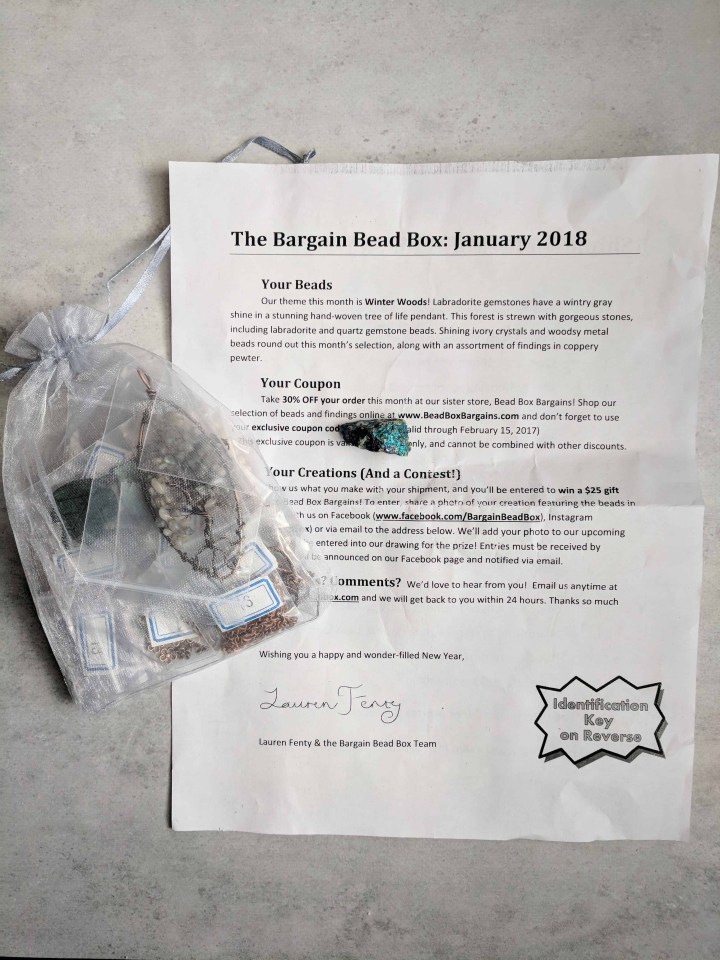 Each month is curated around a different theme and all the beads and findings are coordinated. This month's theme is Winter Woods with Labradorite Gemstones!!!! The findings are copper colored!
We also have a Shipment Identification Key.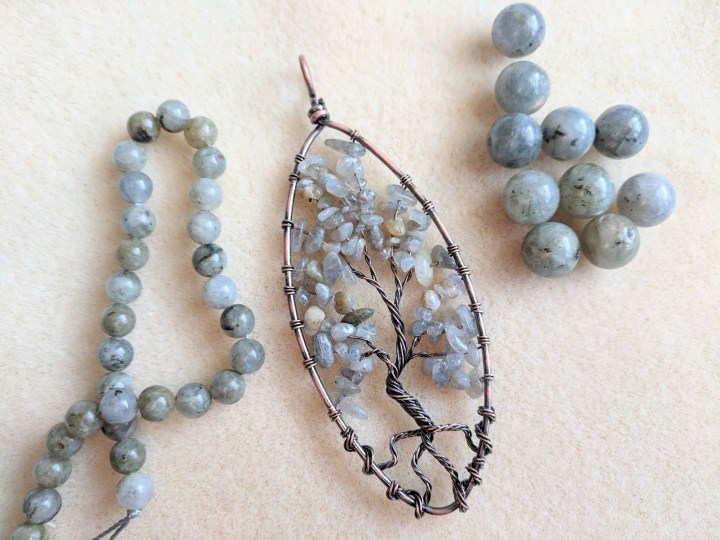 Hand-woven labradorite gemstone tree pendant. I love love it! I love gemstones, and grey labradorite is such a soothing stone! I really wanted to do something with it, but I found it a bit big to be used as a pendant, but I did something with it (see below!)
10mm labradorite round gemstone beads and 6mm labradorite round gemstone beads. They have a subtle shimmer specific to the labradorite. I used some of the 6mm to make earrings, and I'll use the rest to make stretch bracelet with brighter colored gemstone beads. I used the 10mm in my design with the tree of life. The 10mm are the perfect size to got with the bead caps included in the box.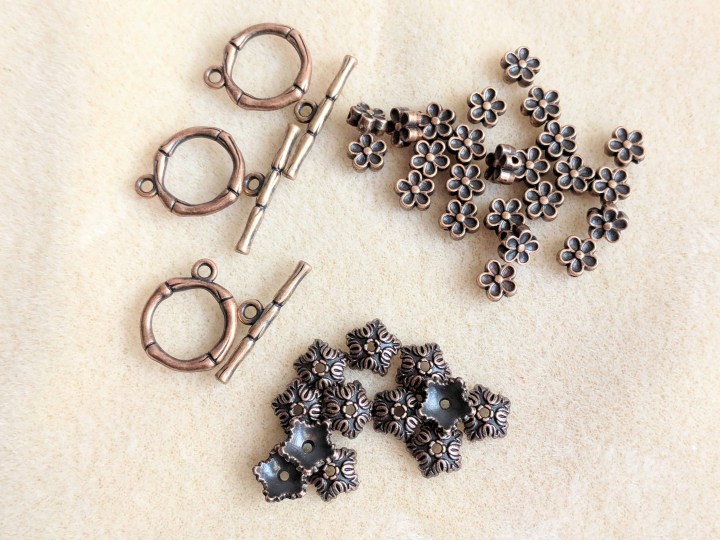 Every month, you can expect some staple findings in the metal color of the month.
20x26mm toggle clasps. They are perfect to put the finishing touch to a necklace design without having to run to the store at the last minute, or wait for your next bead shipment. This month, they have a wood design.
10mm leaf bead caps. They fit perfectly on top of the 10mm labradorite bead. They always put a classy touch to otherwise simple beads.
7mm metal flower beads. I like them at the bottom of a head pin, or as spacer beads in a flowery design.
23mm open teardrop charms. As soon as I saw them, I thought "earrings". They have the perfect shape to have a simple bead hanging in the middle, such as the 6mm labradorite bead. They could also be used as a pendant with lots of dangles.
1 meter steel jewelry chain. An other staple in the box, it's nice to have chains as an option for our design.
Copper-plated brass earring hooks. These with the teardrop charms, I had to make earrings! If you are sensitive to metal, you can coat them with a protective varnish (such as this one).
6mm dyed lavender quartz gemstones beads and 4mm dyed pale green quartz gemstones beads. I like the pastel shade they have, and how lovely they look with the copper and the labradorite. They are simple, but they look like the first flowers coming out in spring. The small one could be used with thread without any problems.
36x19mm oval bird charm. Look how lovely this charm is! It would be perfect with leather rope for a fun bracelet!
9x15mm metal bird beads. MORE BIRDS!!! (Yes, I'm the crazy bird lady around here.) I like them with sparkling rondelles on earrings.
15x10mm metal leaf links. I like the idea of a long chain with these links to add some texture.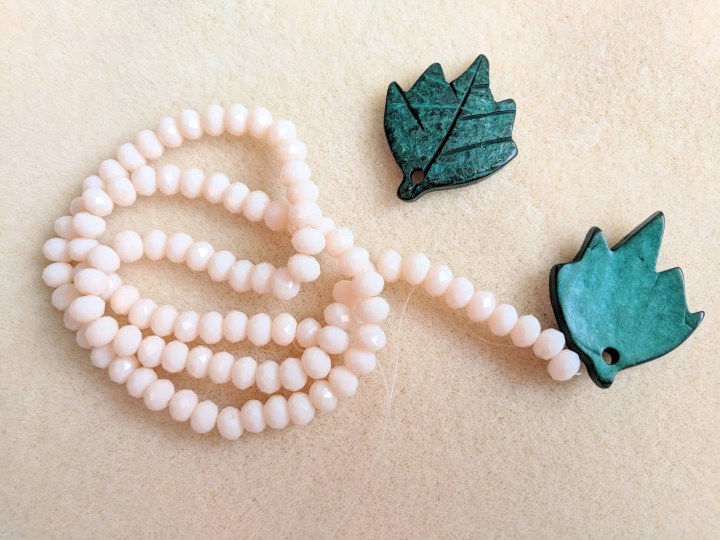 6x4mm Chinese Crystal Rondelle beads. This is the only glass beads we got this month, which is weird as we usually get crystal bicones and other rondelles. I'm not complaining, and these are a lovely ivory (not as pink as the picture would make you believe). I like rondelles with bead caps.
36mm coconut shell carved leaf. They are big, but light, so they would make an amazing pair of earrings for the beach. Can we get to summer already?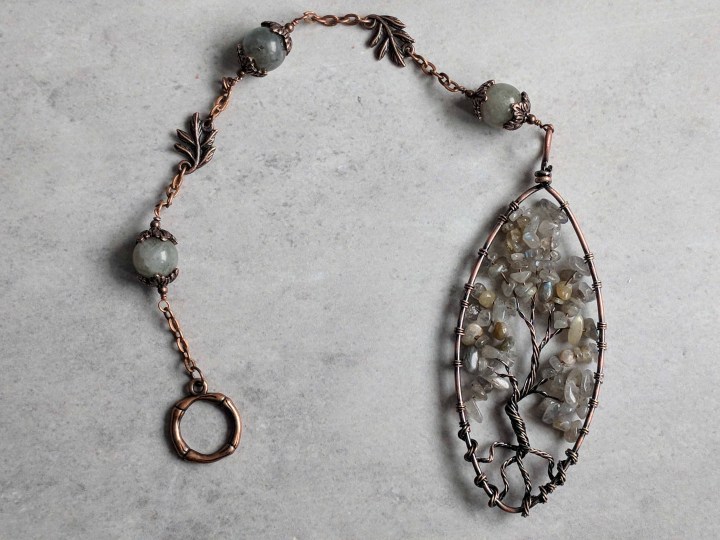 I really wanted to do something with the Tree of Life pendant, but I didn't want a necklace. So I made an ornament for my window! I used half of the toggle clasps to make it easier to hang.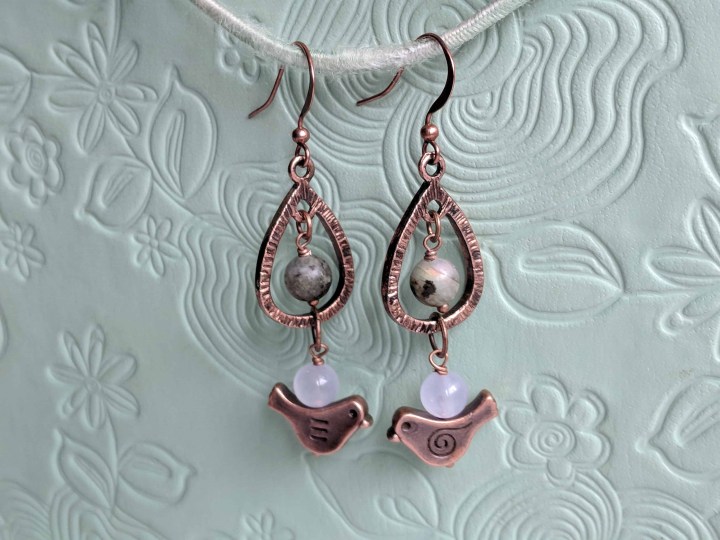 And I had to make earrings with the teardrops, the labradorite and the cure birdies!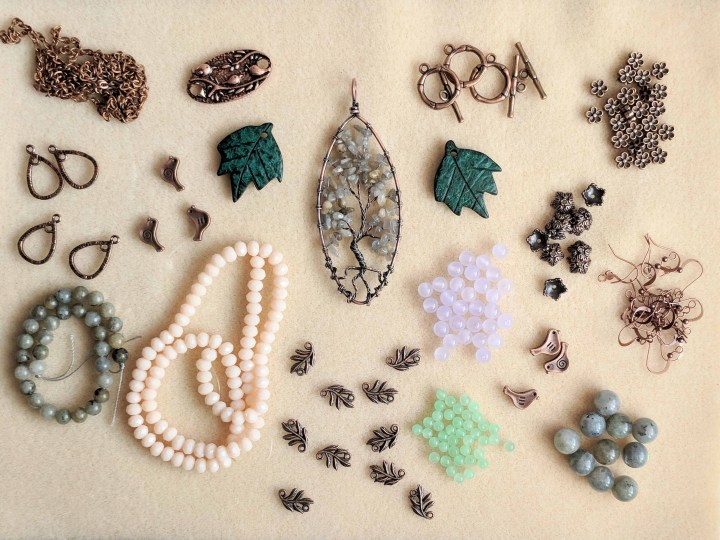 I really like how this months everything was subdued, with soft colors and a feel for the peaceful wood. I can't get enough gemstones in my life, and the tree of life is the perfect addition to this box.
What did you think of this month's Bargain Bead Box?