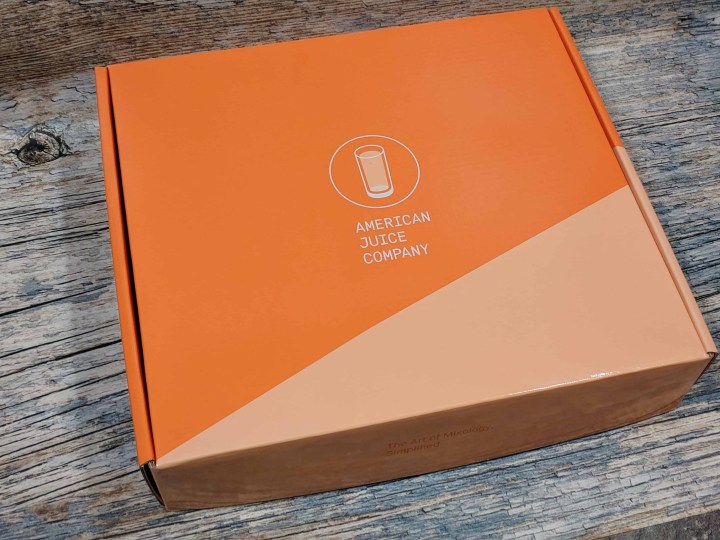 American Cocktail Club is a monthly subscription box by the American Juice Company that will bring you everything you need to make a new 5-stars cocktail in your home. Each box contains 4 servings curated by award winning mixologists around the USA. The mixers are low sugar and all natural juice blends by American Juice Company. Available with or without liquor. This review is for the box with alcohol!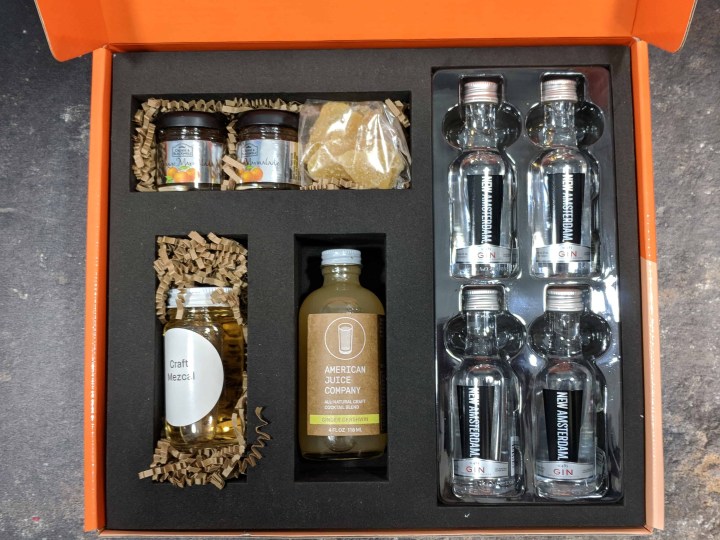 Everything is nicely packed and even if there's glass bottle, they will not move in transit! It looks really sharp and pretty.
For December, we'll learn how to make the Burnt Breakfast Martini, curated by Natalie Migliarini from Beautiful Booze.
The back of the card tells us a bit more about the cocktail and has a list of ingredients and easy to follow steps.
We are ready to make the cocktail! On top of the ingredients you are given in the box, it's always nice to have a shaker, a strainer, a measuring cup and of course some glasses. The box mentioned coupe glass, but we didn't have any so we used whatever we had and enjoy drinking from!
The first ingredient is the New Amsterdam Gin. Each little plastic bottle contained 50 ml of gin (almost 2oz). My husband, and official family mixologist, really likes gin and tasted it right from the bottle. "Pretty nice" is what he said.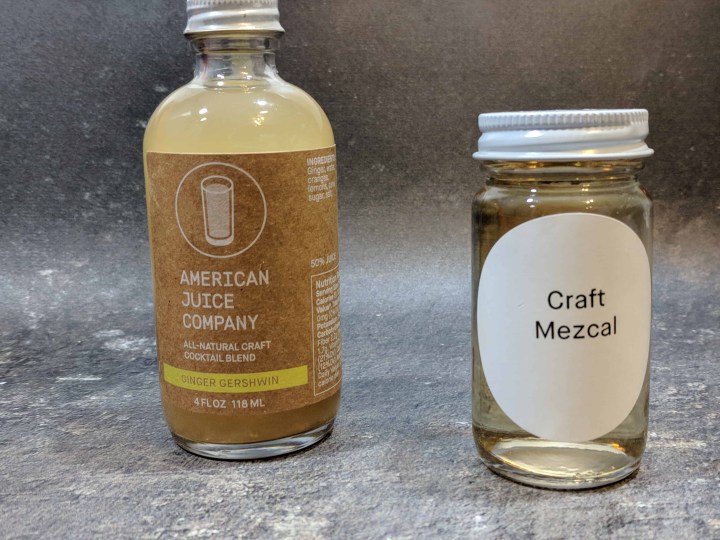 American Juice Company All-Natural Craft Cocktail Blend – Ginger Gershwin. A blend of ginger, orange and lemon verbena leaves, this mix brings a nice ginger flavor without the overly spiciness of it. I love ginger, spicy or not, so this one was a nice surprise in the box and it smells really good!
Craft Mezcal. So, this one raised some eyebrows in the house. Everything else in the box is well labelled and we can follow the trail to where they came from, what are the ingredients and so on. But not this Mezcal. Don't get me wrong, I love (yes, it's a love affair) with tequila, so Mezcal is right up my alley, but I was disappointed to have no more information about this alcohol. It still tasted good!
Orange Marmalade by Crosse & Blackwell. Tasty marmalade, I never thought of putting some in a cocktail! I was intrigue by them when I opened the box. They are delicious by themselves, just saying!
Candied Ginger. This is for the garnish, but I could eat a full bag in one sitting. They are some of my favorite candy out there, and these one were sweet, chewy, but not too spicy.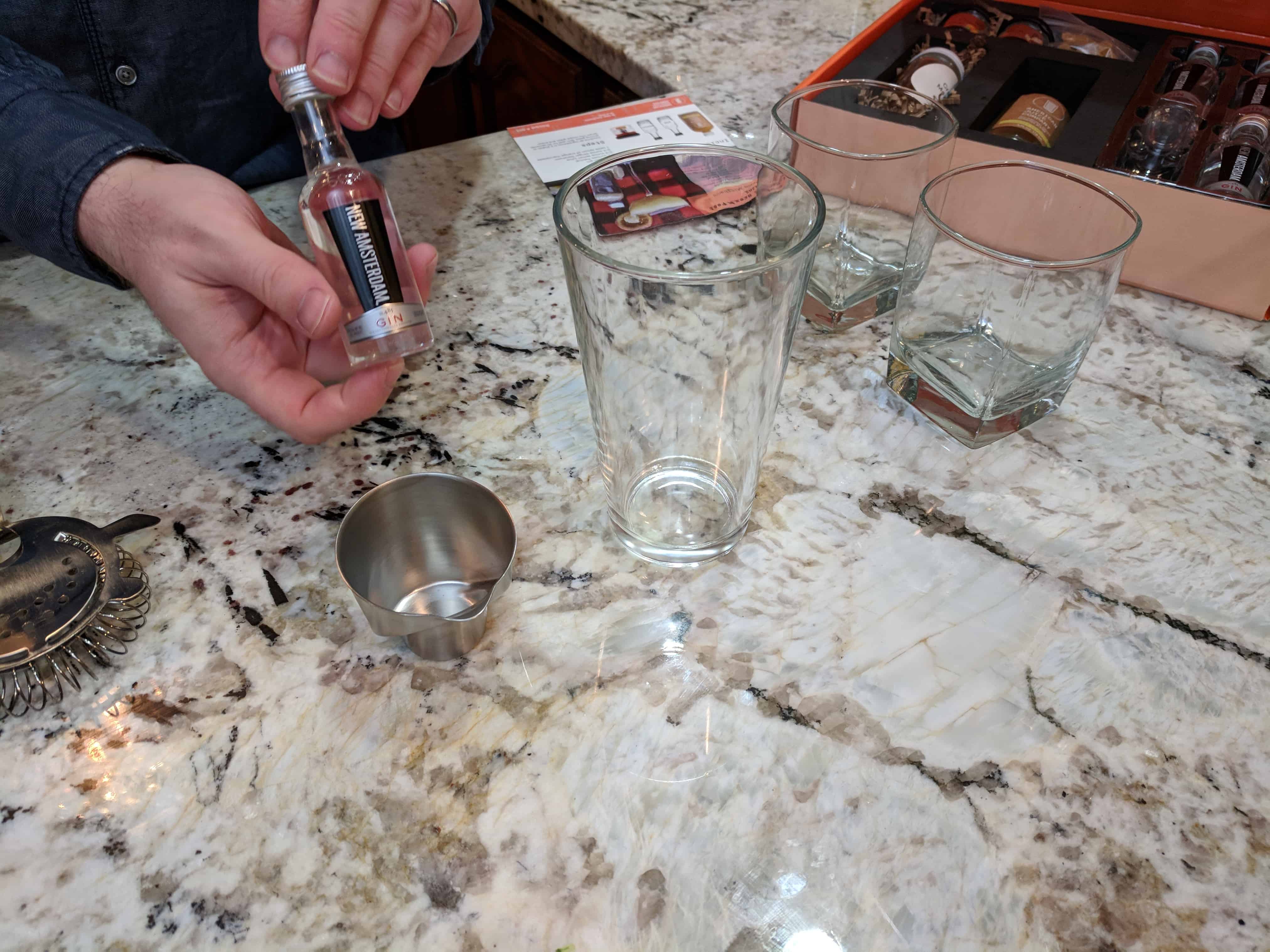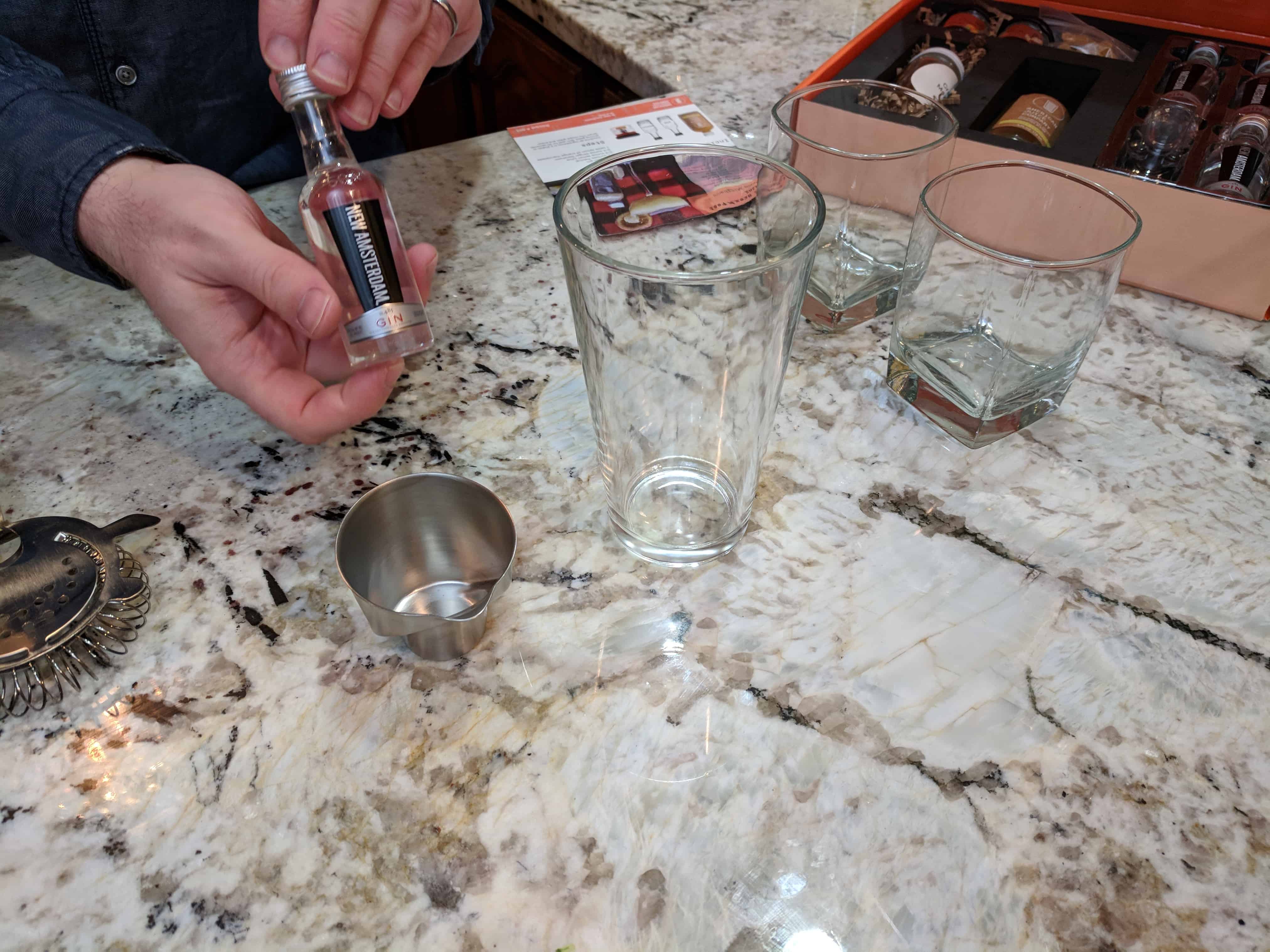 Time to make the cocktails! We were only two tester for this drink, so we only have to use half of the ingredients. In goes the Gin and the Mezcal.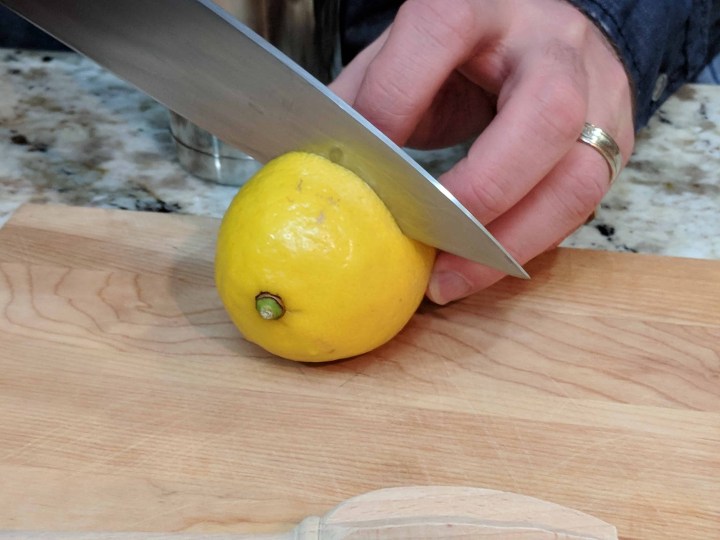 Add the juice of one freshly pressed lemon (not included in the box).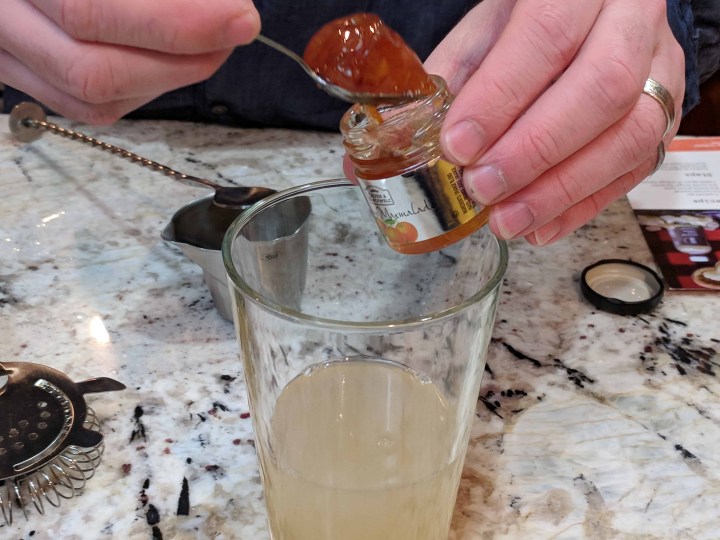 The Mezcal and the marmalade follows in. I was worried that the marmalade would not mix with the drink, but I should have trusted the mixologist! Hint: it mixed very well.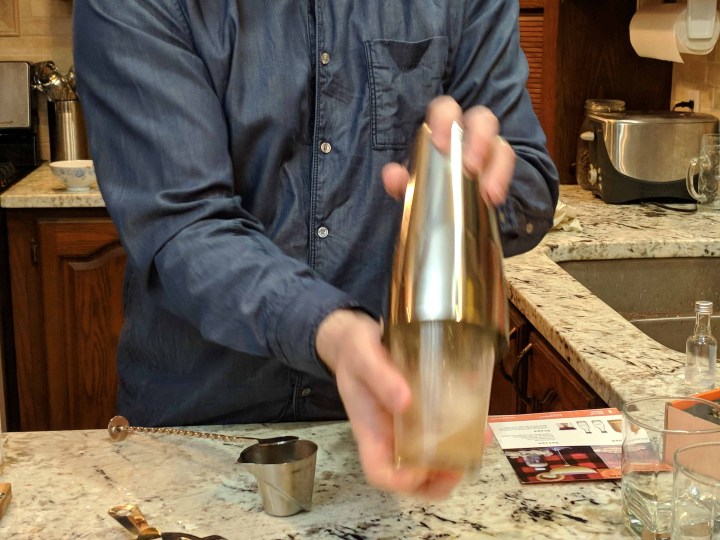 Shake it up for 30 seconds with ice cubes. I was told that holding the glass at the bottom was not the right way to go. Sadly, no pictures were taken when it was flipped over!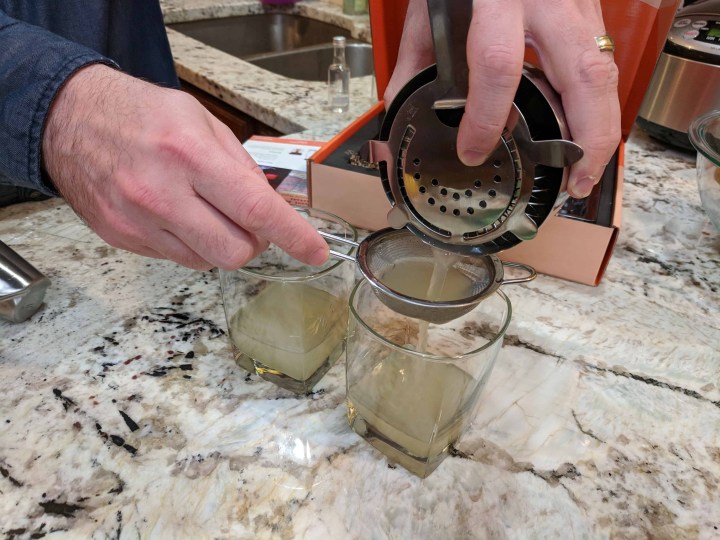 Strain and serve!
Add a ginger slice and cheers! Overall, a pretty solid and good cocktail, great as an aperitif while waiting for the meatloaf! It was light, not overwhelming on the spiciness from the ginger, smooth and sweet. The portions were also quite nice!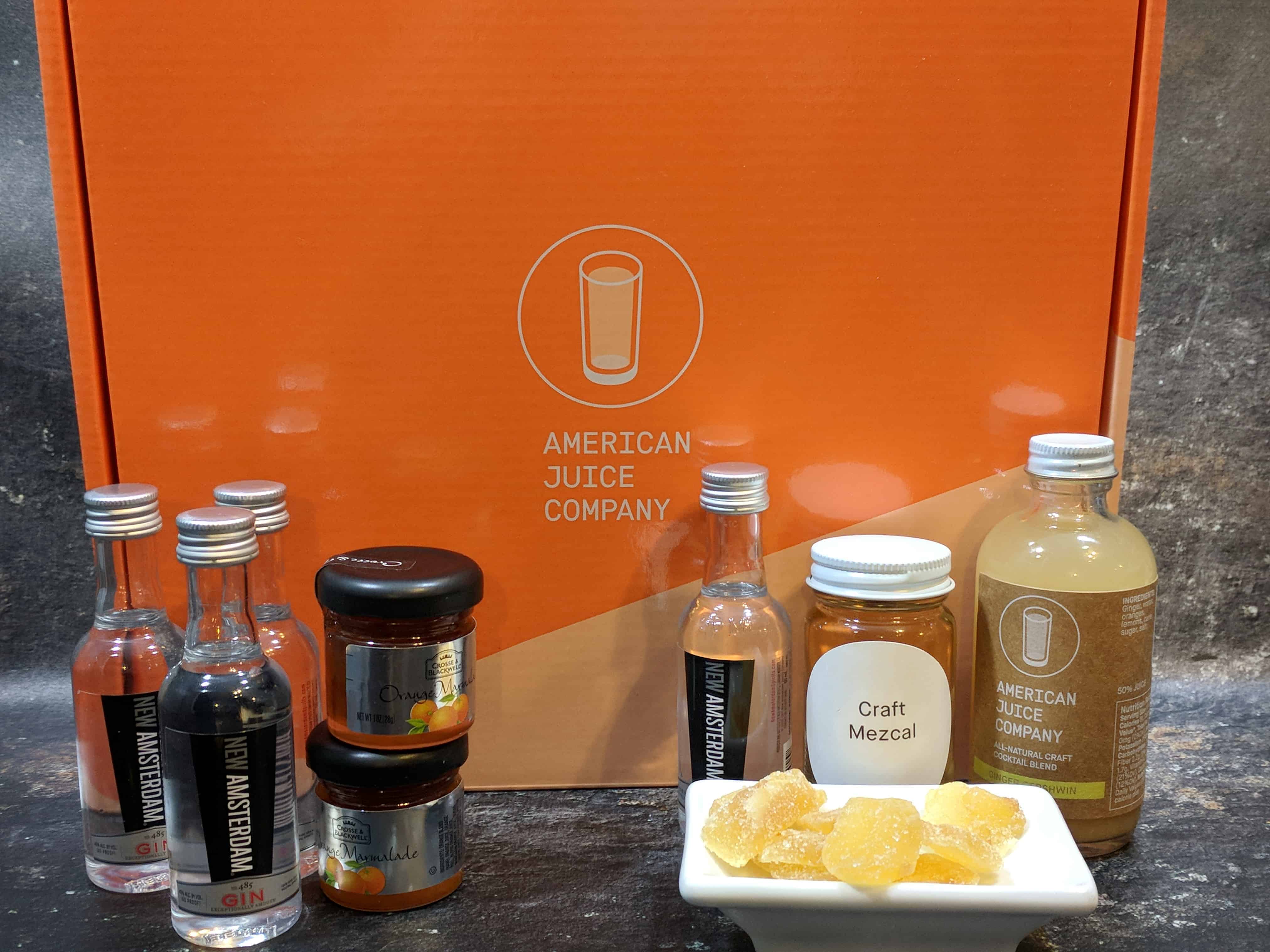 We had so much fun with our American Cocktail Club Box! It was easy to mix together, we did it while cooking dinner, and it tasted great! The choice of cocktail was also great for a Holiday box with the hint of ginger and orange. We never would have thought of mixing gin with mezcal, and I'm glad that we did! This was a nice introduction to the world of mixology, and we sure going to add this cocktail to our rotation for friends and family.
What do you think of this month's box?
Visit American Cocktail Club Box to subscribe or find out more!