So Susan Color Curate is a monthly makeup subscription bag from the UK that delivers an adorable bag stuffed with goodies from So Susan and their related makeup lines (Jelly Pong Pong, Trifle, etc). They also have the cutest packaging! FYI – they changed the name of the subscription month, it was formerly known as So Susan Lip Love.
So Susan is vegan, cruelty-free, and paraben-free as well. Even better, you can always get the current box through the end of the month!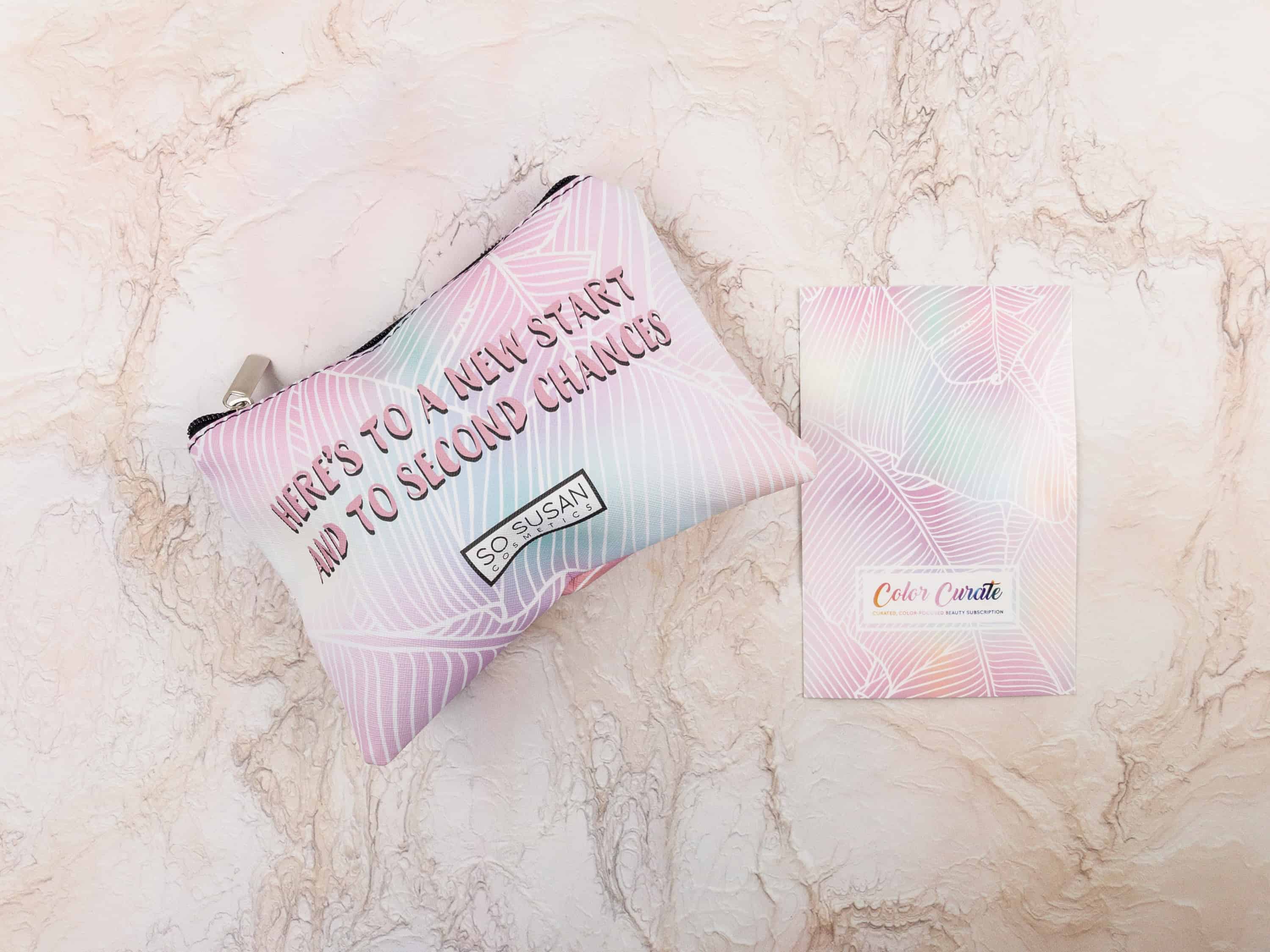 The theme this month is Here's to a New Start and to Second Chances.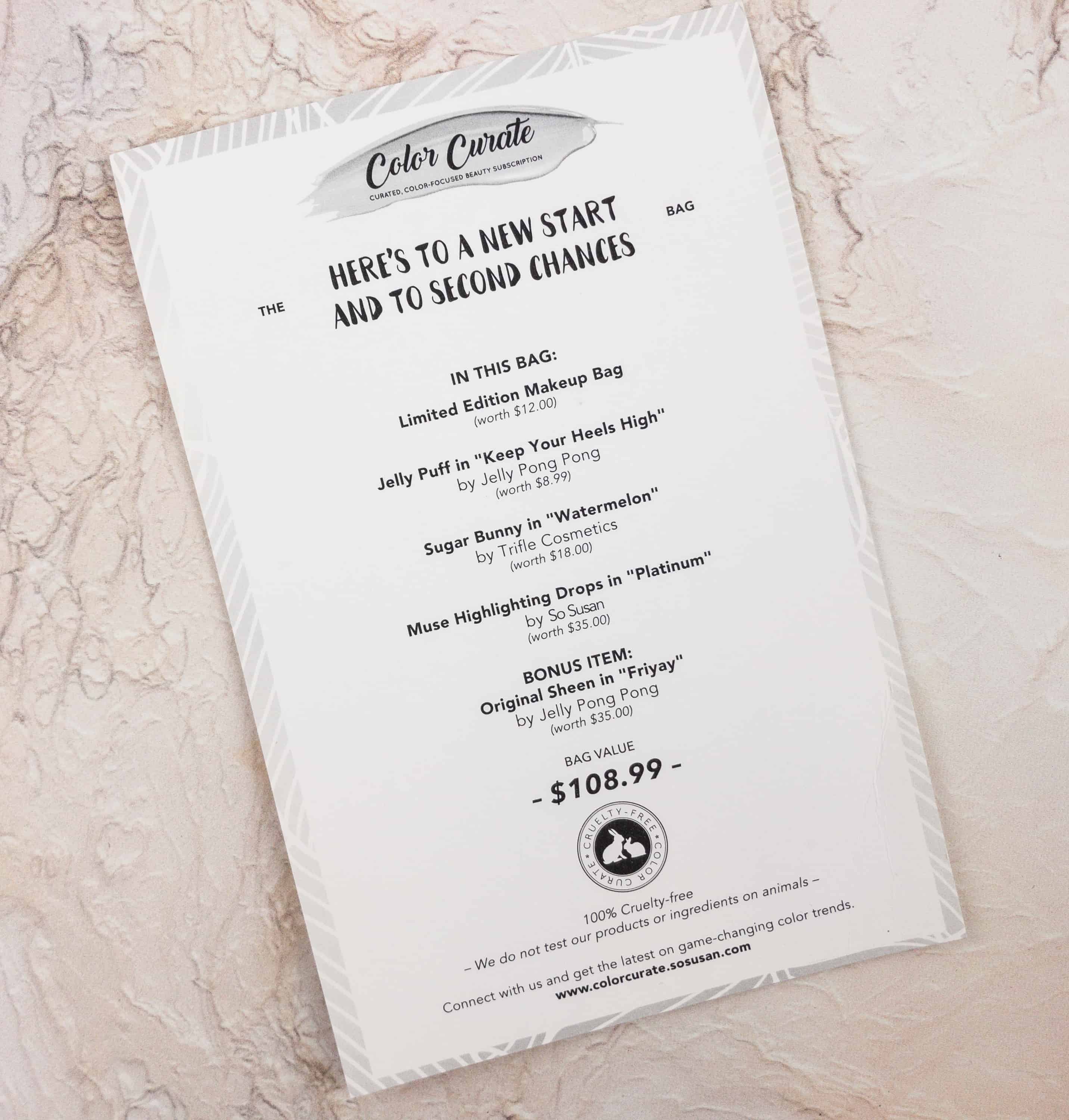 The information card gives you a list of all the items in this curation.
DEAL: Get a free bag when you purchase a 6-month subscription! Use coupon code LIPLOVE1.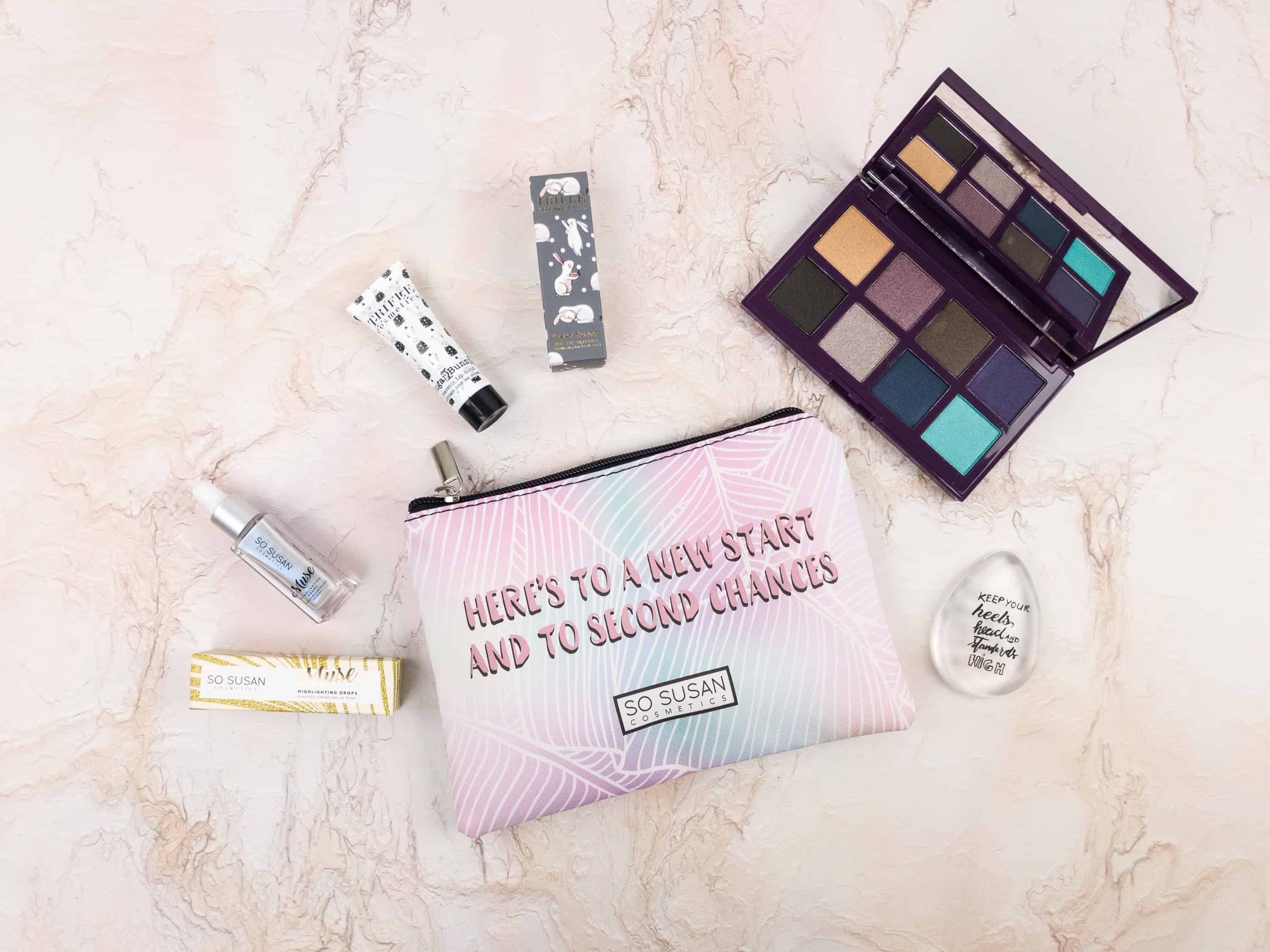 Everything in this month's bag!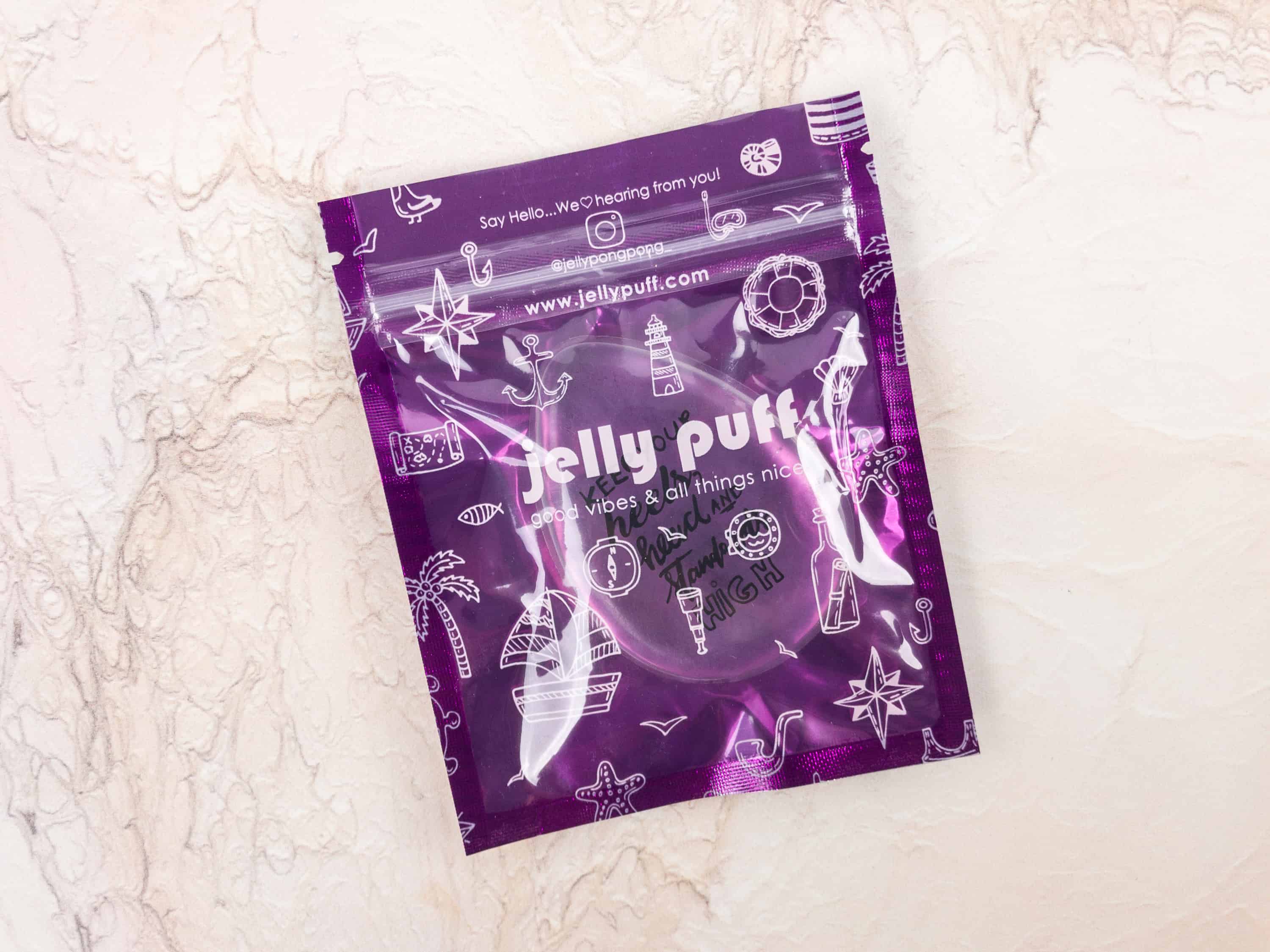 Jelly Pong Pong Cosmetics Jelly Puff in "Keep Your Heels High" ($8.99) To use this silicone puff, just put eye serums or creams on the thin end of the applicator and then apply to the desired area.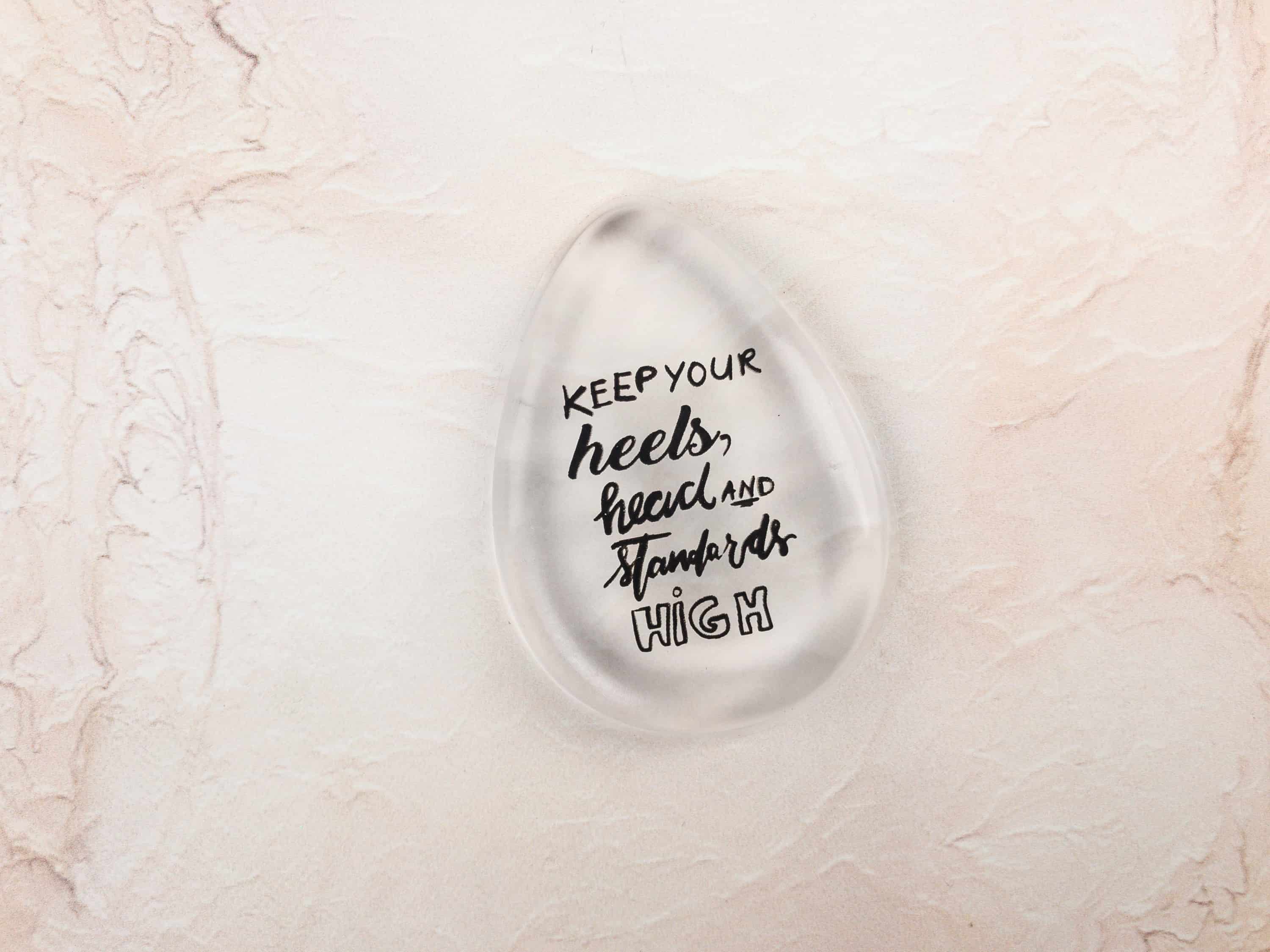 It's a great alternative to the usual sponges because it doesn't cultivate product residue and bacteria from your skin. Application is less messy, and there's less wasted product too. The empowering quote is just a bonus!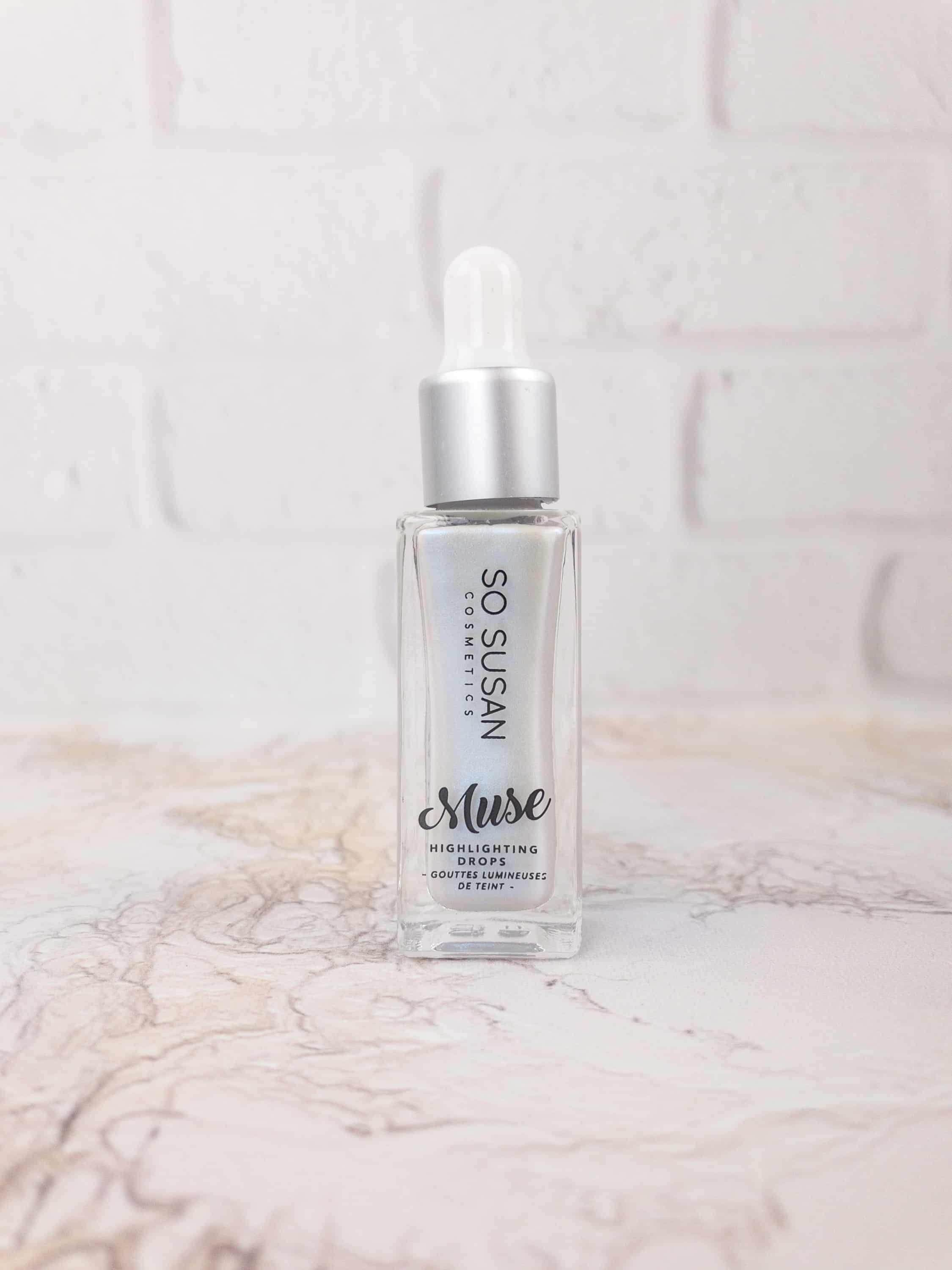 So Susan Cosmetics Muse Highlighting Drops in "Platinum"  ($35.00) This highlighter is in liquid form and it easily adds a boost of metallic radiance to any liquid foundation, cream or serum. It is also packed with tetrapeptide-5 and hyaluronic acid that helps enhance skin elasticity and hydration. I like that it applies so smoothly on my skin while leaving it with a nice shimmer! This item is swatched below above the shadows.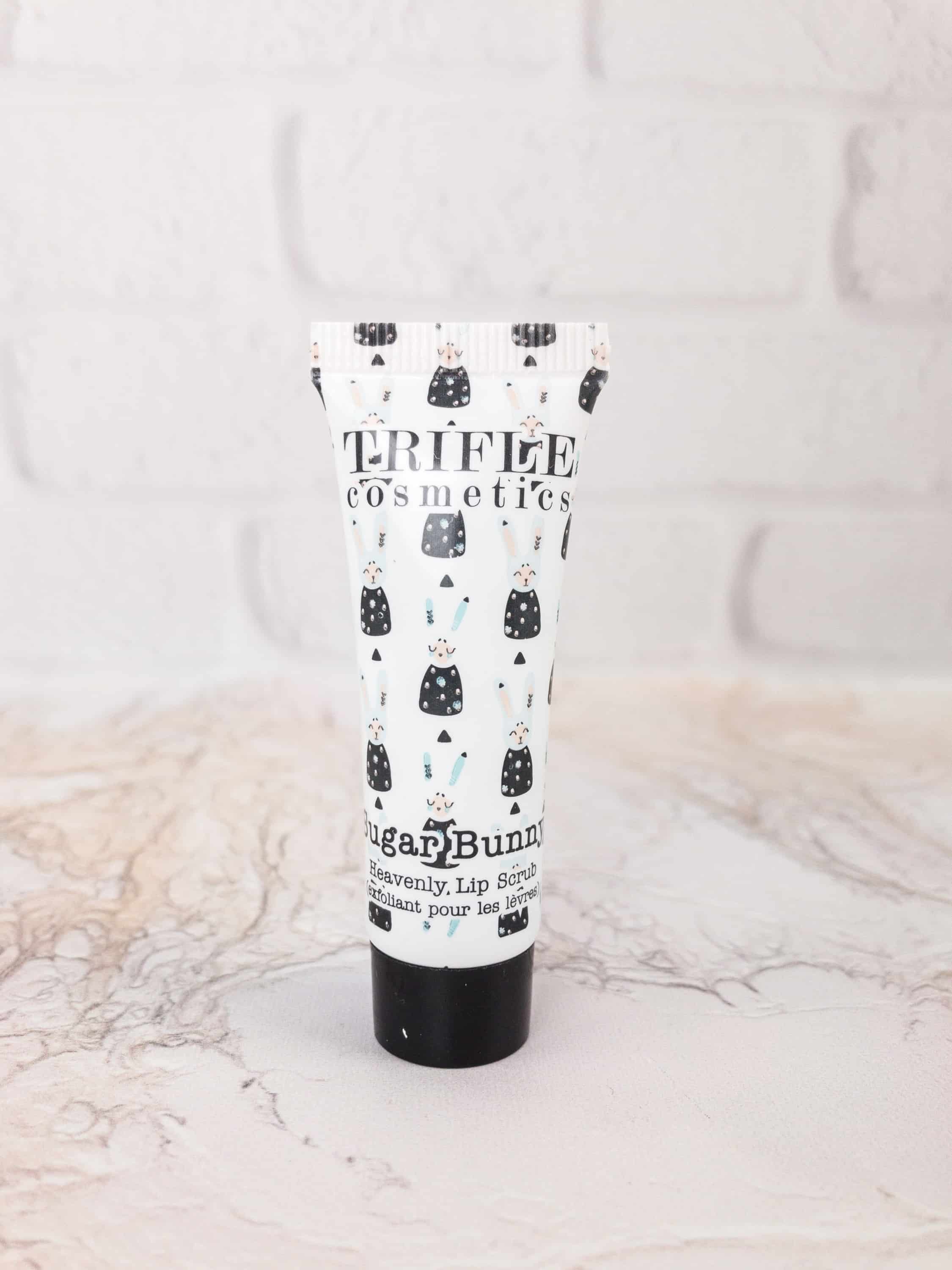 Trifle Cosmetics Sugar Bunny in "Watermelon" ($17.95) Next item is a heavenly lip scrub and it's what I really need in this cold weather! To use, just scoop product onto lips and scrub it using your fingers in a circular motion. It helps in removing chapped skin and leaves the lips with a soft and luscious feeling. Ingredients include vanilla and sweet almond oil. This one is tinted green and I love it – my lips are just destroyed right now and it's been helping remove rough and damaged skin.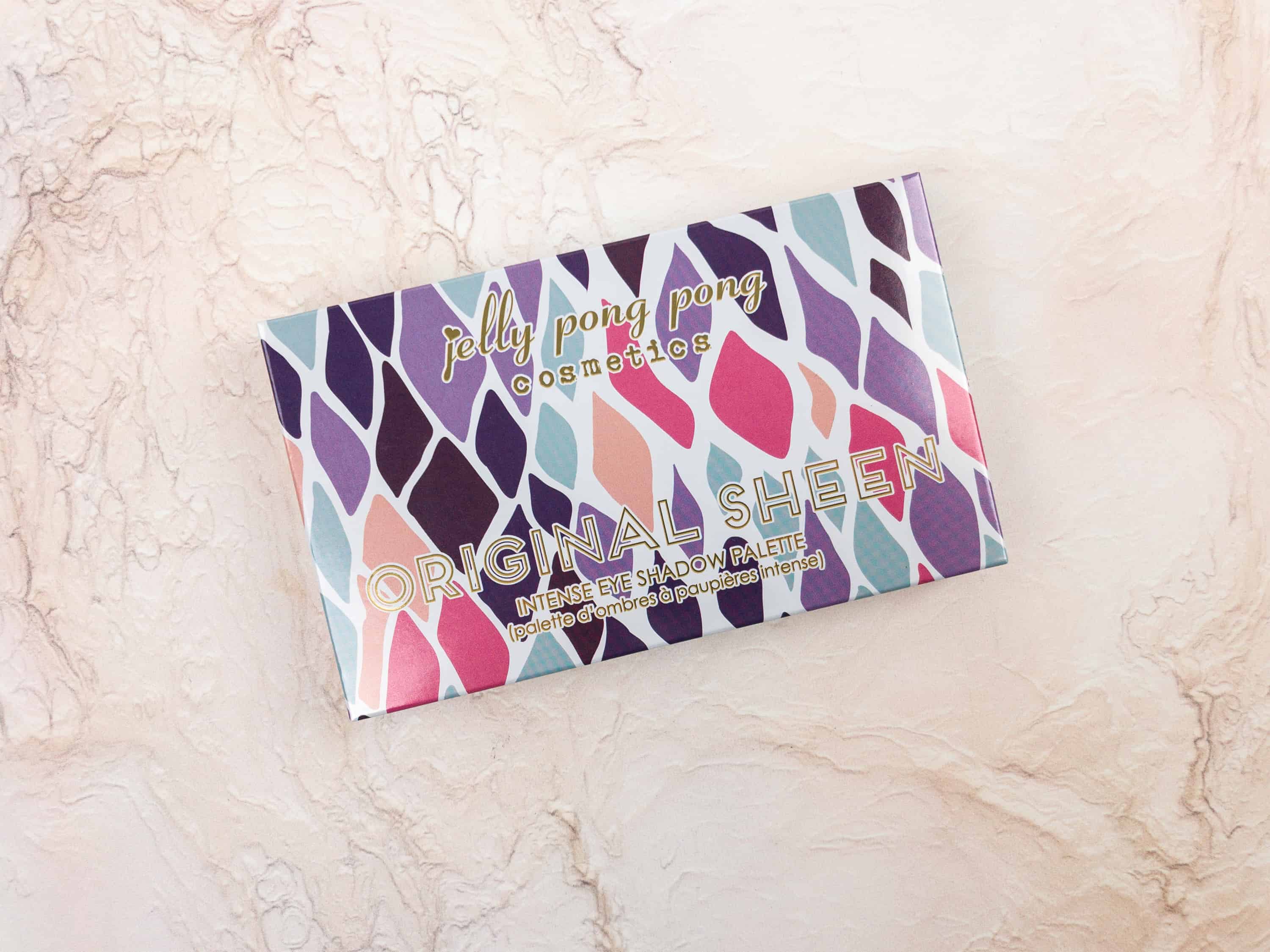 Jelly Pong Pong Cosmetics Original Sheen in Friyay ($35.00) This eyeshadow palette is made with blueberry fruit and coffee arabica seed extracts that helps boost skin elasticity. It has jaw-dropping shades sampled from a mix of shimmery fantasy-inspired hues.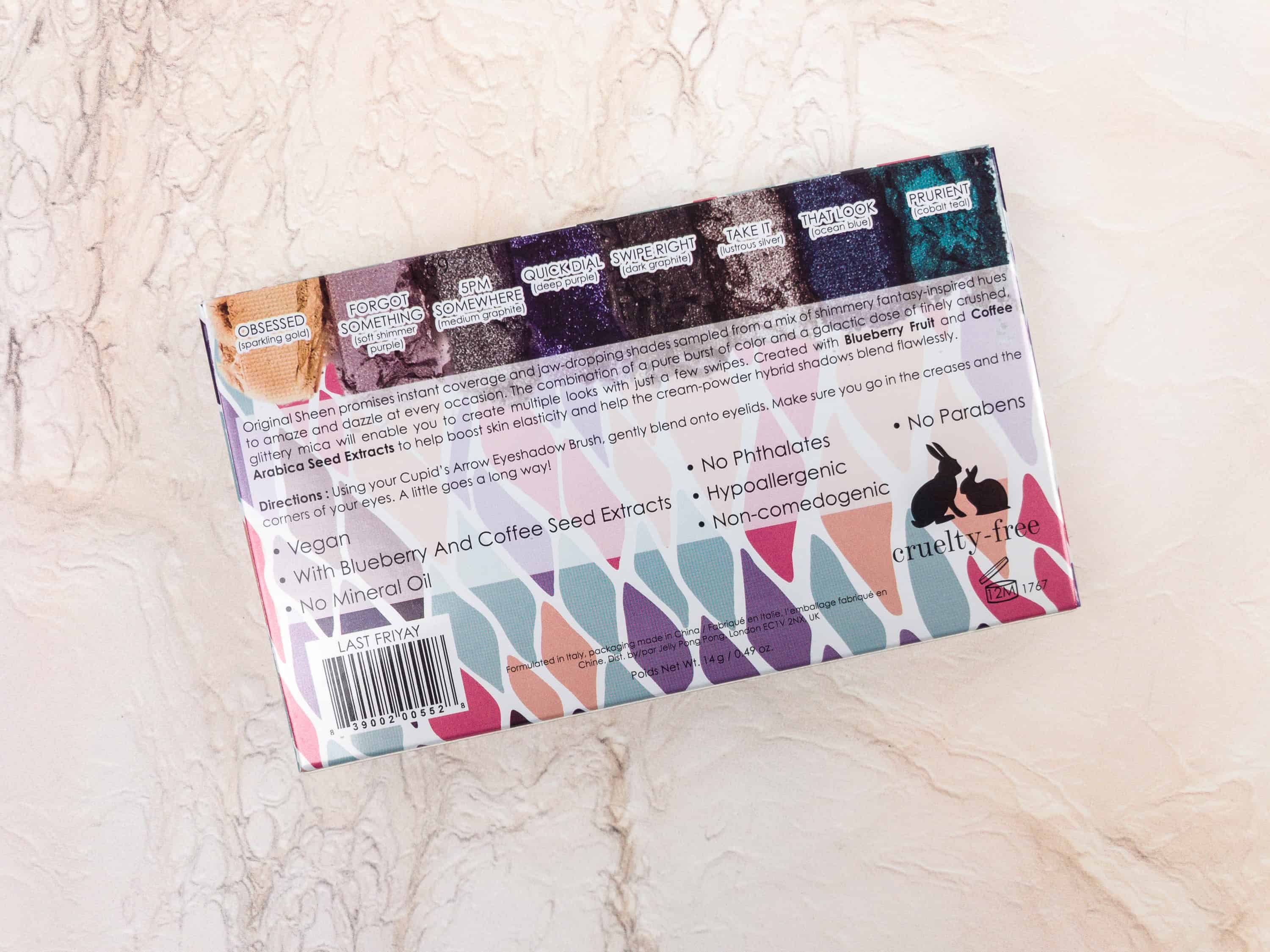 The palette includes 8 shades:
Obsessed, a sparkling gold shade
Forgot Something, a soft-shimmer purple
5PM Somewhere, a medium graphite
Quick Dial, a deep purple shade
Swipe Right, a darker graphite
Take It, a lustrous silver
That Look, an ocean blue hue
Prurient, a cobalt teal shade
These eyeshadows are well pigmented and they blend really well.
It is made from a combination of a pure burst of color and a galactic dose of finely crushed, glittery mica that will enable you to create multiple looks with just a few swipes.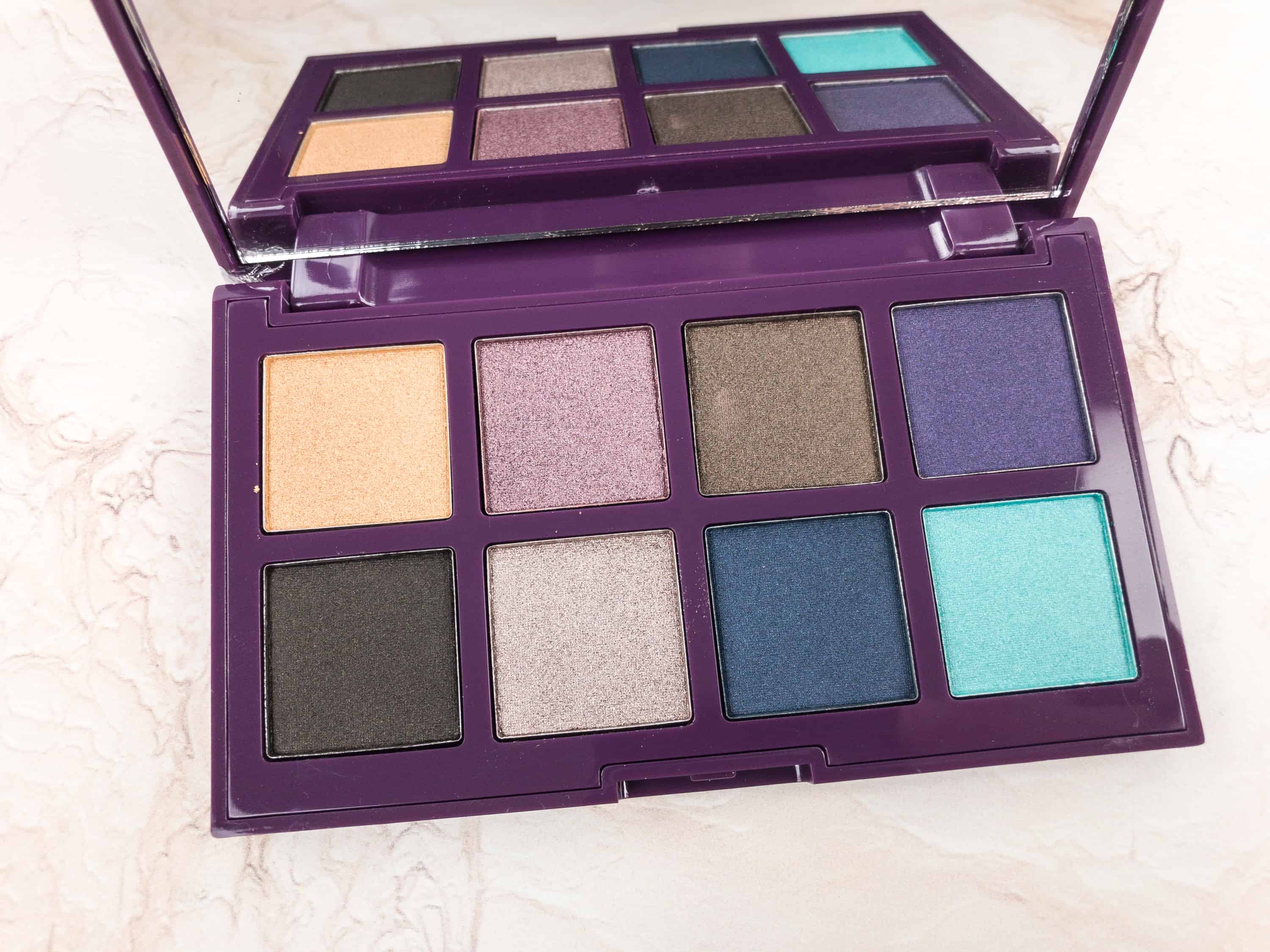 I love the party vibe that these shades are giving me!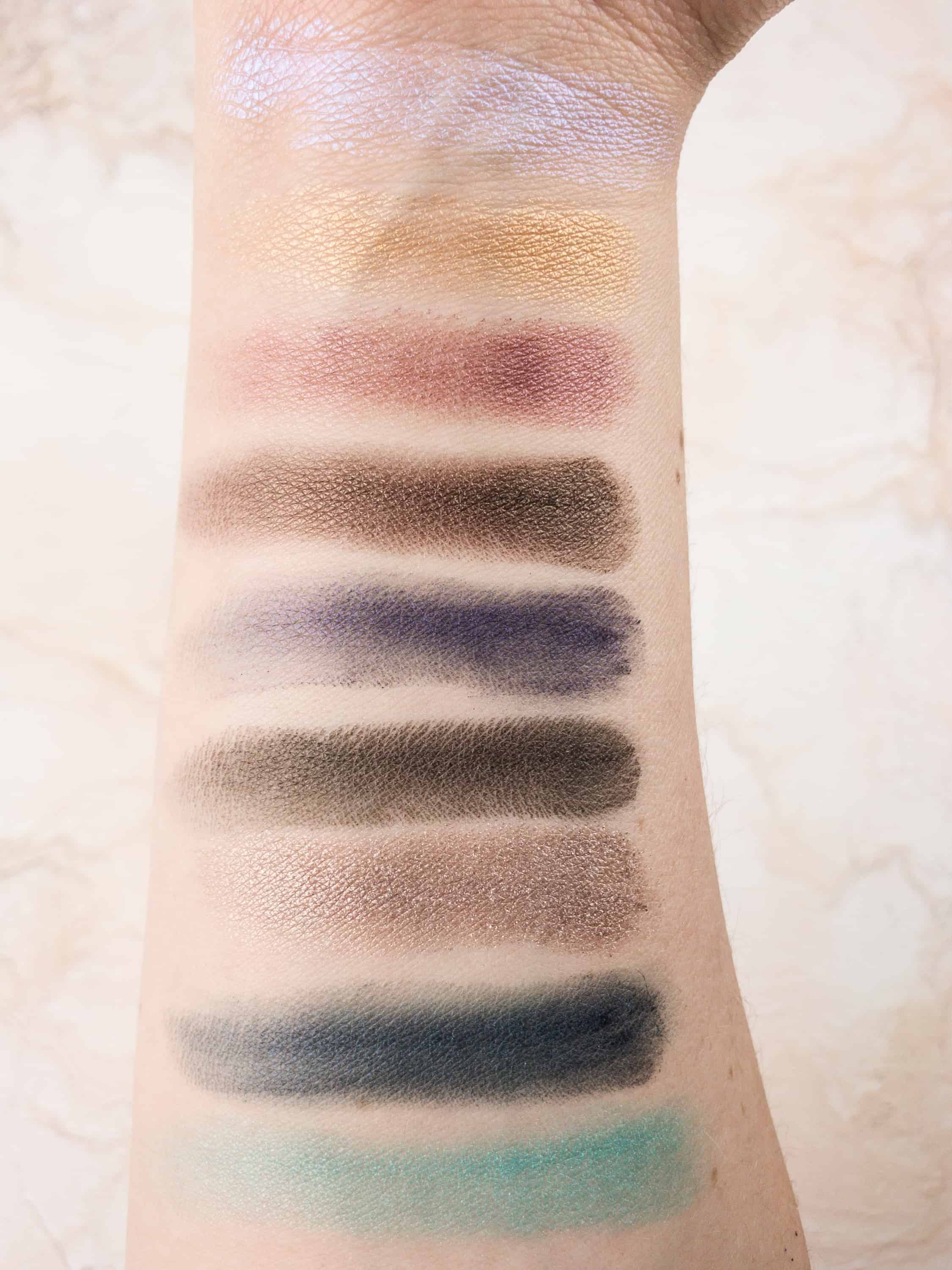 Check out the swatches of the eyeshadow palette! I can't get over the "Prurient" shadow name. It's just so funny I can't help but laugh every time I see it. At the top of the swatches are the highlighter drops.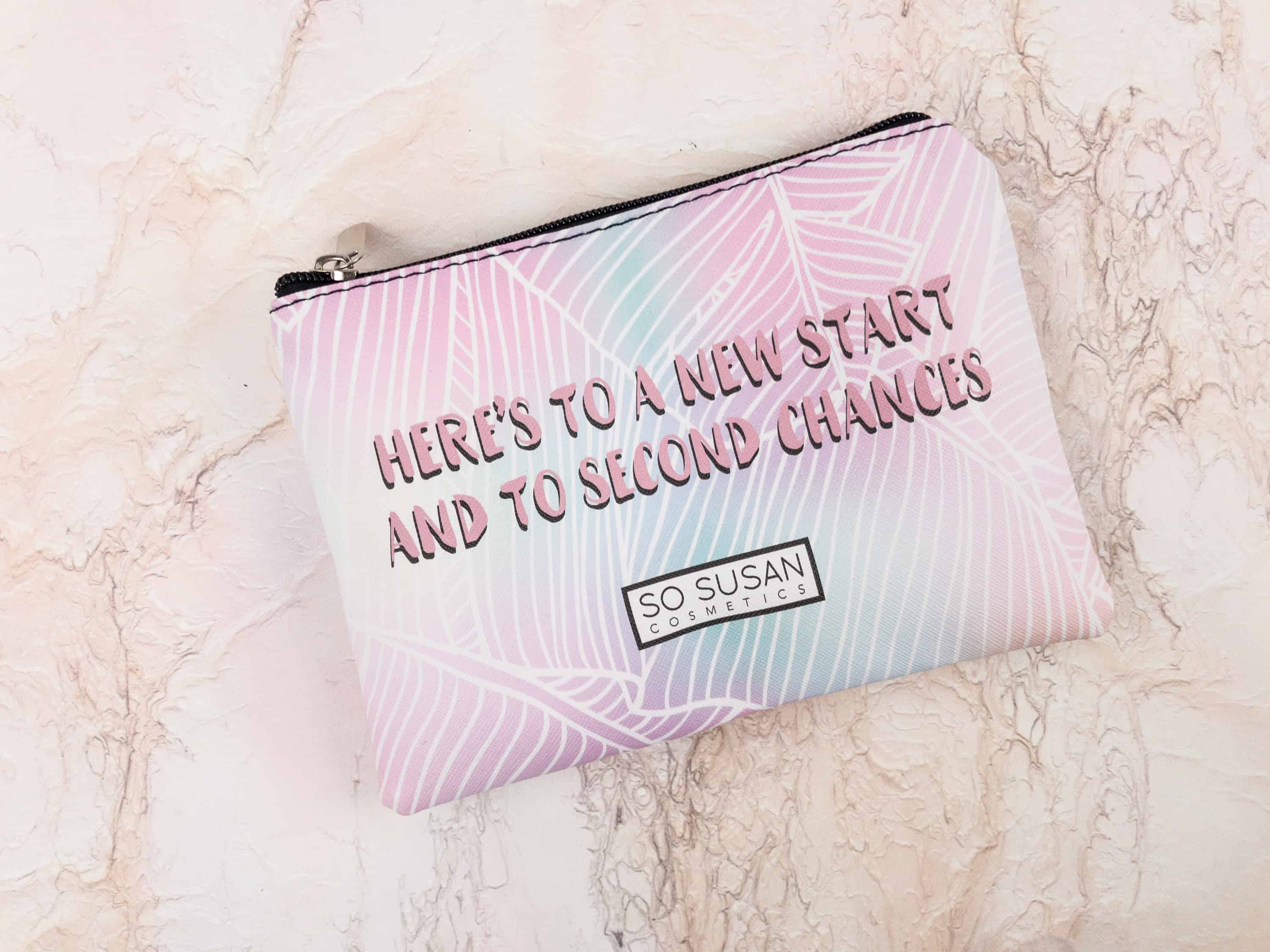 Eco-Chic Makeup Bag January 2018 ($12.00) This bag has a water-resistant inner lining and a rust-resistant zipper. It's dimensions are 7.5 inches x 5.5 inches (19cm x 14cm).
This month's So Susan curation had a nice variety of items as it included something for the eyes, the lips, and even for the skin. My favorite item is the eyeshadow palette! I like how it is leaning towards darker hues, but they still look pretty and elegant. It's a great subscription for its price and the cute bag makes it extra fun every month!
What do you think about the So Susan Color Curate?