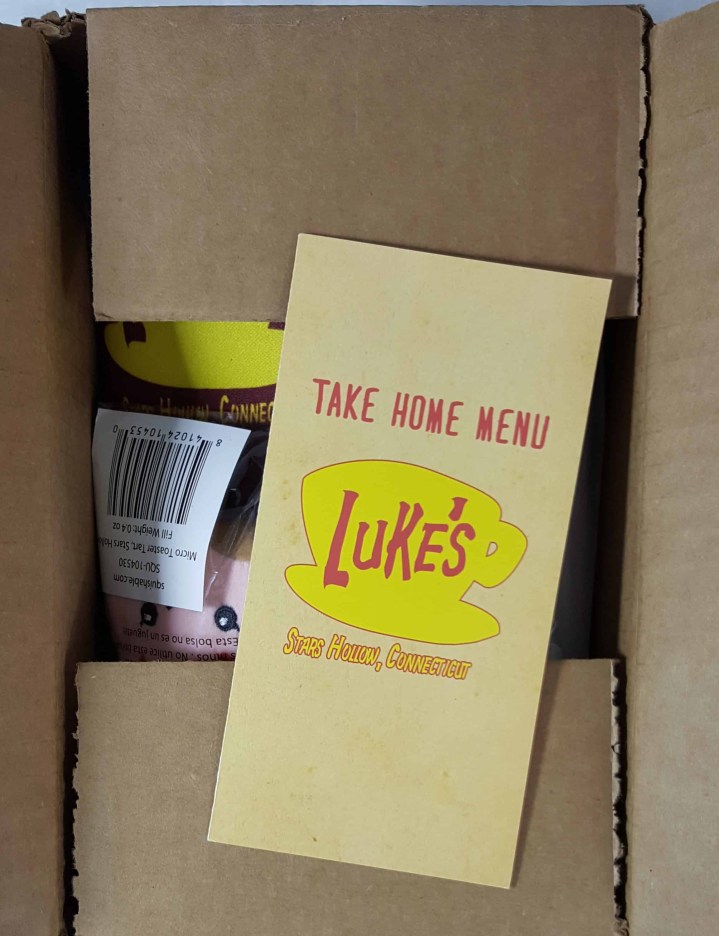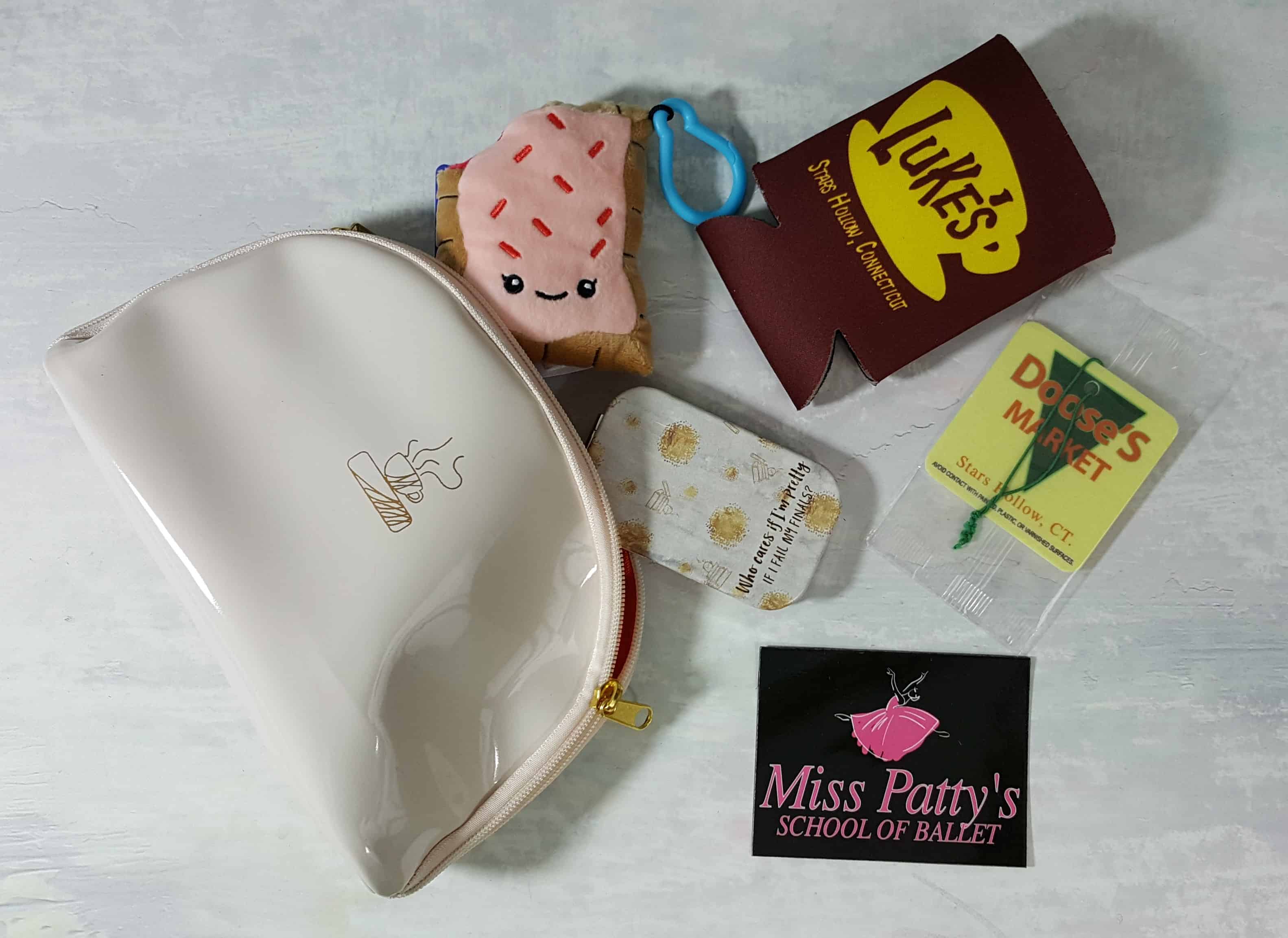 Stars Hollow Monthly features 3-5 products which are inspired by the Gilmore Girls and the fictional town of Stars Hollow. (Inspired by, meaning items that relate to, are inspired by, or are artistic renderings of the show and its inhabitants/characters.) For $34.90, you can expect anything from tee shirts (on occasion), home decor, fashion accessories, bath & body items, and much much more.
The goal for the Stars Hollow Monthly Box is to send subscribers items they will adore as fellow Gilmore enthusiasts, but also items anyone would enjoy – high-quality items that won't gather dust in a drawer somewhere.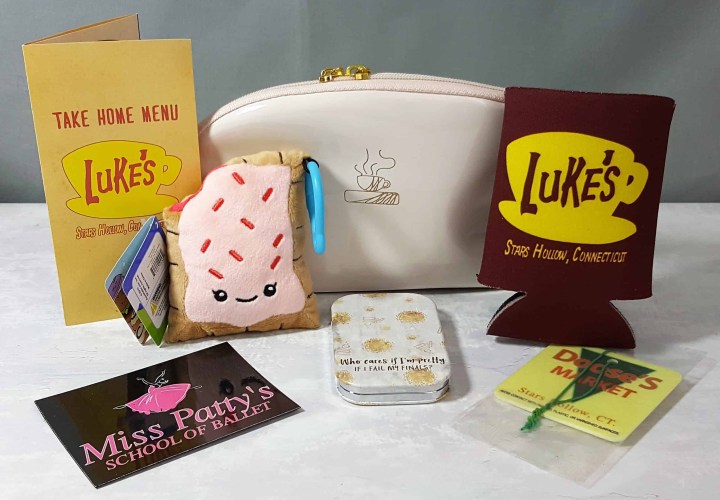 Everything in my November Stars Hollow Monthly Box. The Pop Tart cuteness is too much to handle!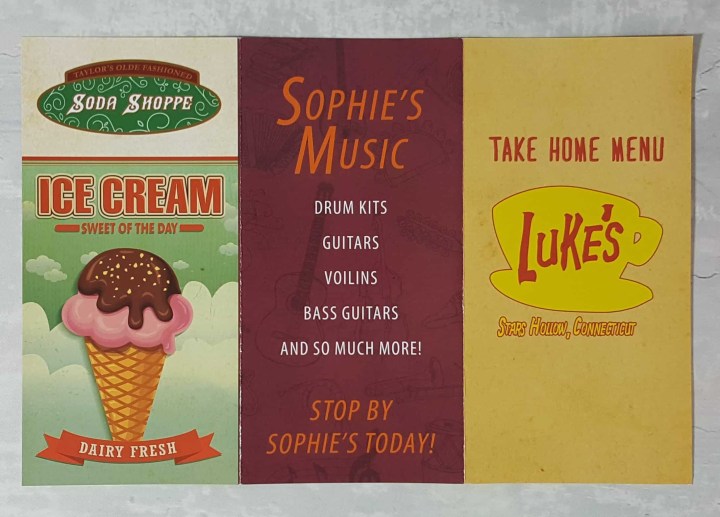 The outside of Luke's menu features ads from around Stars Hollow. We've changed ads for the fall season. The featured venues are Taylor's Olde Fashioned Soda Shoppe and Sophie's Music. Who doesn't remember the legendary Carole King as Sophie?!? The ads change every few months, and I love trying to figure out what will be highlighted next.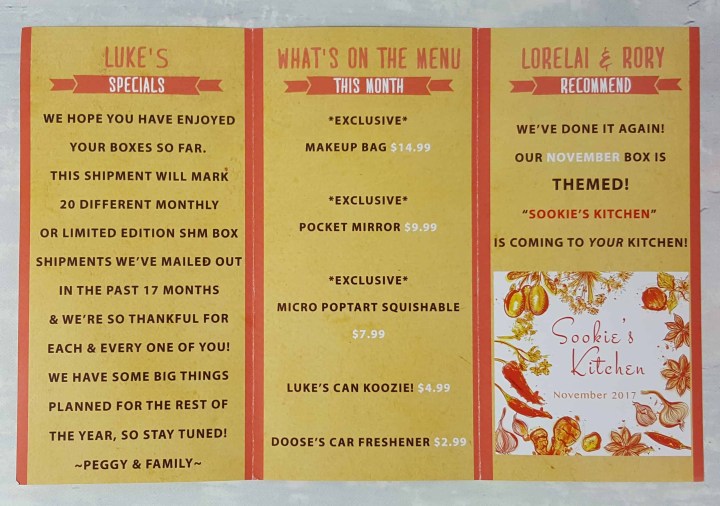 The inside of the menu contains a list of the box contents with pricing, as well as discount codes and offers for other Gilmore Girls related products. StarsHollowMonthly.Live is a new site to grab your favorite Gilmore Girls products. Be sure to check to check the sales and giveaways on the site too!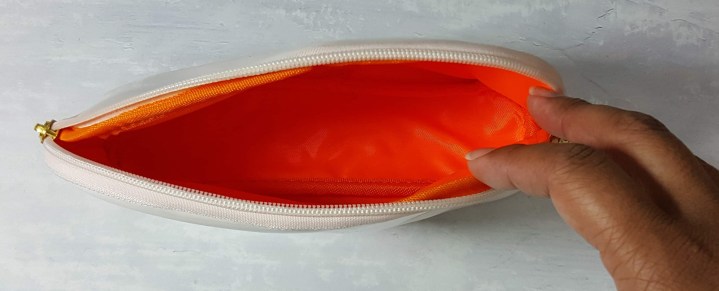 *EXCLUSIVE* Make Up Bag ($14.99): This PU bag features a lined interior and has the Stars Hollow Monthly logo on the front. I like the clean look of the bag, and the blush color is nice. If you're like me, the materials are nice because they are easy to clean. I tend to make a mess of my make up bags.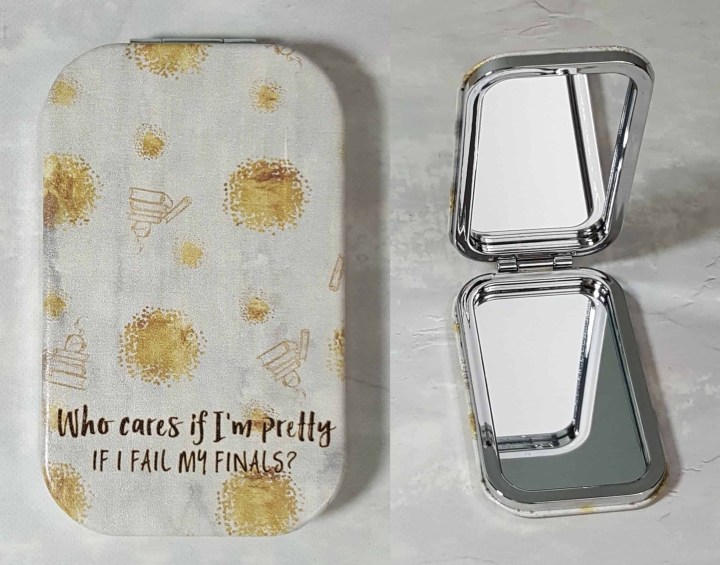 *EXCLUSIVE* Pocket Mirror ($9.99): Back in season 3, Rory was finishing up her last term at Chilton and fretting over finals when we got this gem of a quote. While Lorelei felt that sleep was better than passing, I'm kind of on Rory's side (or at least I was at that age). ? This folding pocket mirror features both a normal and magnified view inside of a coffee-stained Stars Hollow Monthly logo'd case.
*EXCLUSIVE* Micro Poptart Squishable ($7.99): A 3″ plush version of the Gilmore food favorite and symbol of rebellion. This little cutie has poly fill and and a plastic keychain clip attached. It also features the Stars Hollow Monthly logo embroidered on the back.
Luke's Can Koozie! ($4.99): Turn any can into a beverage from Luke's Diner. This neoprene koozie fits a standard 12 oz. can. I was not able to find the exact item online, but I did link a similar item for reference.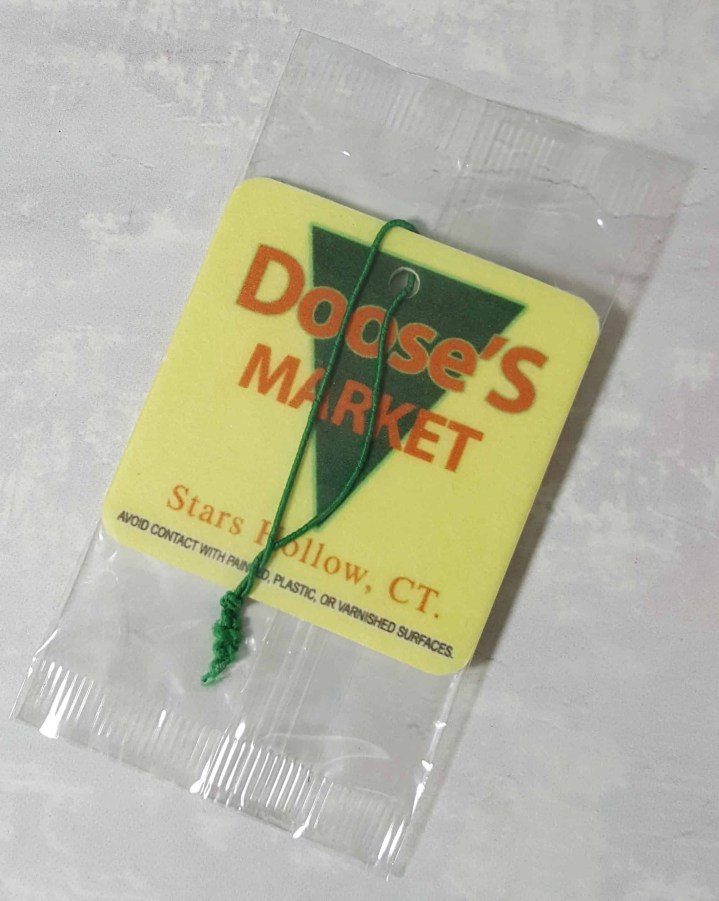 Doose's Car Freshener ($2.99): I wonder if Taylor has asked for royalties on his logo. LOL! I love using these types of card air fresheners in closets – they're great for smaller spaces.
*BONUS* Gilmore Girls Magnet (free):  Another magnet for the collection! This one features the Miss Patty's logo.
This was a fun box, and I will get a lot of use out of the mirrored compact and make up bag. Based on the prices listed, October's Stars Hollow Monthly Box is valued at $41. In case you missed it, the menu held a hint for next month's box. It will be themed Sookie's Kitchen. I am so excited!!! I think I love my kitchen as much as Sookie does hers.
What was your favorite item this month? Leave a comment below and share your thoughts.