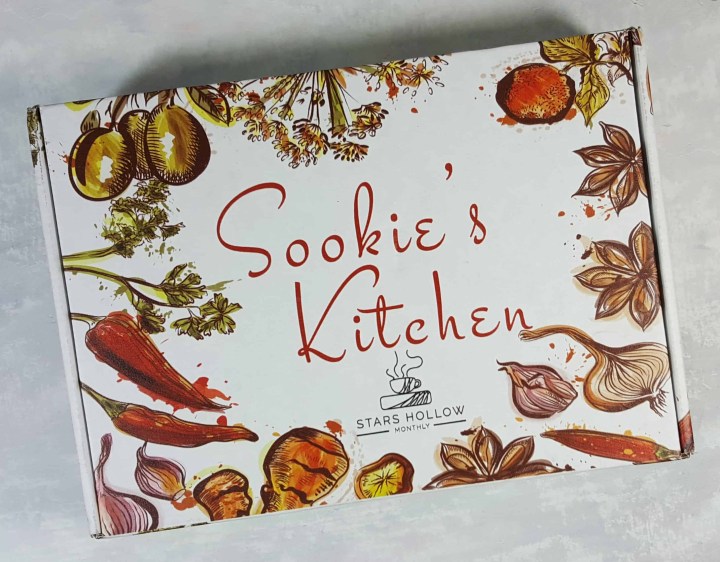 Stars Hollow Monthly features 3-5 products which are inspired by the Gilmore Girls and the fictional town of Stars Hollow. (Inspired by, meaning items that relate to, are inspired by, or are artistic renderings of the show and its inhabitants/characters.) For $34.90, you can expect anything from tee shirts (on occasion), home decor, fashion accessories, bath & body items, and much much more.
The goal for the Stars Hollow Monthly Box is to send subscribers items they will adore as fellow Gilmore enthusiasts, but also items anyone would enjoy – high-quality items that won't gather dust in a drawer somewhere.
I was so happy when I found out that the theme for this month's Stars Hollow Monthly Box was going to be Sookie's Kitchen! The items here have not disappointed.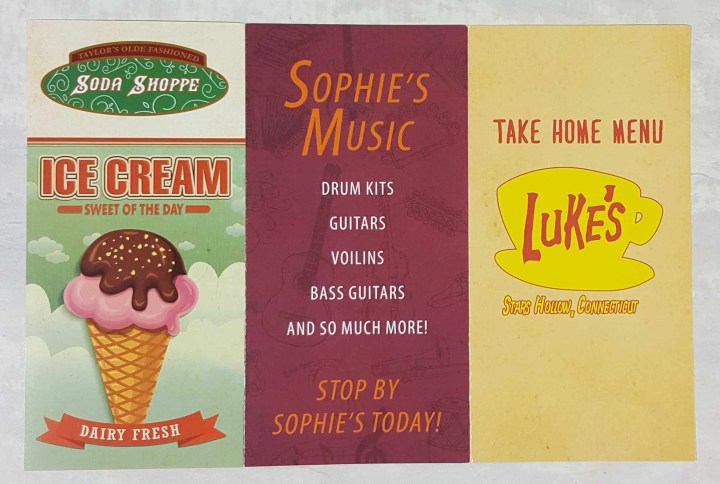 The outside of Luke's menu features ads from around Stars Hollow. The ads change every few months, and I love trying to figure out what will be highlighted next. The featured venues are Taylor's Olde Fashioned Soda Shoppe and Sophie's Music. Who doesn't remember the legendary Carole King as Sophie?!?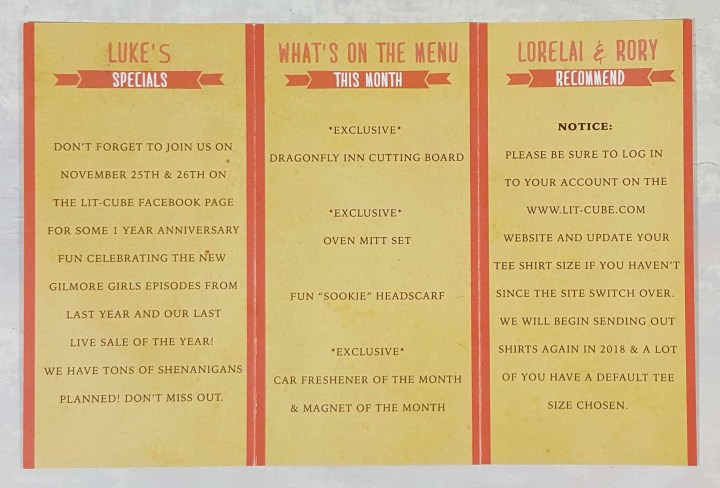 The inside of the menu contains a list of the box contents with pricing, as well as discount codes and offers for other Gilmore Girls related products. StarsHollowMonthly.Live is a new site to grab your favorite Gilmore Girls products. Be sure to check to check the sales and giveaways on the site too! Not sure why, but for some reason this month's box did not have any pricing included. I hope this is just an oversight and is corrected with the next box.
*EXCLUSIVE* Dragonfly Inn Cutting Board: Straight from the Dragonfly Inn, this bamboo cutting board is etched with the hotel's logo and has a silicone lined finger grip. It measures 9.75″ x 7.25″ and is the perfect size for serving a small cheese or fruit plate before your Thanksgiving meal.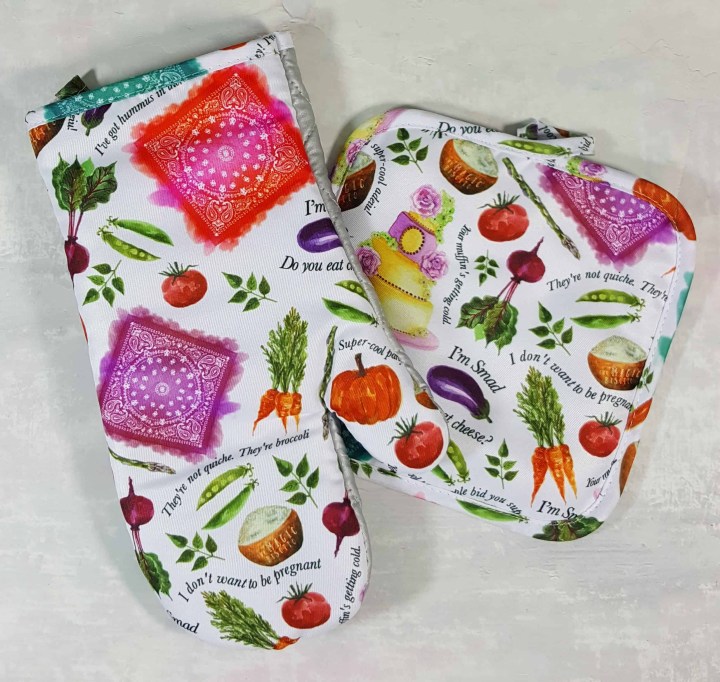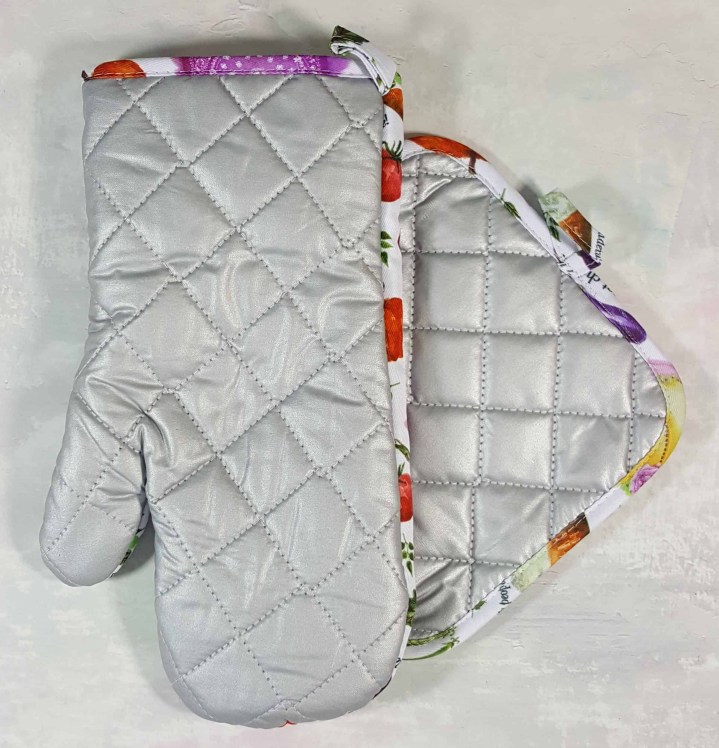 *EXCLUSIVE* Oven Mitt Set: This set comes with a 15″ oven mitt and a pot holder. One side is silver heat-reflective fabric, and the other is Sookie-fied. There are some of her trademarks like the bandanas and cake, as well as some quotes. I love how bright and fun the pattern on these is and think they will look good with my kitchen decor.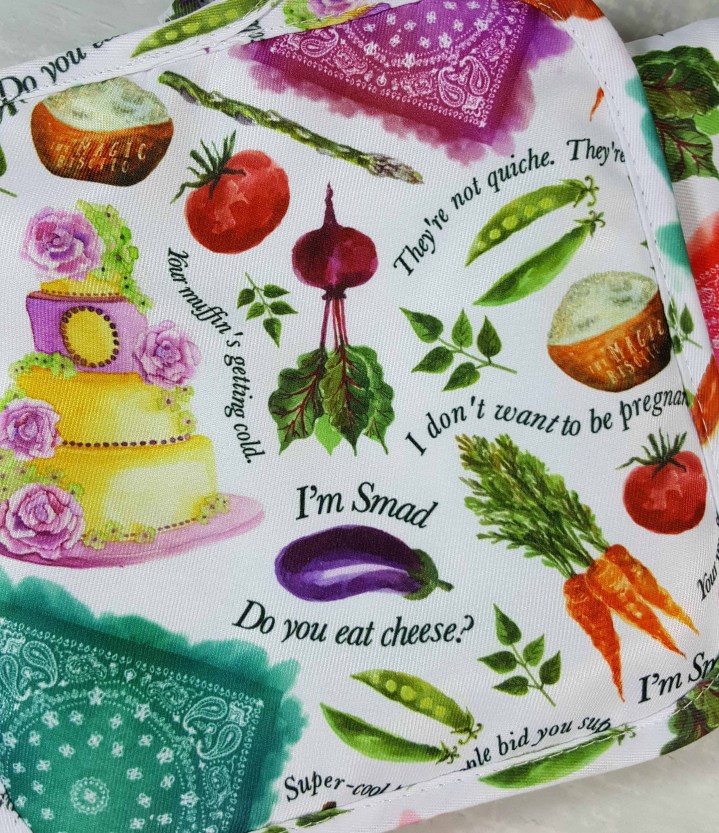 Here's a closer look at the pattern on the set. No reason to get Smad at this.
Fun "Sookie" Headscarf: Whenever she was in the kitchen, Sookie was in a headscarf. While this isn't a full headscarf, it takes the iconic bandanna pattern and works it with a fun headband design. Use it to keep your hair out of your face when you're feeling as adventurous as Sookie in the kitchen.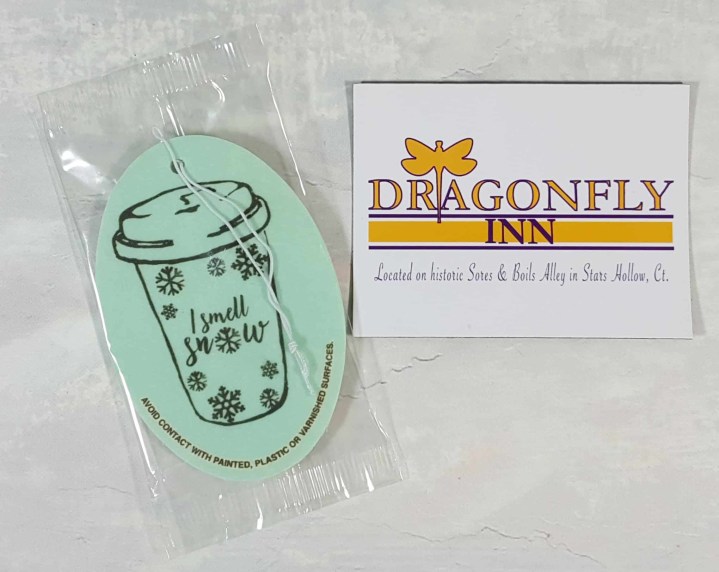 *EXCLUSIVE* Car Freshener of the Month ($2.99?): "It's like dogs and high pitched noises…" That's how Rory describes Lorelei's ability to sniff out the first snow of the season. With this air freshener, you can get a whiff of snow too. Price listed is based on pricing from a previous box.
*EXCLUSIVE* Magnet of the Month: I am running out of space on my fridge thanks to these Gilmore Girls/Stars Hollow magnets. Going along with the theme of Sookie's Kitchen, this one contains a full color version of the Dragonfly Inn logo.
Unfortunately, I was not able to put a value to this month's Stars Hollow Monthly Box as the items were mostly exclusives. While I loved all of the pieces, I don't feel that they made up the $35 subscription cost. However, when you factor in the care that was used to curate the assortment and the unique Gilmore Girls touches, you can see the value in the box. I can't wait to see what holiday goodies will be in December's curation.
What was your favorite item this month? Leave a comment below and share your thoughts.