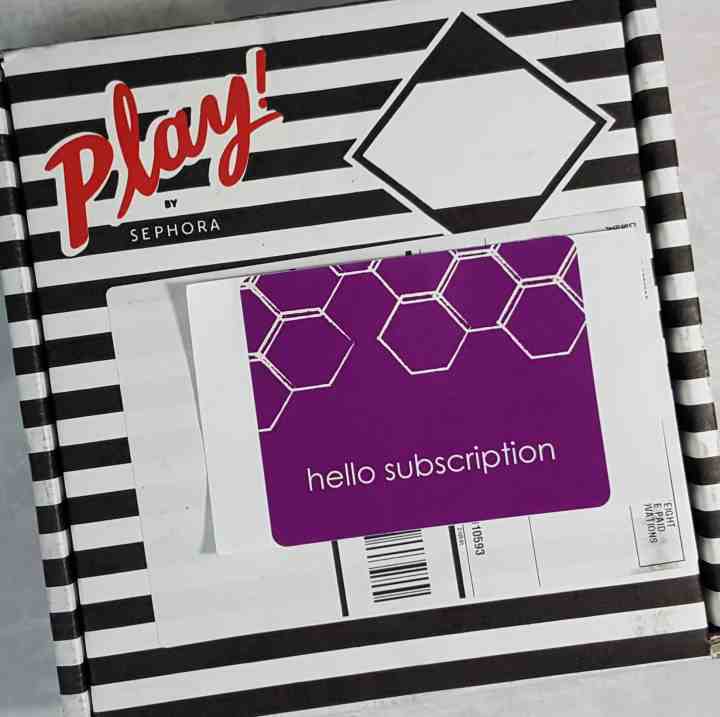 Play! by Sephora is a monthly subscription box that brings only the best and exclusive Sephora beauty and makeup samples. The subscription costs $10 per month, and you'll get 5 deluxe beauty products, a beauty bonus, a fragrance bonus, playlists, plus coupons you can use when you visit in-store.
Everything arrives packed in a bag, preventing items from rolling around in the box.
Time for a little glam session to get you ready for the holiday party season. Satin adds a touch of luxe to this month's bag.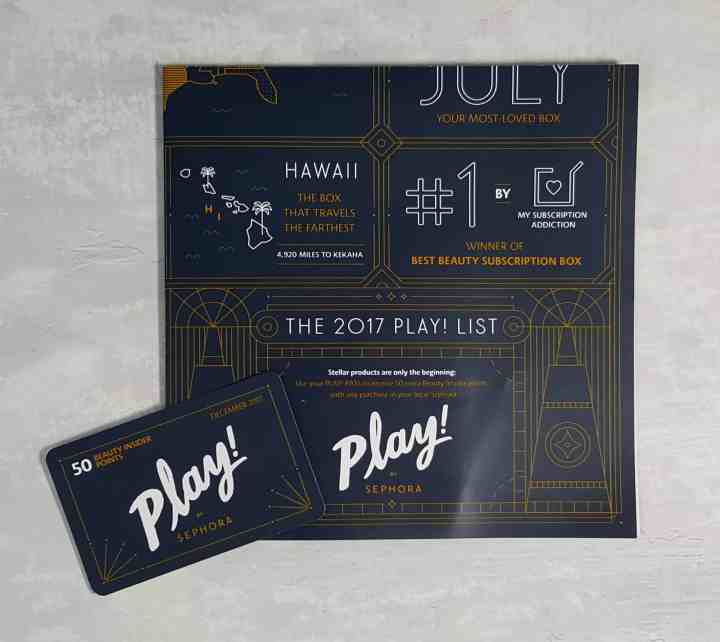 Don't forget about your Play! Pass. It gets you 50 extra Beauty Insider points with a purchase from the box (in-store only). Your subscription also entitles you to Play! Date meetups, if your store participates. I feel like I'm looking at a set of beauty blueprints. Am I supposed to build a better me with the products? LOL
While Glam Straight is the them for December, Sephora took some time to highlight a few key figures from 2017 as a way to close out the year. And, don't forget to check out The Beauty Insider Community. Create a profile and start joining the discussion!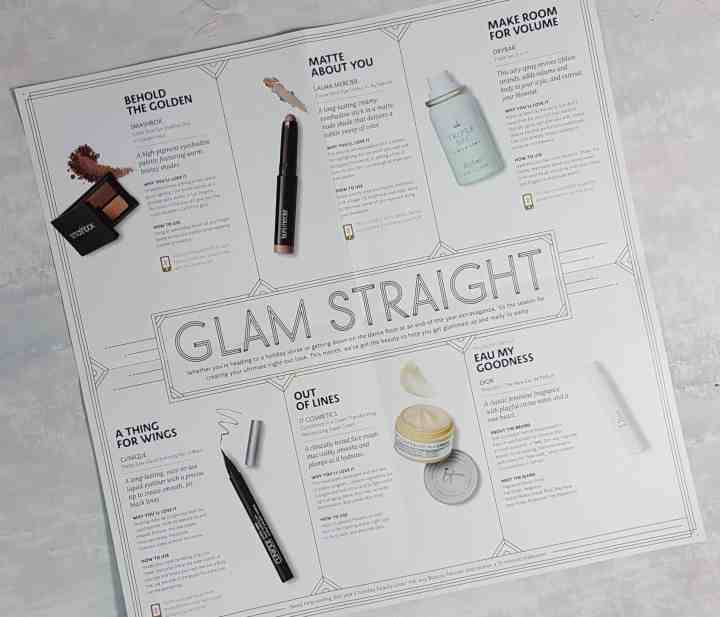 The fold out poster shows a list of all the items included in this box plus product/brand trivia and beauty tips. You can access all of the information and also watch videos right on the Sephora site or use the app to scan the sheet for more info!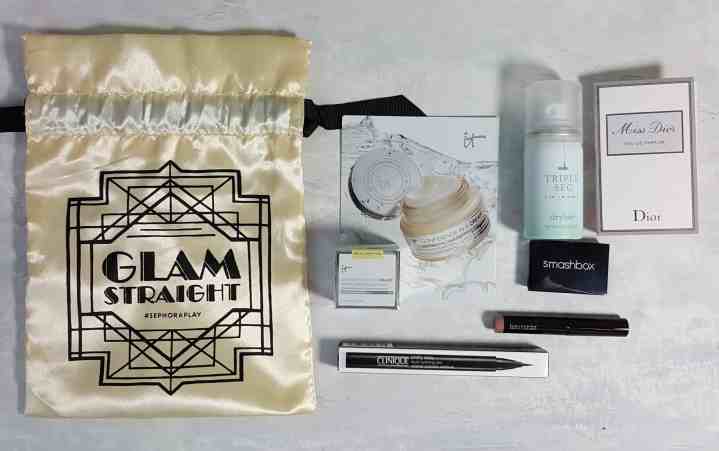 Everything in my box! My variation was box 593. Click here to see variant items in other boxes!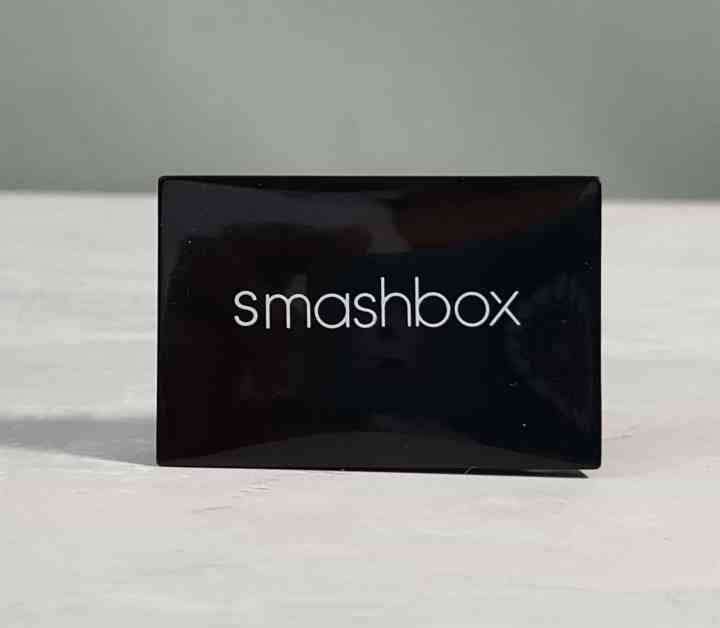 SMASHBOX Cover Shot Golden Hour Eye Shadow Duo in Turned On/Psyched ($6.49?):  I wasn't able to find this exact product on Sephora.com, but it was available on Amazon for $10.99. I realized over the holidays that I might have a nude/neutral eyeshadow addiction; I have 6 palette from different brands and all are their version of nudes. ??‍♀️ So, you know that this duo was right up my alley. The formula glides on smoothly and is easy to blend or build up. These shades have a light metallic finish with subtle shimmer. The full palettes (6 variations) are inspired by trends in the brand's L.A. photo studio. Here's how Smashbox describes the shades in Golden Hour:
Golden Hour (creamy, lit-from-within shades): This palette's finishes range from matte to sparkle, and the sultry, golden shades are rich and creamy so you can blend and build a custom smolder.

LAURA MERCIER Caviar Stick Eye Color in Au Natural ($17.68):  I'm not sure what I expected when I opened this. The finish was a little chalkier than expected. Yes, this is one of the matte shades, but it looks like it has some shimmer/highlight to it. I liked how easy it was to apply and that there was no fallout. The color works as a base shade or highlighter, but not as a finisher for me. Be sure to check out the video on the product page for a quick day-to-night transition using the Caviar Stick.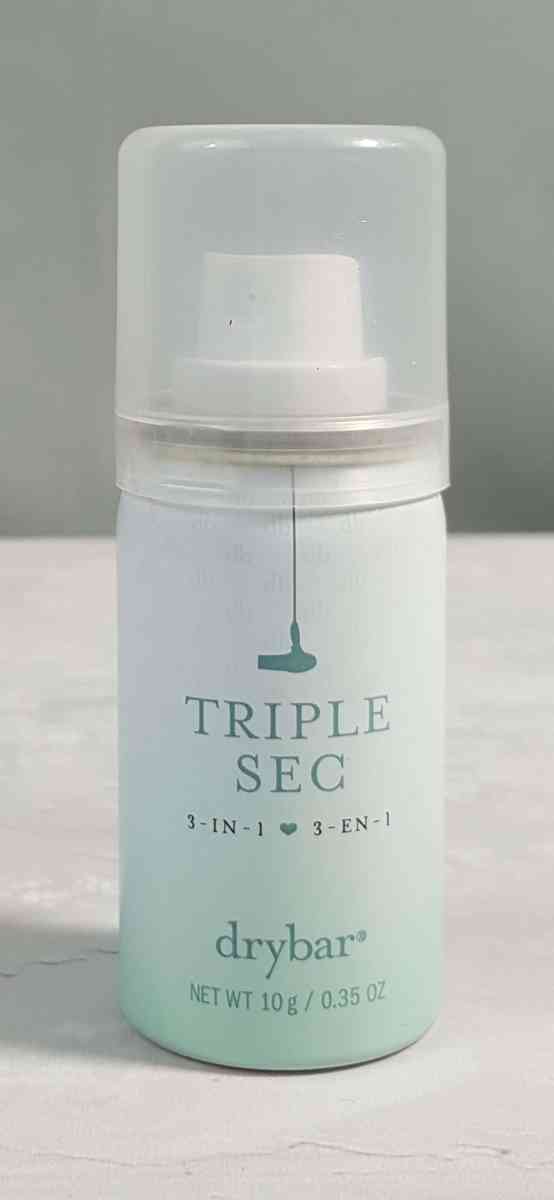 DRYBAR Triple Sec 3-in-1 ($2.17):  This formula from Drybar provides texture, volume, and refreshes hairstyles. This was not one of my favorites in this month's box. I didn't like the overly sweet scent and prefer Drybar's Detox over this formula. I have curly (but fine) hair. The volume was nice, but the texture was odd. This might be better for me to use with a blowout/straightened style. BTW, I noticed that last December Sephora sent me a Drybar product. Should I expect one in the December 2018 box too?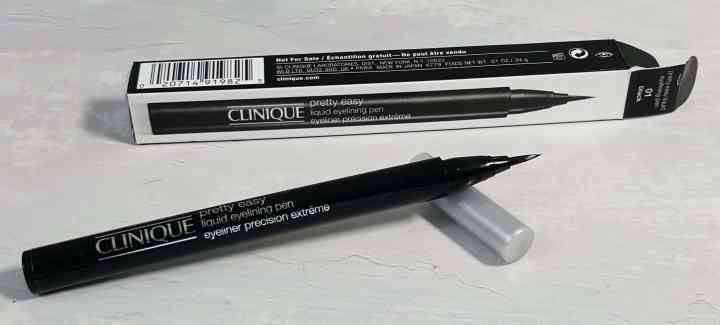 CLINIQUE Pretty Easy Liquid Eyelining Pen in Black ($21.00): Where has this eyeliner been?!? I've never been good with liquid liners, and the tips of most pens either dispense too much product or make a heavier/more dramatic line than I like. This pen is perfect. The tip feels like a brush (which I can work like a pro with gel liner) and gives a super fine line that I can build up as I want. The formula is also smudge-proof, so no late day raccoon eyes.
IT COSMETICS Confidence in a Cream ($5.69): I am happy with almost anything by it Cosmetics and was very excited to get this cream in my bag. The formula was developed with plastic surgeons and is designed to boost skin's natural regenerative cycle. Collagen, hyaluronic acid, and niacin work together in this cream to plump, smooth, and firm skin. This absorbs quickly and left my skin feeling noticeably softer. I have oily skin, and this did not feel heavy. To me, it seemed to help control the excess oil buildup – I wasn't as shiny at the end of the day as I am with some other moisturizers.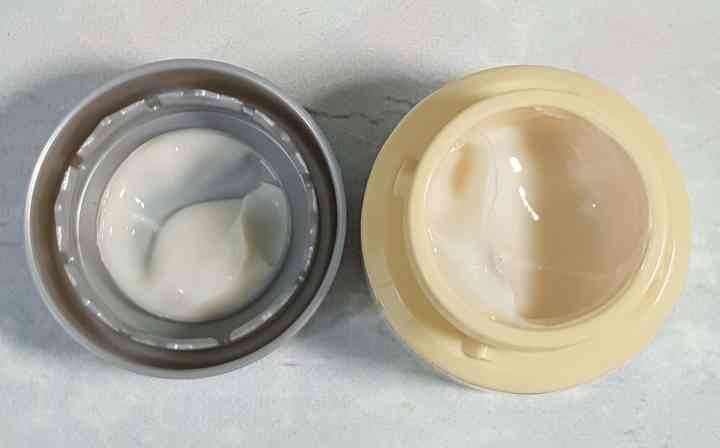 The cream is light, and a small amount is all that is needed to cover your face.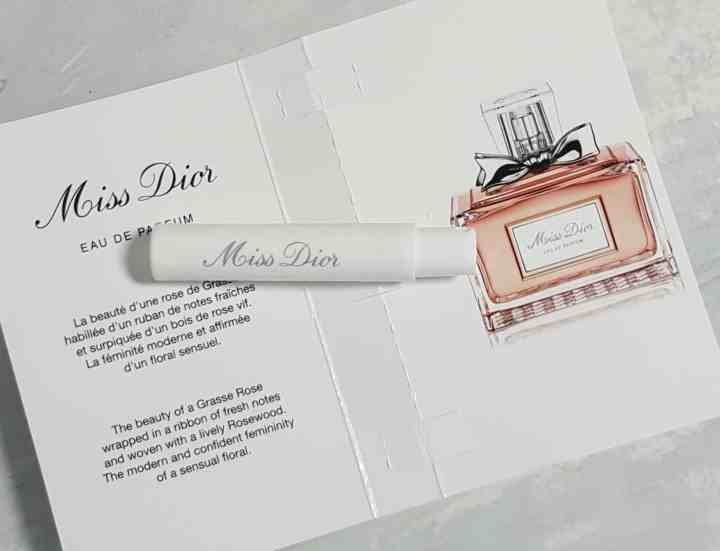 DIOR Miss Dior ($2.00):  Normally, I am not a fan of rose-based scents. However, the rose in this blend is soft and works in concert with the bergamot and pink peppercorn for an eau de parfum that I can truly say I like. This version is a reinterpretation of the original Dior fragrance. The key notes are Bergamot, Grasse Rose, and Rosewood.
"I created Miss Dior's floral facet, emphasizing the power of its roses in order to make it sensual. A declaration of love to love!"—François Demachy, Dior Perfumer-Creator
Swatches, from top to bottom: Smashbox Golden Hour Duo – Psyched and Turned On, Laura Mercier Caviar Stick, and Clinique Pretty Easy Liner.
The Clinique eyeliner pen was absolutely my favorite item in this month's box, with it Cosmetic's Confidence in a Cream a close second. Although the products in my Play! by Sephora boxes don't always work for me, I do know that I am receiving quality samples. That is one of the many reasons that I get excited when I see the black and white stripes in my mailbox. The subscription also has a good value to cost ratio. The December box was valued at $55 – I paid $10.
Are you a Sephora Play subscriber? What did you think of the box this month?