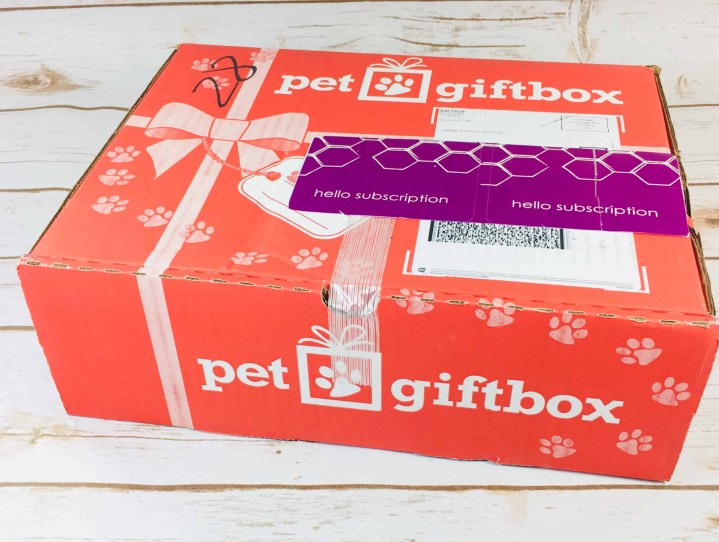 PetGiftBox is a monthly subscription box for dogs or cats. A selection of toys, treats, chews and accessories are included based on your pet's size. With each purchase you can earn points to redeem for free boxes and other great goodies. Plus, each purchase helps feed 10 rescue pets! PetGiftBox costs $25 for a monthly subscription, and you can also sign up for a full year or just buy a one-time box.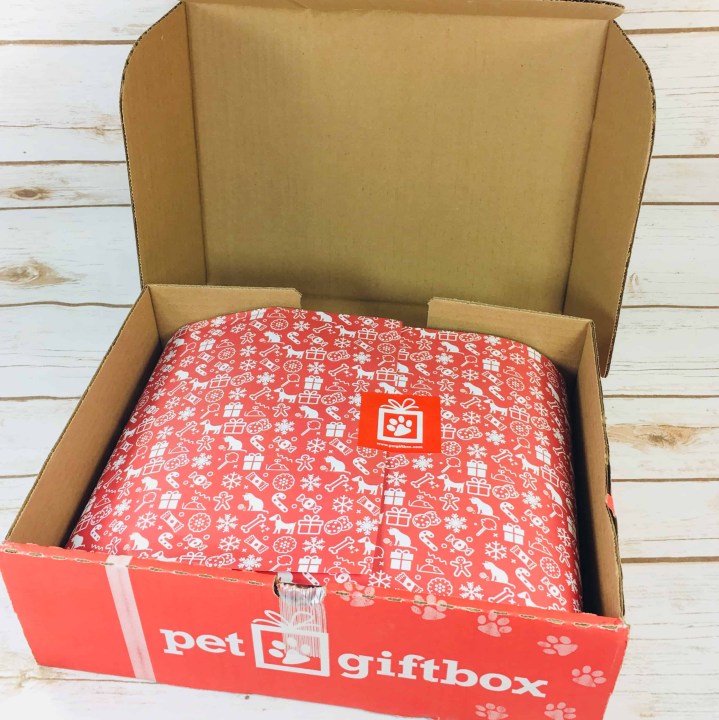 DEAL: Save 50% on your first box! Use coupon code HELLOSUB50.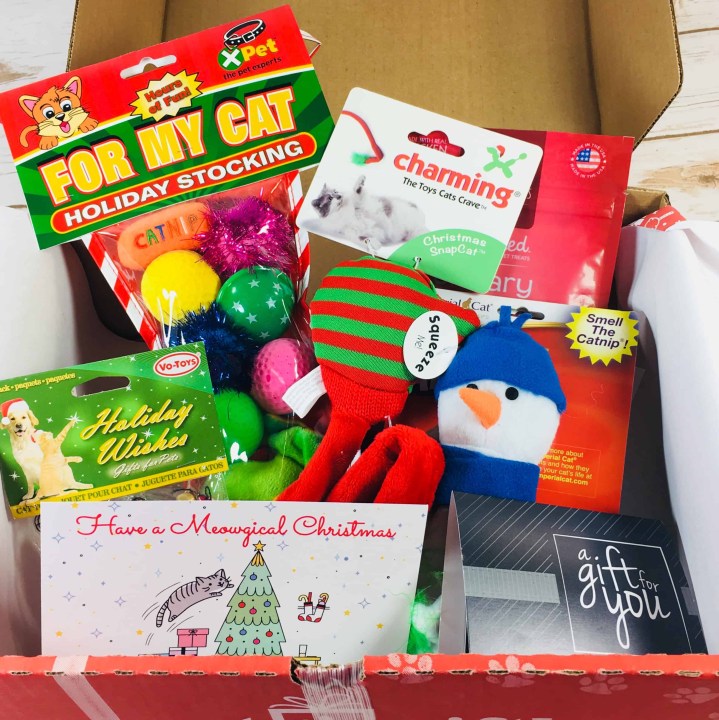 My PetGiftBox came wrapped in paper and was sealed with a sticker. Inside I found an assortment of kitty play things and a cat treat!
December's box theme was Have a Meowgical Christmas!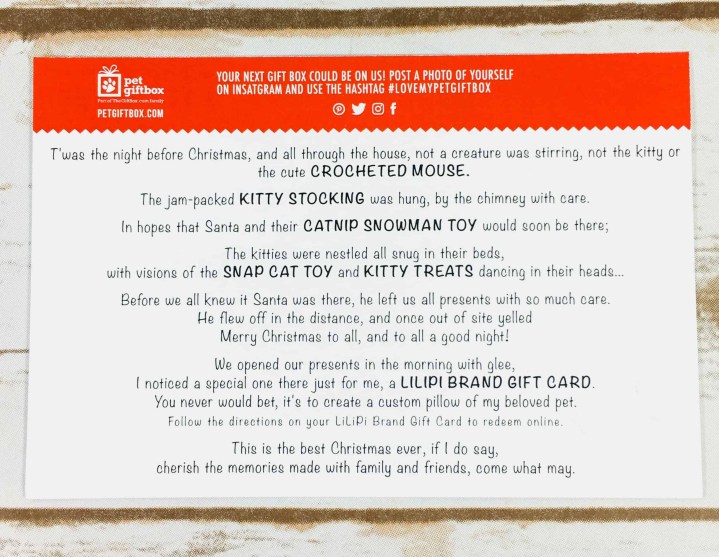 The information card was a cute play on 'Twas the Night Before Christmas!
All of the items in my December PetGiftBox!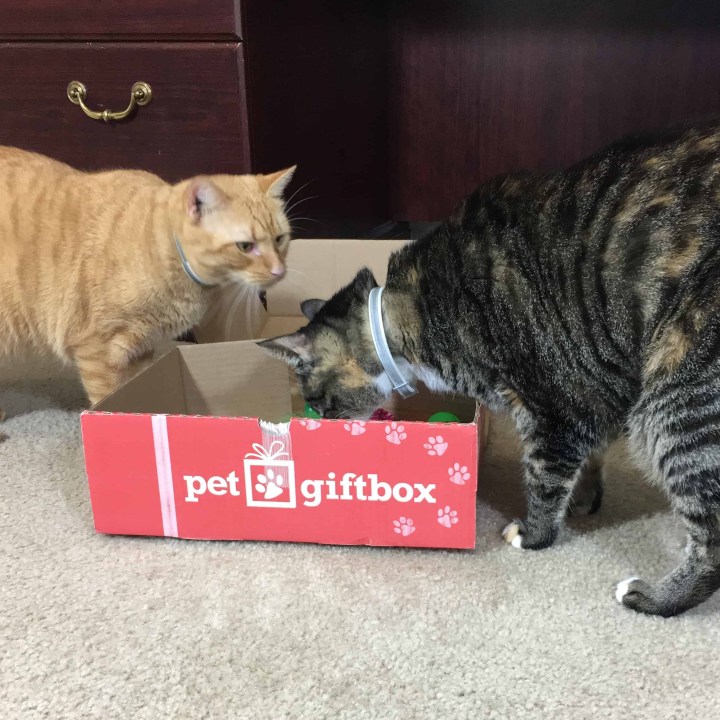 My cats love this box, and this month there was a bit of a kerfuffle over who was going to go first!
Usually Sunny has first dibs but Zoey was extremely interested.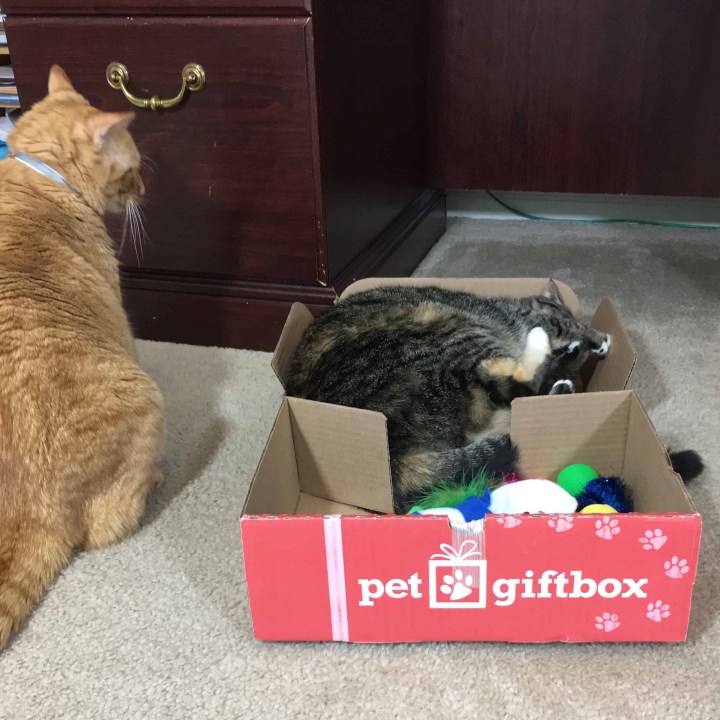 Zoey won this time!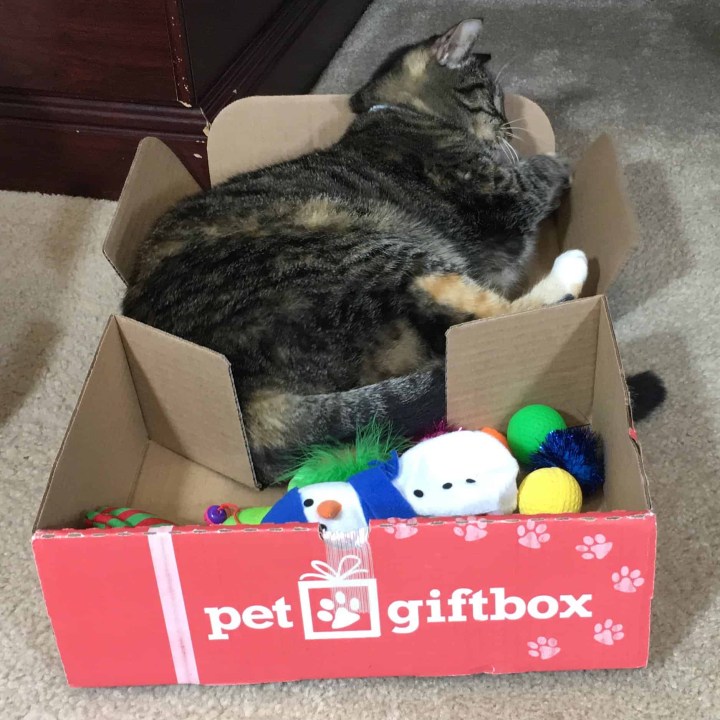 Zoey is very fond of sitting on boxes but this month she rolled around in it and loved the box more than the toys!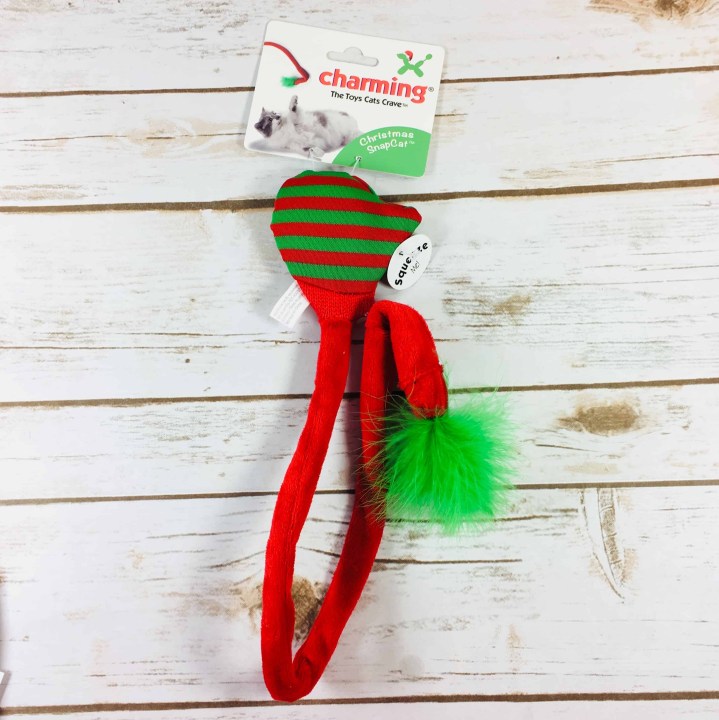 Charming Christmas SnapCat Mitten is in very festive colors and has a fluffy feather on one end.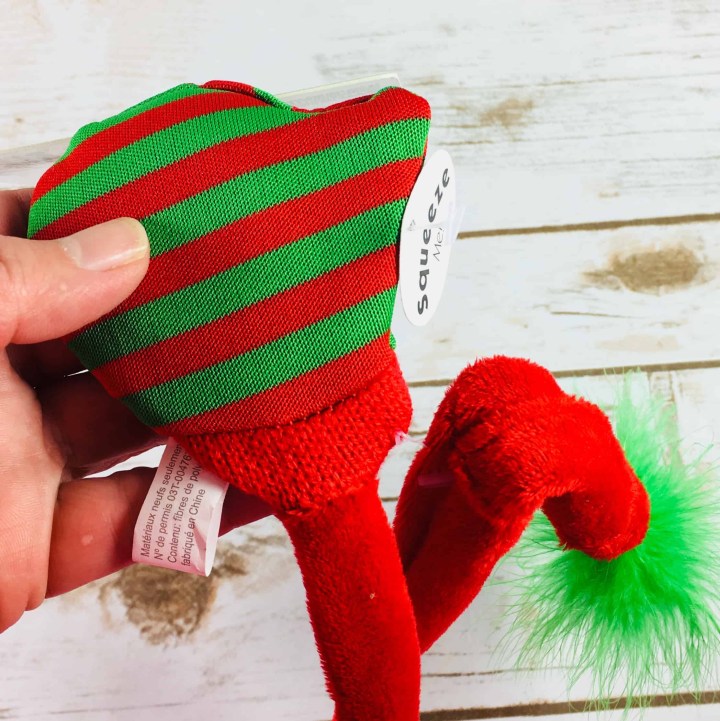 It has a mitten that you squeeze…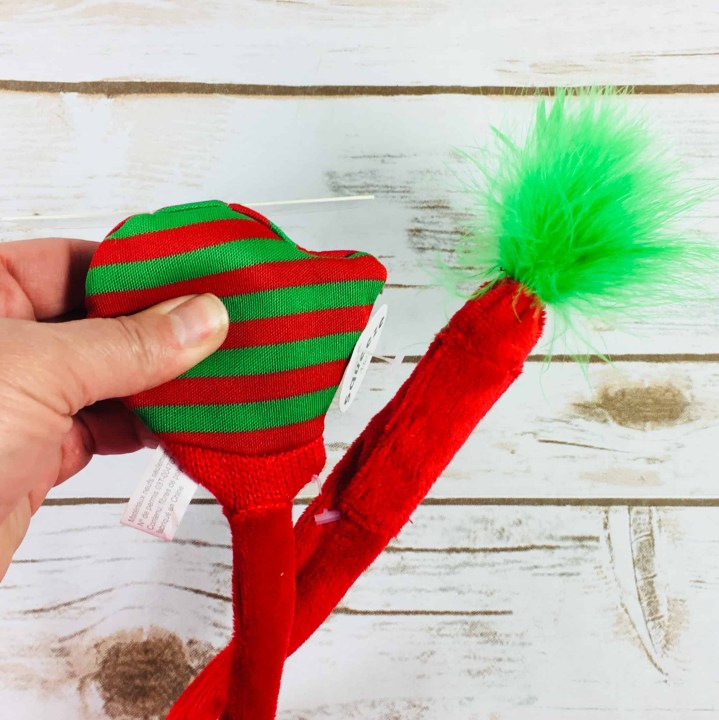 …and the feather goes up! This caused a great deal of looks from my cats… SnapCat is supposed to initiate cats hunting instinct.
Zoey investigated but wasn't sure whether she wanted to come any closer.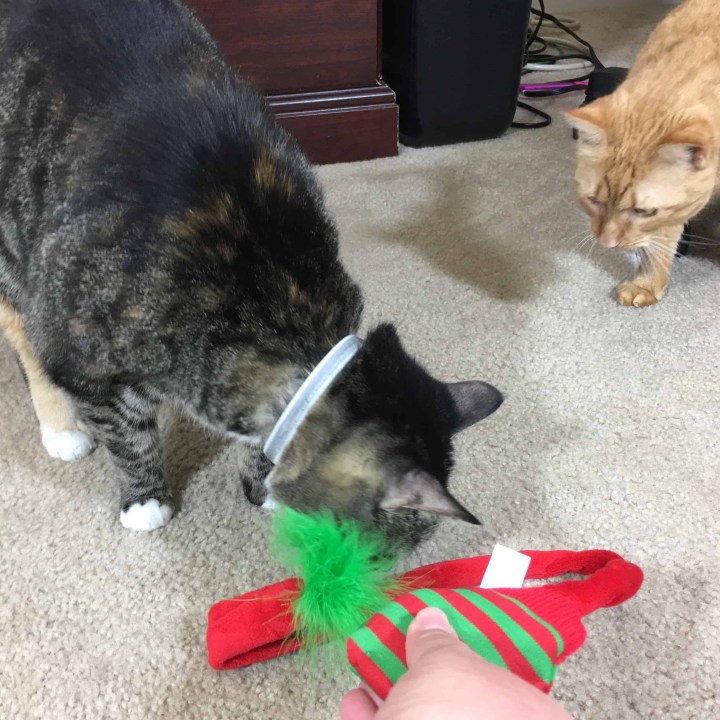 Uh-oh, here comes trouble!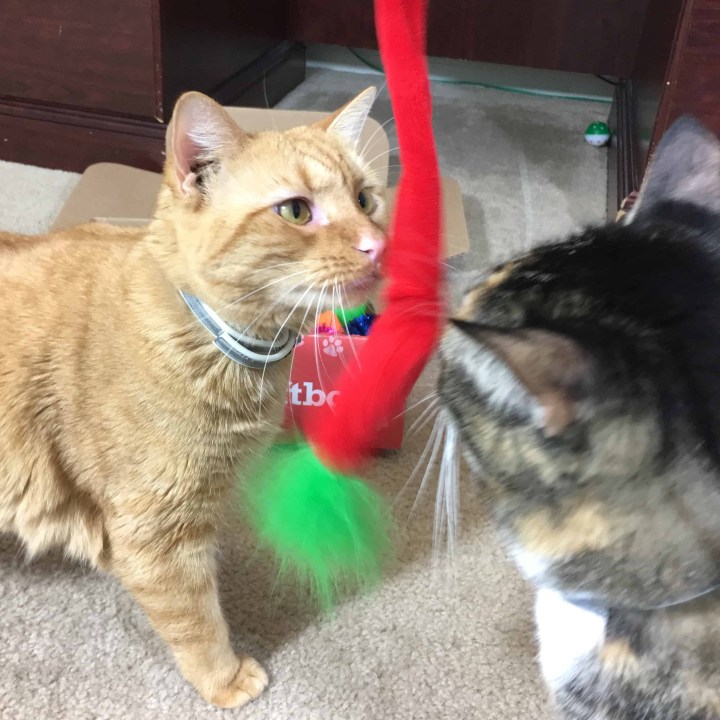 This was certainly an attention-getting toy.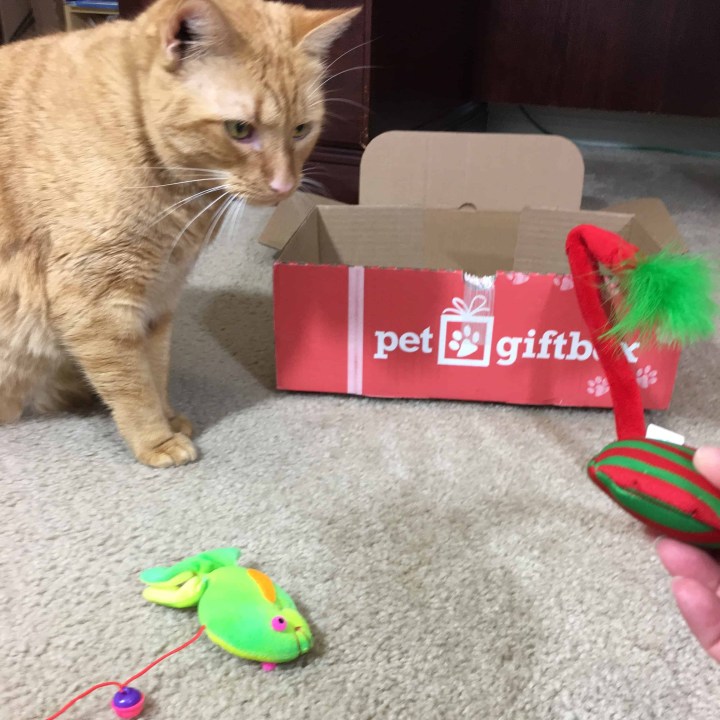 While the cats looked at it a lot they never actually tried to catch it.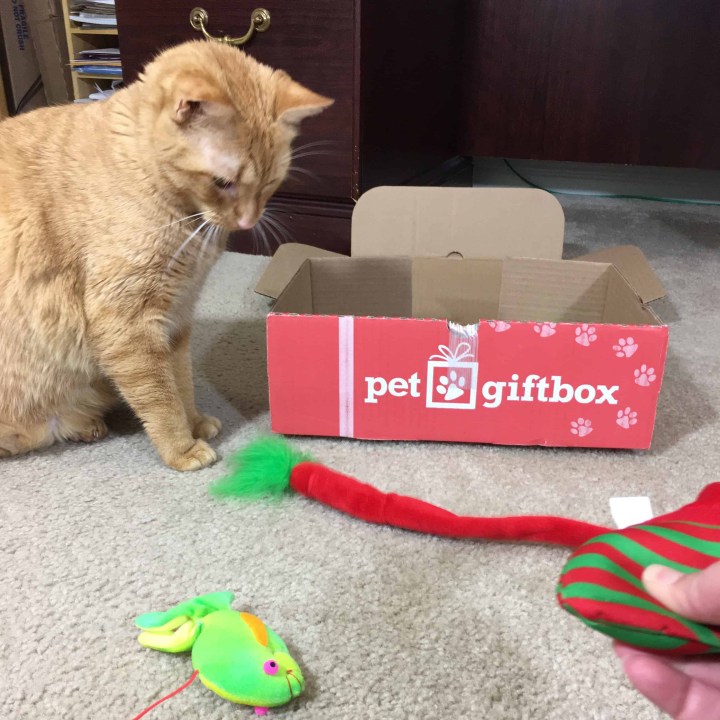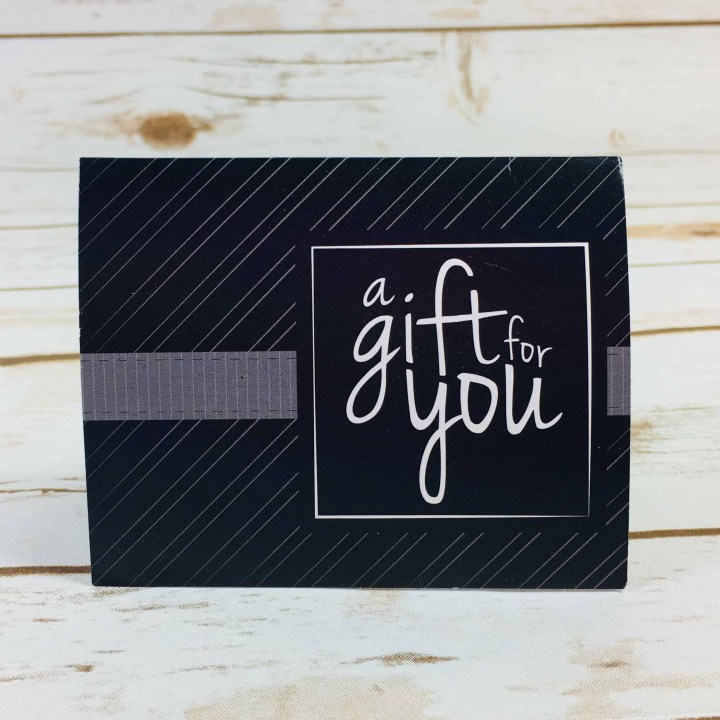 Next, I received a gift card.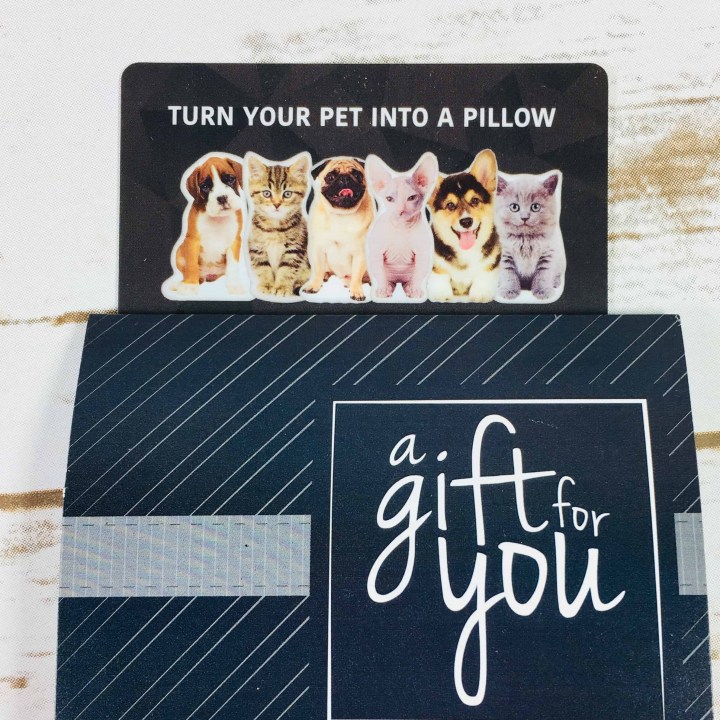 LiLiPi will make a Life Like Pillow of your pet! It actually just looks like your pet, but this is a cute idea. The gift card is for $30, and a small pillow starts at around $36.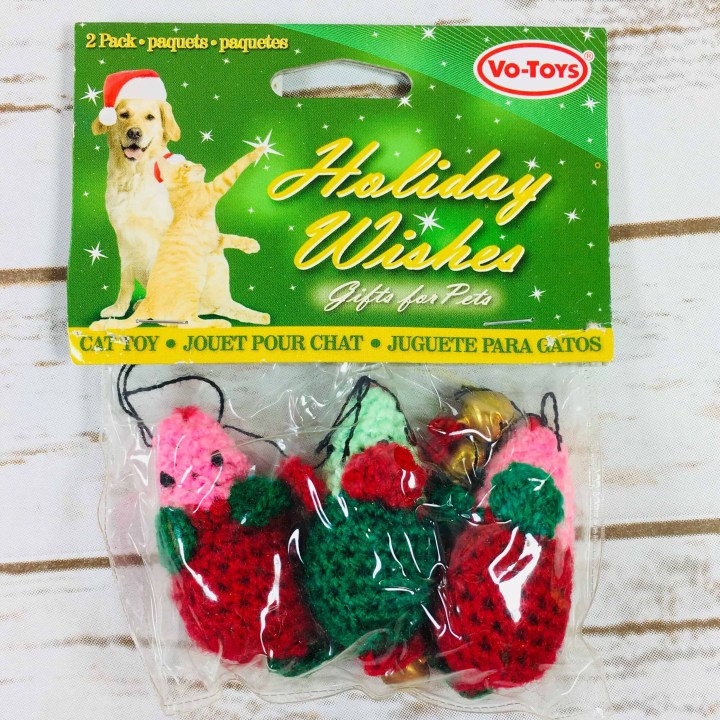 Vo Toys Crochet Cuties are a set of 3 crocheted mice with bells on their tails!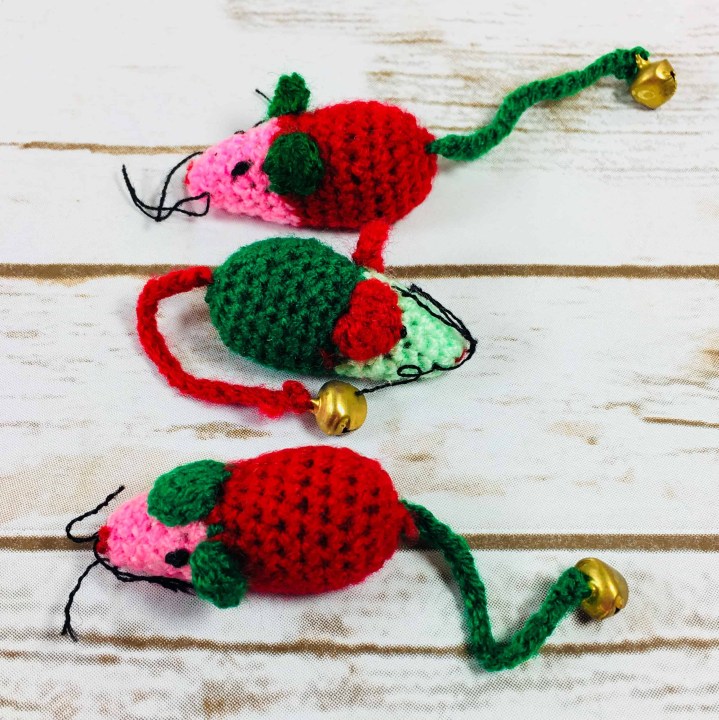 These are cute, but I'm going to keep an eye on my cat while she plays with them. I'm a little worried the bells might fall off and choke her! Sunny's a little destructive so I'm kind of afraid she might bite them off.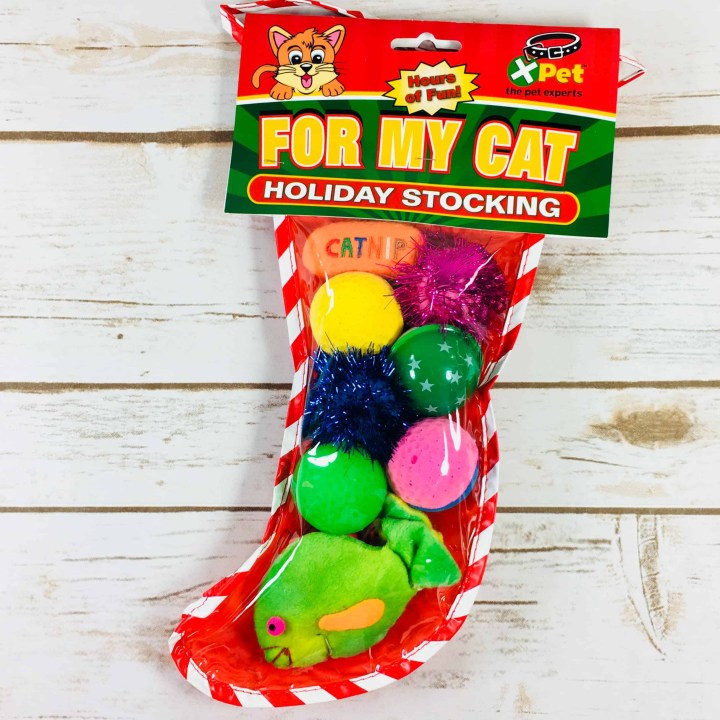 XPet Holiday Stocking My daughters were so excited that there was a stocking for cats!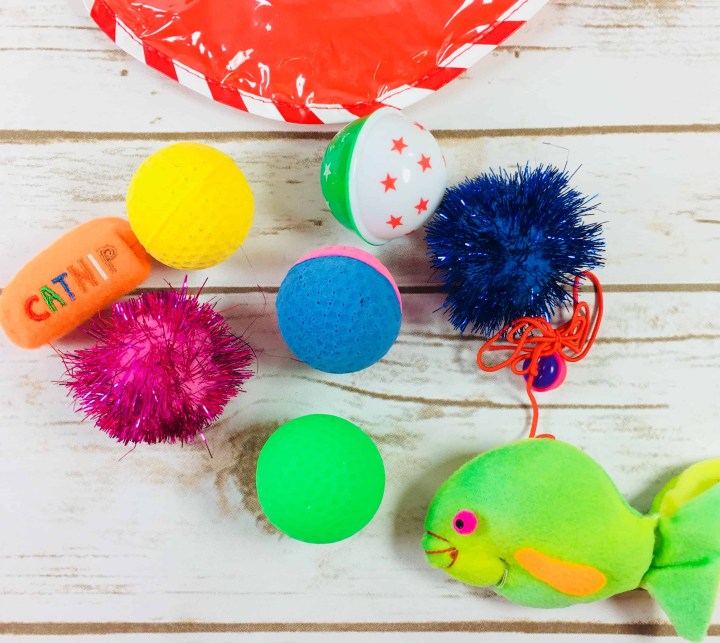 There were 8 toys inside the stocking. There were two glittery balls, 3 spongy balls, one bell ball, a catnip toy, and a fish with a bell on a string.
Sunny liked playing with the fish.
Zoey liked looking at the fish but she preferred playing with the jingly ball.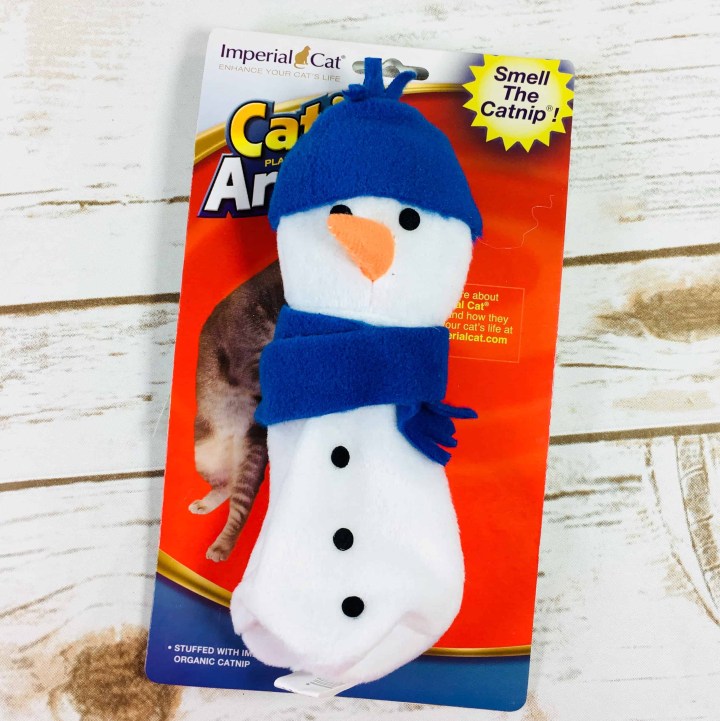 Imperial Cat Cat 'n Around Catnip Stuffed Snowman This toy has a pouch that is closed with velcro on its backside. It also came with a package of catnip so you can fill it up yourself. My cats didn't really take to this toy yet so I don't have any pictures of them playing with it.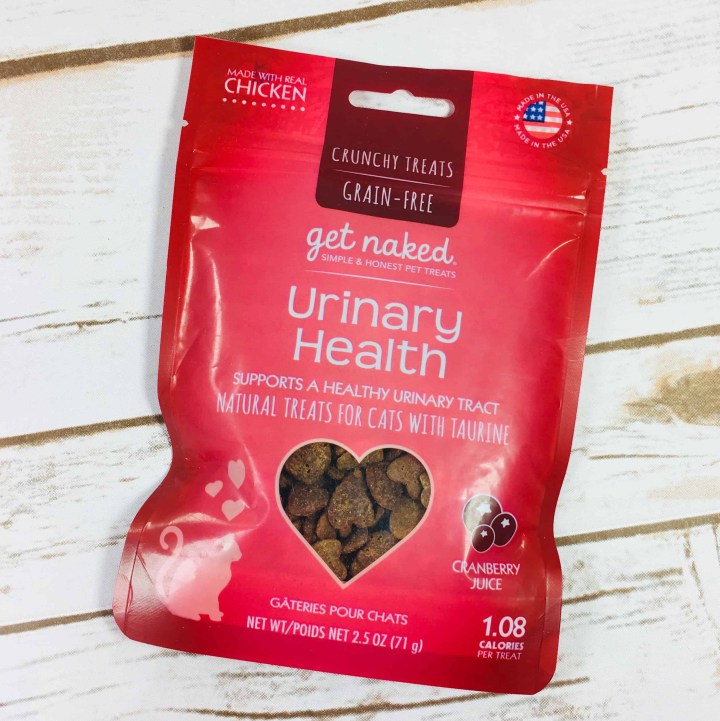 Get Naked Urinary Health Treats for Cats have cranberry juice extract in them and are supposed to help keep urinary tract infections at bay.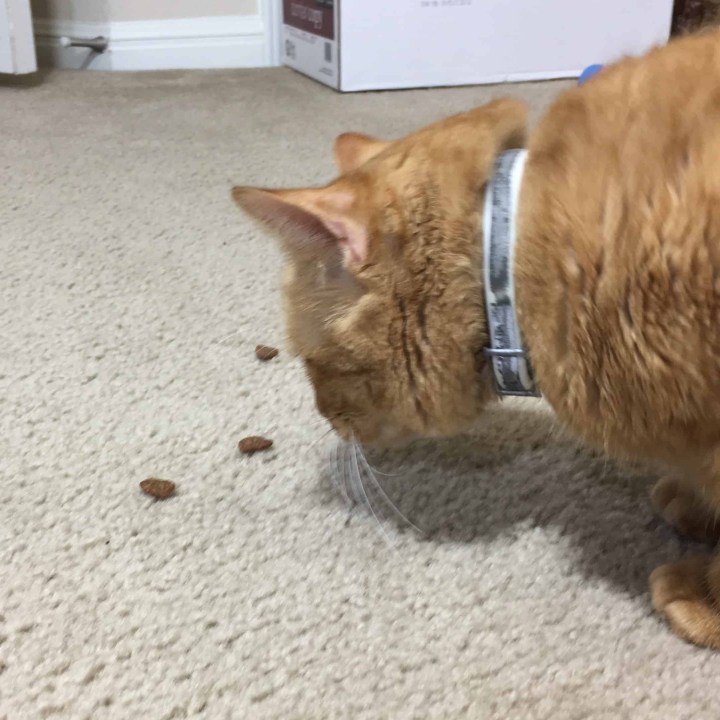 Sunny really enjoyed them and I like that chicken is the first ingredient. They are shaped like little hearts, too!
My cats are always happy with their PetGiftBox! This box consistently sends items that my cats continue to play with long after the picture-taking session is finished. I liked the selection of items and it was fun to watch my cats playing with their toys and seeing which ones caught their attention for the long-term! The snack was a hit with Sunny, too!
Let me know what you think of this box in the comments!