Gold Medal Wine Club delivers 2-3 bottles of wine to your door either monthly or quarterly depending on which club you select. Prices range from $39 per month for the Gold Wine Club to $179 per quarter for the subscriber-limited Diamond club. Their six clubs each focus on different kinds of wine, distinguished by variety, rating, or origin.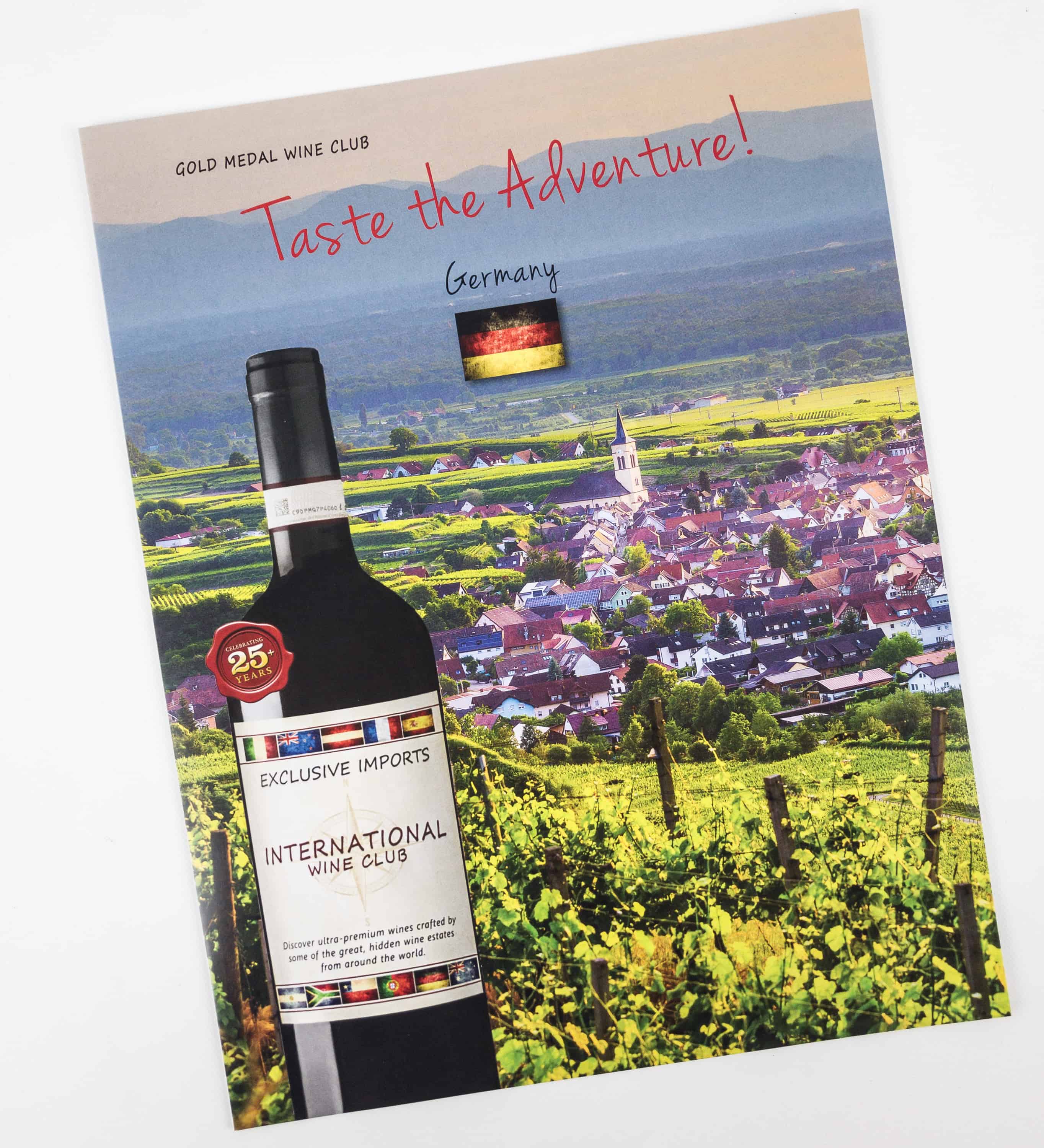 This is a review of Gold Medal's International Wine Club. It ships quarterly at a cost of $75 a quarter. Each shipment contains three bottles from a respected international winemaker. This month features wines from Germany!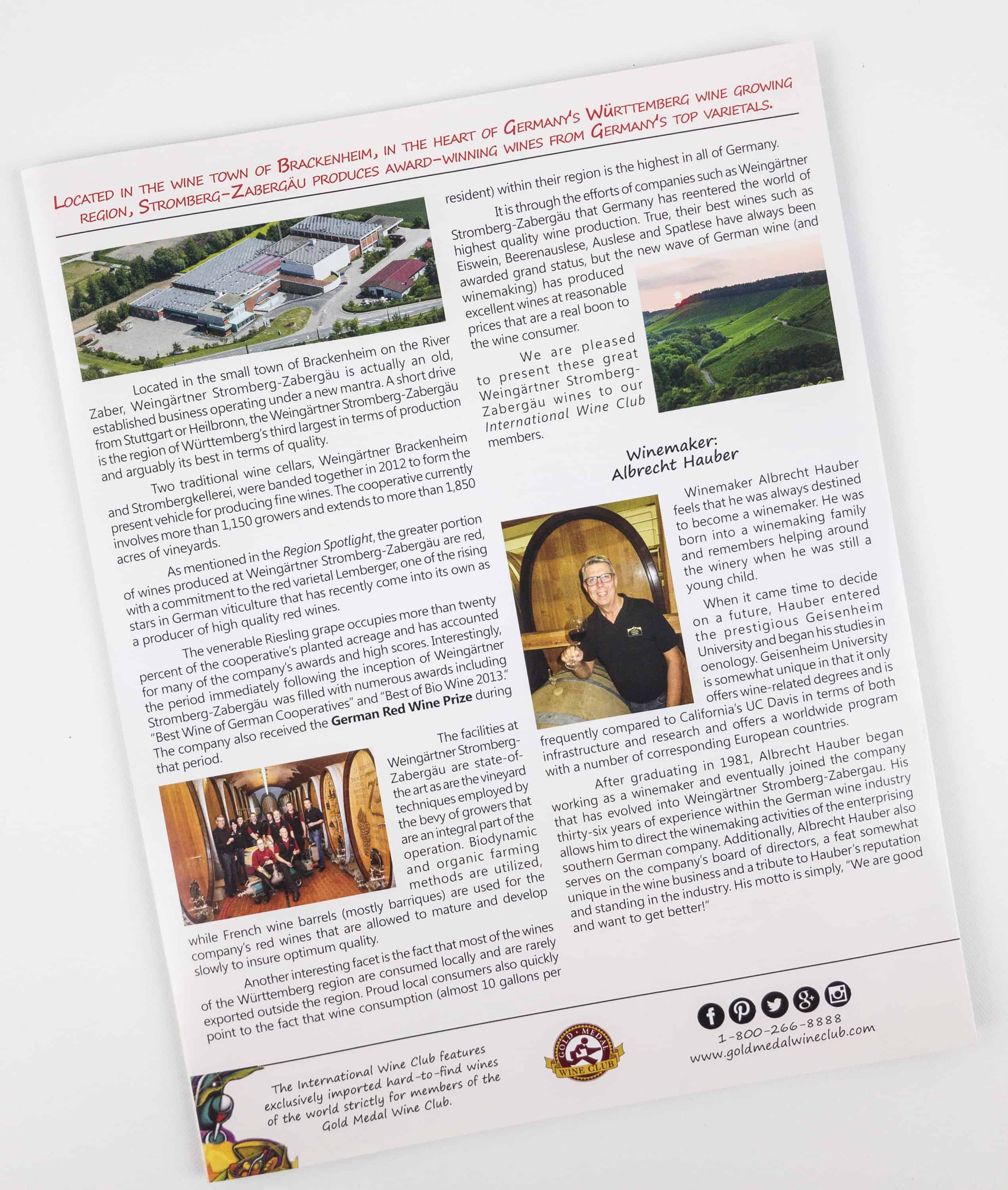 DEAL: Save 10% off annual subscriptions! No coupon code, just use this link! Bonus wines & gifts start at 3-month memberships.
This subscription comes with an informative pamphlet providing information on the month's wines, the region, and the winemaker. This month features three selections from the Stromberg-Zabergäu winery in Württemberg.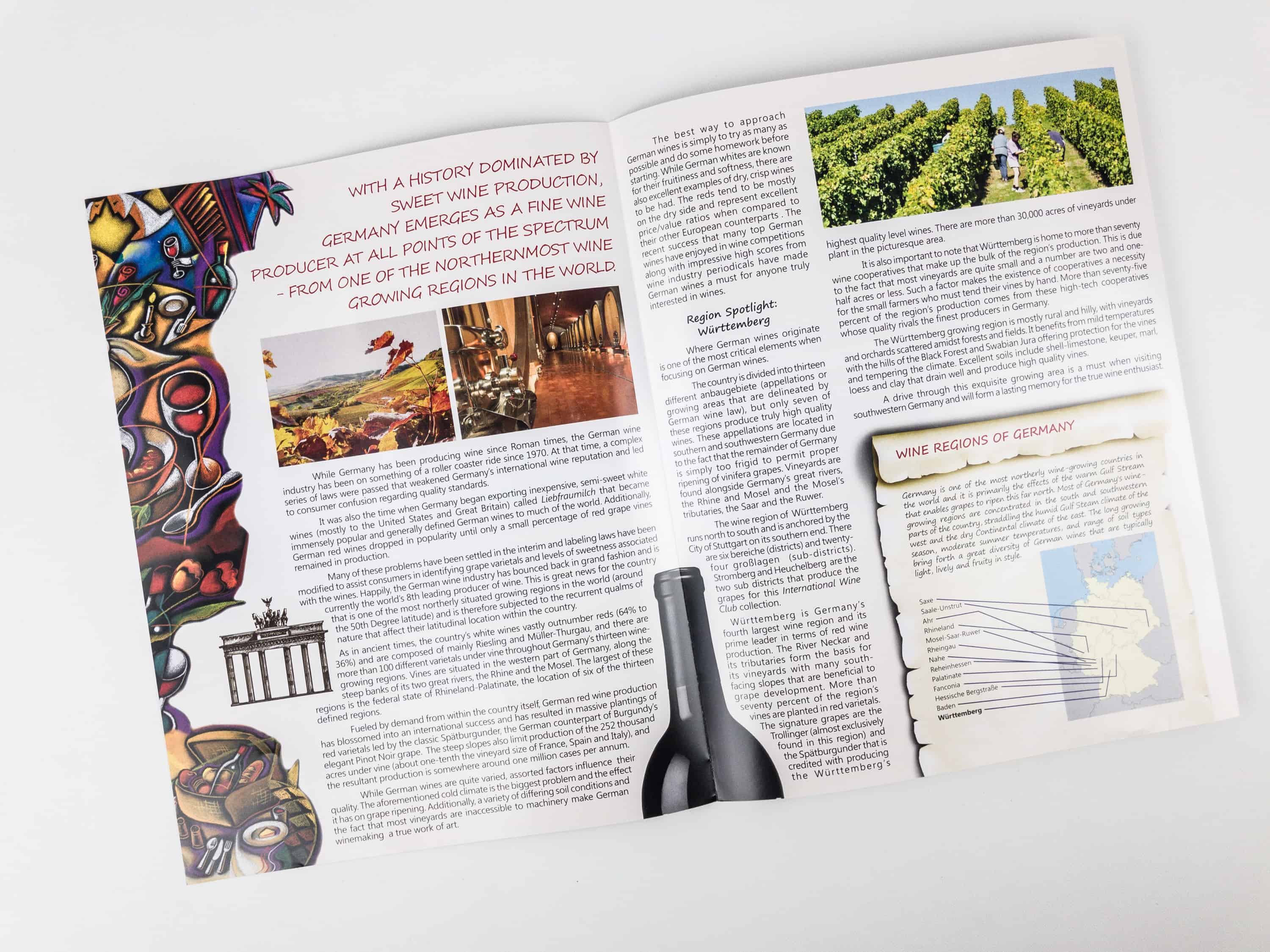 Often thought of solely as a beer-producing (and drinking) country, Germany is home to many fine wineries and wine varietals. The most famous variety is Riesling, but Germany is home to great wines of all categories and styles. Our selections are from one of Germany's Southernmost wine-producing regions.
The booklet also shares some fun facts about the featured country. I might take the factoid about Daylight Savings Time with a grain of salt, however, as it states that "this occurred in 1916 in the midst of World War II."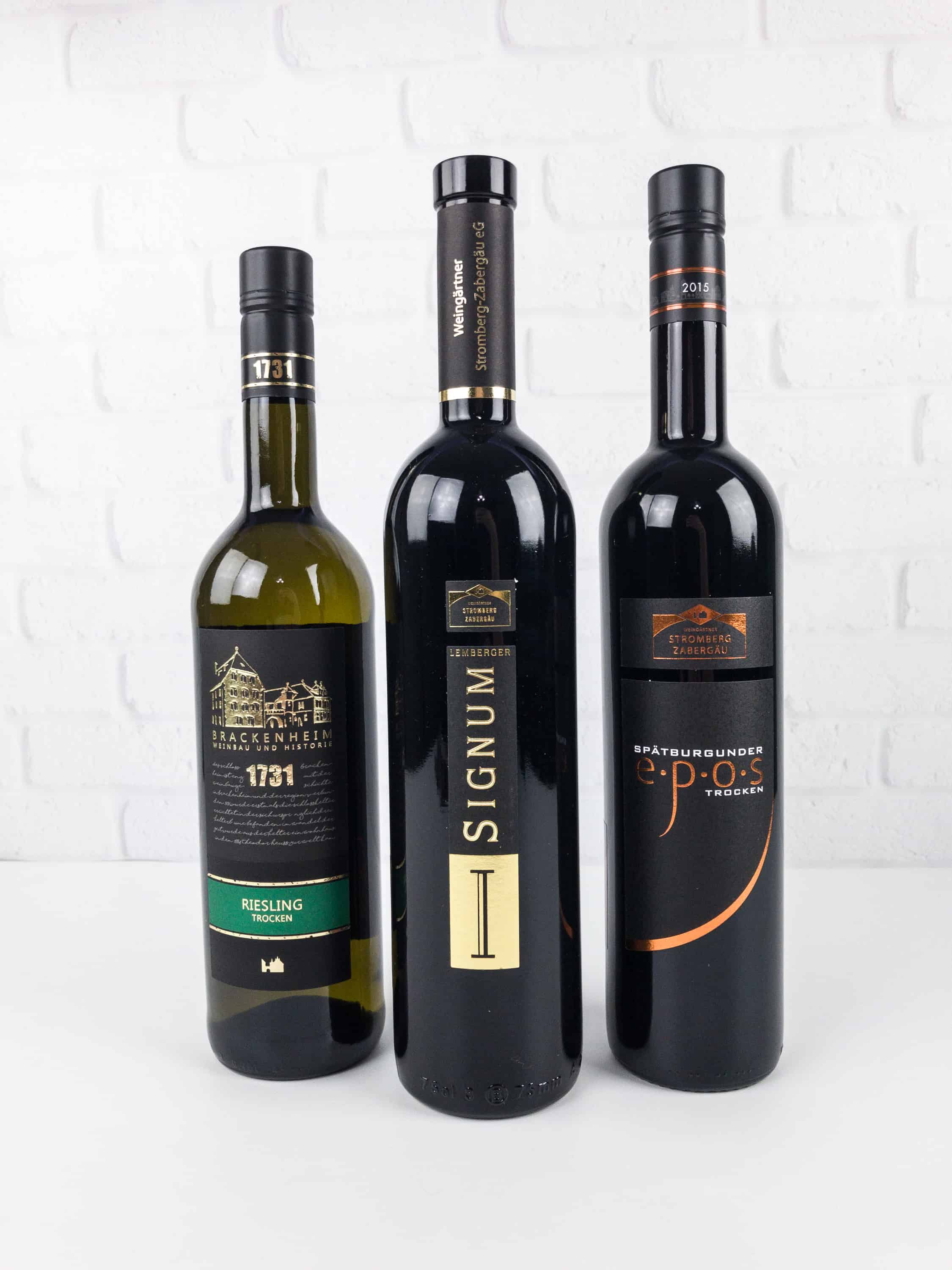 Here are the 3 bottles of wine this month! Along with the expected Riesling, we received a Pinot Noir and a Blaufränkisch.
Stromberg-Zabergau 2016 Brakenheim Reisling (Dry): An excellent example of Germany's most-planted varietal, this Riesling is crisp, with notes of apple and citrus. It also exhibits the distinct minerality for which the varietal is known.
This wine was rated at 92 points and received a Gold Medal from the Beverage Testing Institute.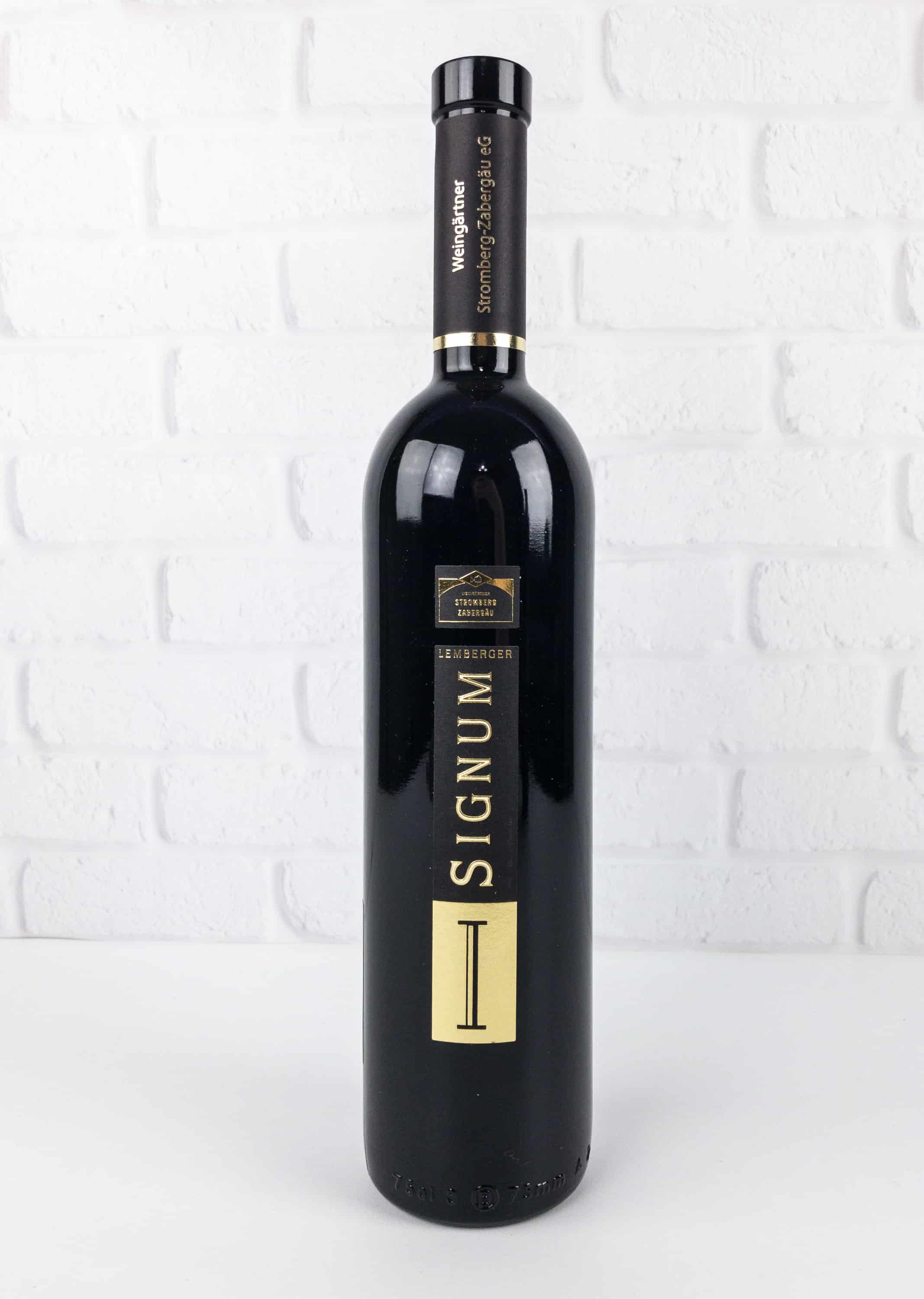 Stromberg-Zabergau 2014 Signum I Lemberger: Aged in French oak, this wine exhibits beautiful notes of vanilla and tobacco, with a lush blackberry fruitiness.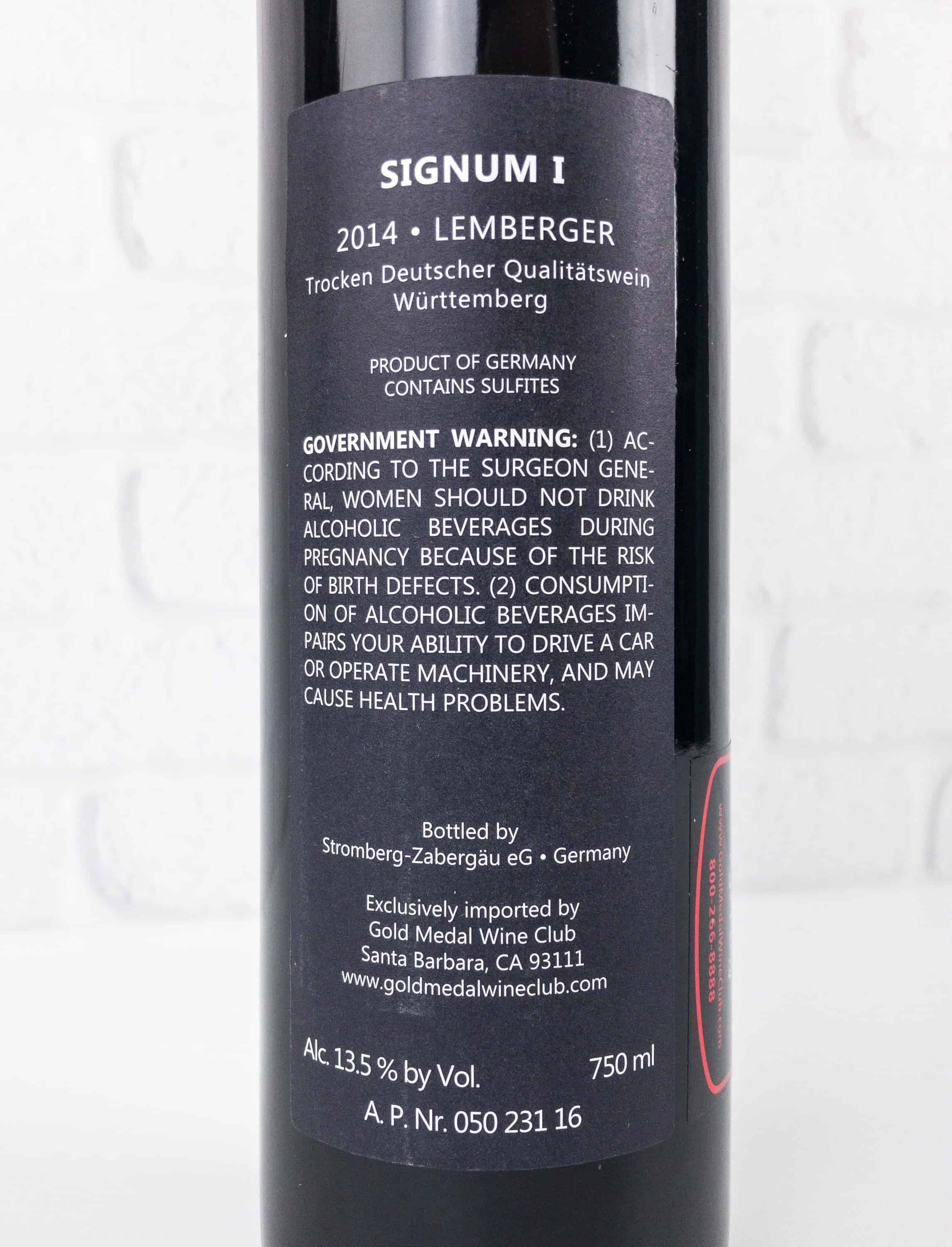 This wine is Stromberg-Zabergäu's "masterpiece" wine, produced only in 25+ year-old plots and carefully tended for yield and development.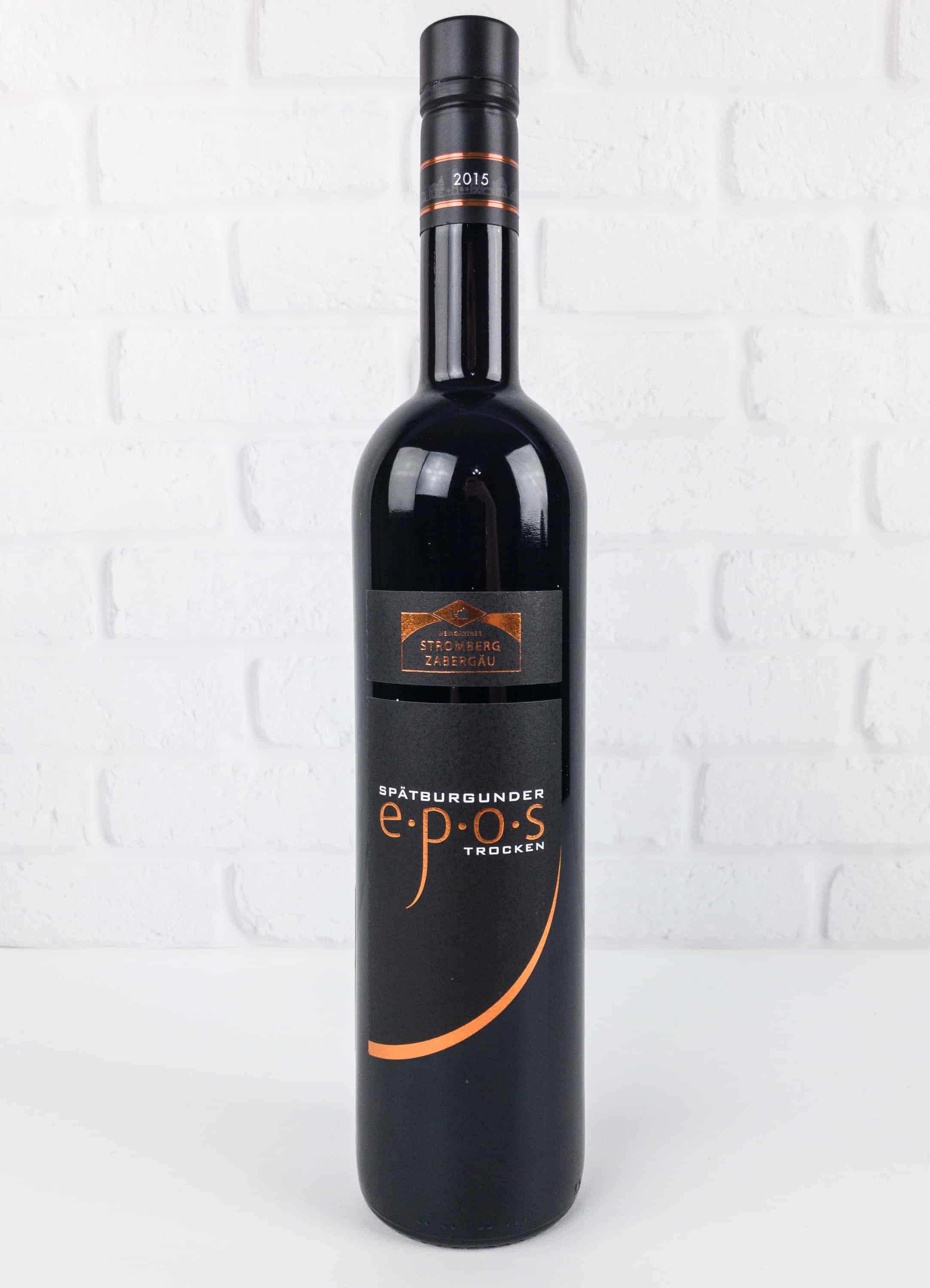 Stromberg-Zabergau 2015 Epos Spatburgunder (Pinot Noir): The German appellation for this grape references it's purported origin in Burgundy and the late-season harvesting for optimal development — but it is a Pinot Noir through and through.
This full-bodied offering is produced from grapes harvested by hand. It is aged in wooden casks for 9 months prior to bottling.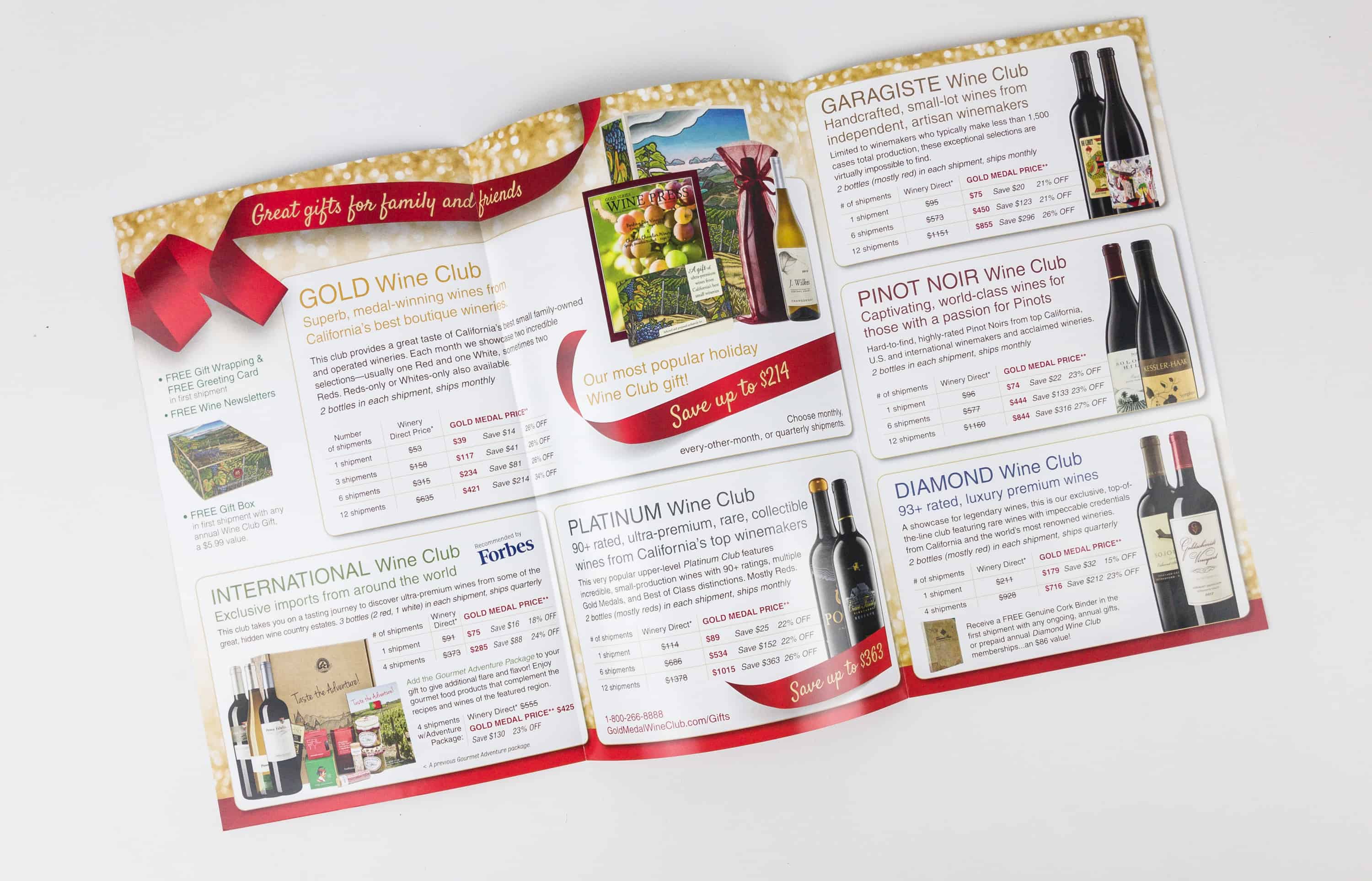 The Gold Medal Club family of clubs offers six different subscriptions, plus some add-ons for extra fun.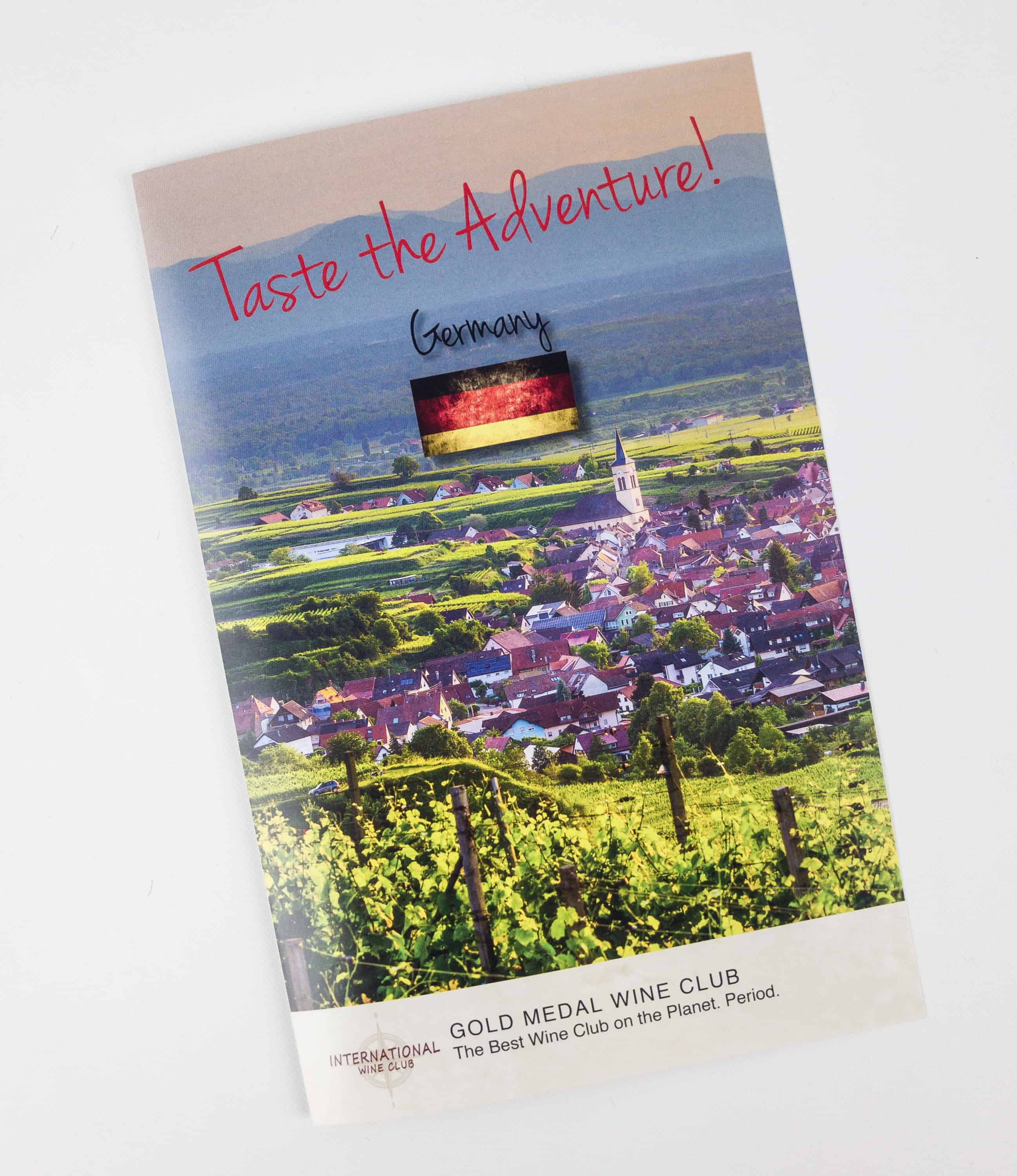 They offer an International Gourmet Adventure Package with food from the country featured in the wine club selections.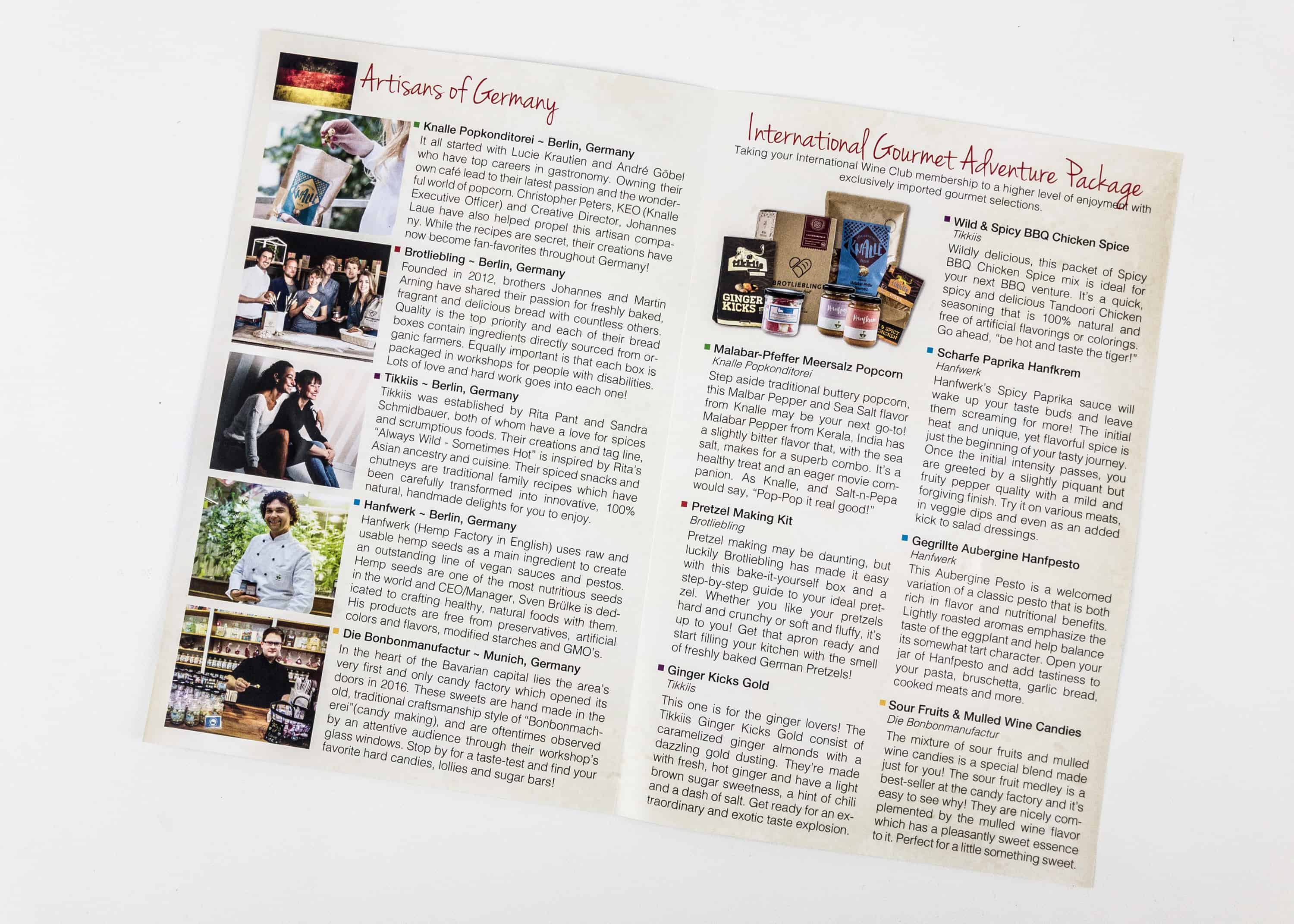 All the foods are gourmet and artisan crafted. It is a great way to turn your wine tasting into a full-out international celebration.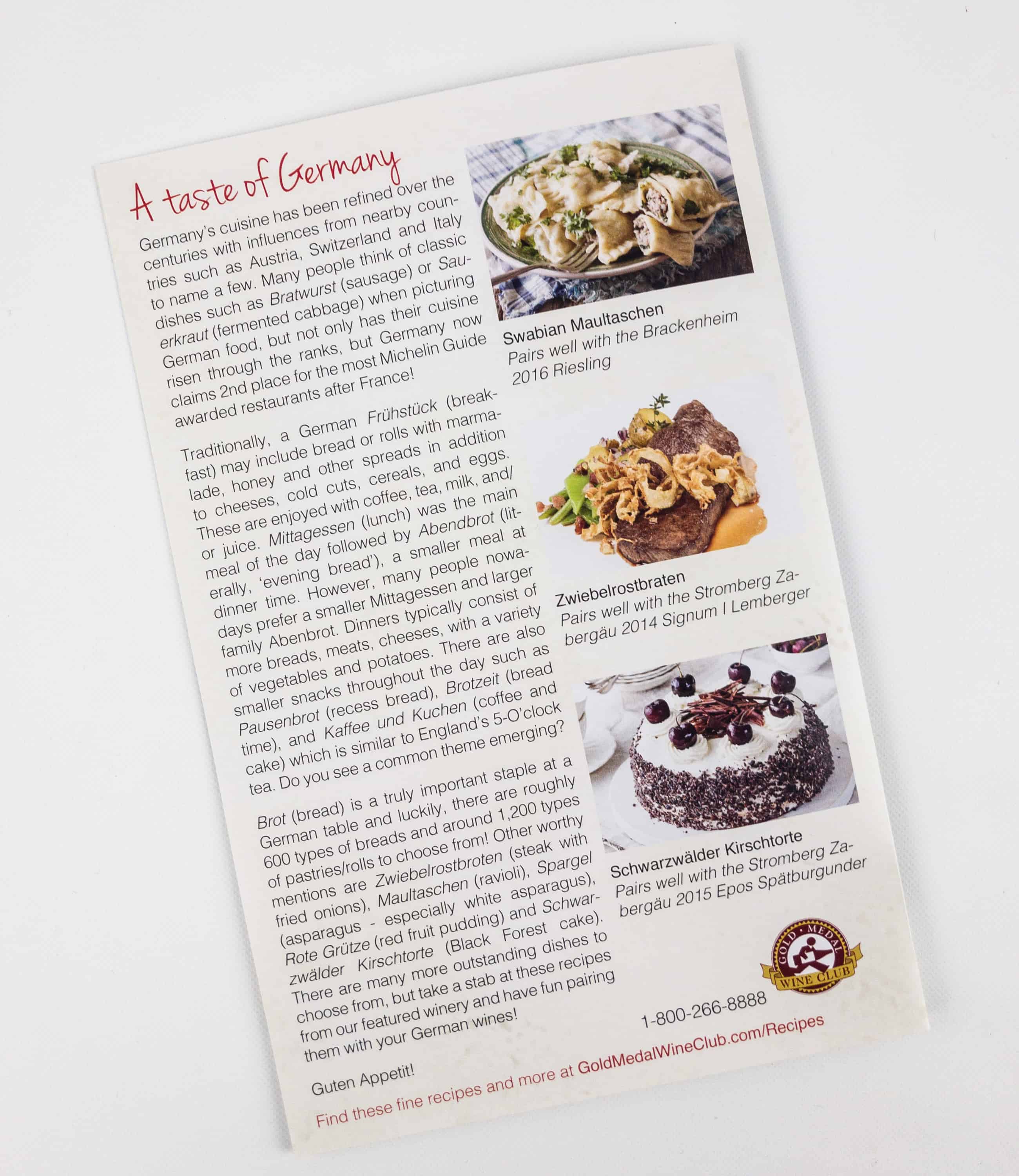 To get the most out of the wine selections, Gold Medal included some recipe suggestions for traditional German fare that pairs well with this month's wines. Full recipes are available on their site.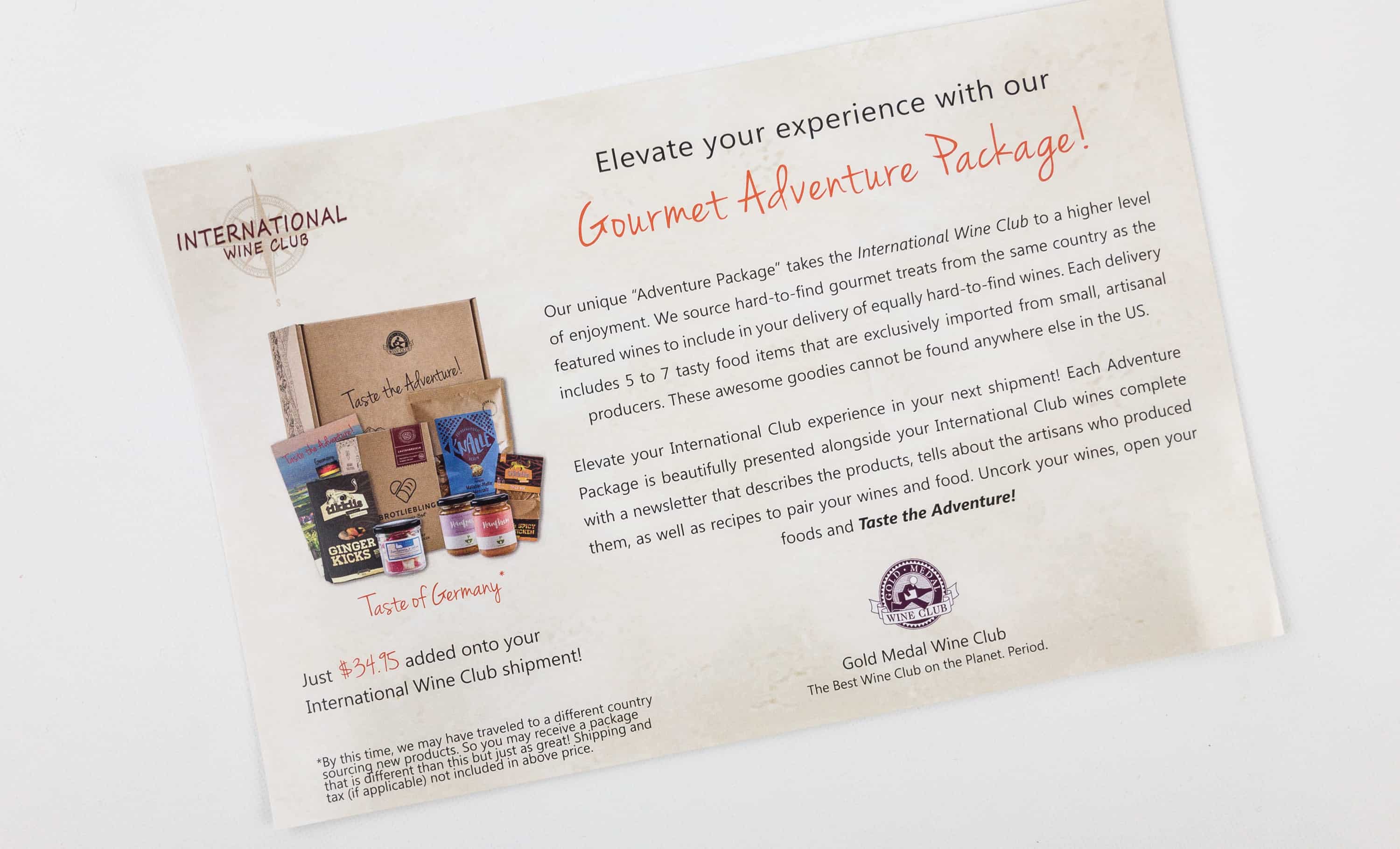 The Gourmet Adventure Club can simply be tacked onto your Wine Club shipment. What a wonderful mail day that would be!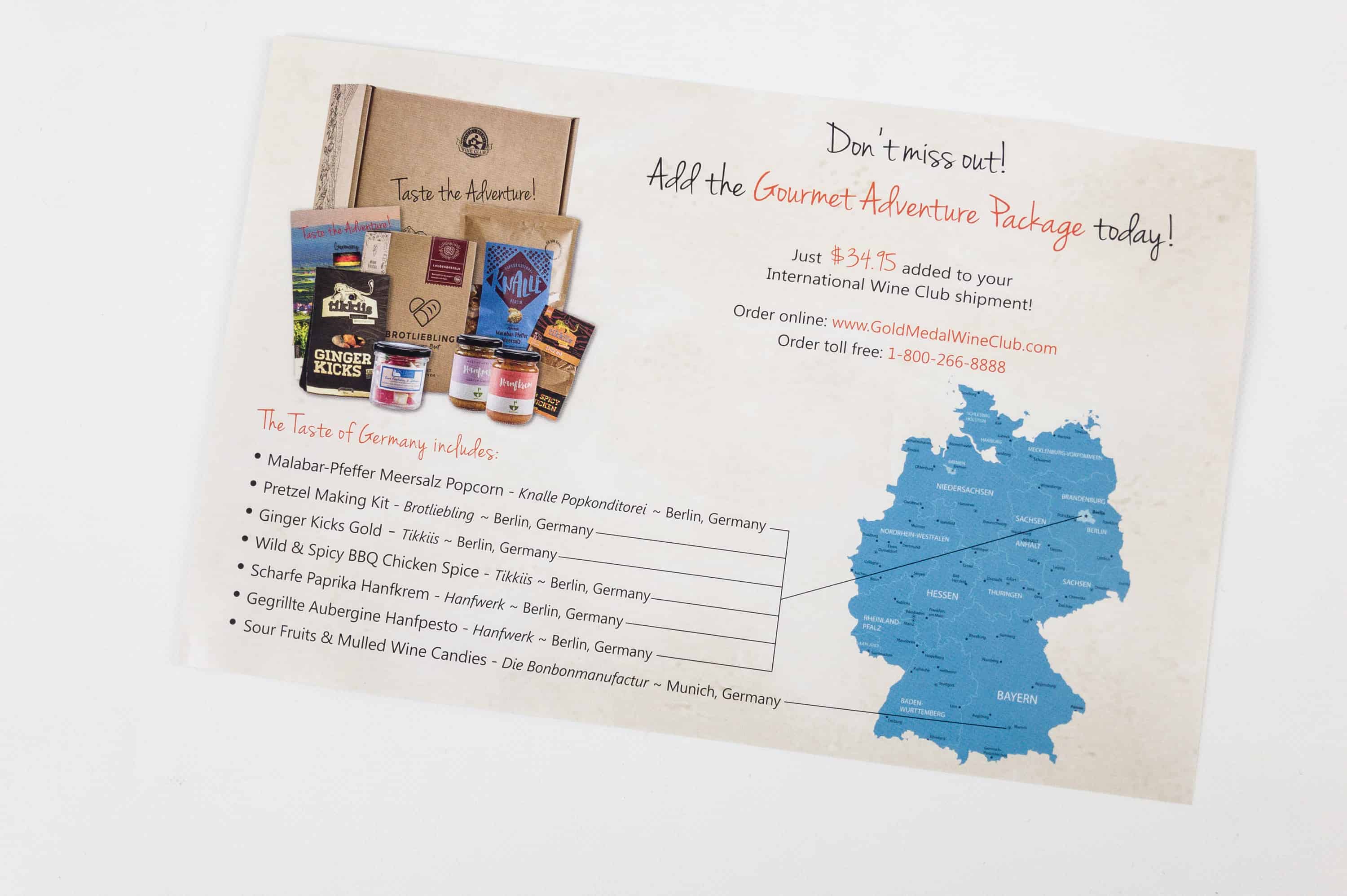 The offerings come from throughout the featured country, and the curation looks on par with other gourmet food subscriptions, except that this one is synched to your wine club!
The Gold Medal Wine Clubs are a great way to receive great wines with no headache. The literature accompanying the wines is quite instructive and imparts a lot of wine knowledge. I love the selections, too. You usually get a flagship wine from the featured country, plus some less famous, but equally delicious, wines — these are the wines that are beloved in the country but often fall below the radar of big wine importers, buy we get to enjoy them as exclusive imports! The club sends high-rated wines only – this month's International Wine Club had three highly-rated selections that showed off the depth and scope of Germany's wine heritage.