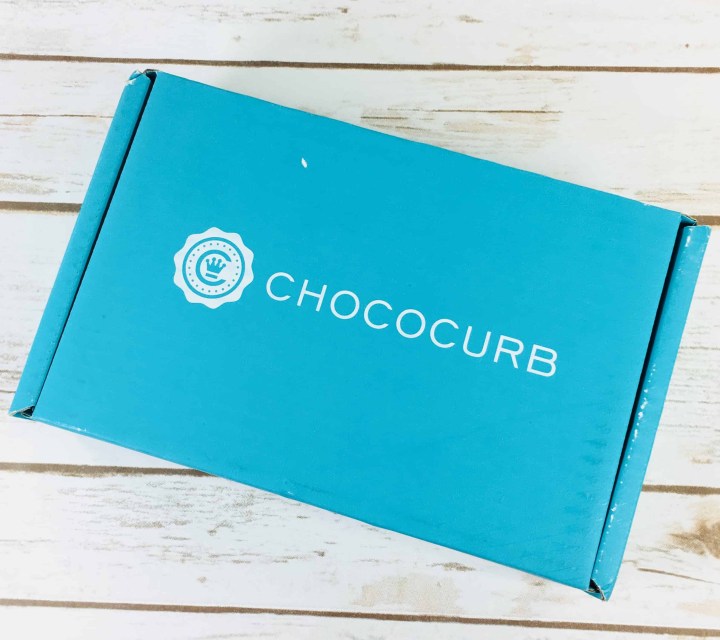 Chococurb is a monthly subscription containing extraordinary, premium, gourmet chocolates – this isn't your convenience store candy! These items can come from small, local chocolatiers or more established national brands. Every box will have something new, exciting, and absolutely delicious. You can choose from the Classic Box ($35), which has 5-7 items, or choose the Mini ($20), which has 3 items for smaller appetites. Shipping is free during the cooler months but expect to pay for FedEx shipping in the warmer months. I am reviewing the Classic Box today!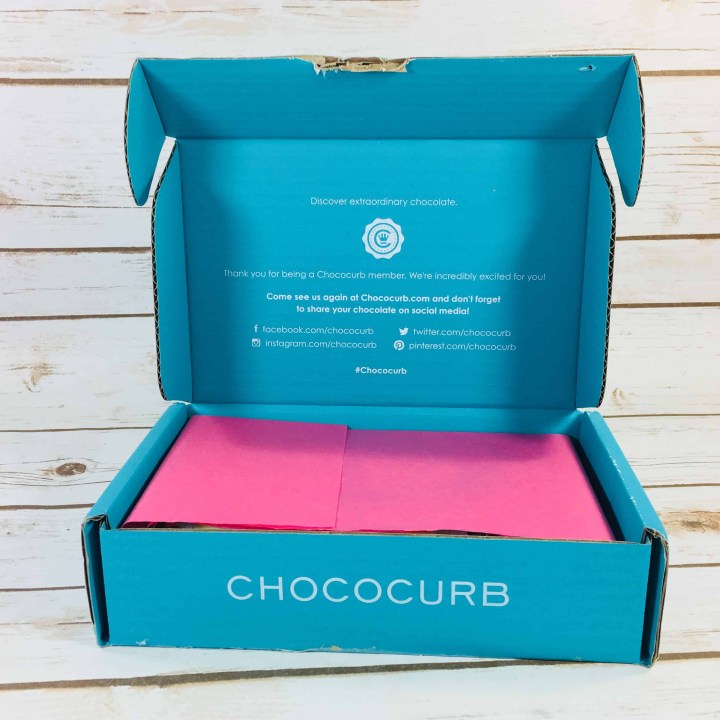 The presentation was simple, just a bit of tissue paper with the bars tucked inside.
Chococurb wants to help you discover chocolate that you will love so they have a short questionnaire that you fill out to let them know your preferences.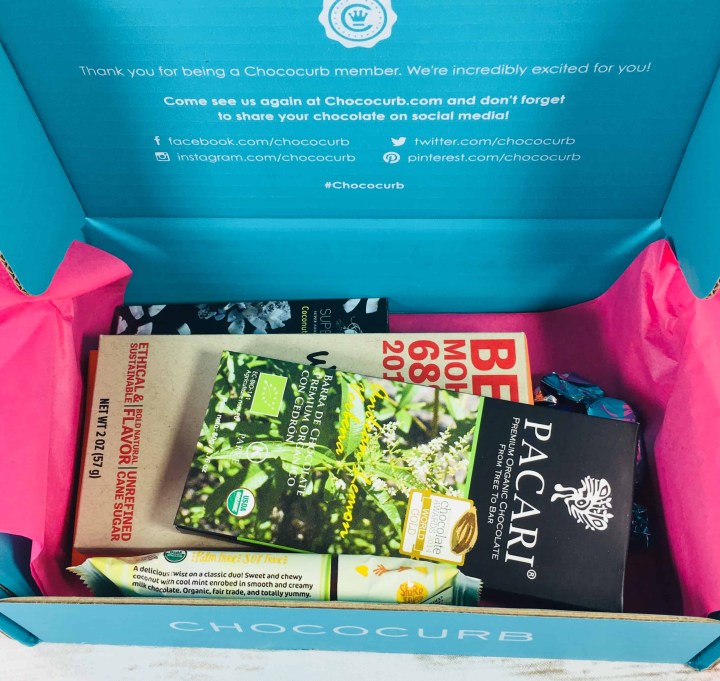 Everything was in perfect condition, now let's see what we have this month!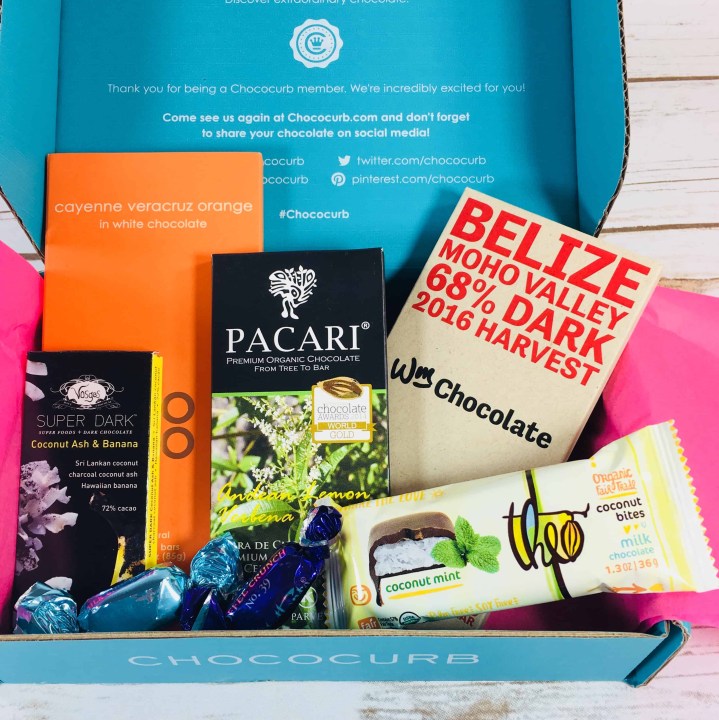 I received 6 different items this month and they all sound so yummy! I always enjoy the variety – white, dark, or milk chocolate; nuts, caramel, everything!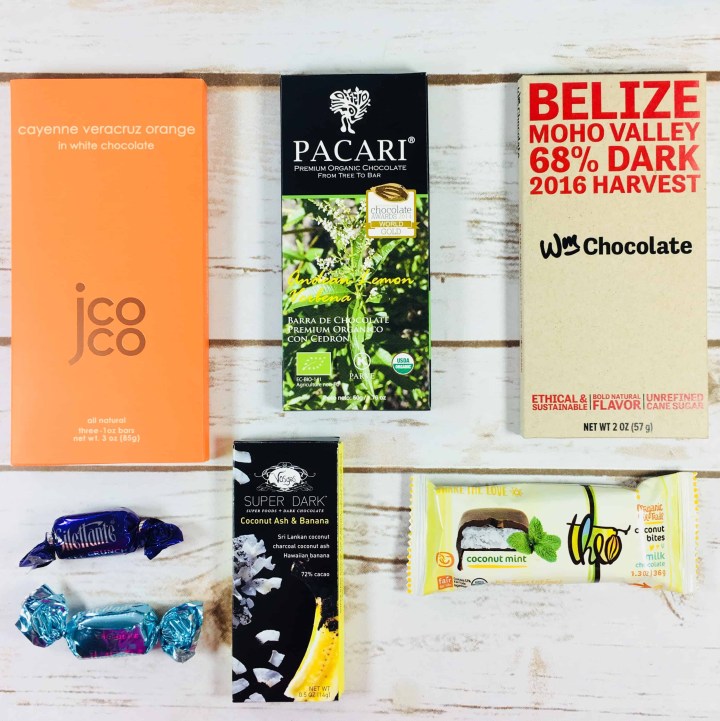 My January 2018 Chococurb! Please keep in mind that your box may vary depending on your preferences!
jcoco Cayenne Veracruz Orange in White Chocolate "It's citrusy from oranges and a little spicy from the zing of pepper. Combined with white chocolate, we're talking about mouthwatering deliciousness, we mean, the cayenne veracruz orange bar."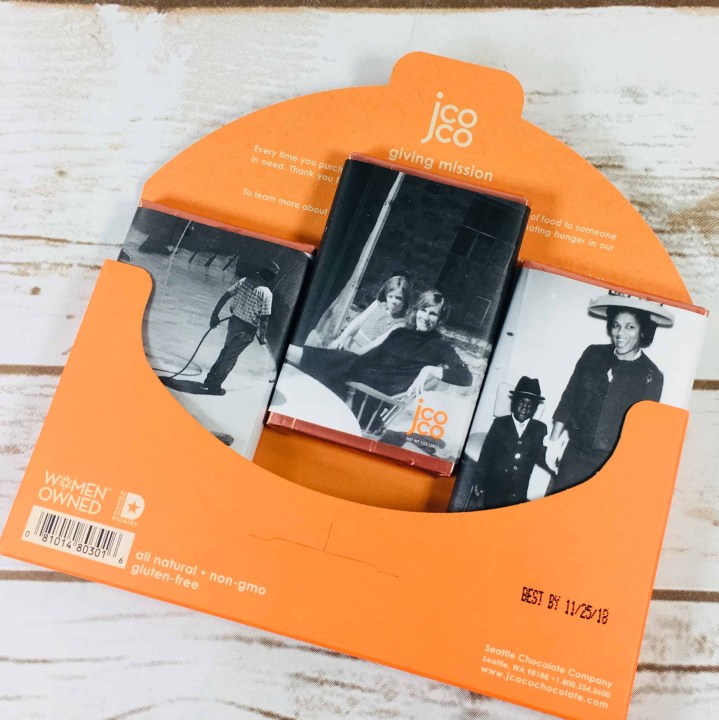 I like that the bars were packed into three different mini-bars, since it kept the chocolate fresher that way.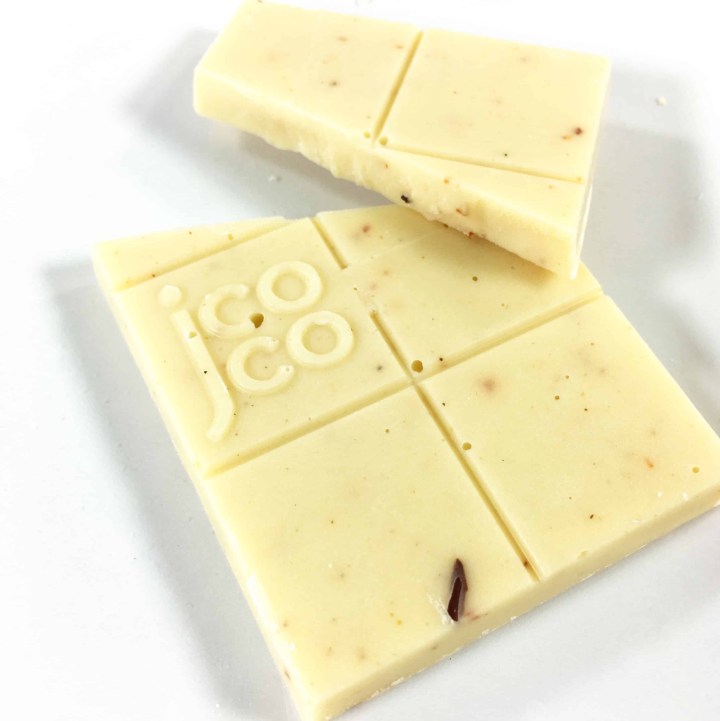 Sometimes white chocolate can be too sweet, but this creamy white chocolate was balanced well with the orange flavor and hint of heat, plus a touch of salt.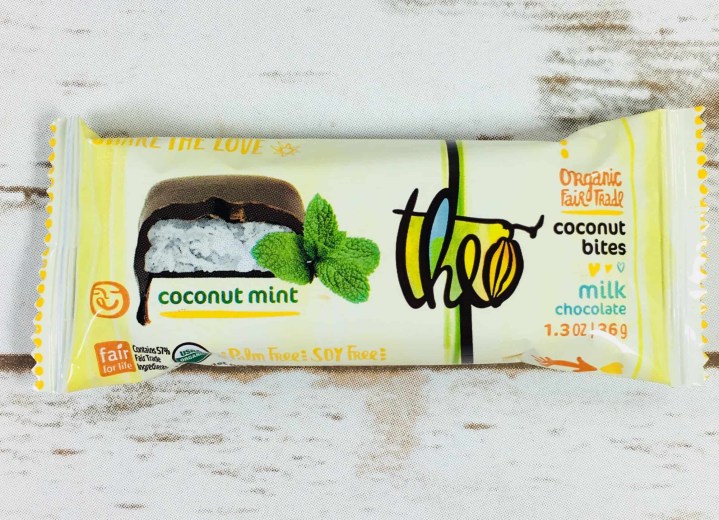 Theo Mint Milk Chocolate Coconut Bites "Sweet and chewy coconut with cool mint enrobed in smooth and creamy milk chocolate."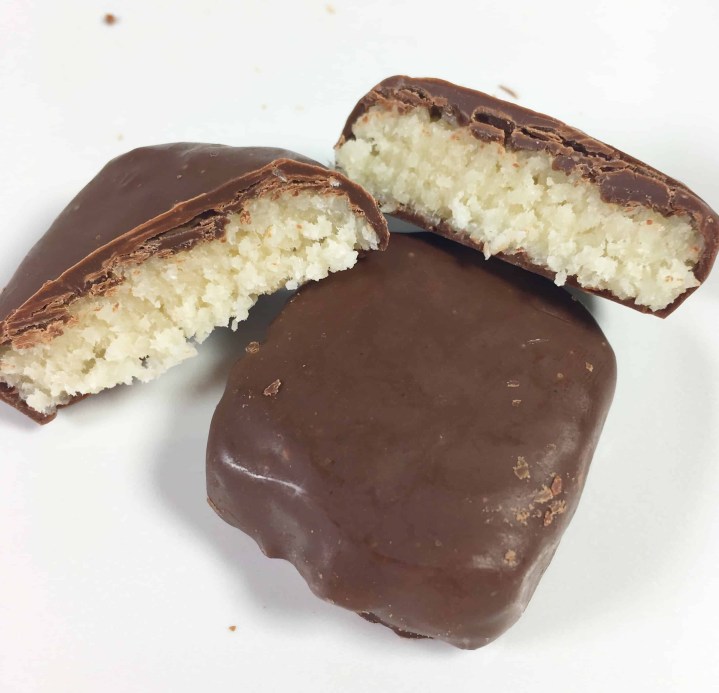 This was a cross between a coconut candy and a mint candy. Imagine your Mounds Bar accidentally picked up some mint flavor – there you have it. I would prefer either coconut or mint; they are such unique flavors and I didn't really care for them together.
Wm. Chocolate Belize Moho Valley 68% Dark Chocolate "Ultra smooth and gently fruity organic cocoa, presented at a lower percentage to highlight its fruit flavors."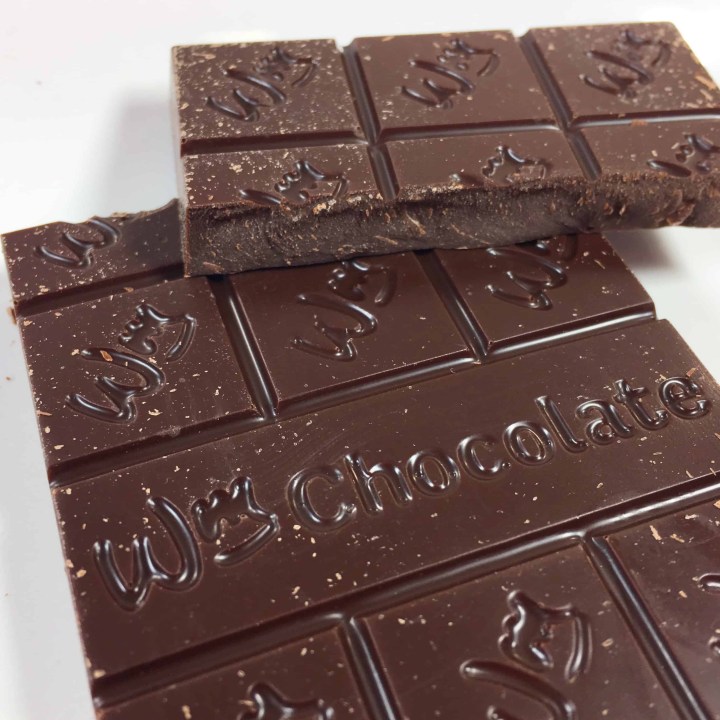 This is single origin chocolate at its best. The beans are harvested from the Moho Valley of Belize and it is amazing what just three ingredients (organic cocoa beans, unrefined sugar, and cocoa butter) can taste like! Tasting notes list flavors such as custard, blackberry, and pineapple but I thought it tasted like raspberries. Wm. Chocolate suggests pairing it with red wine, which I did, and it improved the flavor of the wine as well!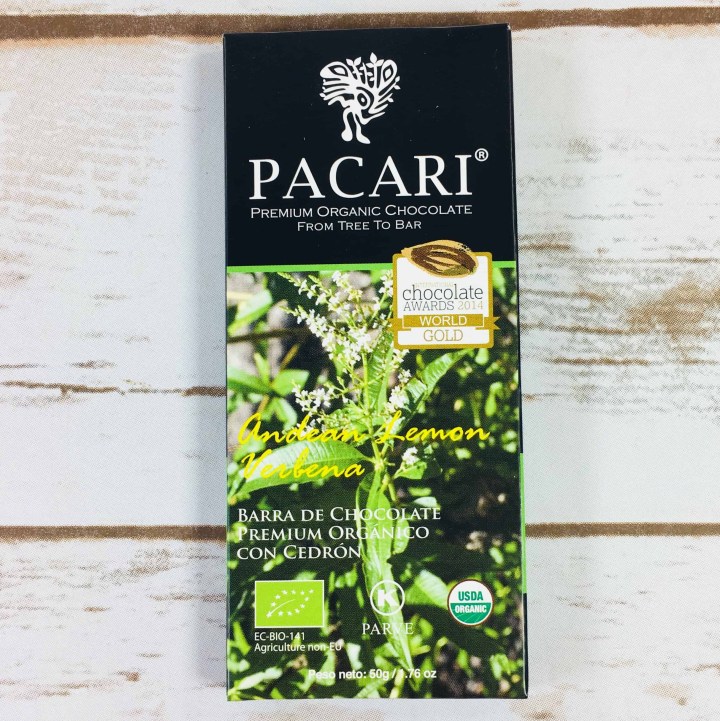 Pacari Lemon Verbena Organic Chocolate Bar "Whether you're growing it as a plant or using it for flavoring, lemon verbena is awesome. Pacari decided to combine with it Ecuador's finest cacao, resulting in a seductively refreshingly chocolate floral-citrus experience."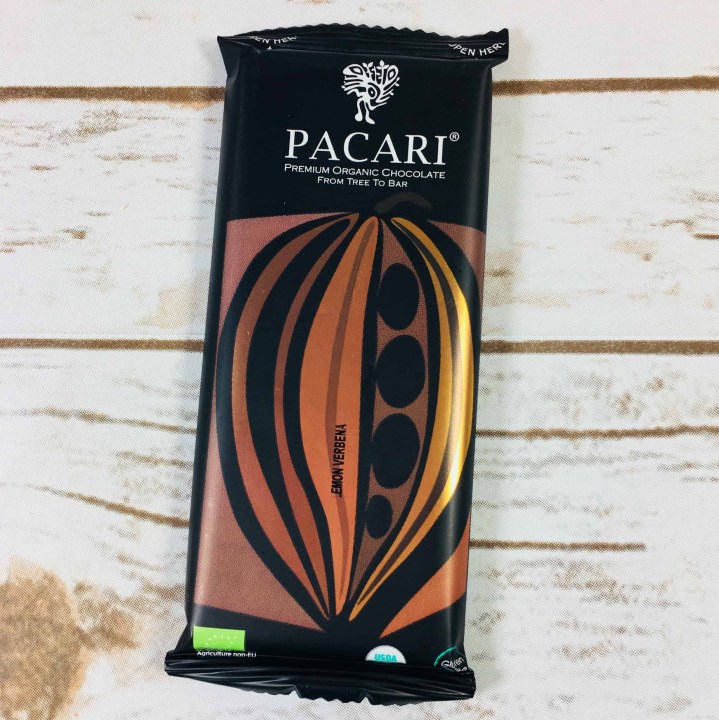 The bar was wrapped in foil to keep it fresh.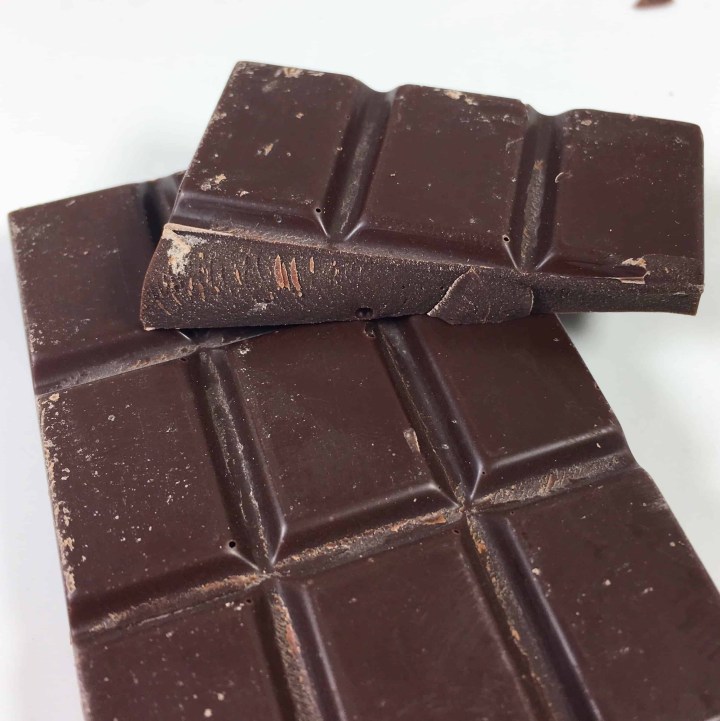 I've grown lemon verbena before, and it sure smells good when you crush the leaves. I like that Chococurb sends exotic flavors but this mostly tasted like really good chocolate, with a hint of something floral or herbal, not necessarily lemony.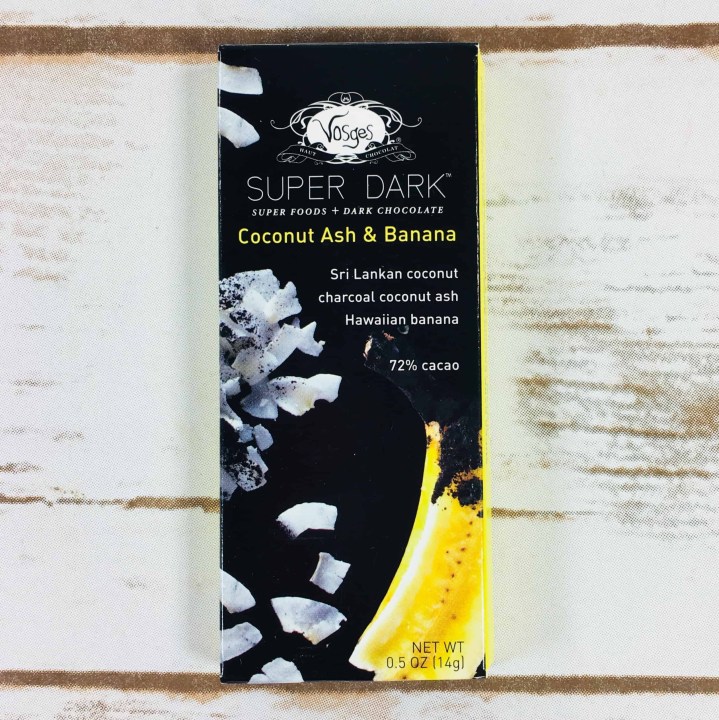 Vosges Super Dark Coconut Ash & Banana Chocolate Bar "Deep, dark chocolate envelops fellow super foods creating our innovative, all-natural Super Dark™ Collection."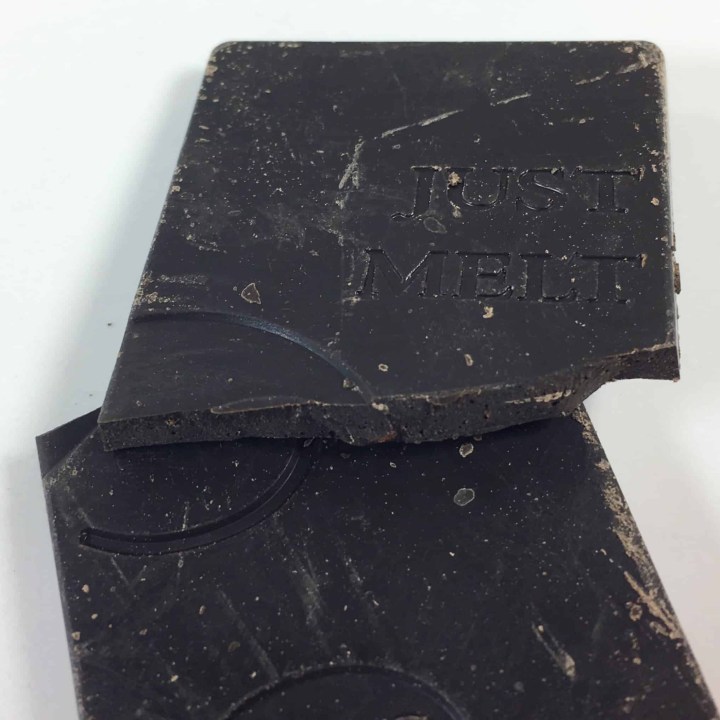 I love that this bar says "Just Melt" on it! I kept handing my husband chocolate to try and he would chomp on it and I told him to stop and let it melt on his tongue – this isn't a Snicker's bar! I found crunchy bits of dried banana inside and a faint coconutty flavor provided by coconut ash of all things. The dark chocolate was very tasty and full of antioxidants – such a fun way to eat for your health (wink wink).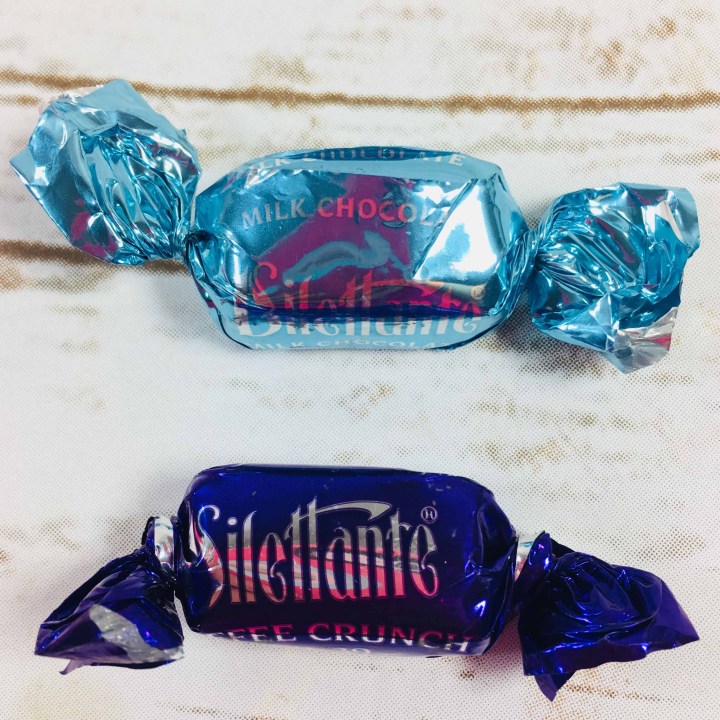 I received two bite-sized truffles from Dilettante. On the top is Milk Chocolate while on the bottom is Toffee Crunch.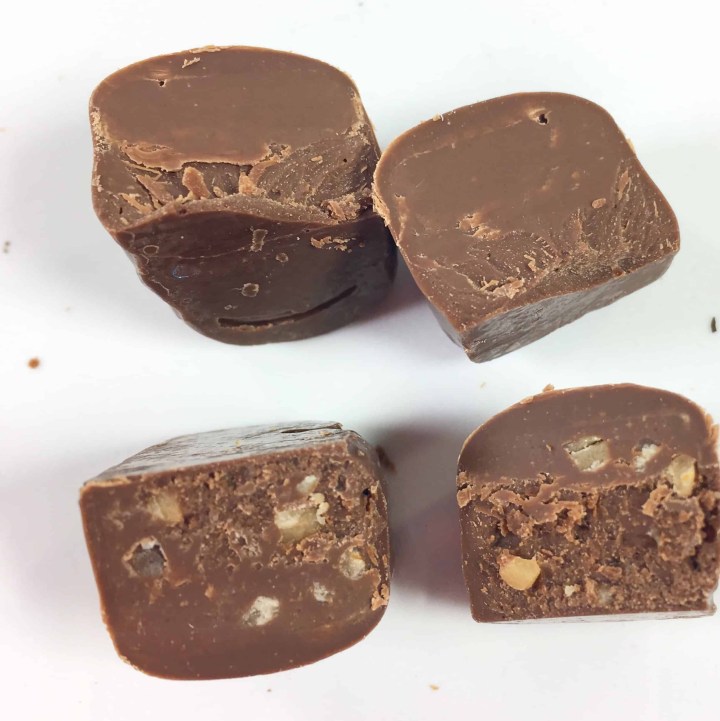 Milk Chocolate is simply that – a silky smooth chocolate ganache that I let melt in my mouth. Toffee Crunch is smooth chocolate ganache but with crunchy bits of toffee inside. Both chocolates were gone very quickly but the melting was wonderful.
Chococurb is so good and full of uncommonly wonderful chocolates. I love this subscription and there is something for every chocolate craving I might have. I have discovered some truly remarkable chocolates through this subscription and look forward to receiving it – I never know what I'm going to get but it's always delicious! Check out the Chococurb website for some more excellent choices for all of your chocolate needs!
I have found my favorite monthly subscription box! Do you feel the same way too? Let me know in the comments!