Chococurb is a monthly subscription containing extraordinary, premium, gourmet chocolates – this isn't your convenience store candy! These items can come from small, local chocolatiers or more established national brands. Every box will have something new, exciting, and absolutely delicious. You can choose from the Classic Box ($35), which has 5-7 items, or choose the Mini ($20), which has 3 items for smaller appetites. Shipping is free during the cooler months but expect to pay for FedEx shipping in the warmer months. I am reviewing the Classic Box today!
The presentation was simple, just a bit of tissue paper with the bars tucked inside.
Chococurb wants to help you discover chocolate that you will love so they have a short questionnaire that you fill out to let them know your preferences.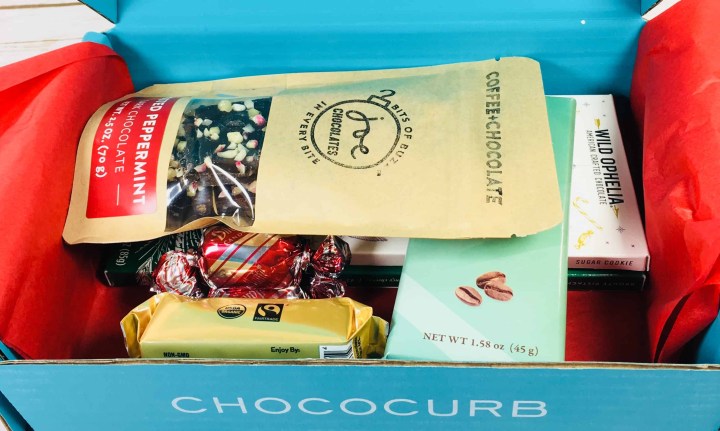 Everything was in perfect condition, now let's see what we have this month!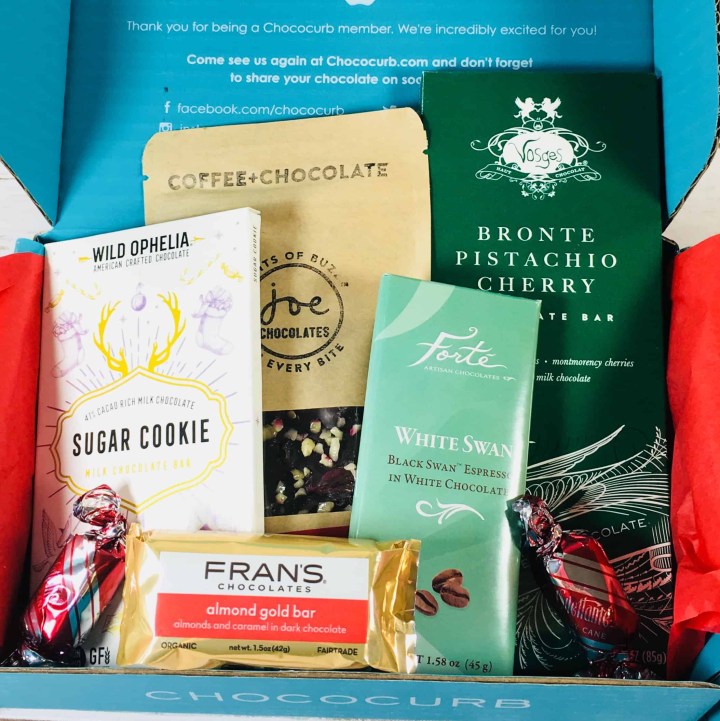 I received 6 different items this month and they all sound so yummy! I always enjoy the variety – white, dark, or milk chocolate; nuts, caramel, everything!
December 2017 Chococurb!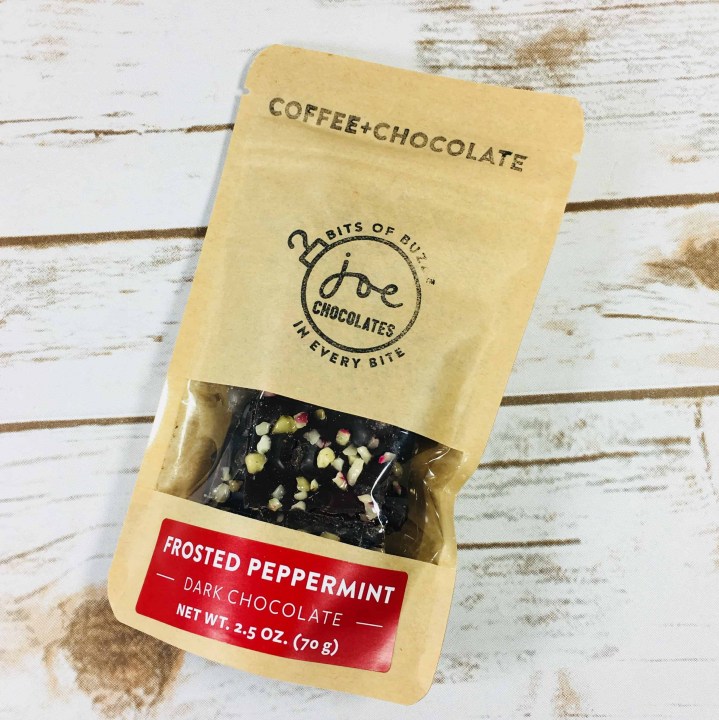 Joe Chocolates Frosted Peppermint Dark Chocolate "Loaded to the brim with so much coffee that grandma is going to tell you the same story three more times this year."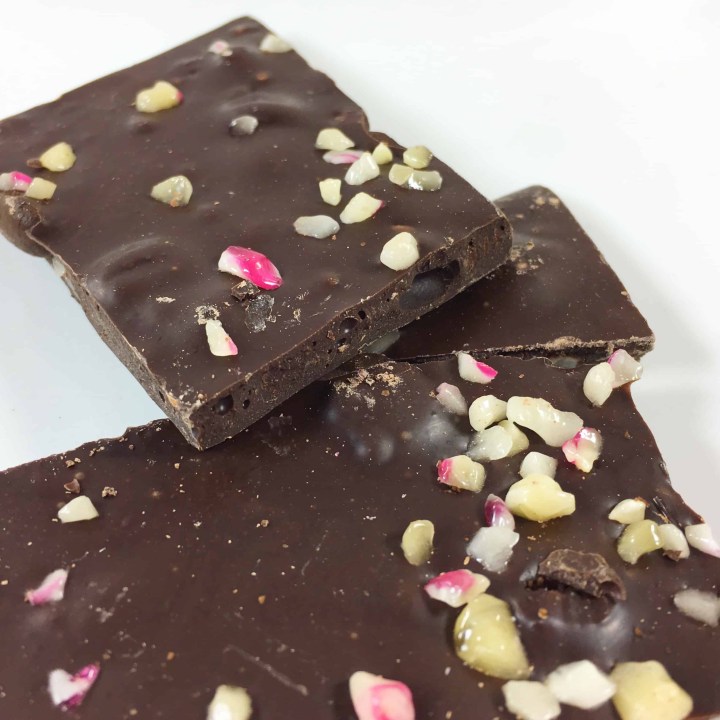 This is a mash-up of chocolate covered coffee beans and peppermint bark! I found crunchy roasted coffee bean halves and chopped up pieces of candy cane in this bar. FYI – the red tint in the peppermint candy comes from beets!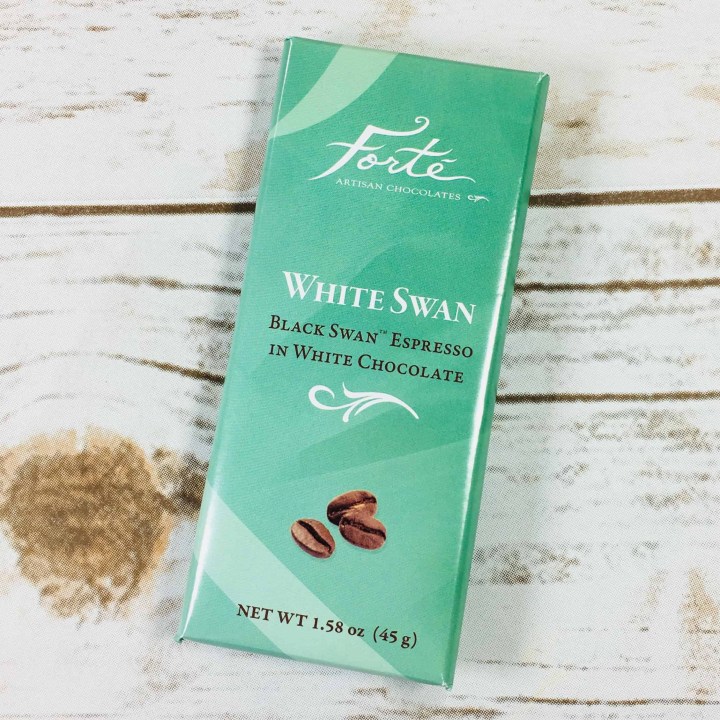 Forté White Swan Black Swan Espresso in White Chocolate "A smooth foundation of creamy white chocolate meets unexpected Black Swan espresso for a grounding flavor, intense richness, and intriguing texture."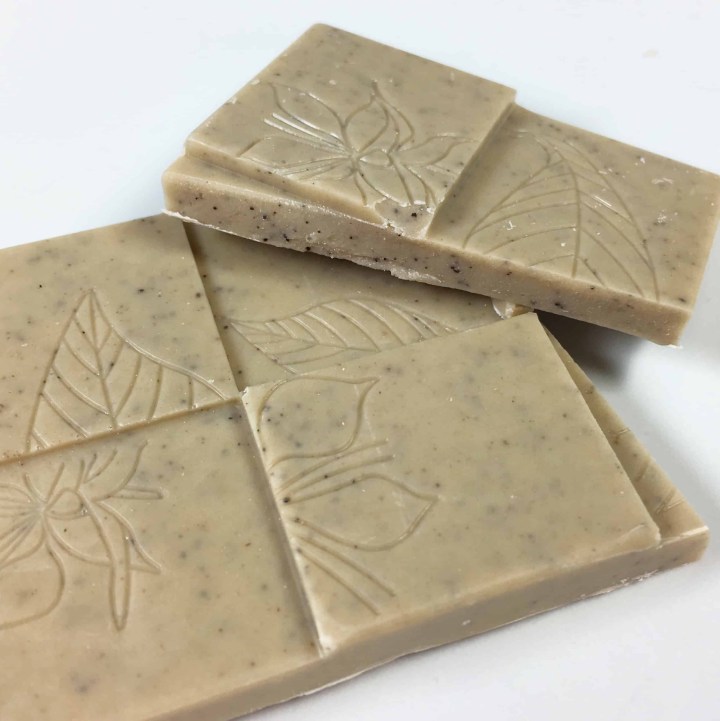 White chocolate with ground up espresso beans. I can't believe I am saying this but it was too sweet! I guess white chocolate is not my favorite type of chocolate, but it was interesting to try!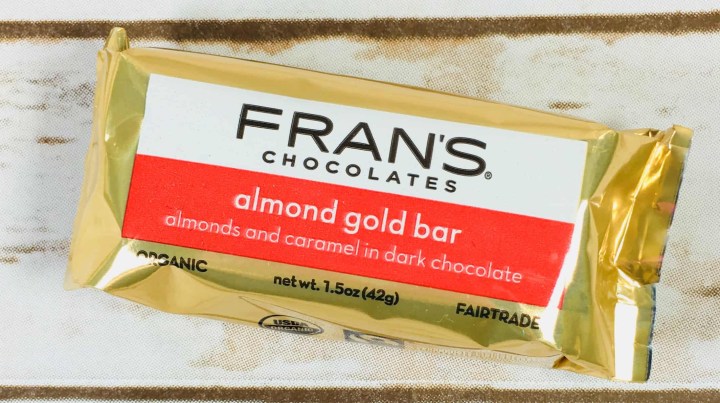 Fran's Chocolates Almond Gold Bar "Almonds taste REALLY good with chocolate. Especially when they're combined with the smoothness of soft, buttery caramel. So go ahead, celebrate with this dreamy, delicious treat."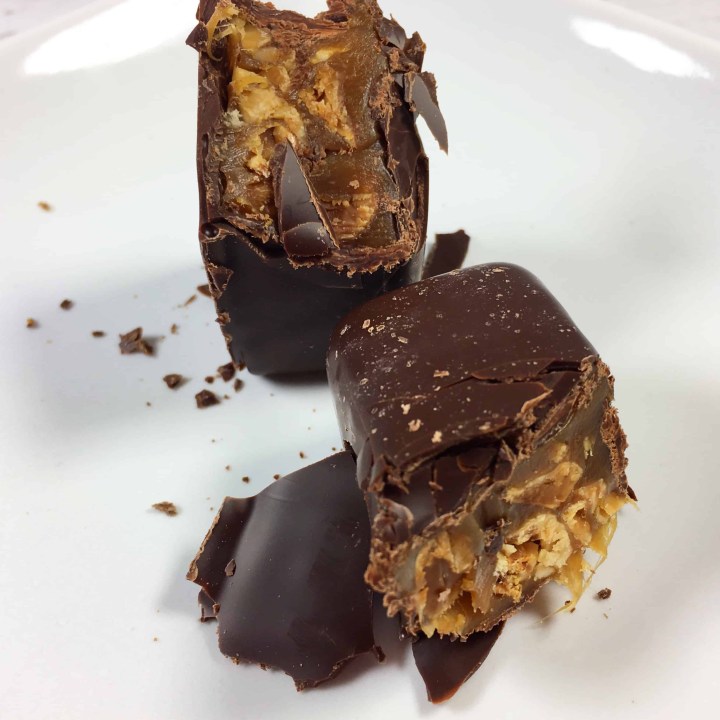 This bar is so rich that I had to cut it in half and saved the rest for another day! The almonds are perfectly toasted and are embedded in the creamy caramel. Dark chocolate covers it all. So good!
Dilettante Mint Chocolate Candy Cane TruffleCremes "Rich, creamy milk chocolate ganache is blended with crunchy bits of all natural candy cane to create an exquisite truffle center."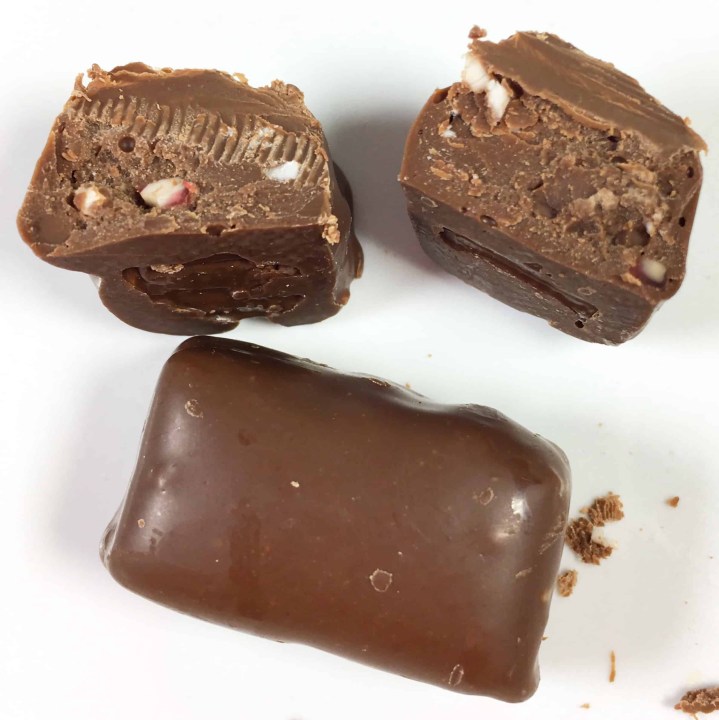 I love peppermint anything and savored these little bites. Smooth milk chocolate ganache truffle filling has crunchy bits of candy cane mixed in and the whole shebang is covered in even more milk chocolate. Superb!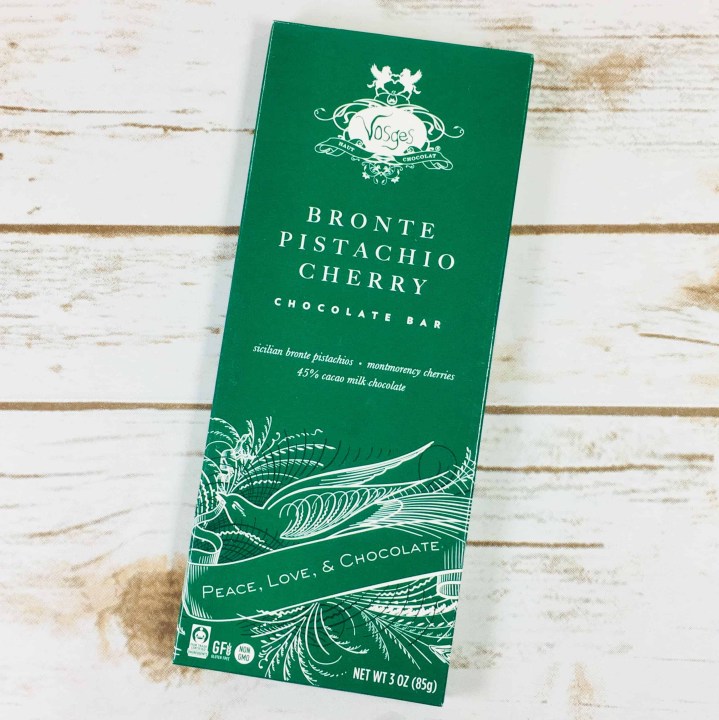 Vosges Bronte Pistachio Cherry Chocolate Bar "Bright green Bronte pistachios are harvested from the slopes of Mt. Etna in Sicily and combined with Midwest Montmorency cherries from the Traverse Bay Fruit Company in Michigan."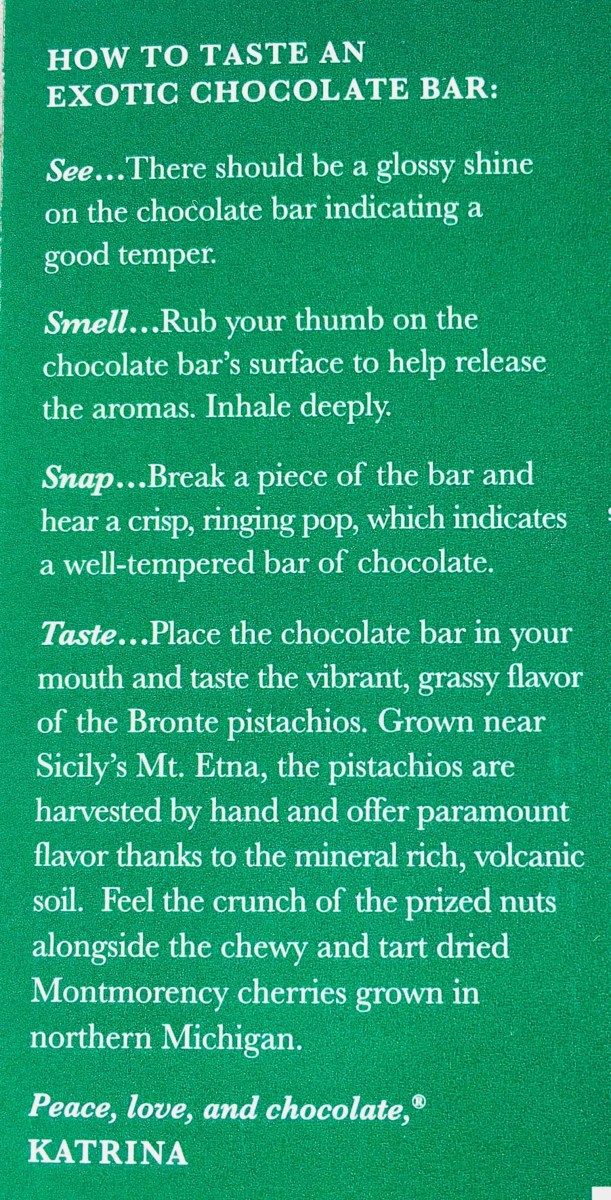 This is my first ever Vosges chocolate bar and I loved that there were tasting instructions on the back of the box!
I'm not sure how else to describe this bar other than "exquisite". It is sweet, salty, nutty, and the chocolate is superb. The pistachios in this bar were grown near Mt. Etna and apparently that makes them extra delicious. I'm hiding this one.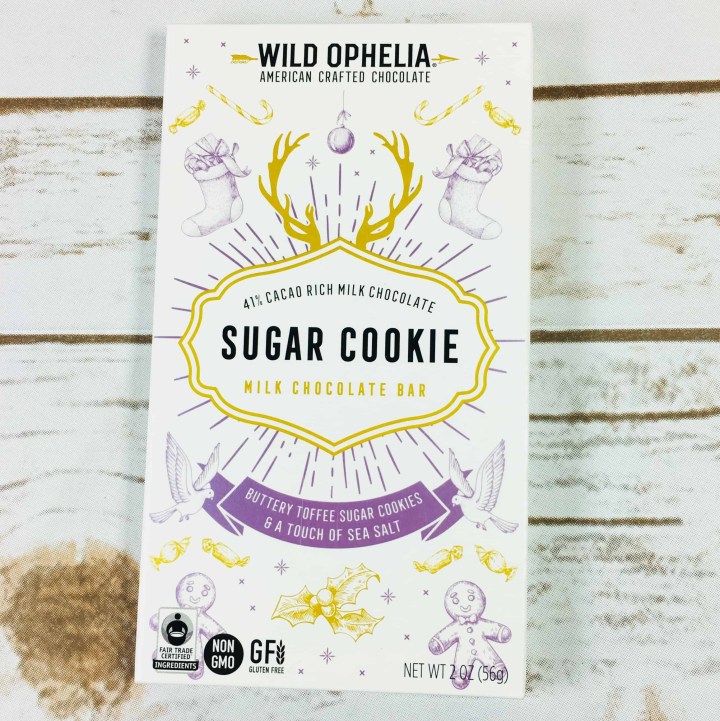 Wild Ophelia Sugar Cookie Milk Chocolate Bar "We begin with butter from a 100-year old family farm in Greenwood, WI and cook it in our copper kettle with sugar to create crunchy toffee. Bits of our buttery toffee, gluten-free sugar cookie crumbles, and sea salt are mixed into 41% cacao rich milk chocolate."
Wild Ophelia is an offshoot of the Vosges Haut Chocolat brand featured above! They provide education and help to young women who want to work in the entrepreneurial food industry.
Creamy milk chocolate surrounds crunchy cookie bits that have salty toffee pieces mixed in. Yummy!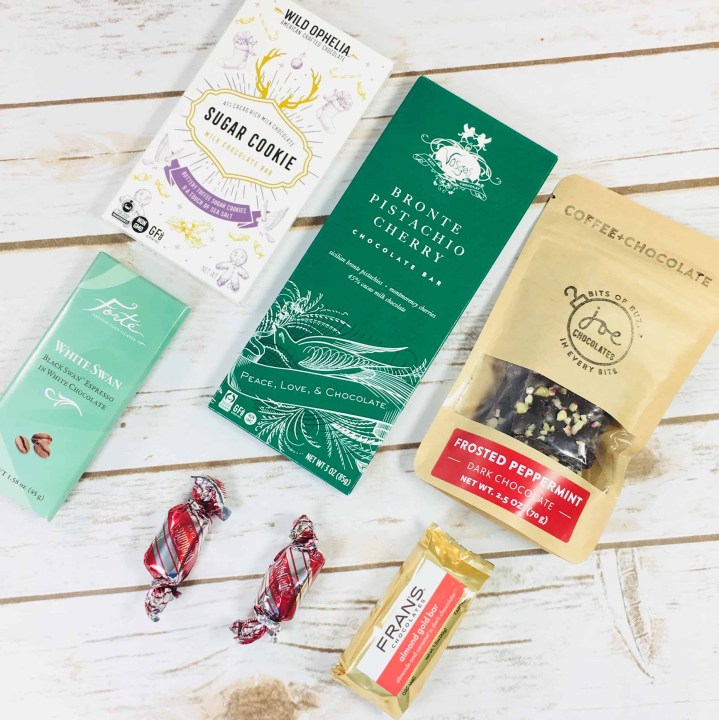 Chococurb is so good and full of uncommonly wonderful chocolates. I love this subscription and there is something for every chocolate craving I might have. I have discovered some truly remarkable chocolates through this subscription and look forward to receiving it – I never know what I'm going to get but it's always delicious! Check out the Chococurb website for some more excellent choices for all of your chocolate needs!
I have found my favorite monthly subscription box! Do you feel the same way too? Let me know in the comments!