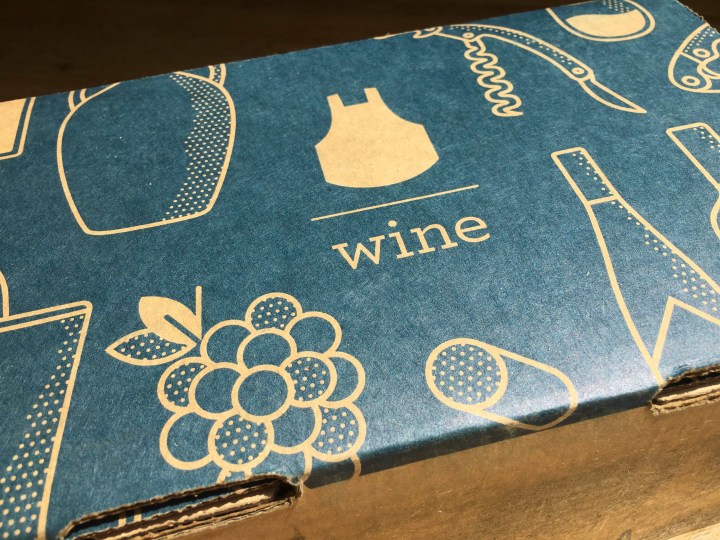 Blue Apron Wine is a subscription for people who love trying new wines as much as they love great food. You may be familiar with the Blue Apron Meal Delivery Kit subscription, which sends boxes of fresh ingredients to make exciting meals at home. The wine subscription is separate from the meal subscription, but it's designed to complement it.
Here's how it works: every month, for about $11 per bottle ($65.99/month, including shipping and tax), Blue Apron sends you 6 bottles of wine, plus tasting notes and pairing recommendations. The wines are selected to pair perfectly with the meals in the Blue Apron kits. The bottles are 500 ml, or 2/3 the size of a standard bottle, which, in addition to being adorable, means that you and your dining partner can enjoy your entire bottle with your meal without regretting that additional glass needed to finish a standard-sized bottle.
Blue Apron pairs with wineries around the world to bring a wide range of new and interesting wines to you each month. I love wine, and I love food, and I love everything about the idea of this subscription.
The packaging was updated this month!  As loyal readers know, I love clever packaging.  It's science!  Keep in mind that someone 21+ will need to sign for it.  Everything is in great shape when it arrives, and the packaging remains, happily, recyclable cardboard.
DEAL: You can try out your first box of Blue Apron dinners for $30 off with this link.
Blue Apron Wine allows you to select your wines–you can go all white, red, or mix it up. I do wish there were sparkling wine options occasionally.  This month, it was cold, it was dreary, and it called out for red wine, so I got 5 versions (plus a Chardonnay because it looked delicious).  It's incredibly easy to switch out your bottles.
If you're wondering what a 2/3-sized bottle looks like, here is one of the bottles with a standard-sized bottle next to it. You'll get about 3 1/2 standard glasses in a bottle, or a generous pour plus a top-off each if you're with a partner.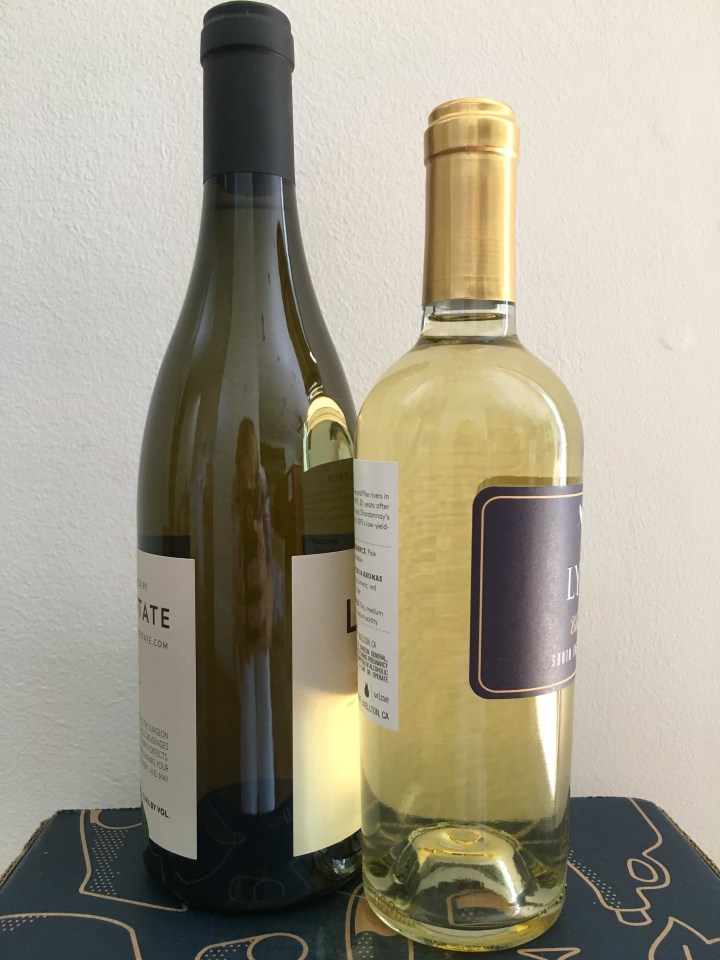 Each box comes with a great collection of tasting notes. Blue Apron tells you a little bit about the winery and how the bottle was made, plus the region at large. Because, come on, you didn't REALLY know where the Central Coast was, did you? The info details the color, body, and structure of the wine, and also gives some thoughtful food pairings for each bottle. The info is terrific – wine is not scary, and tasting it should be fun and informative. Data is your friend.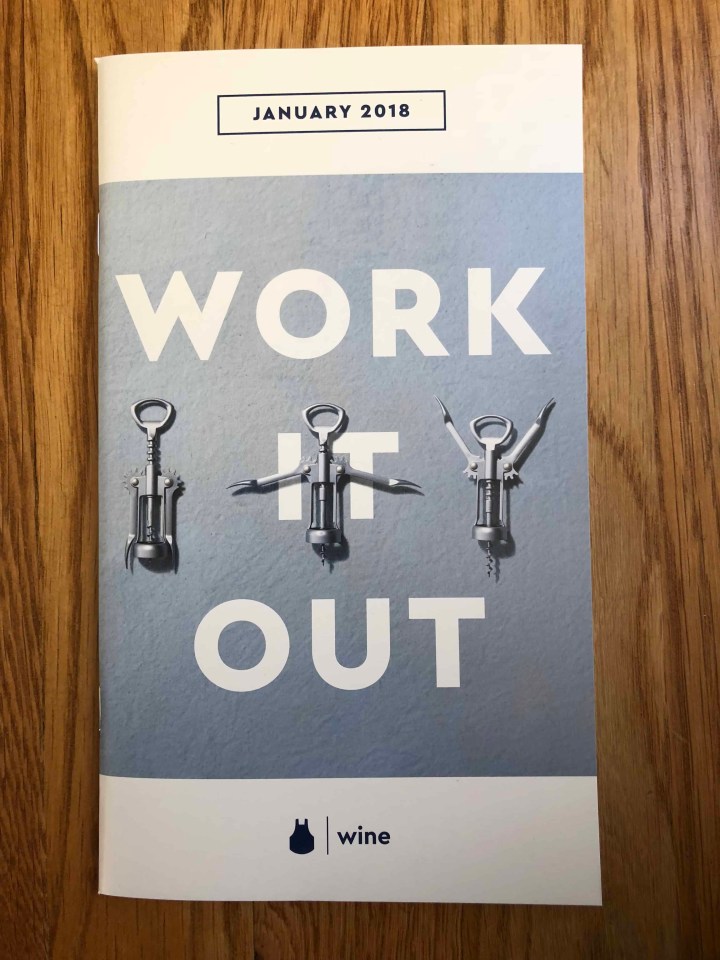 It's January!  But now it's late January, so we can dispense with all that Dry-nuary nonsense and go back to drinking delicious wine in moderation. Let's get started.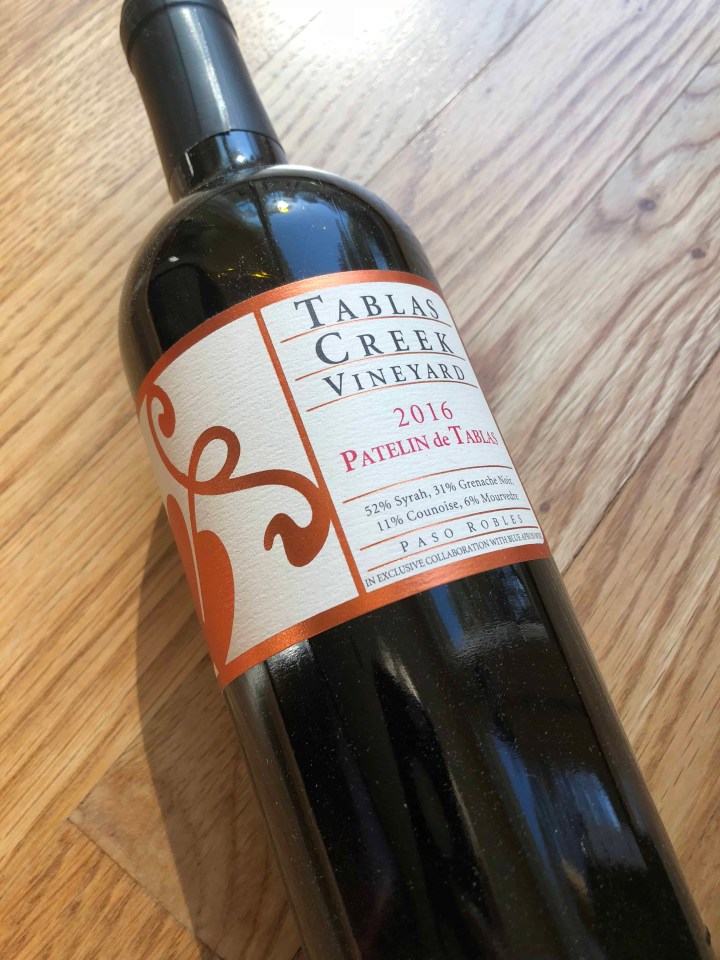 We drank our wines over several nights with meals (see, moderation!).  Our first was the 2016 Tablas Creek Vineyard's Rhone-Style Red. "Rhone-style," of course, because this bottle comes from Paso Robles, California, not France.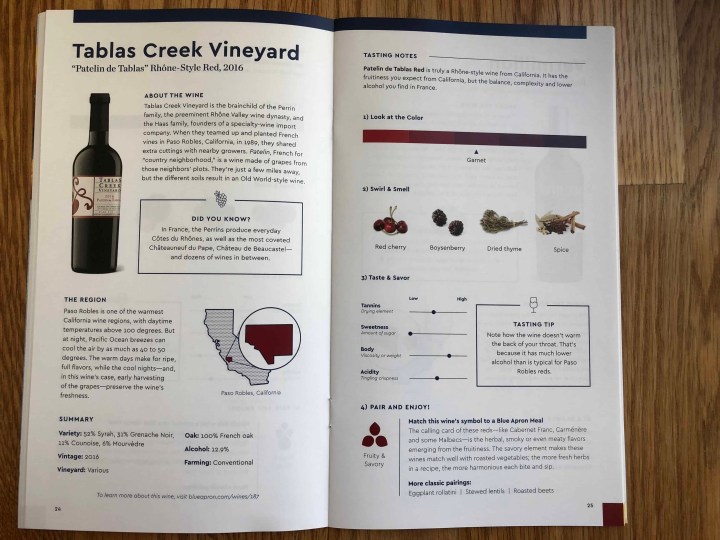 The Tablas Creek winery was started by a French family, and uses French vines, so it's not surprising that this wine is not the giant California-style red that you might expect from Paso Robles. Instead, this blend (mostly Syrah and Grenache) is nicely moderate in ABV (12.9%) and pairs beautifully with food. It's red-violet in the glass, with a medium body and a bright nose of red fruit and herbs. The herbal flavor comes through strongly in the flavor, with a bracing backbone of tannins and a clean finish. I'm a big Cotes du Rhone ("style") fan, and this is really a lovely example of the, um, style. We had it with spaghetti and red sauce, but it would also be delicious with pork or even pizza. Cool room temperature here, but off-chill would be nice if you were serving it with backyard barbecue (when it isn't so miserably cold out). We were really happy with the start of this month's box!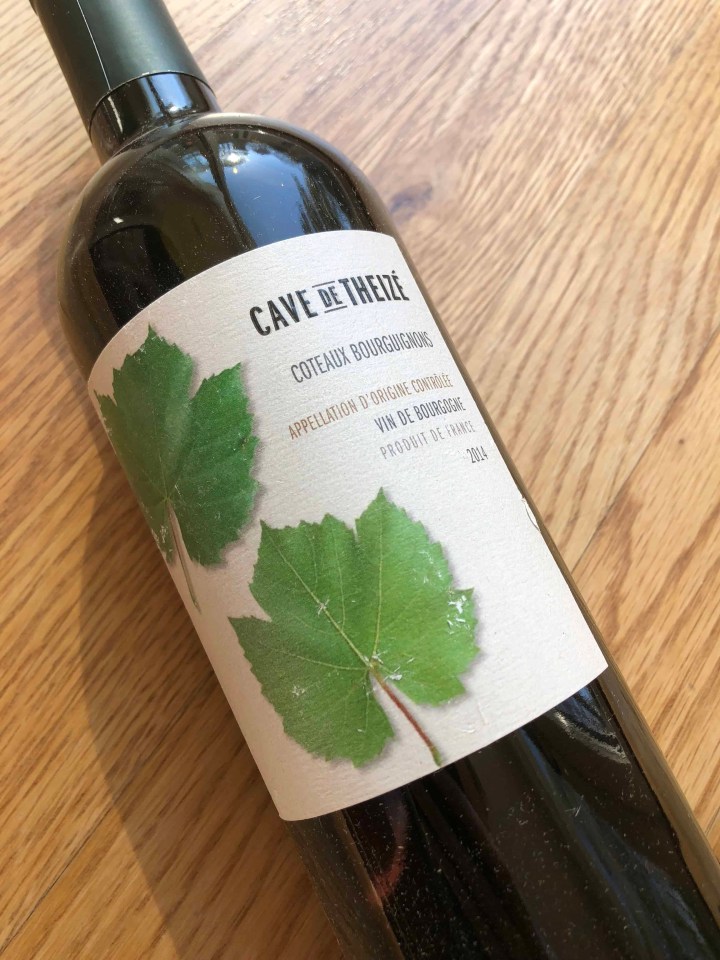 Our second wine is another light red, the 2014 Cave de Theize Coteaux Bourguignons. This bottle is from the Burgandy region of France. For some reason, the January wine guide didn't have this wine in it, so you can check out the pdf below. Or… just read the review, eh?
The Cave de Theize is mostly Gamay, with a bit of Pinot Noir thrown in for… well, I don't really know why, because Gamay and Pinot Noir are very similar in structure and flavor. These are light, fruity wines, that can tip sweetish if you're not careful. In this case, the Cave de Theize leans toward the leaner, herbal style of French Pinots instead of the soft, fruity Californian ones. There is a lot of floral herb on the nose, and while you can taste cherry in the flavor, there is a lot more peppery dried herb in the finish. I didn't notice as much tannin as the tasting notes suggest, but this does have a bright acidity to keep things fresh as you finish your sip. This wine comes off a little lighter to me than the Tablas Creek. It would be nice with any kind of grilled meat, especially chicken or pork. We had it with slow cooker pork shoulder, and the combination was great.  Cool room temperature here. Two for two this month, yeah!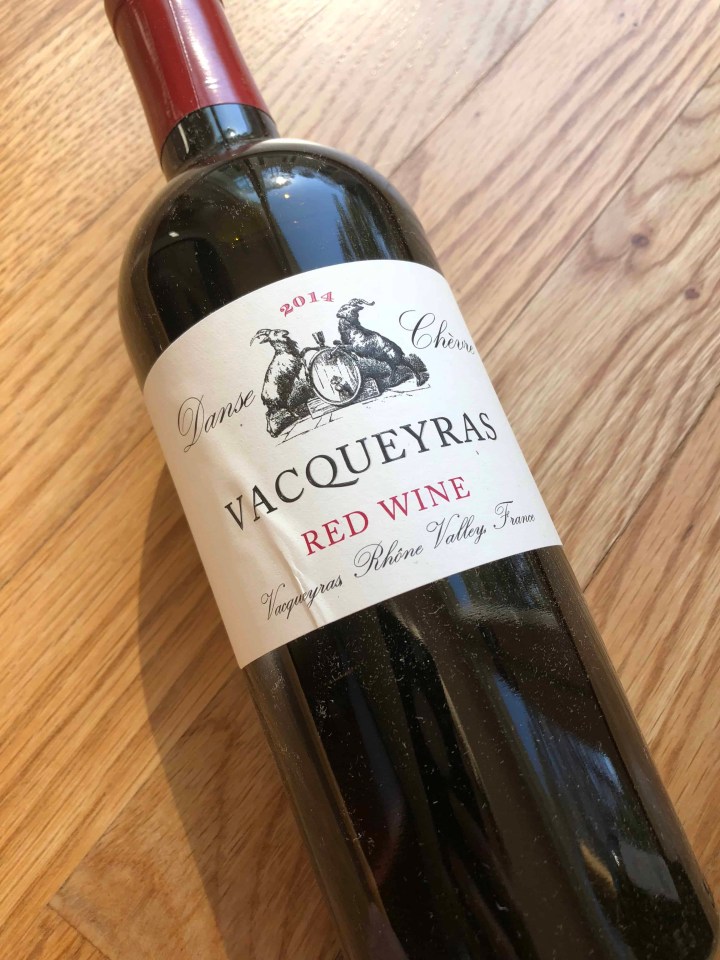 Next up is the 2014 Danse Chevre Vacqueyras from France. More Rhone Valley representation. This is what happens when I pick my own box, I guess. Like Cotes du Rhone, "Vacqueyras" is an appellation, not a particular varietal. These blends are usually bright, not incredibly complex, and play nicely with lots of foods. They also tend toward the lower end of ABV, so you can drink with a slightly freer hand than you might with a big California wine.
The Danse Chevre is a blend of Grenache, Syrah, and Mourvedre, all typical Rhone Valley grapes. The wine is a nice dark purple in the glass, with a soft nose of dark fruit and spice. The body is medium, a little lighter than I think the tasting notes reflect. You taste that dark fruit first, then get a hit of spicy pepper, and finish with a lingering softness with maybe a hint of licorice. The wine isn't as soft as a Pinot Noir, because it has some decent tannins to chew on. I didn't find this as zippy/refreshing as the first two wines in this box, but the Danse Chevre is an easy, friendly wine that would be great in front of a fire with a book. We had salmon burgers and sweet potato fries with this, which probably wasn't the best match–I'd go with dark winey stew or something to really get the most out of the Danse Chevre. We drank this at room temperature, which emphasized the softness of the wine. A touch of chill might bring out some of the acidity and cut the finish, so you decide how you want to drink it. Another nice bottle.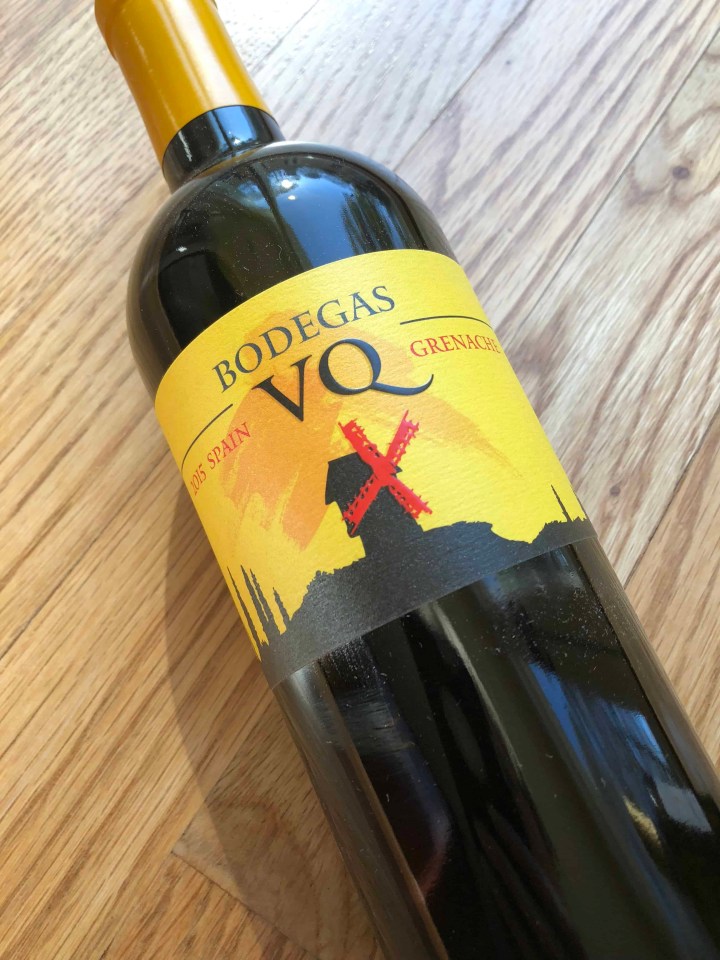 Over to Spain and the 2015 Bodegas VQ Grenache (or Garnacha, as they usually say in Spain). This versatile grape is an important part of my beloved blends from the Rhone Valley, but here it stands on its own. Grenache is a fruity, low-tannin wine that can be cloying or spicy, depending on the winemaker.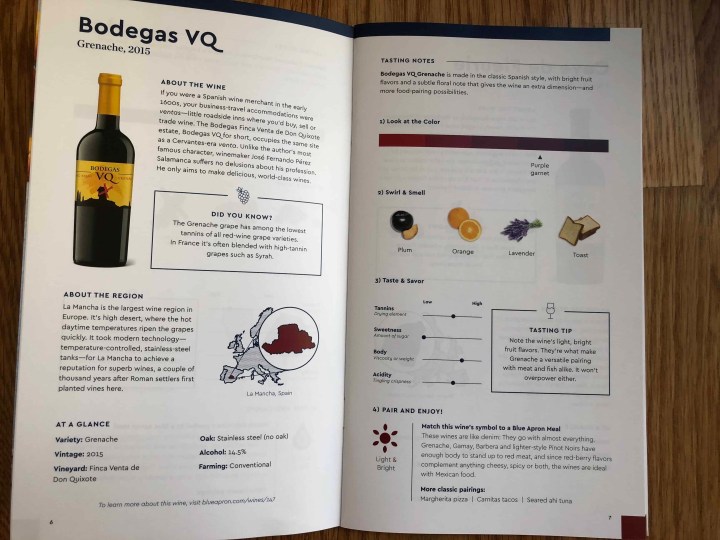 The Bodegas is a dark purple in the glass, almost the same color as the Danse Chevre, but with a higher weight.  Its nose is all fruit and floral, with maybe a hint of that yeasty toast the tasting notes claim. (I might not have noticed it without the notes, and I'm still not sure it's really there, but that's the fun of drinking wine with notes–you might find things in the wine you didn't expect.) I tasted dried cherries along with the plum in this wine, with a big hit of that lavender at the finish (no toast, alas). There isn't much bite to the back of this wine, as expected, but the finish is fairly clean. I don't know that I was in love with the Bodegas, but it was interesting to compare the full-Grenache treatment with the Rhone blends we started with. We had a tomato-pepper-cheddar-rice hash (because, Wednesday) with it, and it was pretty good. The tasting notes suggest seared ahi, which I don't think appeals, or carnitas tacos, which definitely does. Cool room temperature here.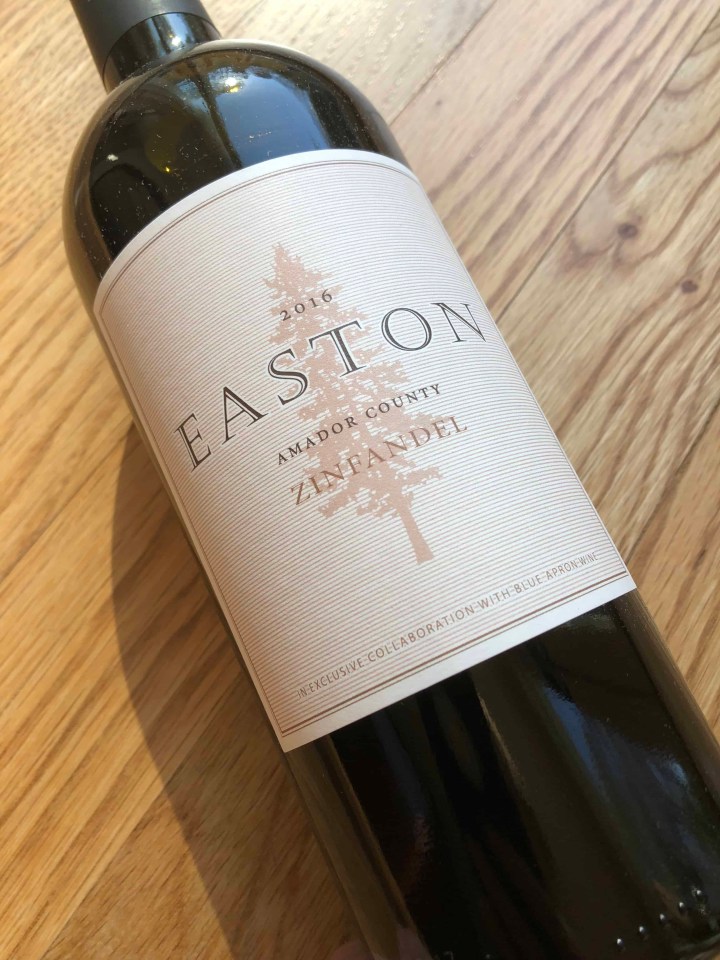 We saved our biggest red for last in the 2016 Easton Zinfandel. (Or, you could say we drank my beloved Rhone wines first). This Sierra Foothills (Amador County) winery loves its Zin. This bottling is one of those "exclusive collaborations" with Blue Apron Wine, but I don't know exactly what this means. I don't think the 2016 Easton is out yet, so I don't know if this is a preview of it, or a parallel bottling.
The Easton is dark, dark purple in the glass, with a weighty body and a strong nose of blackberry and dark fruit. I actually tasted the chocolate first with this wine, and then it was followed by the dark fruit. The tannins are pretty pronounced, hiding the acidity and making the finish feel a bit unbalanced. Letting it air in the glass over our meal softened the bite, but this is still a wine you'll want to pair with a beefy meat. A swiss-mushroom burger would be a delicious choice. The 2016 Easton might benefit from a little age, but you're not going to age a 2/3 size bottle of wine. Drink it now with that burger and enjoy the boldness of this Zinfandel. Cool room temperature here.
Last up is the 2016 Vignerons des Terres Secretes Macon-Villages White Burgandy. Back to France for my only white in this box. I was feeling red this month, as I said, but this was in my suggested selections and I couldn't bring myself to replace it because I love a good French Chard. White Burgandy wines are all made from the Chardonnay grape, but they vary based on their placement in the region. This Burgandy comes from the Maconnais region, and specifically from the Macon Village area. Its designation (they're into their designations in France) should mean that you can expect a mid-level, solid-quality wine with emphasis on the fruit and mineral flavors and no oak. Let's see, shall we?
The wine is light gold in the glass, with a medium body and a pronounced nose of sweetish fruit — I was going to say apple, but pear is fine, too. The flavor of the wine loses all sweetness, however, with a sharp edge of mineral and a longish, zippy finish. The fruit and acid are really nicely balanced. If you like a fat, buttery California Chard, you could ease into the French style with this wine because of the fruit, though you won't get that oaky finish you're used to. It's not as lean as a Chablis, but still quite refreshing and a pleasure to drink. We had this with salmon and sauteed squash, and it would go with any light meat dish. A slight chill on this is nice.
What a great box of wine this month! I think it was our favorite one yet.
If you're still feeling weird about enjoying wine in austere January, Blue Apron is happy to give you advice on what to eat and drink to reach 100 years. Whether you want to take dietary advice from a wine catalog is up to you.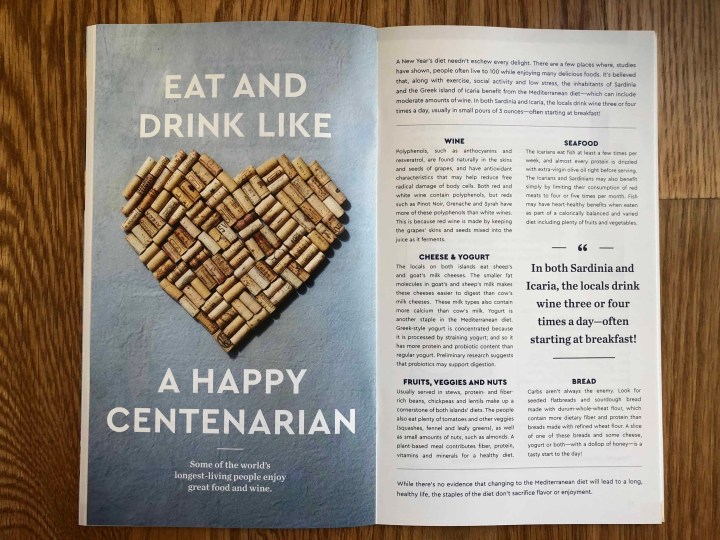 By the way, Blue Apron has an easy system for pairing its wines and its food subscriptions, somewhat like you might have seen in nicer grocery stores — the wines are categorized by type (crisp & minerally, plush & fruity, etc.) and then that symbol shows up on the food recipes. Pair any wine of the recommended type to the food, and voila — you have a great meal!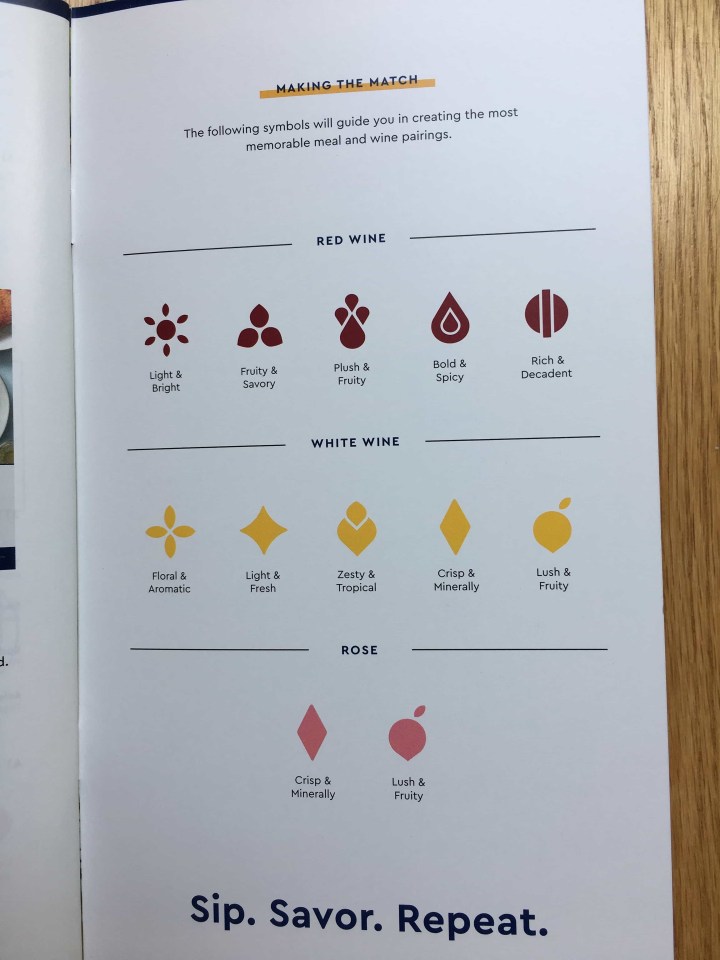 Have you tried Blue Apron Wine? Are you trying any new wines for 2018? Tell us in the comments below!