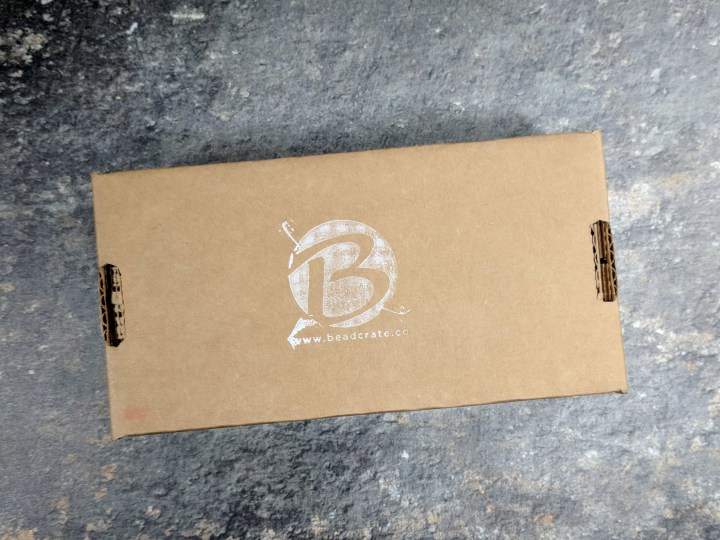 BeadCrate is a monthly subscription box for bead enthusiasts. Every month, you'll receive a curated collection of beads, findings, and other goodies to enhance your beading creations! There are three box sizes – Hobbyist ($7.99), Enthusiast ($15.99), and Collector ($35) to choose from. Prices don't include shipping.
This is the Enthusiast Crate!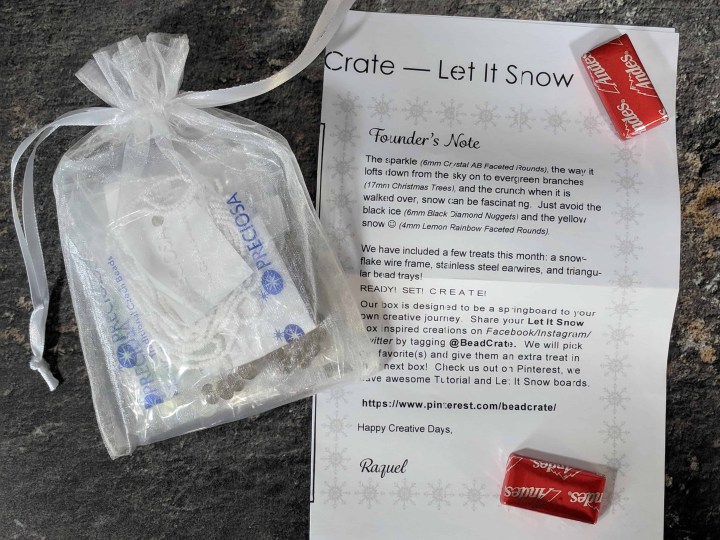 We also have a curator's note explaining the theme. This month's theme is Let It Snow! We also received two little chocolate to treat ourselves! You can share your creation on their social media (Instagram or Facebook, don't forget to tag them!) for a chance to get a little surprise in next month's box.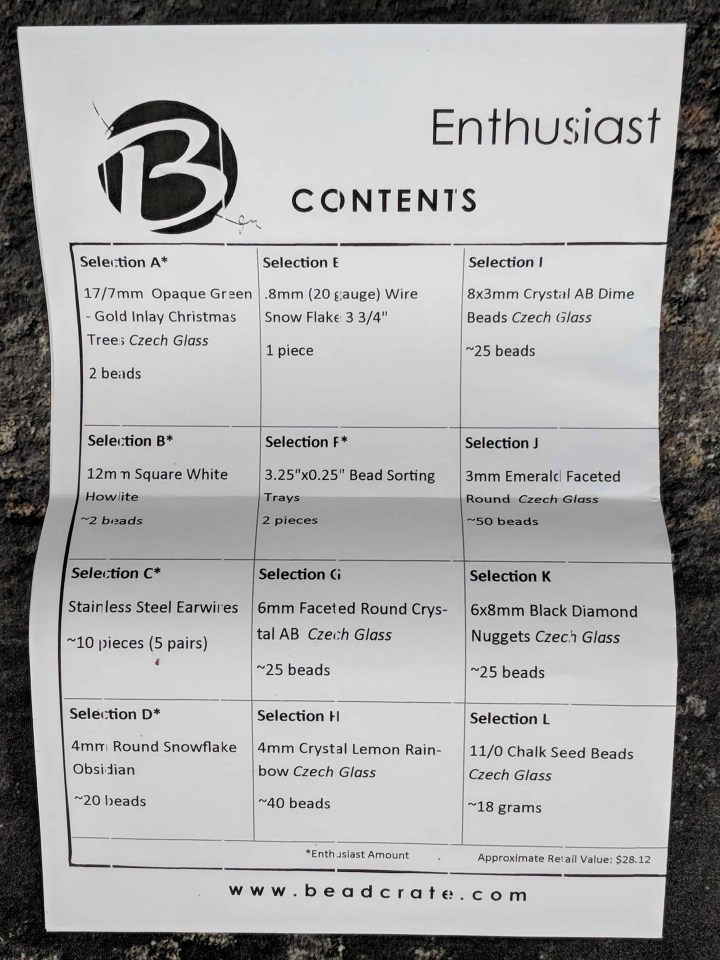 The crate comes with a chart that tells you exactly what you're getting.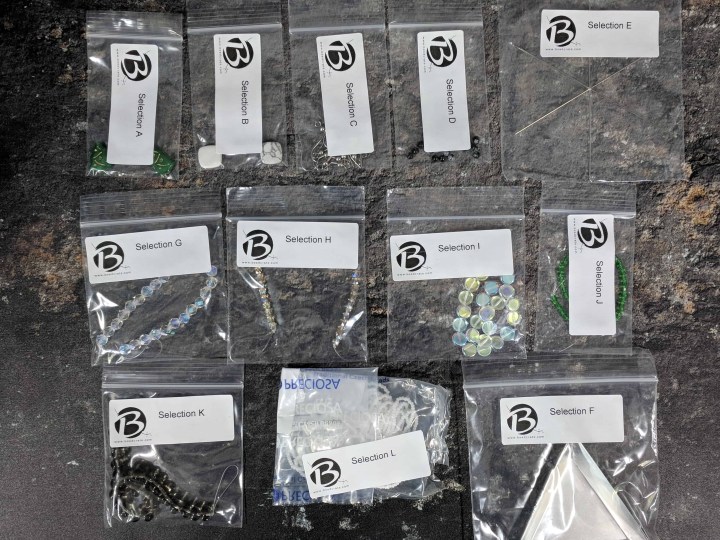 The beads always come neatly packaged inside individual well-labelled plastic bags inside a cute organza bag.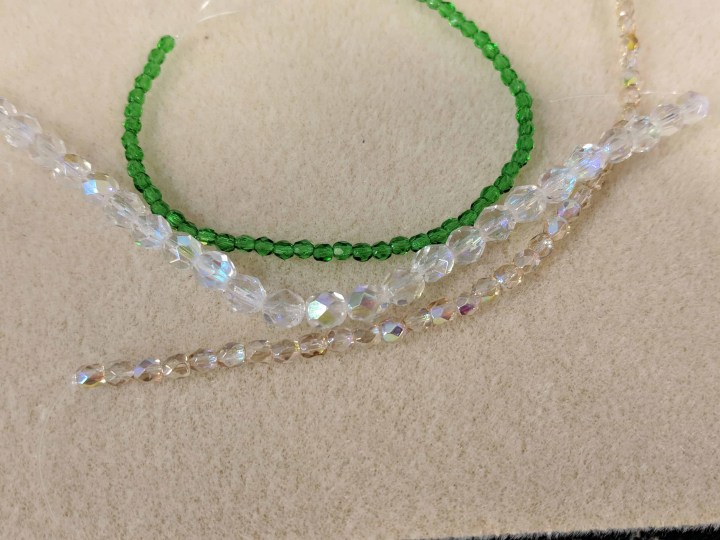 6mm Faceted Round Crystals AB. I love faceted round beads, they are so shiny and bring sparks to a design. They would be lovely with the howlite sqares for a take on Ice and Snow.
4mm Crystal Lemon Rainbow. They are small enough to be easily used with threads for weaving design or on a loom with seed beads. I like the color as well.
3mm Emerald Faceted Round. They go well with the Christmas Trees, so I used them with them. I like the color in contrast with all the crystal and light colors from this box.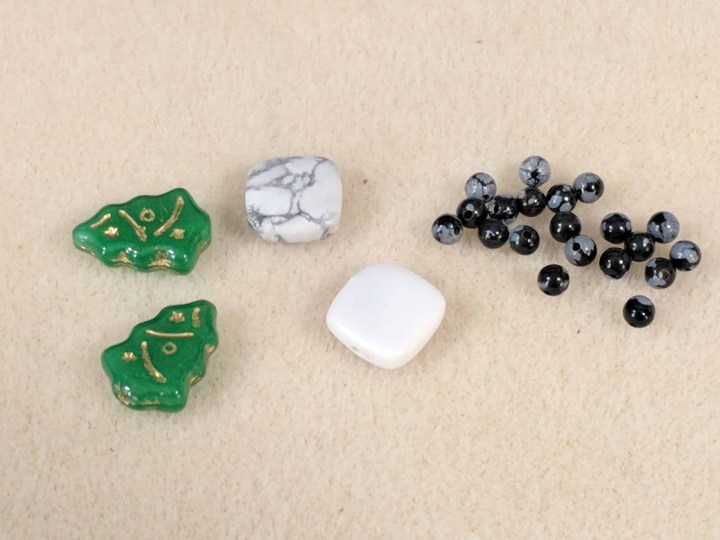 17/7mm Opaque Green – gold Inlay Christmas Trees. The cutest beads in this month's box, I really wanted to do something with them. The hole goes through from top to bottom, perfect to thread an eyepin or headpin to make a dangle.
12mm Square White Howlite. I like gemstones and I cannot lie! Howlite are a great winter stone that almost looks like snow on top of an iced lake. I will turn them into earrings at some point, with maybe some of the obsidian, or some sparkly small rondelles to make them shine like morning snow!
4mm Round Snowflake Obsidian. As I said earlier, I love gemstones and I cannot lie! I might pair them with the Howlite Squares, or keep them for a future white and black stretch bracelet. They are small enough that more than one can be used for earrings.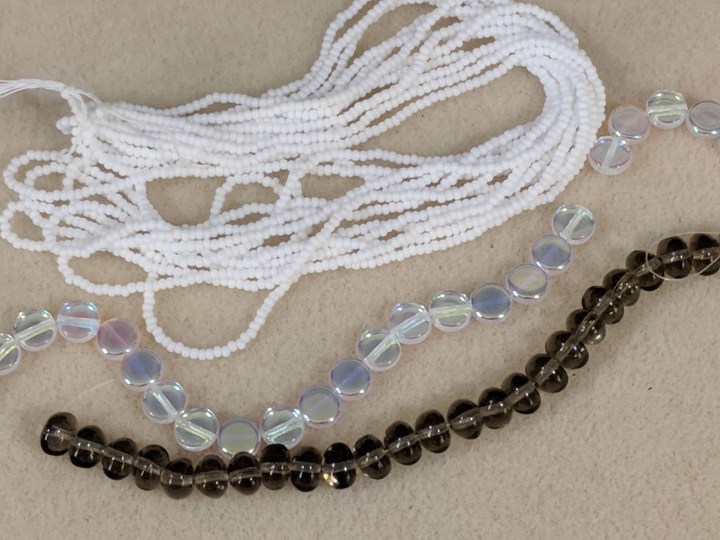 8x3mm Crystal AB Dime Beads. I'm not a big fan of flat coin beads, but they are great for dangles, such as earrings, or to lay flat on a bracelet.
6x8mm Black Diamond Nuggets. I will admit, I like the color and the shape, but I never know how to properly showcase them.
11/0 Chalk Seed Beads. I'm starting to like getting seed beads, as I'm having less and less accident when using them. And thanks to the bead trays, I might go a couple of days without loosing half of my beads to the God of the Floors. I like the color, it goes well with the gemstones, and it's soft without being matte.
Stainless Steel Earwires. It's always useful to have extra earwires on hand. I'm not the biggest fan of earwires with the ball and the spring on them, but those are easily removable for nice simple earwires.
.8mm (20 gauge) Wire Snow Flake 3 3/4″. I was so excited when I saw this spoiler on their social media! I've seen them often, but never bought one. They are ready to go : just thread the beads on the branches and either make a loop at the end of each branches, or glue a bead. You can thread seed beads in between the branches, make hanging dangles on the bottom three branches, anything goes!
Bead Sorting Trays (2). At the time I took these pictures, I thought that there were only one trays, so I was quite happy when I realised we got two!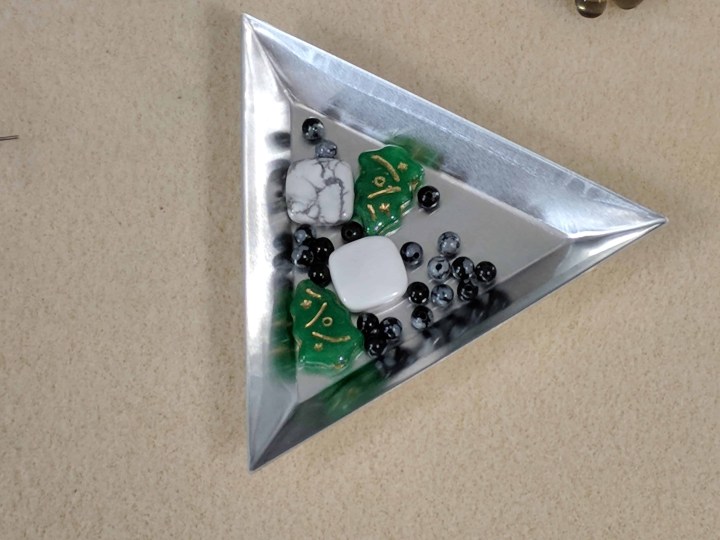 They are so useful, but once again I never used one before. And I should have, a lot of accidents would have been prevented (like the entirety of my mat falling on the floor…) It's also easy to put the beads back into their container thanks to the angled sides.
For this month's design, I wanted to use the earwires and the cute Christmas tree, so I made a pair of cute earrings.
This month's box wasn't overly Christmasy, which I really like. The little trees were the perfect addition to an otherwise very winter like box. The trays are so useful, I don't know why I didn't get any before! Thanks BeadCrate!!! I really like the gemstones we received, and the emerald faceted round beads reminded me of pine trees on a winter morning. A very nice little box!
What do you think of this month's BeadCrate box?