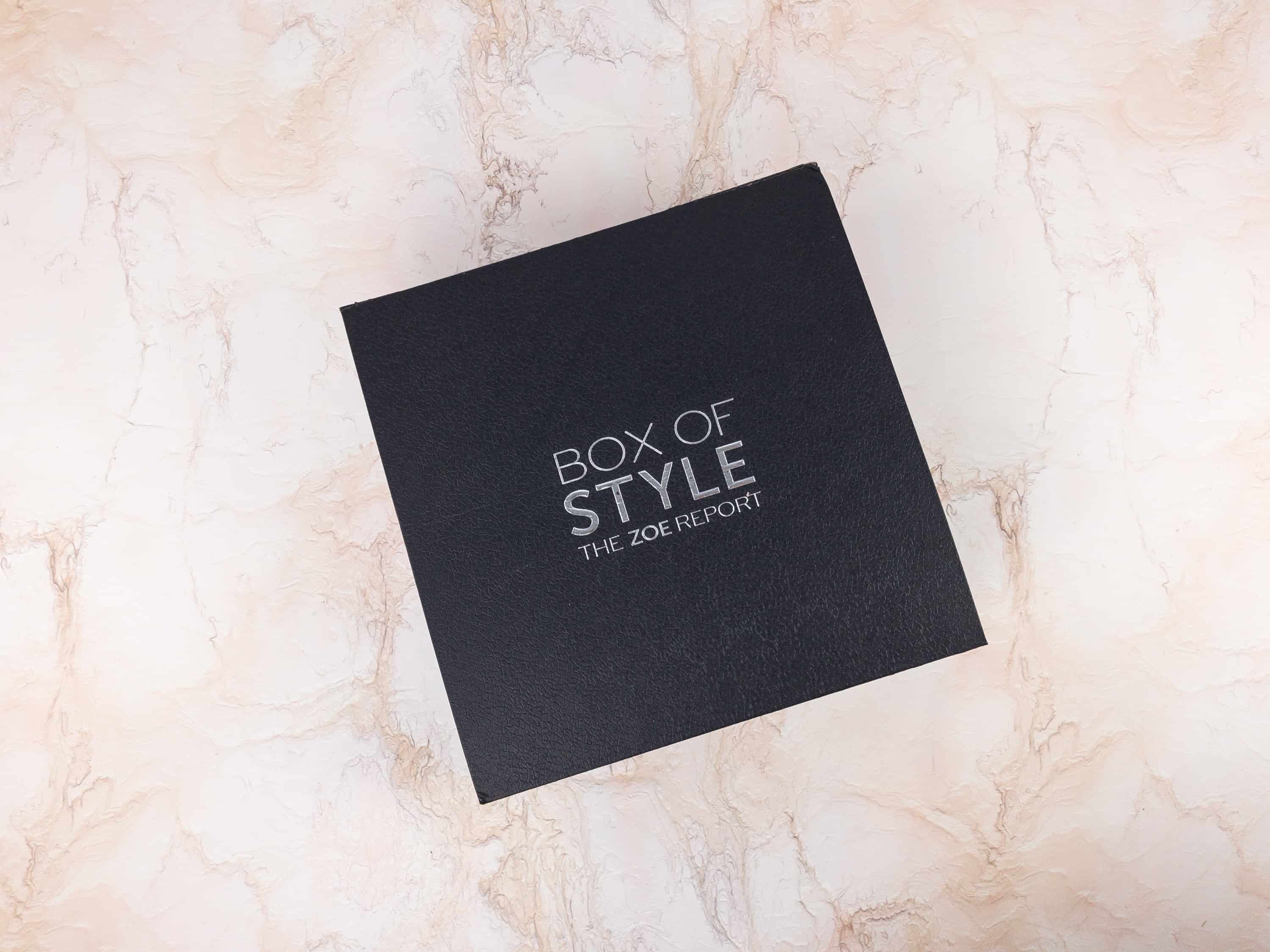 Box of Style by Rachel Zoe is a fashion, beauty, and lifestyle quarterly subscription box from Rachel Zoe.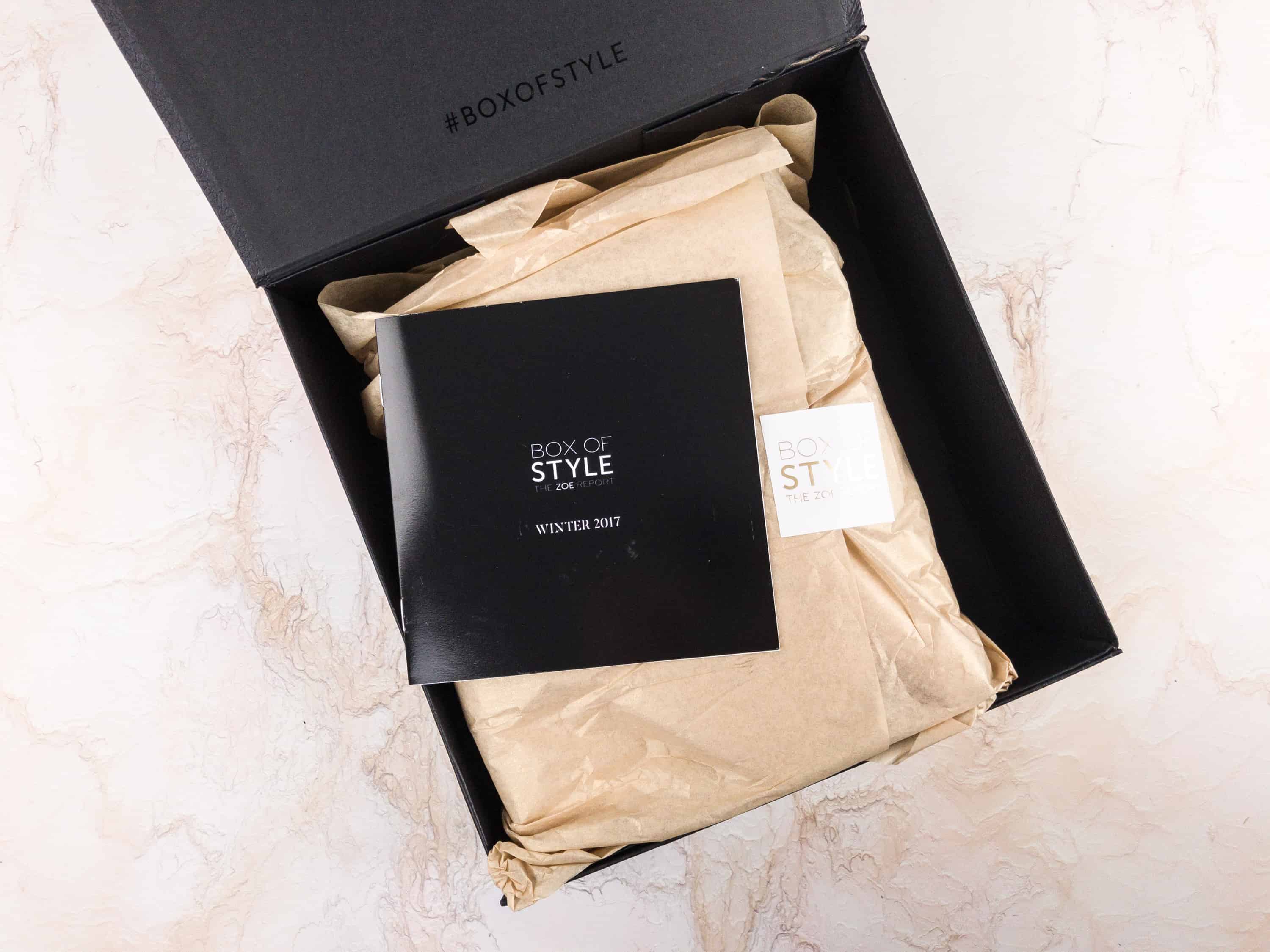 Every box is like a limited edition box, with a focus on fashion and style.
DEAL:Use coupon code BOSWINTER20 for $20 off your first box ( use BOS20 for $20 off an Annual subscription).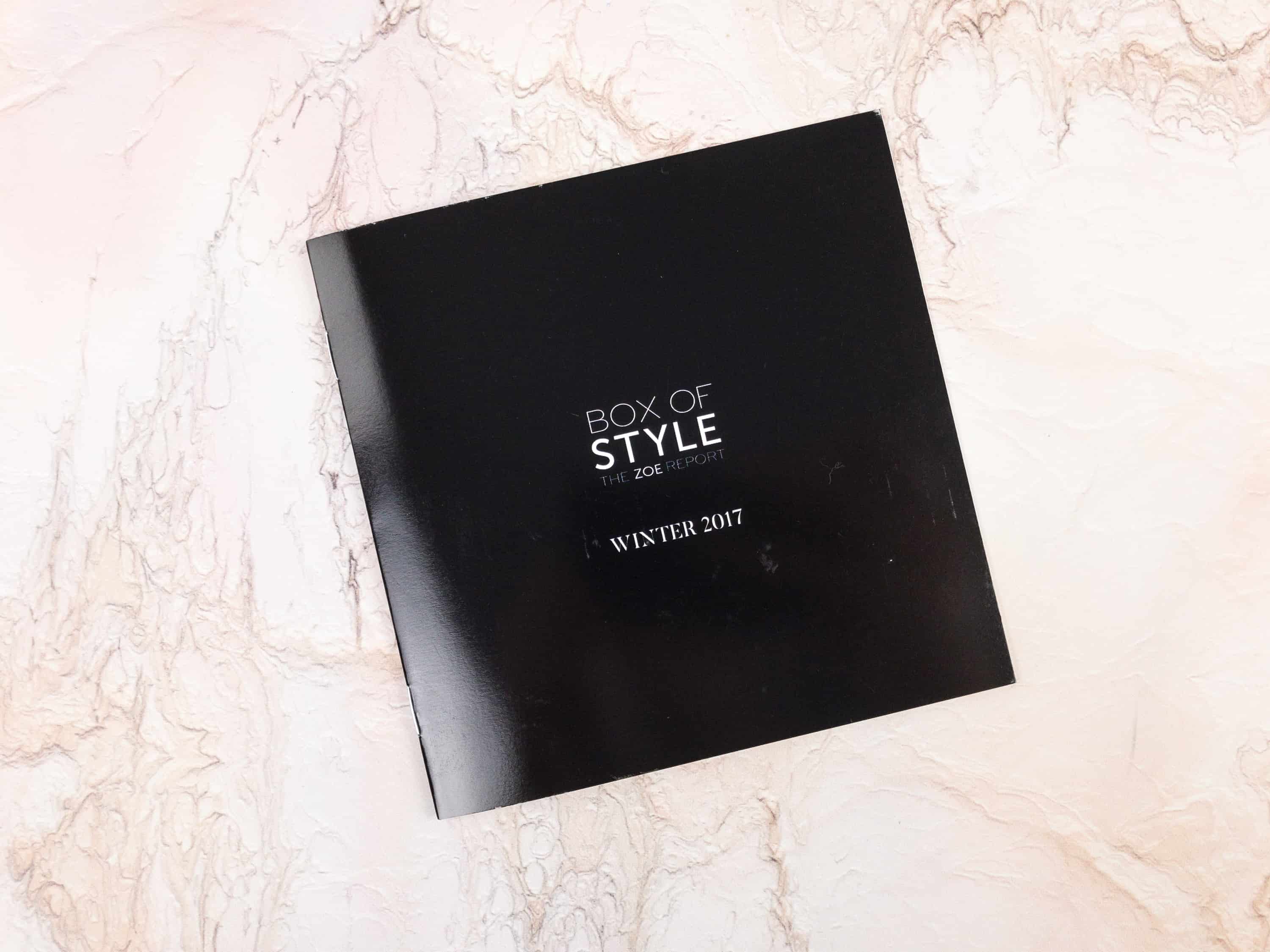 Each box comes with this mini mag.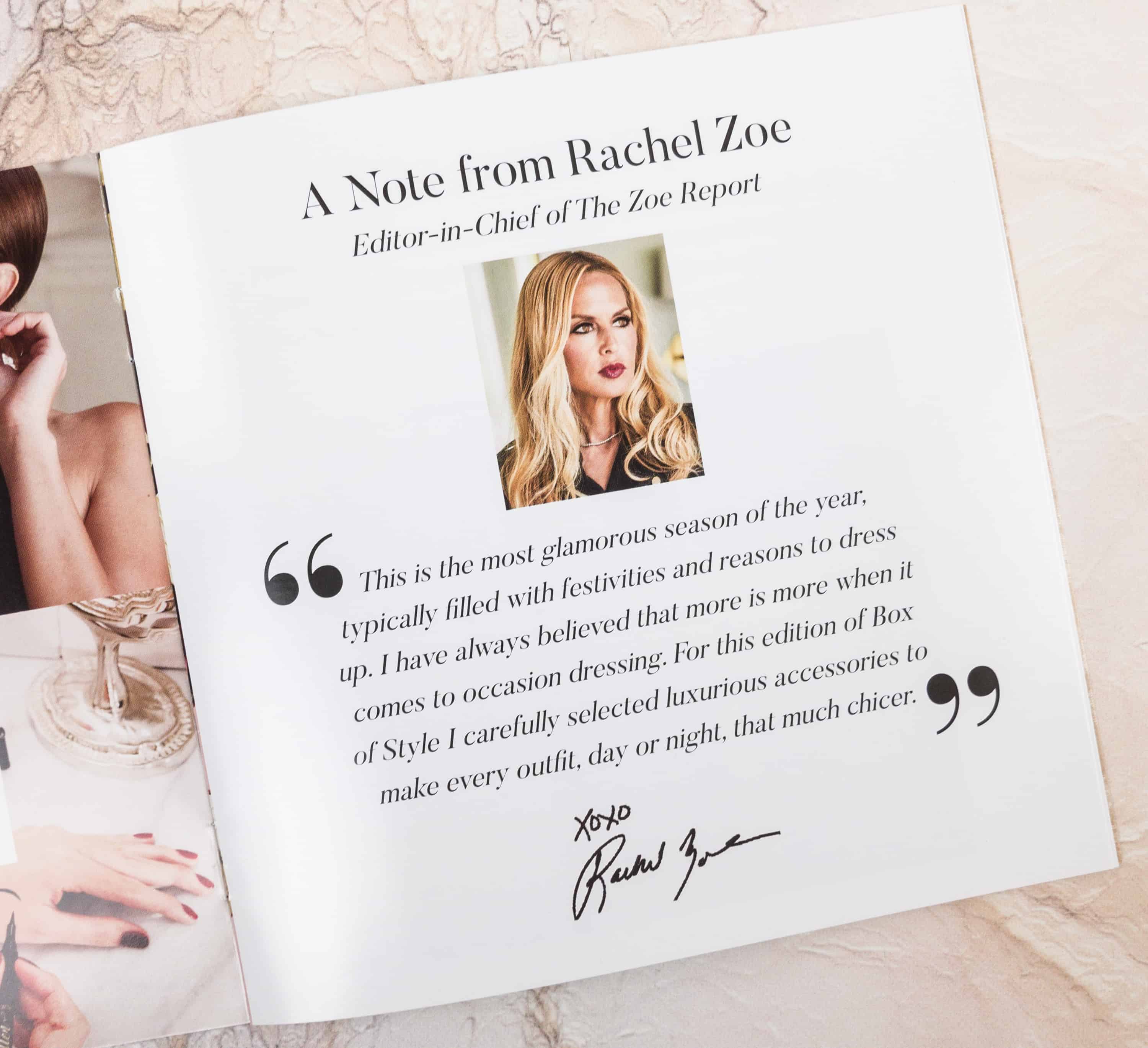 A note from Rachel Zoe.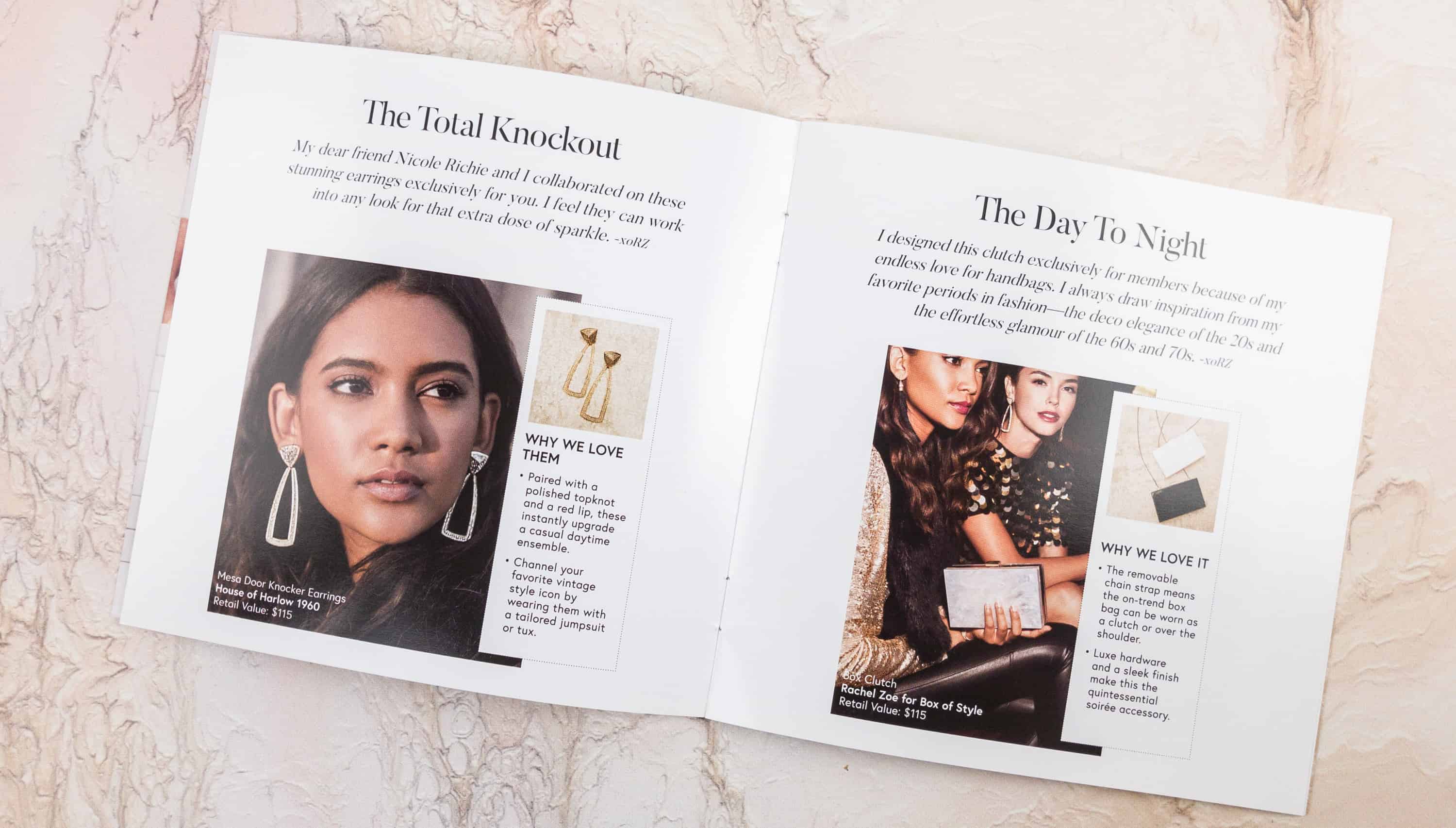 The mini-mag also comes with the item list plus a short description of each item as well as styling tips!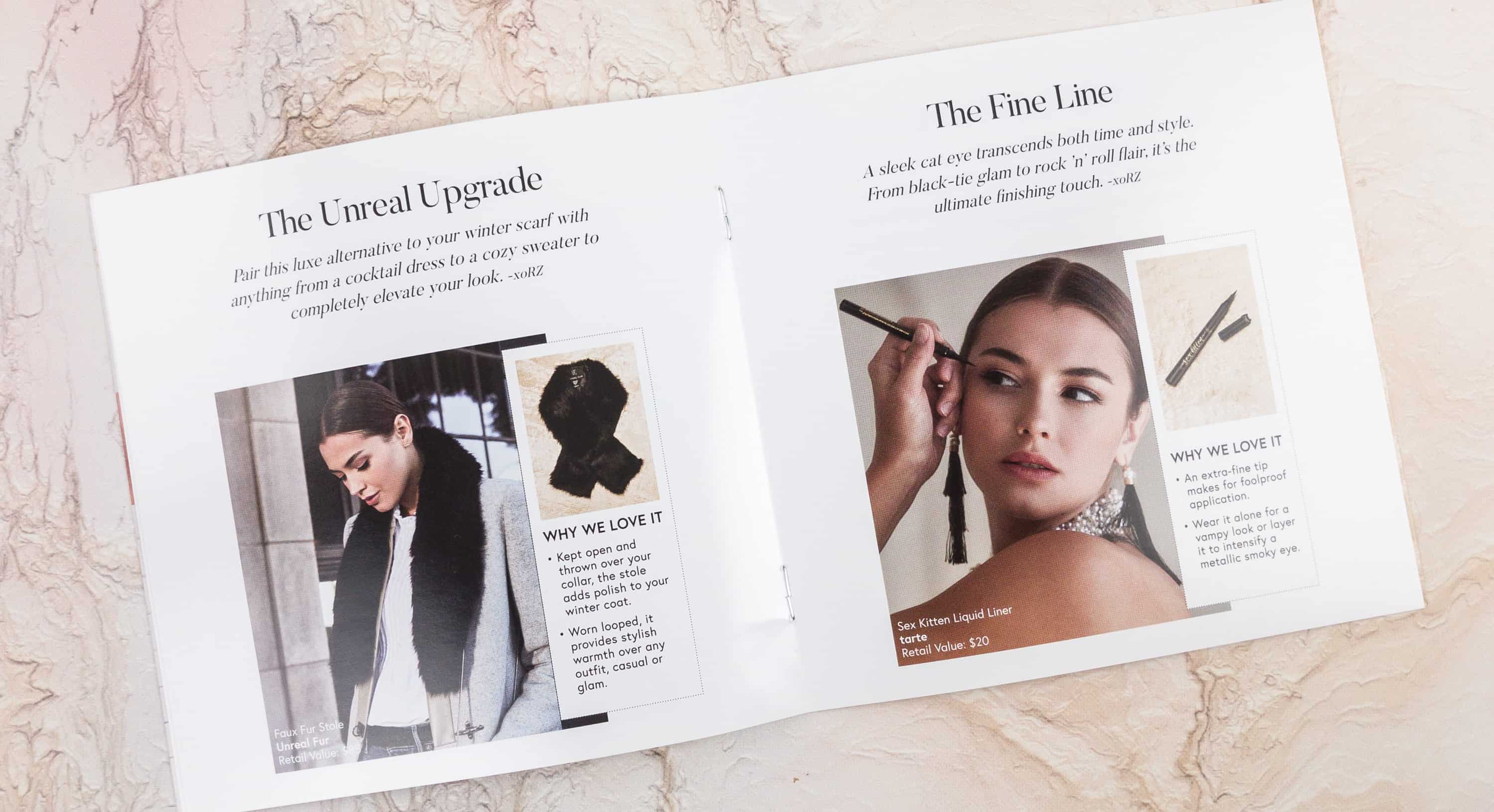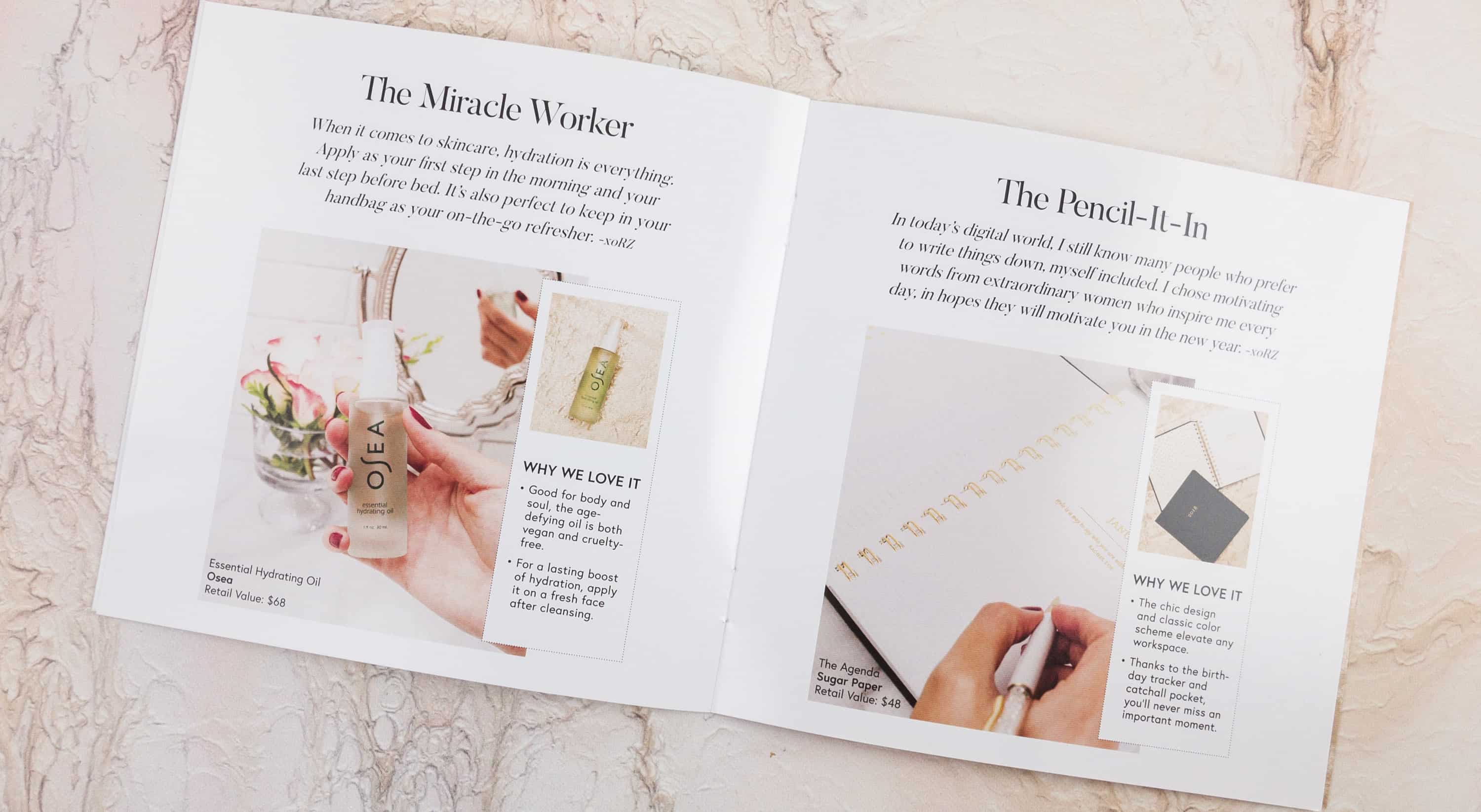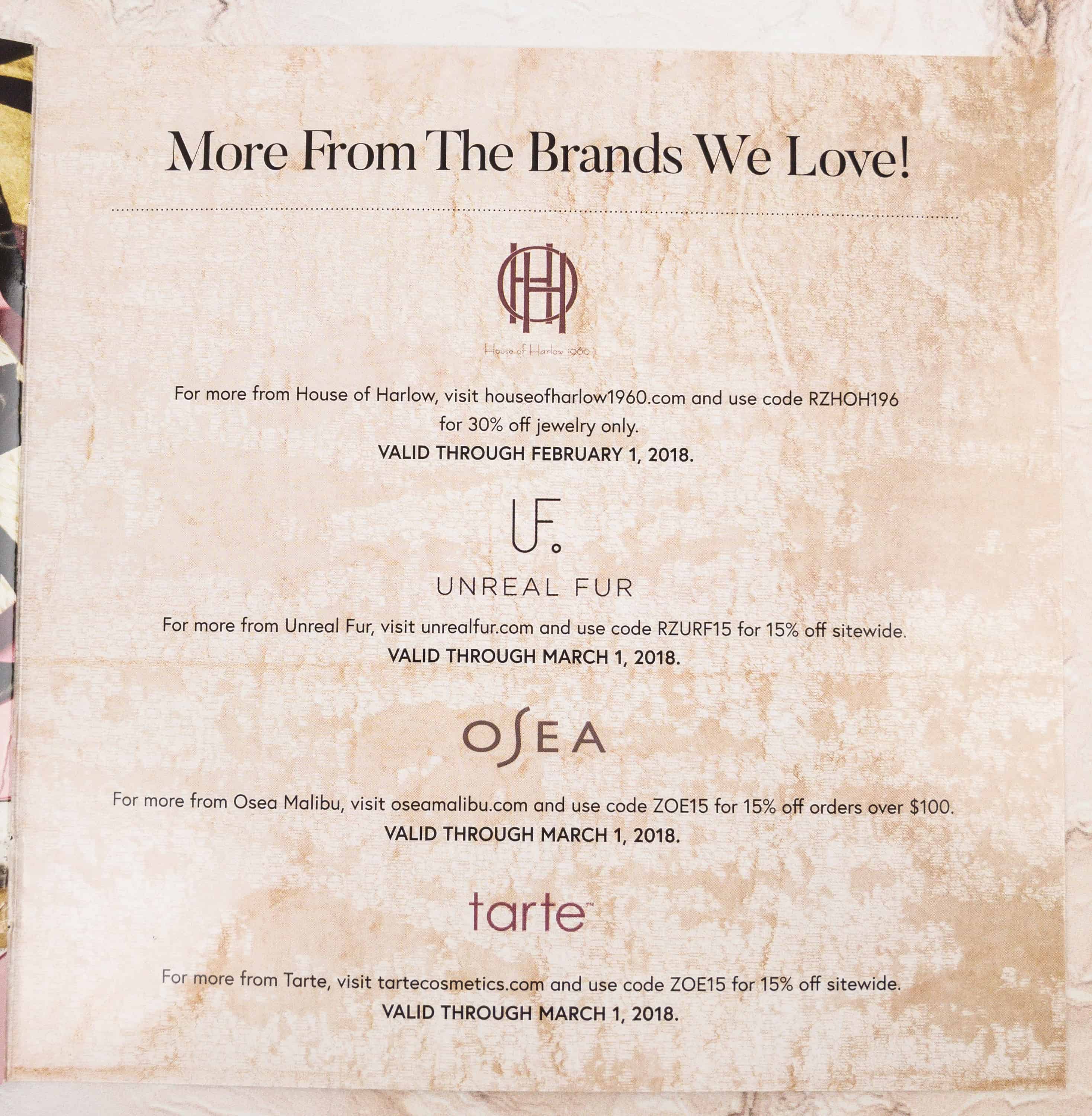 It also contains coupon codes for each brand in the box.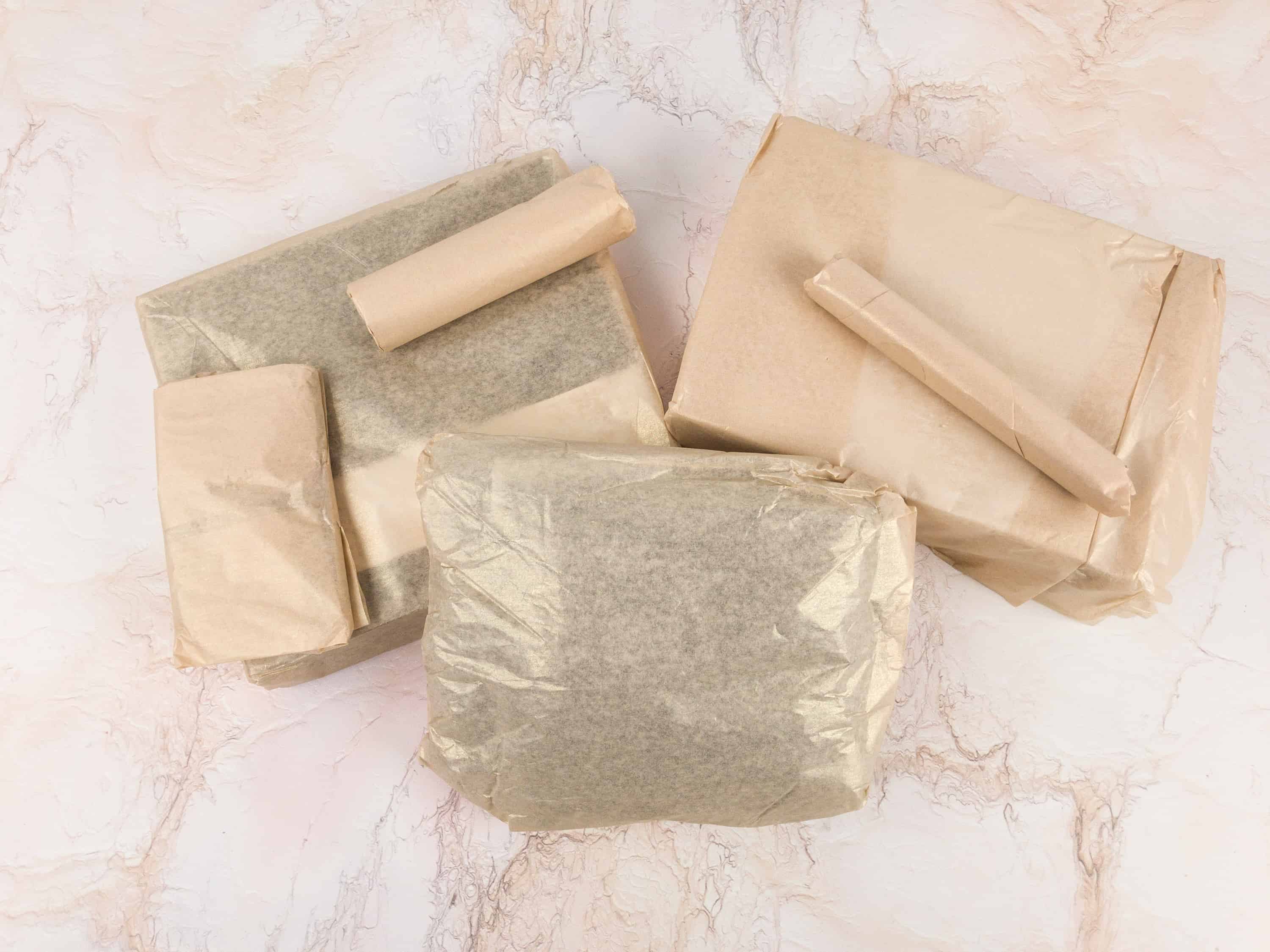 Everything is individually wrapped. It is so fun to open and so pretty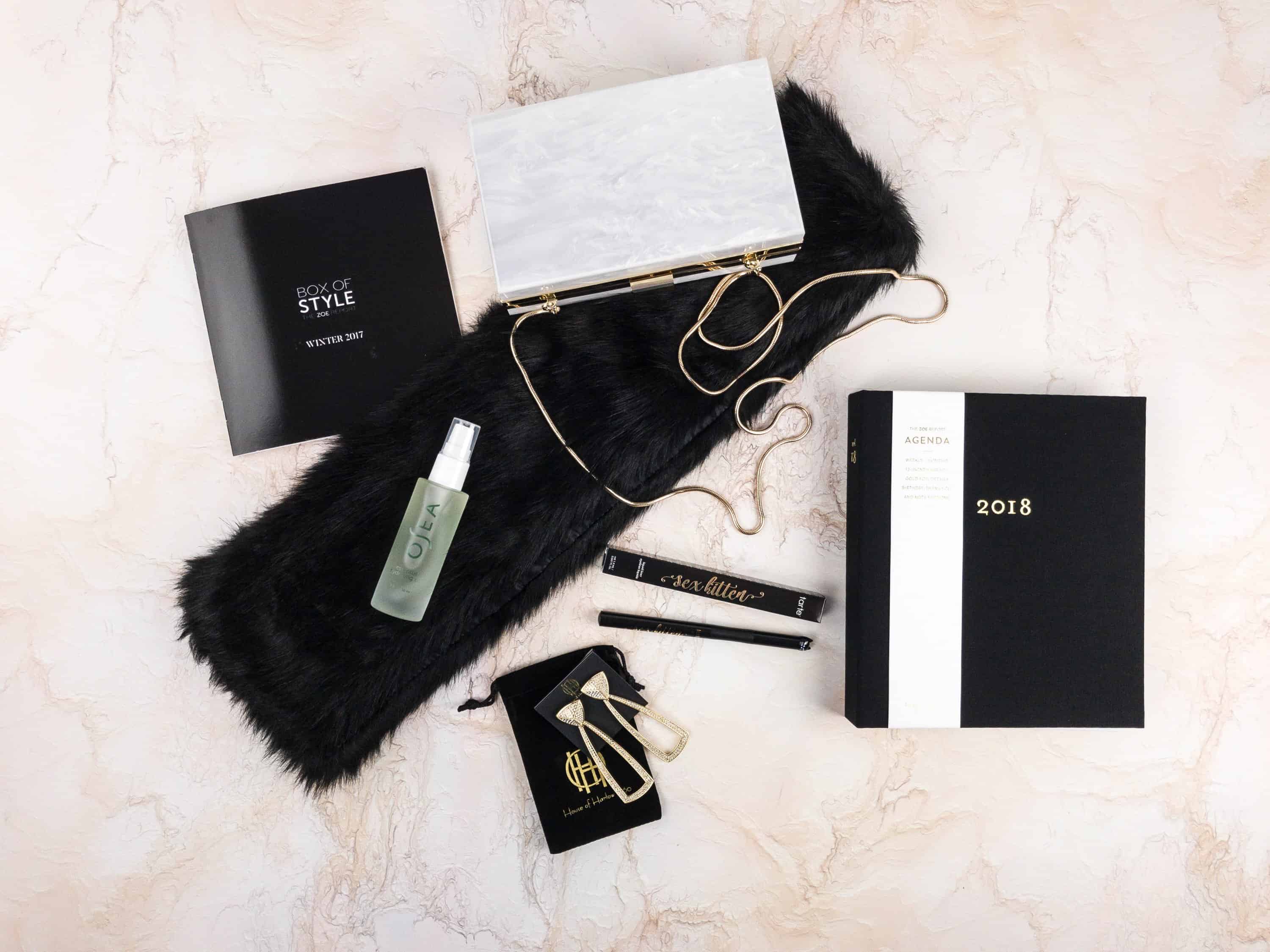 And here's everything in the box!
Exclusive Rachel Zoe for Box of Style Clutch in White Pearl or Black ($125) Members can choose if they want to receive it in black or white pearl. Mine is a beautiful swirly pearl.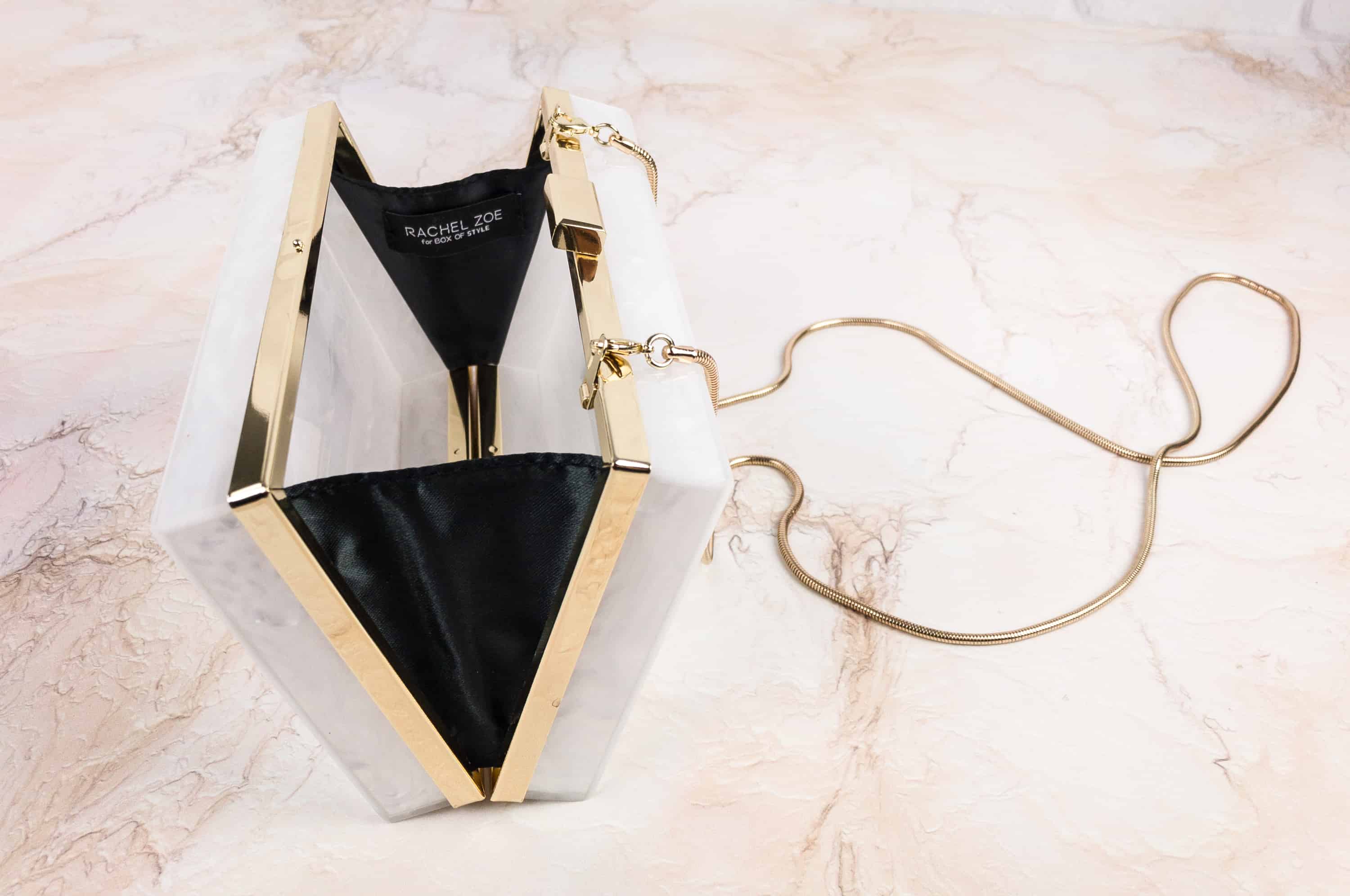 It's going to be a great nighttime clutch. I like the classy and modern feel. Just pull back/down on the bar to get the clutch to open. When you get yours the snakey chain is inside the clutch in a little plastic bag.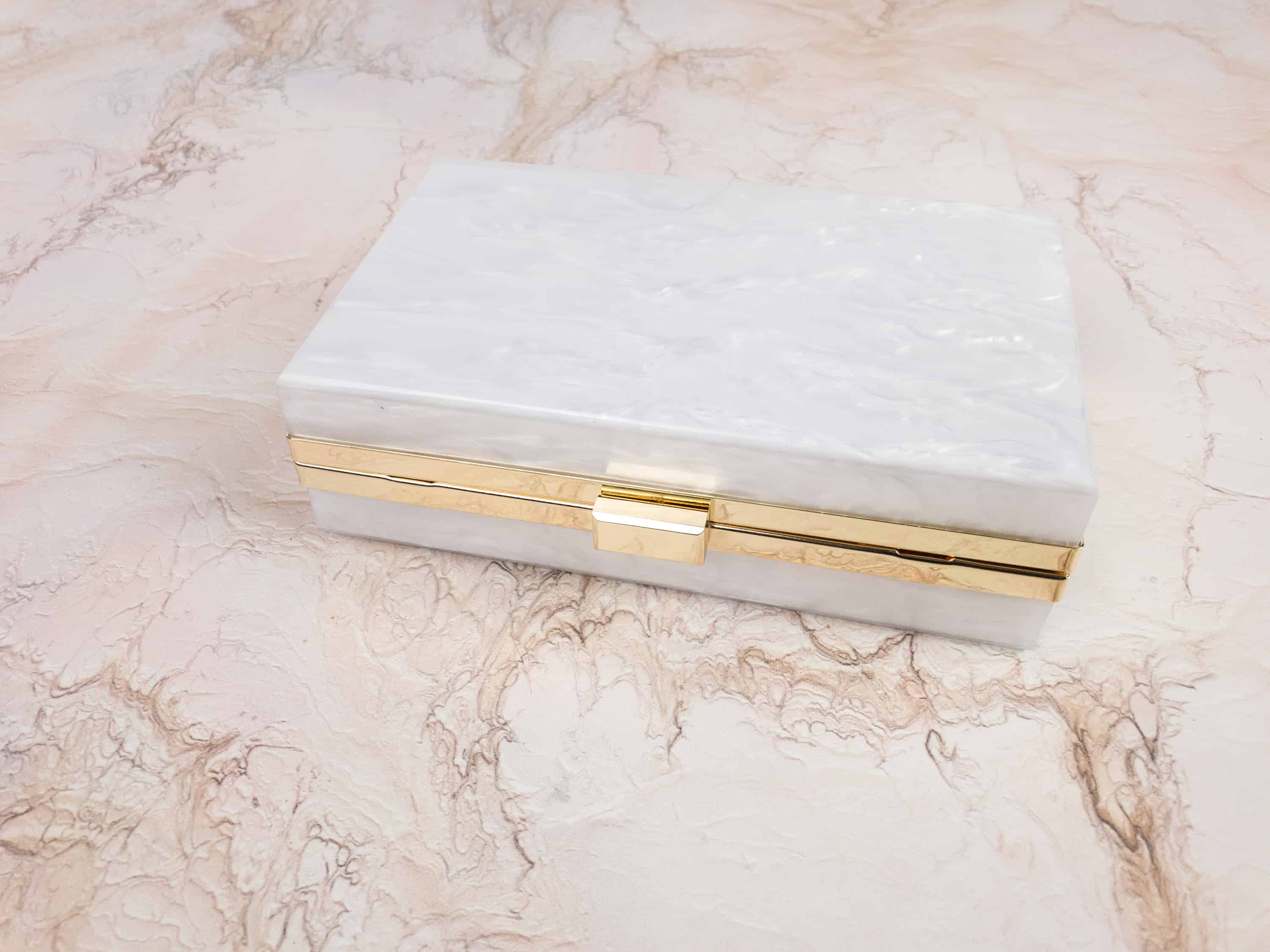 If you're going for a minimalist chic look, this clutch definitely fits the bill. Can't wait to use it! It's also super roomy and it can be used without the chain. If you don't have many evening events you can also use it as a really super chic storage box.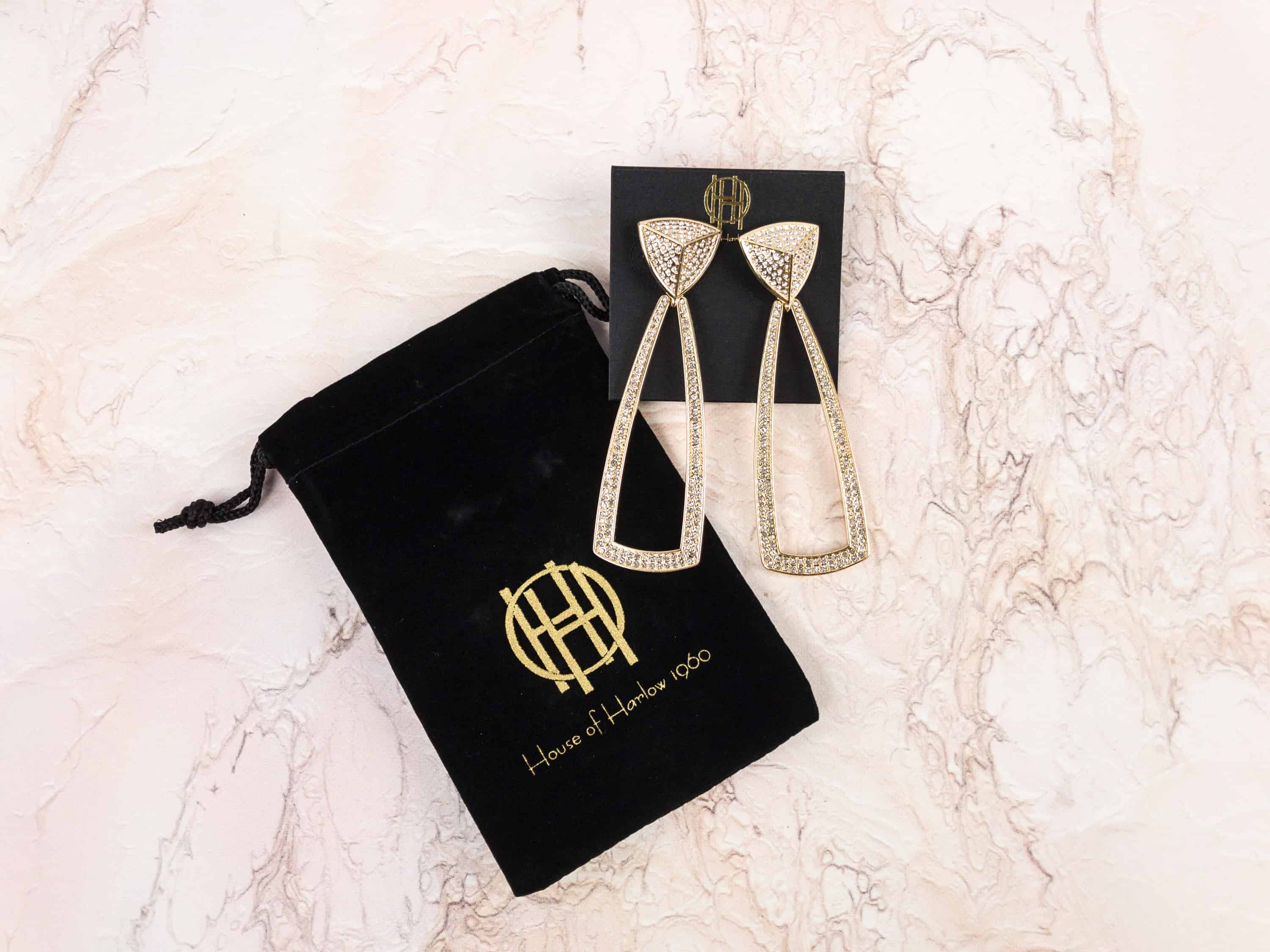 Exclusive House of Harlow 1960 Mesa Earrings ($115) A pair of gold tone earrings with engraved details – and an exclusive collab with House of Harlow for this box (and one of my favorite brands!).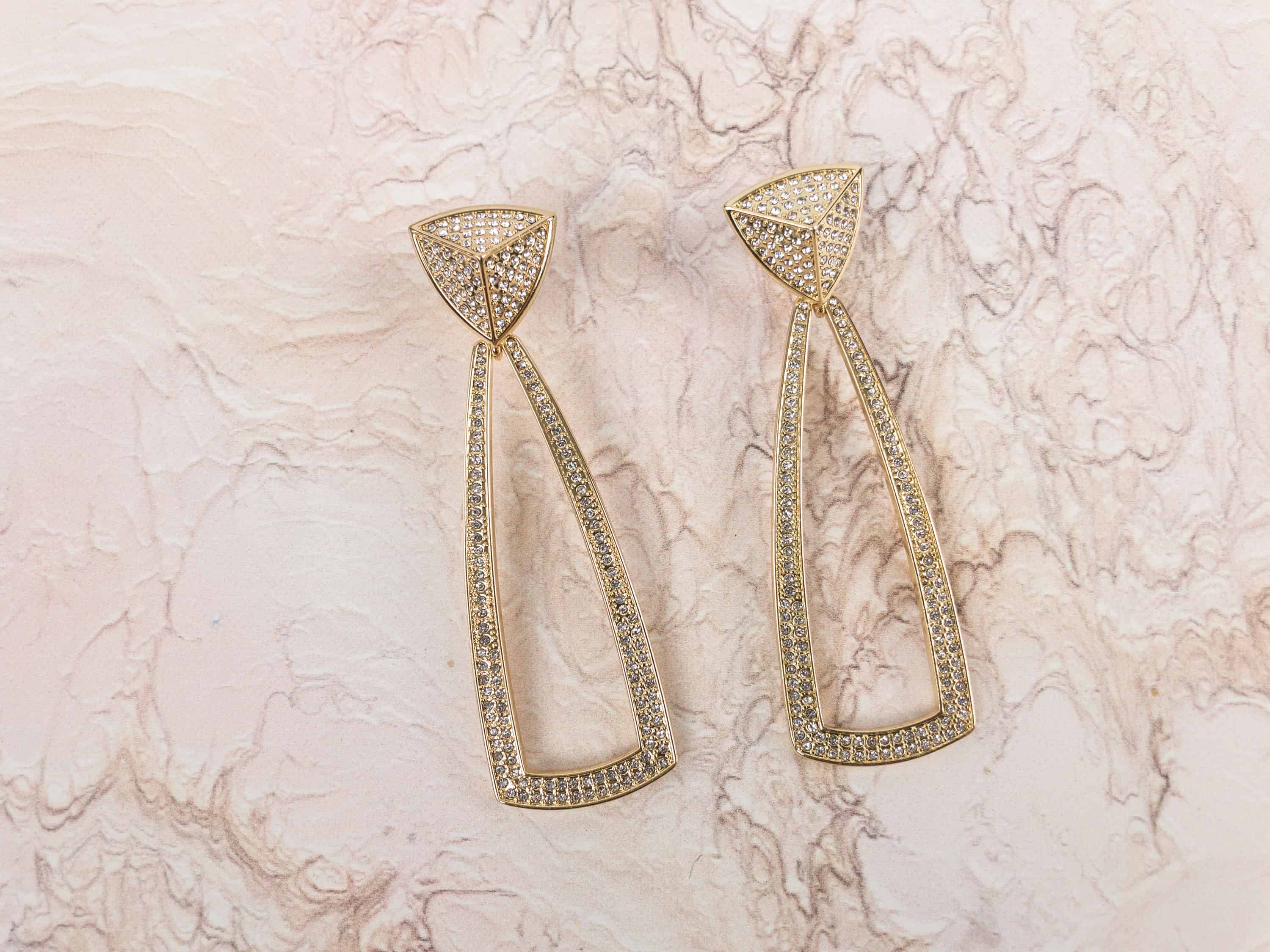 They're quite large and perhaps mildly ntimidating, but don't let it fool you because it actually looks great when worn, and they're lightweight too. A statement piece like this is best worn with plain clothes. A little black dress, perhaps?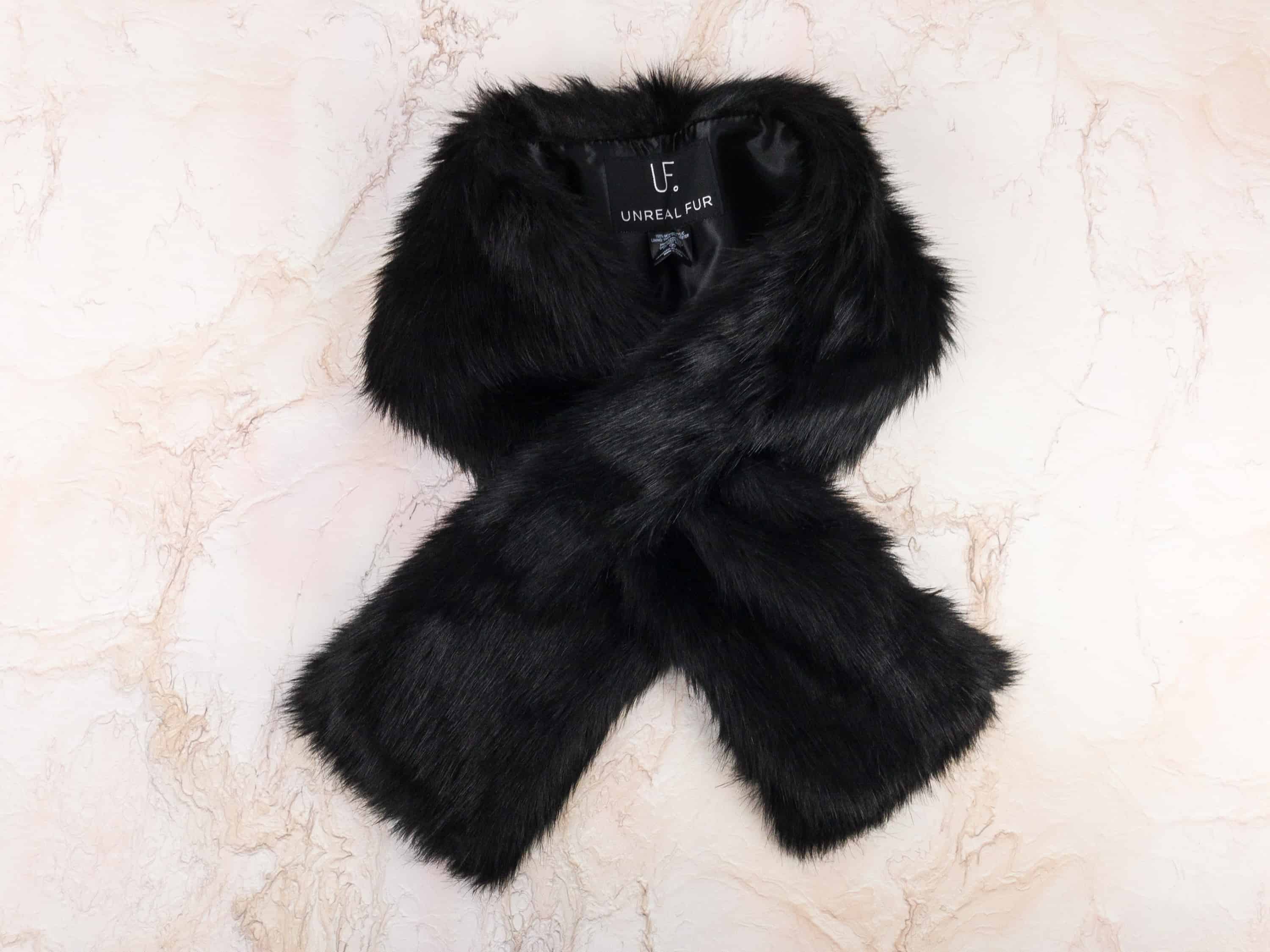 Unreal Fur Faux Fur Stole ($85) I love this faux fur neck wrap. It'll definitely keep me chic but cozy whole winter long! One side slips right through a special opening in the other, but you can wear it open as well.
Its outer is made of 100% mod acrylic, while the lining is 53% polyester and 47% viscose. It's super soft too!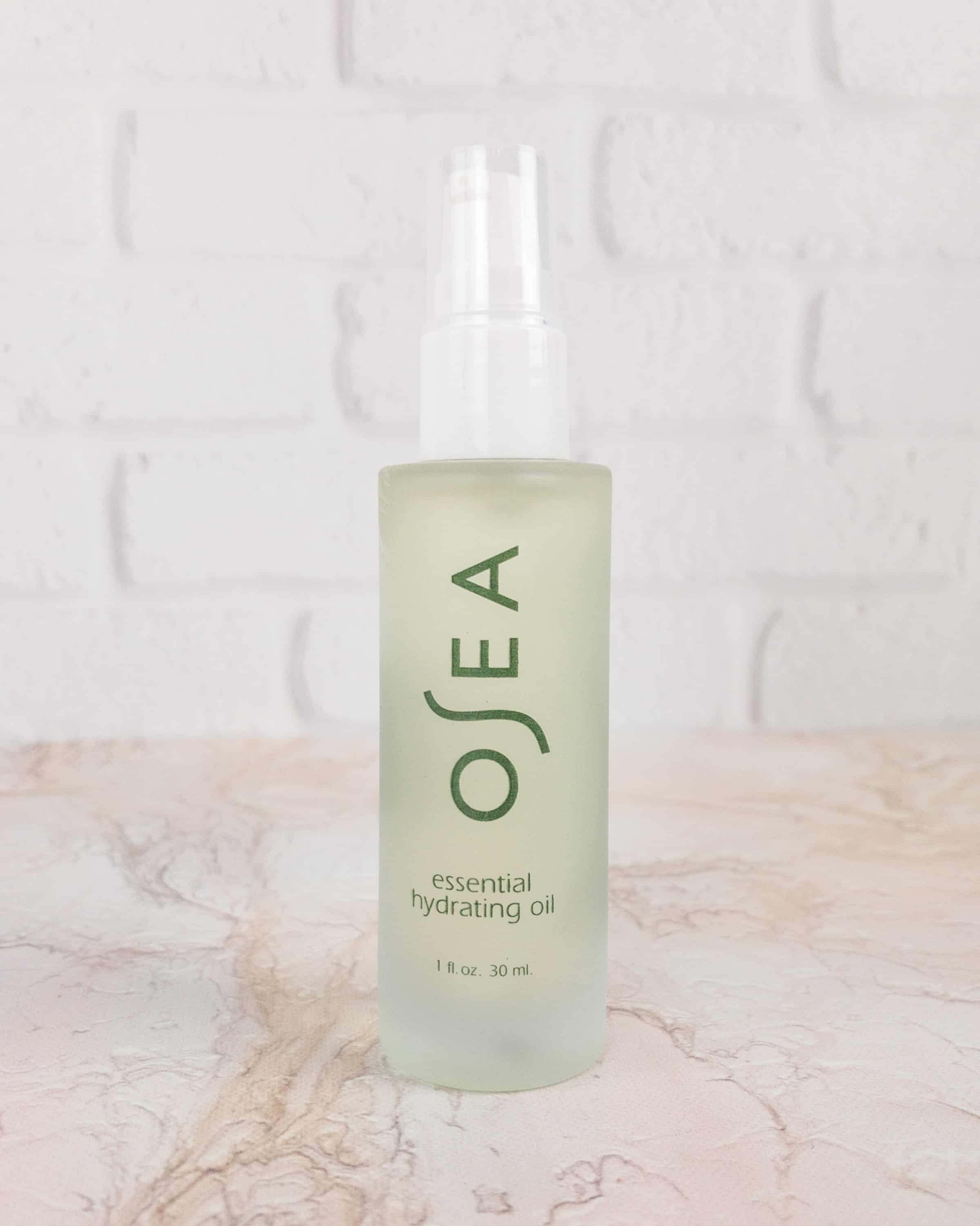 Osea Essential Hydrating Oil ($68) Packed with jojoba and sesame seed oils, this is a much needed weapon against dry winter skin. It also includes lavender, rosewood and geranium essential oils, which makes the scent so pleasing. You can easily put it on the face, neck and decolleté but with the big bottle there's enough for your entire body. It doesn't just keep the skin hydrated, it made my complexion dewy and illuminated too.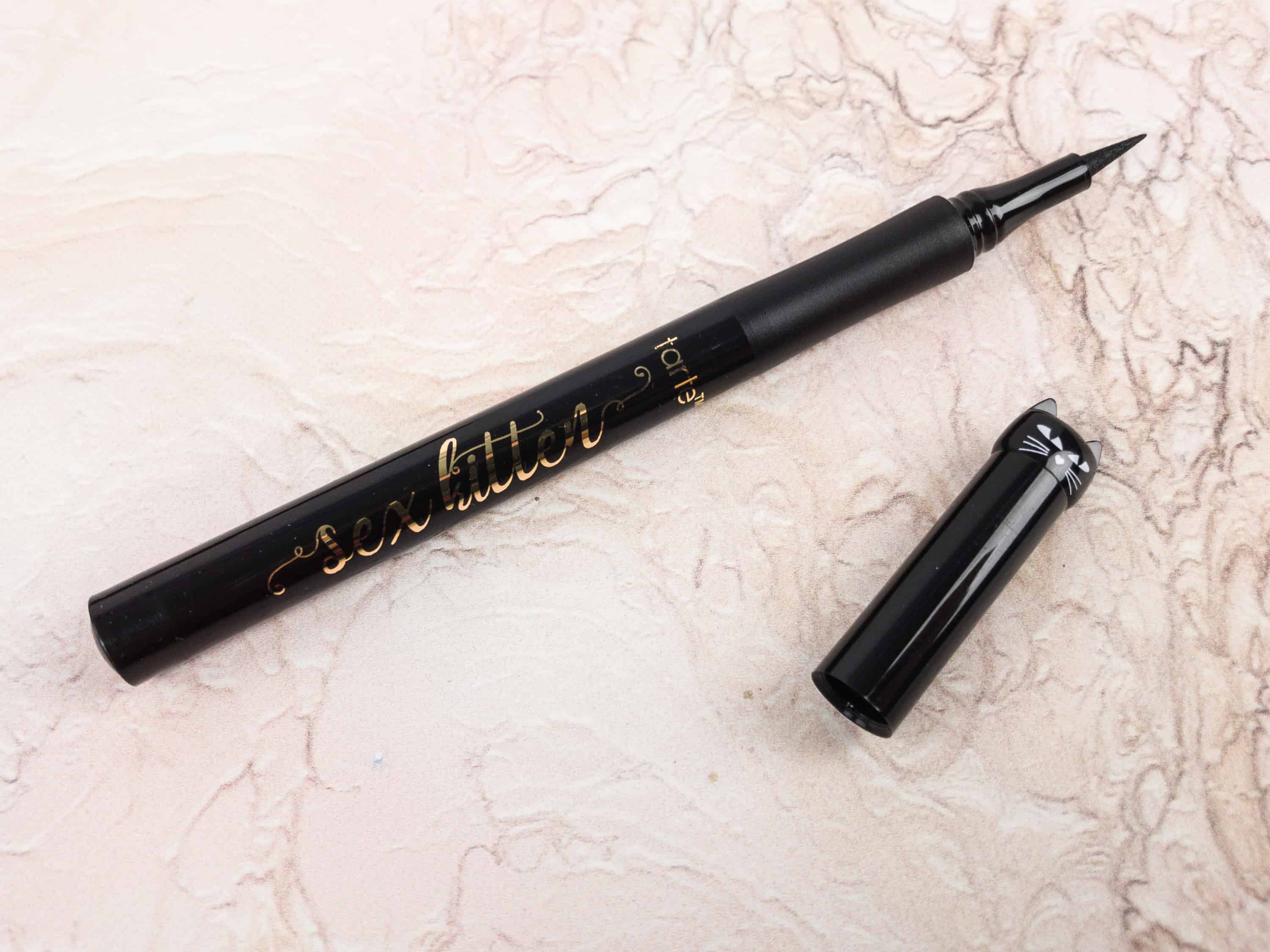 Tarte Sex Kitten Liquid Liner ($20) First of all, the cap is really cute! This liquid liner is waterproof and smudgeproof. Ideal for a fierce black cat eye that lasts all night long! It's vegan and ophthalmologist-tested, safe even for contact lens wearers.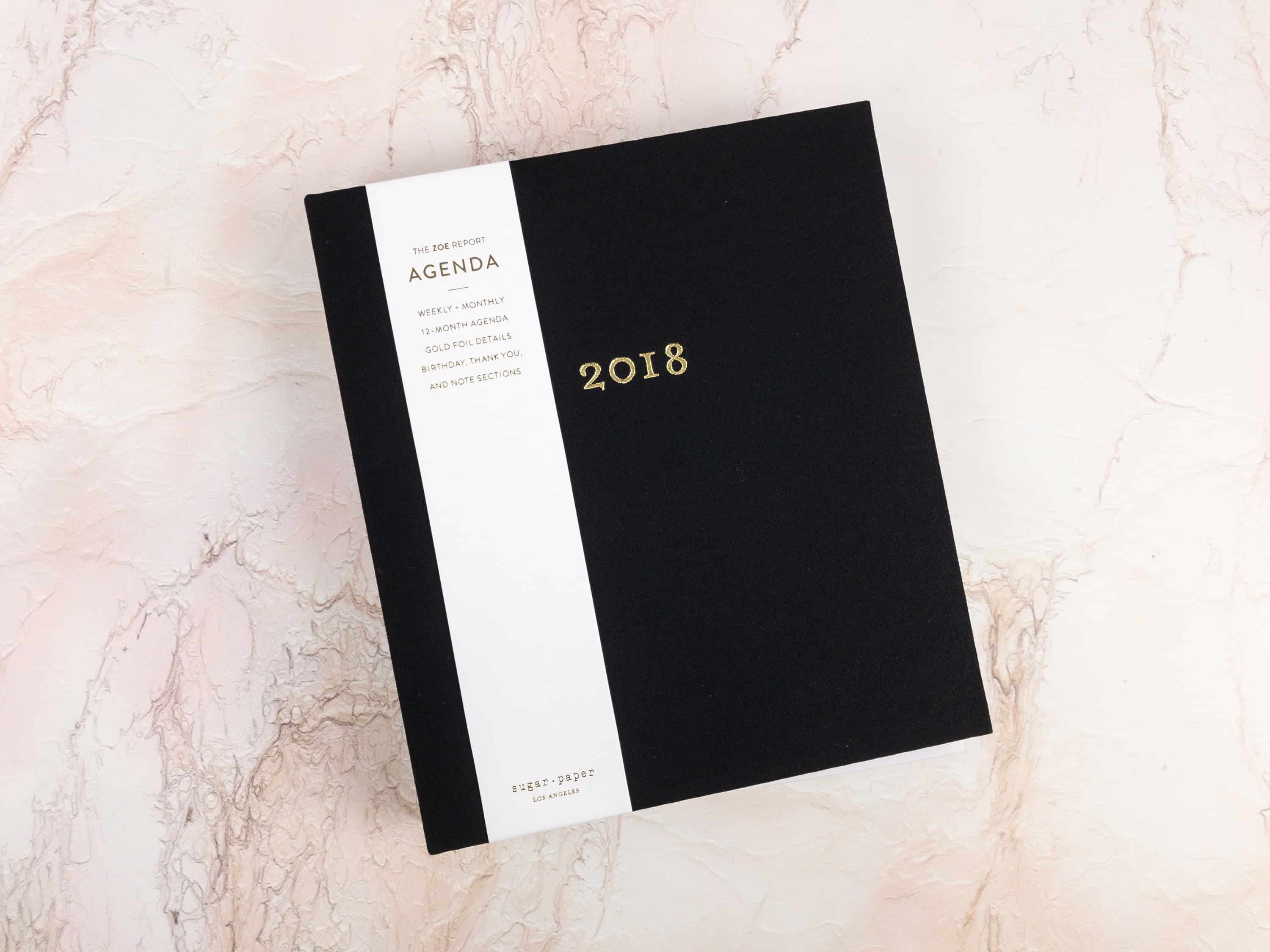 Sugar Paper The Agenda ($48) With its simple and uncomplicated design, this will help us get things organized for 2018.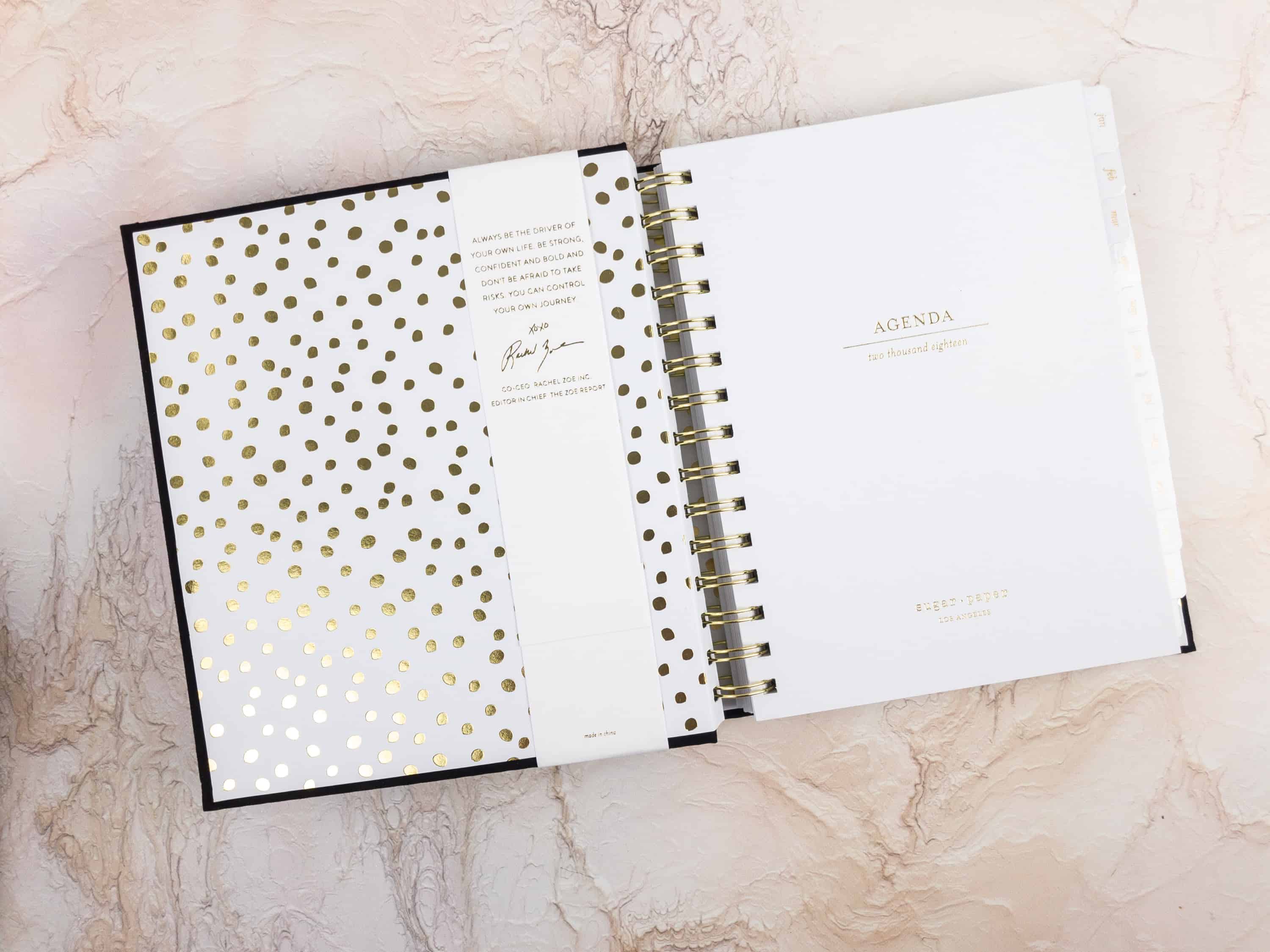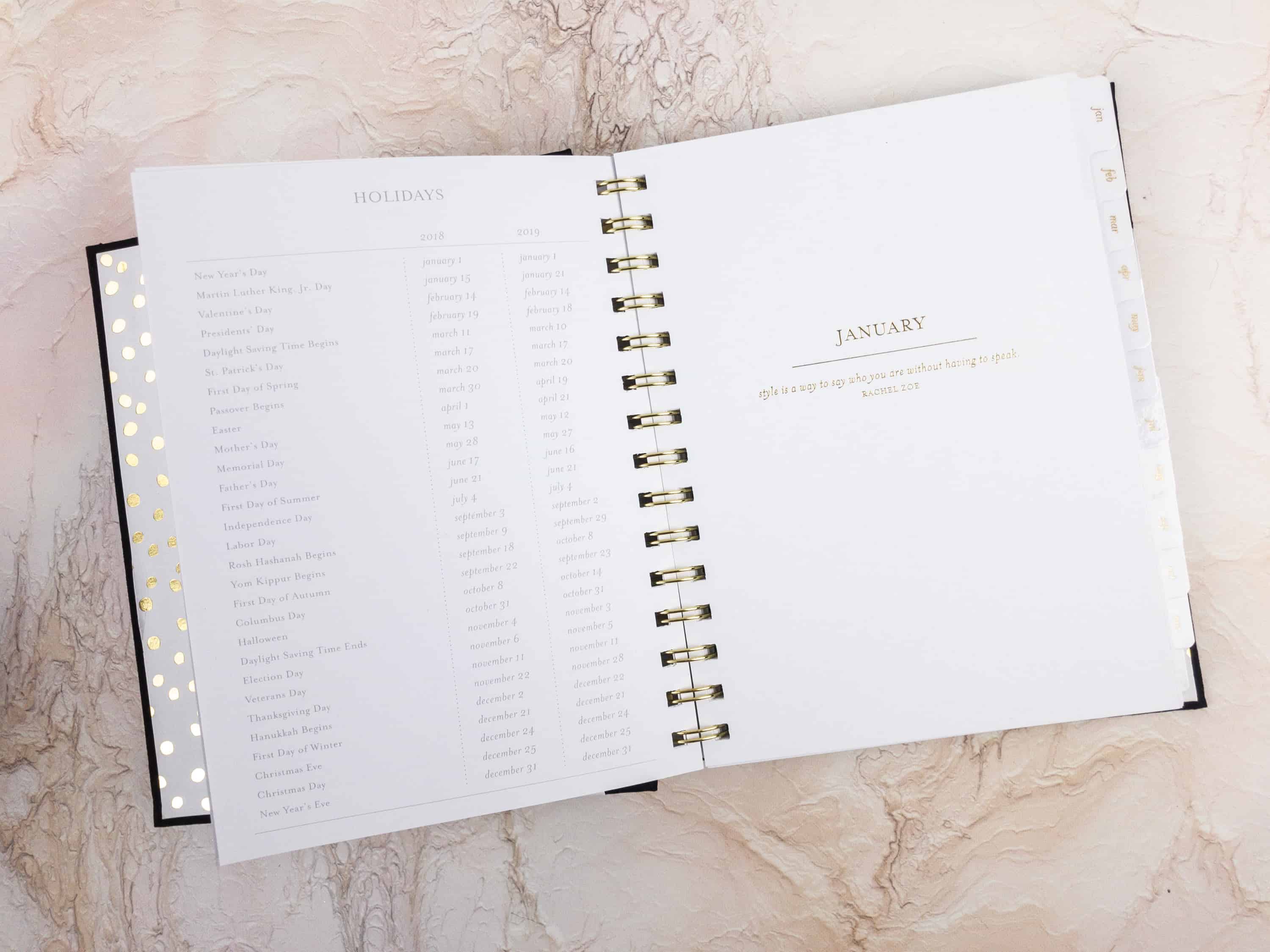 The paper is smooth and thick and the monthly tabs feature quotes from Rachel Zoe (on January & December) and some truly inspirational women in between.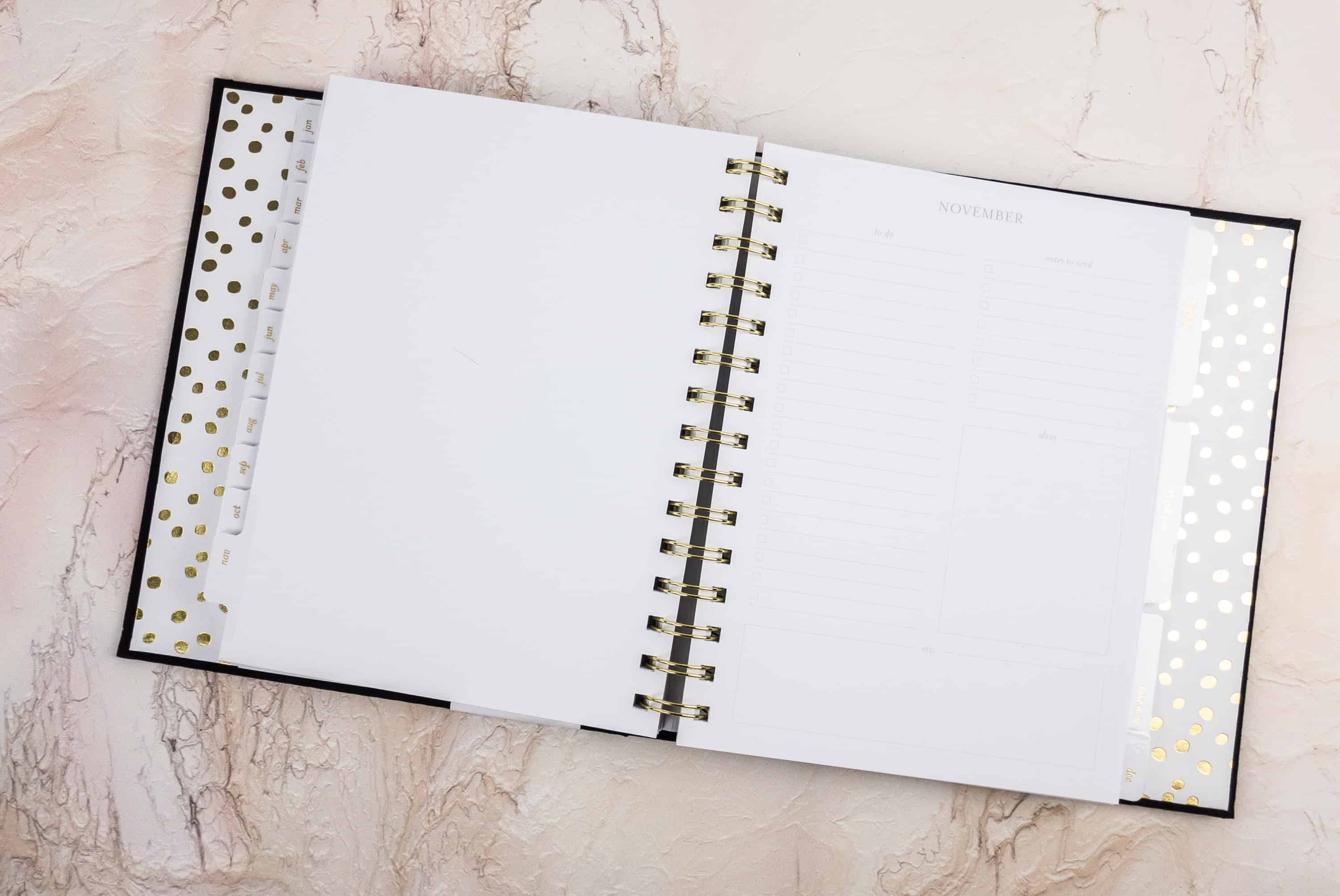 The planner is also divided by month for easier tracking. This calendar/agenda doesn't skimp and I think it's fantastic that Rachel helped design it. Since it's a total pet peeve to me to get a calendar in January or after, I appreciate that this was designed to ship this month (don't let it stop you from getting it – just don't buy another agenda!).
I'm more holiday-ready, thanks to this quarter's Box of Style. The statement pieces provide an easy yet awesome way of upgrading my winter look, and the rest of the items are going to be just as useful.  This subscription never fails to impress me with their style-savvy selections and I think it would make a great gift for any woman, whether for Christmas or any other time of the year. This quarter was definitely glammed up which I think is really fun!
What was your favorite item in the Winter Box of Style?