Yogi Surprise is a yoga-inspired monthly subscription box designed to complement your way of living. Each monthly box contains 6-8 products picked by experienced yogis to complement your yoga practice and your life! It's like getting a care package every month!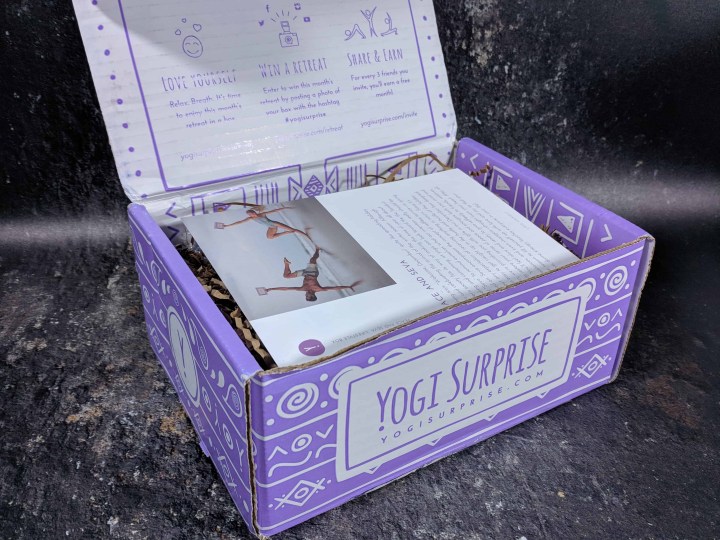 DEAL: Get 25% off your first box! Use coupon code HELLO25.
December's theme is Peace and Seva. Seva is a concept of selfless service or giving without any expectation of receiving anything in return. This month is about feeling alive and energize to be ready to give freely!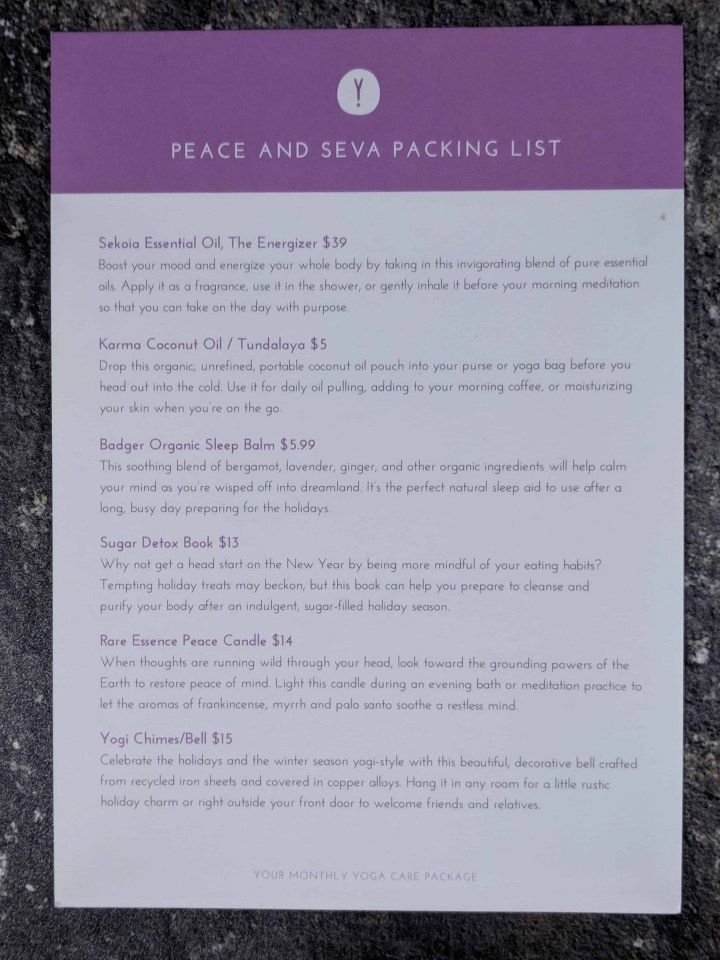 This month's packing list tells us what are the item.
Yogi Surprise Yoga Sequence Series Card. Every month, you receive a little card with a sequence of poses to celebrate the month's theme.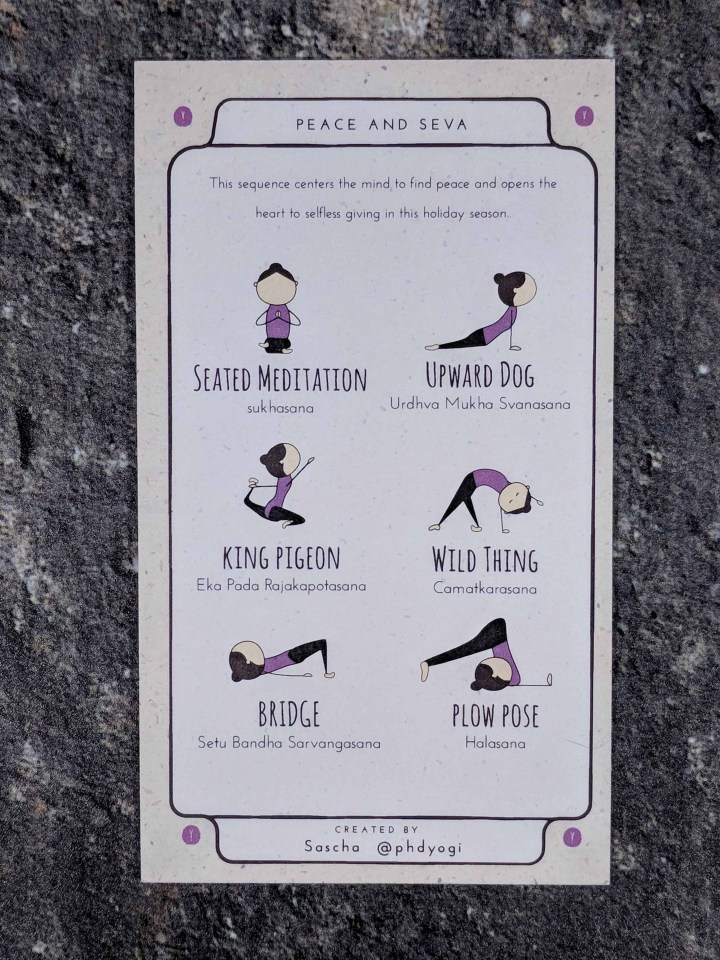 This month's pose really opens up our heart! I love getting these sequences! The Plow Pose is so fun to do! I like the Seated Meditation as a reminder to take time for ourself before getting in the Holiday Frenzy! Fun fact: you can download all the previous sequence cards on the yogi surprise website so you can have your own little inspiration book.
If you share your Yogi Surprise photo on social media, you are automatically entered to win a Yoga Retreat. December's retreat is Cambodia!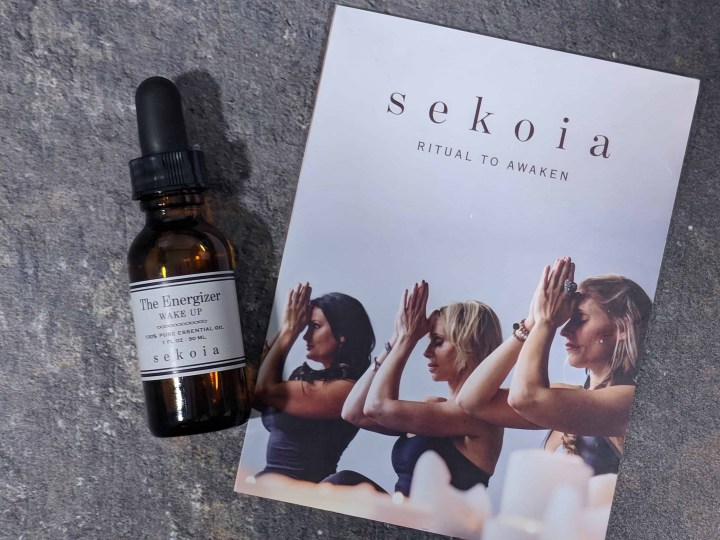 Sekoia Essential Oil, The Energizer ($39). This is a lovely uplifting blend of spearmint, orange, lemon and lavender. It also comes with a small and easy ritual to Awake.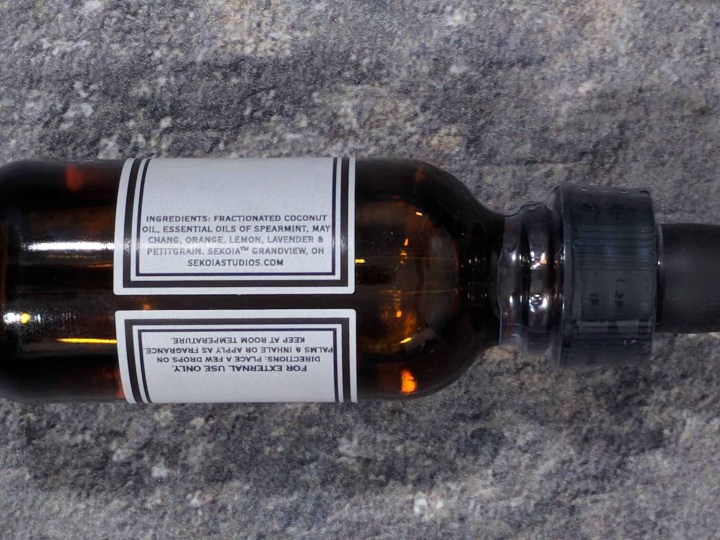 This is a nice and light scent for everyday wear that I will use on a diffuser bracelet. I love that the lavender is present, but is not overwhelming. It adds a nice floral calming scent.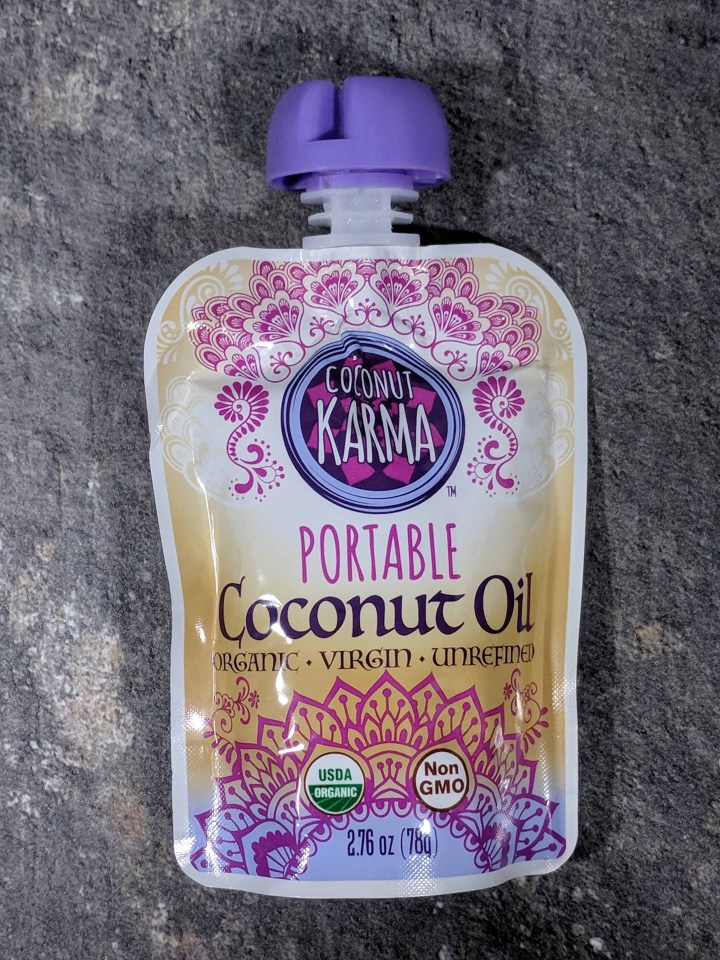 Karma Coconut Oil Thundalaya ($5). Coconut oil on the go! The pouch is easy to carry around, especially at this time of the year where we are always on the move. This oil can be use in coffee, instead of butter, as a skin moisturizer and so on. Side note, the pouch tends to leak once you open it.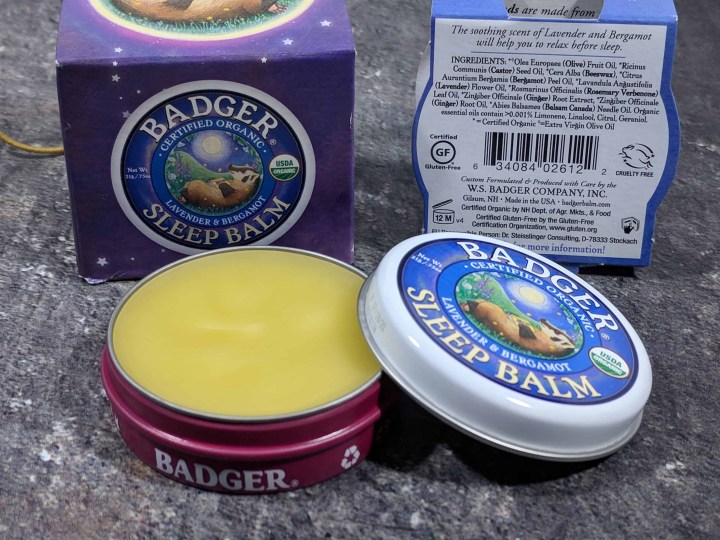 Badger Organic Sleep Balm ($5.99). I love sleep balm, especially when I travel. I really like how small this tin is, I can keep it under my pillow. The balm melts easily under the finger and it smells great! The mix of lavender, bergamot, rosemary and ginger is nice and calming. It doesn't linger too long on the skin, just long enough to fall asleep or to get into the bedtime routine. I really enjoy it!
Sugar Detox Book ($13). This is the perfect book to start the New Year, not right before Christmas!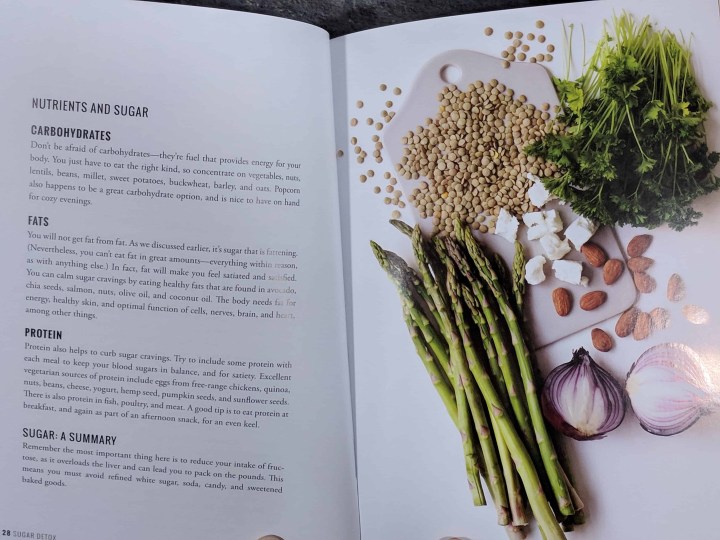 It's full of useful information to make new food habits less horrible.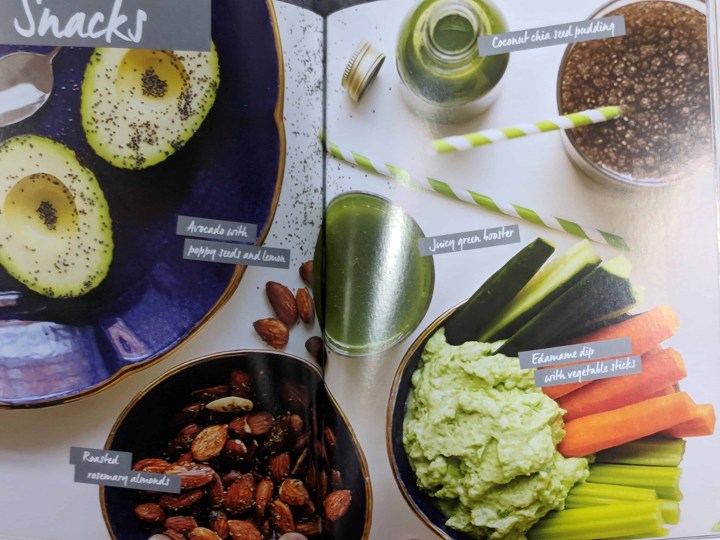 You get ideas of good snacks to curb your sugar addiction.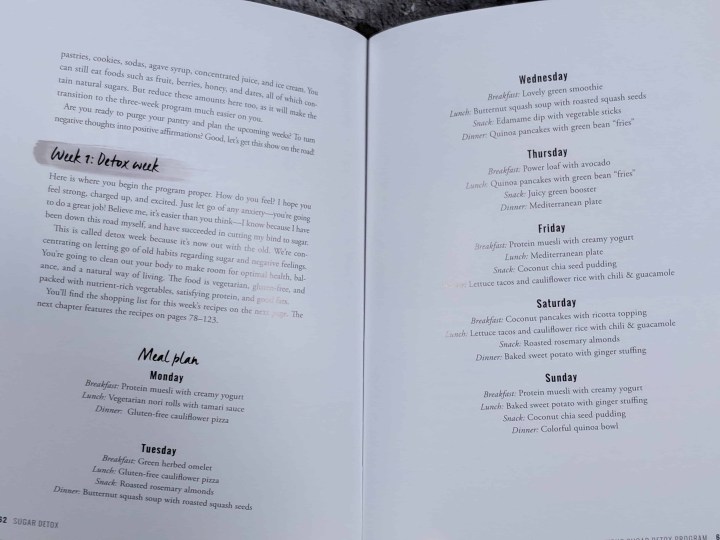 And you also have easy to follow meal plans to get you through! This is such a nice item to have to start the New Year!
Rare Essence Peace Candle ($14). I love the quote by Thich Nhat Hahn on the cover : "The mind can go in a thousand directions, but on this beautiful path, I walk in peace.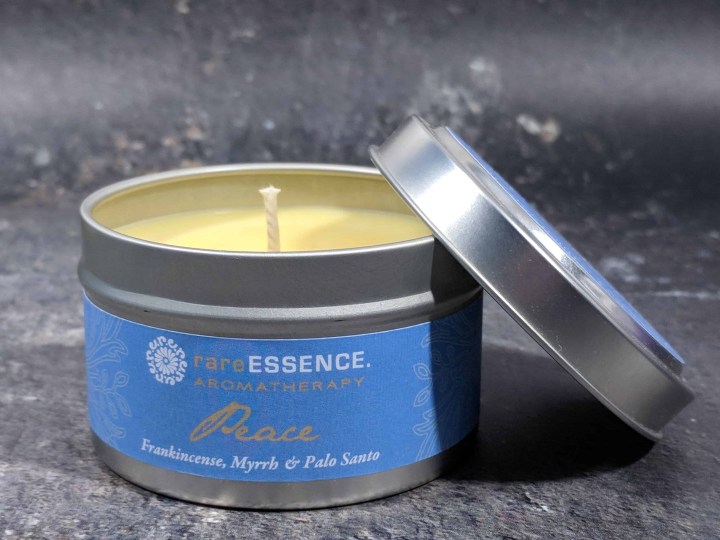 It's a blend of Frankincense, Myrrh and Palo Santo and it smells divine! I just want to sit down and meditate with it before heading to the family gatherings! It's earthy, grounding, peaceful and soothing.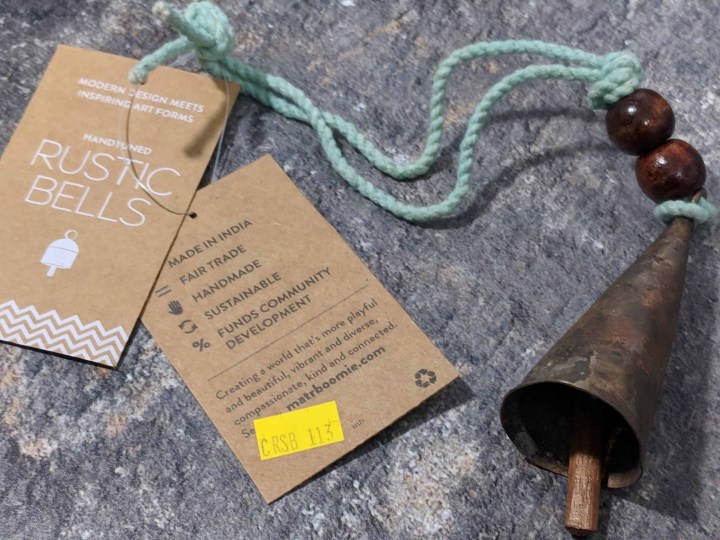 Yogi Chimes-Bell ($15). Handmade made in India, this Yogi Bell is a fun item! You can hang it by the door, or in your space. The bell has a very nice chimes, thanks to the wooden clapper inside. And it's also a nice take on Christmas Bells!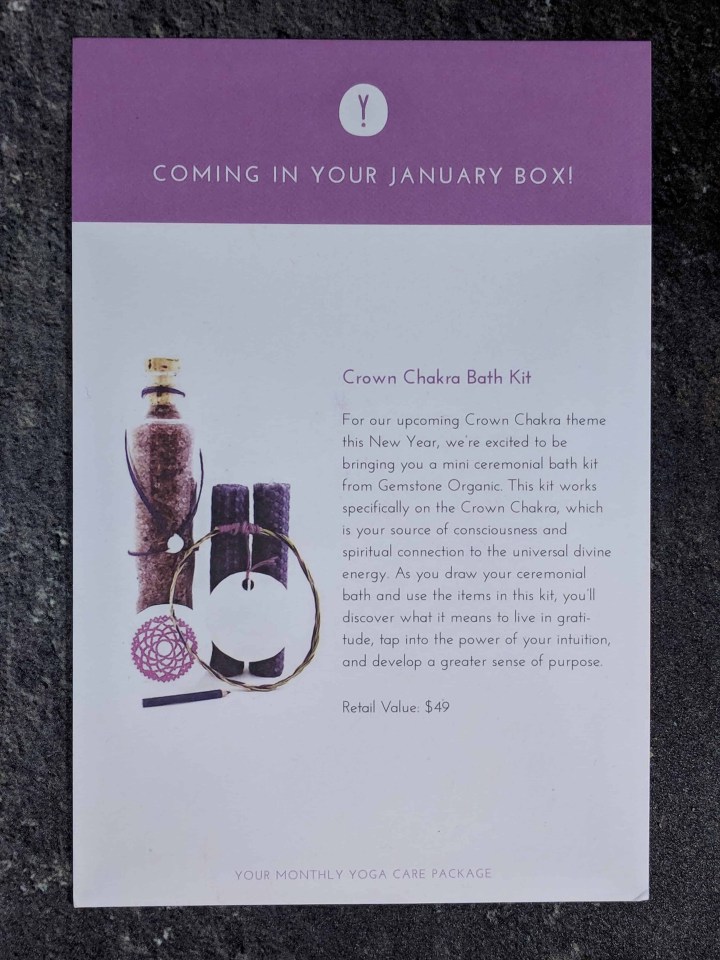 Included in the box, a spoiler for January's Yogi Surprise Lifestyle box: Crown Chakra Bath Kit. Oooooh, sounds lovely!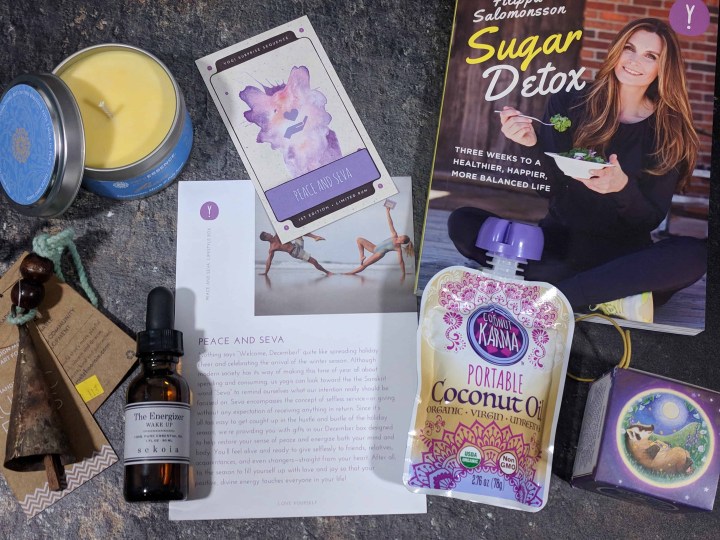 December's Yogi Surprise was a nice way to peacefully end the year, but also to feel energize and ready for the New Year. I love how we received tools to stay calm and peaceful throughout a very busy time of the year, while staying energized and true to our selfcare! I'm looking forward to really dig into the book, and the sleep balm will be quite helpful to be rested, even though I'm not in my bed. The enrgizer blend will also remind me to stay positive and to be there in the moment. A really nice Holiday Box.
Are you a Yogi Surprise subscriber? What did you think of the box?