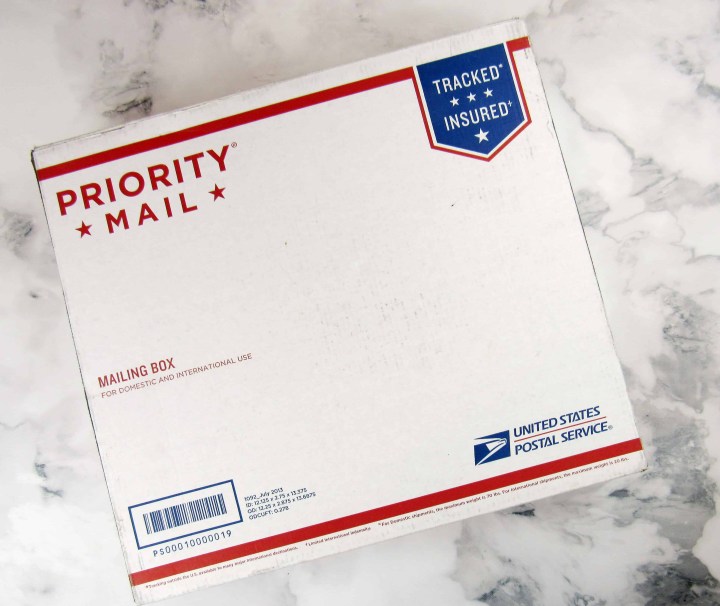 Truffles in Paradise is offering its first Advent Calendar this year! The award-winning Grand Master Chocolatier, Marisa Baxter, uses high-quality ingredients and local organic ingredients when available. It was an easy decision to order the calendar when I discovered that she uses Guittard Chocolate, fresh cream, European butter, and no preservatives to create handmade chocolates. My mouth is watering just thinking about it!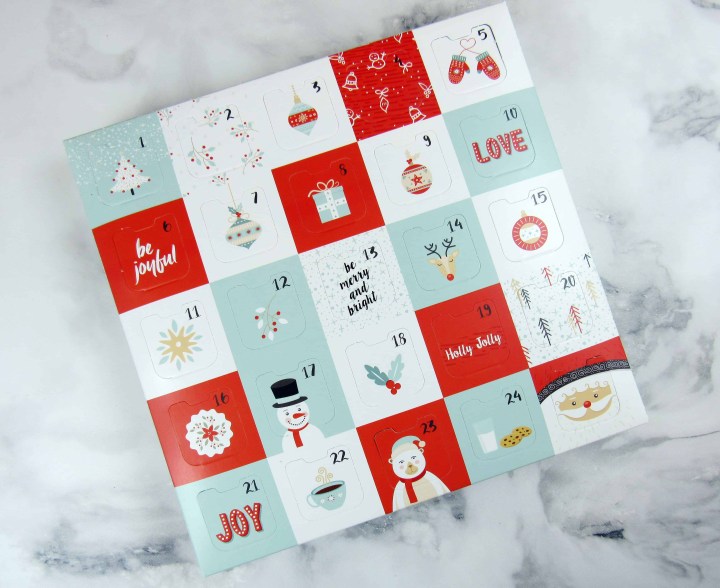 The Limited Edition 2017 Advent Calendar ($60.00) shipped with complimentary 2-day shipping. It was securely packaged and arrived intact. The advent calendar box is a festive box. I like that the boxes are in numerical order. No searching for numbers when it is time to eat chocolate!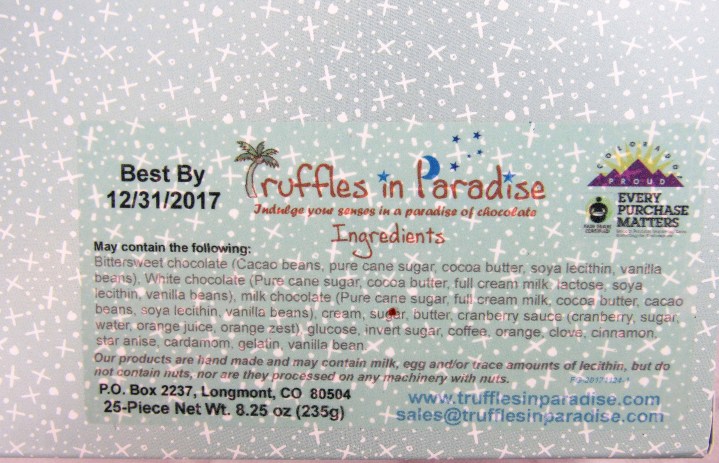 The back contains an ingredient label and a Colorado Proud label. The expiration date is 12/31/2017 because the chocolates do not contain preservatives.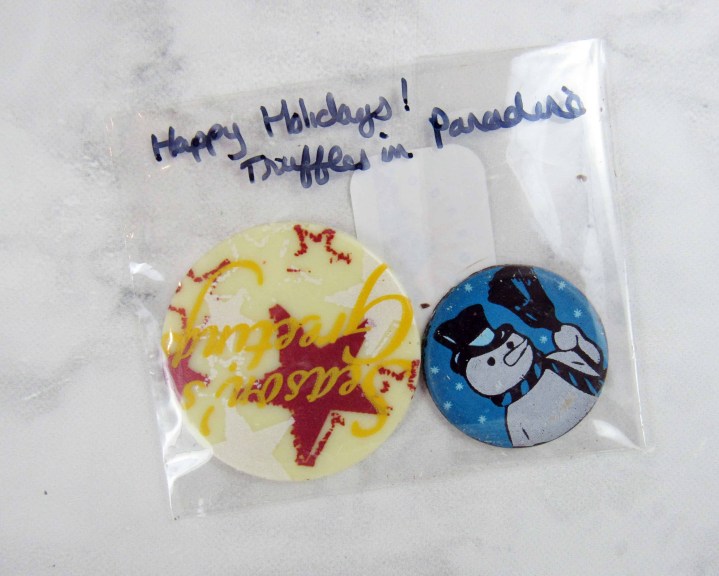 Two bonus chocolates were included which made my family happy.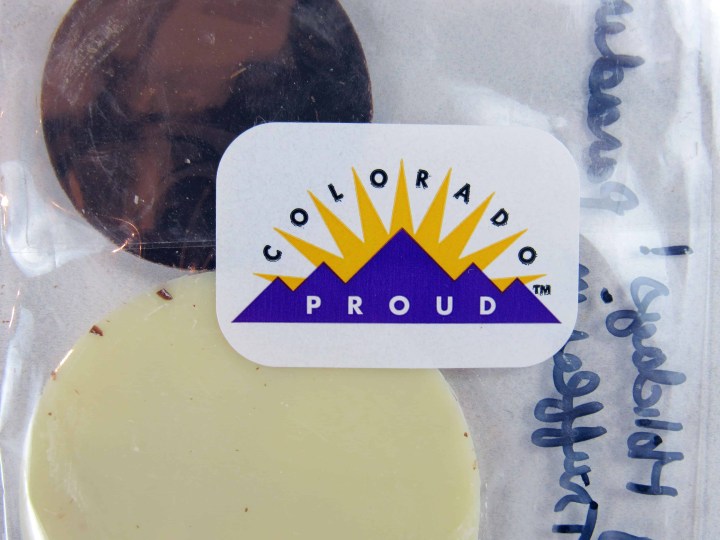 The aroma of chocolate was making the calendar irresistible to certain family members.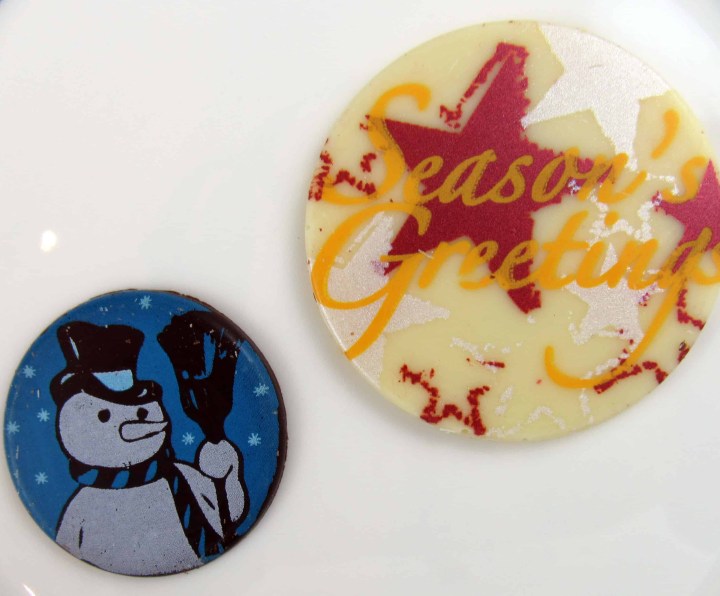 The milk chocolate hand painted snowman and the white chocolate Season Greetings treats left our taste buds buzzing for more. The freshness of the ingredients was apparent in every bite.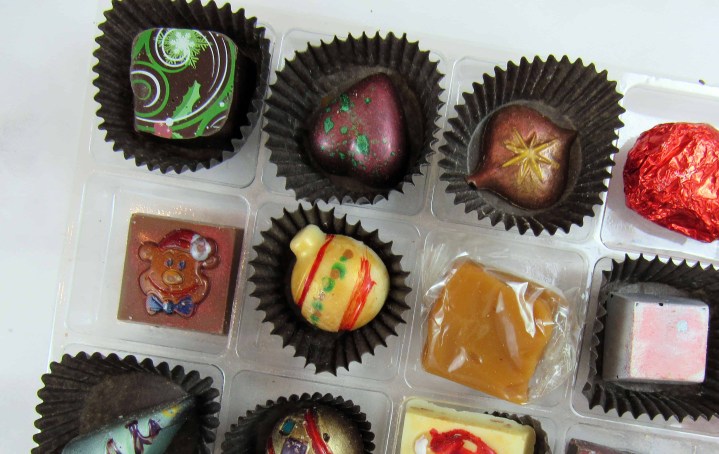 Here's a sneak peek of the tantalizing chocolates. The gorgeous chocolates are handmade, hand painted, hand dipped, and hand rolled. I can see how they won many awards. The chocolates are exquisite.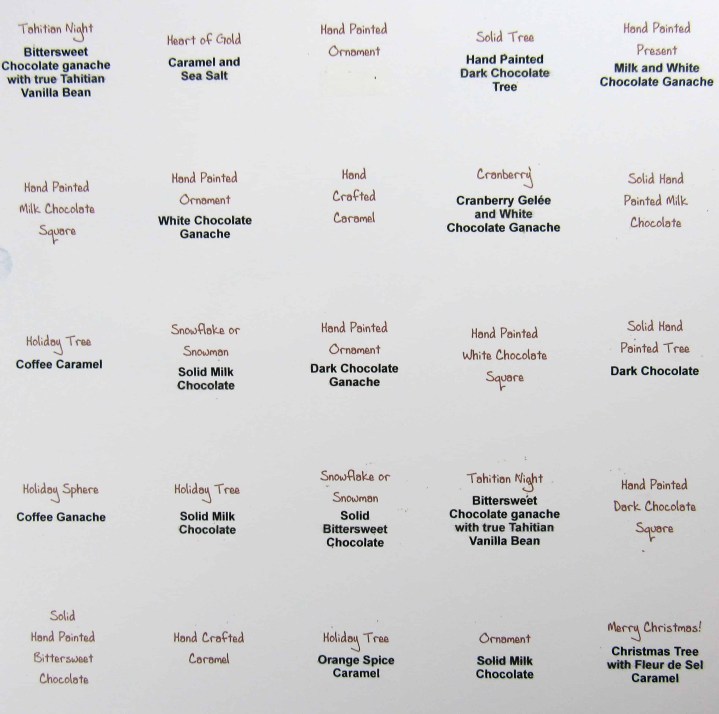 I appreciate that an identification card is included with the advent calendar. This card will assist me in determining what chocolates my nine-year-old will enjoy.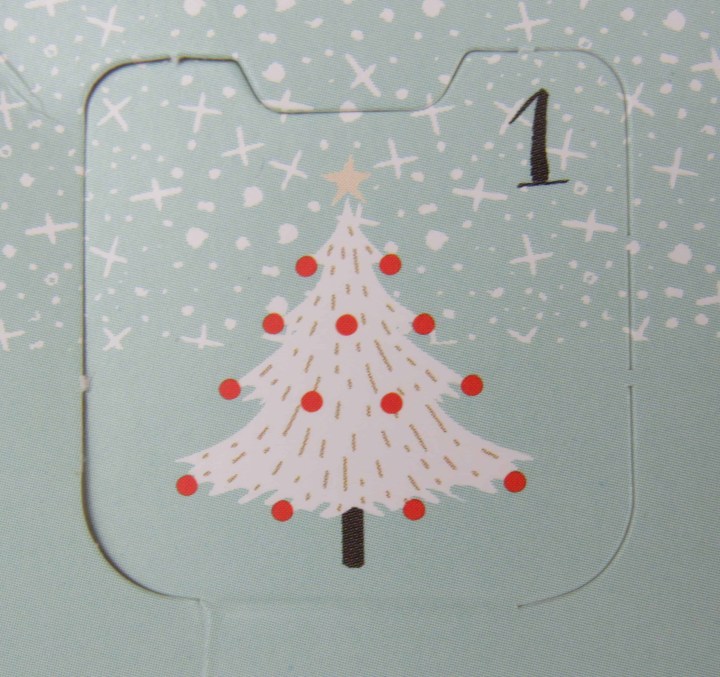 Time to see what delectable chocolates await us.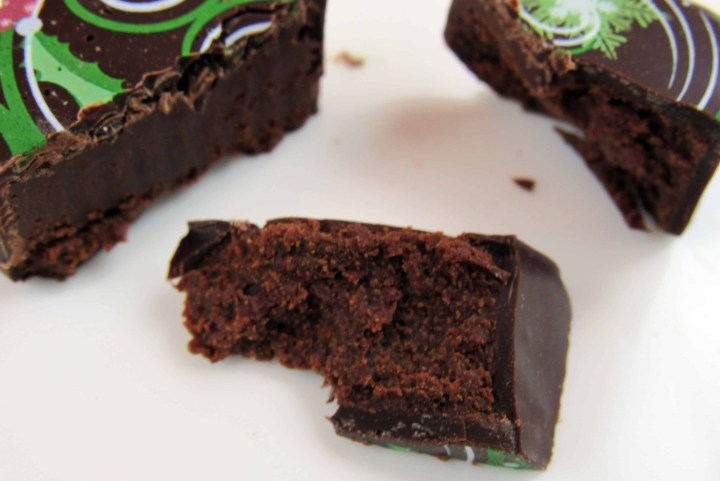 I believe that Day 1 will be my favorite chocolate of all. The beautifully designed chocolate has a satisfying vanilla taste surrounded by delectable chocolate. The Tahitian Night Chocolate is a 63% bittersweet chocolate ganache with true Tahitian Vanilla Bean. It is inspired by a visit to a Tahitian Vanilla Bean Farm on her honeymoon.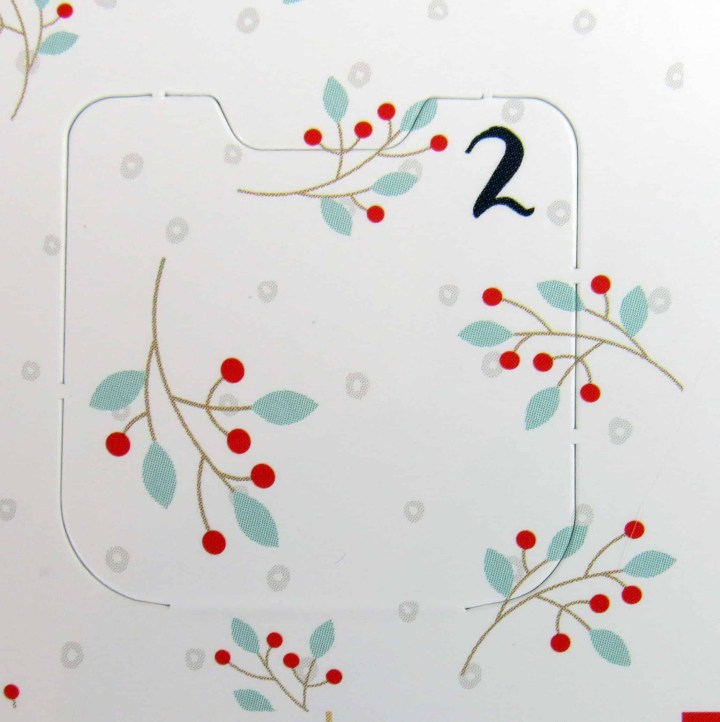 Time to check out Day 2!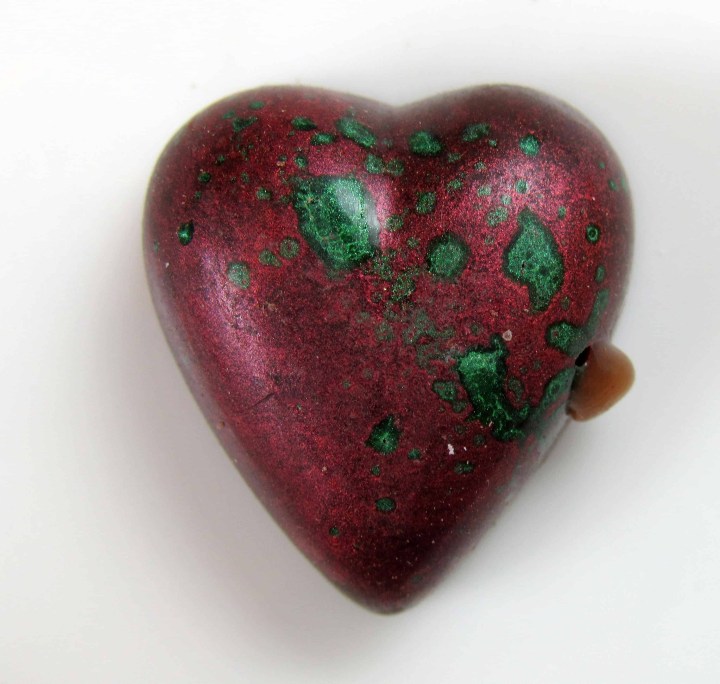 I accidentally poked the chocolate when the dogs jostled me. The Heart of Gold is delicately adorned.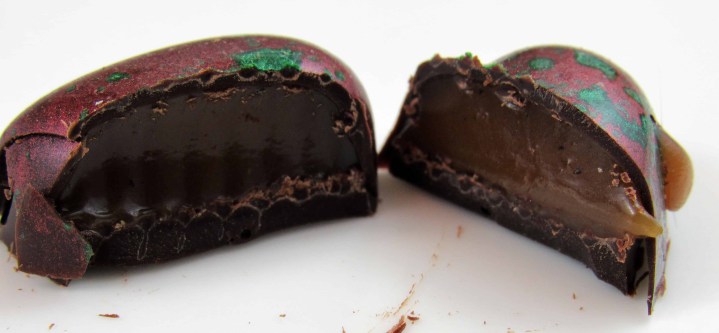 The hand-painted dark chocolate heart is a caramel and seal salt blend of goodness. The soft caramel confection melted in our mouths.
I see a chocolate mark from my hand on Day 11!
We are stunned by the details on the Coffee Caramel Holiday Tree. My family is sad that I made them put it back.
One more peek.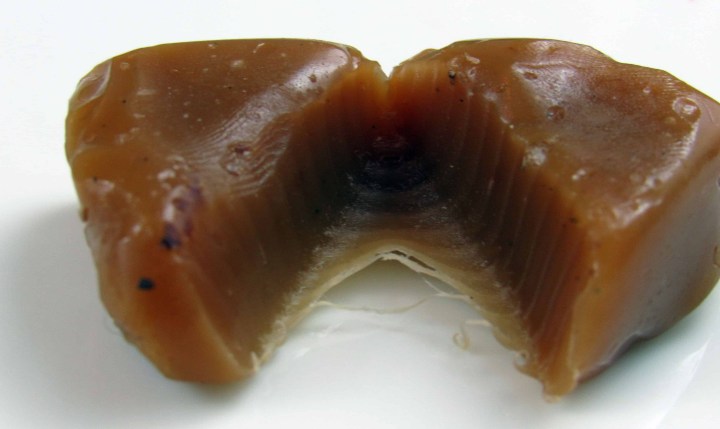 The handcrafted caramel was too chewy for me. Other family members happily tried it out. All I could get out of them was, "Yum! More!'
Everyone was impressed with the Truffles in Paradise 2017 Advent Calendar. Fresh chocolate with quality ingredients tasted unbelievably delicious. The delightful chocolates were a joy to look at and eat. I prefer supporting small businesses whenever possible and will have Truffles in Paradise on my must buy chocolate list.
Are you getting the Truffles in Paradise Advent Calendar?