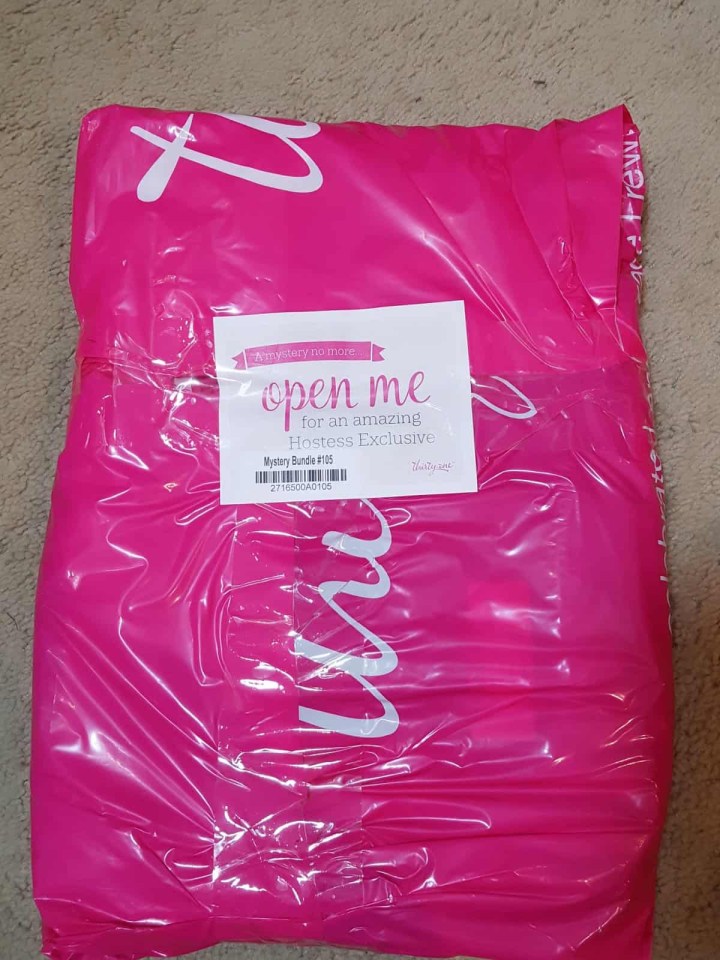 I hosted another online thirty-one party and, as one of my hostess rewards, I got the Hostess Mystery Bundle. I love a good mystery and it is always one of my go to hostess rewards when I can get it.  Since everyone loves thirty-one and mystery reveals, I'm sharing what I scored!
Everything I ended up getting with my hostess credits, half price items and hostess exclusives. I had a great party and my friends and I all ordered holiday gifts. I got two huge boxes sent to my house and I could not wait to dig in and check out all my goodies.
Let's start with my mystery hostess items: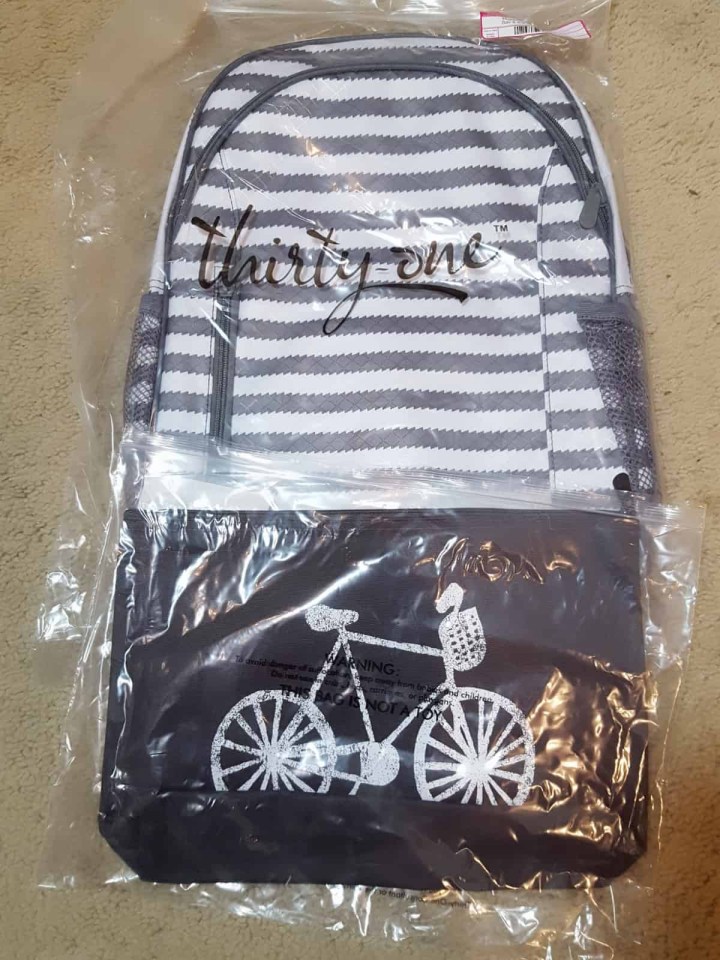 Mystery Bundle – The bundle says that they will choose two or more items for a value of at least $75. I got one last year and then I looked online but people had gotten all kinds of different things so I knew I had to give it a shot. I love the surprise of a subscription box so I knew I would love a mystery bundle.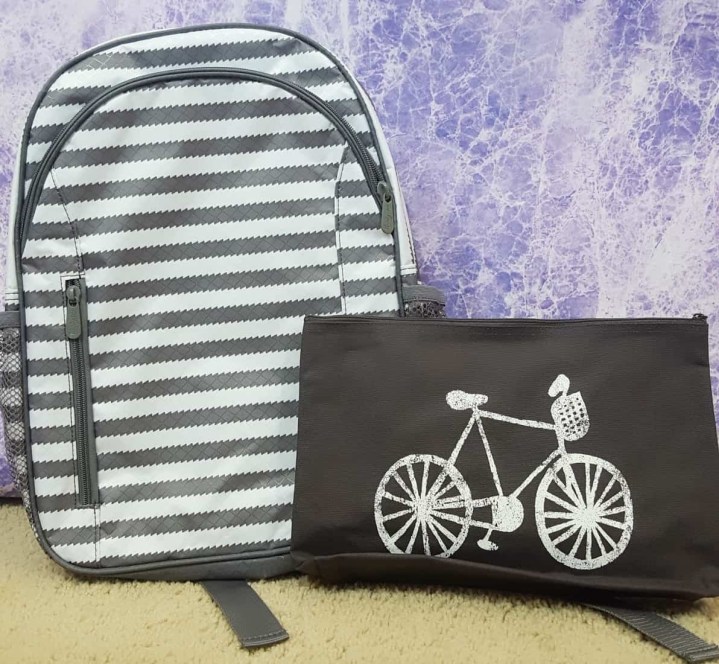 I got two great items in my mystery bundle.
Going My Way Backpack in Grey Wave ($55) – This was an hostess exclusive pattern option last year for the backpack. It is a great quality bag with lots of space inside. You can still get this backpack in different patterns but the Grey Wave was the exclusive. As luck would have it, my sister just ripped a hole in her current backpack so I'm going to add this to her Christmas pile.
Bicycle Zipper Pouch ($15) – This is a current item which I have looked at before. It is a large size zipper pouch with a bicycle on the outside canvas bag and a laminated vinyl inside. I just recently started working outside the house again and I'm needing some bags to take my goodies back and forth with. This will be great for that.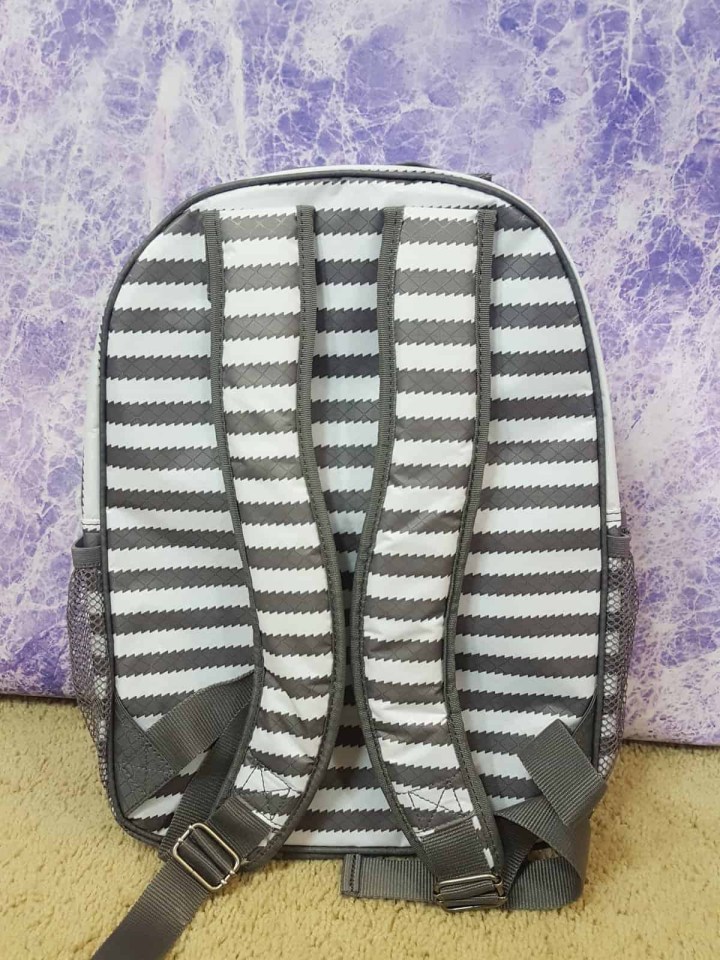 The backpack has nice thick and padded shoulder straps. I'm really impressed with how lush and stunning this backpack is.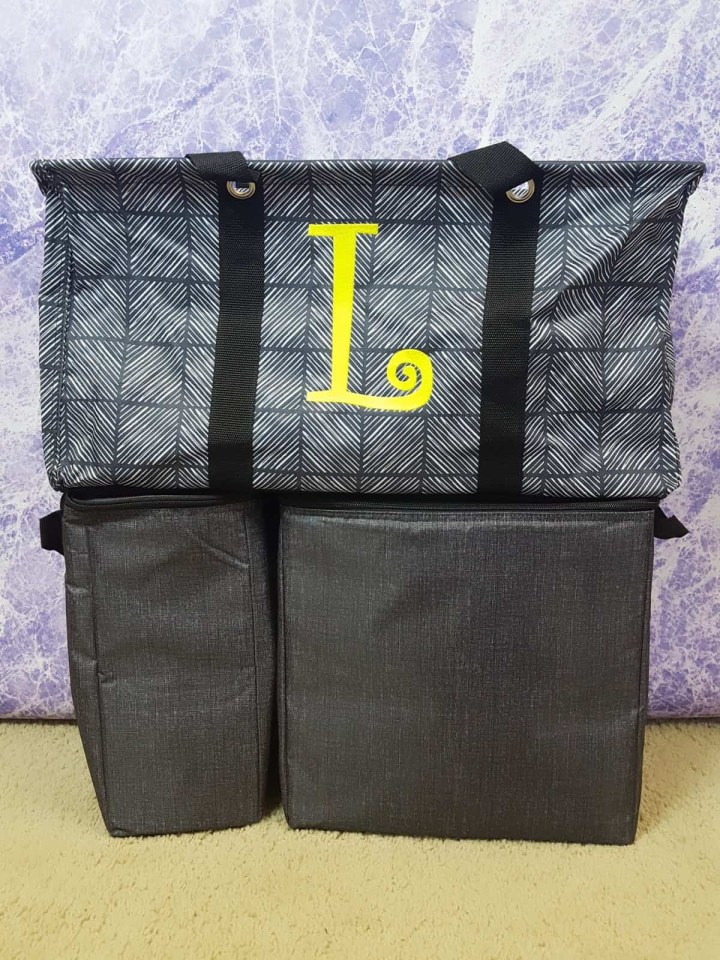 Tote N' Chill Trio – This was my other hostess exclusive reward items. I was wanting a Large Utility Tote ($35) and this one came with that and then two hostess exclusive thermals.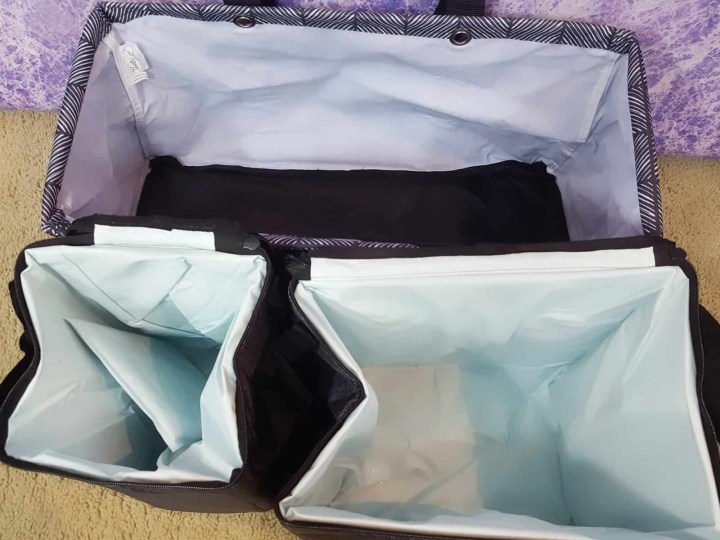 Here you can see the inside of the Large Utility tote and then both of the thermals. The smaller one is great for two bottles of wine and the larger one will hold a ton of snacks and drink. I think it will be great when it's time to head to the pool.
The thermals fit perfectly in the Large Utility Tote. I picked the new Chevron Squares pattern and then had the monogram L added. Monogramming is free on the hostess items. The L for my last name really pops in Citron against the bag pattern.
Some of the goodies that I picked with my hostess reward dollars and my half price items.
Lunch Break Thermal in Candy Corners($25) – With the new job I started, I'm taking my lunch most days. I thought I had something but nothing I had here was working for me. This tote is a great size and will hold my Tupperware and my extra drinks for the day. The bright colors really called me and it makes me so happy to see.
Littles Carry-All Caddy in Cevron Dash ($14) – My college colors are red/white/black and I still live in my college town so I knew I had to get something in this new pattern. These little caddies are so cute and can be used for so many different things.  I have one I use for my boys medications, one that holds extra goodies in my craft room, and a couple others that move around my house holding different things. This one I want to keep with my football go to items since it coordinates with my colors.
Your Way Rectangle in Woodblock Whimsy ($25) – I originally had the idea to use this in my craftroom but I've been doing some sorting since I ordered and I think I'm going to use this one in my bathroom to hold my bath goodies.  Between my boys and I we are getting a large collection and its a bit unruly so I'm going to help corral them in here. It also means I know something I'll be placing on one of my next orders. I still want to get some more of these for my craftroom.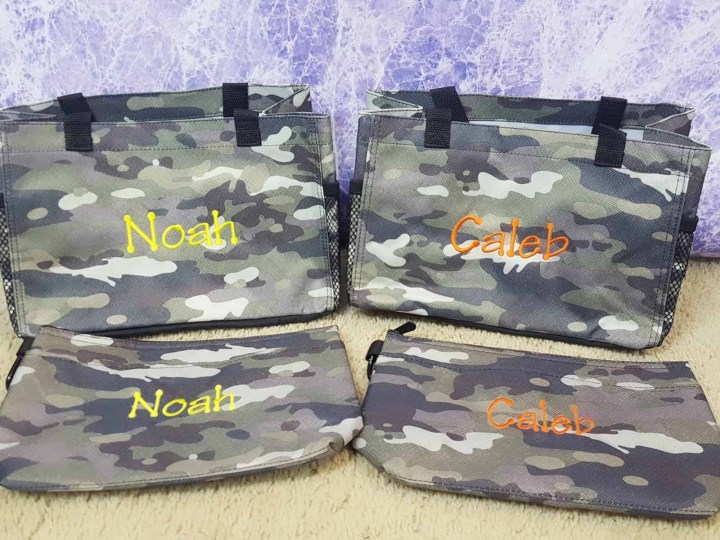 And the rest of my bag fun!
All-in Organizer in Camo Crosshatch ($20) – I have two boys and this will be part of their Christmas. These will be great to pack up their travel cords, books, iPad, etc when we are heading out on a trip. It is a great size for the miscellaneous on the go items.
Cool Clip Thermal Pouch ($15) – To go along with the the bags I grabbed them a couple thermal pouches. These will clip on and can keep their smaller items from getting lost or dropped all over my car.
I'm in love with all of my thirty-one goodies again with this party. I had a plan for a couple items but then my great friends allowed me to get even more with my hostess rewards. I can't wait to take my new bag for my lunches and putting all my other bags to work. The mystery hostess bundle is honestly one of my favorite items to get with each of my parties. I can't wait to get that sealed up hot pink bag and see what thirty-one sends out.
Are you a thirty-one fan? Do you have a favorite item? Have you gotten a mystery bundle? Did you love it?