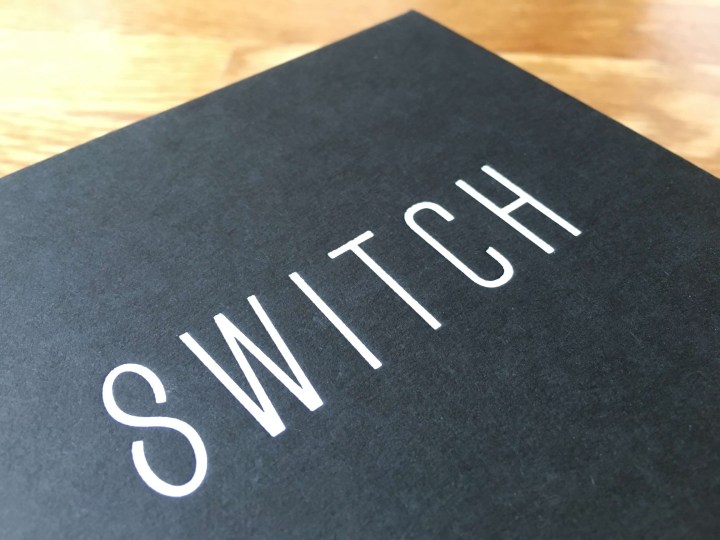 Switch is a jewelry subscription that lets you rent designer jewelry starting at $29 a month. You can wear the pieces for as long as you like, or switch them out for new piece(s) whenever you want. Shipping is always free. The jewelry, which includes pieces by Hermes, Alexander McQueen, and Celine, among others, averages $500, and includes necklaces, bracelets, and earrings. Jewelry is cleaned between wearers.
I have always admired fun statement jewelry on other women, but I can never bring myself to commit to a piece. Who wants to spend $500 on a piece of jewelry that you may wear only a few times before it goes out of fashion? But who wouldn't like having an amazing new piece whenever you go out? Not being an heiress or a tech entrepreneur, and having a firm frugality-is-golden Midwestern upbringing, I figured this kind of jewelry was out of reach for me. Enter Switch, which lets you have fun without the commitment. It's like internet dating for jewelry!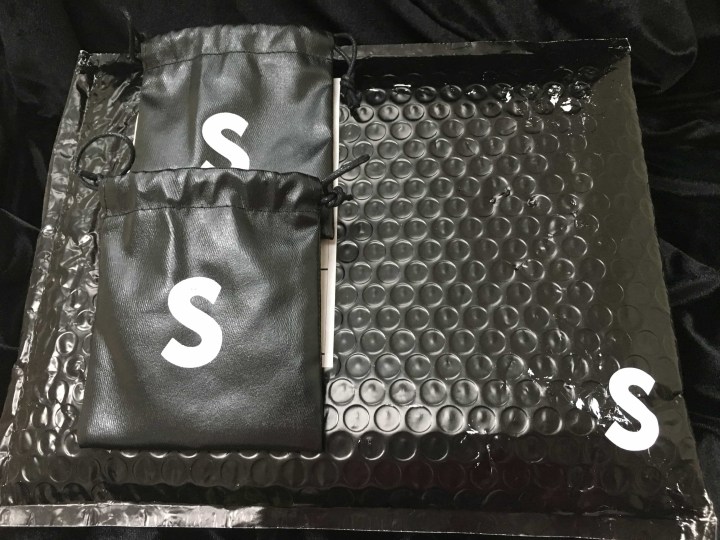 Sign-up is simple. You look through the collection and pick the pieces you like. The redesign of the website makes it easy to know which pieces are available. So, just like you're shopping, you pick what you want, put them in your bag, and check out. Shipping is free both ways. Wear it as long as you like, and send it back when you're ready for something new. I have the Black plan, which allows me to have three (!!!) pieces at any one time for $69 a month.
I usually get the newest pieces I can for review purposes, but this month, I got a couple of repeat favorites to take with me to Thanksgiving with the in-laws.  Happy to report that Switch was super helpful in being sure my pieces arrived before I flew out.  Great customer service.
Switch recently redesigned its packaging, and it's all new and Switch-branded. Don't forget to save that black shipping envelope, though — you'll need it to send the jewelry back.
DEAL: Get half off your first month on any plan. Use coupon code HELLOHALF.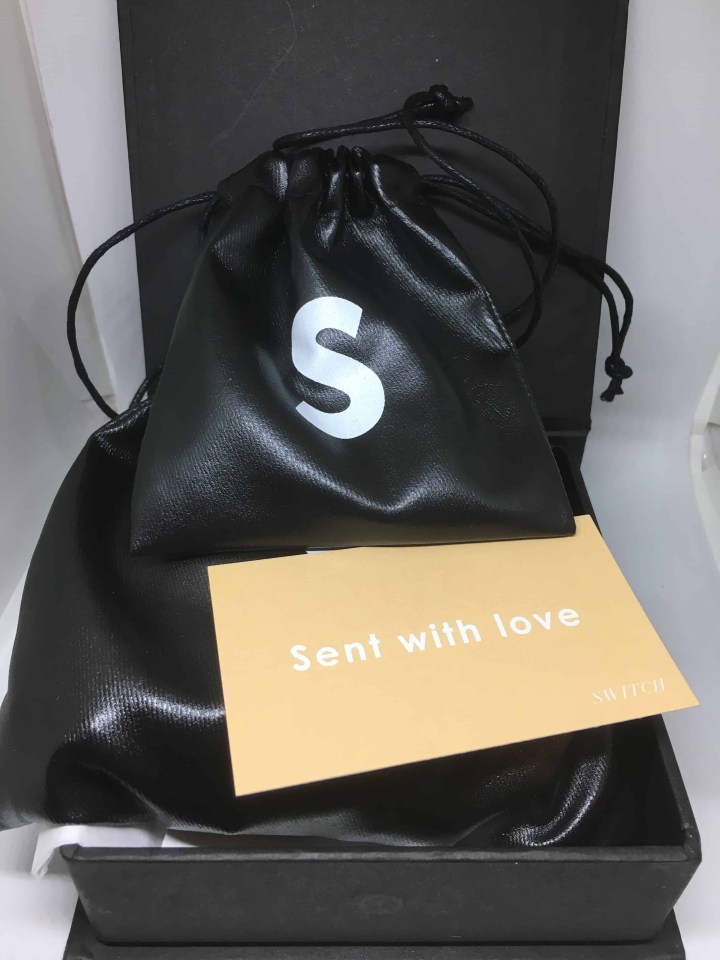 Switch is always changing up its inventory, so there's always something new and fun to select. This month, I went tried-and-true with the Kenneth Jay Lane Multi-strand Turquoise Hue Statement Necklace ($325 retail value), the Dior Tribale Earrings in Pearl ($470 retail value), and the Hermes Braided Jumbo Hook Wrap Bracelet/Choker in Brown ($365 retail value).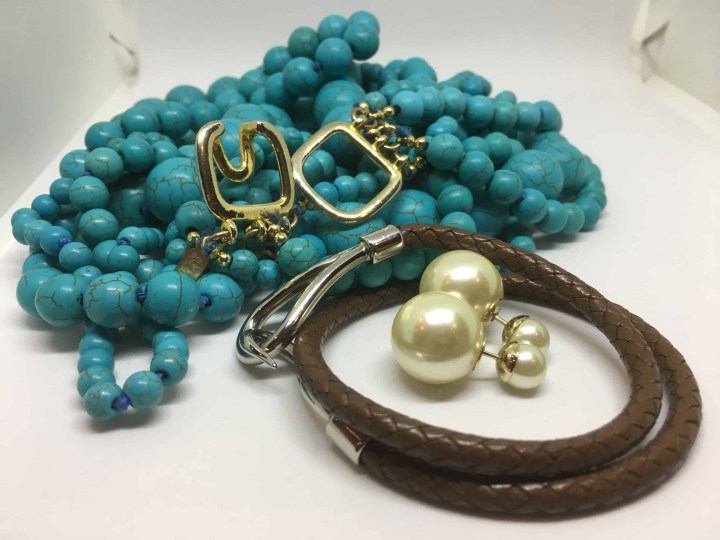 First up was the Kenneth Jay Lane Multi-strand Turquoise Hue Statement Necklace ($325 retail value).
I LOVE this necklace. I had this in March and knew that I wanted it again to wear around my in-laws. This is the best thing about Switch–I was able to pick out new, bold, fun jewelry for an event without the commitment to buy it!  It is 7 strands of turquoise-colored resin with a gold-plated D-clasp. The length is 19″ and the drop is 4″.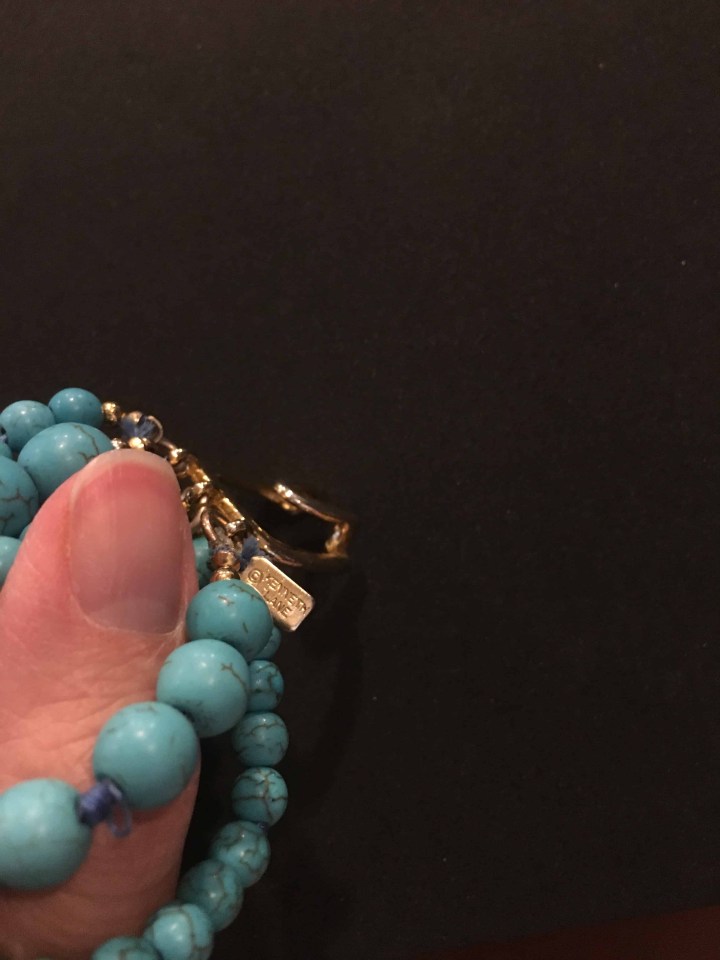 You can see the Kenneth Lane logo on the tag. The weight of this necklace is noticeable but the large D clasp spreads it out so it didn't bother my neck.
I love the controlled chaos of this piece–it really is the focus of your outfit. I wore it with a sweater and jeans, but it would look great with a navy sheath dress or even under a blazer. It looks great with any skin tone.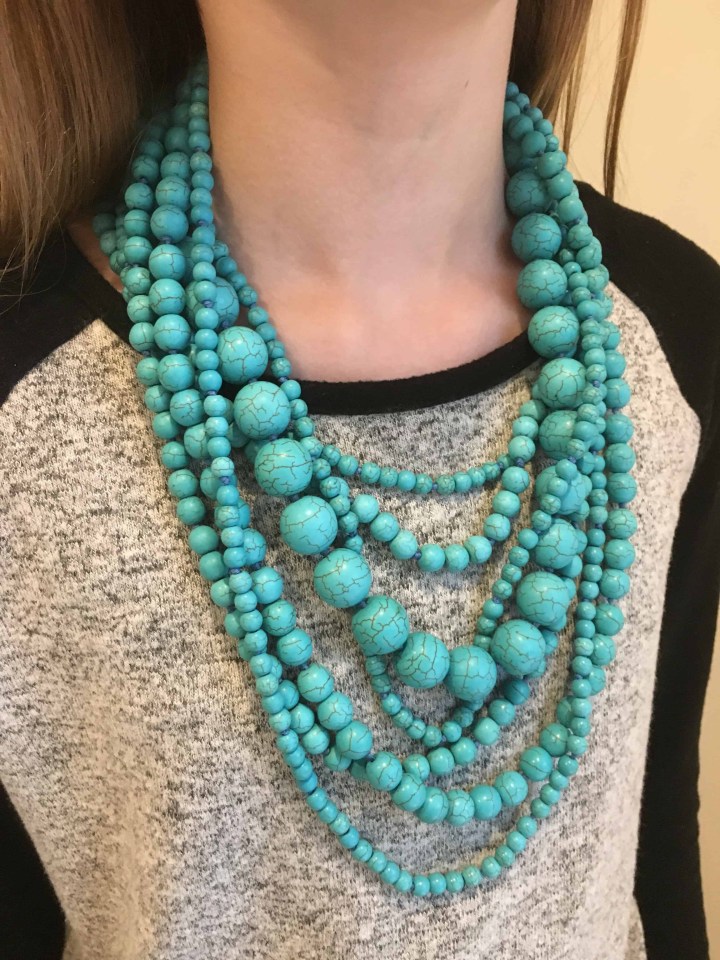 Next up are the Dior Tribale Earrings in Pearl ($470 retail value).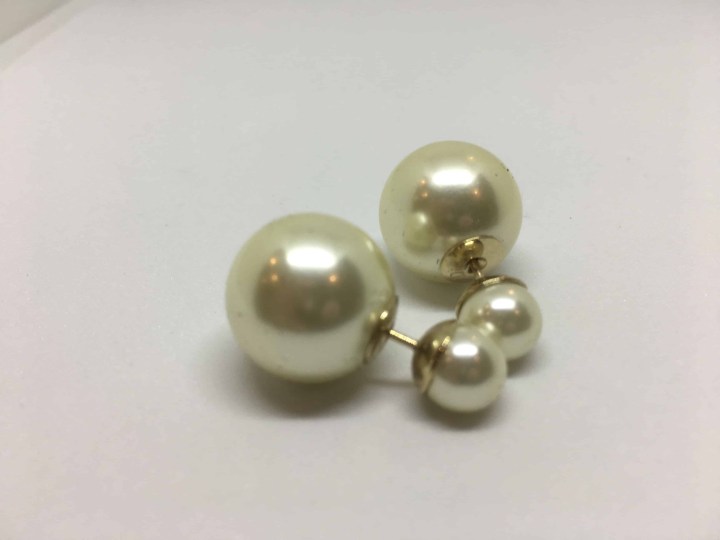 I've previously gotten these awesome earrings in black. The black ones were checked out, so I went with pearl, and they worked better with my outfit, anyway. The earrings are cream-colored resin. The front sphere is 8mm and the back one is 16mm. The front ball slides smoothly onto the back one to hold the earring securely.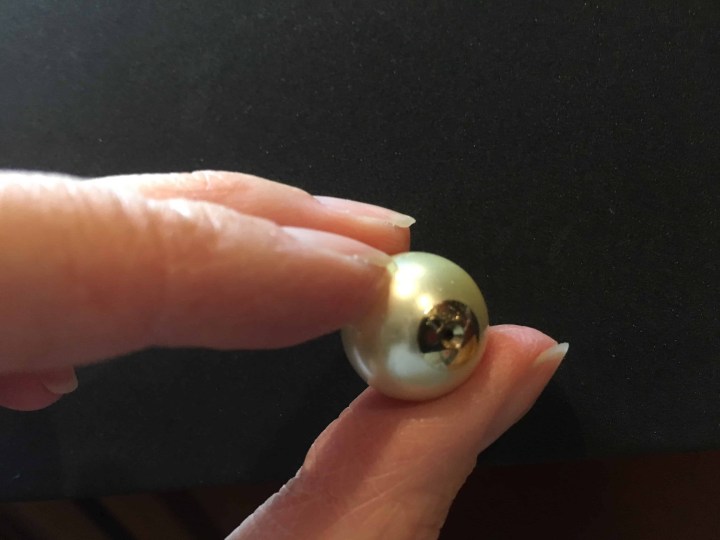 You can see the Dior logo on the ball. I so love these earrings–they are fierce and slightly subversive, with the large ball in the back. I wore them with a pretty conservative wrap dress to Thanksgiving dinner, and their slight edge really made my outfit. I hate to send them back! Every month with Switch, you get $10 toward the purchase of an item at a discounted member price, and I definitely have my eye on the Tribale offerings.
Last up is the Hermes Braided Jumbo Hook Wrap Bracelet/Choker in Brown ($365 retail value)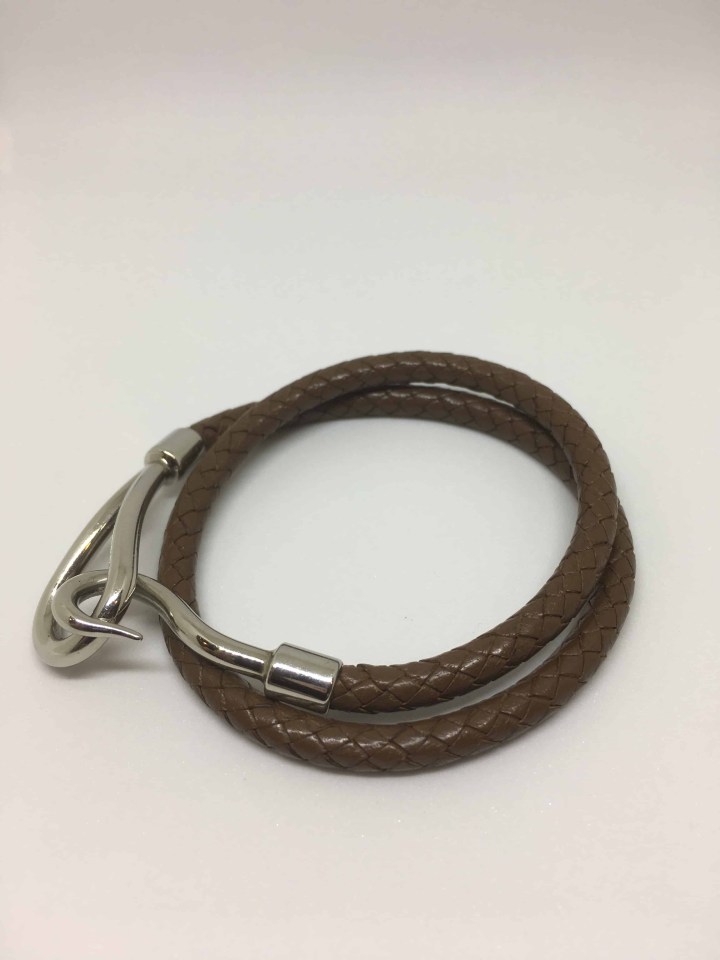 I really liked the sharp (literally!) styling of this bracelet. The brown leather is tightly braided and smooth. It is 12″ in circumference, which was enough to easily wrap twice on my wrist. You can also wear it as a choker necklace, but I'm too old for that, so I went with bracelet. It is .25″ wide.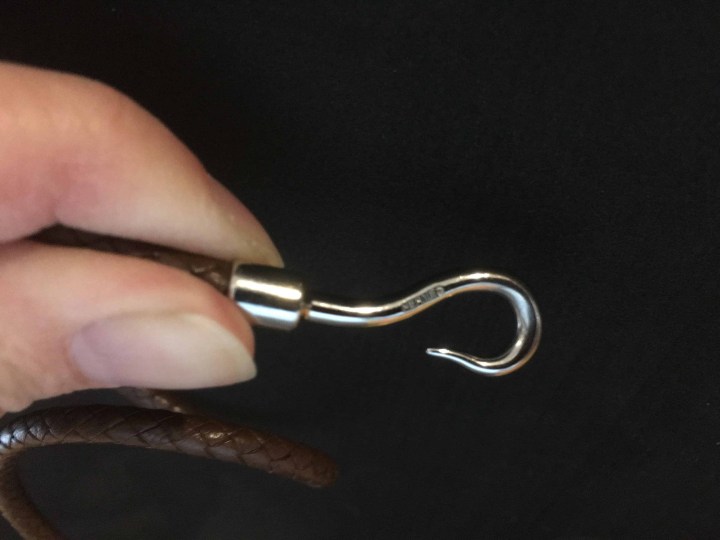 You can see the Hermes logo on the palladium clasp closure. I think this bracelet is so fun, and would look great with jeans and a white tee (or, if you insist, as a choker with the same outfit). I didn't end up wearing this as much as I thought I would, I think because I wear a watch with my casual gear and a bracelet with it felt like overkill.  You could stack this bracelet with some more formal gold or platinum pieces for a more polished look.
I enjoyed my once-and-future favorites shipment this month! I had a little heartache sending them back, but it's great to know that I can repeat a piece in the future if I want a particular item for an event.
Overall, Switch is a really fun experience. I really like the variety of pieces available. I love the idea that I can go "shopping" for new jewelry anytime I want. Given the retail prices of the pieces (over $1100 total in this shipment!), the $29-69/month is very reasonable value. With that money, I can either buy a new piece of jewelry every 1-2 years, or I can have a new piece whenever I want. For this kind of statement jewelry that may have a shelf life of your interest or that of the fashion world's, the economics really do weigh in favor of renting. I can't wait to get my next Switch!
Have you tried Switch? Which piece is next in your queue? Let us know in the comments below!