MomGiftBox is a new monthly subscription box curated especially for moms. For only $49.99 per per month, you'll get a box filled with luxurious items like skincare products, stylish accessories, fitness products, delicious treats, technology items, and all natural cosmetics.
DEAL: Get 50% off your first box! Use coupon code hellosub50.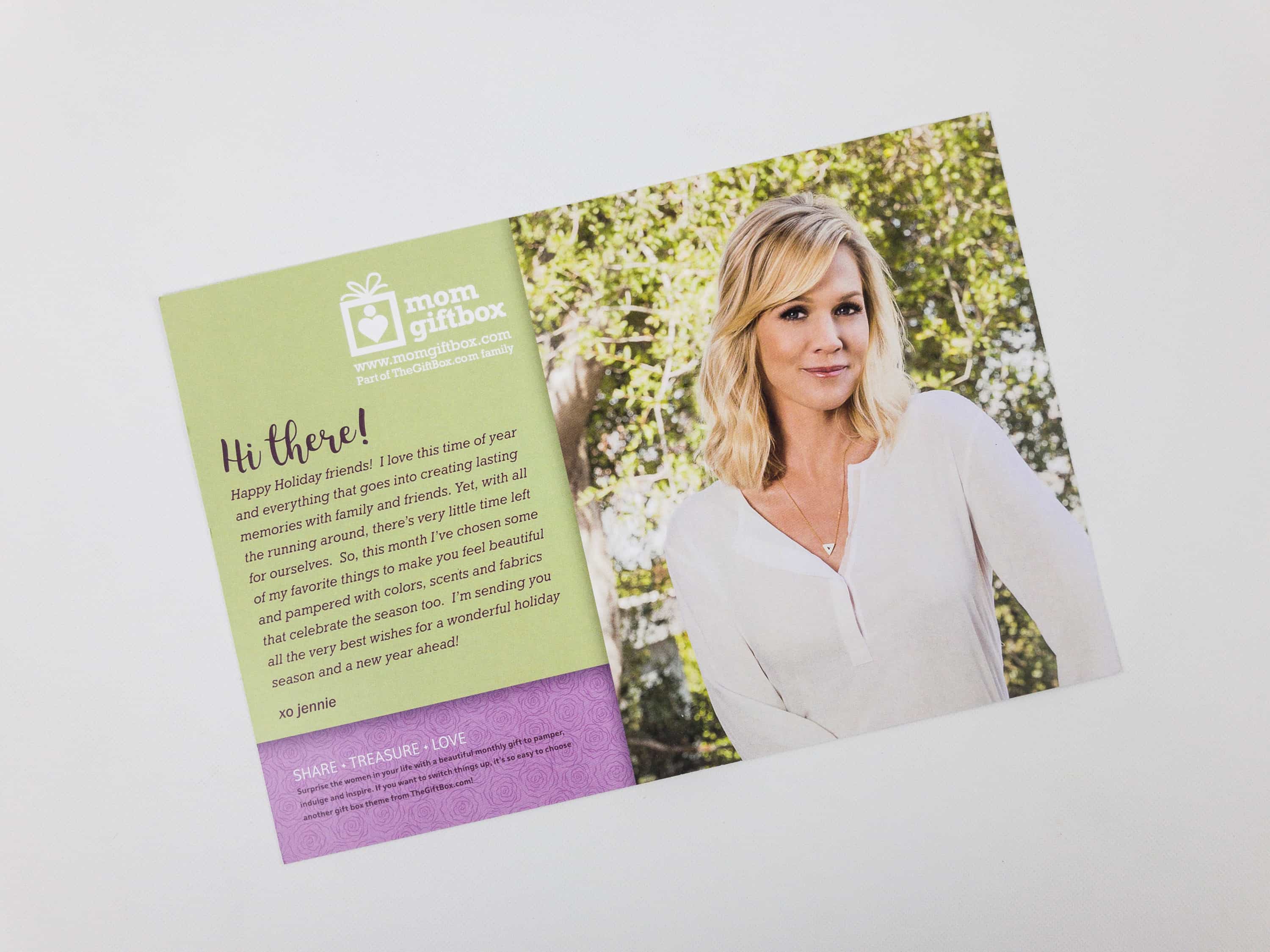 MomGiftBox is curated by Jennie Garth! MomGiftBox is part of TheGiftBox family. If for some reason you don't recall, Jennie Garth is a famous actress from 90210.
The information card gives you details on this month's goodies.
Everything in the November 2017 MomGiftBox!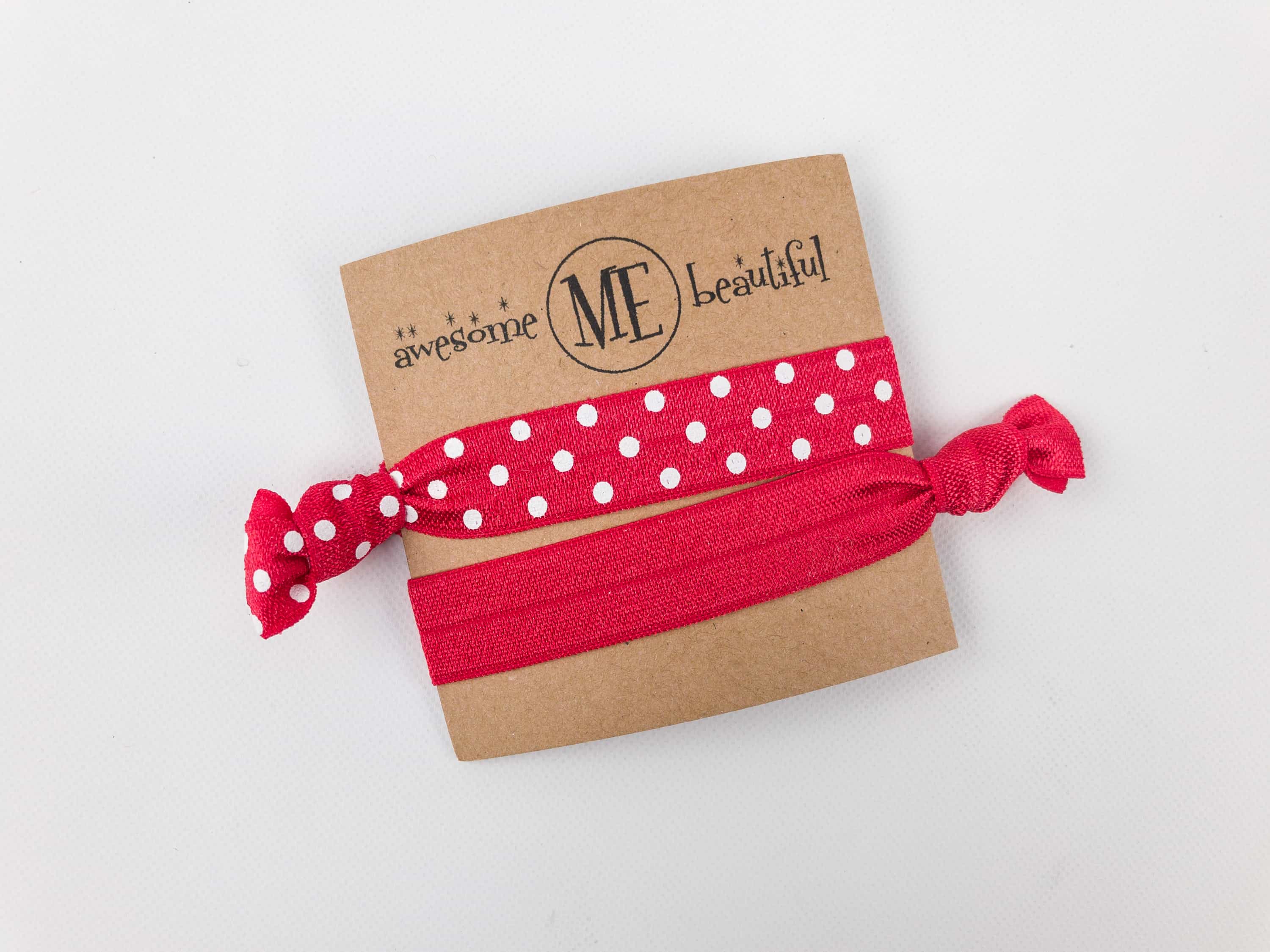 ME Awesome Beautiful Seasonal Hair Ties. Love the color!
It's stretchy, great for keeping hair in place. I have been wearing these nonstop – they turned out to be perfect for the holidays!
The Dancing Wick Candle Co. Apple Cider Candle ($10) Fresh and spicy, the scent of this candle is very reminiscent of fall. Great to know that it is made with 100% soy wax with a 100% cotton wicks, we can enjoy the lovely smell without worrying about polluting our home.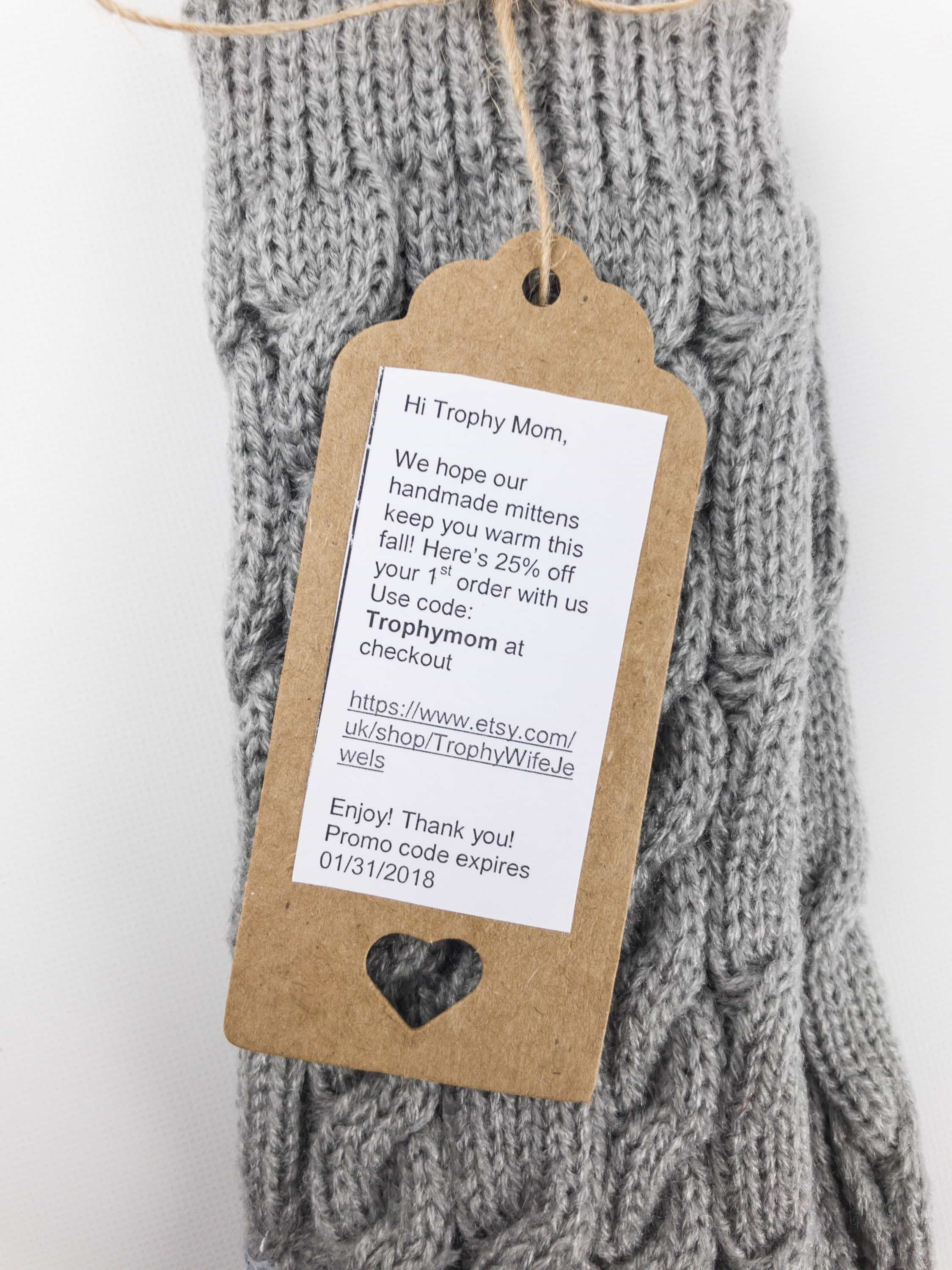 Anna Autumn Fingerless Handwarmer Mittens ($12.33) It's warm and comfortable. I think I'm going to use it a lot this season!
I like the snug fit and the neutral color too! Surprisingly first pair of handwarmers this season!
Travalo Perfume Atomizer ($10.99) Carrying around heavy perfume bottles is such a hassle, especially when traveling. Thanks to this perfume atomizer I can now take my favorite perfume wherever I go.
On the back of the packaging are instructions on how to refill.
It fits in my purse! It's even better to bring than roller ball perfumes because glass could shatter and this won't.
Best thing about it? It's safe for air travel!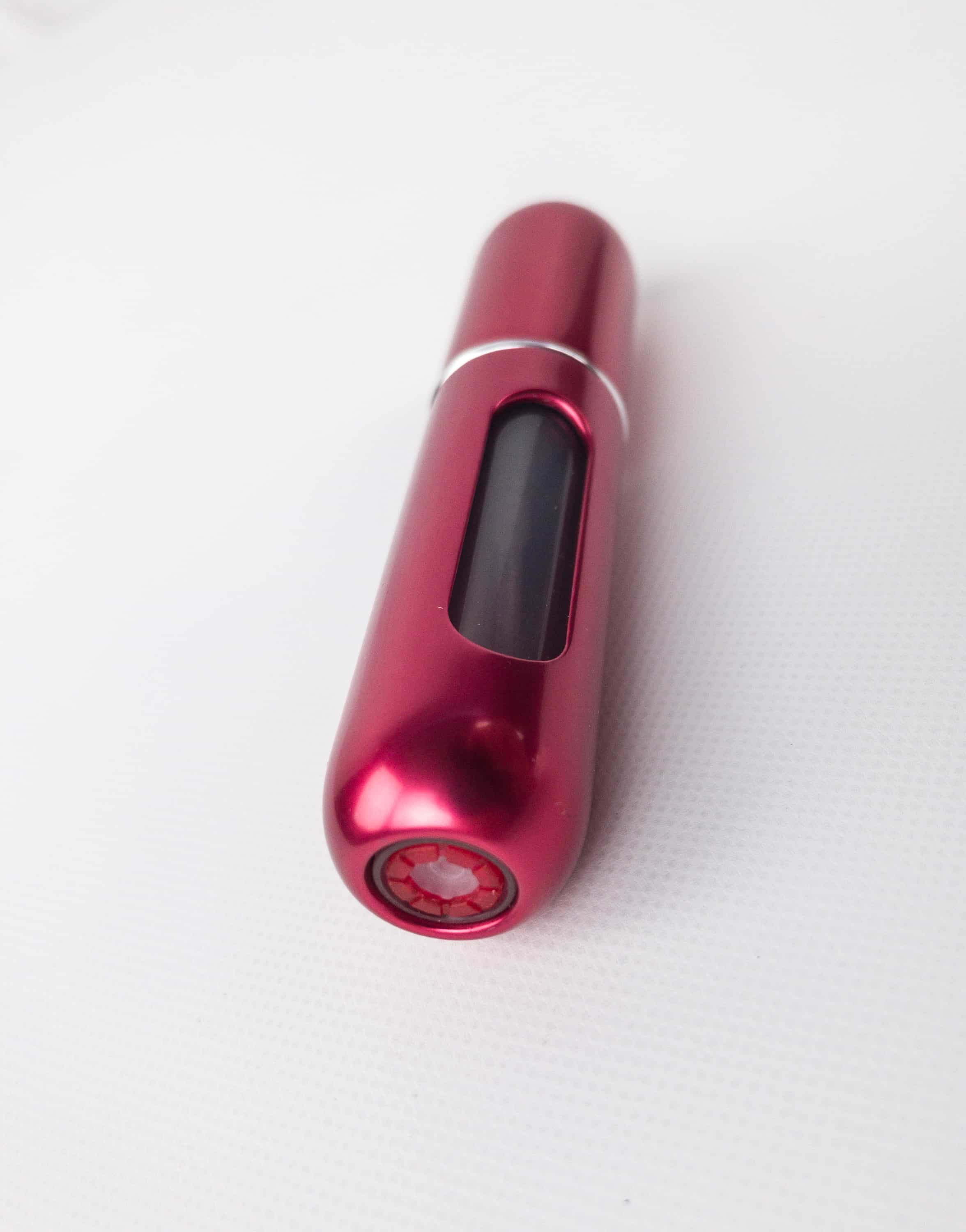 The only down side is that you can't swap fragrances within the same bottle. The scents will just mix even after cleaning. Anyway, you can easily buy more if you need more. It's available on Amazon.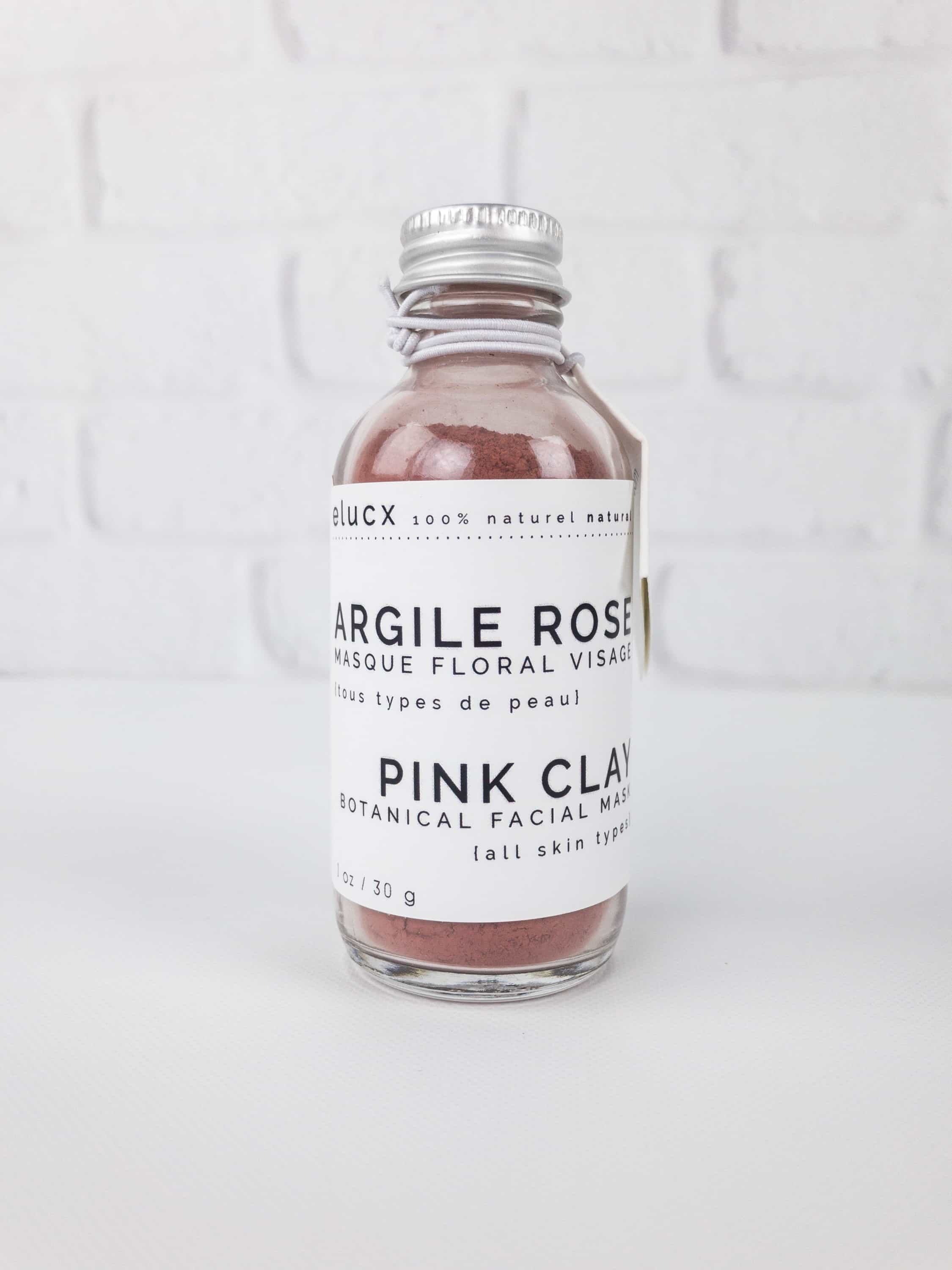 Elucx Botanical Pink Clay Mask ($20.21) This botanical facial mask is packed with kaolin pink clay, organic rose flower powder, frankincense essential oil, chamomile essential oil, and rose absolute essential oil. When using, you just have to add a bit of water (or honey or yogurt) on a teaspoon of this mask to form a paste. Then, you can massage the mixture and let it set for 15 minutes. It's like having a facial spa treatment at home!
NMF Polish Blazing Red Crystal Nail Polish. A bright red polish!
It's 10-free, which means it is free of the top 10 toxic chemicals found in other nail polishes.
Herbal Moon Peaceful Aromatherapy Blend ($14) This calming aromatherapy scent is composed of organic lavender, cedarwood, sandalwood and black pepper. It comes in a reusable glass roll-on bottle, which is very easy to apply on the neck, chest, wrist, or even on the soles of the feet.
This was another wonderful haul from MomGiftBox! I love how they focused mostly on pampering items this month. These are not going to waste because moms like me will definitely need some relaxing me-time in between the holiday preparations. Also, the appeal of this box is actually not limited to moms. The items they send are also nice and useful for any kind of woman.