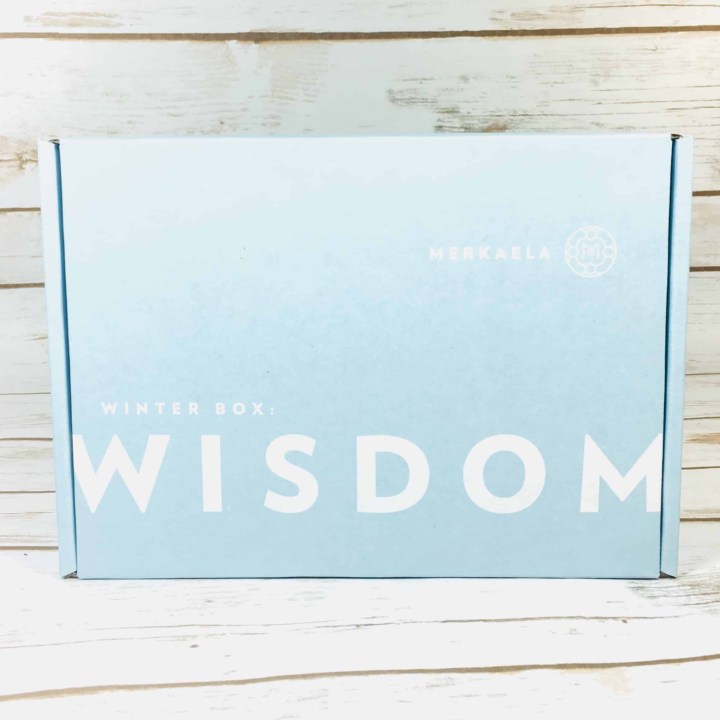 Merkaela is a quarterly box that sends natural bath and beauty products curated to a theme as well as the season. They have two options to choose from: The Deluxe Box will have 7-10 items while the Light Box will have 4-6 items. I'm reviewing the Deluxe Box today but I applaud Merkaela's lower-price option so that those who would like a smaller price point can also indulge! Merkaela's items are made in-house although they may occasionally send an item from high-quality collaborators. All of the items are cruelty free and there is a vegan option that you can choose at sign up. The ingredients are clean and in some cases organic. You can feel good about putting these items on your skin!
Merkaela empowers people by giving them tools to help their self-care needs. Our Subscription Box includes products handcrafted by us and formulated to balance the mind, body and spirit.

Each quarterly curated collection is built on a theme and includes wellness products, thought-provoking content and music — everything you need to be on your way to a holistic approach to a clear mind, body and spirit.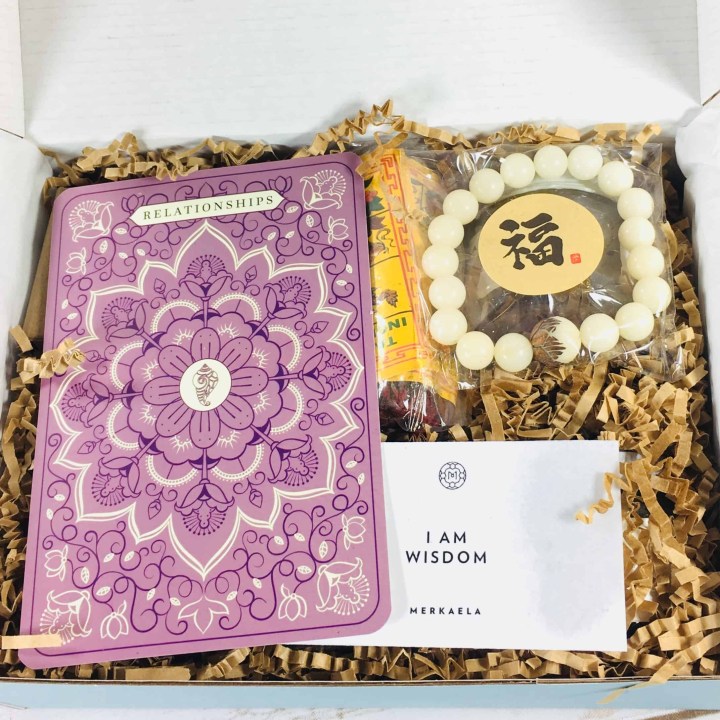 This box has a simple yet beautiful presentation and the items coordinated wonderfully. The containers had classy white labels and inspirational instructions for their use. This is a luxe box, designed to pamper and delight all the senses. I look forward to receiving this quarterly subscription and couldn't wait to try out these items!
DEAL: Use code ALIVE20 to save 20% on a prepaid annual subscription or code ALIVE15 to save 15% on a quarterly box.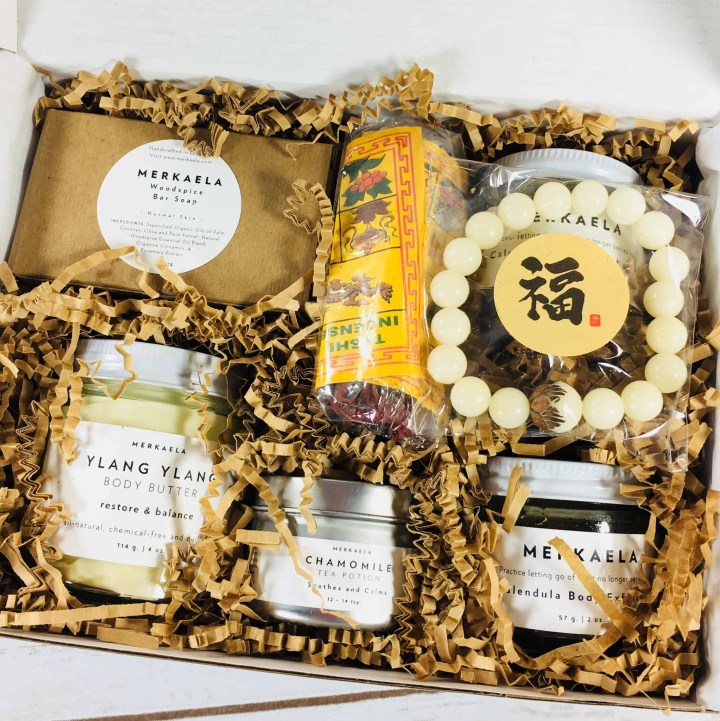 My beautiful blue box was shipped in another plain brown box and there was bubble wrap, tissue paper, and brown paper squiggles for cushioning. The tissue paper had an oily residue, as did my affirmation card, but nothing was messy in the box.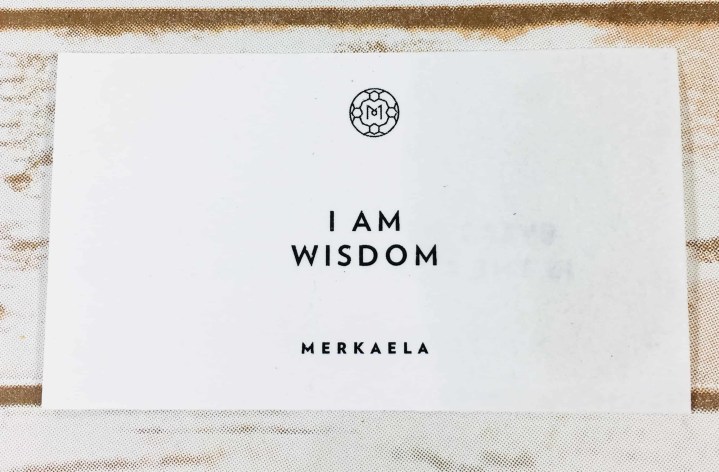 There was an affirmation card that helps you set your mind to a spiritual thought and make it come true.
Although I like the idea that every decision I make is a good one, I am one of those who suffers from what ifs and shoulda/coulda/woulda all the time. I'll try to be more mindful but truthfully I have buyers remorse even when choosing dinner at Chick-Fil-A!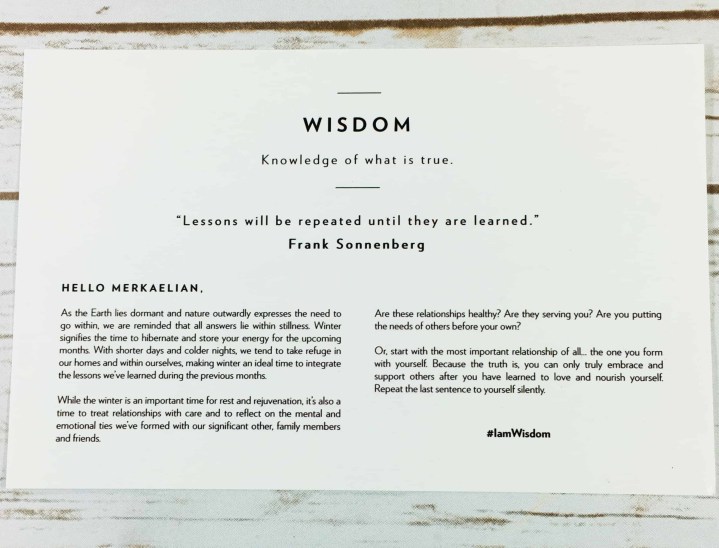 First up was card with the intention of this particular box. This quarter's box theme is Wisdom.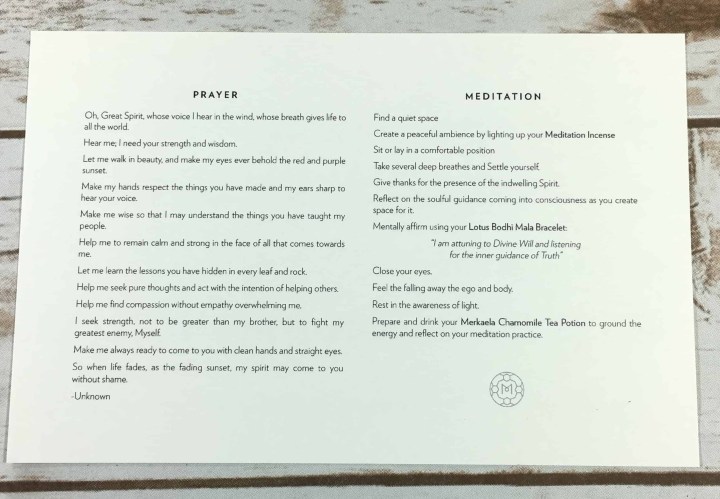 The back of the card featured a prayer and a meditation. These are a reminder to focus on my spiritual side, which gets lost in the shuffle of my everyday life.
Next was a very descriptive product information card, with each product's intended use. They even provided a Spotify playlist, which I listened to while writing this post. The music is very different from what I usually listen to but then I feel like I am expanding my appreciation of other genres of music.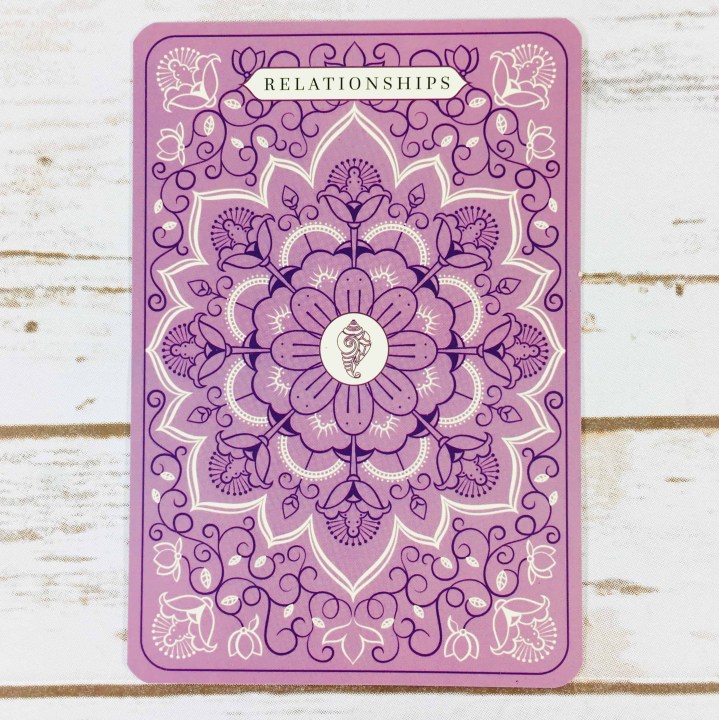 I received a pretty card but I wasn't sure what it was for. After some Googling I discovered it is from The Journey Within Card Deck, which "provides practical tips on how to integrate a spiritual mindset into everyday life."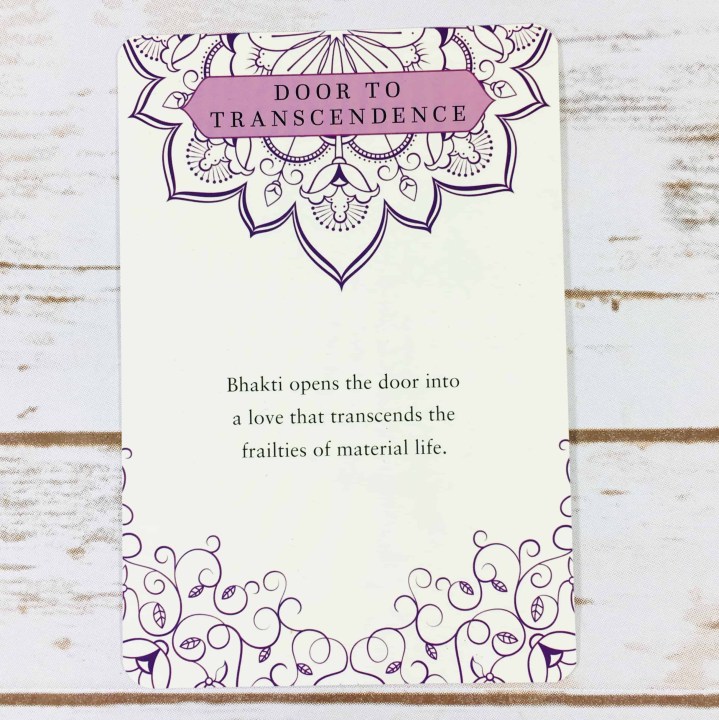 I had to look up "Bhakti" since I didn't know what that meant. One description is akin to "religious devotion" or it may also refer to a state of consciousness, such as bliss.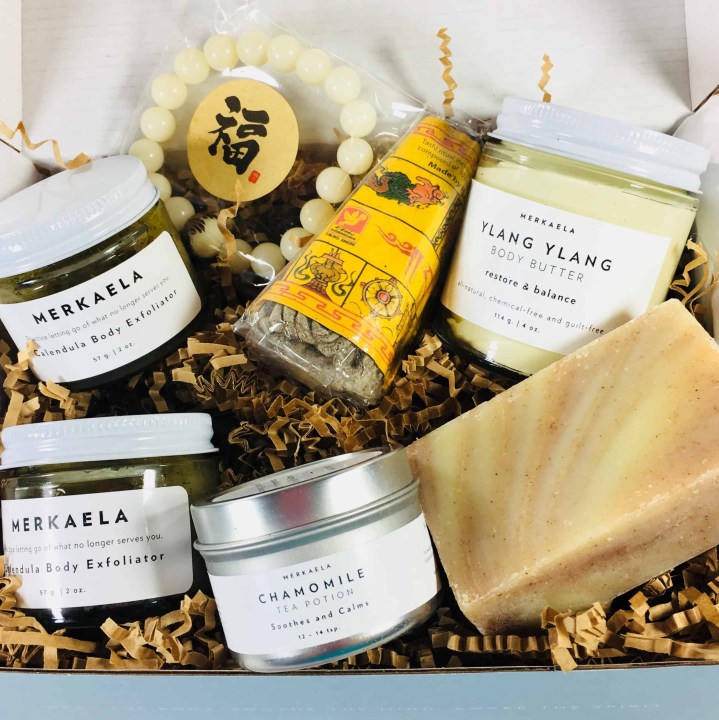 The packaging is simple yet elegant and looks classy and natural at the same time. These items are not in the Merkaela shop, so check here if you are interested in purchasing these luxurious items when or if they become available.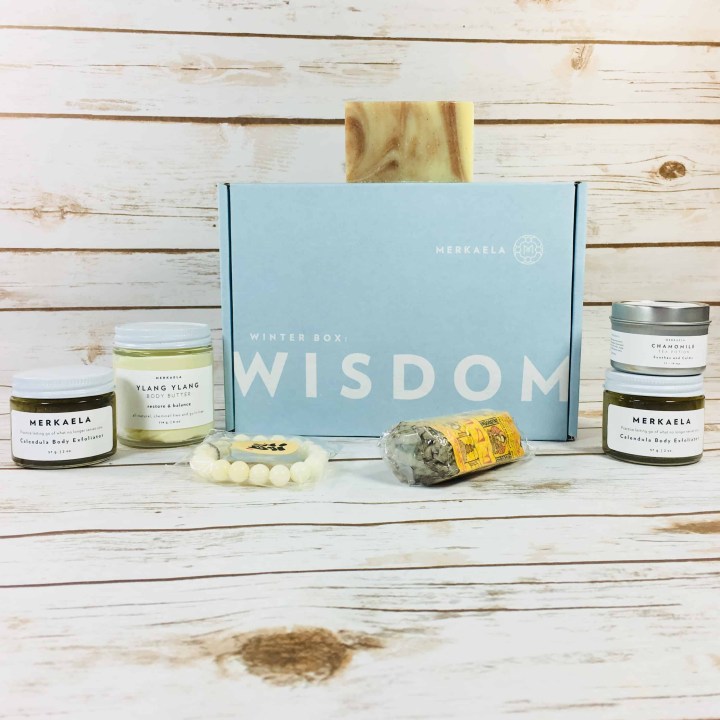 Everything in my Winter 2017 Winter Wisdom Merkaela Box! Merkaela sent a very detailed email with the items in this box, ingredients, value, descriptions, etc.
Ylang Ylang Body Butter. "Give your body love. It listens."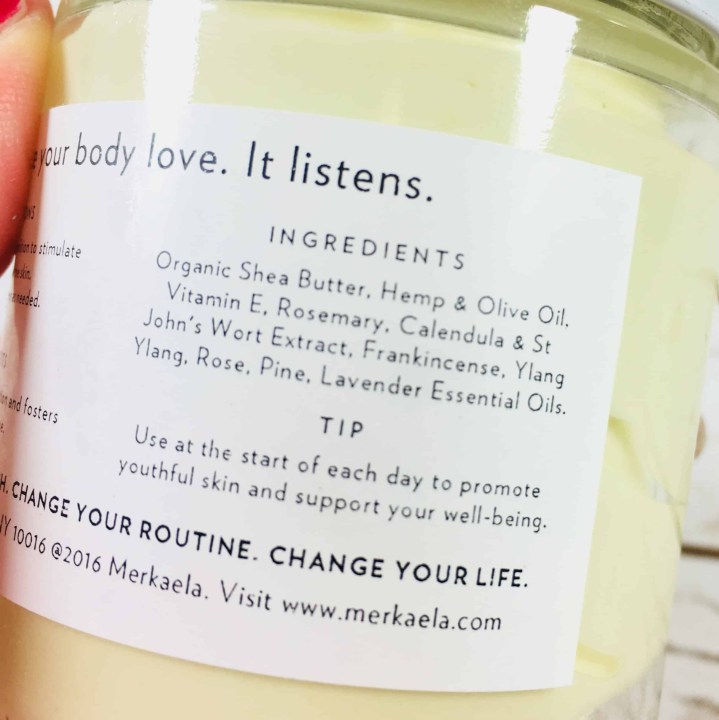 This luxurious item has a shea butter base and leaves my skin soft and silky, and a touch shiny too. It is so smooth and is perfect for my winter-dry skin.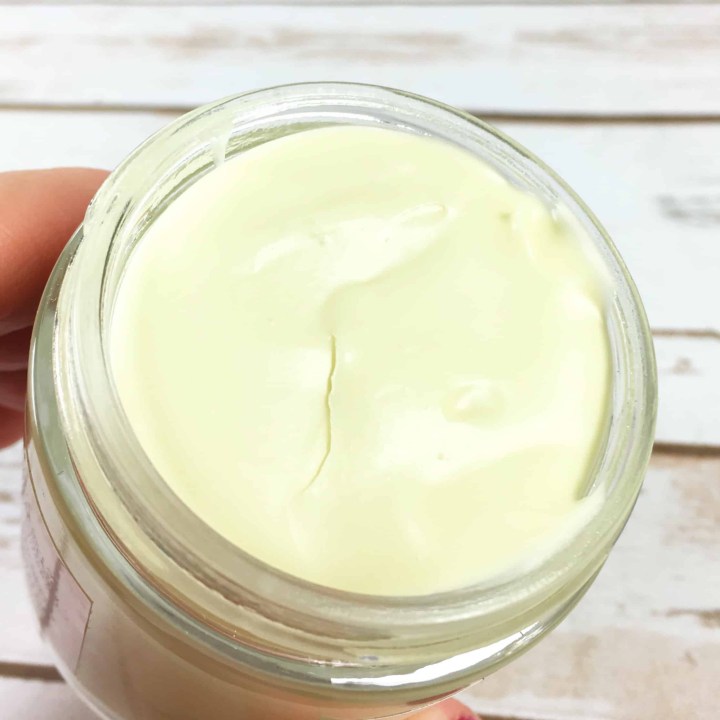 This is scented with ylang ylang, frankinsince, and rose but I couldn't pick out any of those individual scents. Instead it mostly smelled warm and like shea butter.
Woodspice Bar Soap. "Purify and release." 
Coconut, olive, and palm oils are saponified, which basically means they are turned into soap. Cinnamon and rosemary extracts provide scent, as does woodspice essential oil. It has a warm scent that kind of mimics the incense below.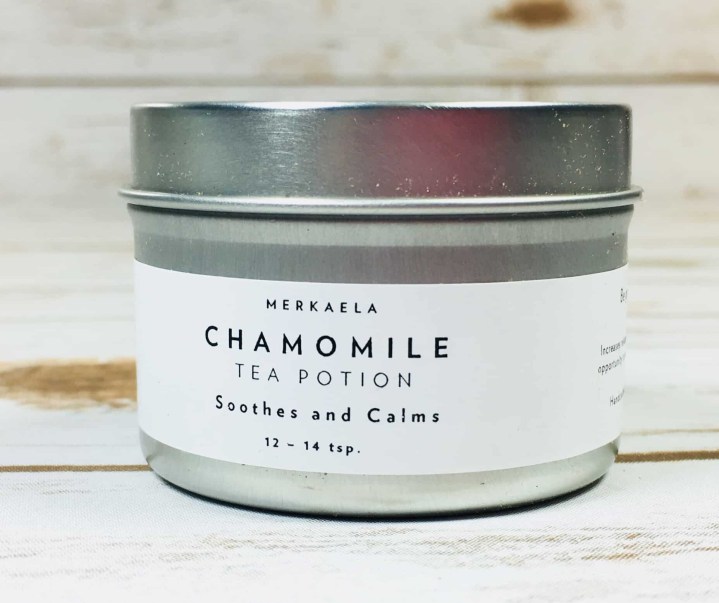 Chamomile Tea Potion. "Sip your stress away!" 
I love tea and this herbal blend was light and had a sweet taste that sort of reminded me of pineapple! Chamomile is perfect for a cold winter evening, and St. John's Wort may help induce a relaxing state. It also may interact with a host of medications so please check for contraindications before sipping.
For some reason I received two Calendula Body Exfoliators. I was supposed to receive a Betonite Clay Mask but truly I am happy to have two body exfoliators!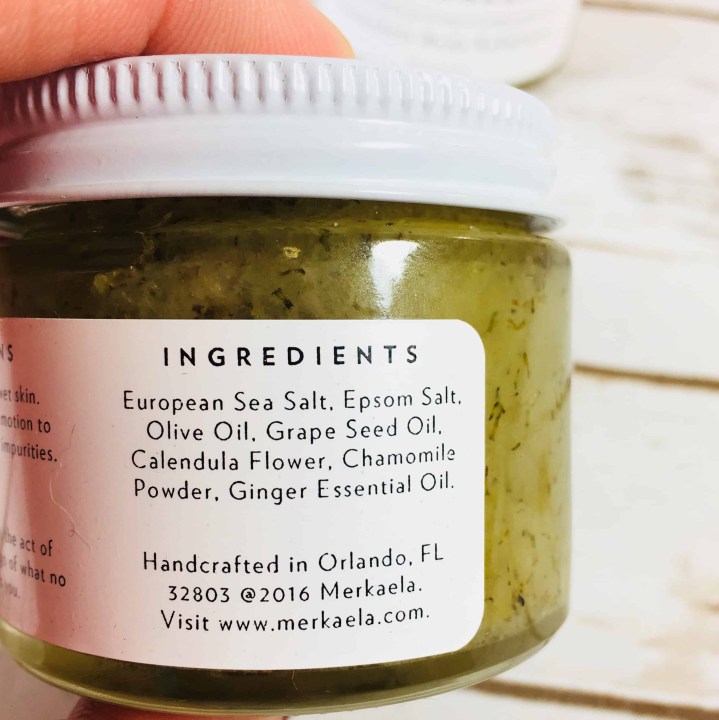 I did have a bit of oil in the box so just a heads up, perhaps oily products should go in a plastic bag in the future. Nothing was ruined though. Sea salt, Epsom salt, and other oils were the base of this body scrub.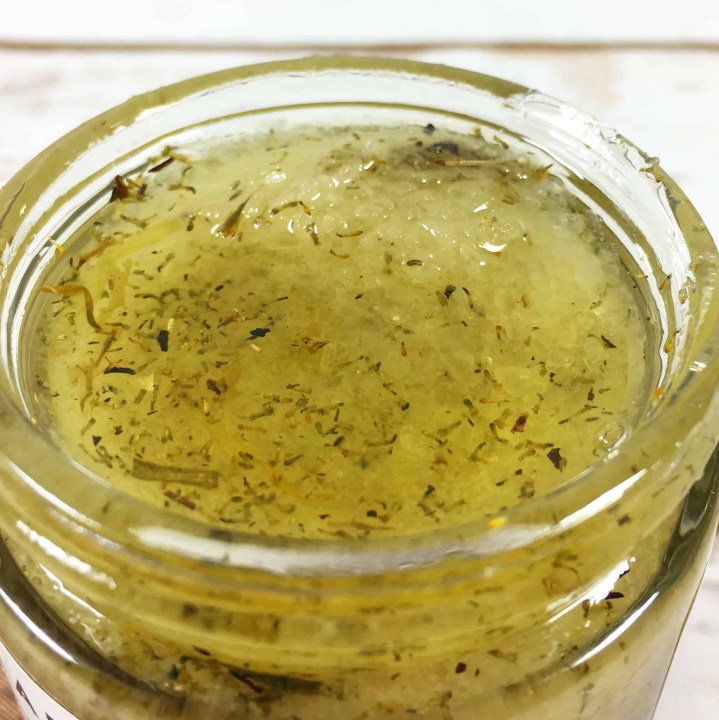 The oil was sitting on top so I would suggest stirring it with a wooden popsicle stick or plastic spoon before using, and maybe place in a plastic container instead of taking a slippery glass container in the shower. This stuff smells good and natural and left my skin so silky that I didn't need to use a moisturizer afterwards. I love a two-in-one product!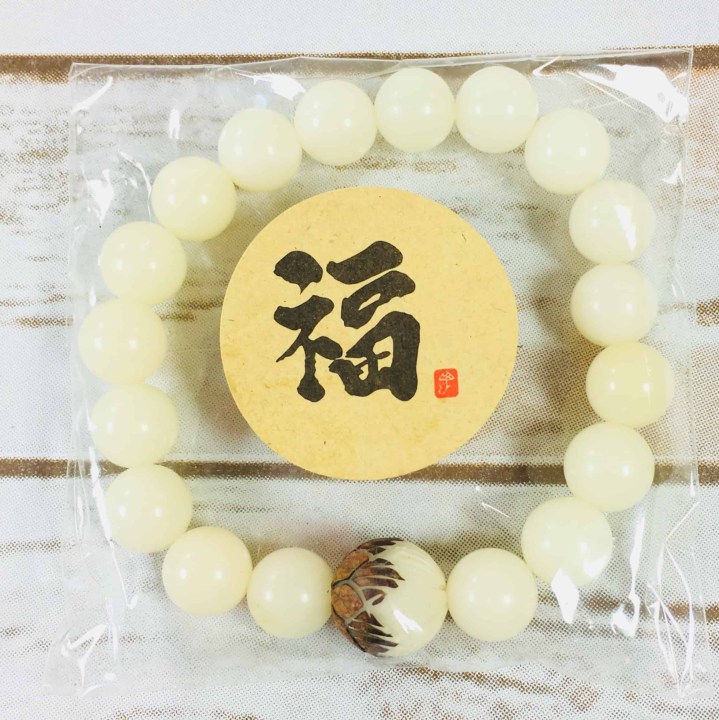 Lotus Bodhi Mala Bracelet (similar found here).
The bracelet can be used to help keep track of prayers or a mantra. Start at the main "guru" bead, recite your mantra, and continue around the beads, repeating the mantra each time, for a total of 108 times (!).
The white beads are supposed to be made of coral, which makes me sad but then I believe the reefs should be preserved and that is my own personal feeling about this item. I hope that the coral at least is "farmed" and not natural.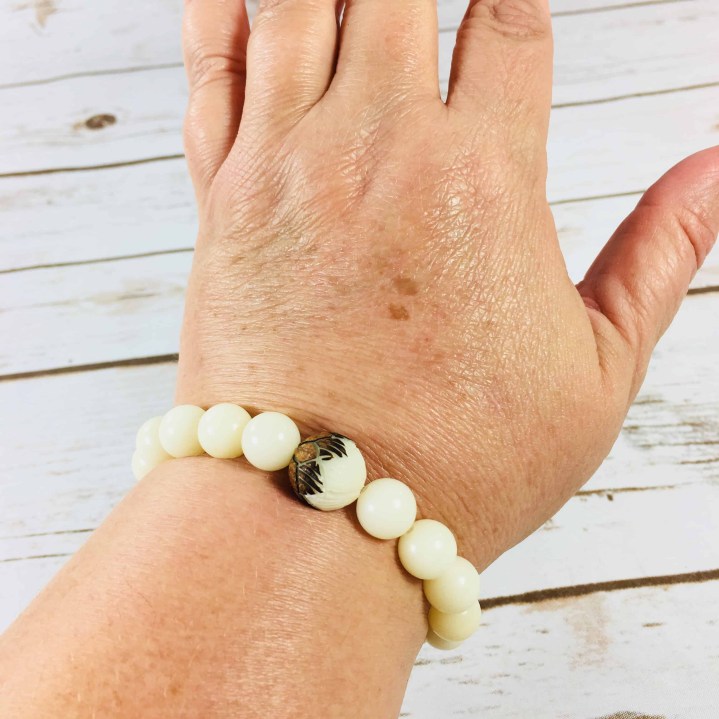 Here it is on my wrist! The beads may darken with age since they will absorb the oil from your skin.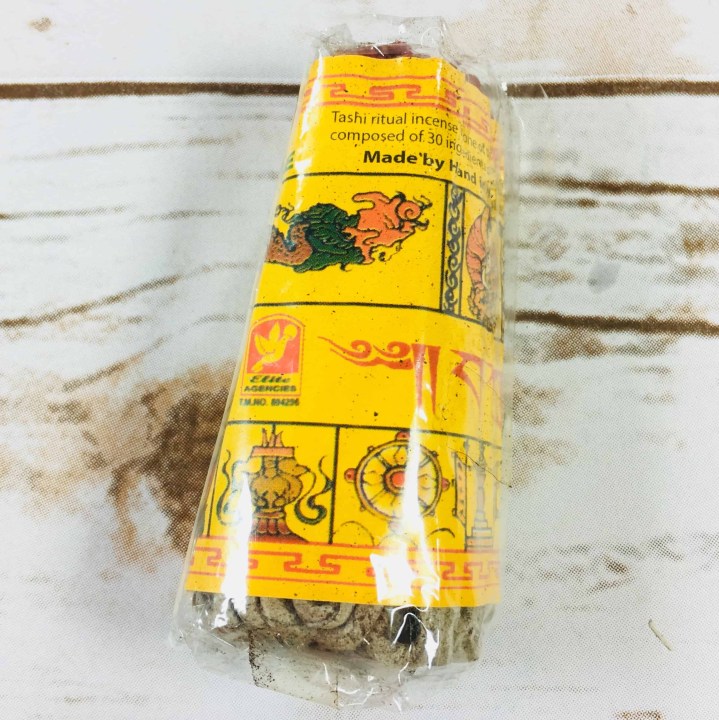 Tibetan Tashi Rope Incense (similar here) took me right back to my grandmother's house! She used to meditate and burn incense and this smells exactly the same as the little cones that she would burn.
These are made of spices that are wrapped in rice paper and twisted to form little ropes.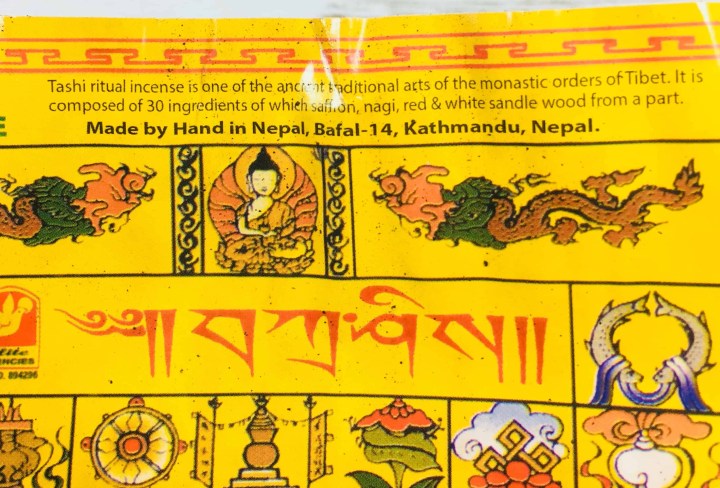 The incense is hand made by monks using over 30 ingredients, including sandalwood, saffron, and nagi. I had to look up the word "nagi", which may or may not be scales from the pangolin, it seemed debatable.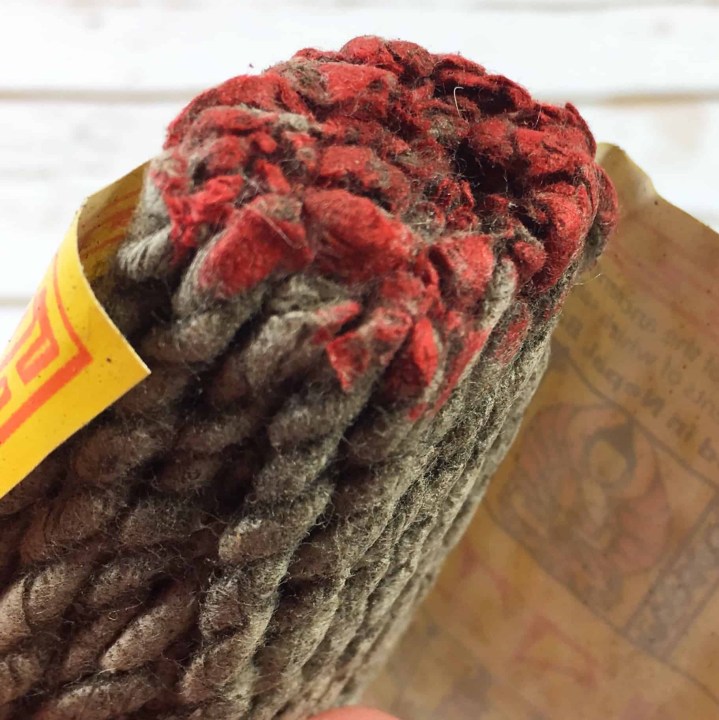 The tips are red and they smelled good before I even burned them. It said to burn them in a ceramic incense burner, which I do not own.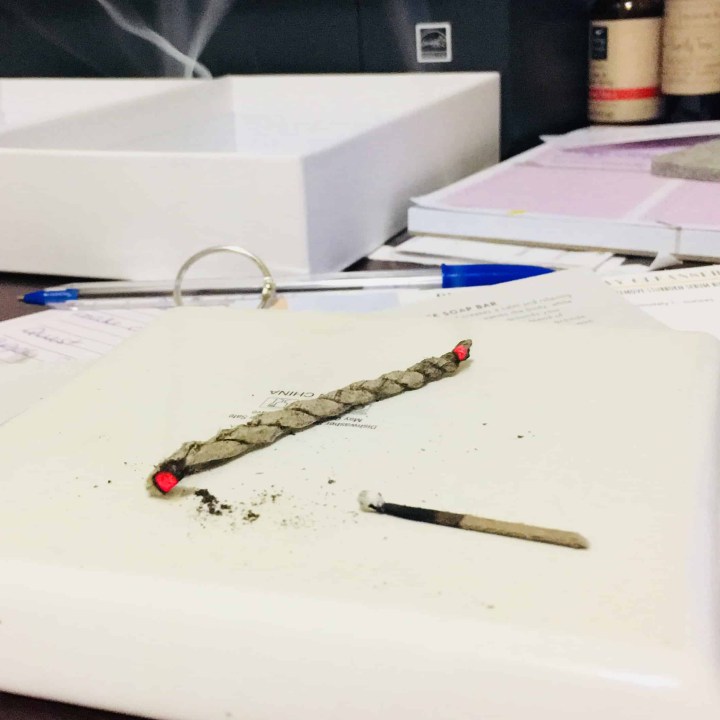 Instead I placed it on the unfinished backside of a dish. I don't know why but I burned it on both sides, which probably means it would have lasted longer if I had only lit one end. It smelled sweet and spicy and luckily it didn't set off the fire alarm, nor did the smell linger very long. It did stain my dish, but I was already aware that it might do that.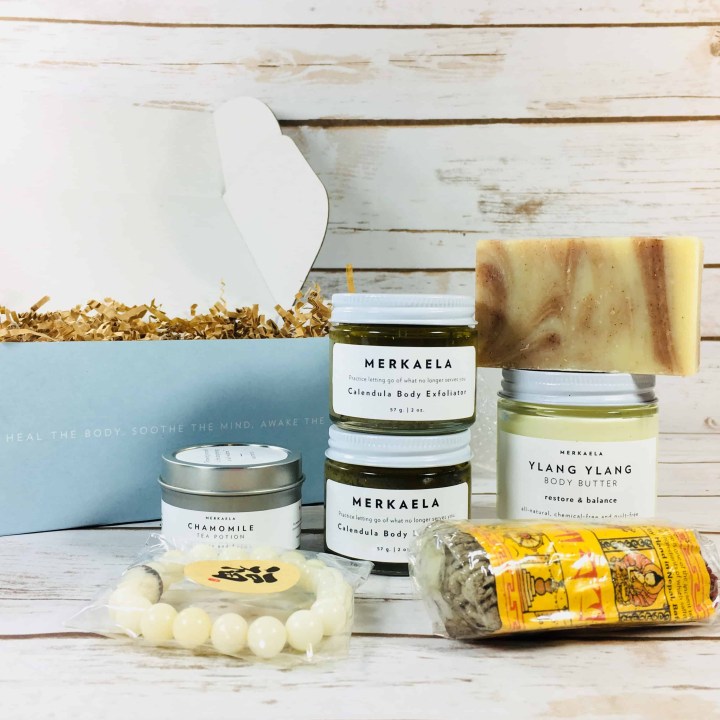 I can't even begin to tell you how excited I get when this box shows up! It is full of such lovely items, and I know the body products are clean and help my skin feel wonderful. The incense and bracelet were perfect for the theme, which may help you dig deep into your soul while meditating. Even if you don't use the items for that purpose, they are still pretty nice for relaxing. Speaking of relaxing, the tea may help you do just that, and I suggest drinking it in the evening an hour or two before bedtime. Merkaela members receive 15% off the price of shop orders so keep checking the site if you would like some of this month's products! Need a fabulous gift for someone special? Send them this box!
What do you think of the Merkaela Winter Wisdom Box? Let me know if it helps you connect your mind, body, and soul in the comments!